Hostess with the Mostess– Guest Bathroom
Hold on to your seats, friends. Today I'm granting you an all-access pass to our guest bathroom drawers. Please try to control your excitement.
Like most people I'd rather sleep in my own bed in my own house. Knowing how I feel when I stay at others' homes I want to make our guests as comfortable as possible. One way I do that is by stocking our guest bathroom drawers with what I deem "necessities".
It's happened to me before, I'm staying with a friend and I wake up with a headache. My friend is sleeping, and I don't want to wake her so I do the obvious– I start going through her stuff. Of course I feel bad as I'm opening every cabinet in her bathroom but the pain from the headache is worse than the embarrassment/wrongness/guilt of being a medicine cabinet stalker.
Here's the top drawer. I save our dentist samples (toothbrushes, floss, toothpaste) and throw them in the drawer. No guest of ours has an excuse for bad breath or stuff in their teeth.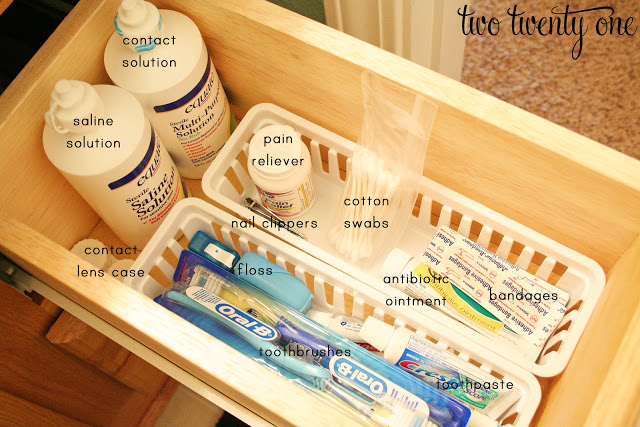 Here's the bottom drawer. Please, please, please make antacids readily available to your guests. Nothing is worse than waking up in the middle of the night with major heartburn from the pizza you had for dinner and you can't find your host's antacids. Nothing.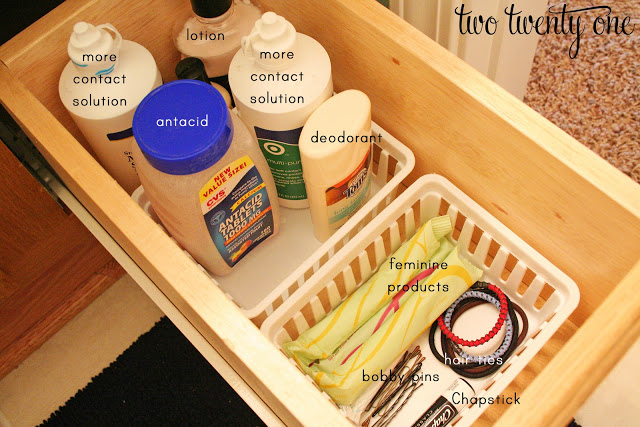 I also keep a hair dryer, soap, toilet paper, and more lotion in the guest bathroom.
Are you crazy like me and stock your guest bathroom? What do you keep in there for your guests?