Outdoor Planter Tip + Easy Succulent Planters
Today I'm sharing my favorite outdoor planter tip and some easy succulent planters.
My Favorite Outdoor Planter Tip
What's this groundbreaking tip, you ask? It's filling the bottom of medium to large sized planters with things. (Click here to find out where I buy all my outdoor planters.) You can use empty plastic containers, packaging pillows, bubble wrap, Styrofoam, etc. I'm going to talk about plastic products in this post because I know most people always have used/empty plastic containers they need to recycle.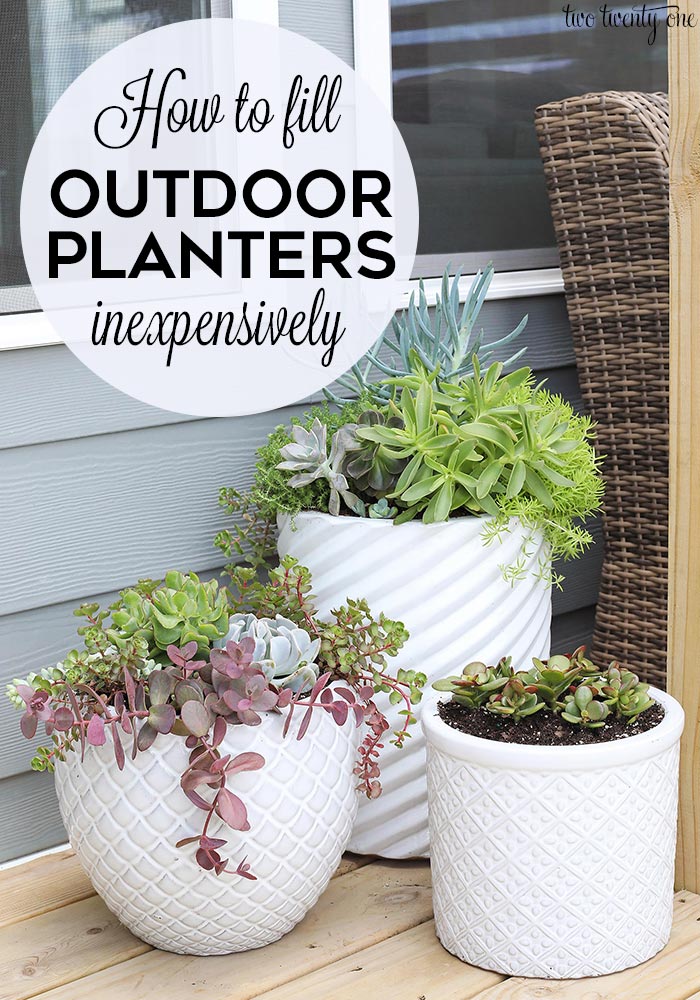 Why Fill the Bottom?
Here are the benefits of filling the bottom of your planters with used plastic products:
1. You're saving money on potting mix because the plastic products are filling space.
2. The planter will have better drainage, which results in healthier plants.
3. Your planter will be much lighter and easier to move.
4. You're reusing plastic products.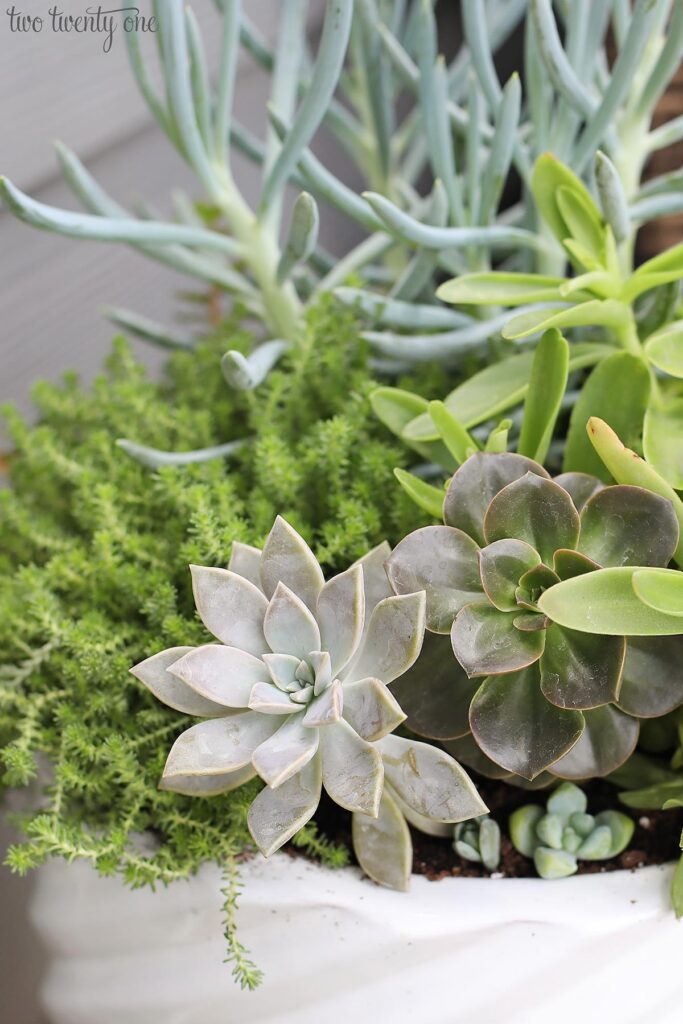 Supplies
empty plastic containers, packaging pillows, Styrofoam, etc.
planter
plant(s) or flowers
slow release fertilizer (optional)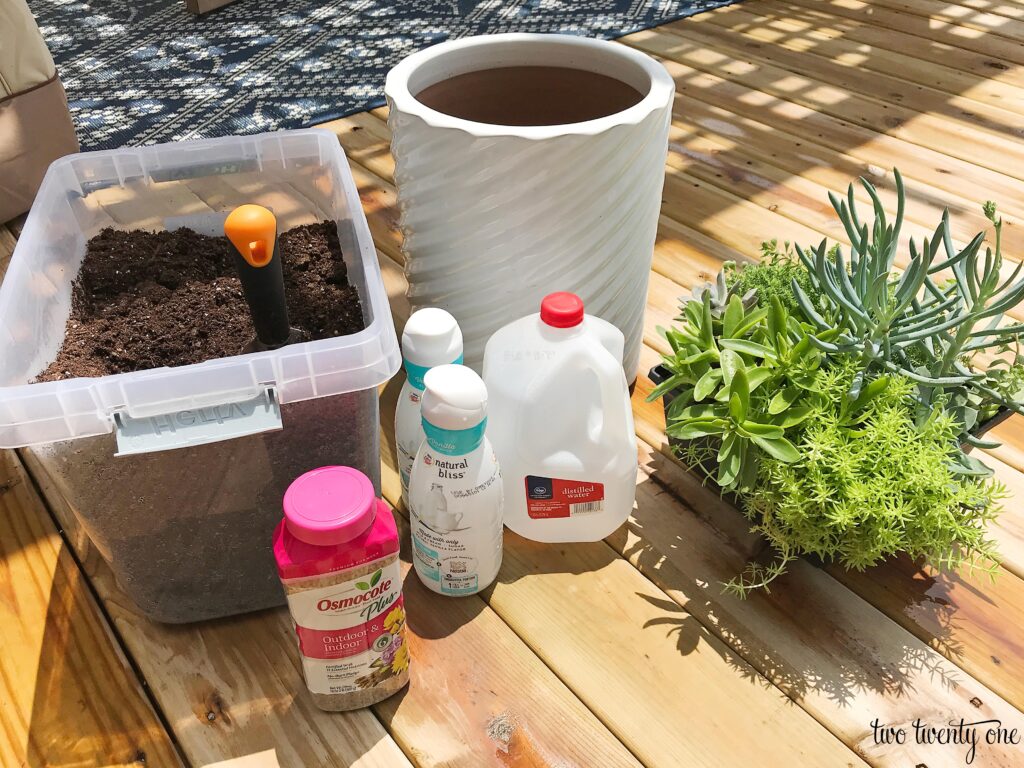 Assemble the Planter
Start by placing the plastic containers in the bottom of the planter, slightly covering the drainage hole so dirt doesn't pour out whenever you water the planter.
Make sure there are lids on the containers. If not, turn them upside down. You can also use the plastic pots the flowers or plants come in from the store. But again, you have to turn them upside down so they don't fill with dirt.
I try to fill up the bottom half of the planter with objects.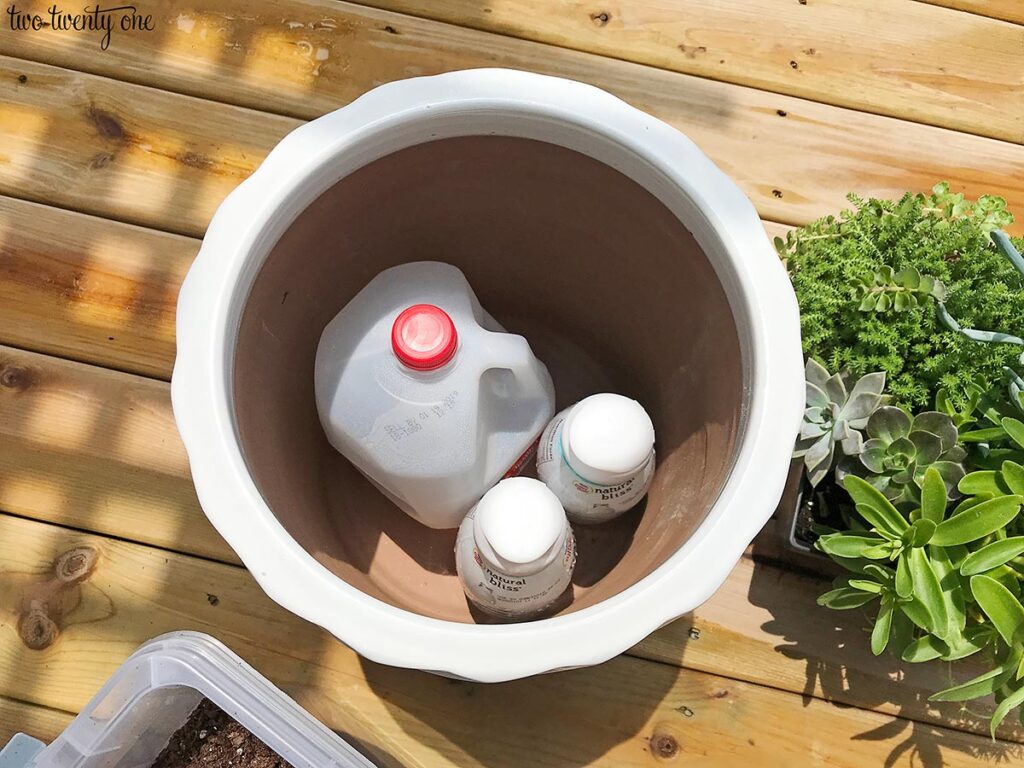 Add the dirt. Make sure you press down to seal any air pockets between the containers.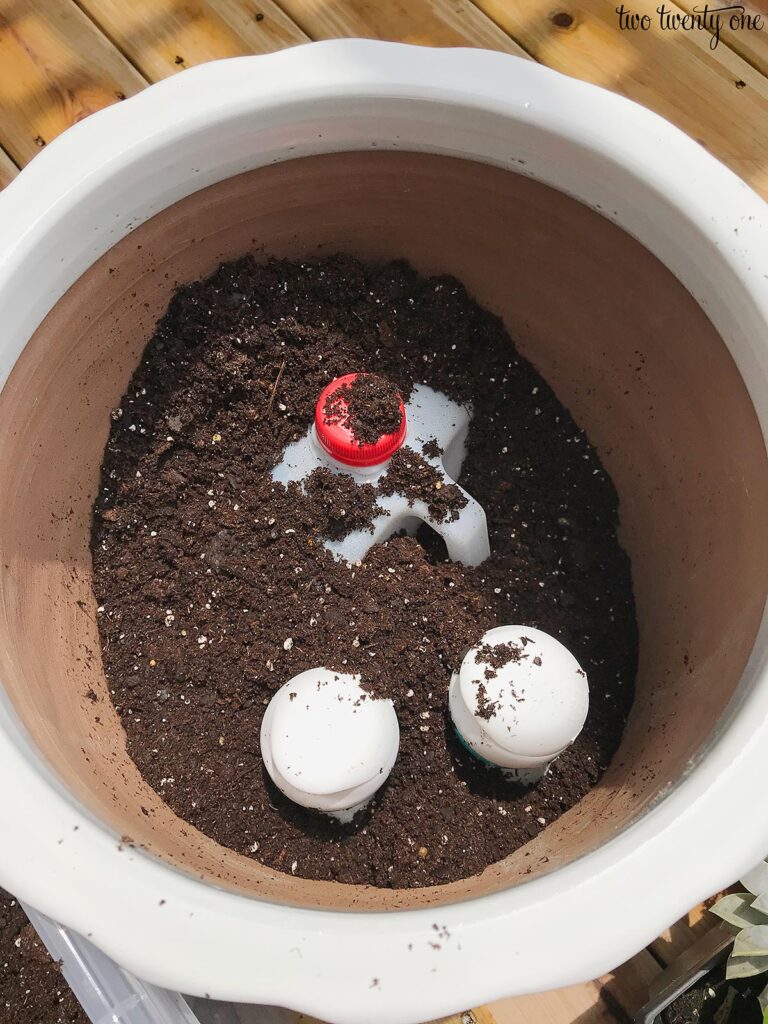 I like to shake in some time released fertilizer, which helps feed the plant over time. The fertilizer is a 'set it and forget it' type of thing.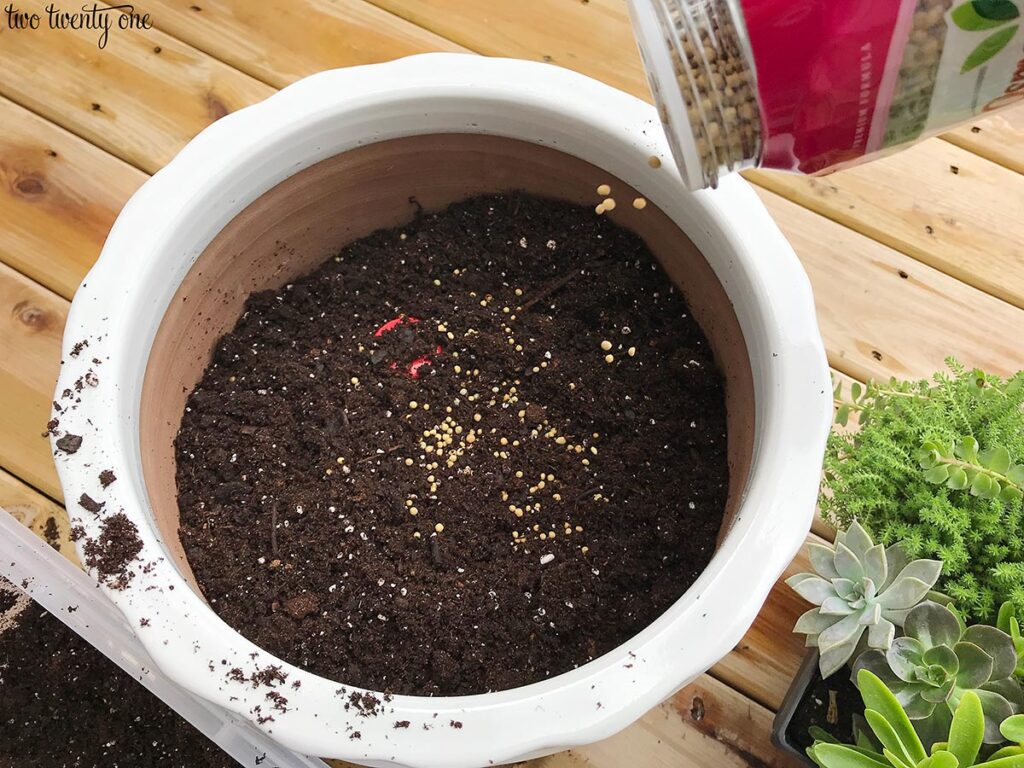 Plant the plant(s) or flowers. You can use individual plants and flowers from a nursery or home improvement store to make your own plant combination, or you can use pre-made planters.
Since I was using a pre-made planter of succulents, I carefully removed it from the original container by squeezing the sides and tipping it out. I loosened the roots with my hands, and then placed it in the planter. Finally, I filled in any empty spots with potting mix.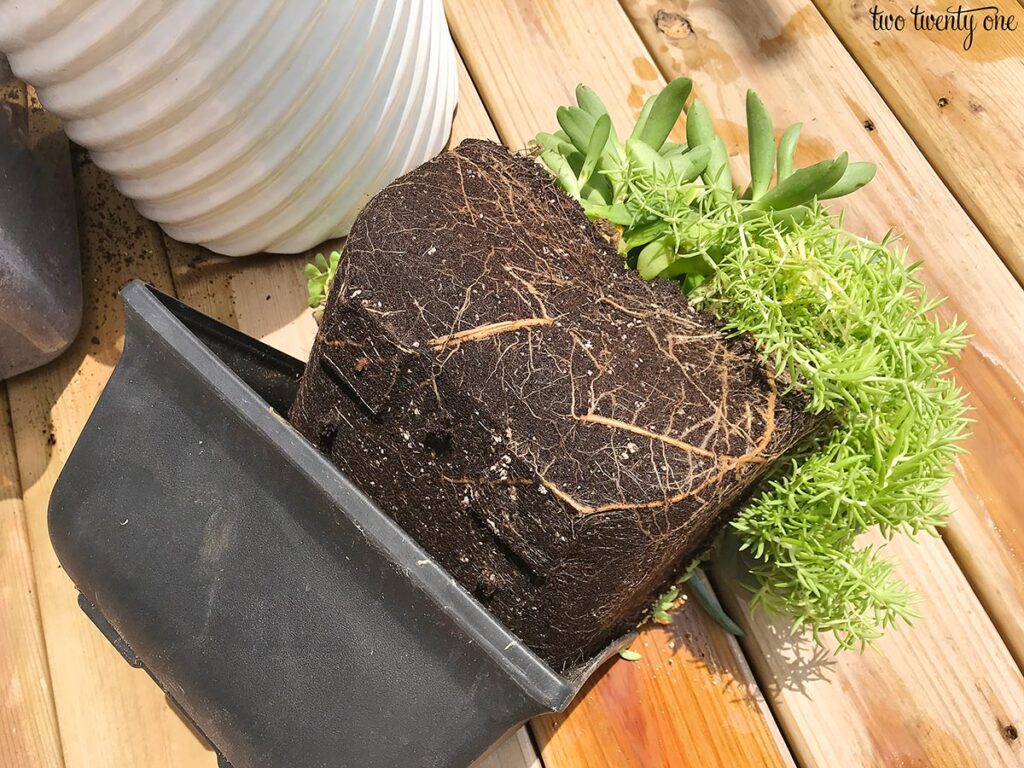 Done!
I've heard some people say that their plastic containers floated to the top when the planter was heavily watered. This has never happened to me. If you have enough potting mix on top of the containers, they shouldn't float up. I've also heard of people putting packing peanuts in their pots. My only advice with using packing peanuts, is to make sure they're not the biodegradable kind that dissolves when wet. (Although I wish all packing peanuts were biodegradable.)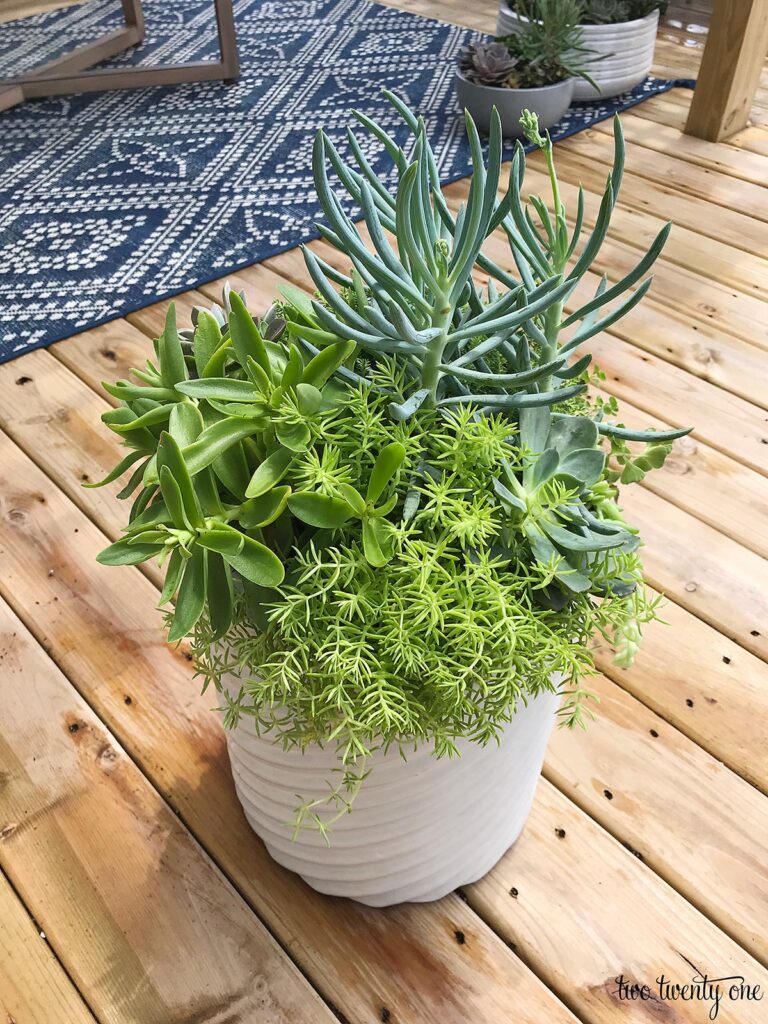 I used the same outdoor planter tip for this succulent hanging basket. Even though the planter isn't huge, I still put a couple empty plastic bottles in the bottom of the it, filled it with dirt, and planted the mixed succulents in the planter.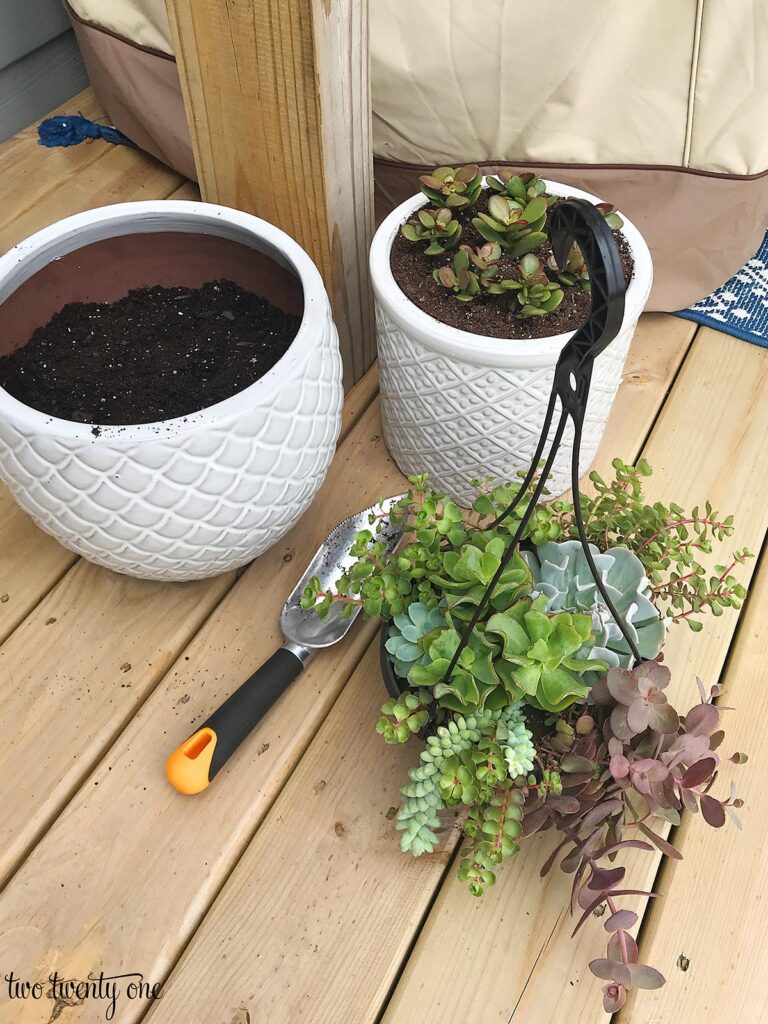 Easy Succulent Planters
All three planter pots are from HomeGoods, and they cost less than $20 each. A few weeks ago, I shared where I buy my favorite planters and one thing you should always look for when shopping for planters.
I got both of the mixed succulents planters from Kroger. The large planter was $16.99 and the hanging basket was $12.99. And I got an awesome amount of succulents for those prices. Had I bought all the succulents individually, it would've cost much more and they wouldn't be nearly as big and mature as the ones I got. This just goes to show that you should always scope out your local grocery store's plant section. My tallest fiddle leaf fig also came from Kroger.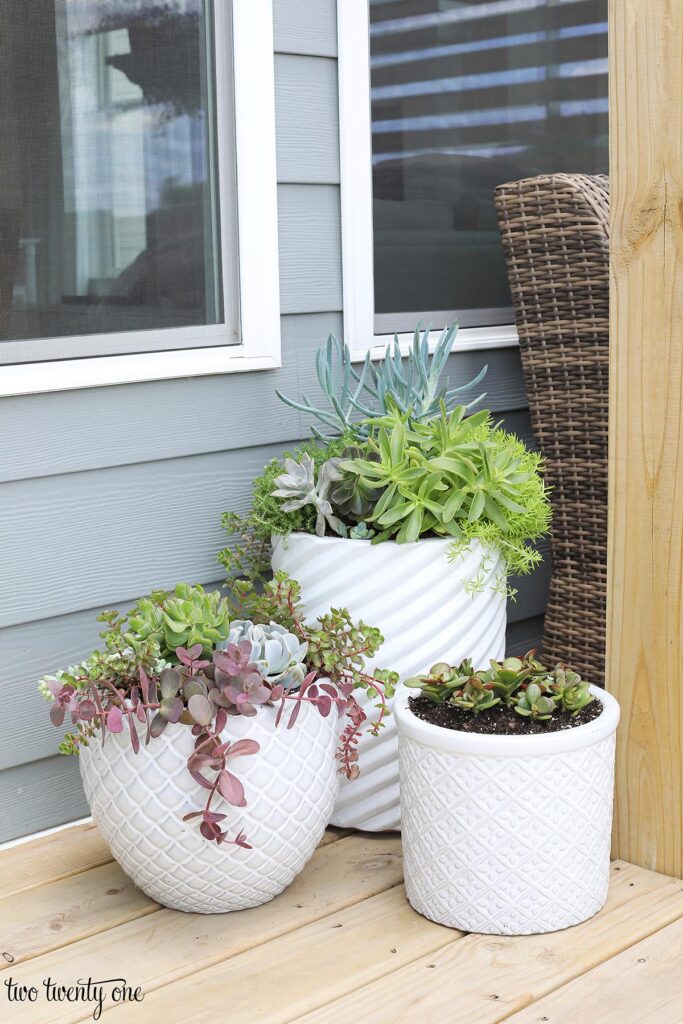 If you follow me on Instagram and watch my Stories, you know I'm in the midst of a succulent obsession and quickly turning into a full-blown crazy plant lady. But can you blame me? These planters will look this gorgeous throughout summer. And they're perennials so if I can flex my green thumb and keep them alive throughout winter, I can use them again next year.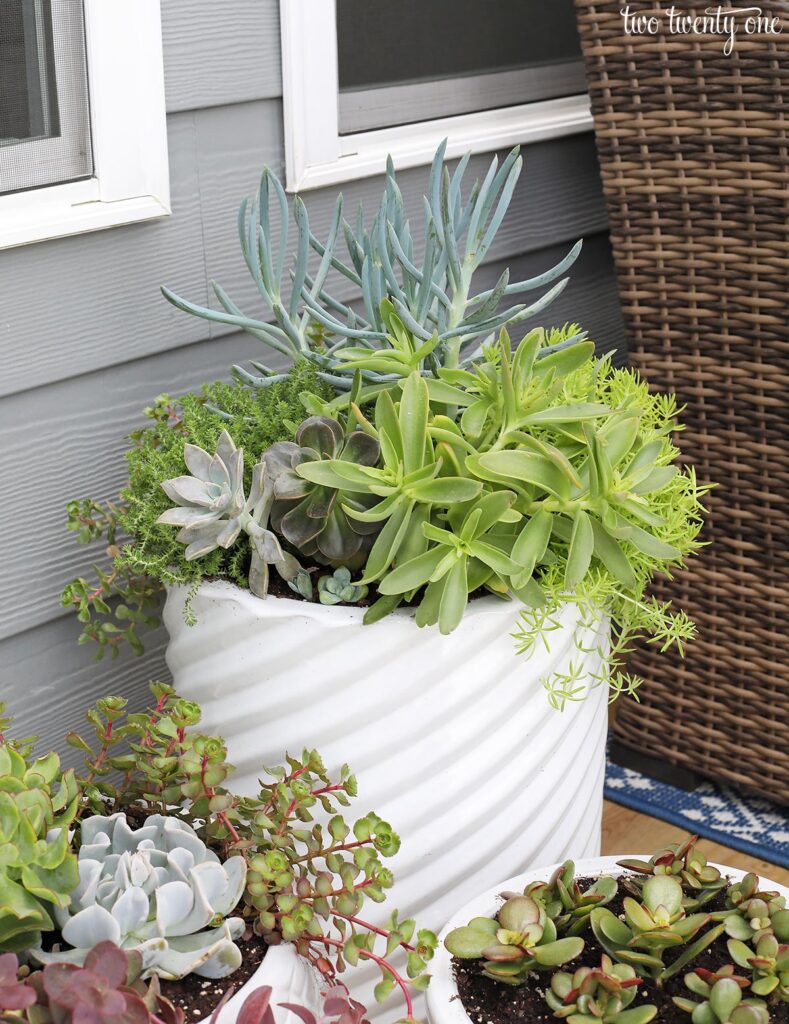 Succulent Care
The deck gets full sun so the succulents should do great out there. Most succulents need 6+ hours of sun per day. They're drought tolerant so they can go without water for longer periods of time. So if you have a sunny spot and forget to water plants, succulents are perfect for you. Just be careful if you get a bunch of rain in a short period of time because too much watering is bad for them, and they'll die from root rot. When we had a ton of rain during May and June, I'd cluster my succulent planters together and cover them with a plastic drop cloth.
Check out more of my outdoor and gardening posts, like my colander flower planter!