It's Not That Hard Keeping Flowers Alive
Since we're well into summer now, I figured I'd share my outdoor flowers with you. I'm also going to touch on my strategies for keeping flowers alive. Then I'll take it a step further and tell you how I get the most out my annual flowers by getting them to produce more blooms.
To give you an idea, I planted all of our planters and window box on Memorial Day, and I took most of these photos within the past week.
Let's start with the front porch.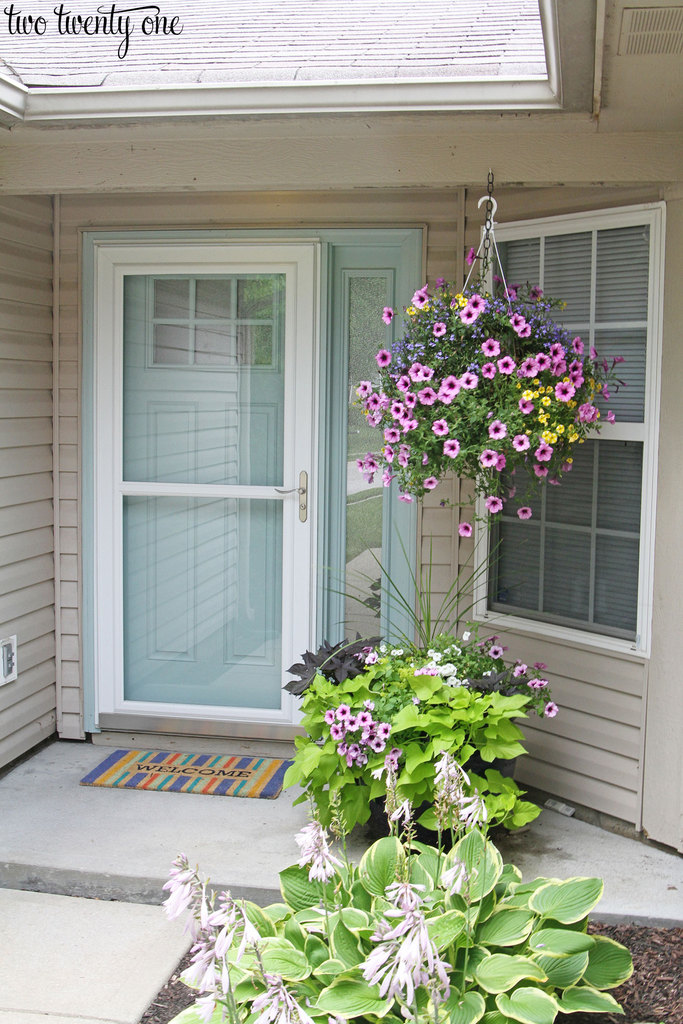 I planted our giant planter with petunias (bordeaux is the color), green sweet potato vine, and dark purple sweet potato vine. I always put a smaller pot in the middle of the bigger planter. This year I filled it with a spike, creeping Jenny, and some white calibrachoa. I think I'll add more petunias next year because I always forget how overpowering the green sweet potato vine becomes.
The past few years I've gone with a hanging fern on the front porch, but I've always wanted to try to a flower hanging basket. I was telling my mom that I couldn't find an inexpensive hanging basket that I liked. She told me a nursery outside my hometown had a ton for $18, so she took a trip out there and sent me some photos. To match the petunias I had already put in the big planter, I had her go with a Proven Winners basket called Bahama Beach, which includes of petunias (bordeaux), calibrachoa (lemon slice), and Lobelia (sky blue).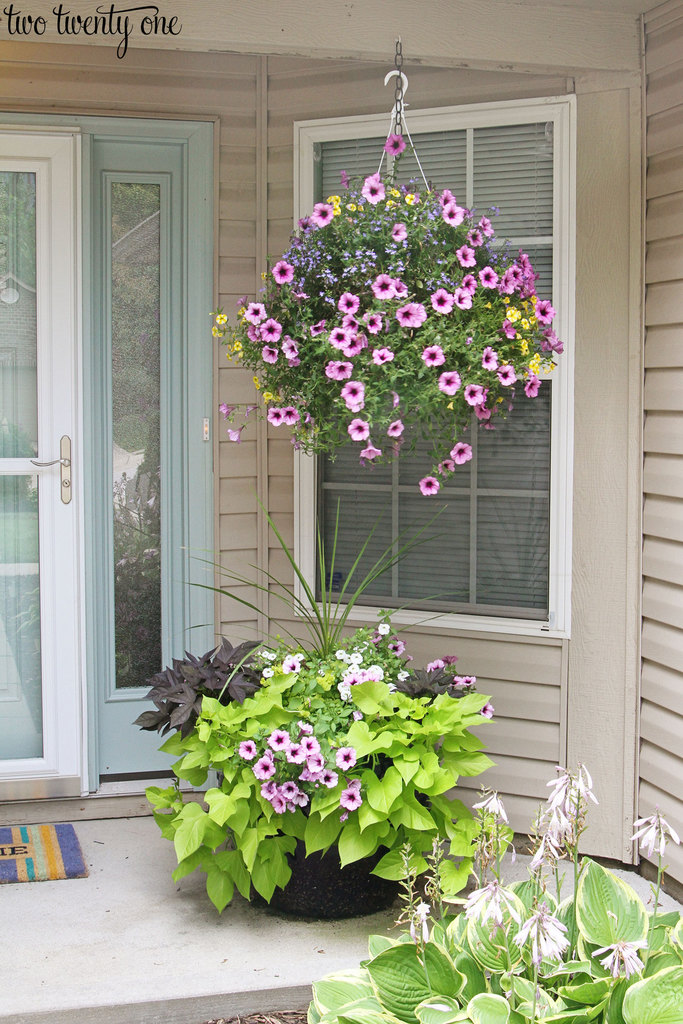 Here are some of the planters on one side of our back patio.
Our patio gets full sun from sunrise until about 5PM, and everything I planted on the back patio does really well in full sun.
For the first 4-6 weeks after planting, I try to water everything once a day until the roots get established. Then I typically back off to watering every other day. But it it's exceptionally hot and sunny, and the flowers look like they need it, I'll jump in and give them a little water every day.
When choosing plants, make sure you read the tags. If a tag says that particular flower prefers shade, don't plant it in full sun and vice versa.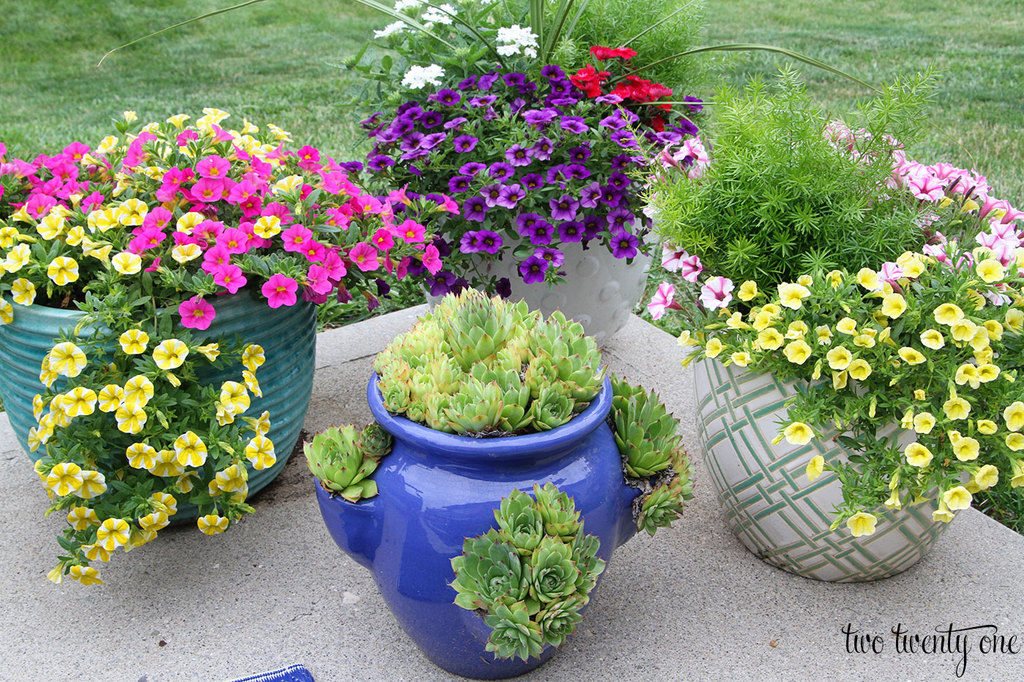 It's no lie that I love growing hens and chicks (Sempervivum), I even did a post all about growing them.
Two years ago, I transplanted some of them into this blue strawberry pot. Here's how it looked after I transplanted them.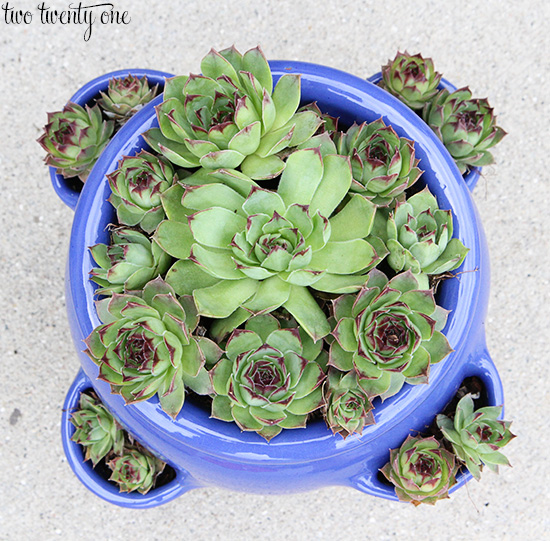 And here's what it looks like now.
(It looked a lot like this last year as well.)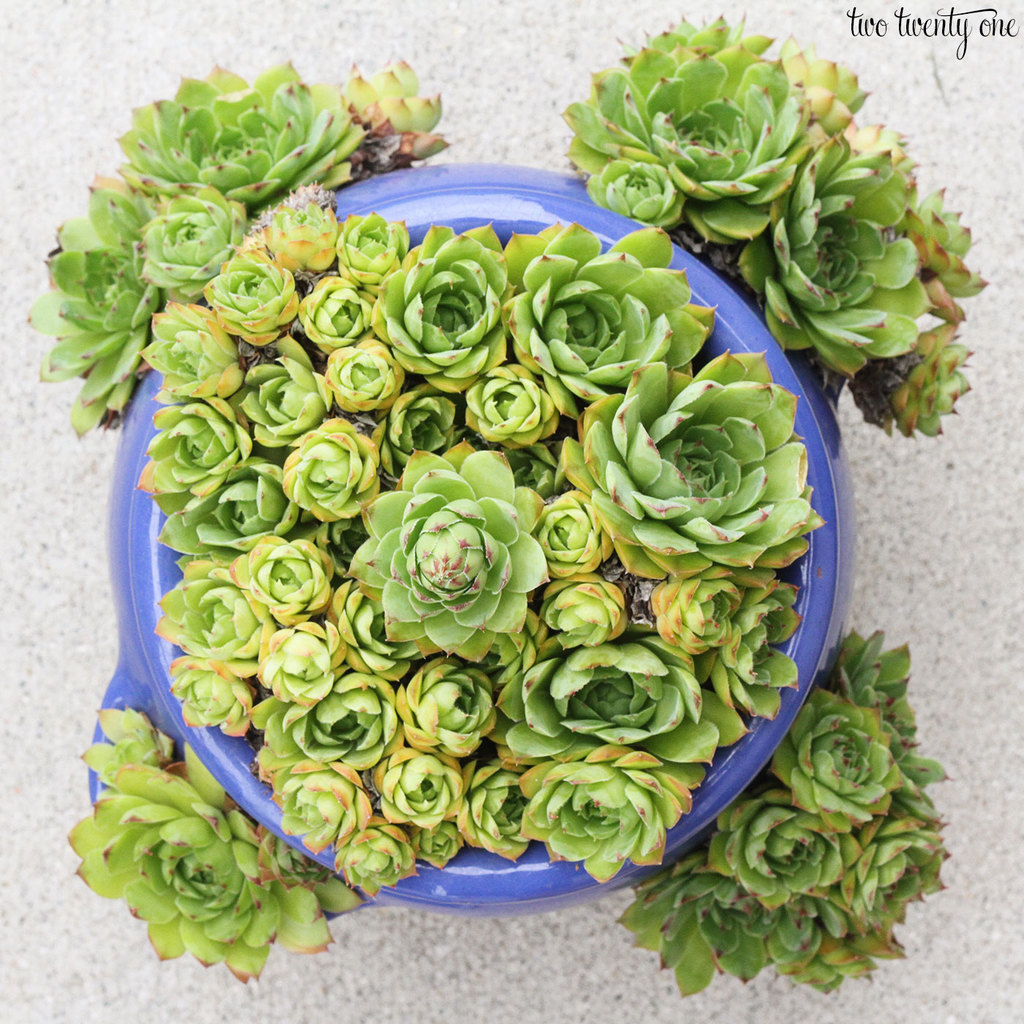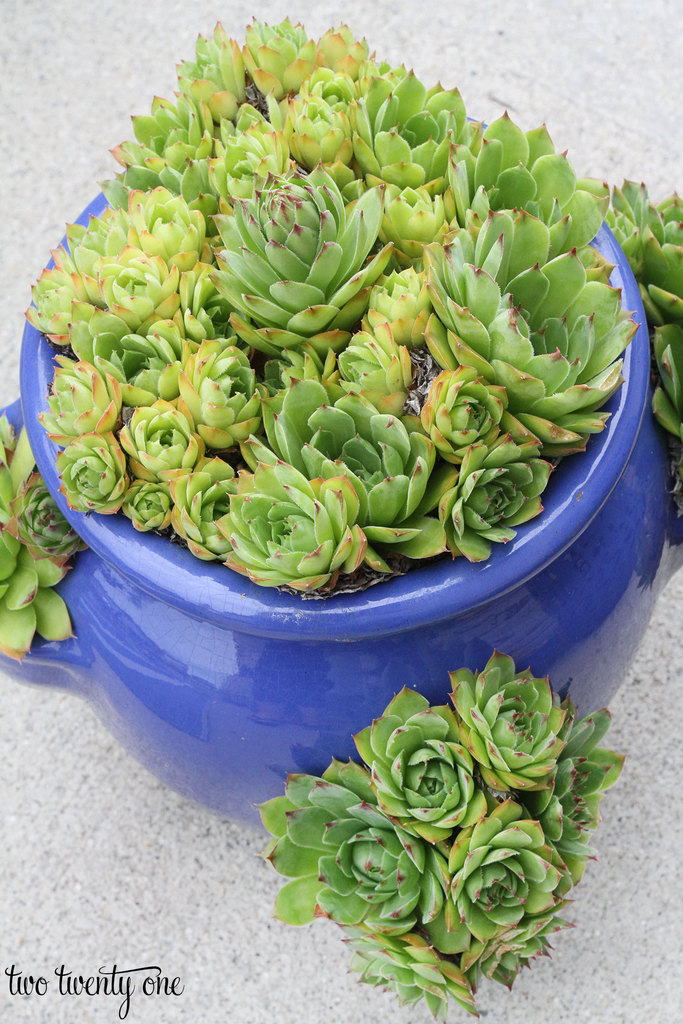 The middle succulent is starting to sprout up.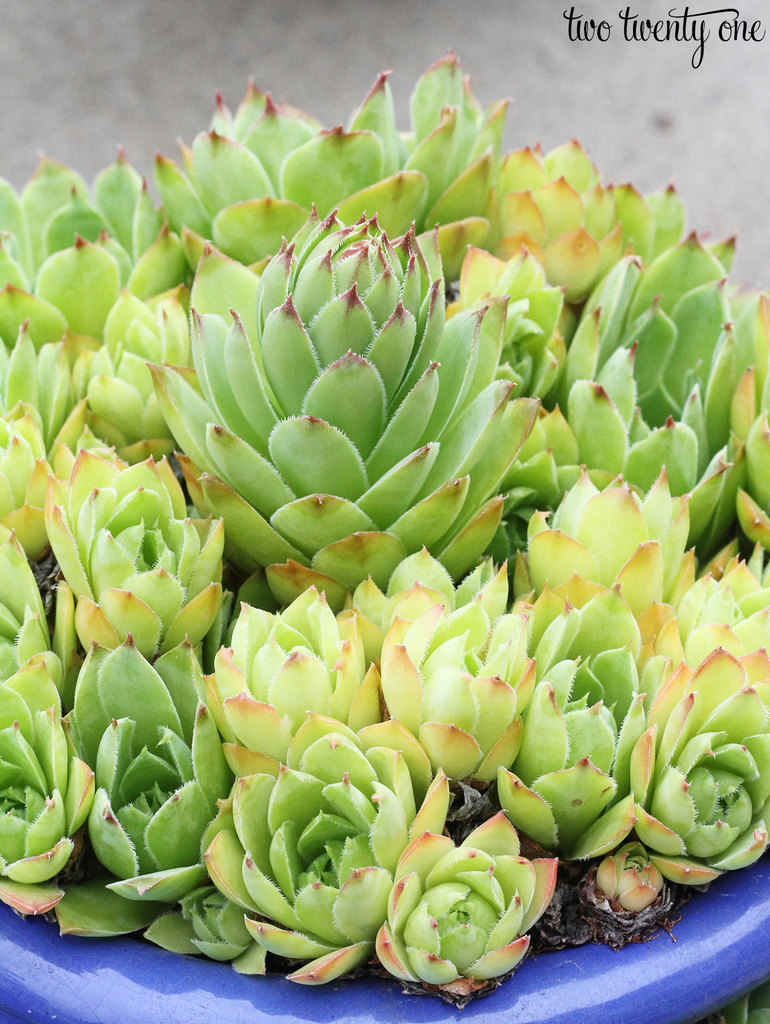 Since the blue pot was starting to look a little overgrown, I transplanted some succulents into more planters. I'm excited to see what it looks like next summer.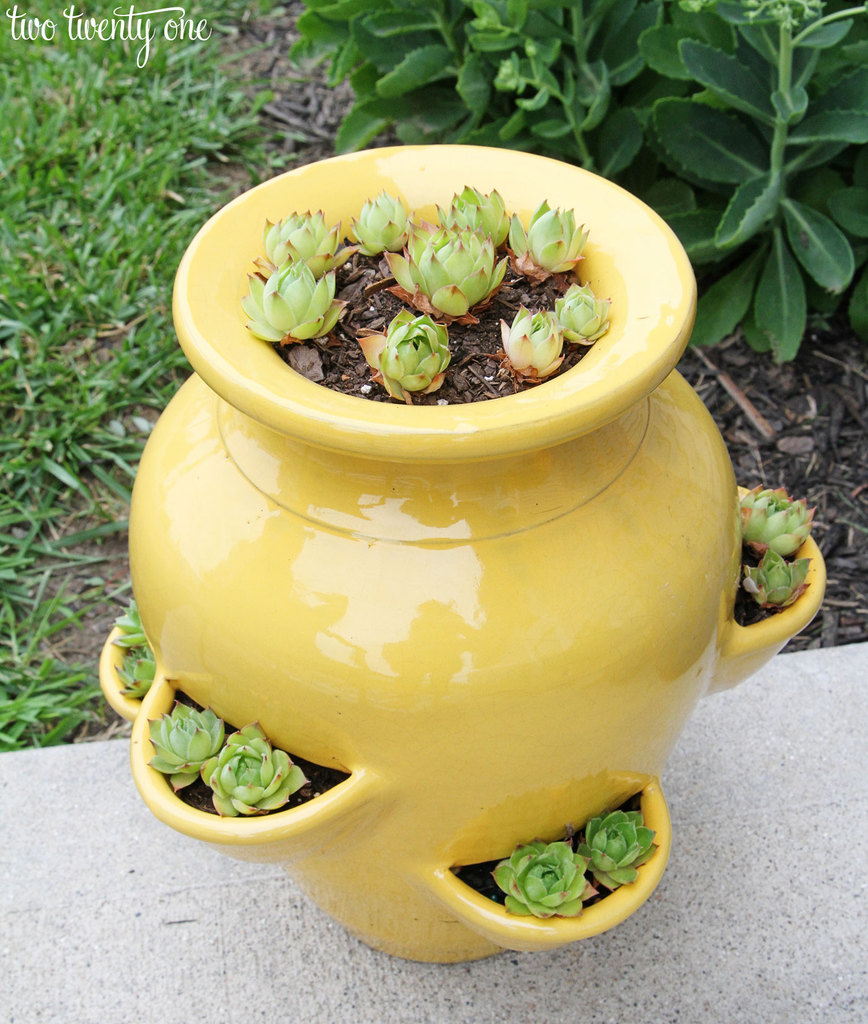 I also planted some in this smaller yellow pot.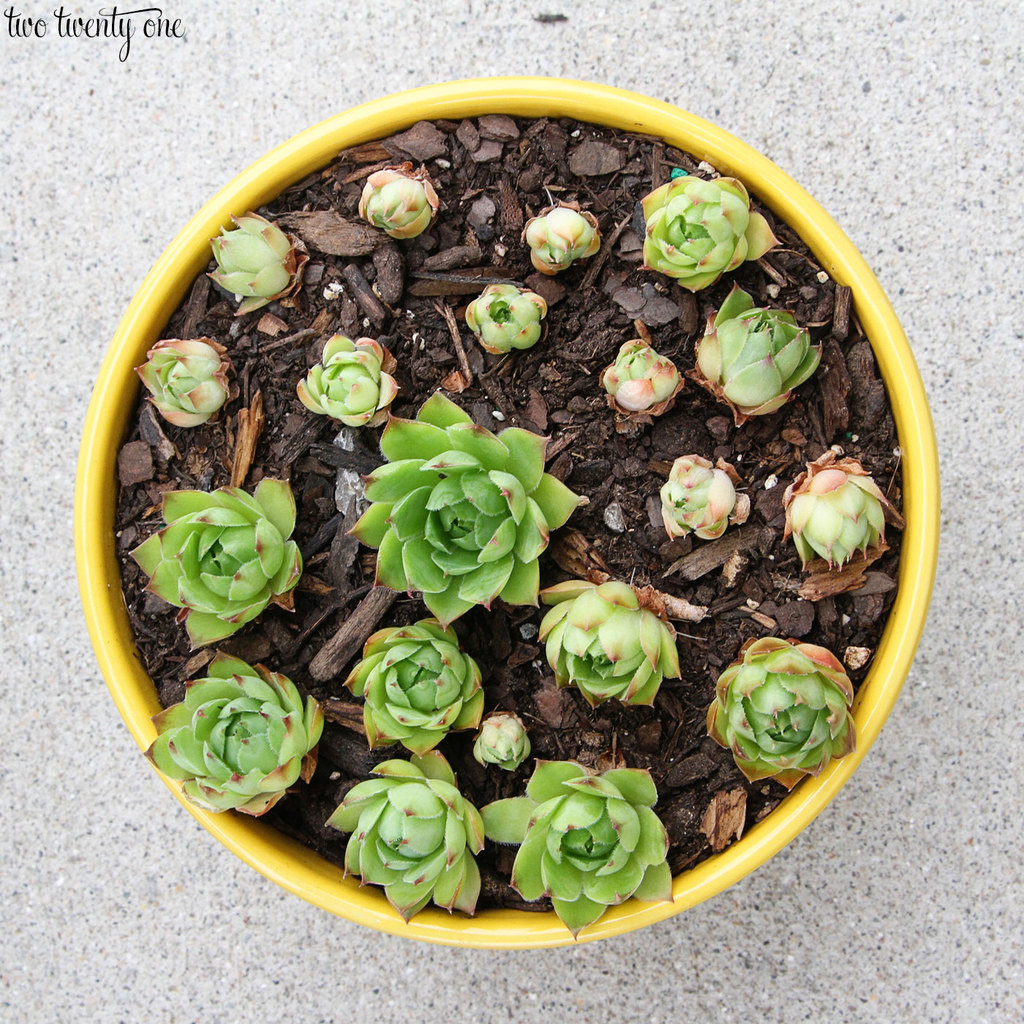 I tried to go for a red, white, and blue theme in this planter. But because there aren't many blue flowers I had to go with purple. If you're looking to add height to your planters, I highly recommend spikes. When everything fills in, it makes it look like you totally knew what you were doing when you put together the planter.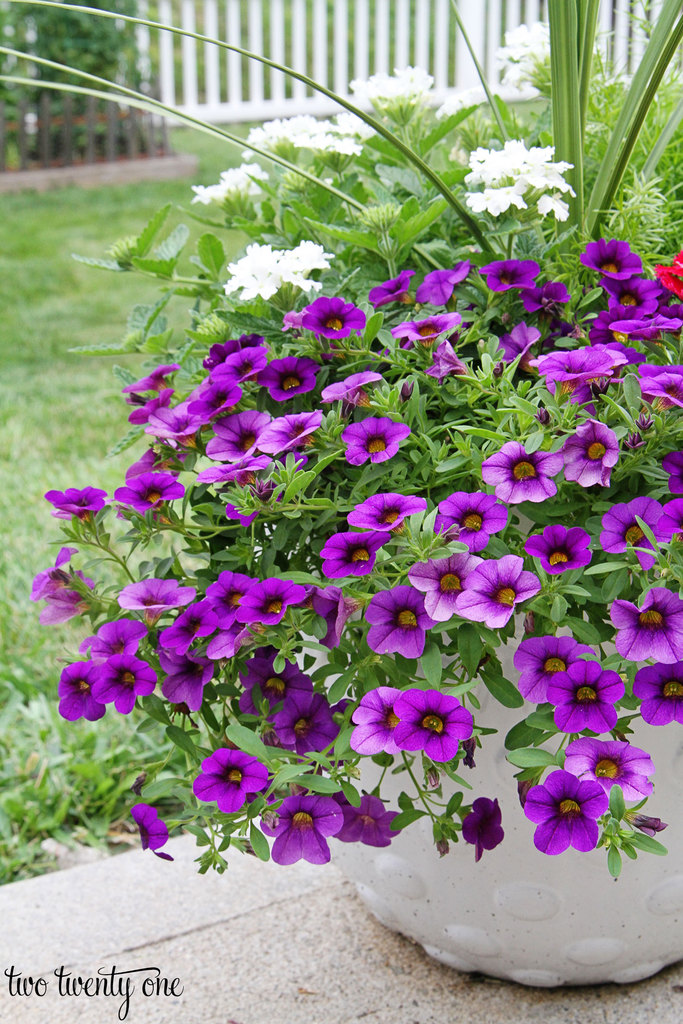 When I was at Lowe's picking out flowers, I couldn't pass up these bright pink and lemon slice calibrachoa, which are also called millionbells and superbells.
Calibrachoa is one of my favorite annuals because it produces so many blooms, can handle full sun, and is pretty hardy. Deadheading isn't necessary but I tend to do it anyway.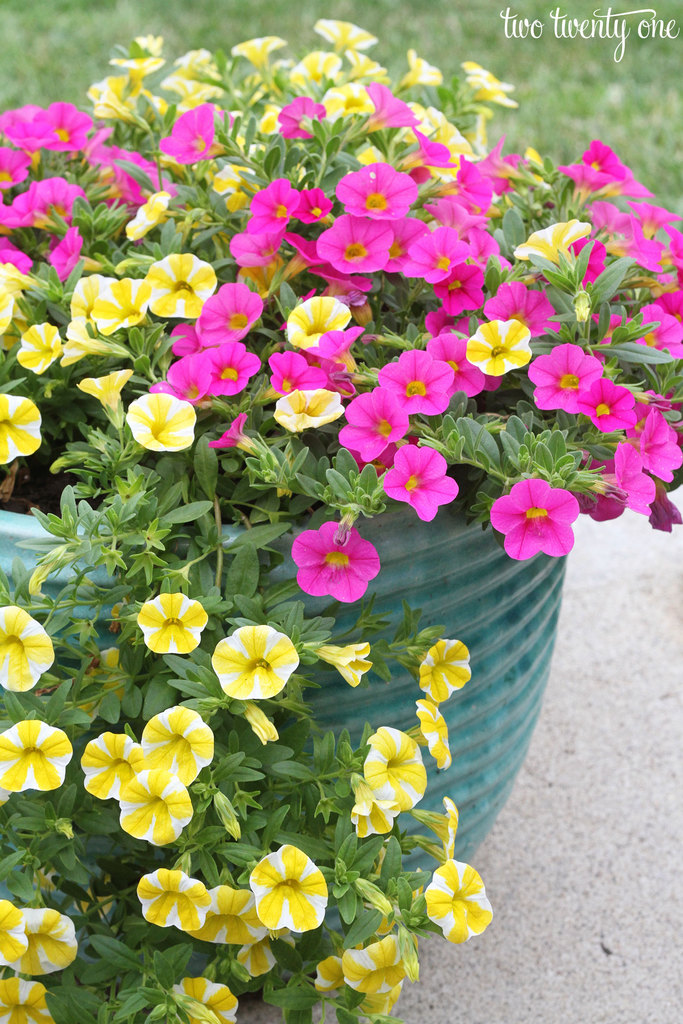 I planted two lemon slice and two pink in this pretty turquoise planter.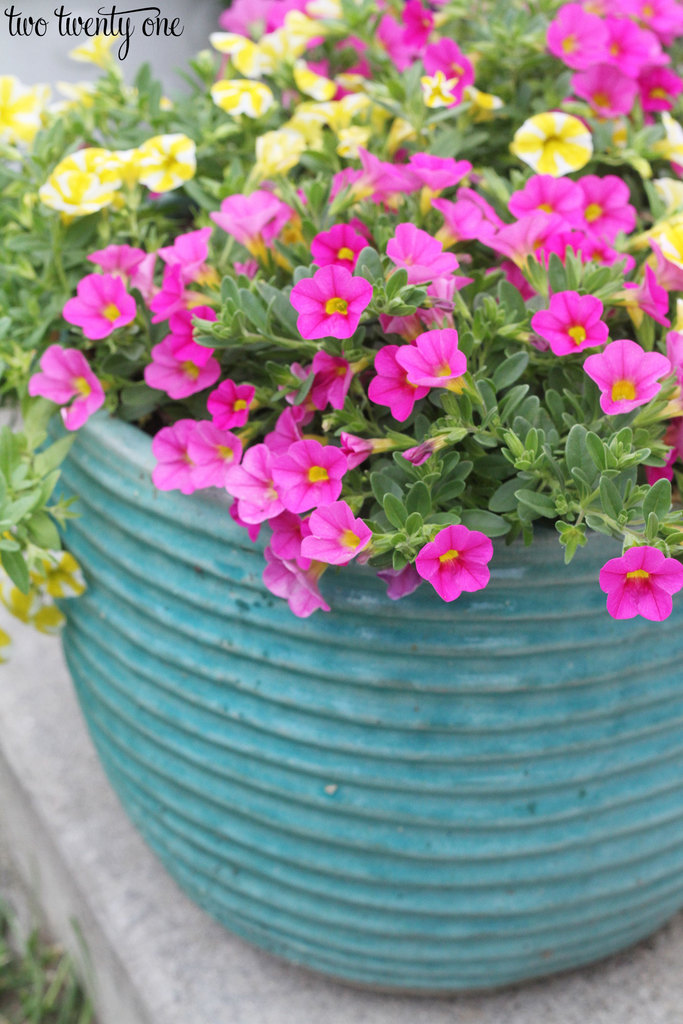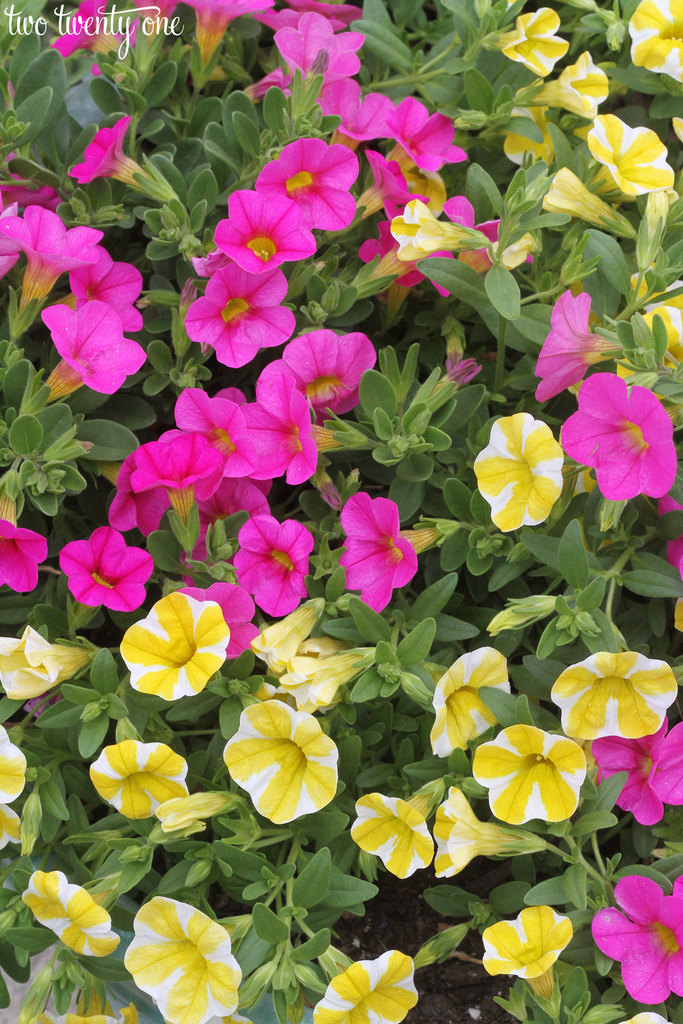 And here's the other side of our patio.
I should also tell you that once a week, I use this product, which promotes more blooms. I've been using it for a couple years, and it's worked amazingly well each year.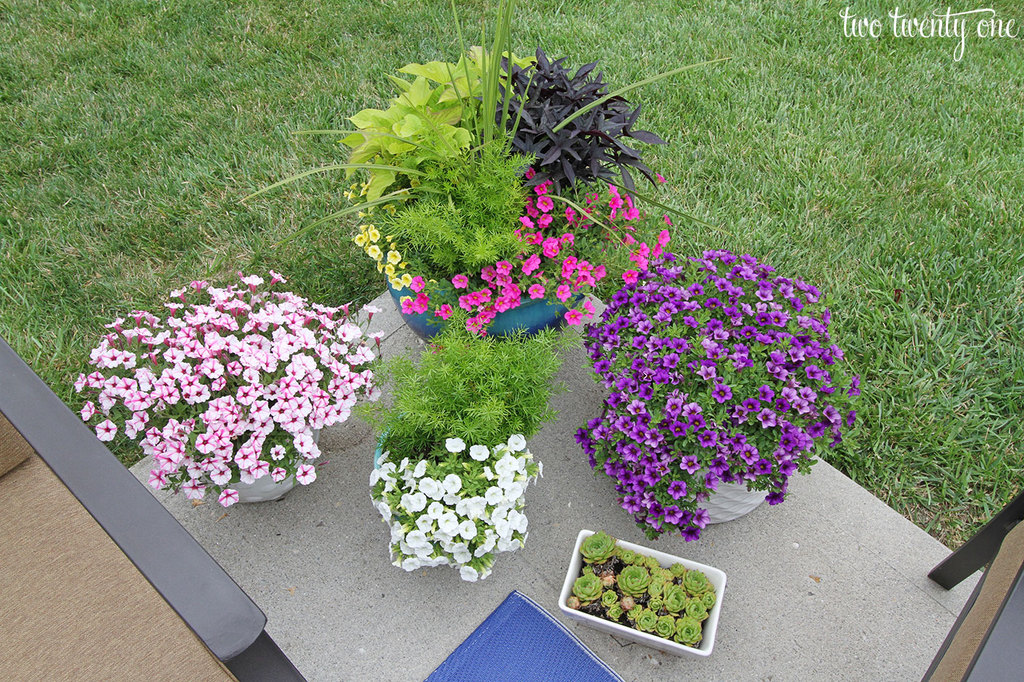 In the biggest planter, I went with a spike, green sweet potato vine, purple sweet potato vine, asparagus fern, yellow calibrachoa, and pink calibrachoa.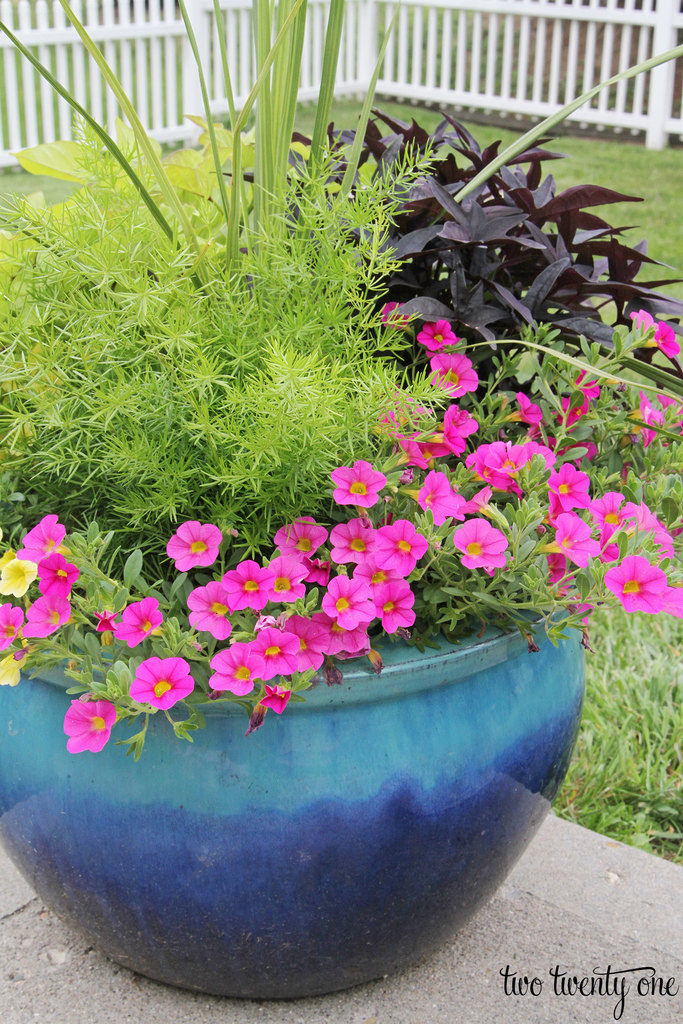 Here's the backside of the planter. As you can see, green sweet potato vine grows longer than purple.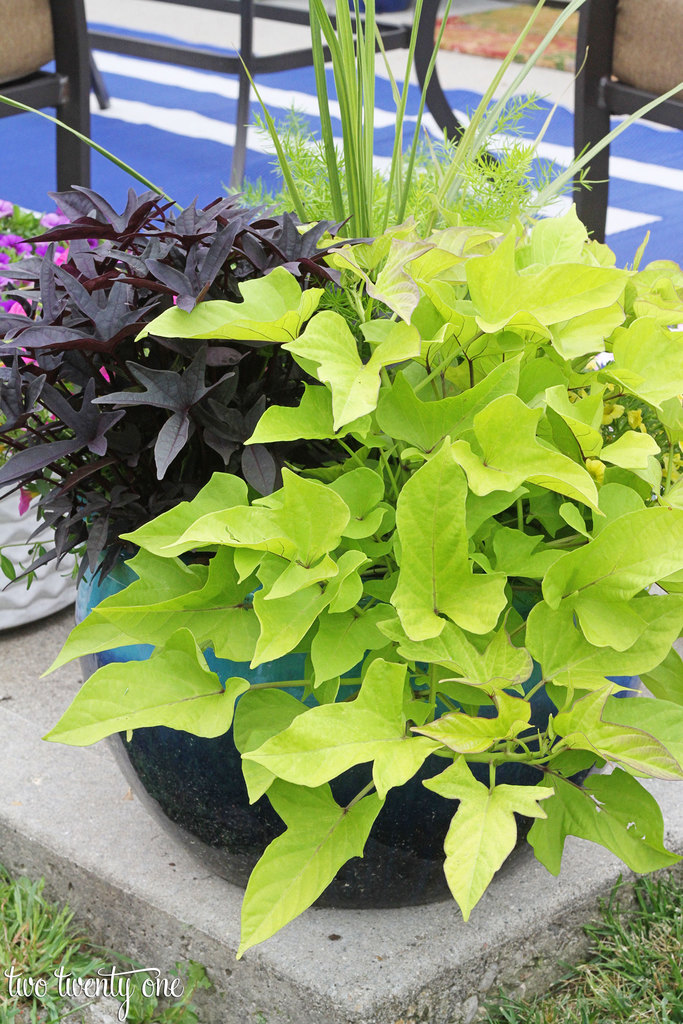 Hands down, my favorite planter is this bad boy.
I planted three calibrachoa in my white planter. At first I was worried that I should've gone back to the store and grabbed a fourth so there would be more coverage, but the three plants filled in nicely.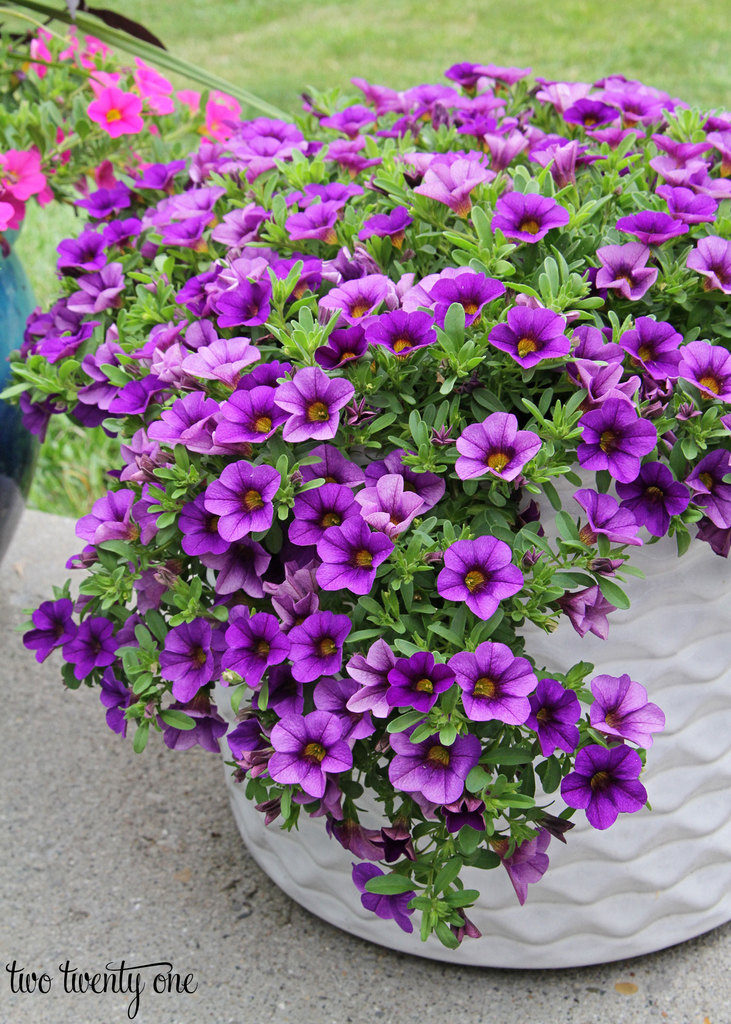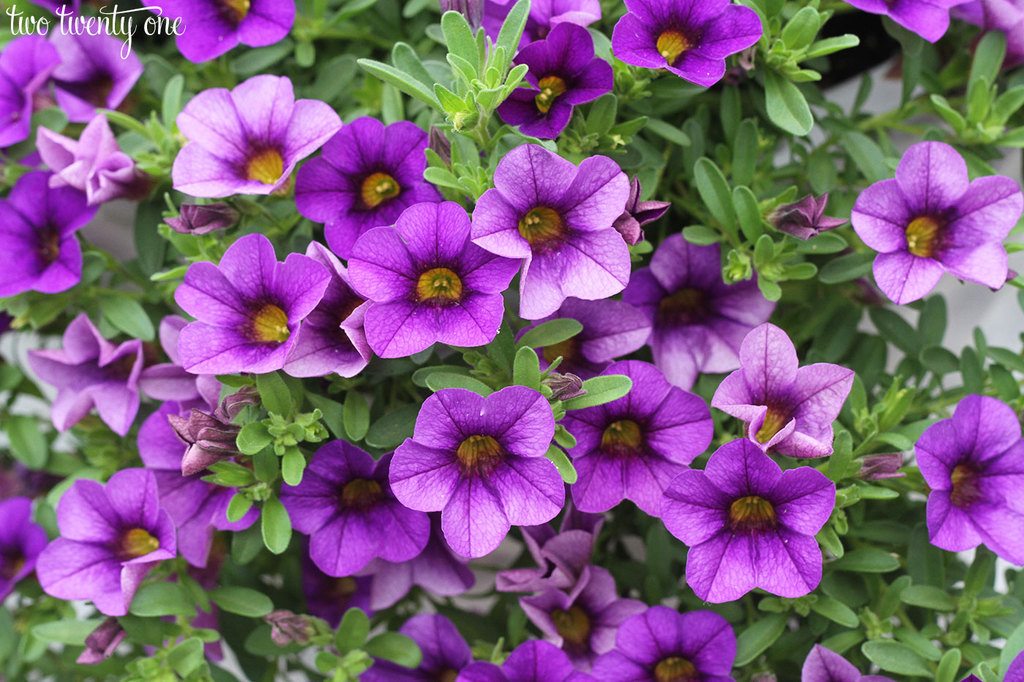 I absolutely love how the purple blooms look against the white planter.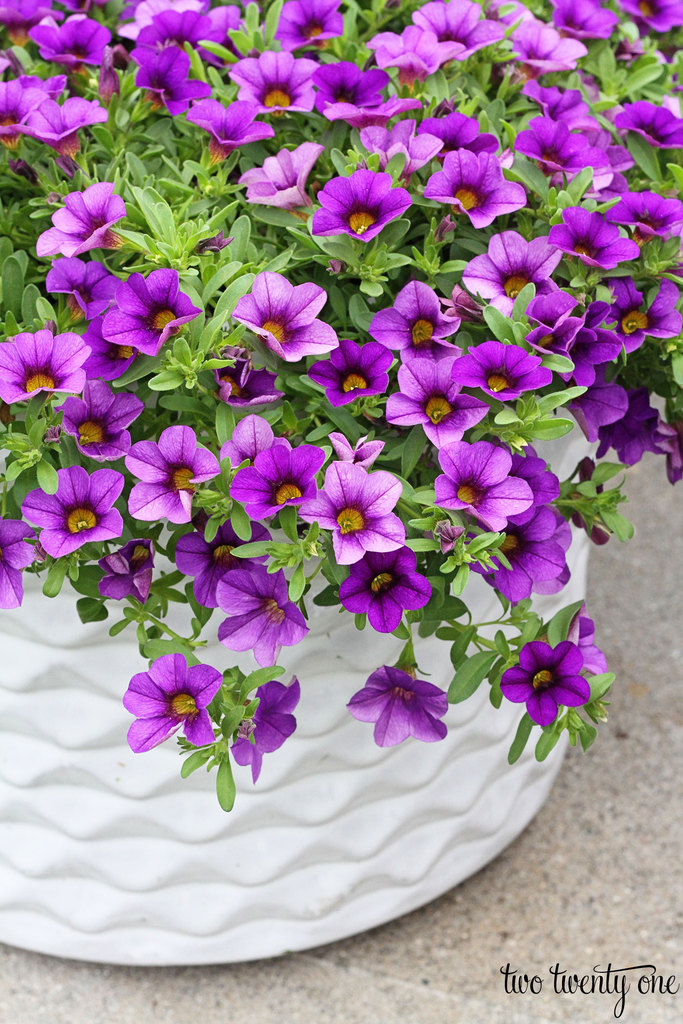 I don't know the color of these calibrachoa, but I couldn't pass them up.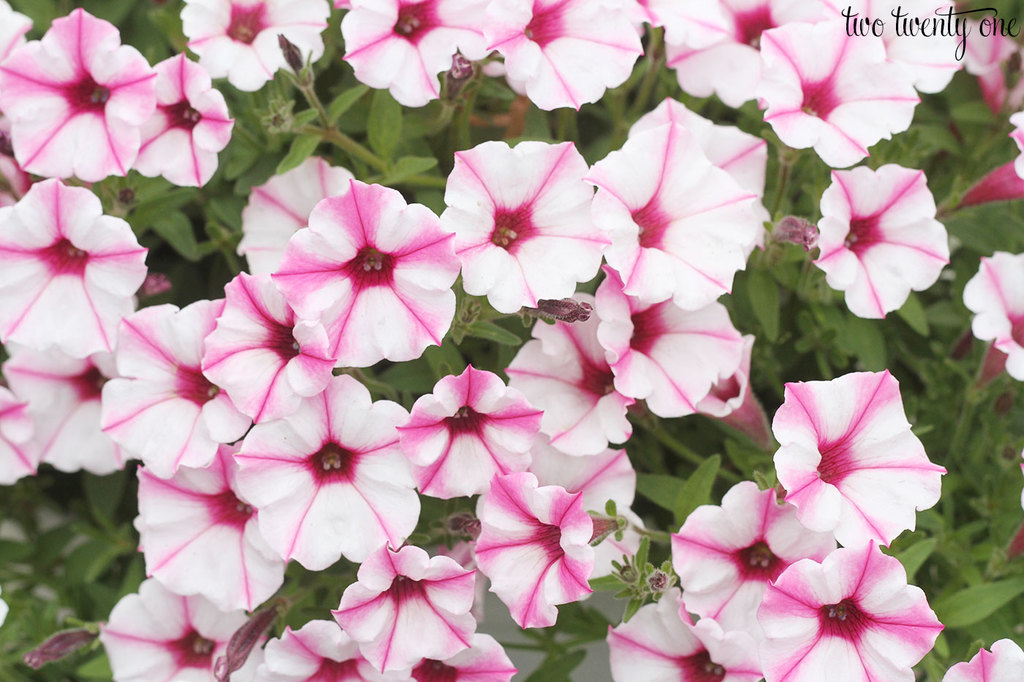 I'm not completely happy with our window box this year, but I'll take it.
I filled it with petunias, calibrachoa, and I don't know what the purple flower is (sorry!) in the middle, with green and purple sweet potato vine on the sides.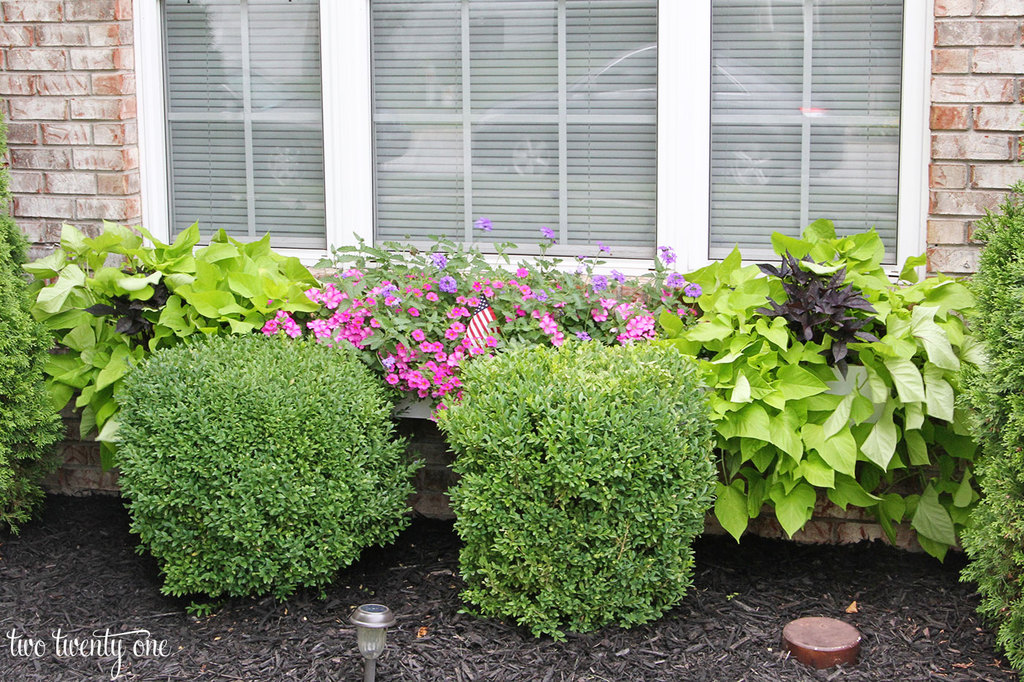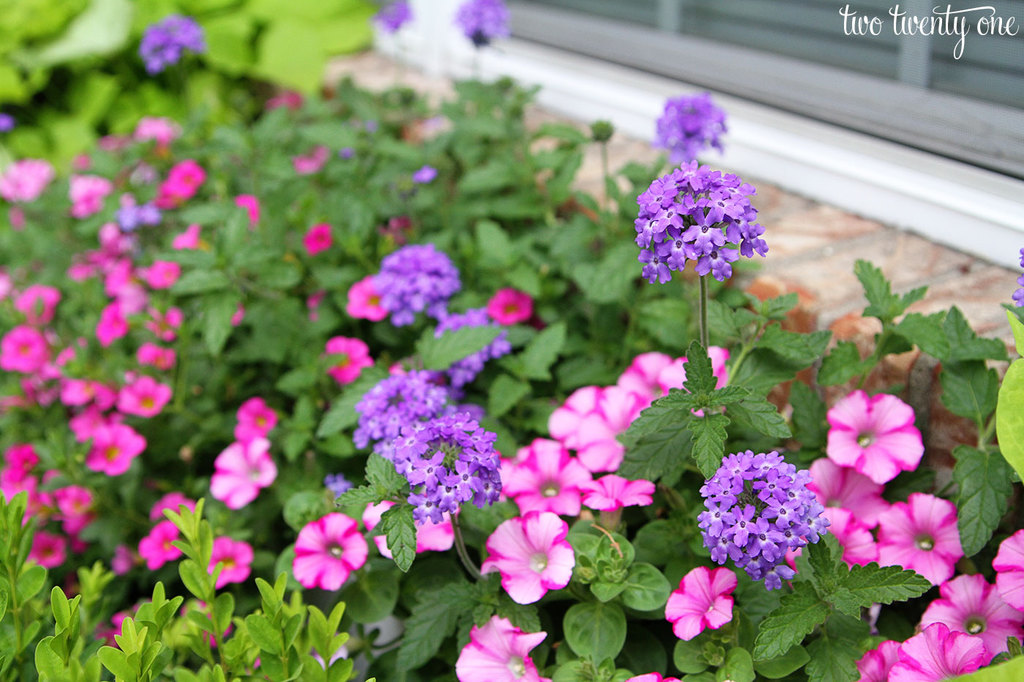 My white hydrangea plant is in beast mode this year. You can't really tell in the photo, but it's really tall– about 5 feet.
Now I can say I successfully grew hydrangeas! I initially had this hydrangea in front of our house, but it was getting too much sun, so I moved it to the north side of our house where it's in shade. That's it. I haven't done anything special to it.
However, it's started to smother my purple/pink hydrangea.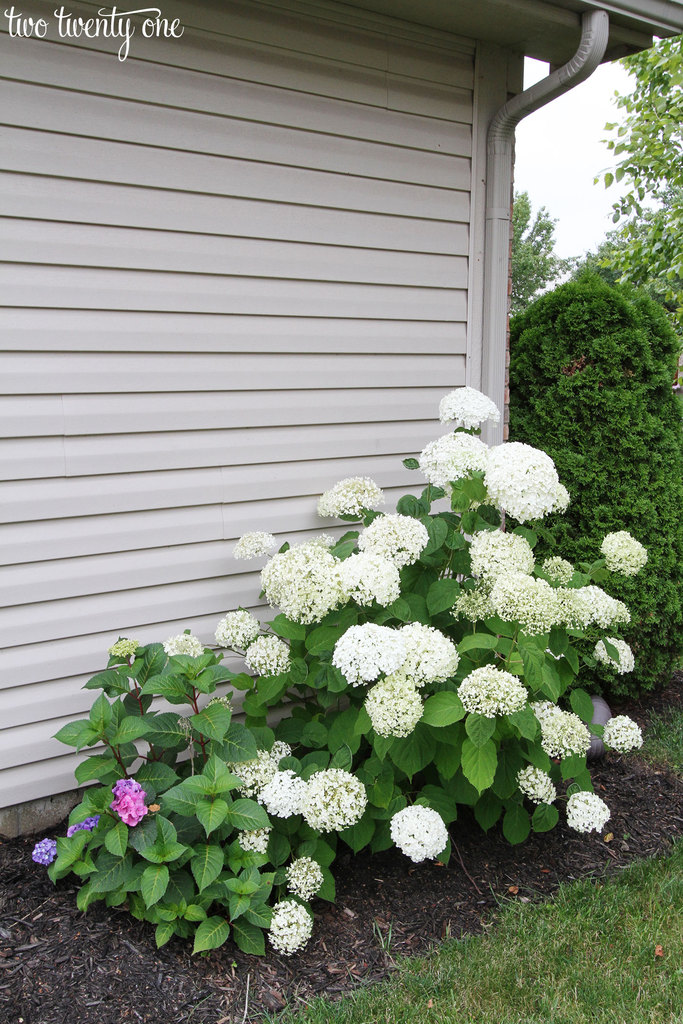 So pretty!