Indianapolis Bachelorette Party
If you follow me on Snapchat (chelsea221blog) and Facebook, you probably saw that I threw a bachelorette party for Brad's cousin Melissa, who's basically my cousin, at the JW Marriott in downtown Indianapolis this past weekend.
The JW Marriott graciously gave us a hospitality suite so we would have plenty of room for the 11 of us in attendance. We also got two standard rooms with 2 queen beds in each room (so people had somewhere to sleep) and split the cost of those 10 ways amongst all of us. I say 10 because we all split the cost of Melissa's stay.
Since Melissa's favorite color is black, I went with the classic bachelorette party color palette of black, hot pink, and gold after being inspired by this bachelorette party, but on a much slimmer budget.
Let me just say that I went a little bananas with this party. I've never thrown a bachelorette party so I was a little excited. That, and Melissa and I have become pretty close. She's also the nicest person you'll ever meet so I wanted to make sure that she had an amazing weekend where she felt special and celebrated.
Needless to say, it looked like I was moving into the JW Indy when I arrived with a car-full of stuff. I may or may not have required two luggage carts to get everything up to the room.
Almost all of the people in attendance were driving 3 hours up from Evansville, making downtown Indianapolis the perfect destination. They were leaving after they got off work on Friday, which gave me about 3-4 hours to get everything set up once Brad got home from work.
After getting three balloons blown up, I got to the hotel around 5PM and met one of Melissa's bridesmaids who kindly volunteered to help me set up. I playfully referred to her as Assistant Katie all weekend because she was such a huge help to me– I never would've gotten everything done without her. So shout out to Katie, the best balloon-blower-upper around.
Also, funny story: when we were done setting things up, Katie said, "You remind me of my mom." To which I immediately replied, "Oh, she's a little nutty, too?" She laughed and said, "No, you're just very organized and like things a certain way. And I'm the total opposite." Later that night I joked to the others that I probably scared Katie because while I was running around the room like a sweaty, time-strapped maniac, bouncing from one task to the next, I kept saying "Okay… Okay… Okay…" to myself (I think out loud a lot and apparently I self-soothe out loud as well.).
Thankfully, it all came together and I was able to take photos before everyone arrived. And I even had time to quickly jump in the shower because I looked like I had just ran a half marathon, or at least what I think I would look like if I had ran a half marathon.
P.S. I will try my best to get everything sourced ASAP.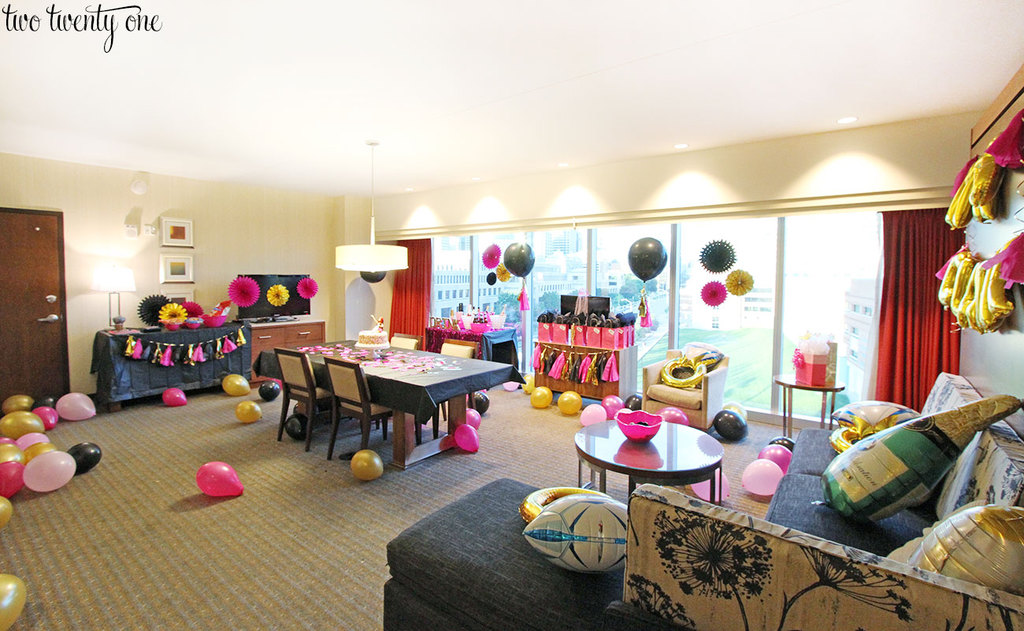 As you can see, the suite provided us with tons of space. It also came with a kitchenette area, and the room connected to one of the other rooms we reserved. Another bonus: all suites come with executive lounge access, where we were able to take in the views of downtown, grab complimentary breakfast, snacks and appetizers.
I don't really know where to start, so we'll just start right when you come into the suite. There's a sectional couch and behind it is a queen size murphy bed that folds down.
I bought a bunch of smaller gold letter balloons to spell out certain things like 'Mrs Clark', 'yay', 'party', 'miss to mrs'. Unfortunately, we had some inflation issues with some of the letters in 'party' and 'miss to mrs' so they were kicked to the curb because we didn't have time to mess with them.
I also purchased some giant diamond ring, champagne bottle, and champagne flute balloons (for super cheap). Because, why not?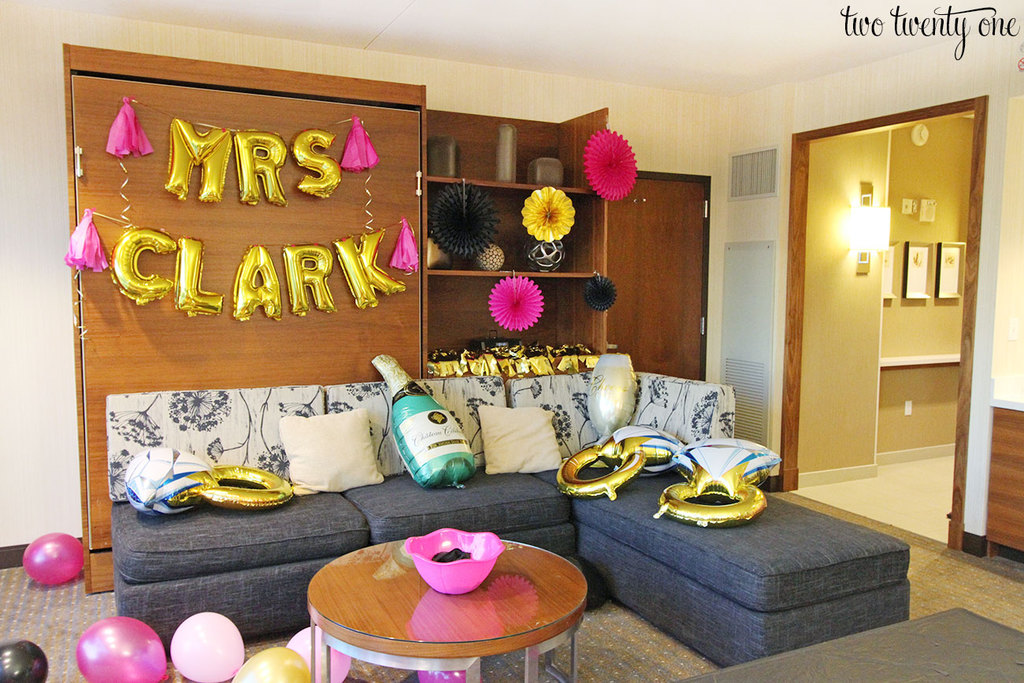 I made 20 black and 20 hot pink tissue paper tassels, and 30 gold mylar tassels the week leading up to the bachelorette party. My original plan was to make balloon tassels for the big latex balloons as soon as I got to the hotel. But when I attached the tassels to a balloon, the tassel dragged the balloon to the ground– they were just too heavy for the balloon. Note to self: lighter balloon tassels next time.
Instead of balloon tassels, I made a couple tassel garlands and used the remaining tassels next to the balloon words. I even put the gold tassels on the edge of the shelves behind the sectional (I snapped this photo before I added tassels to the middle shelf). I added some tissue paper fans to the shelves. Seriously, those are the best decorations because it takes seconds to open and hang them. Plus, they're compact when they aren't opened.
(Let me know if you want a tissue paper tassel tutorial!)
Katie and I attached the balloon letters to gold curling ribbon with hot pink washi tape. I used little pieces of double sided tape to attach the hot pink tassels to the surface.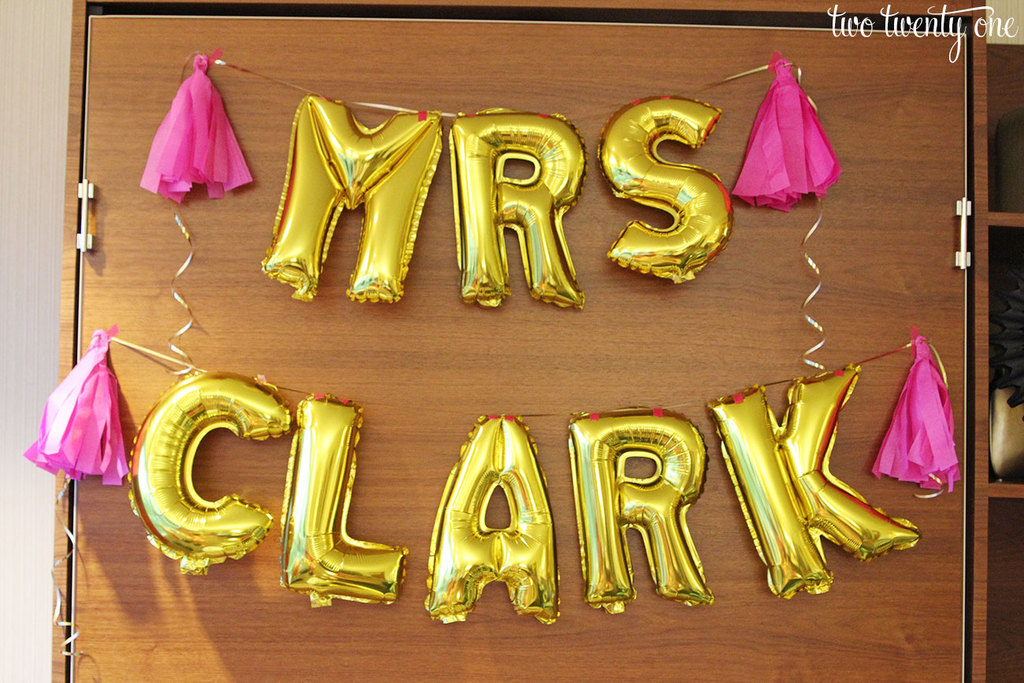 This picture says it all.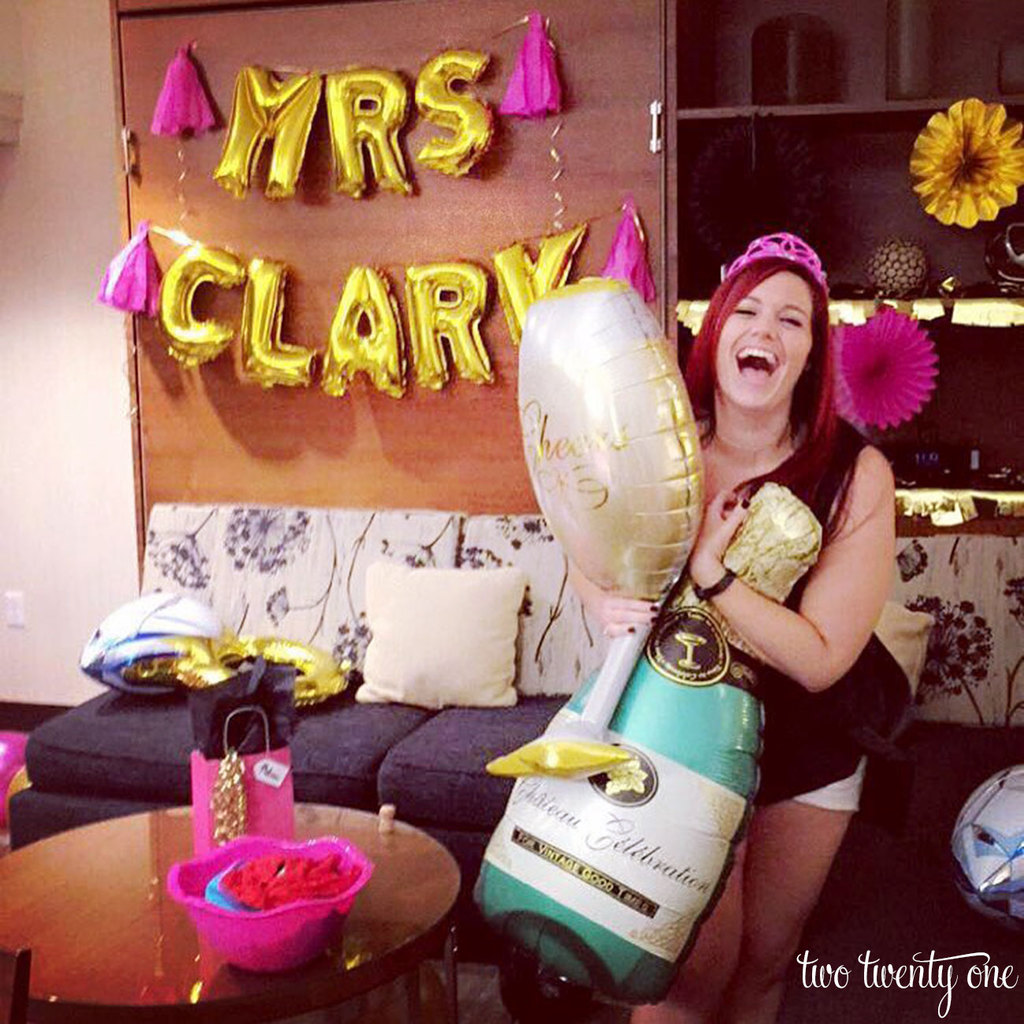 I originally put Melissa's gift bag and tiara with veil with the other gift bags (see the next photo). But ultimately I decided to move them onto the coffee table with her 'bride to be sash'.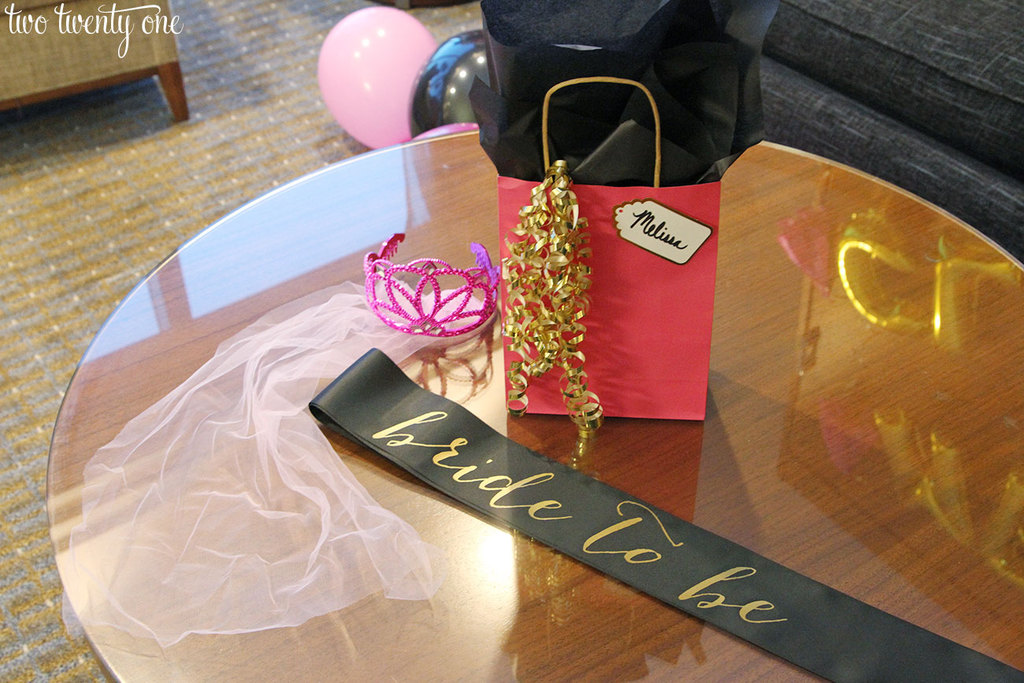 I set all of the gift bags on the TV console, but it looked a little barren so I whipped up a tassel garland.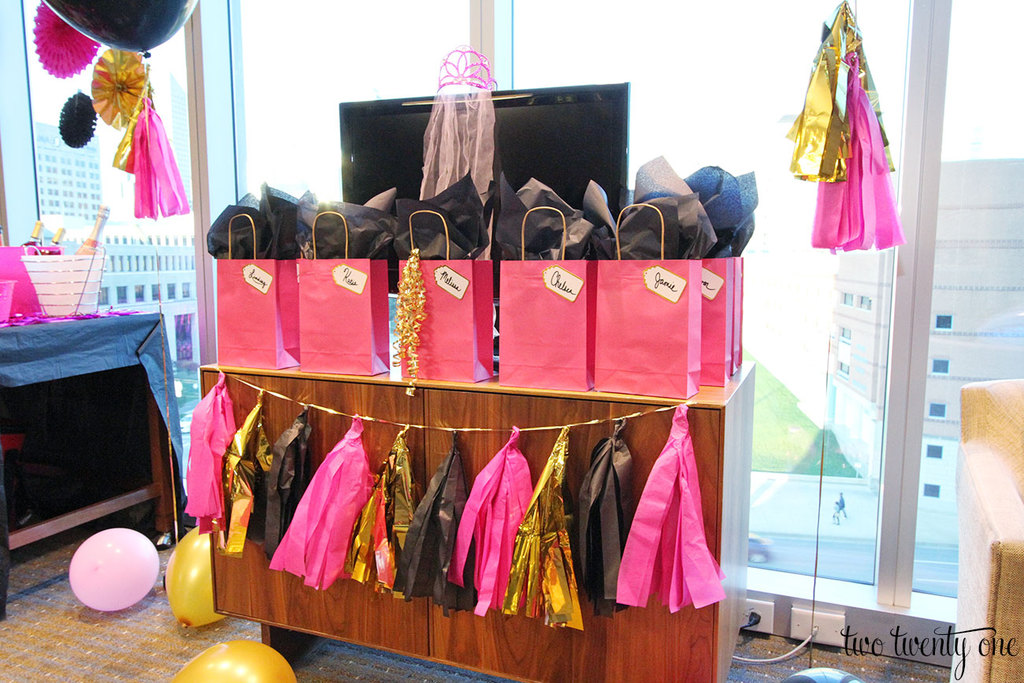 The TV console was flanked with two of the big balloons. I was able to attach a couple tassels to the balloons and have them remain in the air.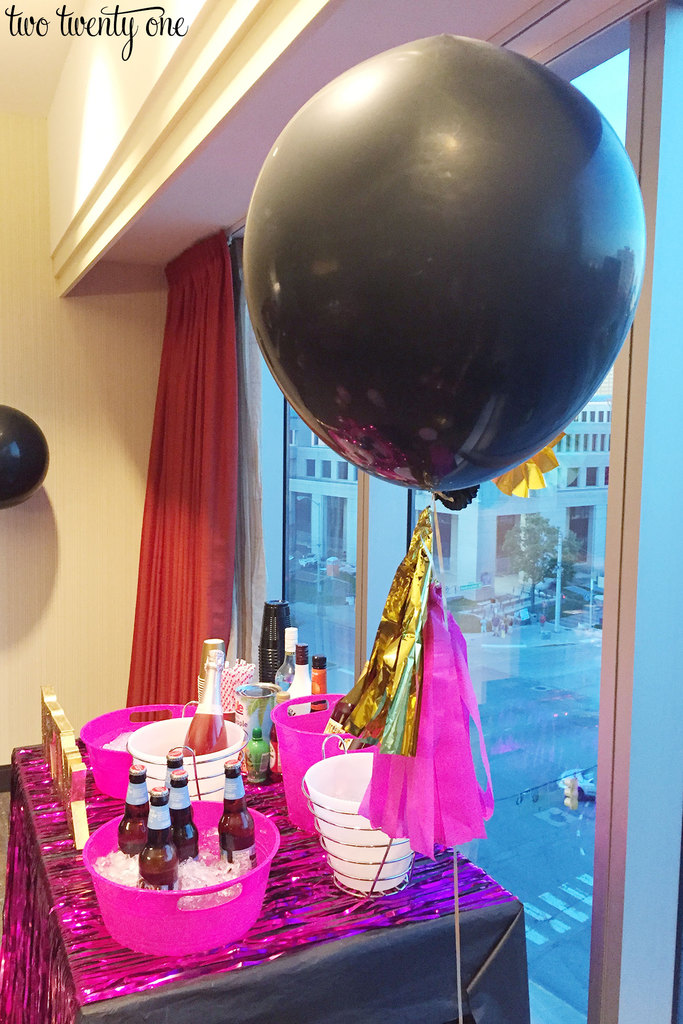 No bachelorette party is complete without a mini bar. The main desk in the hotel room came with another desk/table that rolled out from underneath. I thought it would look cool to have the Indianapolis skyline in the background, so I positioned the table in front of the window. To make it look more festive, I added a black tablecloth with a pink tinsel curtain draped over the tablecloth.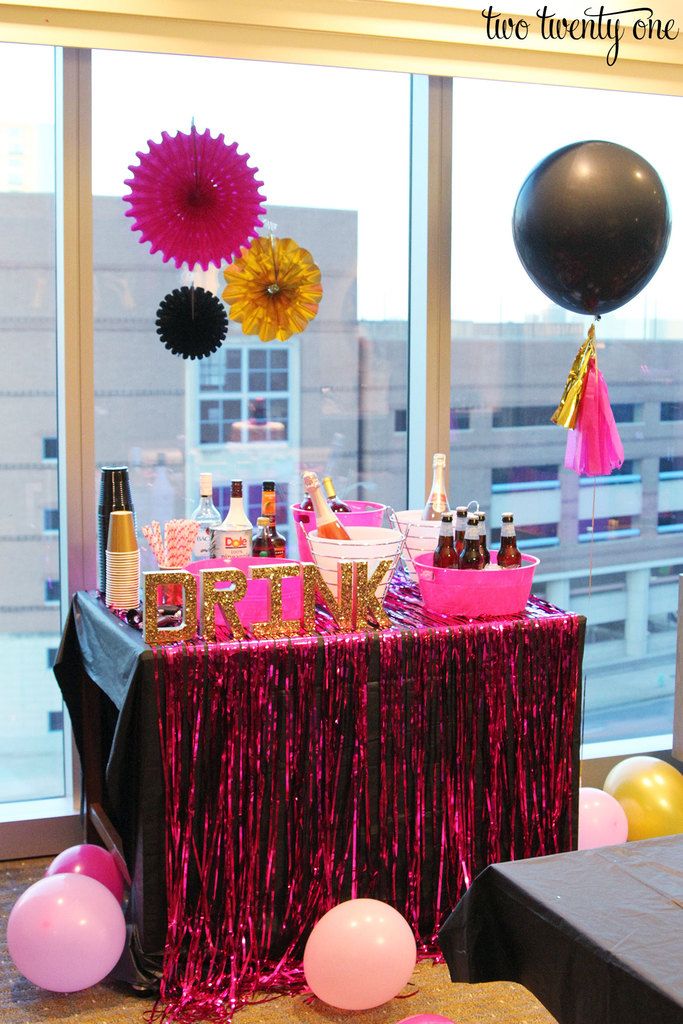 I crafted the glittery 'drink' letters– tutorial to come.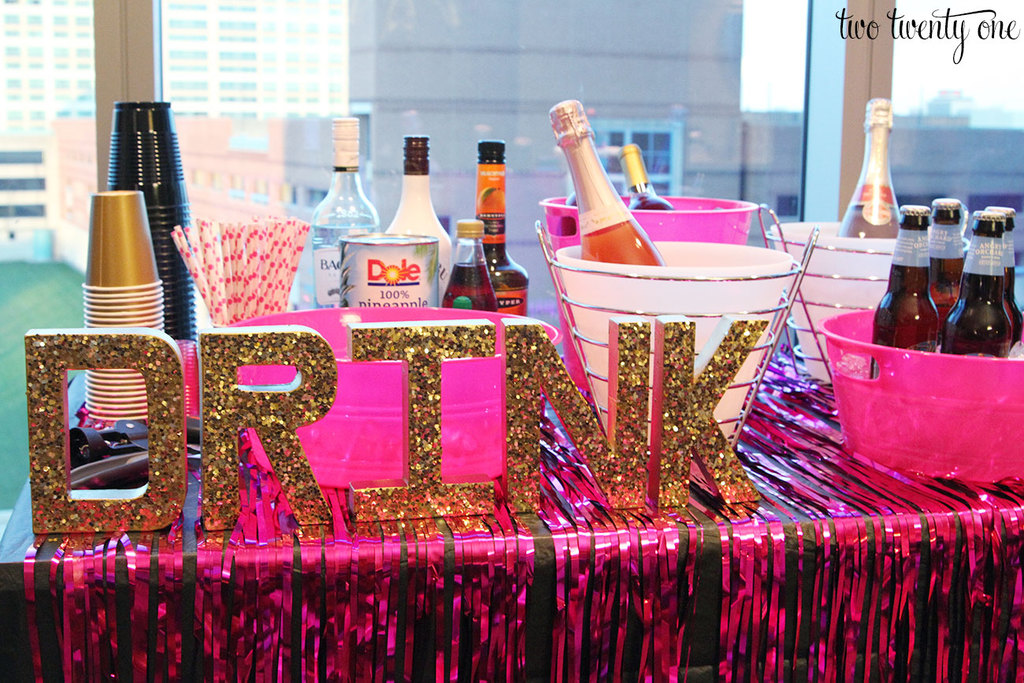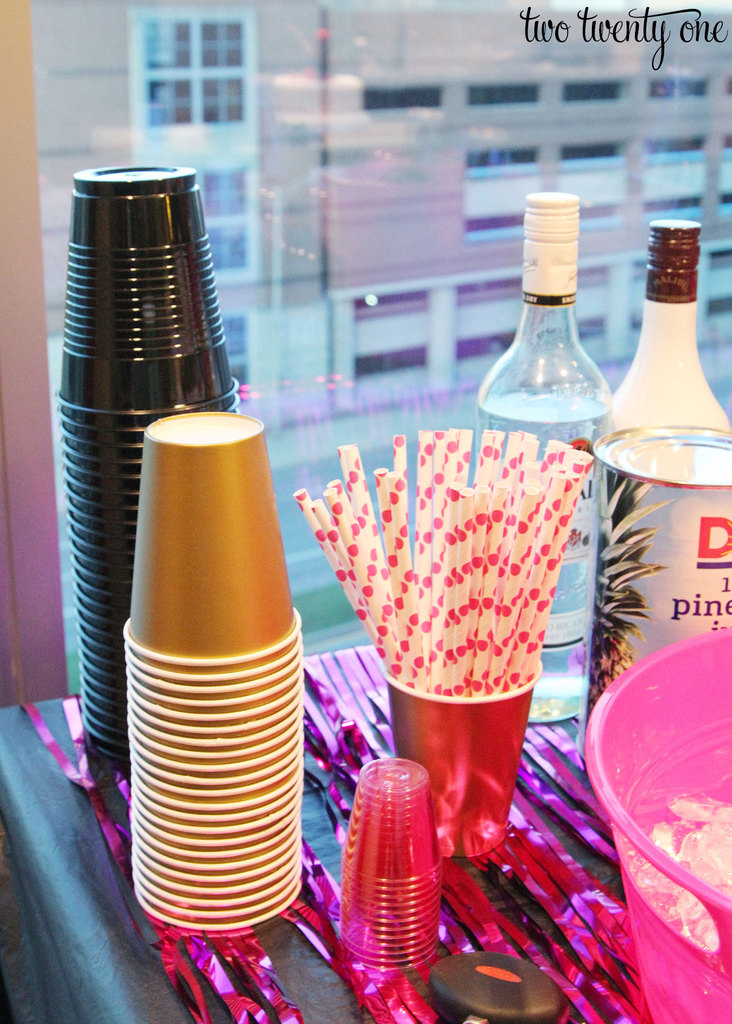 I stocked the bar with all of Melissa's favorites.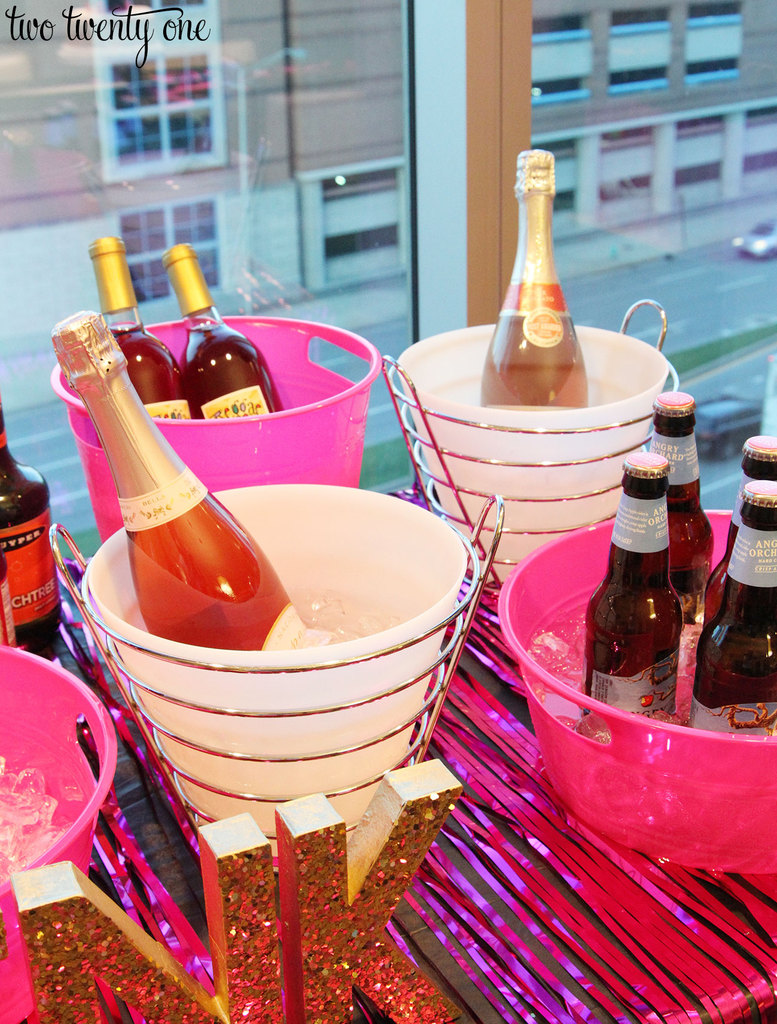 I whipped up some mango rummy bears (gummy bears soaked in mango rum), and while not pictured, Melissa's mom's friend brought a plethora of Jell-O shots.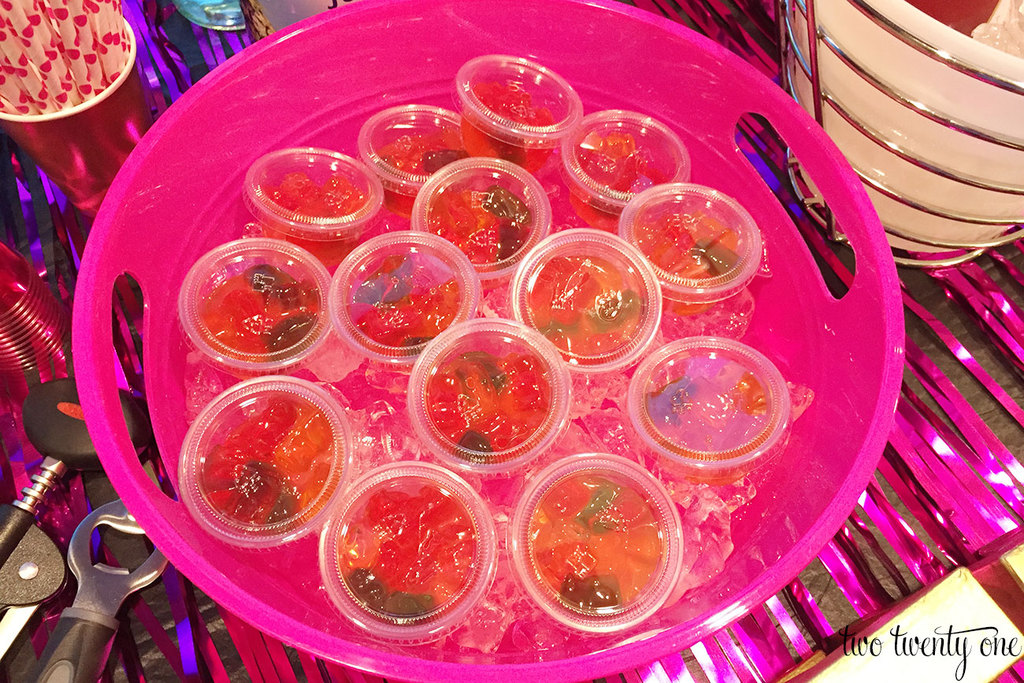 We didn't have a ton of food, but I wanted to set up an area with snacks.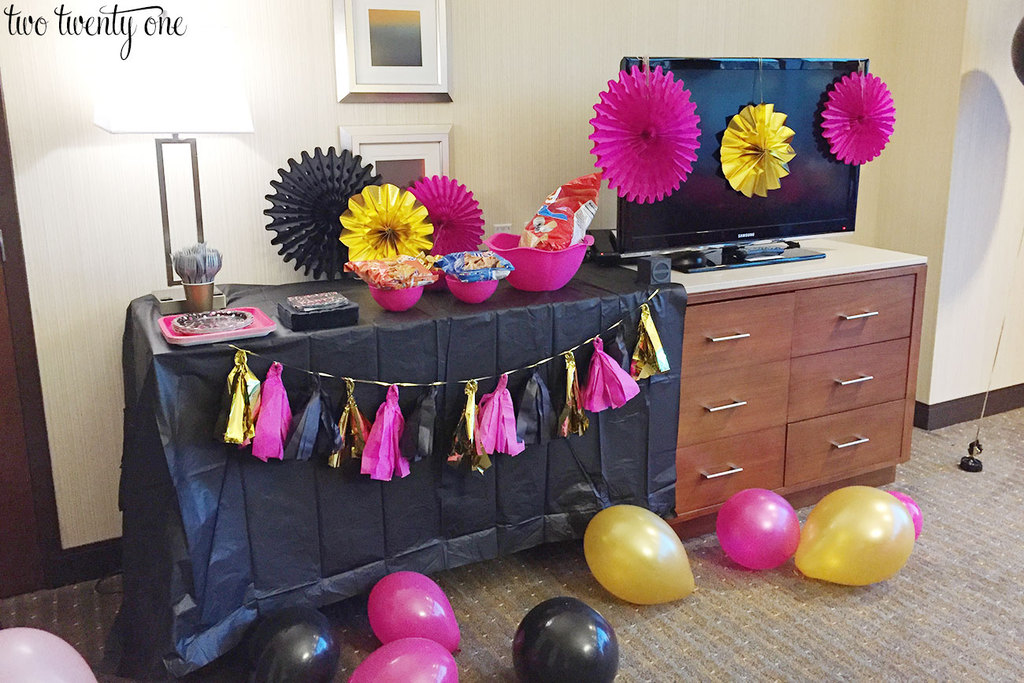 I couldn't resist the 'bachelorette party' dessert plates and napkins.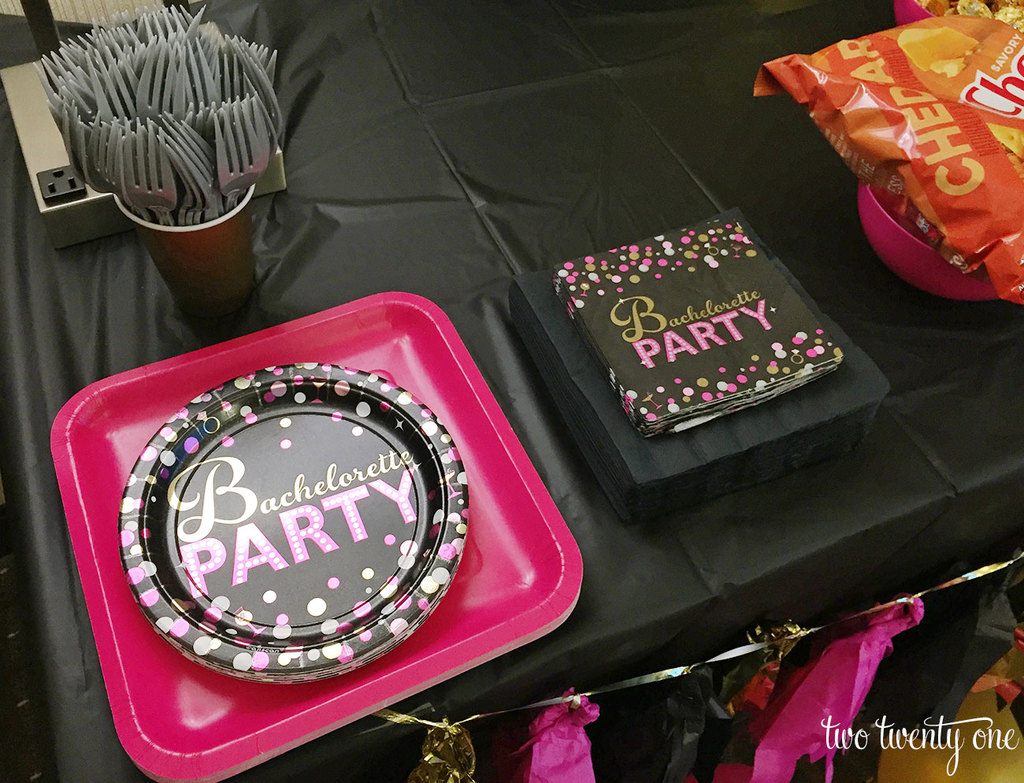 When discussing wedding cakes, Melissa told me she'd love to have a cake that's covered in sprinkles. That wedding dream was scrapped, so I decided to arrange for a sprinkle-covered bachelorette party cake, which the JW Marriott kindly supplied as part of their Architect Your Evening package.
I sat the cake in the middle of the table and littered the black tablecloth with big pieces of gold and hot pink confetti, which was actually pieces of tassels I snipped off in an attempt to cut some weight from them when I was trying to make the balloon tassels work.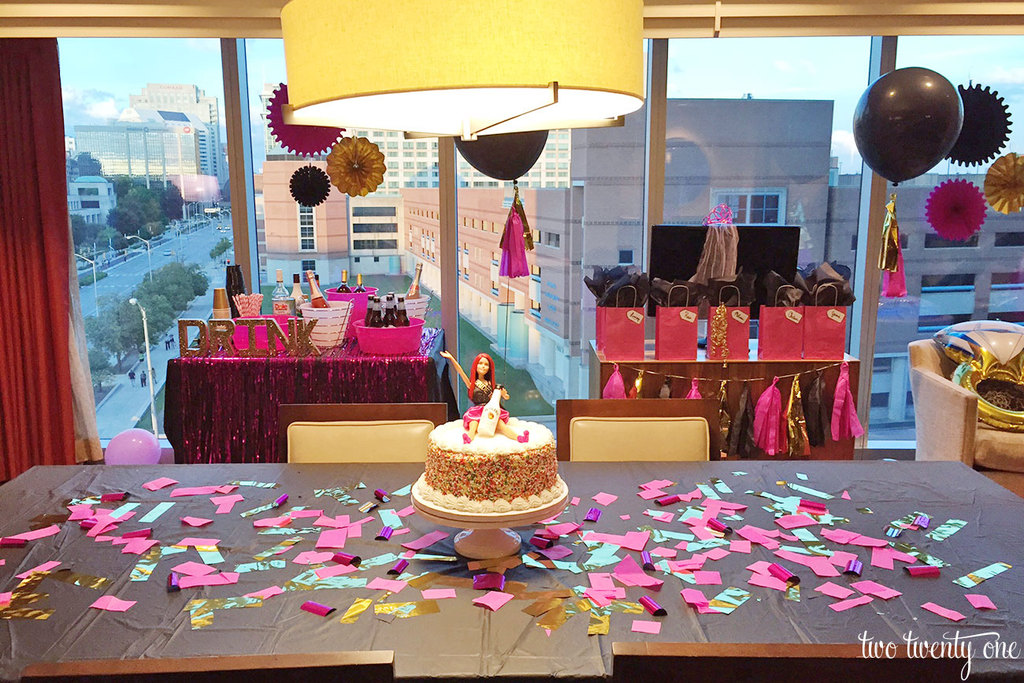 But I couldn't stop with just a sprinkle-covered cake. I had seen a bachelorette party cake on Pinterest while perusing ideas and thought, "Yep, totally doing that." So I topped the cake off with a Barbie that looked just like Melissa. It wasn't easy because Melissa has dark hair with large sections that are dyed red.
First, I attempted to color a Barbie's hair with red and black permanent markers. The result was frightening. As luck would have it, one night I randomly decided to search Amazon for the eighth time, and I found a Barbie with nearly identical hair and brown eyes.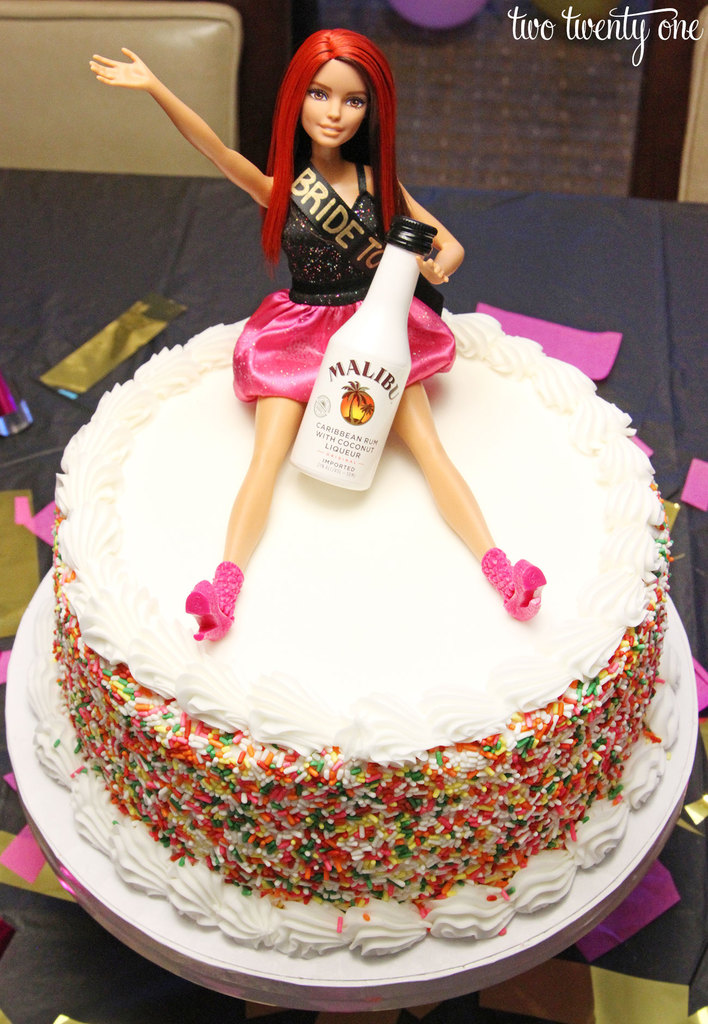 I used a piece of black satin ribbon and a gold paint pen to make the 'bride to be' sash. One of Melissa's favorite drinks is Malibu rum and pineapple juice (mine too!) so I got a mini bottle of Malibu for Melissa Barbie to hold.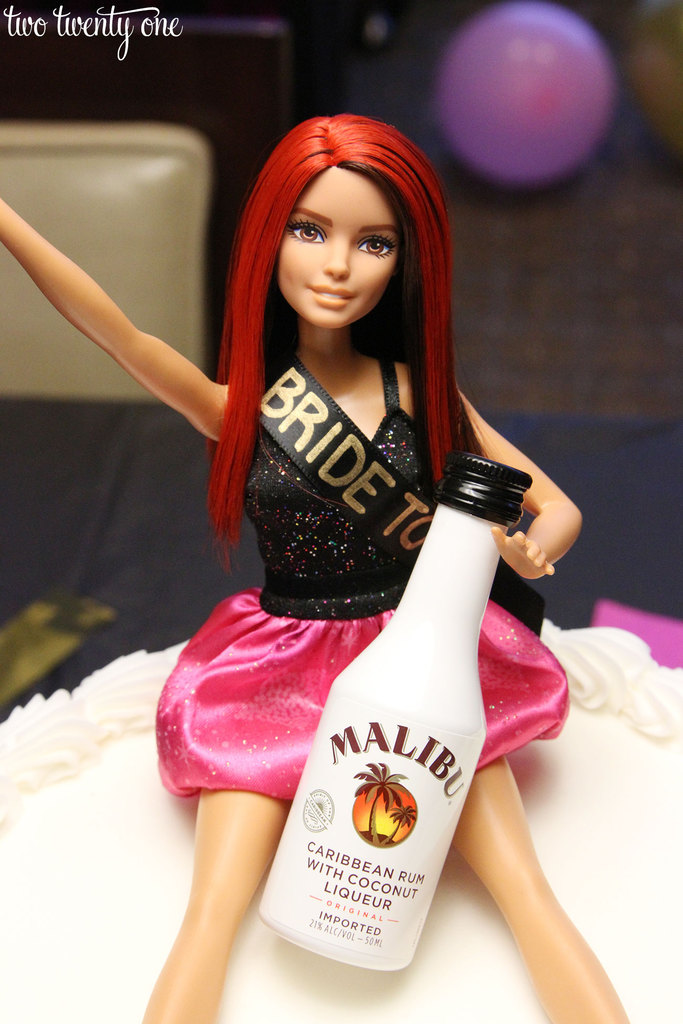 Twins! AmIright?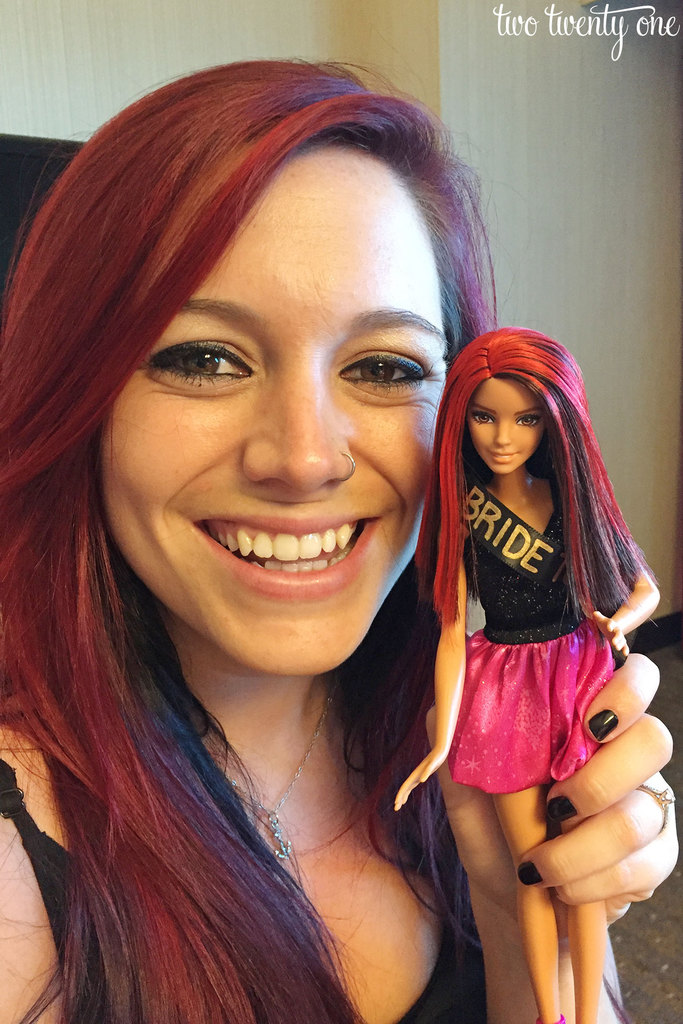 In order to add some more color to the room, Katie helped me blow up a ton of hot pink, light pink, black, and gold balloons that we scattered around the suite.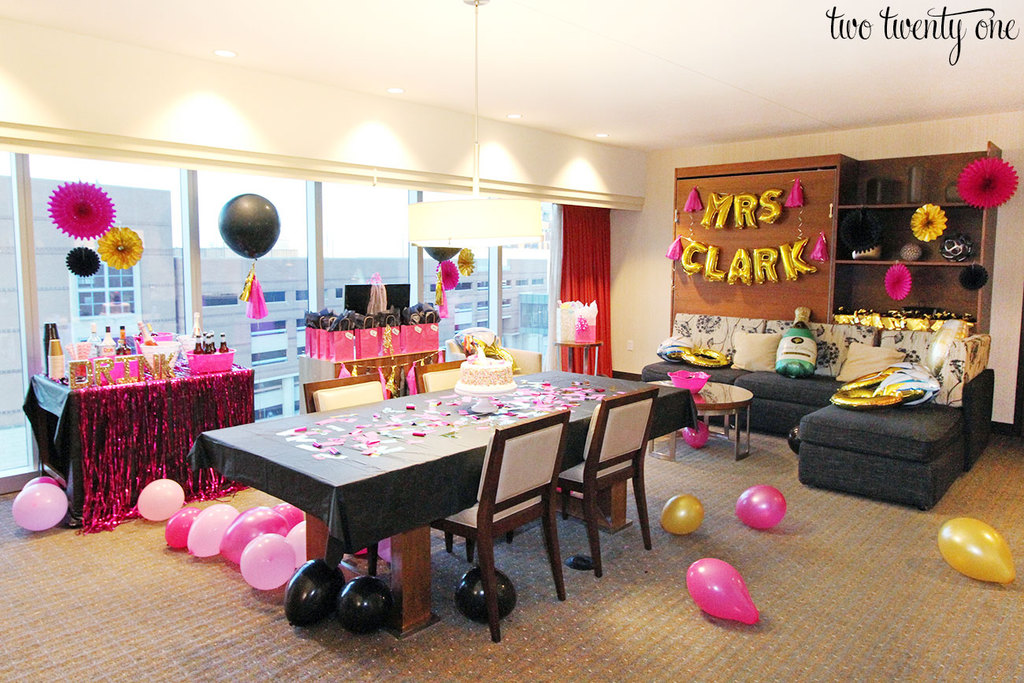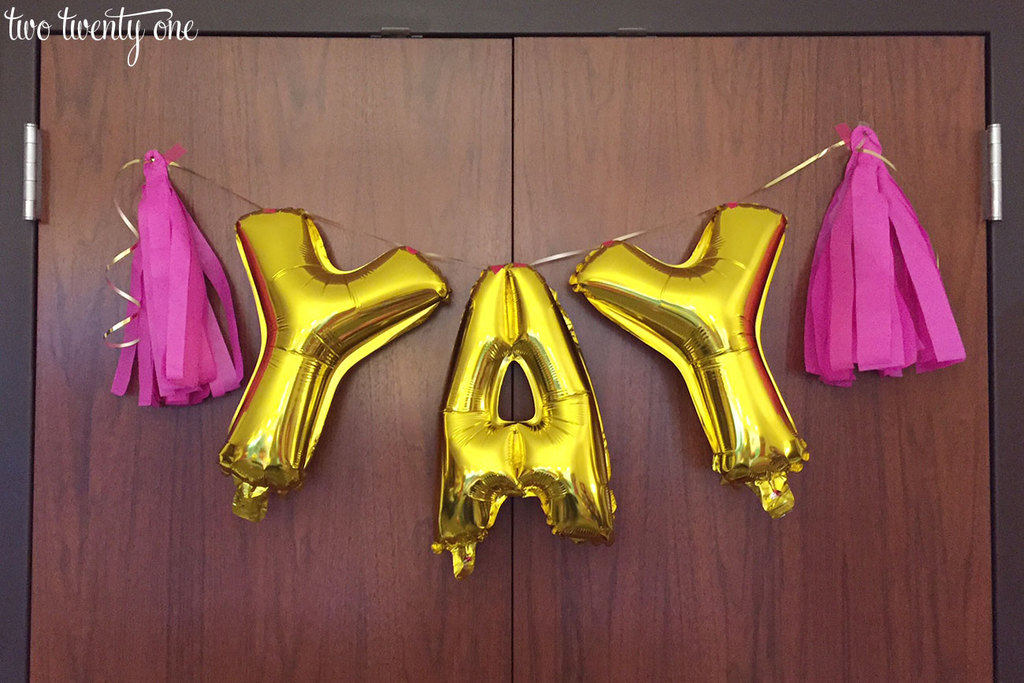 We played a couple games. One was the underwear game. Every guest brought a new pair of underwear for Melissa and put them in a big bowl. She had to guess who gave her which pair of underwear. She got two guesses. If she got it wrong, she had to take a drink (or two), but if she got it right, someone of her choice had to take a drink.
If you ever invite me to your bachelorette party, please know that I will gift you the largest pair of granny panties I can find.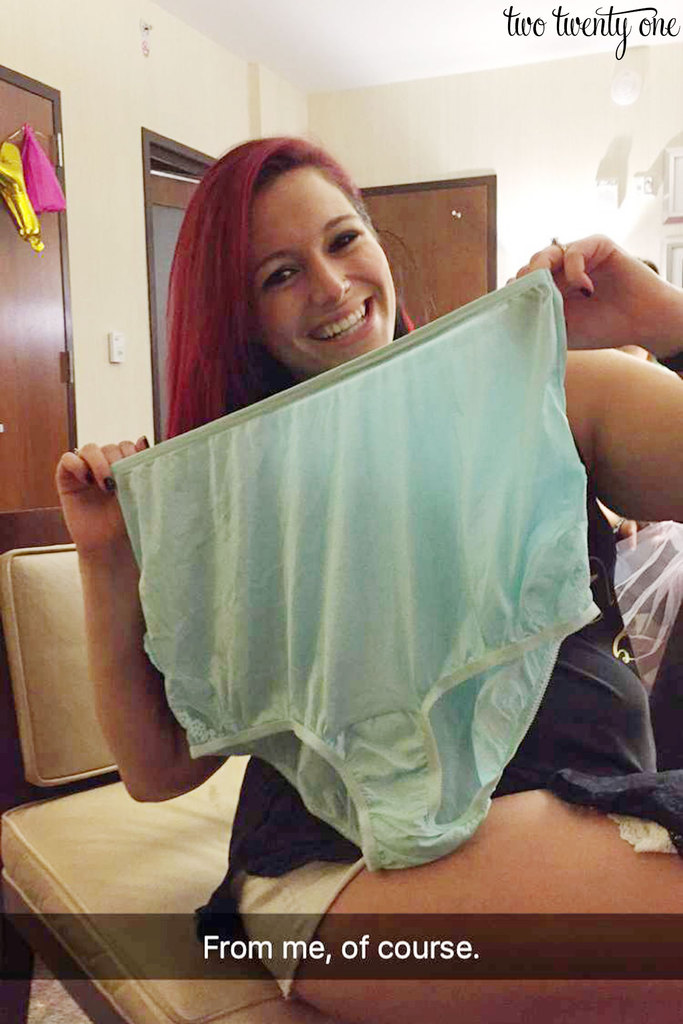 Don't worry, I also gave her a real pair of underwear.
Funny story about the real underwear that I shared on Facebook: As the Target cashier scanned the underwear, I said, "Oh, I'm going to need a gift receipt for that." She nodded but I felt like I had to explain myself by saying, "It's for a bachelorette party. I don't typically gift underwear to people." It was a totally comfortable, not awkward exchange.
Another funny story: I actually got those granny panties for free two years ago due to a mistake by JCPenney (they made it right).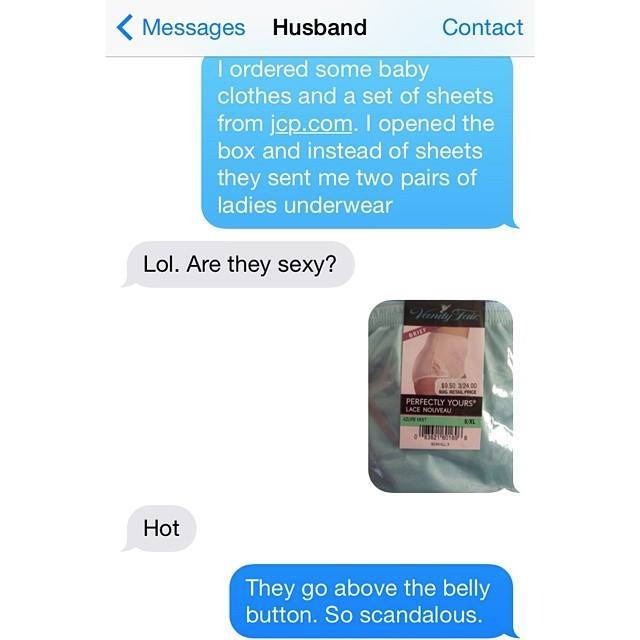 After Melissa opened all of her gifts, everyone in attendance opened their bachelorette party favor bags I put together.
In each bag was a 'Drink Drank Drunk' koozie, 'To have and to hold… your hair back' hair ties, and a light up ring.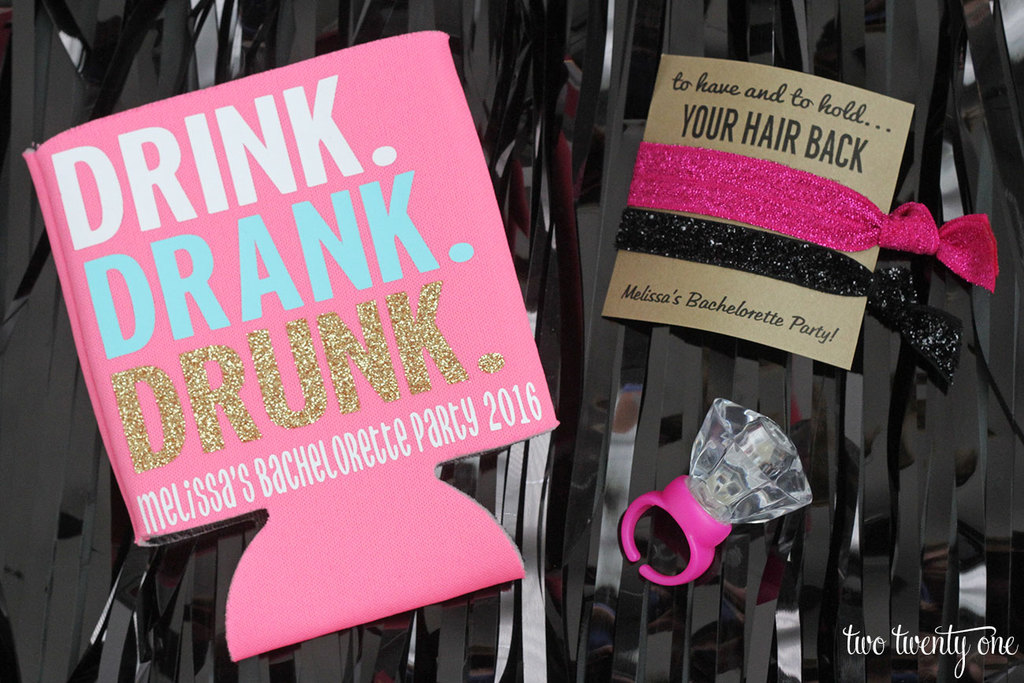 The koozies were also monogrammed on the back. Seriously, how cute is that?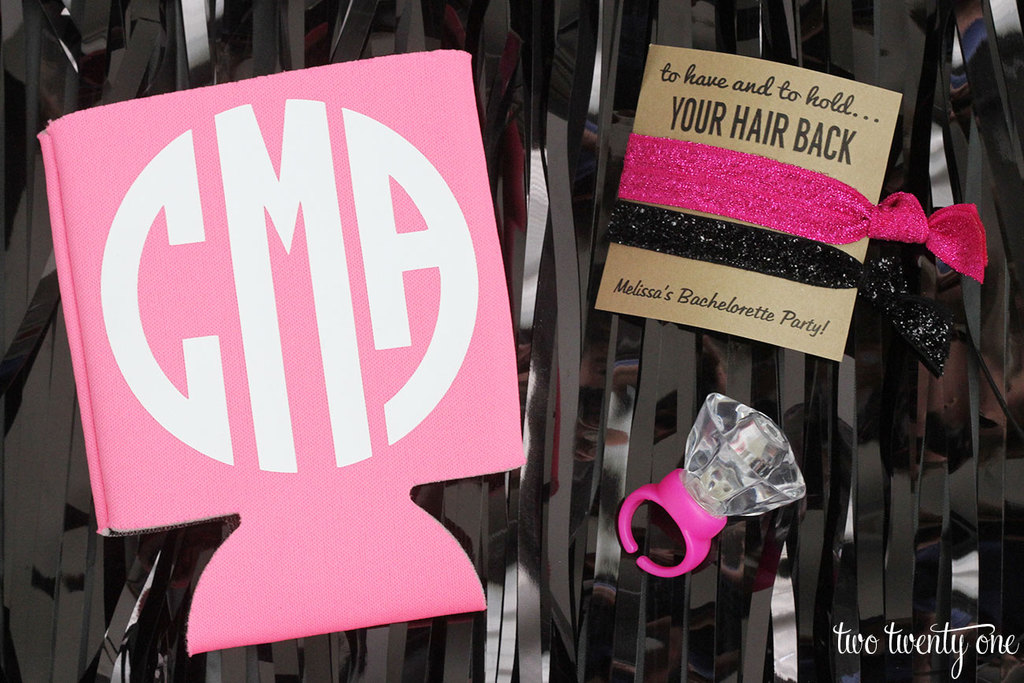 Snapchat filters FTW.
As part of their Architect Your Evening package, the JW Indy spoiled us with Prosecco and orange juice for mimosas Saturday morning.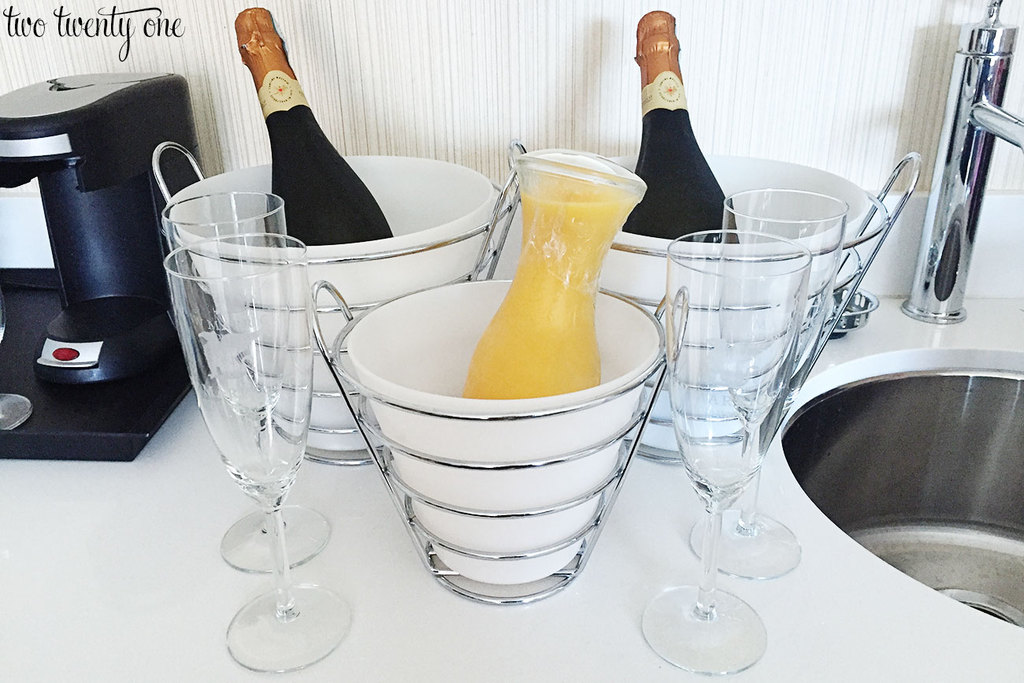 Late Saturday morning we had brunch at Mesh on Mass Ave. After downing mimosas and delicious food, like crab cakes Benedict, we headed down Mass Ave. to check out some of the fun shops like Three Dog Bakery and Silver in the City.
After getting our window shopping fix, we went to Easley Winery for a tour and tasting. Then some of the girls headed to Sun King Brewery for a tour and tasting.
We enjoyed dinner and drinks at Harry and Izzy's downtown Saturday night before heading to The Rathskeller for some live music in the biergarten.
We were obviously pumped.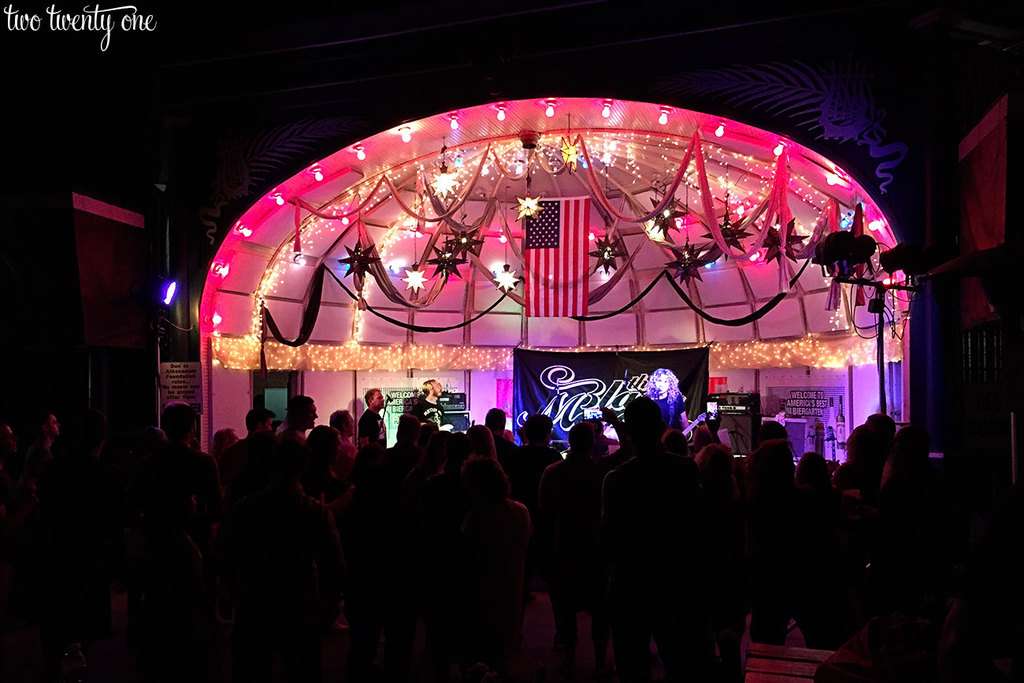 After the band stopped playing at 11PM, we headed down Mass Ave. to Tini where we danced until 2AM.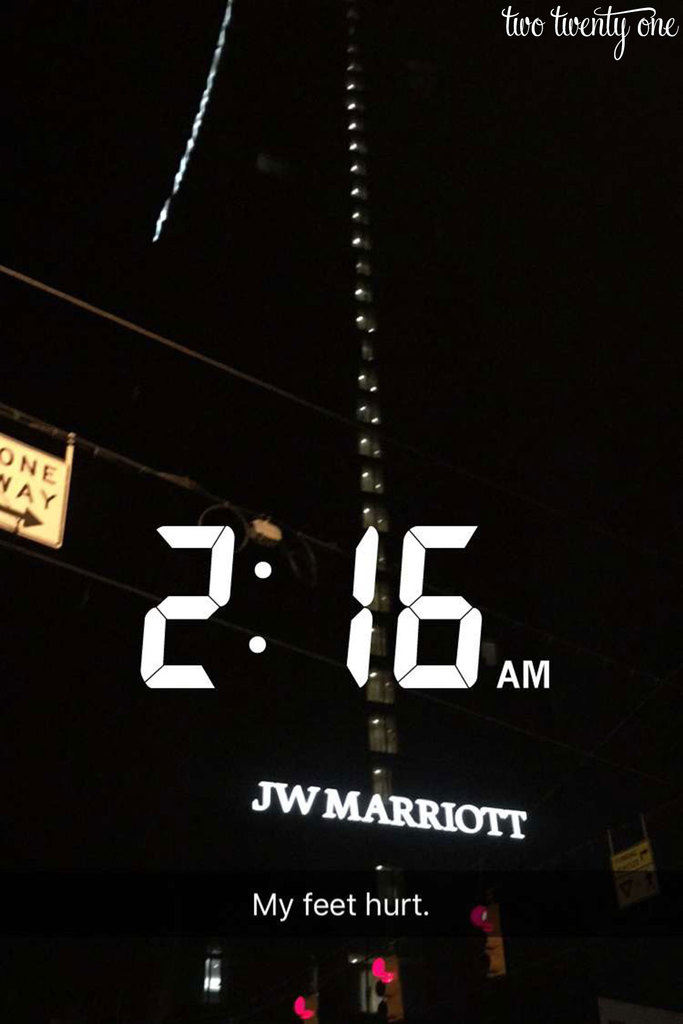 The next morning we rolled out of bed, grabbed some breakfast at the JW, and everyone hit the road. Not gonna lie, I was glad I only had a 30 minute drive compared to a 3 hour drive. And you better believe I took a nap that afternoon.
 A huge thanks to the JW Marriott Indianapolis for working with me. The rooms are beautiful and the staff is amazing. And you seriously can't beat the views of the city from the hotel. If you're ever in Indy for a special occasion, definitely look into booking their Architect Your Evening package.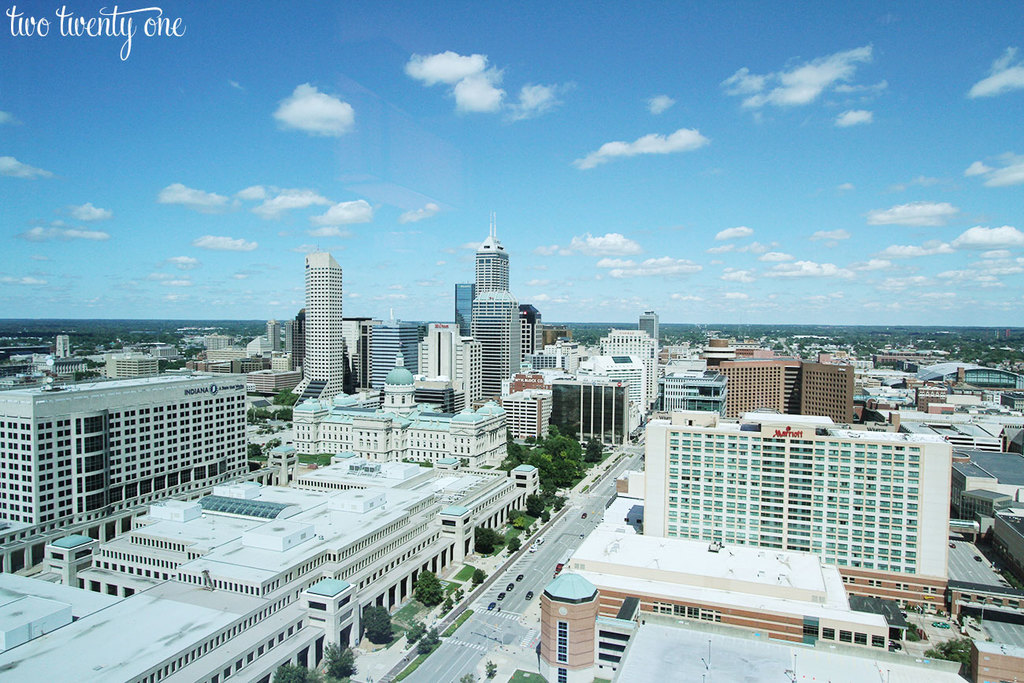 Also, a big thanks to my friends at Oriental Trading Company for supplying a bunch of the decorations and tableware. And thanks to Double H Designs for the koozies, Elastic Hair Bandz for the hair ties, and Black Label Decor for the 'bride to be' sash.
Source page to come!