DIY Tissue Paper Pom Pom and Fan Backdrop
Who's excited to learn how to make a completely unnecessary but immensely festive DIY tissue paper pom pom and fan backdrop?!
I created this backdrop, with the help of my friend Jen, for her daughter's gingerbread-themed first birthday party. It served as the backdrop for the cake table, but you could use it as a photo booth backdrop, food table backdrop, or behind a table filled with photos of yourself.
It's a backdrop for anything, really.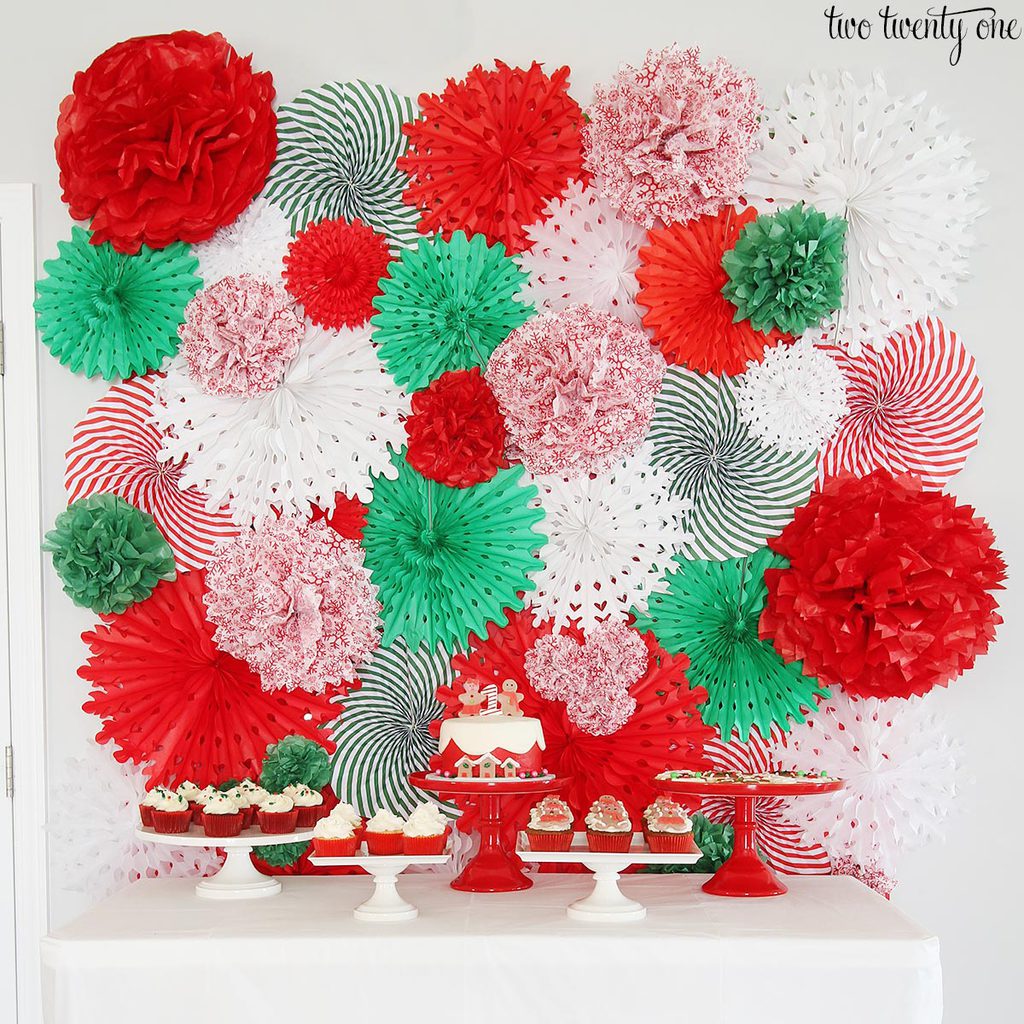 Here's what you'll need for your own DIY backdrop:
plastic tablecloth … Oriental Trading Company
tissue paper hanging fans … Oriental Trading Company
tissue paper pom poms … tutorial HERE
painters tape … this is my #1 choice
duct tape … we used this exact tape
You're going to want to get an array of hanging fans– different colors, designs, and sizes. I'll link the specific hanging fans that we used at the end of this post.
You're also going to want a good mixture of tissue paper pom poms– different colors and sizes. If you didn't know, tissue paper pom poms are extremely easy and inexpensive to make. You can find my step by step tutorial here.
I'd suggest going with at least three colors. As you can see, we went with red, green, and white. Mixing pattern into the backdrop helps to break things up. For the pattern, we had green and white striped fans, red and white striped fans, and white tissue paper with a red snowflake pattern.
I'm going to be honest, the following photos aren't that great. They were taken on my phone at night while we put up the tissue paper pom poms and tissue hanging fans, so please excuse the lack of quality photos.
I'll also add that the step-by-step photos were taken during our first attempt at the backdrop. We used clear packing tape, and it was a huge fail. (See photo below.) If you want your backdrop to stay up, use DUCT TAPE.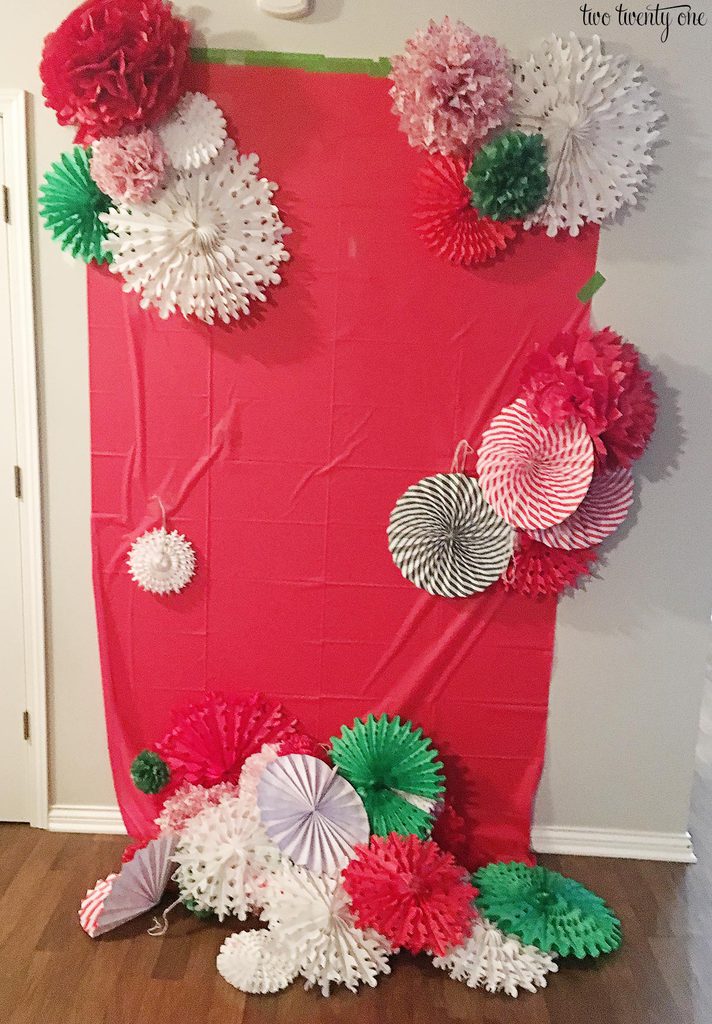 Step 1: Hang the Tablecloth
Locate where you want the backdrop. Use the painters' tape to hang the tablecloth. We just ran strips of painters' tape across the top.
Step 2: Start Big
Begin using the duct tape to secure the biggest fans to the tablecloth.
Then, start adding in the bigger pom poms. I made tape double sided tape loops by folding the duct tape. I stuck the tape onto the back of the pom pom or fan and then gently pushed it into place.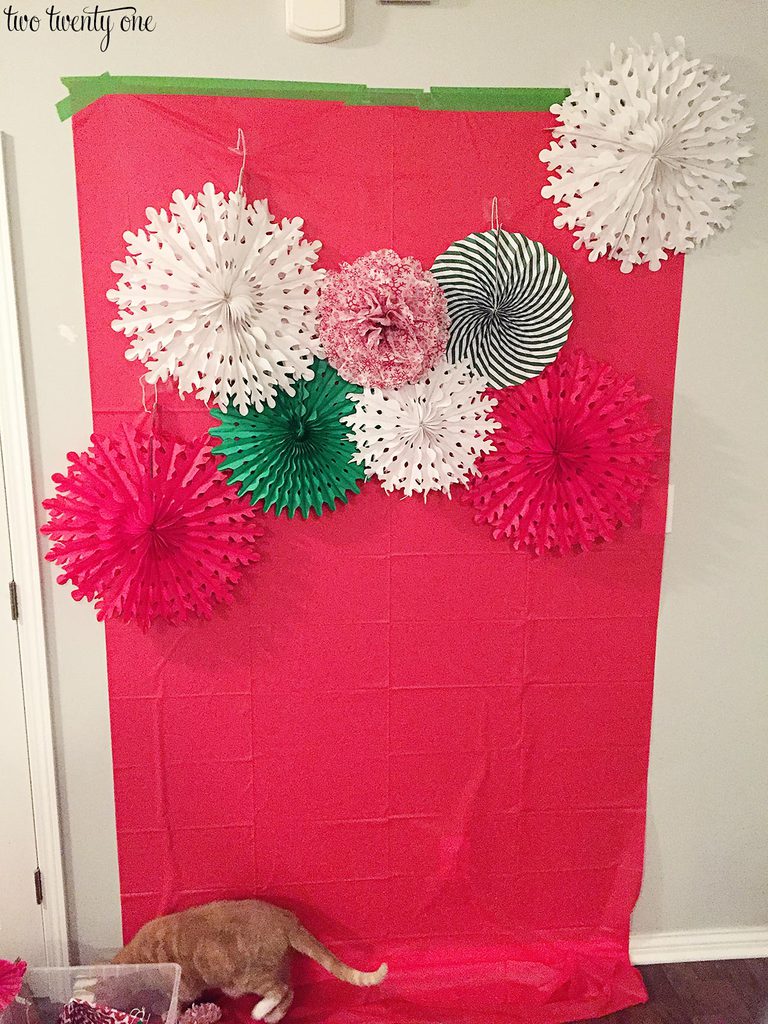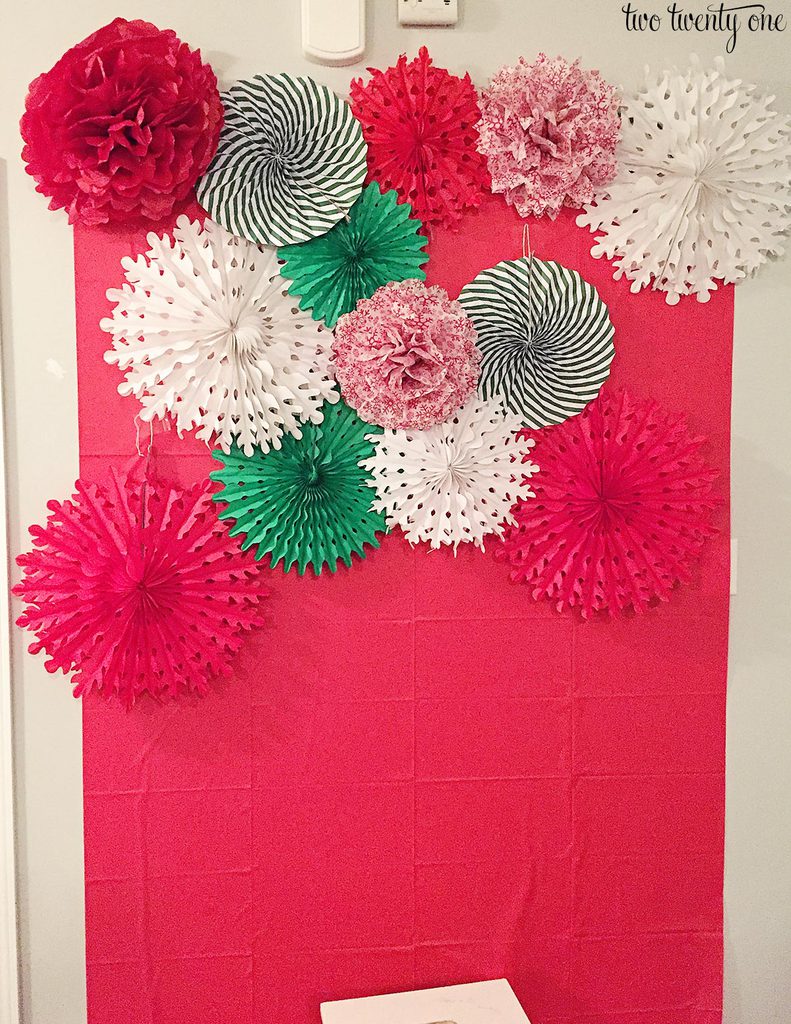 Step 3: Fill In
After all the bigger fans and pom poms have been placed, start filling in the spots with smaller fans and pom poms, securing them to the tablecloth with duct tape.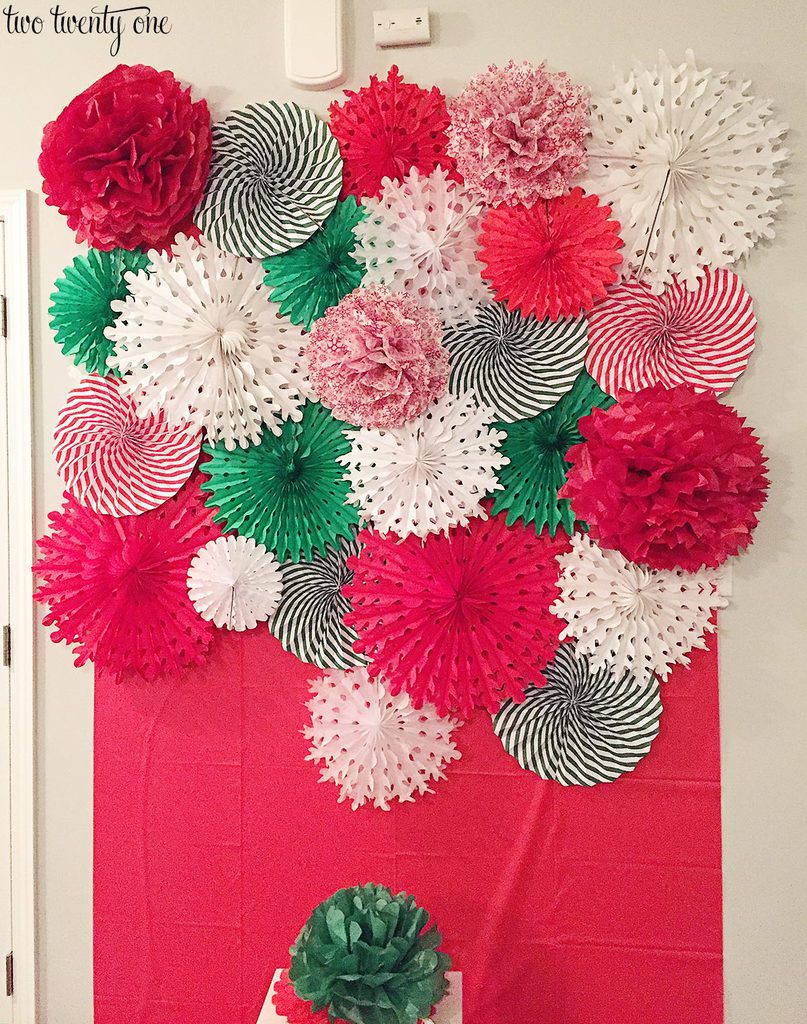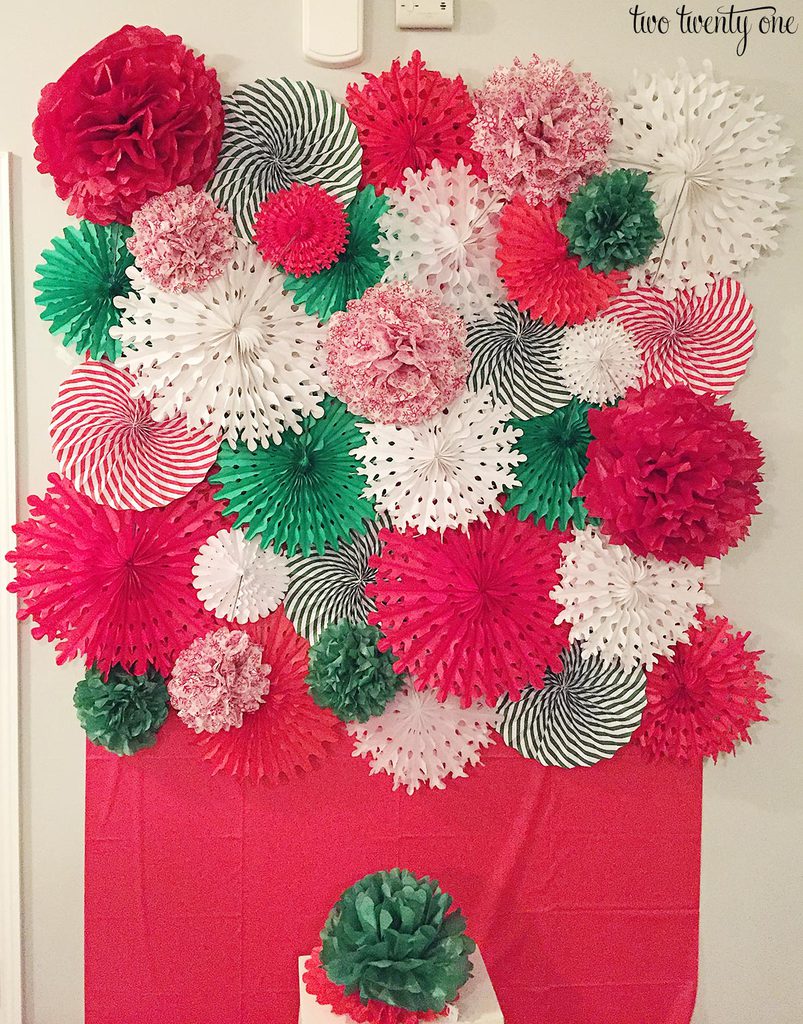 When placing the pom poms and fans, try to alternate colors, forming imaginary triangles with the colors/patterns.
I highlighted three triangles below so you can get a visual of what I'm talking about.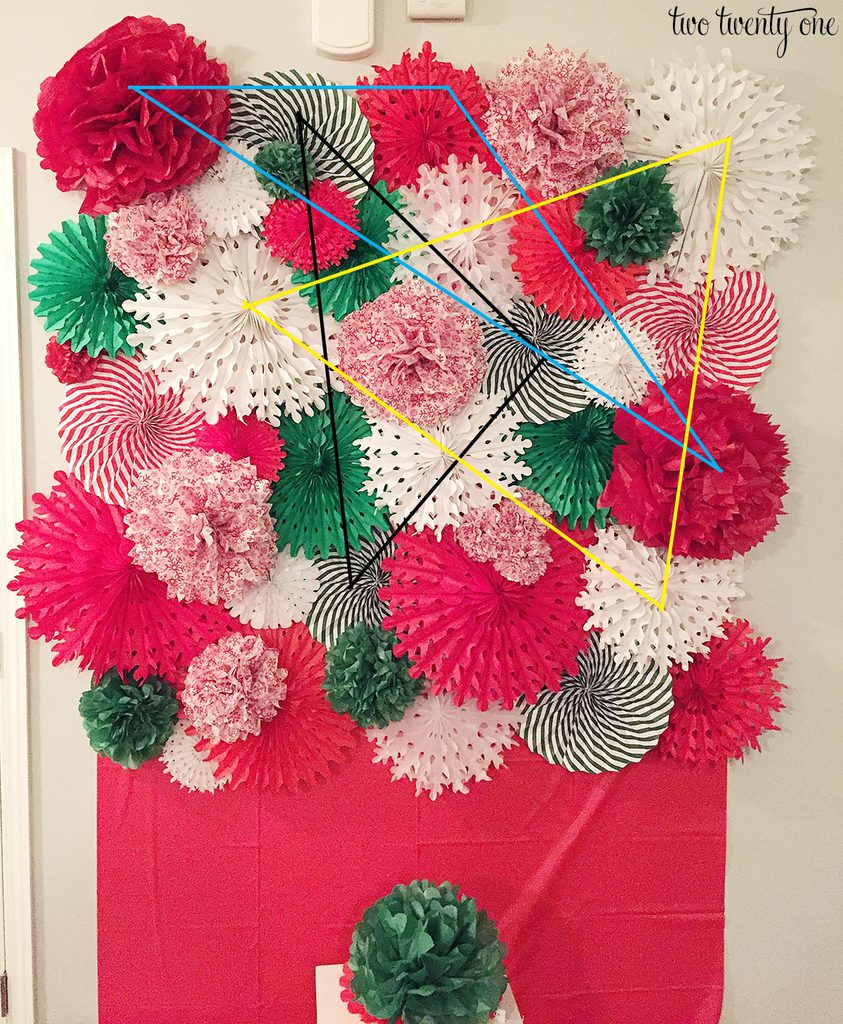 Like I said above, the first backdrop was a fail because we used clear packing tape. The next night, I had to redo the whole thing (with duct tape), using the photos I'd taken the night before.
So here's how the final backdrop turned out.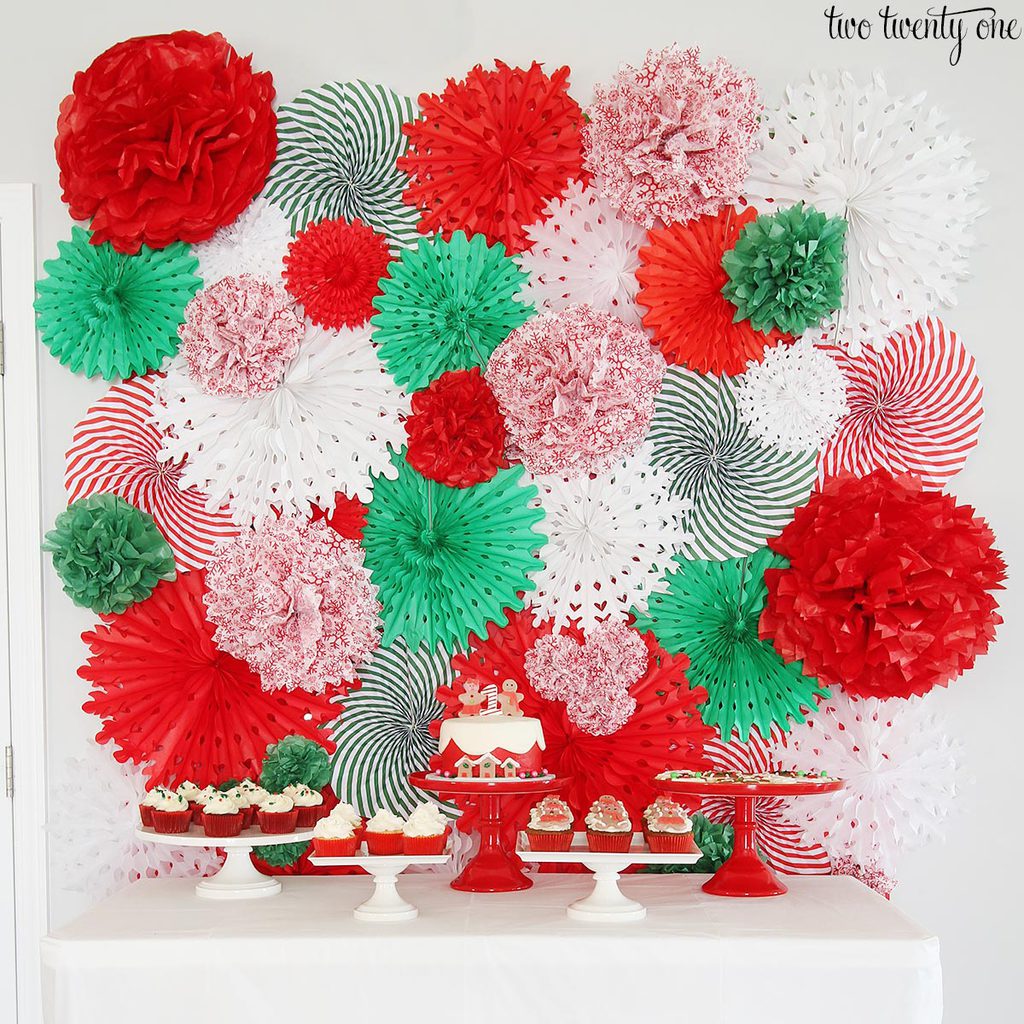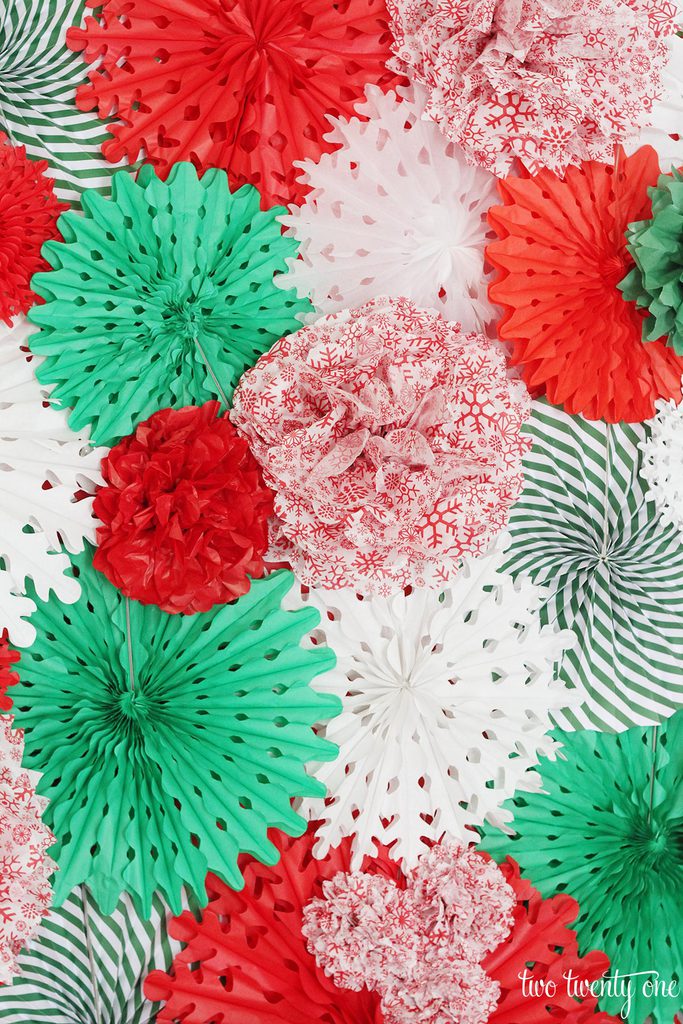 I'm happy to report that the duct tape held strong for weeks after the party.
Hanging Fans:
 red and green hanging fans • red, green, and white tissue paper hanging fans • red and white snowflake assortment • peppermint hanging paper lanterns • tissue snowflakes
Special thanks to my friends at Oriental Trading Company for providing the hanging fans!