A Trip to the Eye Doctor – InfantSEE
 A year ago the video of 10-month old Piper trying on her pink glasses and clearly seeing her parents for the first time went viral. I had seen the video but didn't think much of it other than how sweet it was and how happy I was for her to be able to see clearly.
In honor of the one-year anniversary of Piper seeing clearly and meeting all of her developmental milestones since getting her glasses, the American Optometric Association (AOA) reached out to me and asked if I wanted to help spread the word about comprehensive eye assessments for infants. The mom and former early childhood interventionist in me, of course, said yes.
To be honest, I never thought of getting Owen an eye exam because he hasn't shown signs that he has vision issues. I also didn't know that we could've gotten Owen a comprehensive eye assessment between the ages of 6 and 12 months as a no-cost public service– part of the AOA's InfantSEE® program. That's right, a FREE infant eye assessment. It makes me want to call up our pediatrician and say, "What the heck, buddy? Why didn't you tell me about this?"
Owen obviously missed the 12 month cut-off for the InfantSEE® program, but I still wanted to get his eyes checked out, especially after talking with a friend of ours who's an optometrist and learning that not all children will show signs if they have a vision problem. So we headed to the optometrist for Owen's first eye assessment.
Owen brought one of his toy cars for added moral support.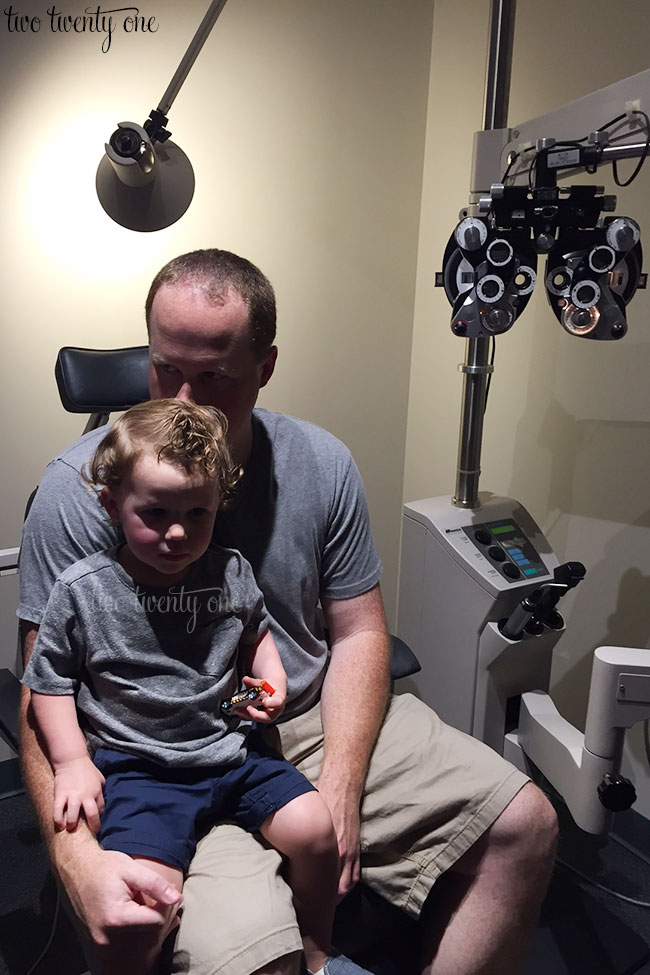 The doctor checked his general eye health, eye movement, peripheral vision, the fluid in his eyes, and to see if he has a lazy eye.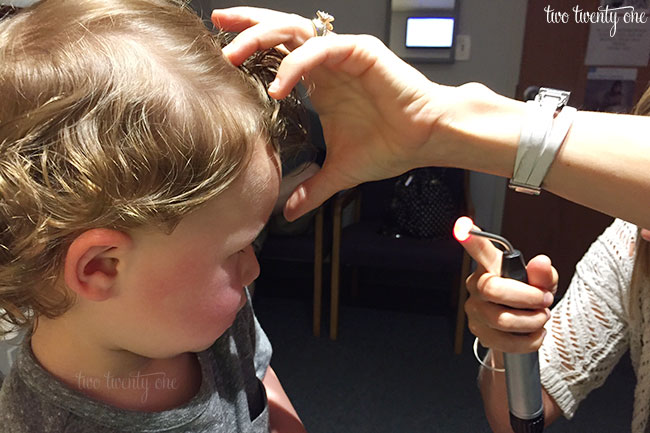 So she could get a better look at Owen's eyes for part of the exam, the doctor turned on a video of cartoons for Owen to watch. He did a good job until she would whip out her condensing lens, but she managed to see everything she needed to check.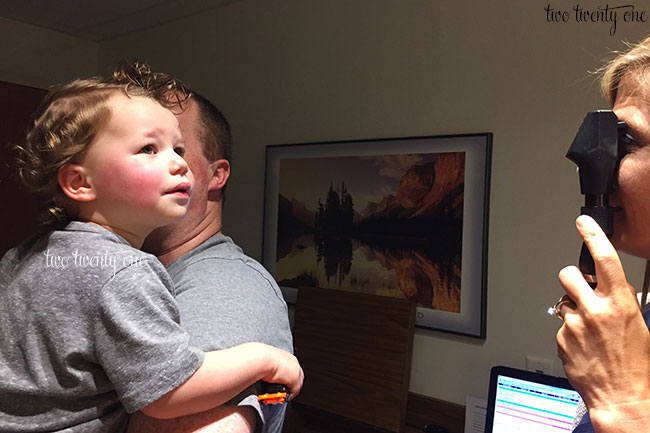 She determined that Owen's vision and eye health is great, and he doesn't have a lazy eye. He's slightly far-sighted but she said that's normal– most children are far-sighted in early in life.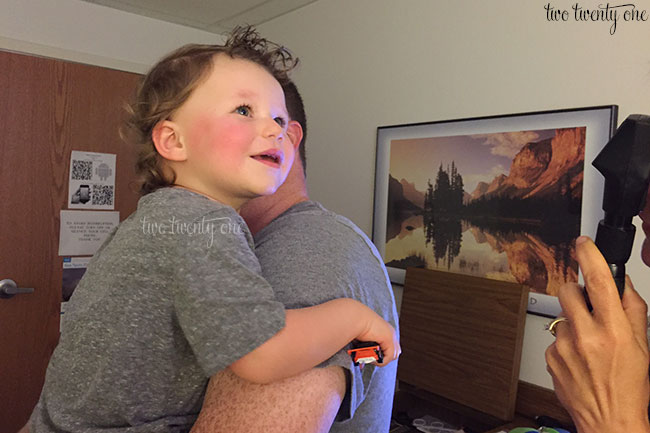 No tears were shed by anyone, and Owen walked out of there with a new toy and two stickers– one for each arm.
So you're on top of your kiddo's visual game, here are the most common visual development milestones:
Birth to 4 months: Focusing on objects 8 to 10 inches from them or focusing on their parent's face, and the start of eye-hand coordination development.
5 – 8 months: This marks the start of depth perception awareness and once a child reaches the eight month mark, he/she begins to crawl.
9 – 12 months: Babies start to grasp objects and pull themselves up to a standing position. By 12 months, most infants will start to walk.
1 – 2 years: Children will begin to recognize objects and should now have a developed sense of eye-hand coordination and depth perception.
Vision issues in infants are rare, but parents should still keep an eye out for the following signs that indicate eye health or vision problems: Excessive tearing, red/encrusted eyelids, constant eye turning, extreme sensitivity to light, and an appearance of a white pupil.
You can use the AOA's doctor locator to find an InfantSEE® doctor near you. We will definitely take advantage of this program with any future offspring.
This is a sponsored conversation written by me on behalf of American Optometric Association. The opinions and text are all mine.