Our deck is officially ready for summer! If you're stopping by for the Seasonal Simplicity Summer Series, welcome! Before I show you my summer styled deck, allow me to take you on a brisk walk down memory lane.
In case you don't remember, or you're new here, this is what our former "deck" looked like. Lots of raging summer parties were thrown on that deck. Oh, the stories I could tell.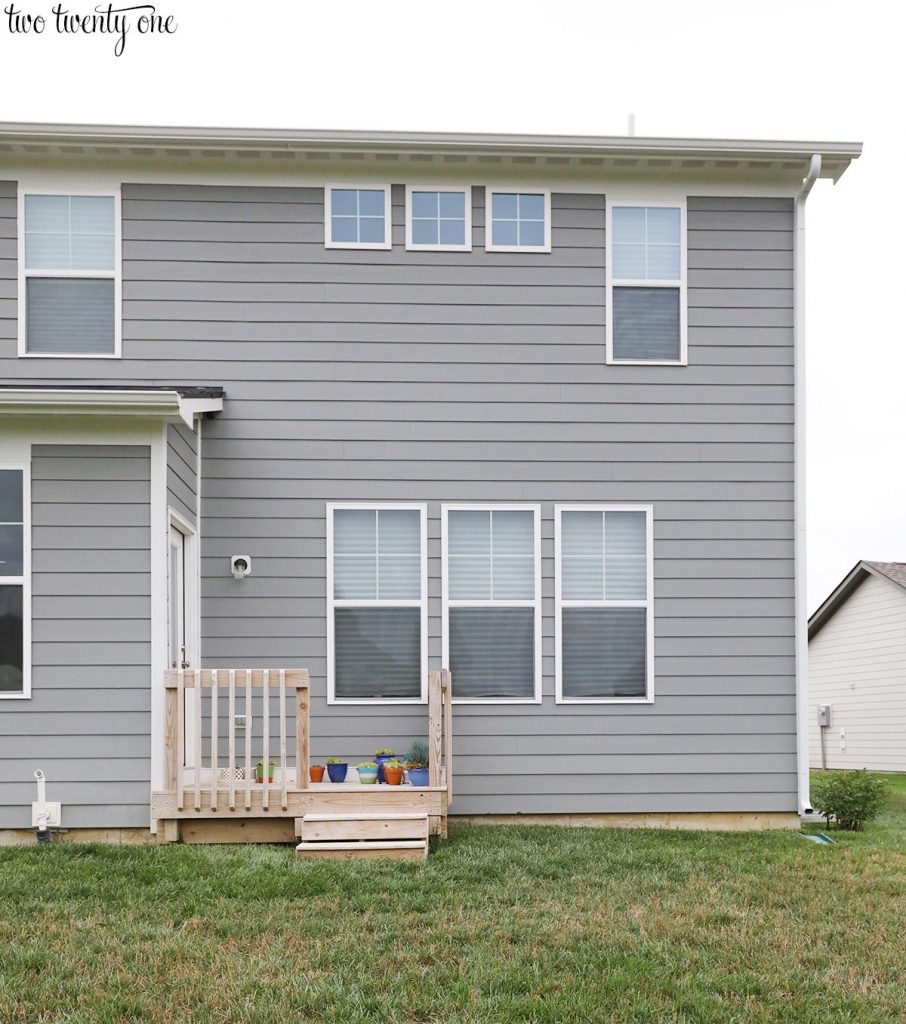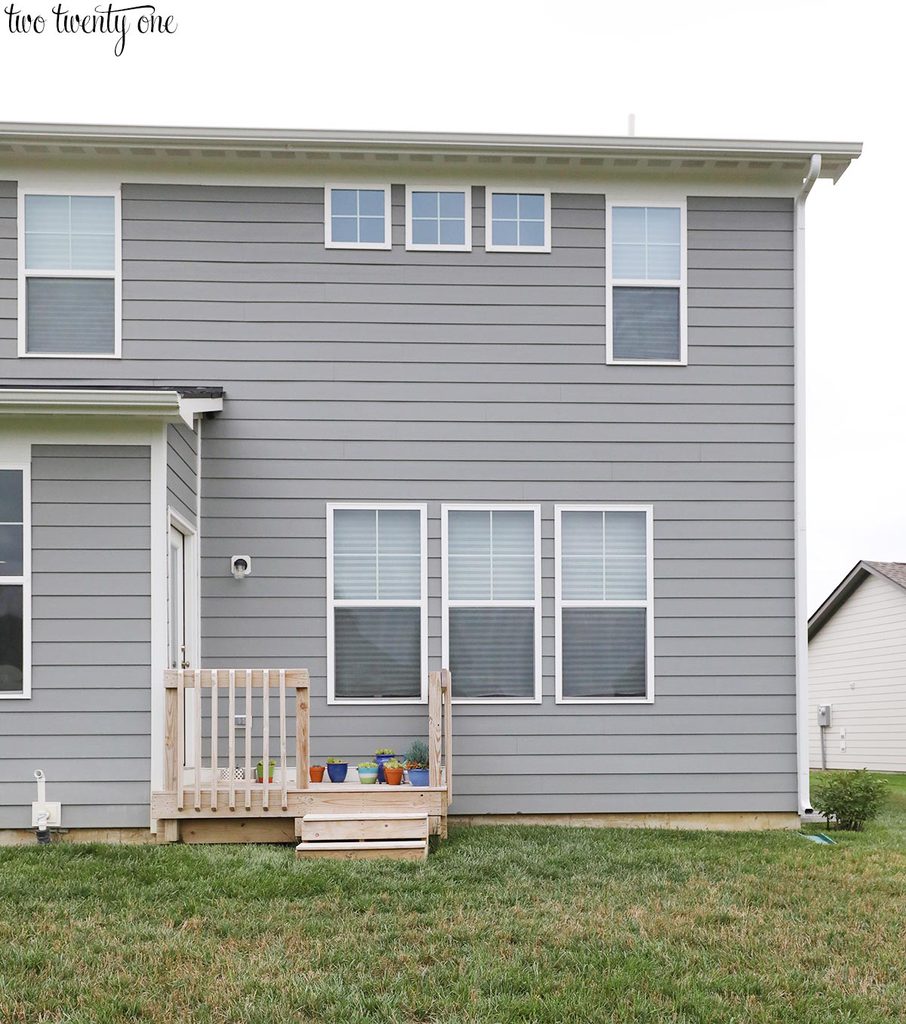 And then, last August, after planning and scheming, we pulled the trigger on a proper deck and pergola, which you can read all about here.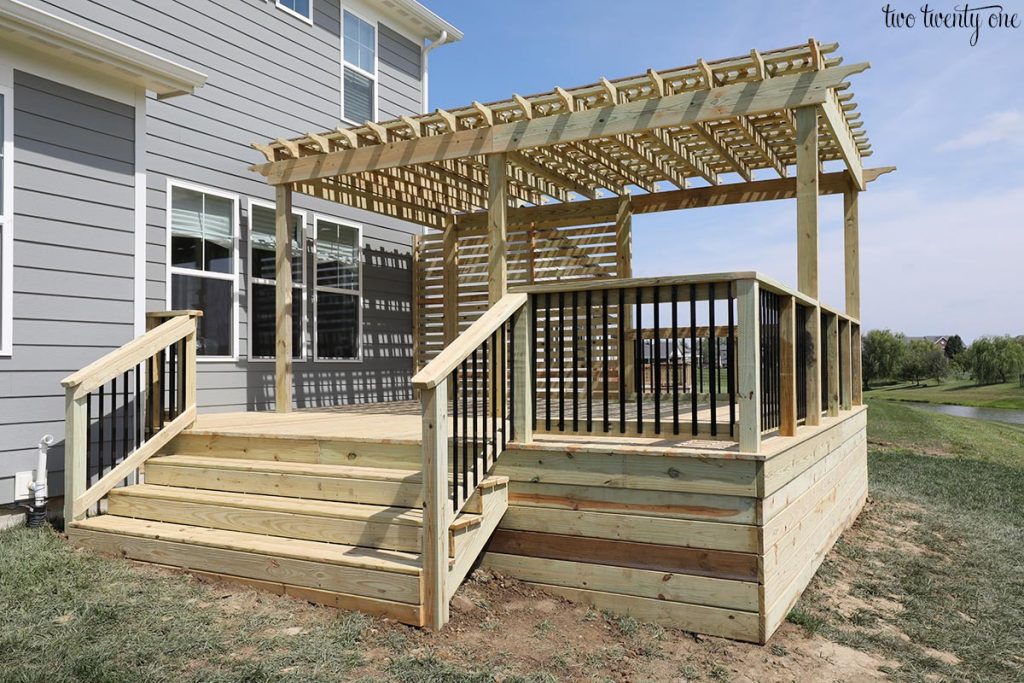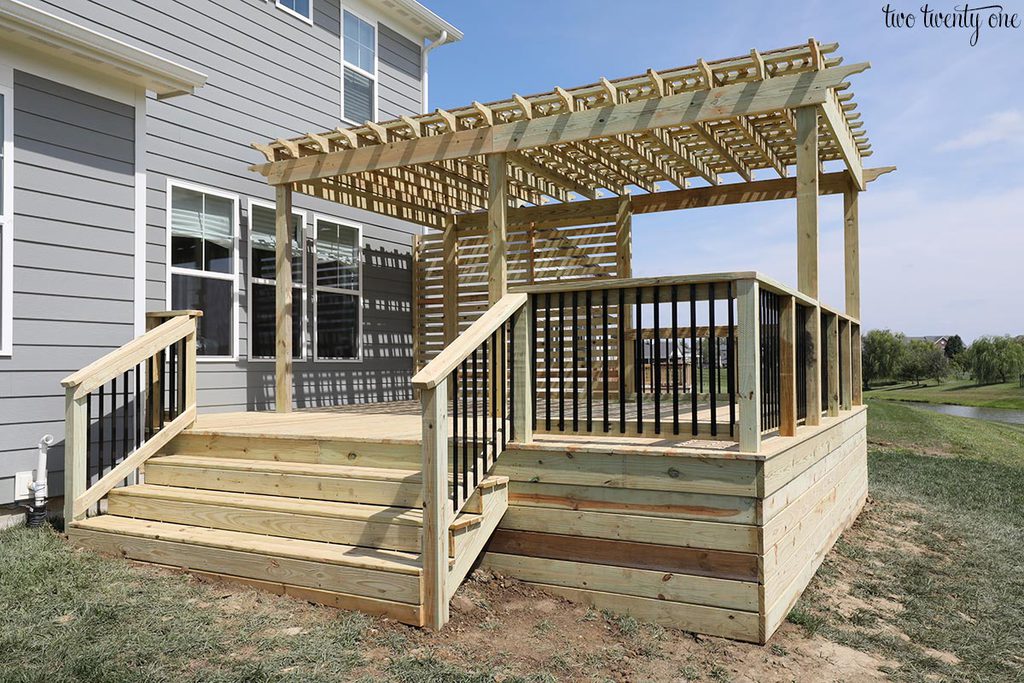 Since the deck was built at the end of the season, I didn't really get to decorate the deck for summer. I scored our conversation set and I was hoarding our fire columns, but that was about it. I shared all of that in my fall deck tour last October. But this year, I was able to get the deck ready for summer. It's still a work in progress, because I didn't want to add too much stuff before we paint the deck and pergola.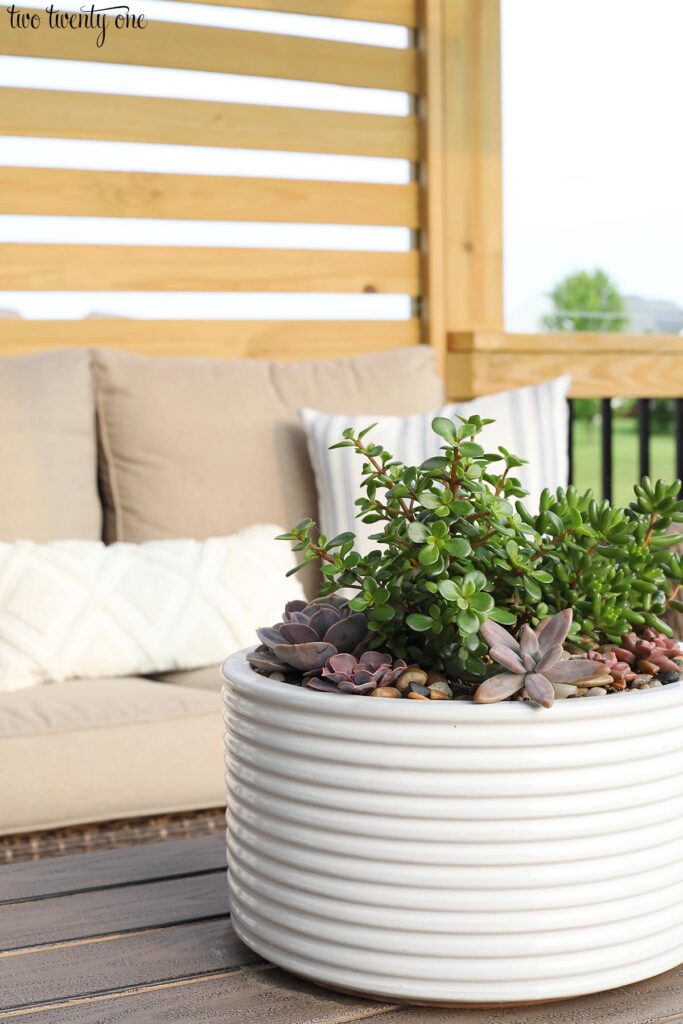 The deck is split into two main sections– the sitting area and the dining area. I love the privacy screen in the sitting area. It makes the space feel cozier and intimate. So if you're debating as to whether or not you should add a privacy screen to your outdoor space– do it!
We're still very happy with the conversation set, especially for the price we paid. The set stayed on the deck throughout our typical cold and snowy Midwestern winter, sans cushions and pillows and protected with covers, and it still looks brand new.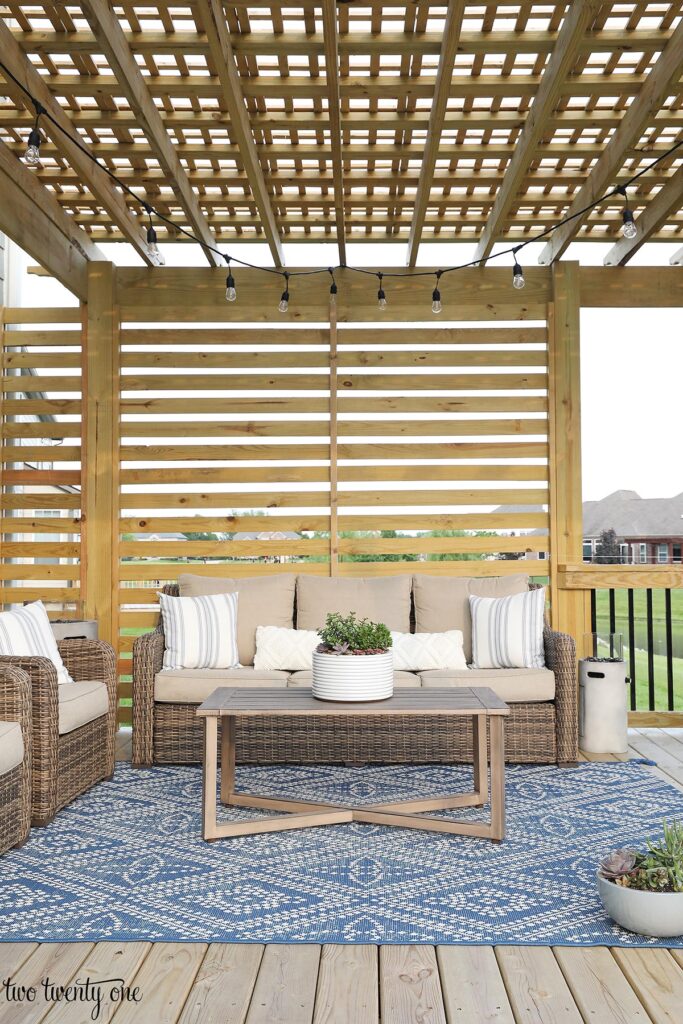 The one drawback of having a deck on the south side of your house is the sun blasting you in the face in the late afternoon and evening. But we came up with a solution for that issue, which I'll share next week.
We also strung up our Costco cafe lights over Memorial Day weekend. I'm going to share the nighttime photos of the deck next week. So stay tuned.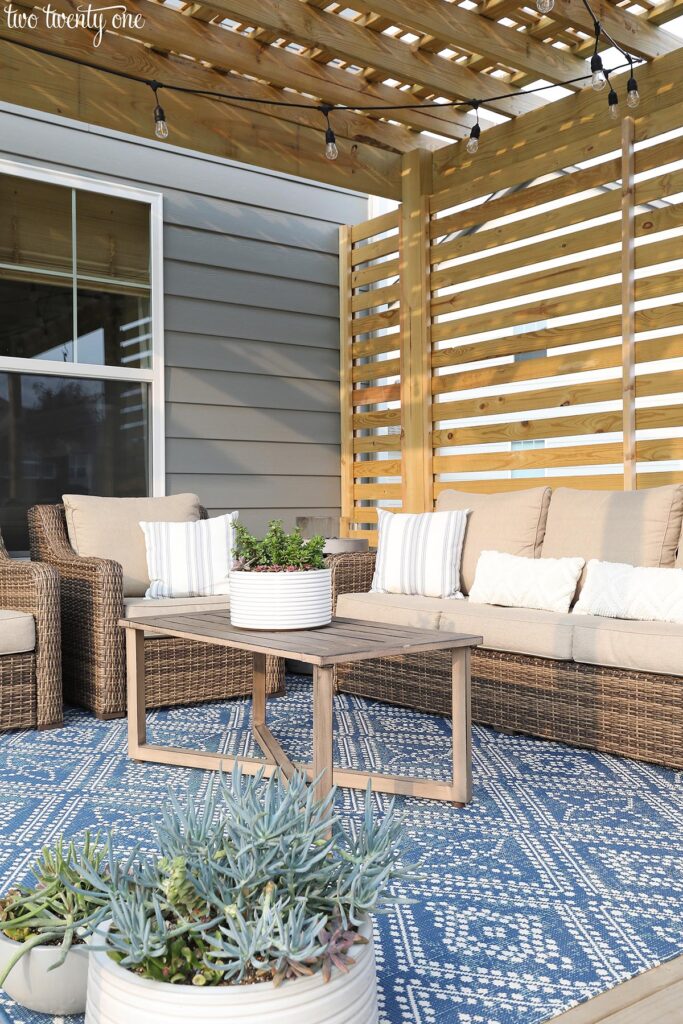 I managed to keep these succulents alive all winter with a grow light in our basement. If you haven't caught on yet, I'm taking this growing succulents thing pretty seriously.
This succulent mixture came from a planter I bought from Walmart for $20 last spring. I replanted the succulents in this much larger planter this spring to give them space to get bigger and spread out. Some of them needed to be trimmed down because they stretched a lot during winter. But so far everything is looking great, and I'm propagating the leaves I pulled off.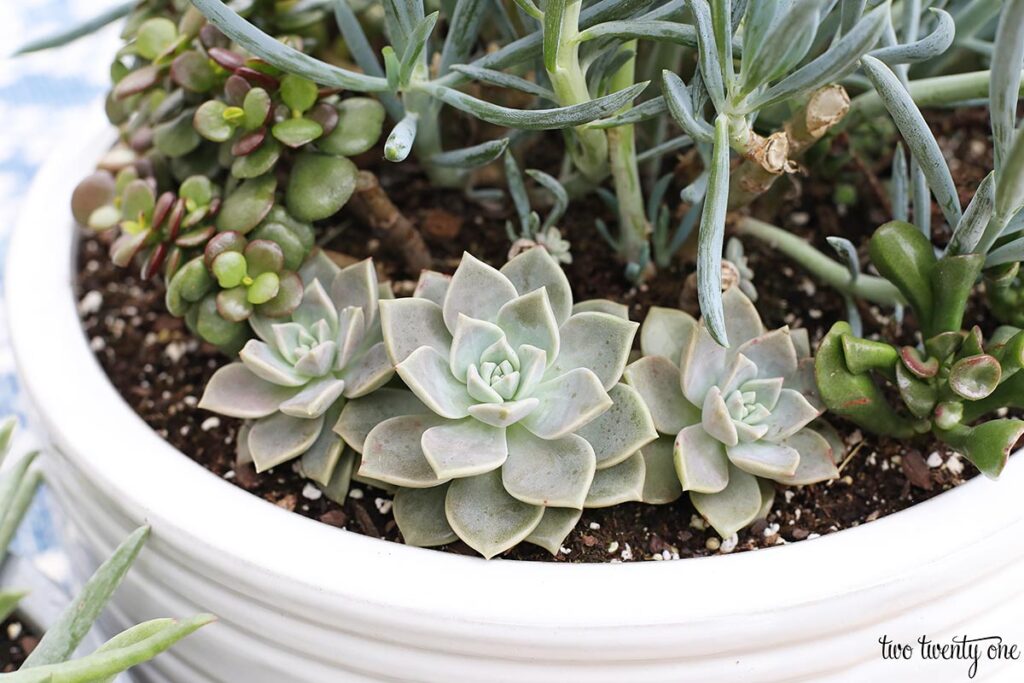 Originally, I bought a different rug for the sitting area, but I wasn't really feeling it, so I returned it and got this one instead. (And the 7′ x 10′ size that I have is on sale for less than $99 right now!) I really like the colors and pattern of this rug. And it comes with tassels on the corners. It also feels great when walking on it. So much so that Brad asked me if I was sure it was an outdoor rug.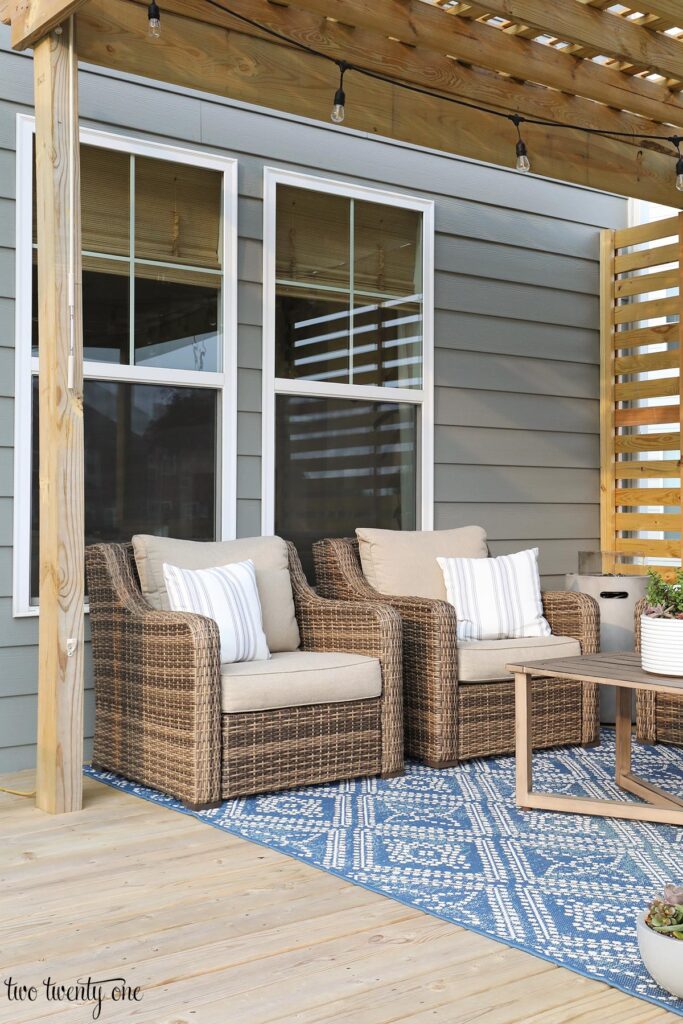 In yesterday's blog post, I shared the household items I put in the bottom of my planters to save money. It's a must read.
And a few weeks ago, I shared where I buy all of my outdoor planters.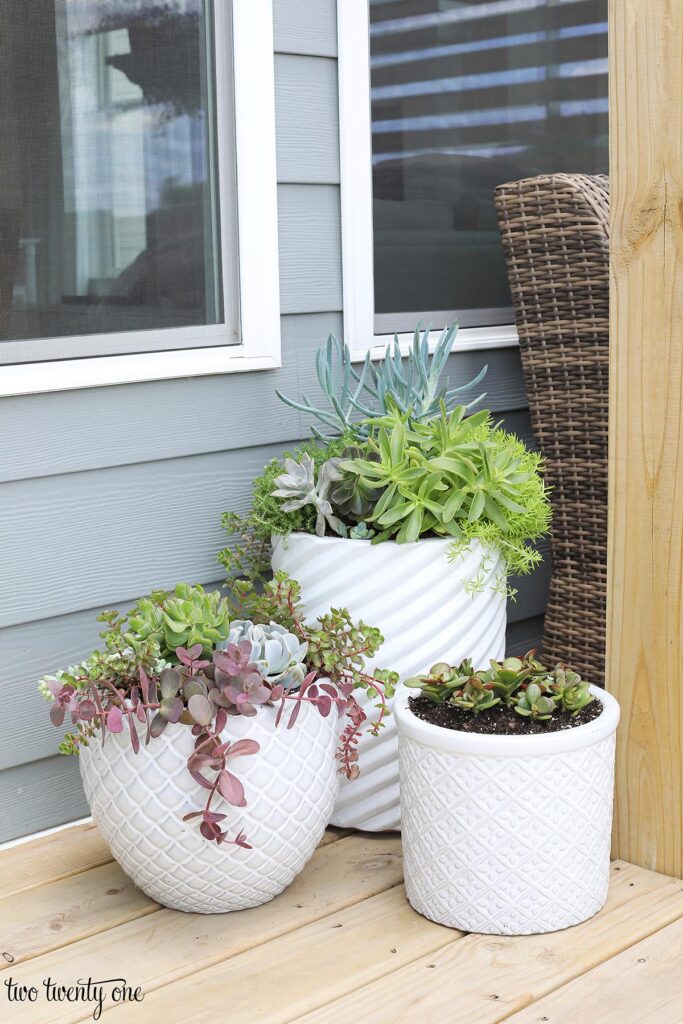 When we had the deck and pergola built late last summer, I asked for extra lattice on top of the pergola so we could enjoy the deck during the day. As you can see, the lattice provides lots of shade. The boys love playing out there during the day… when it isn't constantly raining.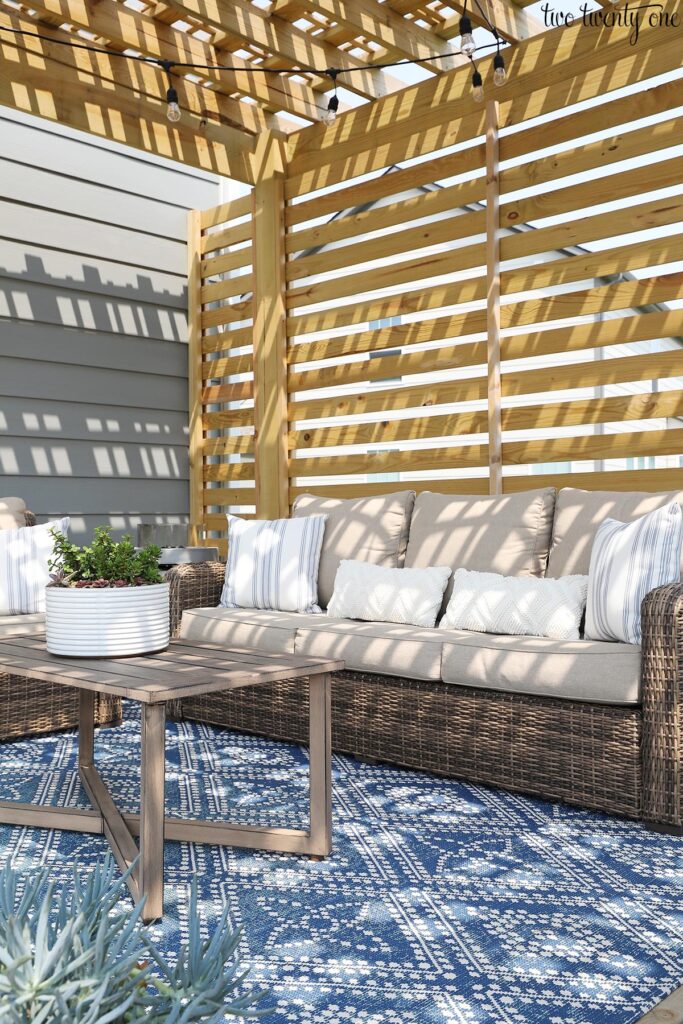 Let's transition over to the dining area.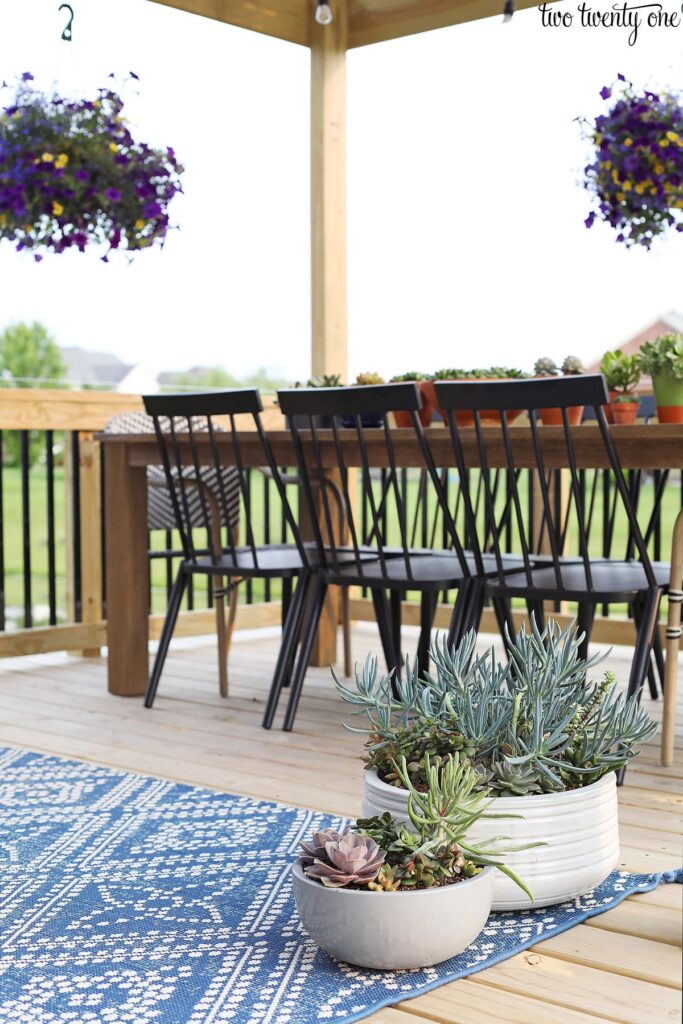 I wrote all about our deck dining table and chairs a couple months ago. The black metal chairs are stackable, which is going to be handy when we need to store them this winter. And the two bistro chairs also stack.
Brad and the boys got me the two hanging baskets from a local nursery for Mother's Day.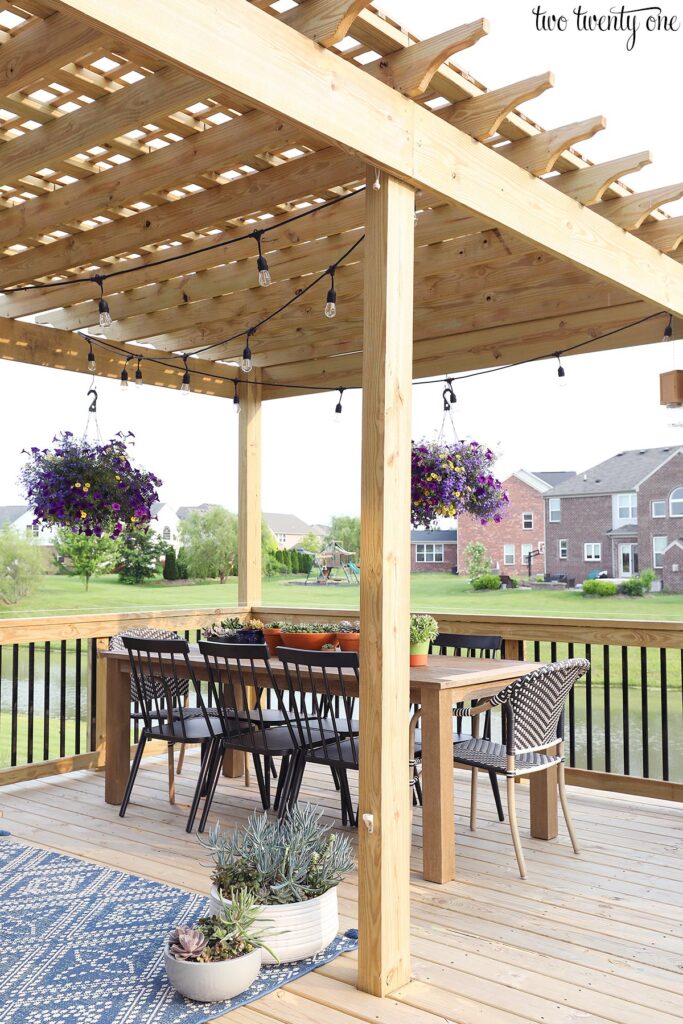 The dining table is covered in, you guessed it– succulents.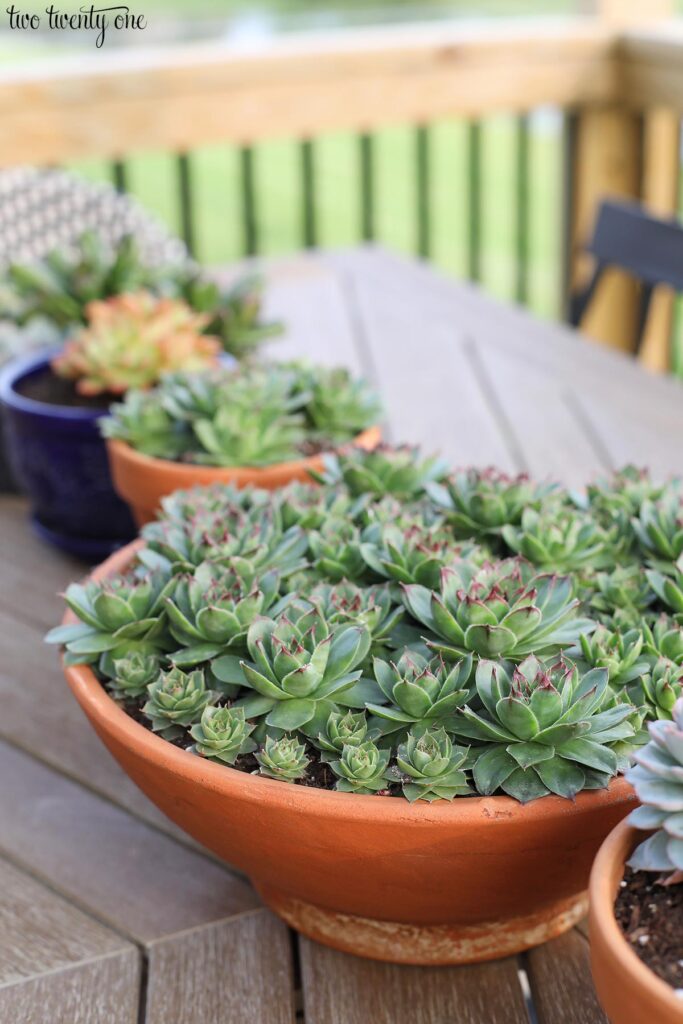 I scored this beautiful planter from Walmart this spring for $20. Seriously, who knew they'd have such nice succulent planters.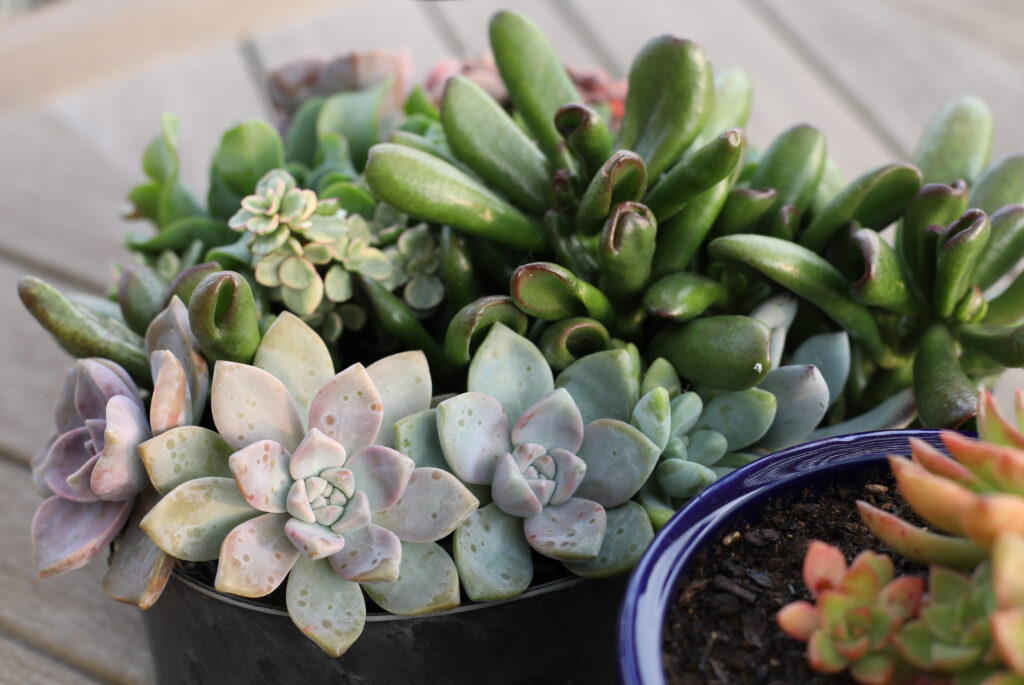 If you're wanting to start growing succulents, I recommend hens and chicks (the green ones in the terra cotta pots). I wrote a post all about how to grow and care for them and another post on how to re-plant them.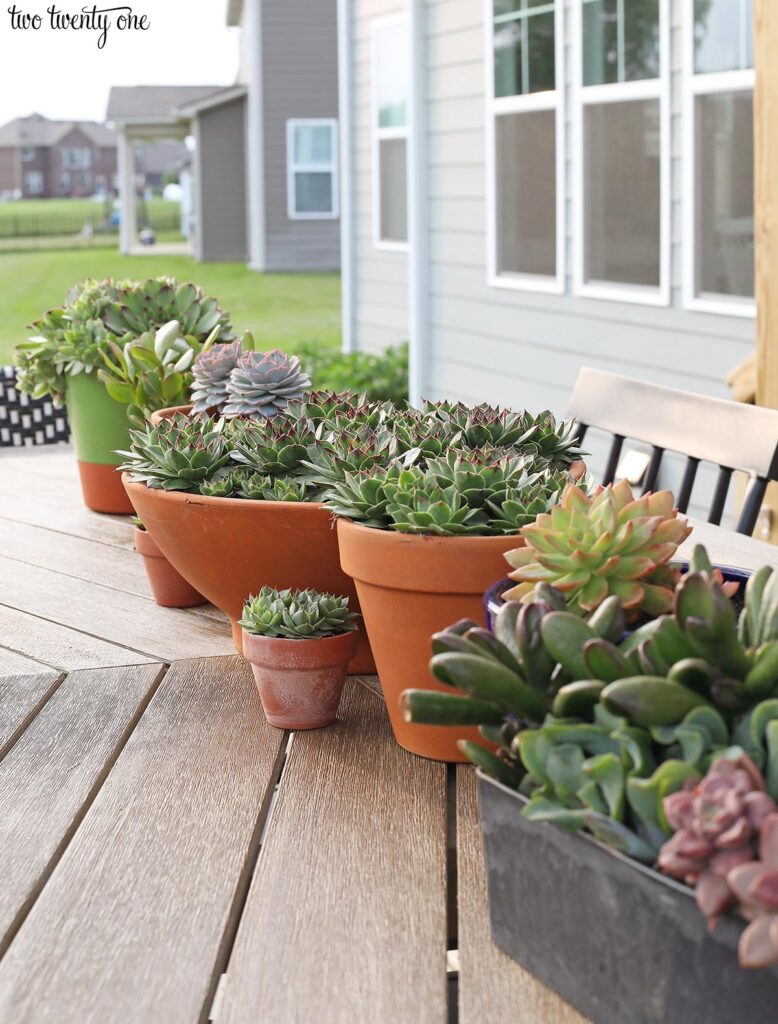 We absolutely love this space. It's like another room was added onto our house. Now, we just need it to stop raining so we can paint the deck and pergola.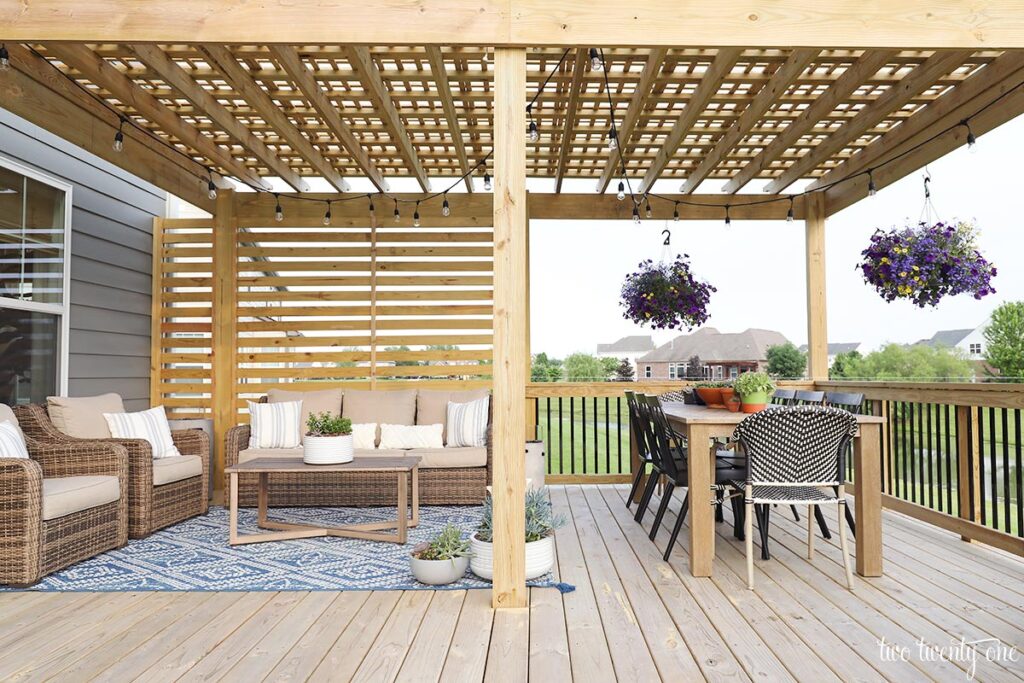 Click here to read all about my deck shade solution so we can enjoy the deck in the evenings.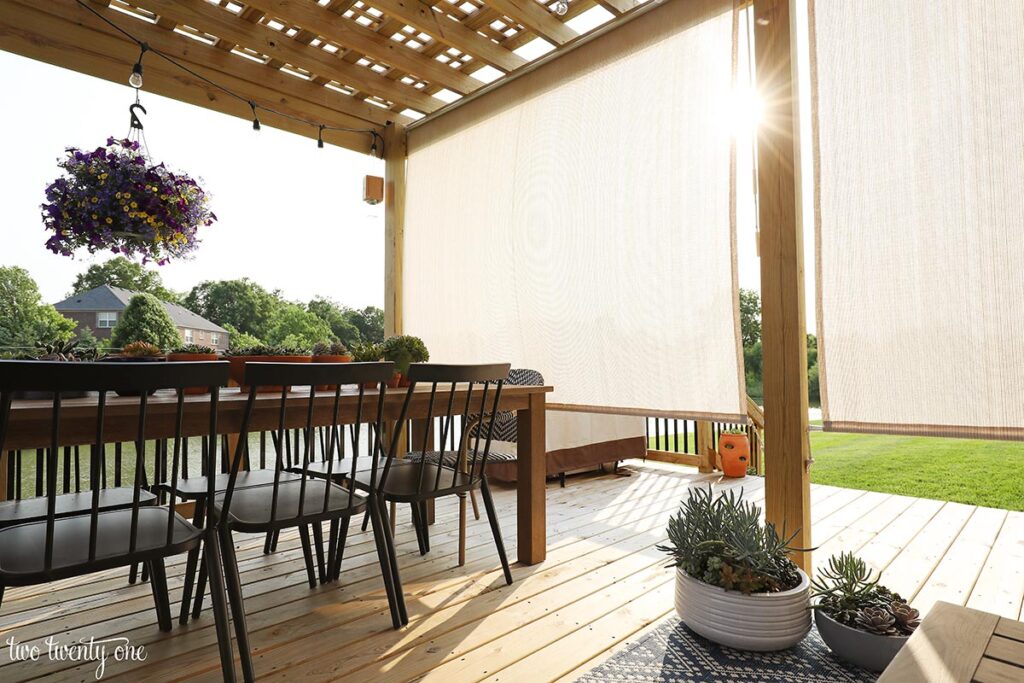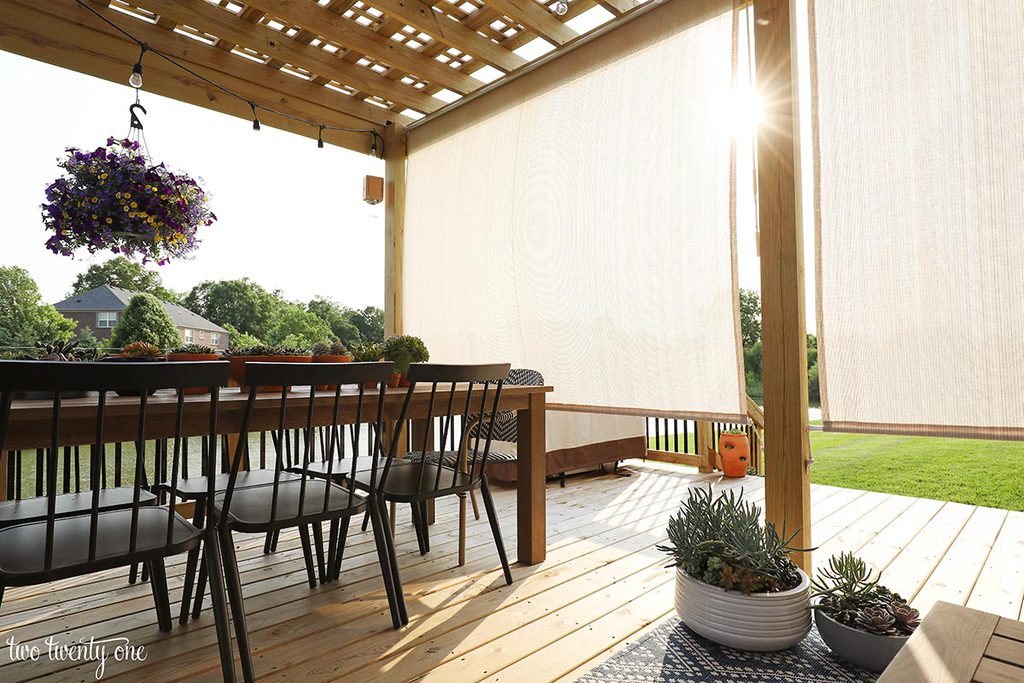 Today I'm joined by over 20 of my talented blogging friends who are also sharing their outdoor spaces with you…

The Happy Housie // Place of My Taste // Rooms FOR Rent // Two Twenty One // Hallstrom Home

Taryn Whiteaker Designs // Modern Glam // Inspiration for Moms // The DIY Mommy // Life is a Party

The Handmade Home // Lolly Jane // Finding Silver Pennies
// All Things With Purpose // She Gave it a Go

Clean & Scentsible // My Sweet Savannah // Maison de Cinq // Amber Tysl // Lemon Thistle