Oh my gosh. We actually did it. The powder room makeover reveal is here! I hope you're as excited as me.
In case you missed the progress, you can catch up below.
Week 1 – The Before Pics // Week 2 – The Design Plan // Week 3 – The Progress // Week 5 – Demo & Progress // Week 6 – Beadboard and Wallpaper Progress
Before I go any further I have to thank my amazing husband, Brad. When we started this project I wondered if we'd make it to our tenth wedding anniversary. And we did! Although things got hairy a few times. We celebrate 10 years tomorrow. Without his help, this powder room makeover would not have happened. He participated against his will. From 0 to 10, his enthusiasm was a solid 1.5. And I can't really blame him. But he did a superb job helping me execute my vision. So if you happen to come into contact with him, please praise his talents and hard work. Because yer girl has more room makeovers she wants to tackle.
Now let's get to it!
Power Room Makeover Reveal
We started with our very, very basic builder grade powder room. Boring pedestal sink, boring toilet, boring mirror, bird-taking-flight-looking vanity light, and a toilet paper holder that fell out of the wall.
Before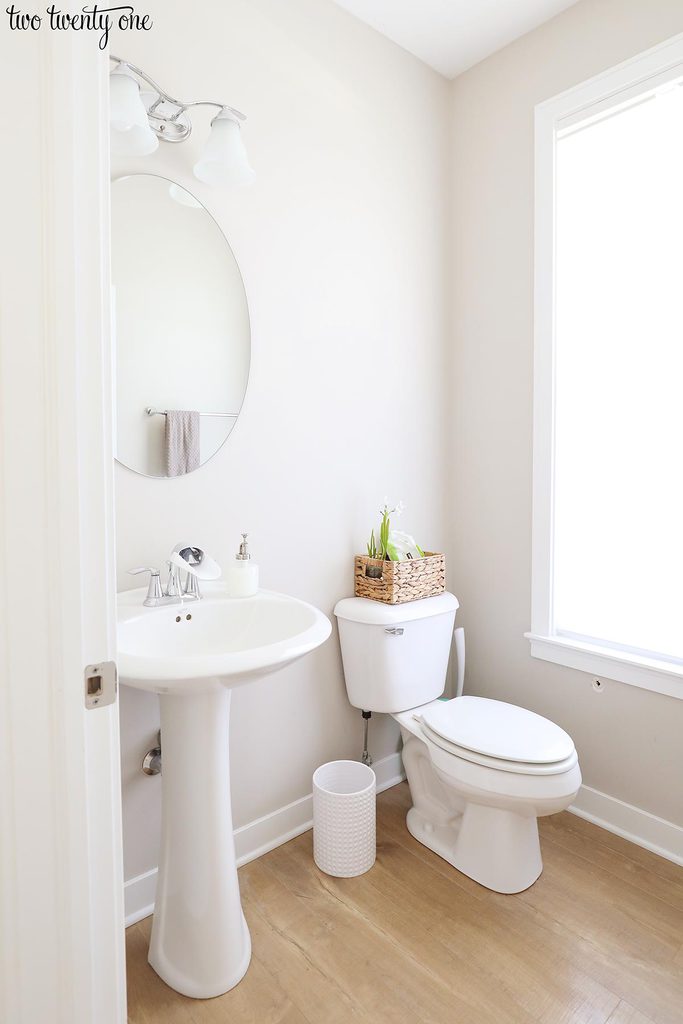 After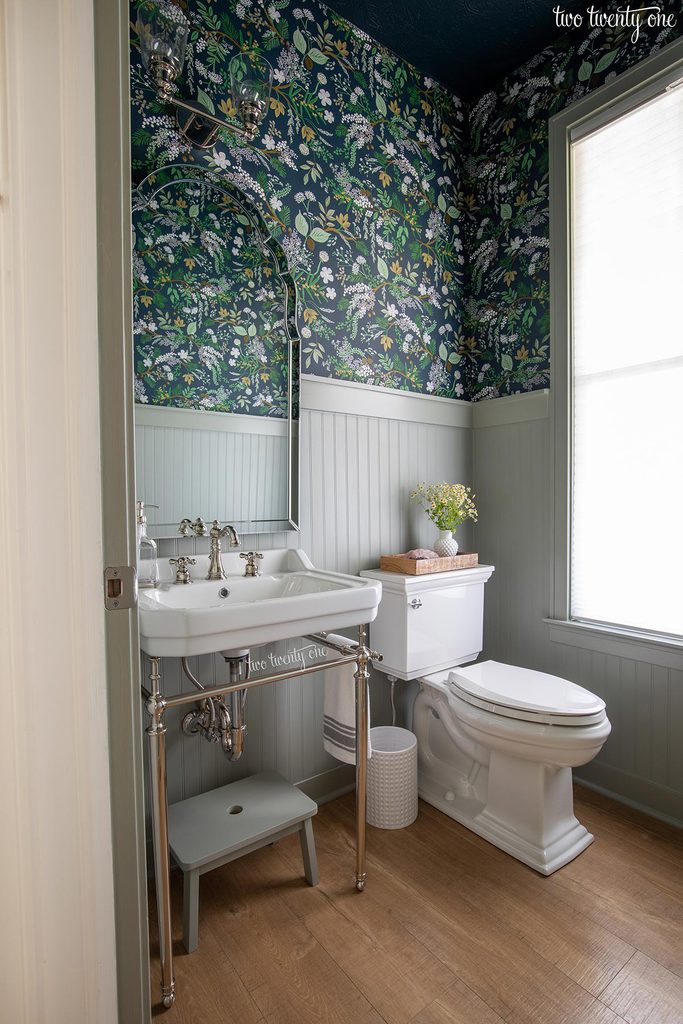 Can you even!? Because I CANNOT.
The Powder Room Makeover Wallpaper, Beadboard, & Paint
Remember this boring wall with the giant towel holder that was clearly a man's idea?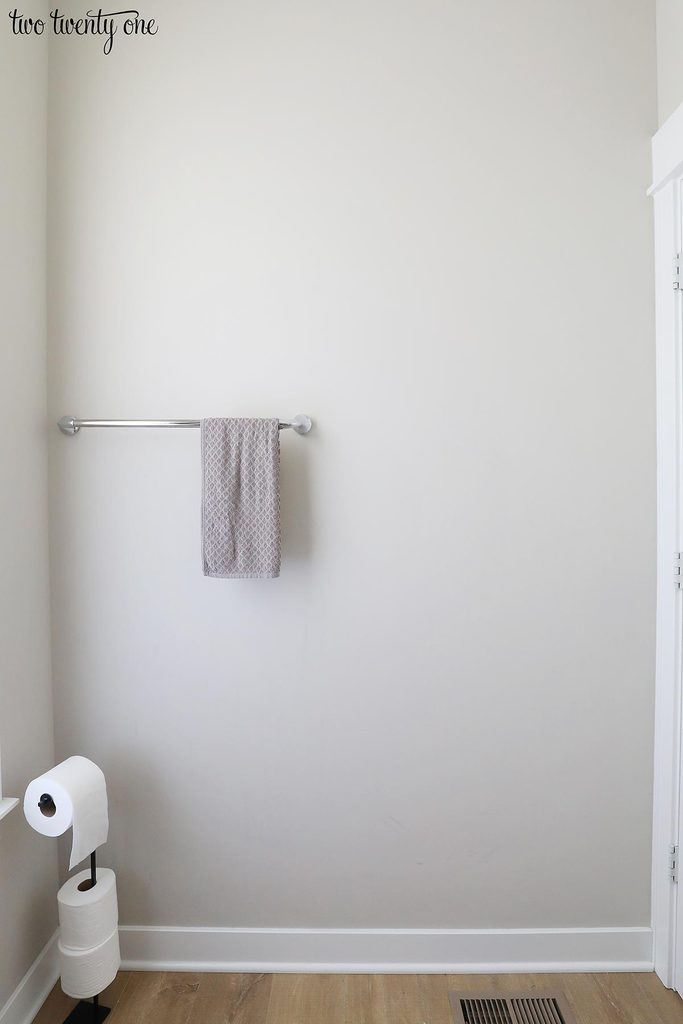 Boring walls and dumb towel holder no more!
I installed Rifle Paper Co. Juniper Forest peel and stick wallpaper on the top portions of the walls. Before installing the wallpaper, I painted the walls with a satin paint color matched to the background of the wallpaper. Click here to read why I painted the walls before installing the wallpaper.
I've never installed peel and stick wallpaper before. So before starting, I read this peel and stick wallpaper tutorial.
I also painted the ceiling with the same color but in a matte finish. I would have gone with flat, but they were out of flat paint. The ceiling was painted because the white ceiling stuck out like a sore thumb, and I wanted the attention to be on everything else in the room. Although now I'm tempted to add crown moulding and paint the ceiling white again to brighten up the room a little more. We'll see.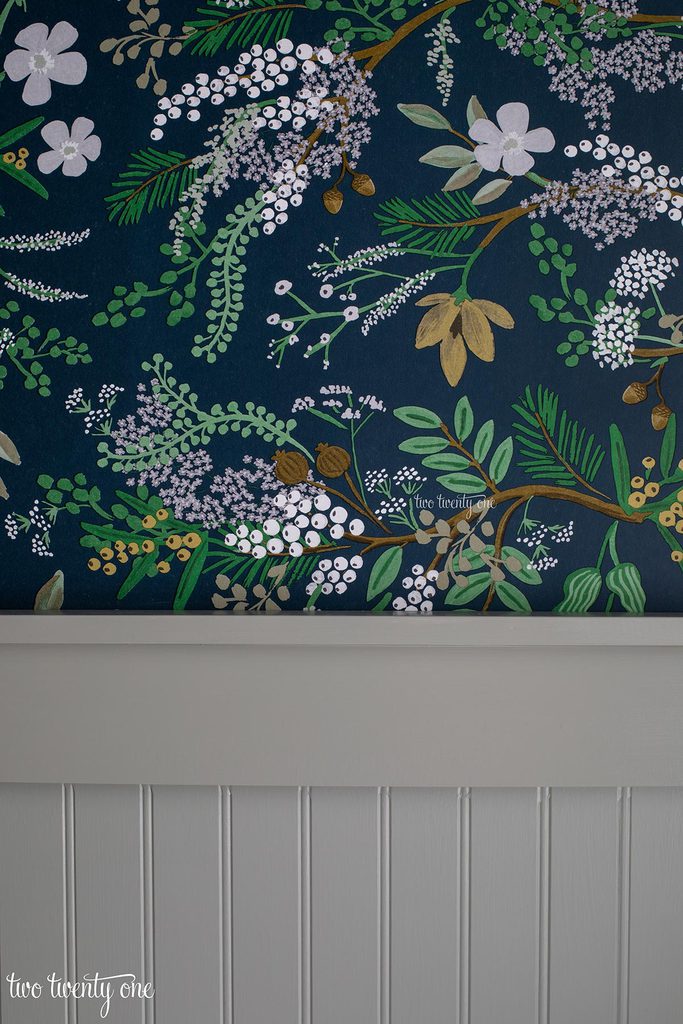 For the bottom portion of the walls, Brad and I installed beadboard with a top trim consisting of 1x4s and 1x2s. I painted the trim, baseboards, and door Benjamin Moore Oil Cloth in a semi-gloss finish. The beadboard was painted with BM Oil Cloth in a satin finish.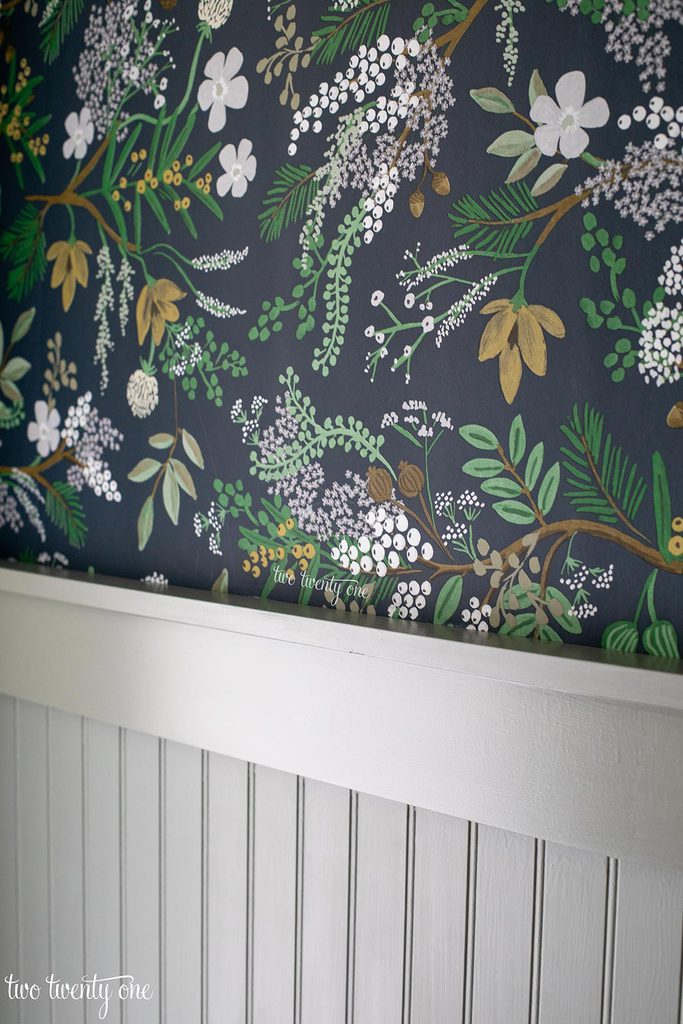 The Fixtures
I chose a console sink with polished nickel support and legs because I wanted to keep the small room from looking too crowded. And I feel it accomplishes that. I love the classic look of the polished nickel.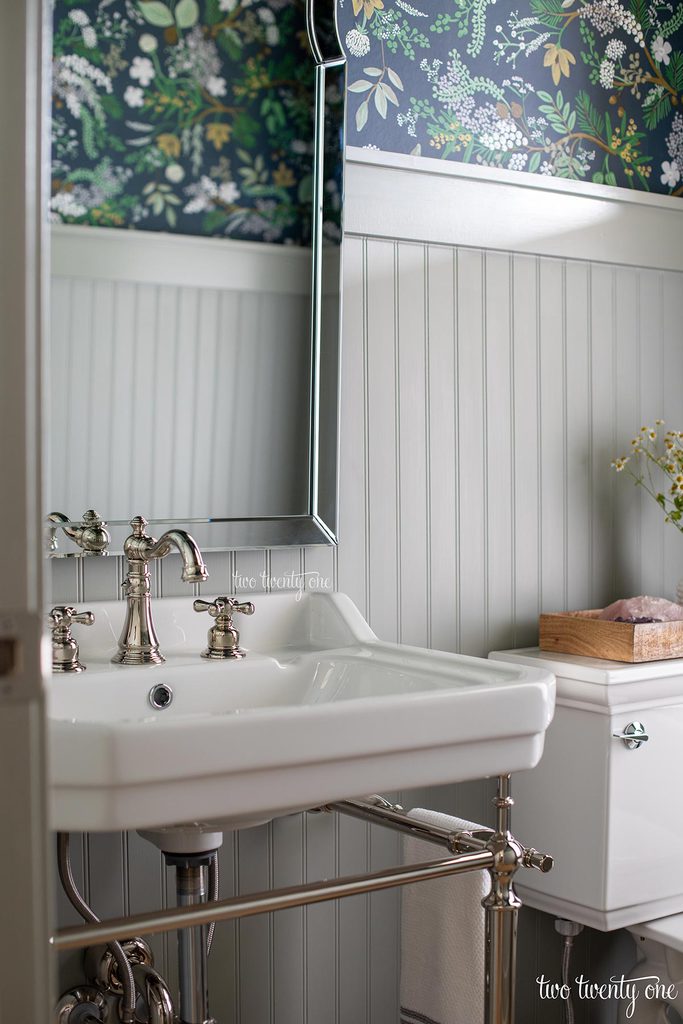 The console sink comes with an optional towel rack. We put it on the right side of the sink for the easiest access. Fingers crossed our children are tame whilst toweling off their hands.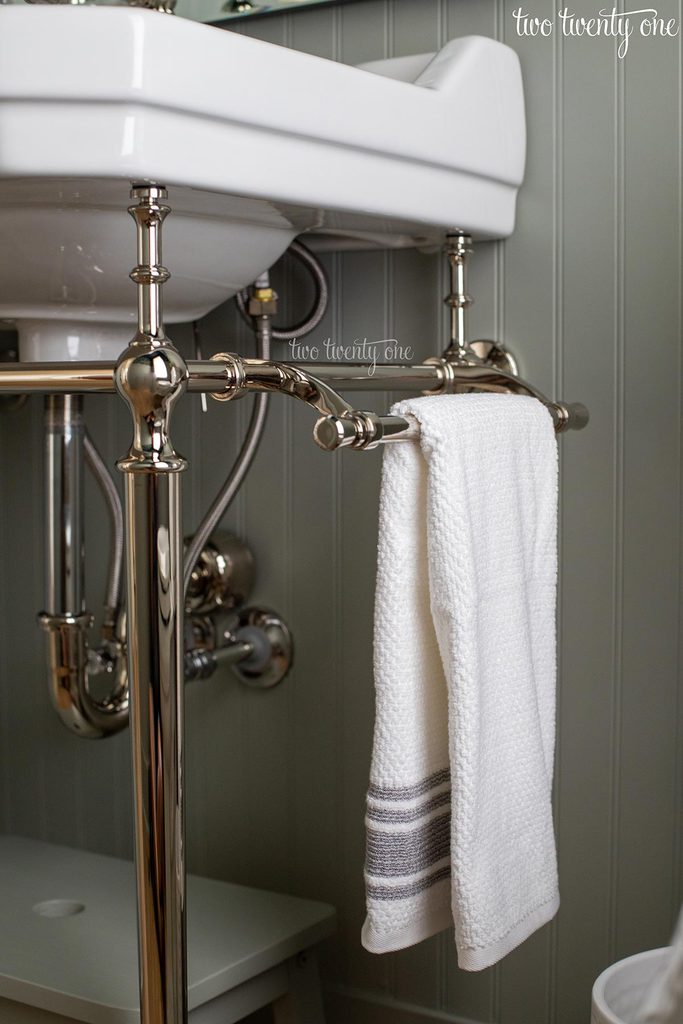 How about another before photo as a gentle reminder of how this room looked four weeks ago?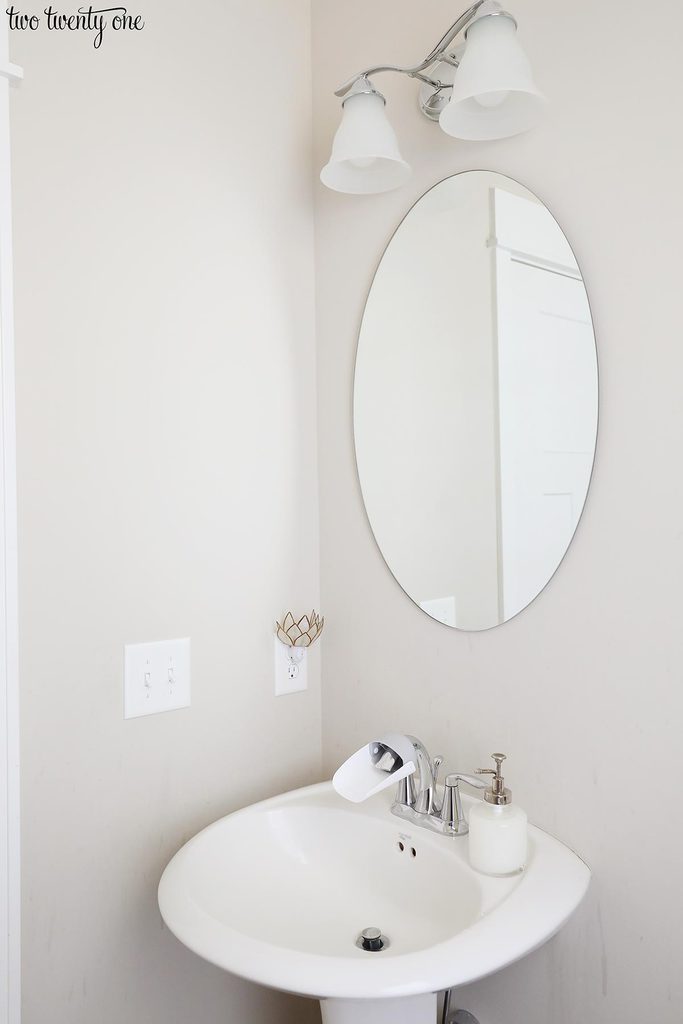 This corner of the powder room is a lot more sparkly now. The Kingston Brass faucet in polished nickel is such a timeless piece.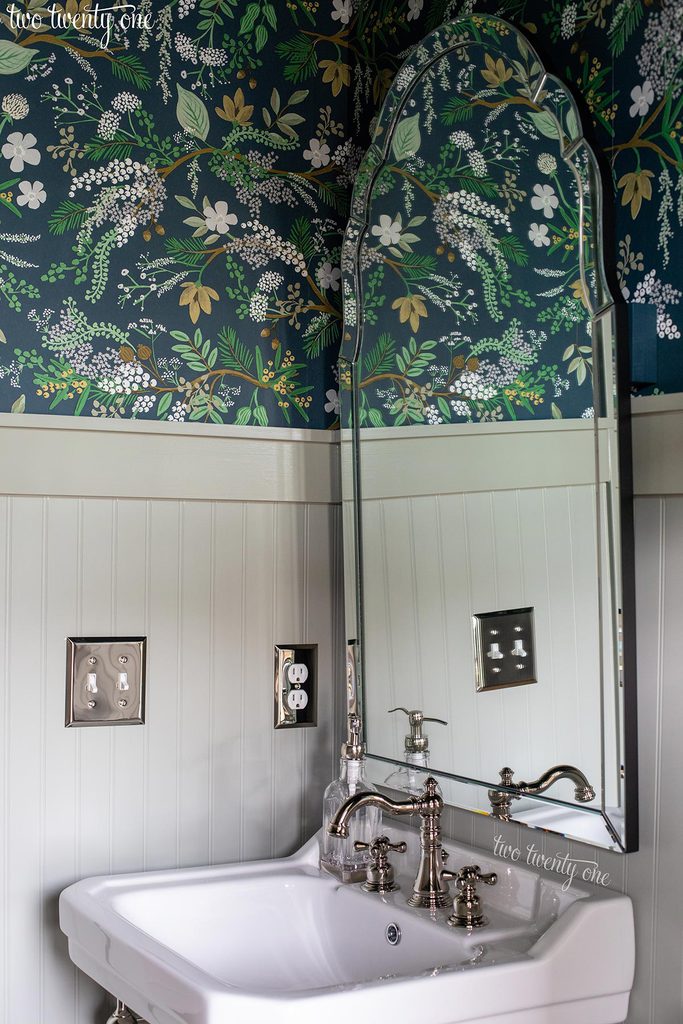 I'm slightly obsessed with the handles.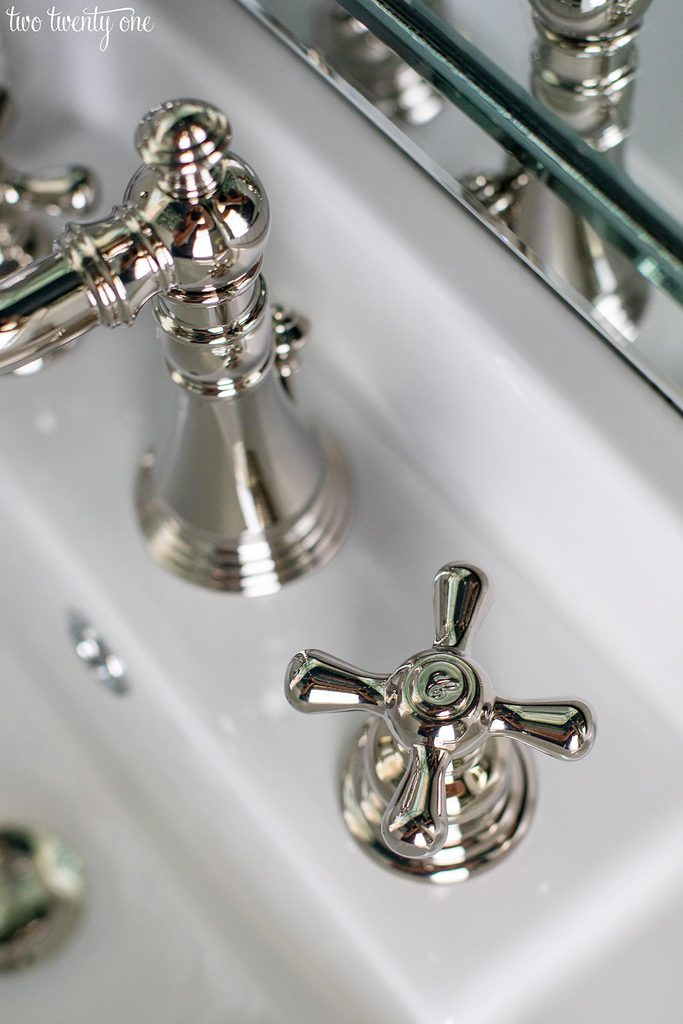 Onto the FFT– the fancy f*cking toilet. It's what Brad called the toilet when he installed it on Father's Day. The toilet is the popular Kohler Memoirs Stately in white. And those of you who follow me on Instagram know I did extensive research on toilet seats. I chose to go with the Cachet Quiet-Close toilet seat. Only the best for the bottoms in this house.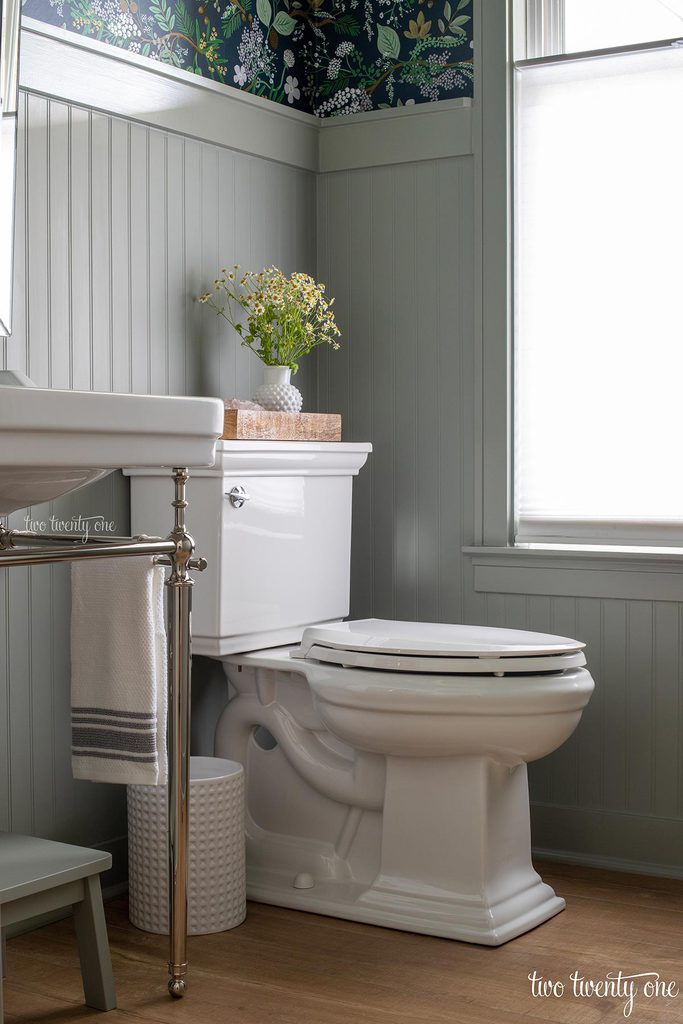 It really is a FFT. Just look at those lines.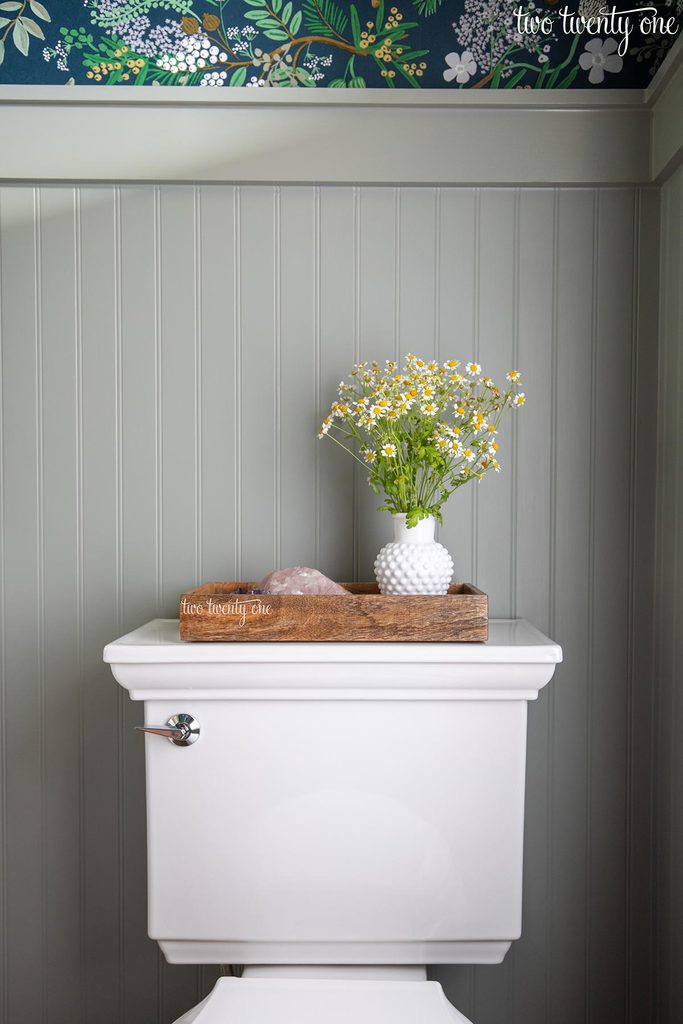 The Powder Room Lighting
RIP seagull gliding in the sky, looking for stale French fries to gobble up vanity light.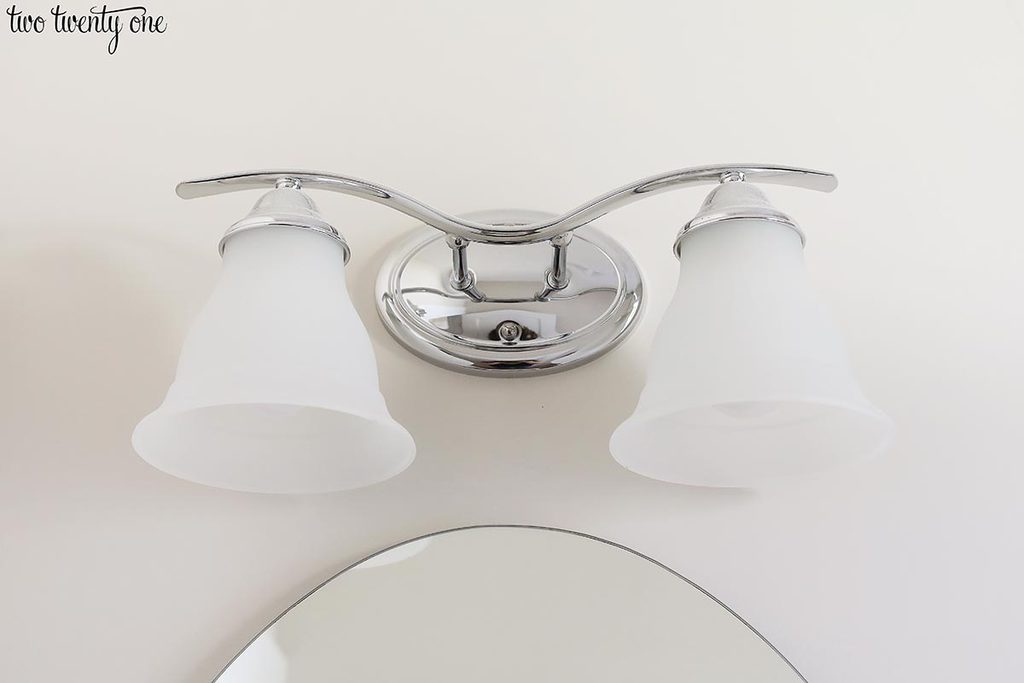 And hello, new polished nickel vanity light. I went with clear shades to disperse light better throughout the room. But OMFG it's hard finding attractive lightbulbs in the desired wattage and Kelvins.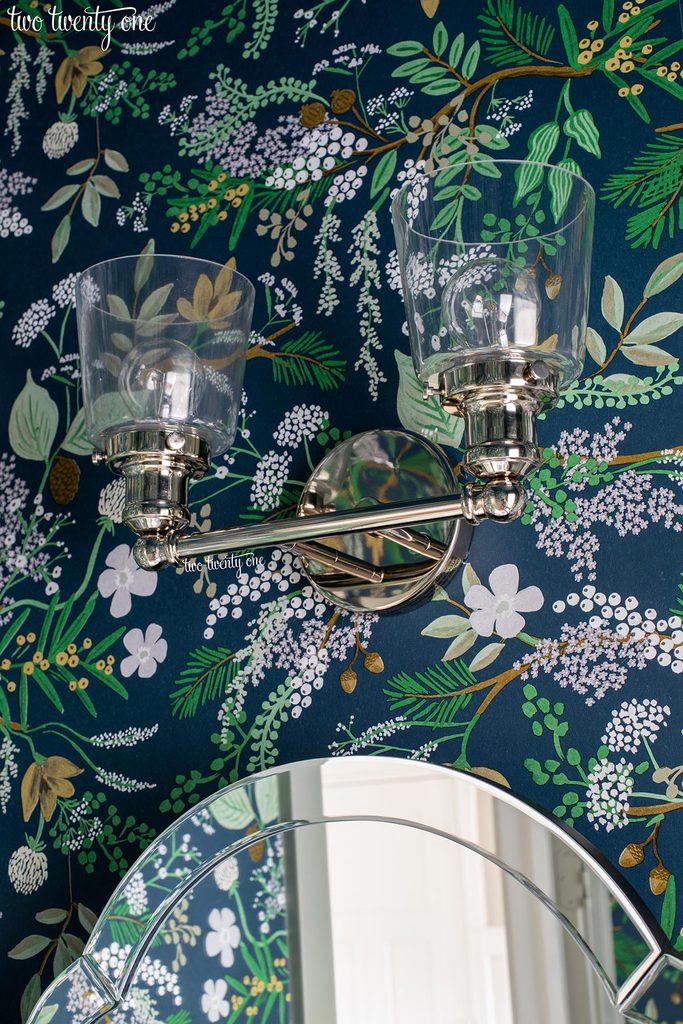 The Accessories
Since two little boys will be using the powder room, a step stool was a necessity. But I couldn't put our plastic IKEA step stool in the beautiful room. Blasphemous. So I bought an unfinished step stool and painted it BM Oil Cloth to match the beadboard. That way it could blend into the room and not take away attention from the console sink.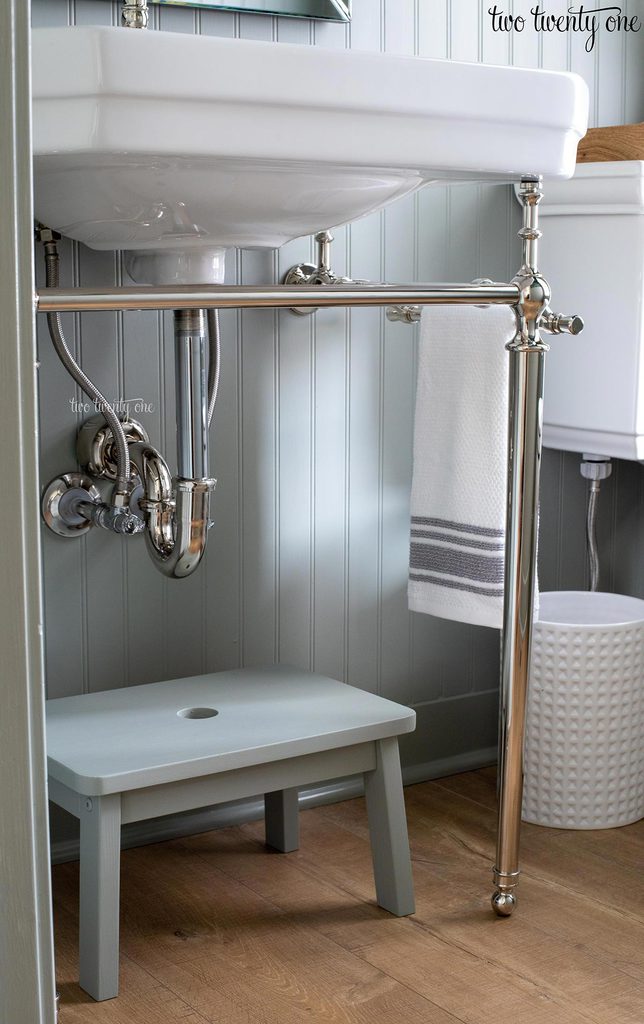 Everything on top of the toilet is stuff I already had. The wooden tray is a couple years old from H&M. The white hobnail milk glass vase is vintage and the crystals are from my personal collection. I don't really consider my handful of crystals a personal collection, I just think that makes me sound fancier.
I just love chamomile flowers. Bless these little ladies for holding on for this photo shoot. I bought them at Trader Joe's a week ago so I didn't know if they would make it or not.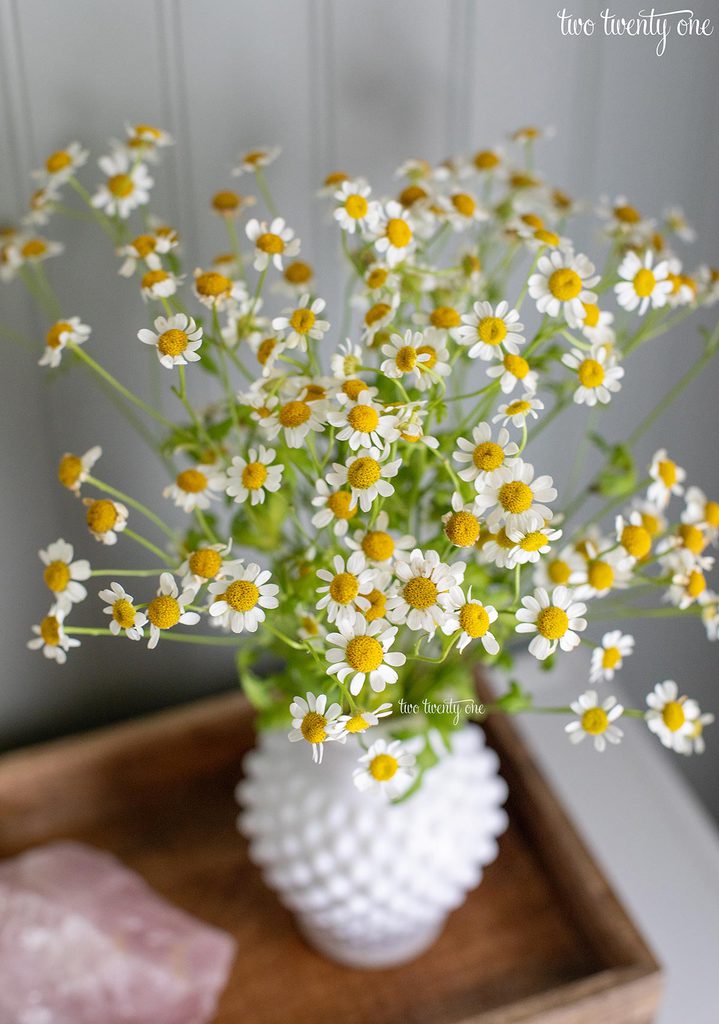 I'll share more about the makeover in the coming days. I plan to break down some of the projects we accomplished in the space.
I honestly can't believe we pulled this off in less than a month while we both worked full-time from home and had our two kids home full-time for summer break. We started demo on May 29 and completed the powder room on June 22. We're celebrating our tenth wedding anniversary tomorrow, so we're laying low this weekend with zero DIY projects.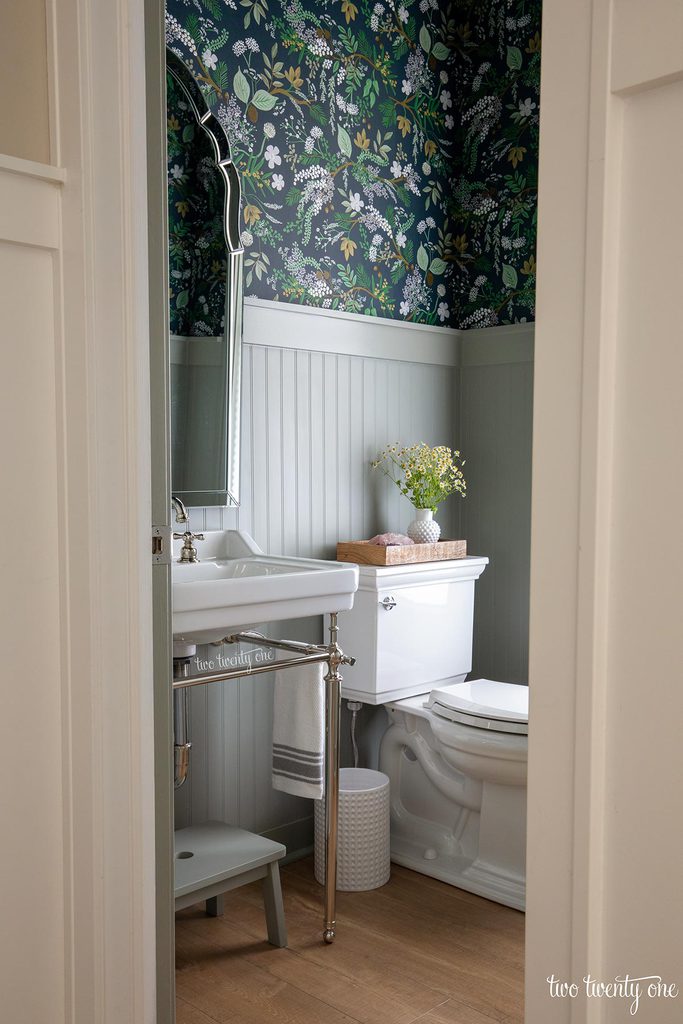 The Changes
Some changes will need to be made in the room. First, the sink needs a functional polished nickel drain. I didn't realize the drain pipe that came with the polished nickel faucet was going to be gray. Brad installed it, and I was all, "Oh no. No, this isn't going to work." He was all, "OMG, are you for real? It's fine." And I was all, "The under carriage of the sink is supposed to be polished nickel and sparkly. That's why I forked over $50 for a polished nickel P-trap." So I did what any determined woman who's obsessed with details would do. I went to Lowe's, bought a pipe, removed the gray drain, inserted the new pipe into the P-trap and taped it in place with Scotch tape. It was like one of those "No one's gonna know" TikTok videos. Brad swears everyone reading this was going to know. But I told him maybe 5% would notice. Did you notice my MacGyvered pipe?
The mirror will also have to be switched out. It's too tall and thick. And that beast weighs like 50 pounds. I need to turn the vanity light down (it's currently facing up) so it can cast the light down. Right now it's illuminating the ceiling. But I can't because the mirror is too tall and thick. I'll post an updated pic once I get a new mirror.
Lastly, we need to install a toilet paper holder. The one I ordered was defective and in our mad dash to finish the room, finding a replacement in time was thrown out the window. Getting the mirror hung > finding and installing a polished nickel toilet paper holder.
Thank You!
Thank you so much for all your support and encouragement. Even you Susanne.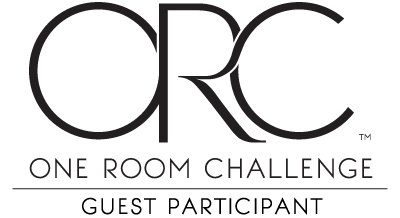 Huge thanks to everyone who organized the One Room Challenge! And congrats to all the designers and participants on creating beautiful spaces!