I went with the post title because I think it's catchy.
I haven't decorated for Valentine's Day the past couple years. In fact, I think the last time I shared a Valentine's Day vignette was in 2012.
I rarely decorate for V-day because I'm usually decorated out after Christmas. But this year I couldn't bring myself to put away my feathery wreath and trees (I decorated the buffet very similarly to how I did last Christmas), so I decided to throw in a touch of pink to create a subtle homage to Valentine's Day.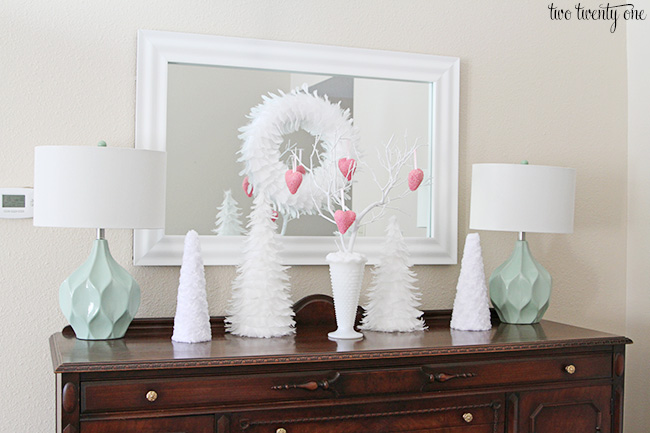 The centerpiece of the vignette is my trusty white spray painted manzanita branch that I secured with Styrofoam in one of my hobnail milk glass vases. I hung some heart-shaped ornaments on the branch. Then I put some pulled cotton balls on top. This took all of 5 minutes– the majority of the time was spent securing the branch.
I wish I would've purchased more of these ornaments. I picked them up at Hobby Lobby a few years ago during a Valentine's Day clearance sale. Hit up those clearance sales, people.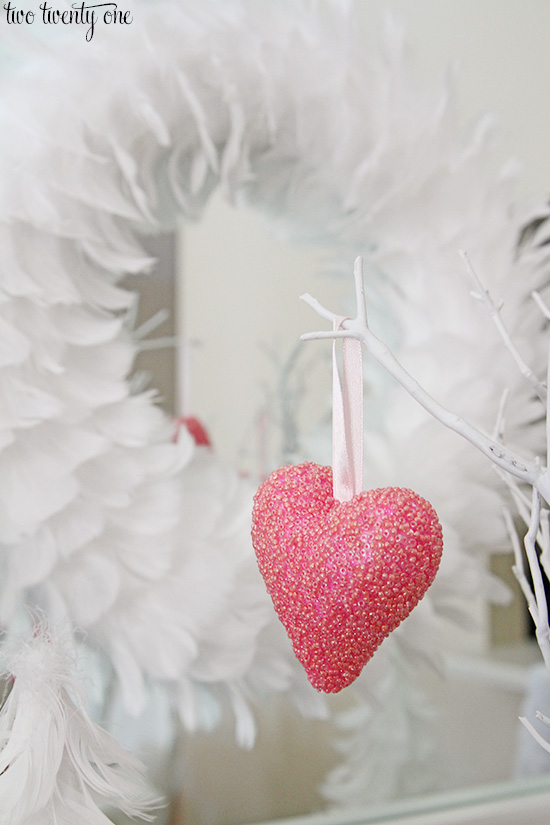 The feathered wreath and trees were Target day after Christmas clearance purchases circa 2012. And I made the fuzzy white trees last year.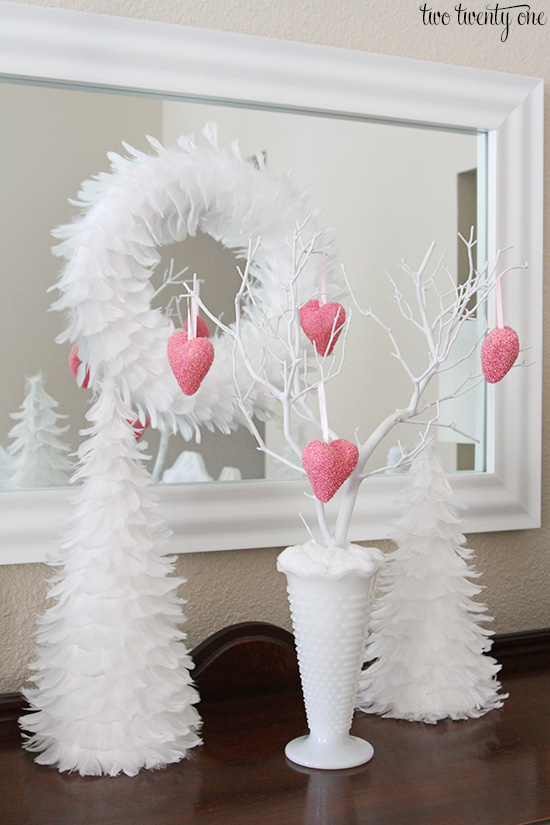 In case you missed where I purchased something, here's the full source list.
buffet … family heirloom
lamps … Broyhill via HomeGoods (circa 2013)
feather wreath … Target (circa 2012)
feather trees … Target (circa 2012)
fuzzy trees … DIY (tutorial found here)
vase … thrift store
manzanita branch … Craigslist
heart-shaped ornaments … Hobby Lobby (circa 2011)
Sorry it's not much help since I bought most of the stuff years ago. This is what happens when you follow a cheapskate blogger like me. But if you Google a lot of these things, you can find them on Etsy or eBay. And I typically come across the hobnail milk glass vases in thrift stores all the time, which explains why I own three.