Saving Time & Money In the Kitchen
I'm the worst when it comes to mealtime. Because in all honesty, I'd prefer that someone else prepare my meals for me, but since I'm not a thirty-something still living at home with my mom nor am I a millionaire who can afford a personal chef, the job duty falls on me. Now that I'm responsible for feeding a child, I'm attempting to work on my food prep game.
Enter the FoodSaver® System.
The FoodSaver® Brand gave me a free FoodSaver® System to try. One of my favorite ways to use my FoodSaver® System is to make salad in a jar. I like salad in jars for different reasons. One being that it's kind of difficult to make a salad while trying to wrangle a one year old. Another reason is that I tend to be lazy and think, "Ugh, I don't want to have to deal with getting everything out and chop stuff up to make a salad. So I'll eat this super healthy PB&J instead" so prepping my salad in jars ahead of time keeps me from eating like a 5 year old.
I usually make a handful of salads at a time, during nap time or on the weekends when Brad is available to play the role of baby wrangler. I get out all of my ingredients, chop up the appropriate vegetables, and layer them in mason jars. Tip: put your hard vegetables on the bottom and lettuce on top. I skip the salad dressing because I eat the salads at home, but if I were to take these for lunch at work, I'd put the dressing on the bottom. Then, I vacuum seal the jar and twist on the lid. The salads will stay fresh in the fridge for a week or longer.
Another thing I like to do is to buy herbs when they're on sale at the store, vacuum seal them in portions, and freeze them until they're ready to use.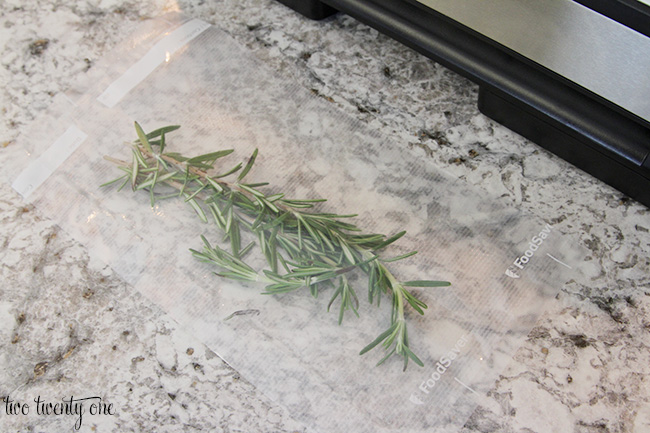 I create the right size of bags by using the FoodSaver® roll.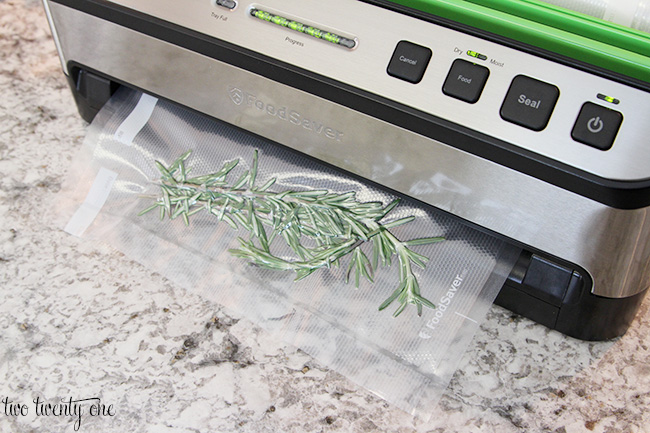 Once they're sealed, I write the date I prepared them, and then I pop them in the freezer.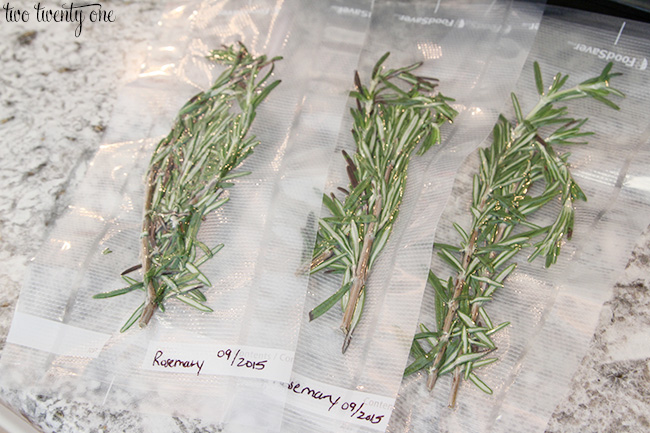 Let's talk baby food for a second.
One of my favorite things to do is to buy vegetables and fruits in bulk from Costco. This bag of organic mixed vegetables costs around $6-7.
When Owen was first learning to eat, I would steam the vegetables and puree them into tiny pieces. Now that he's older, I steam and feed them to him whole. (I'll cut up the green beans into smaller pieces though.)
To keep the frozen vegetables and fruits fresher longer, I empty the bags into FoodSaver® Bags and vacuum seal them. They're less susceptible to freezer burn than if I keep them in the bags they're sold in.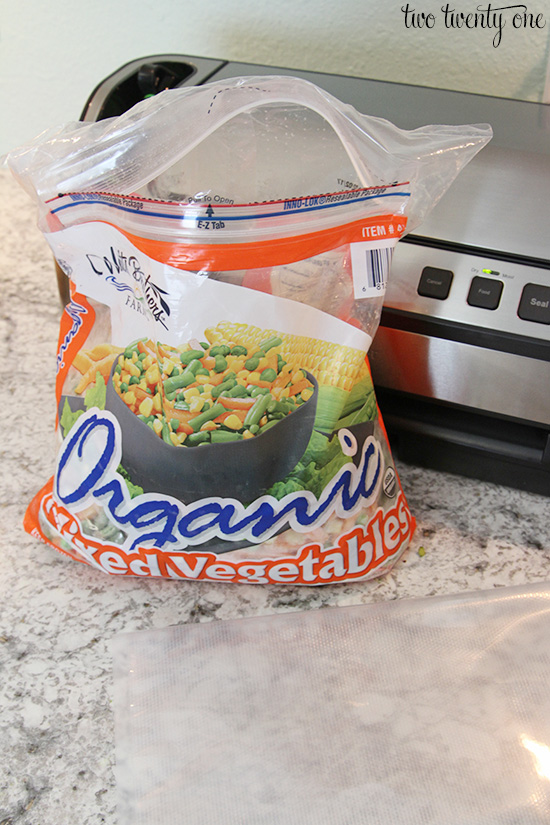 When it's time to make a batch of veggies, I open the bag, get out what I need, and reseal it. Simple as that.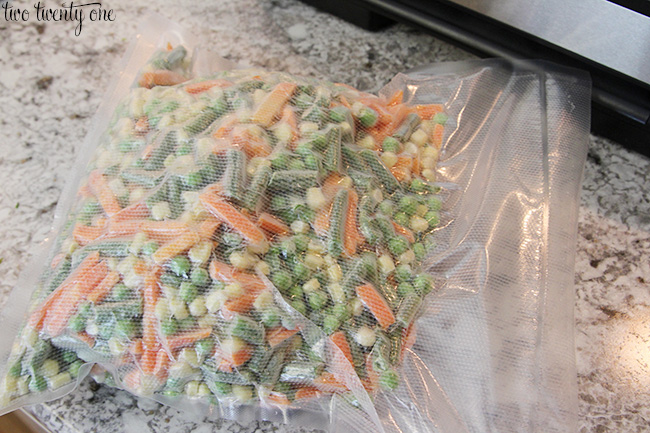 I'm still learning new ways to use my FoodSaver® System in order to save time and money.
You can visit FoodSaver® Brand on Facebook, Pinterest, Instagram and YouTube.
How will you use the FoodSaver® System in your home? Tell me in the comments and you will be entered to win a $100 Visa gift card!
Entry Instructions:
No duplicate comments.
You may receive (2) total entries by selecting from the following entry methods:
1. Leave a comment in response to the sweepstakes prompt on this post with the hashtag #SweepstakesEntry
2. Tweet (public message) about this promotion; including exactly the following unique term in your tweet message: "#SweepstakesEntry"; and leave the URL to that tweet in a comment on this post
3. Blog about this promotion, including a disclosure that you are receiving a sweepstakes entry in exchange for writing the blog post or with the hashtag #SweepstakesEntry, and leave the URL to that post in a comment on this post
4. For those with no Twitter or blog, read the official rules to learn about an alternate form of entry.
This giveaway is open to US Residents age 18 or older (or nineteen (19) years of age or older in Alabama and Nebraska). Winners will be selected via random draw, and will be notified by e-mail. The notification email will come directly from BlogHer via the sweeps@blogher email address. You will have 2 business days to respond; otherwise a new winner will be selected.
The Official Rules are available here.
This sweepstakes runs from 9/24/2015 – 10/31/2015
Be sure to visit FoodSaver® Brand's page on BlogHer.com where you can read other bloggers' posts!