Yes, our dog, Jack, has a cabinet in our kitchen dedicated to all of his things. We're lucky to have enough storage space in our kitchen for a doggy cabinet. Or maybe Jack is the lucky one.
We use the cabinet under our coffee station and next to the cabinets under the kitchen sink. We selected this spot because it's convenient when it comes to feeding Jack. You see, he has never chewed his food. Never. He inhales it. So we keep a measuring up on the lip of the kitchen sink. When it's time to feed Jack, we use the measuring cup to scoop his kibble out of the food container in the cabinet, put some water in the cup, let it set for a minute, and then put the moisturized food in Jack's bowl with his food portion pacer. Does wetting his food make a difference in his inhalation eating technique? I don't know. It's just what we've always done.
However, I am tempted to try this product in hopes of slowing Jack's eating speed down. Has anyone tried it or anything like it?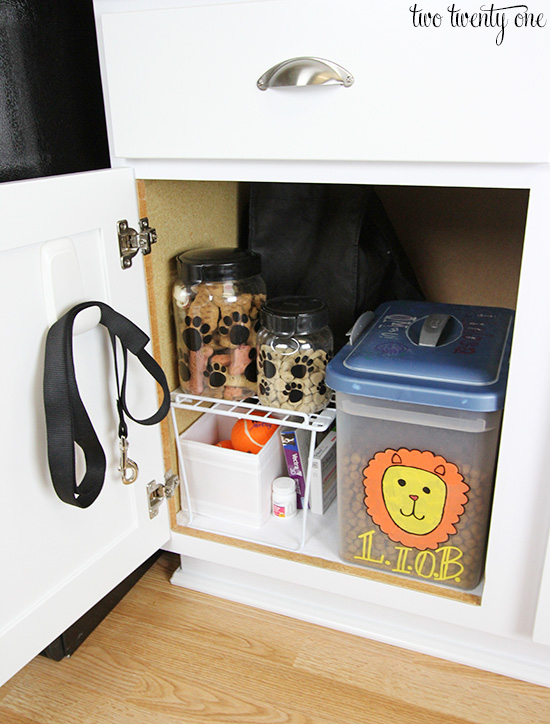 I purchased the white shelf at Walmart to increase the storage space in the cabinet.
His travel bag (the bag we take when we go on overnight trips with Jack in tow, like to our parents' homes) and treats are on the top shelf.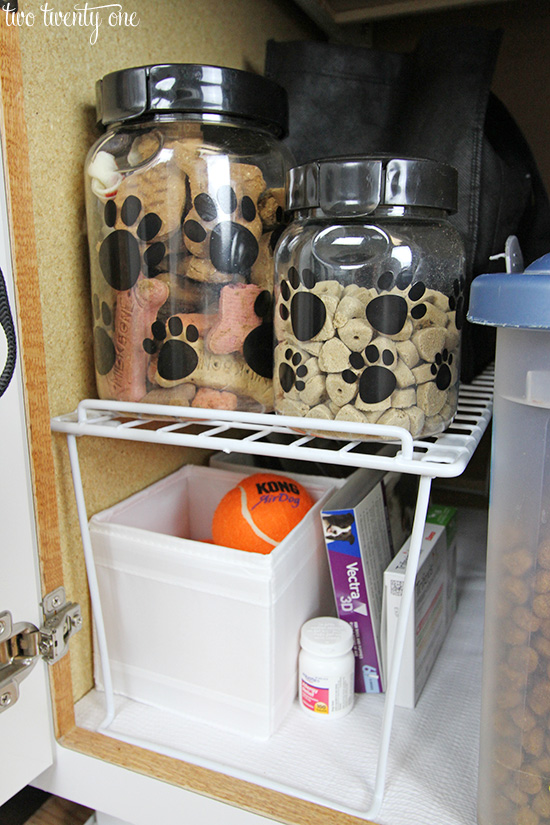 Here's what the bag looks like up close. It's a reusable Tesco (any Irish readers?) bag I used to carry my groceries home from the store when I lived in Ireland.
What do we keep in Jack's travel bag? A container with food, his doggy seatbelt harness (safety first), instructions on how to care for Jack, Benadryl (allergies), and Pepcid (when he throws up).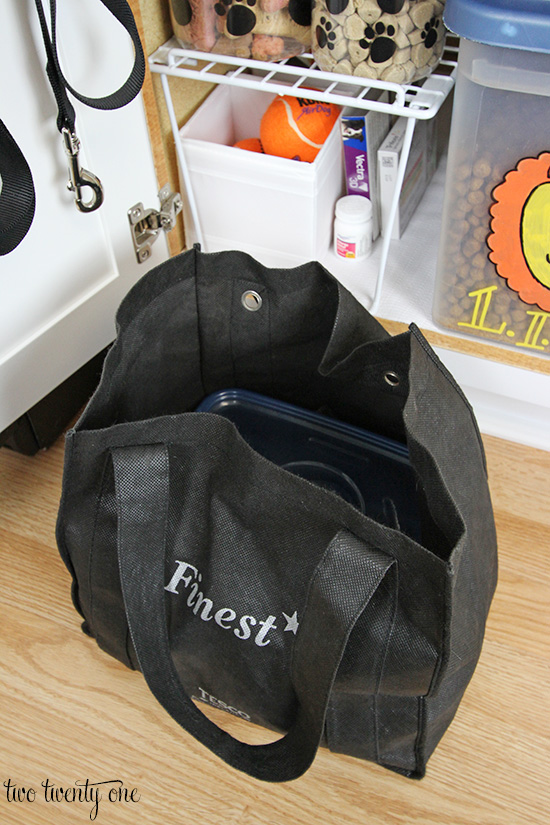 Under the shelf, I use some IKEA Skubb organizers to corral his random stuff. His favorite balls are in one organizer, and his waste bags, FURminator, and a bone are in the other.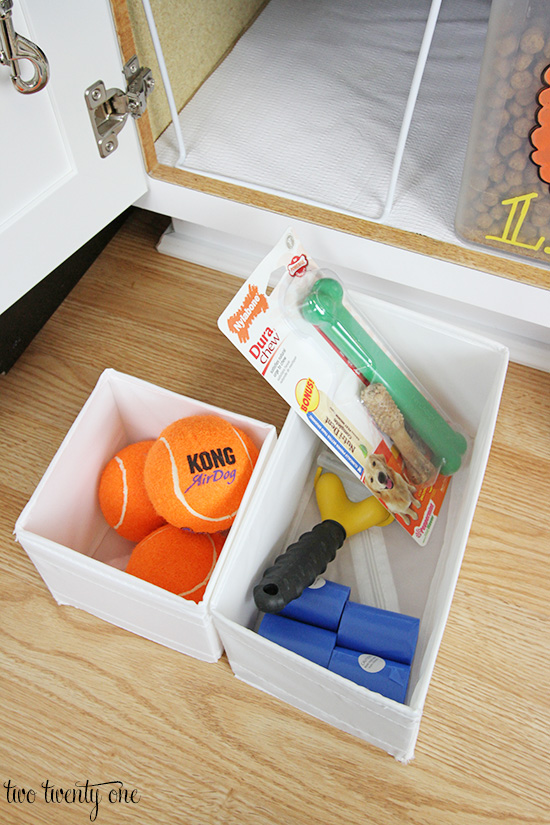 We also keep all of his pet medicine in the cabinet.
NOTE: Now that Owen is mobile, we moved the medicine to a higher cabinet.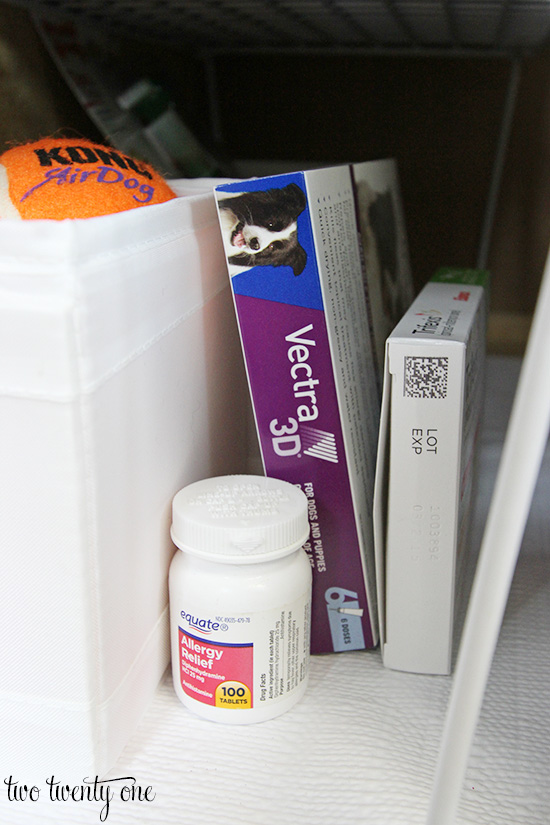 A Command Brand hook is used to hang his dog leash on the inside of the door.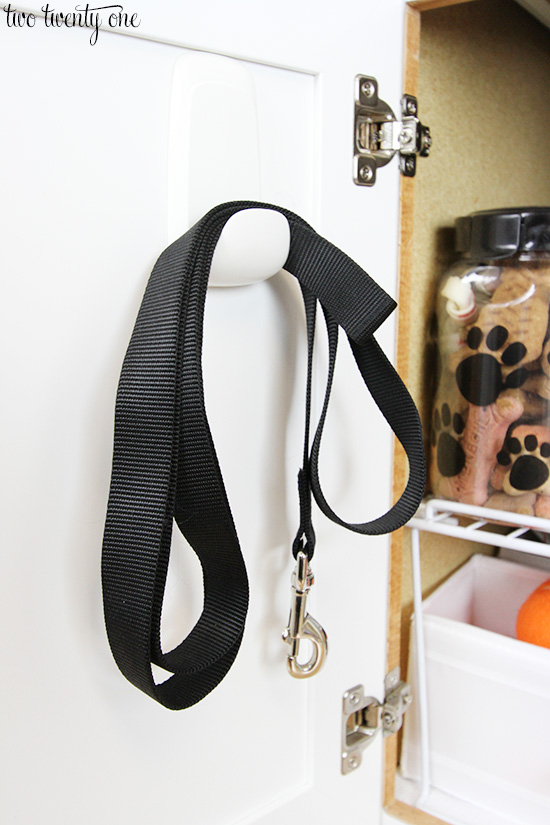 The container we use for Jack's food has been with me for over 10 years. It's a container my 'mom' in my sorority painted and gifted to me when I was initiated. When she gave it to me, it was filled with fun sorority type stuff. When we adopted Jack, we needed to put his food in something so I grabbed this container. I figured why waste $10 on a container when I already had one. And this one has meaning. So there's the story behind the food container.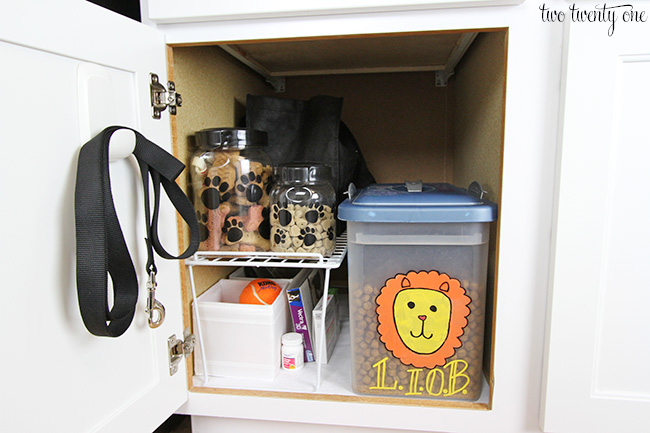 I was informed that this post needs a photo of Jack. He was napping when I took photos of the cabinet so here he is on his 7th birthday last month.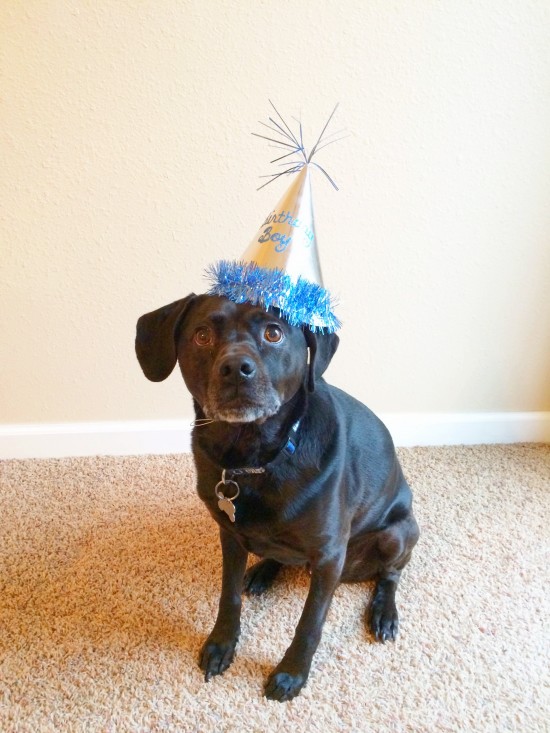 Does your dog have a cabinet dedicated to all of his/her things?
This post contains affiliate links.