Keeping It Real Home Tour
A couple weeks ago on Facebook I touched on how the blogging world has changed quite a bit since I kicked off this adventure 6 years ago.
Back when I started, acceptable blog photos looked like this: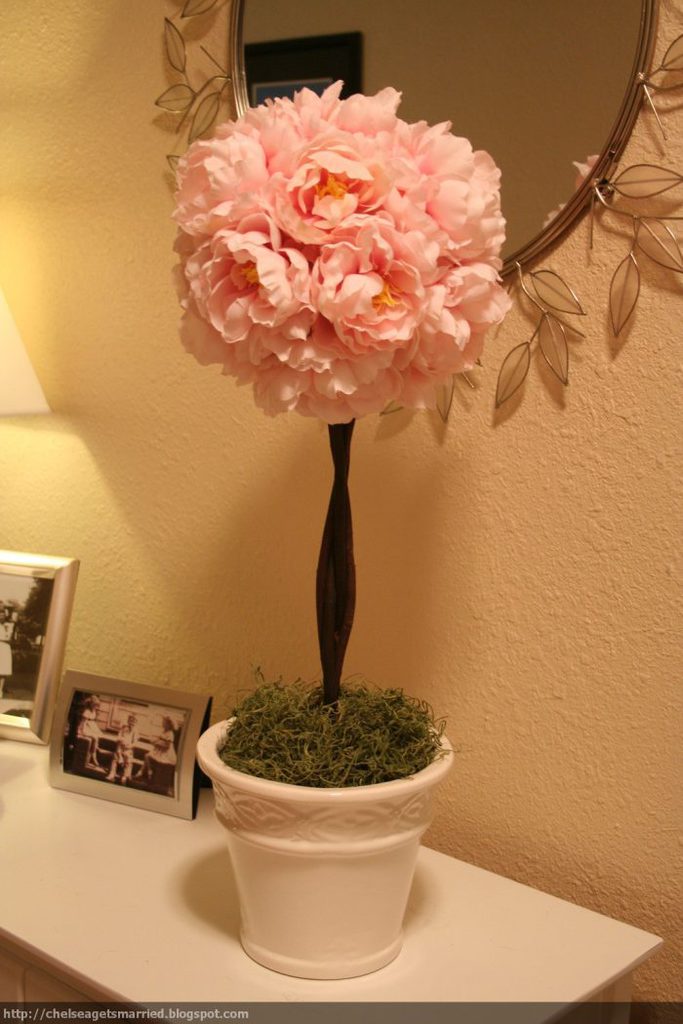 Now photos have to look like this, or better: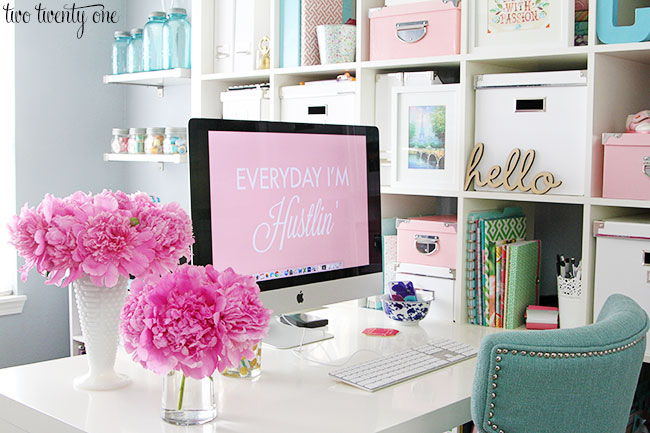 As bloggers, we've upped the game on ourselves so much that we feel the need to spend 15 minutes staging an Instagram photo of a damn bowl. Because a picture of only the bowl won't suffice anymore. It needs to be on top of a marble backdrop with at least 4 other objects in the photo with said bowl, and the objects need to look well-placed but not entirely intentional– like you meant to put it there, but you didn't. I get it, people want to see pretty photos, but OMGitisexhausting.
Now, when it comes to our homes, I can't speak for all bloggers, but I know the majority of us don't keep our houses in immaculate, Pinterest-worthy condition all the time. But who wants to look at and pin a photo of a kitchen island with a bunch of random crap on top of it? So we scoot all of our junk just outside the camera frame and snap away.
With all of that said, the time has come to keep it real and share what our house typically looks like. And I've teamed up with 5 other bloggers to show how our houses really look.
Let's start in my office.
I know, it's a lot to take in.
I usually have a mini photo shoot set up in front of the window, that's currently without curtains. There's almost always some sort of shipping box or boxes on the floor. And I tend to have at least four wreaths I've made in my office at any given time. You probably notice the wreaths hanging on my closet doors from some of my snaps (chelsea221blog).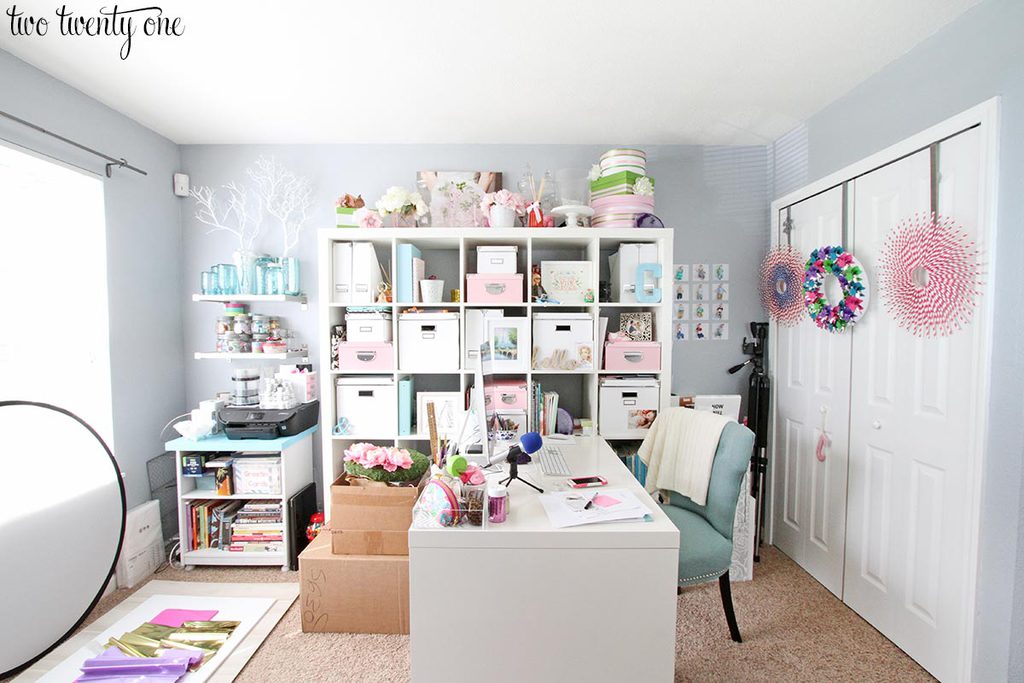 This is fairly clean for my desk. I recently had enough and cleaned it up a bit. Partly because Owen keep sneaking in here, grabbing pencils, and writing on any piece of paper he could get his hands on.
But as you can see, it's not very blog-worthy. I doubt anyone would want to pin a photo of a desk with a post-it note on the computer with the reminder "pay taxes" written on it, let alone a Bounty coupon hanging out on top of a pile of random papers.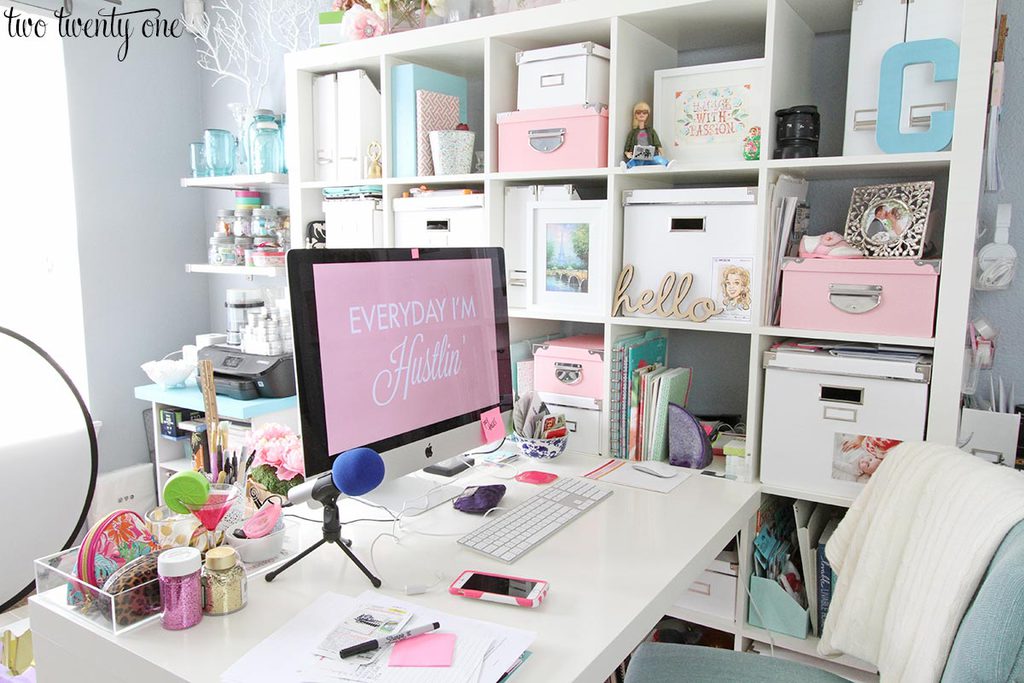 Our kitchen is up next.
Notice my barren kitchen island shelves. This is what low-lying shelving looks like when you have a two-year-old. Enjoy the non-mobile stage, new moms. I only place things on the shelves for blog photos before quickly moving them to higher ground.
I hate going through my mail. HATE IT. I know, I know. It's such a silly thing, but I'd rather be forced to watch an episode of House Hunters than go through random mailings from local insurance agents who want my business and car dealerships urging me to trade in my 9 year old SUV. And I feel like I'm wasting time nowadays if I sit down to flip through a magazine. While we're on the subject, who signed me up for so many damn magazines??? Cosmopolitan started showing up a couple years ago. I haven't picked up one of those in a decade. I have started putting the mail and magazines in that clear bin so I'm getting somewhere.
I almost always hang my purse on that chair and toss my keys and sunglasses on the counter. The blue tote is on the chair as a reminder that I need to take it back out to my car, where it usually lives.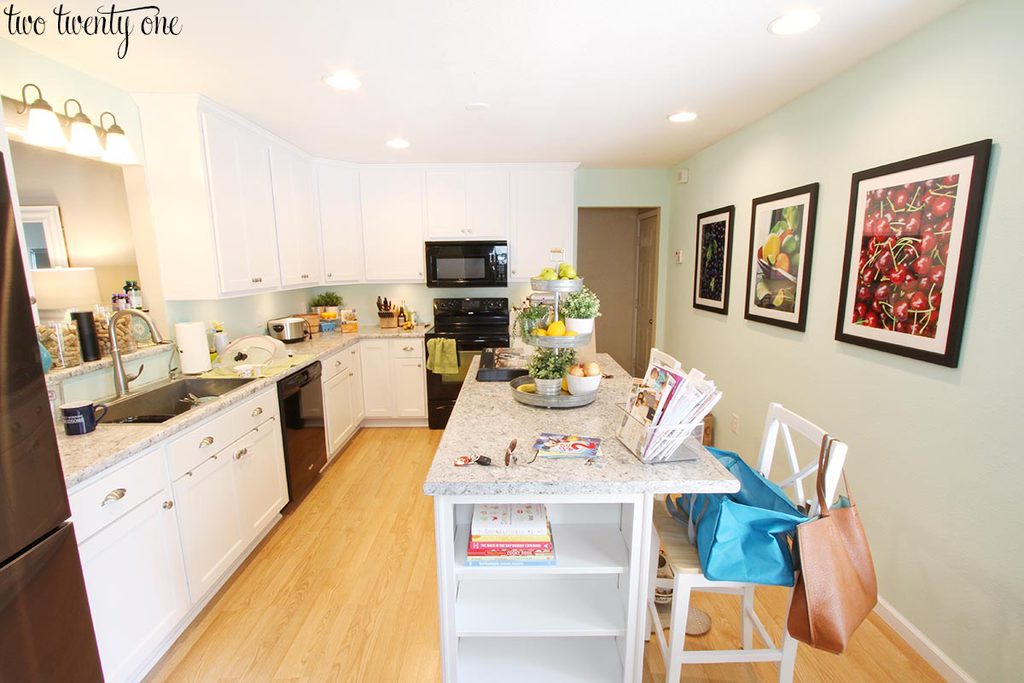 Yep, those are dishes in the sink and on both sides of the sink. There's also two yogurt containers I rinsed out. They're air-drying before I toss them in the recycling.
The peanut butter is almost always there because we use it to give our dog, Jack, his medicine twice a day. And my daily doses of biotin and fish oil usually hang out out on that vintage scale.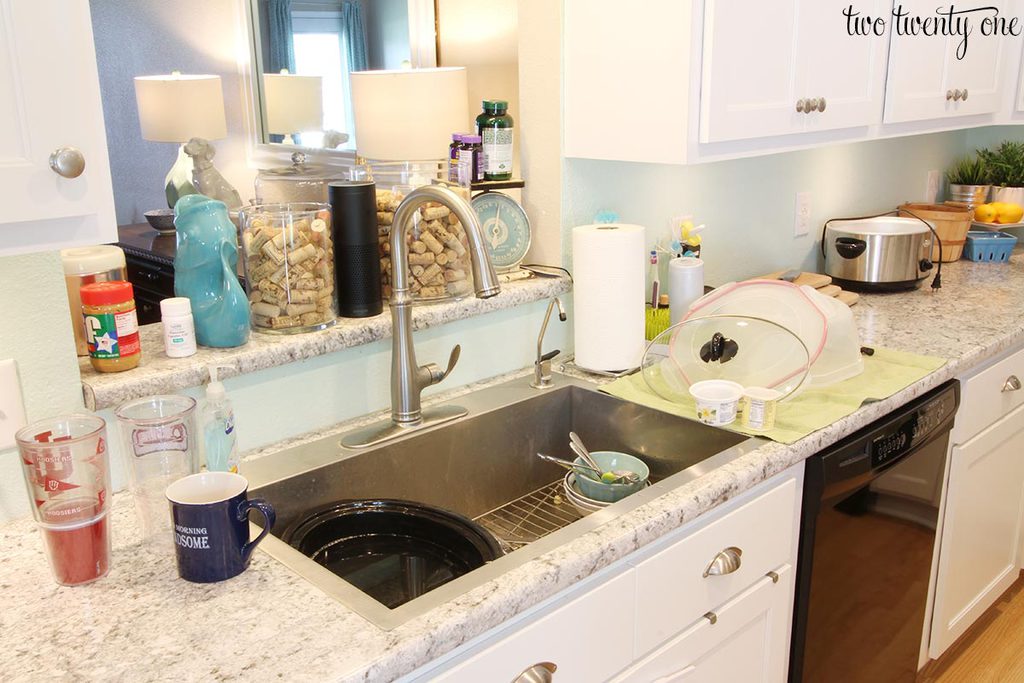 Here we have my broken sunglasses (I don't allow myself to spend more than $25 on a pair of sunglasses because most end up busted), some of Owen's birthday gifts we're withholding from him, a box of tile samples a company sent me, and groceries from Trader Joe's that I need to put away. The(non-perishable) groceries may or may not have sat there for a couple days.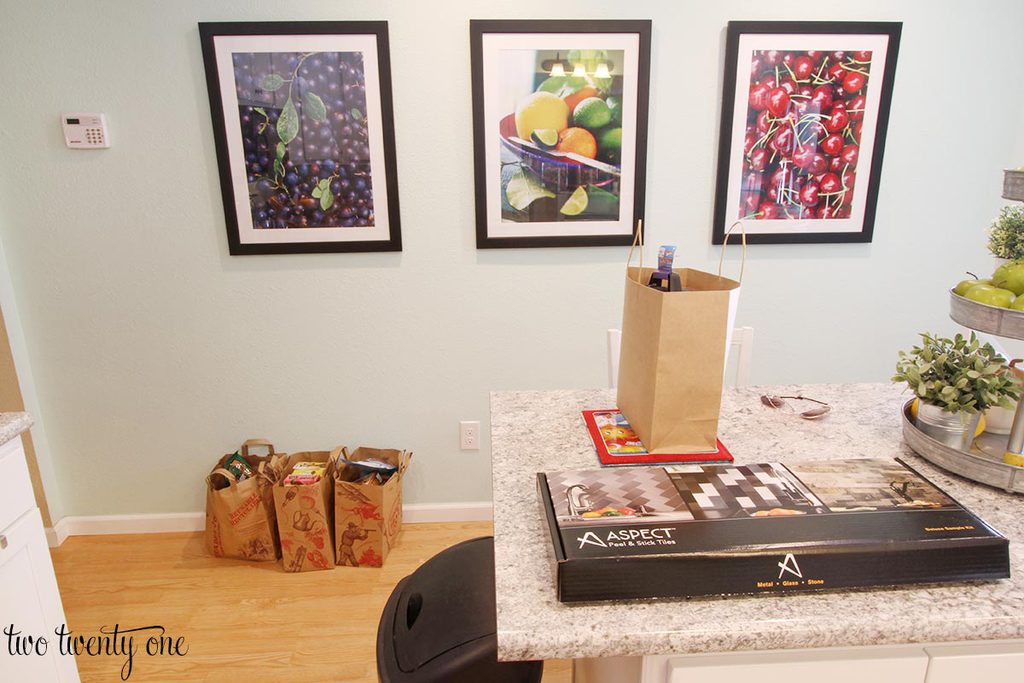 Ahhh, the gem of our house: the living room.
If you aren't well-versed in our house, it's 1600 square feet– 4 bedrooms, 2 bathrooms. We don't have the luxury of having a playroom so my kid's stuff has taken over our living room. The day before I took this photo, Owen took the liberty of dragging a bunch of toys out of his bedroom closet and brought all of them into the living room. I'm guessing because he felt like he didn't have enough toys in the living room to begin with.
I will say that when we work together, after our tiny redecorator goes to bed, Brad and I can have all of Owen's cleaned up in 5 minutes or less.
In case you're wondering, the loveseat is littered with towels that need to be folded. I'm not a fan of our loveseat or couch. It's a lonnnnng story, but we originally bought a gray fabric set that were defective and after going back and forth with the furniture store 500 times, I gave in and got those because I just wanted somewhere to sit in my living room.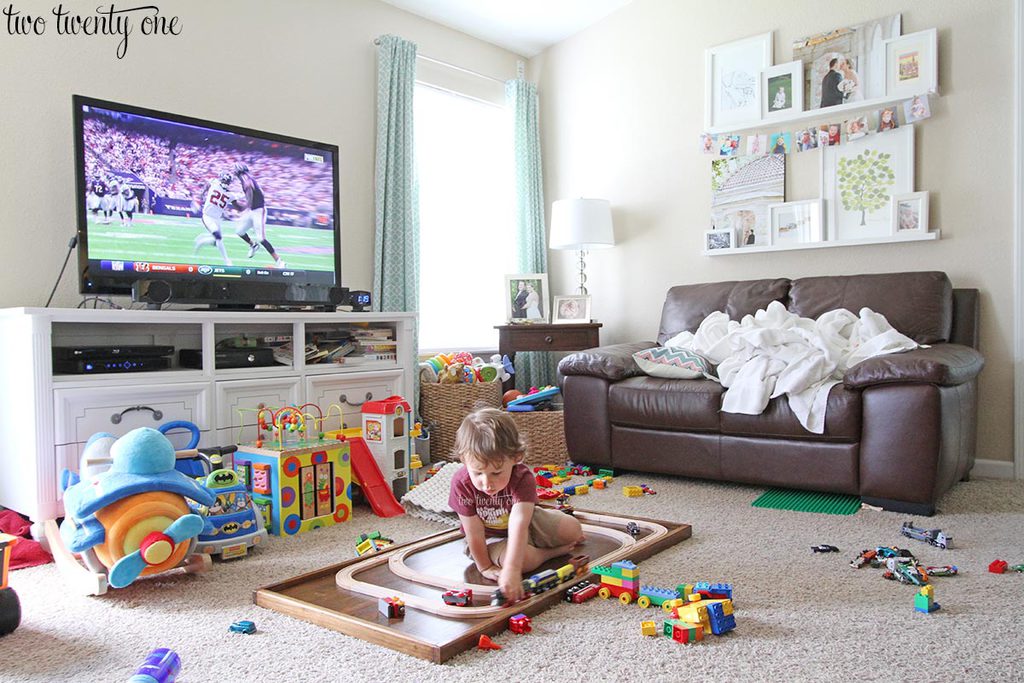 I'm not going to lie, this is how Owen's room usually looks. It's one of the positives of his desire to play in the living room 99% of the time (see photo of above).
He will come in here once in a while and play with his cars on the window sill. And sometimes I'll make a mess piling up his clothes that need to be sorted and put into storage. But other than that, and a small section on top of his dresser, the room stays pretty organized.
I wish we had somewhere to put the glider/recliner so I could squeeze a little play area out of that corner. But we don't, and I'm not going to sell the glider.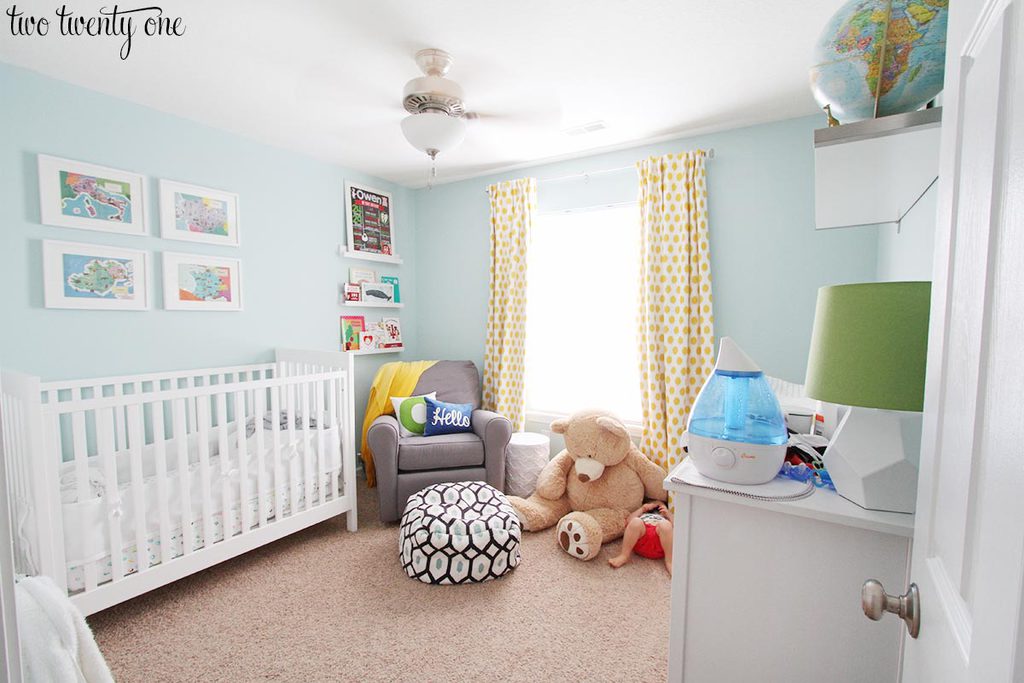 The guest bathroom has been taken over by Owen and all of his toiletries, bath toys, and medicines. A nasty upper respiratory infection hit our house last weekend (and is still lingering), which explains the two boxes of tissues, humidifier, and overabundance of meds.
You can also see we're super classy and set the toilet paper on the vanity. That's because if the toilet paper is on the dispenser, Owen will bat it like a cat until the entire length of toilet paper is no longer on the roll. But if we set it on the vanity, he leaves it alone. Toddlers are weird creatures.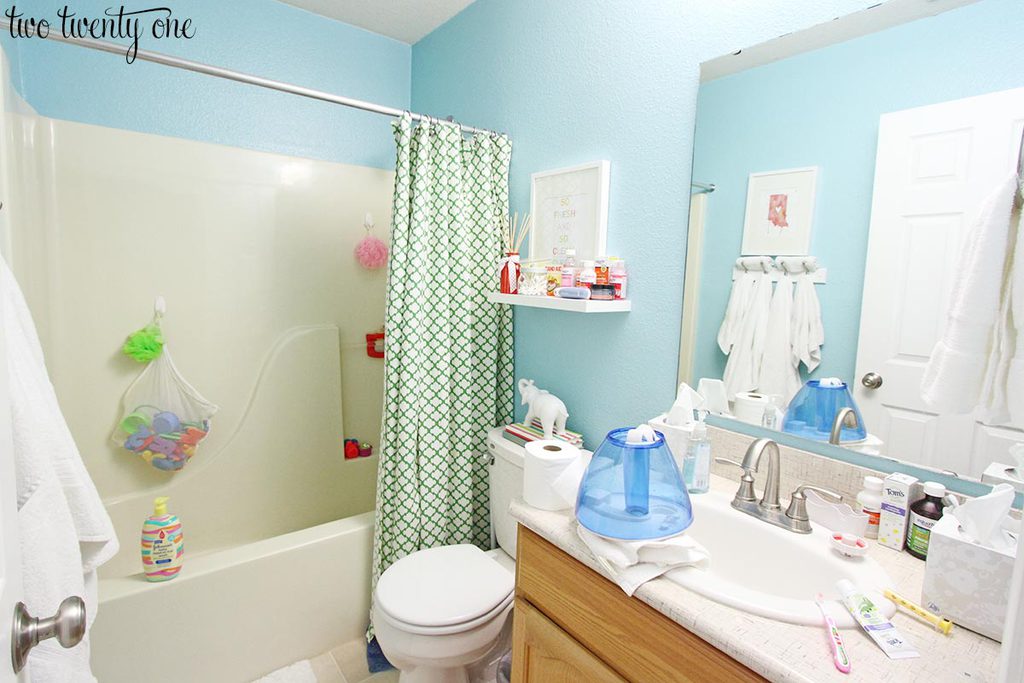 When I shared photos of our master bedroom a few months ago, people commented about how there wasn't a bunch of crap in there. Maybe we're just weird, tidy bedroom people. But yeah, we don't store a bunch of stuff in our bedroom. That's what our two-car garage is for!
We don't make our bed everyday. I usually just pull the duvet up and call it a day. That mound of pillows is all of our decorative pillows. You know, Euro shams and what not– i.e. pillows people don't actually sleep with.
I will say that I feel better when I make our bed. Maybe I'll time myself and see how long it takes me. Usually when I time myself doing a task and it ends up being under 5 minutes, I can guilt myself into doing it regularly.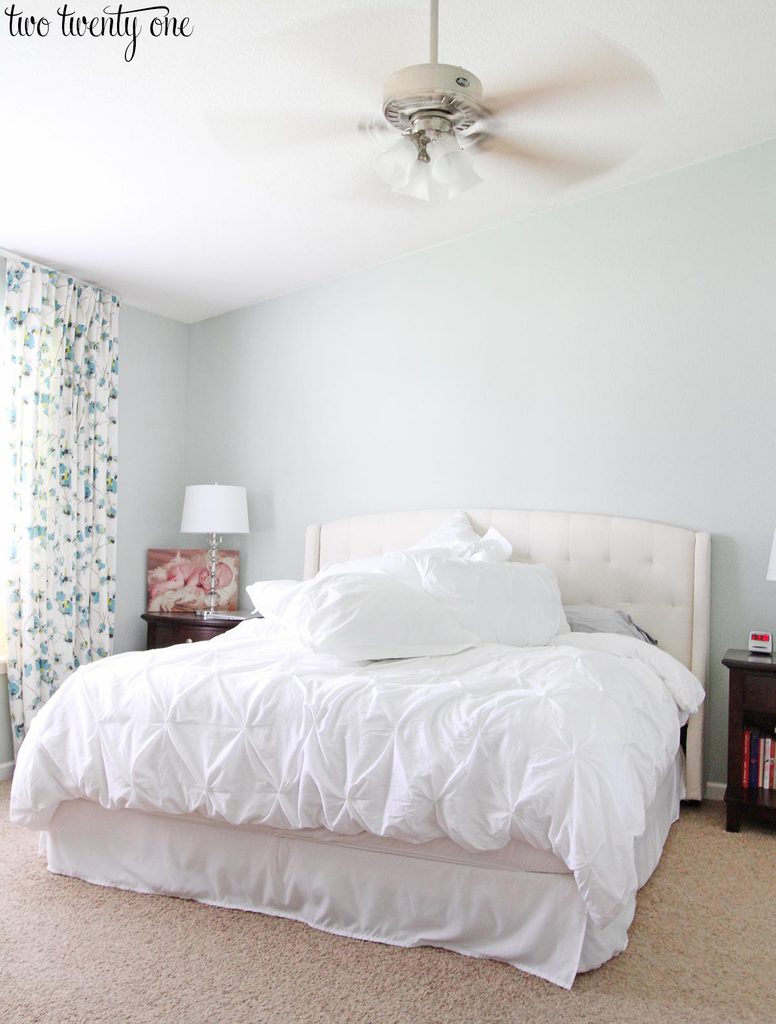 There's usually a basket (or two) of laundry of my clothes that needs to be put away. Like the mail, I hate putting away clothes. I'm totally cool with the act of doing laundry. But putting away my clean clothes? Nope, no thank you.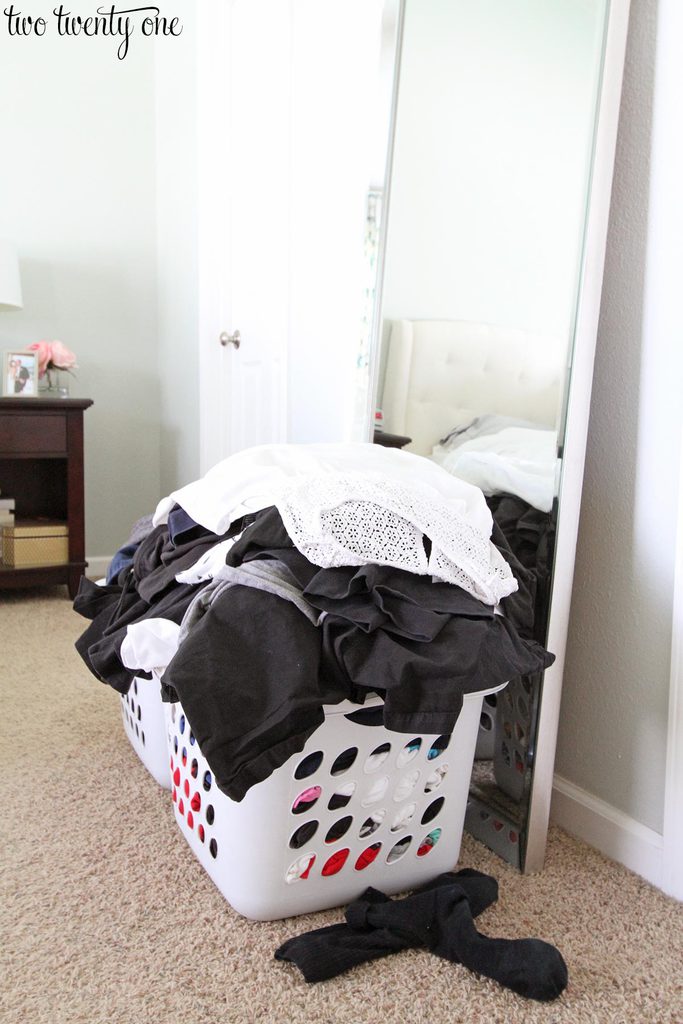 There you go. My living room is almost always littered with toys, and I suck at putting away my clothes.
It's not always peonies in KitchenAid mixers around here, my friends.
By the way, I'm waiting for peonies in KitchenAid mixers to catch on. It's only a matter of time– just you wait and see.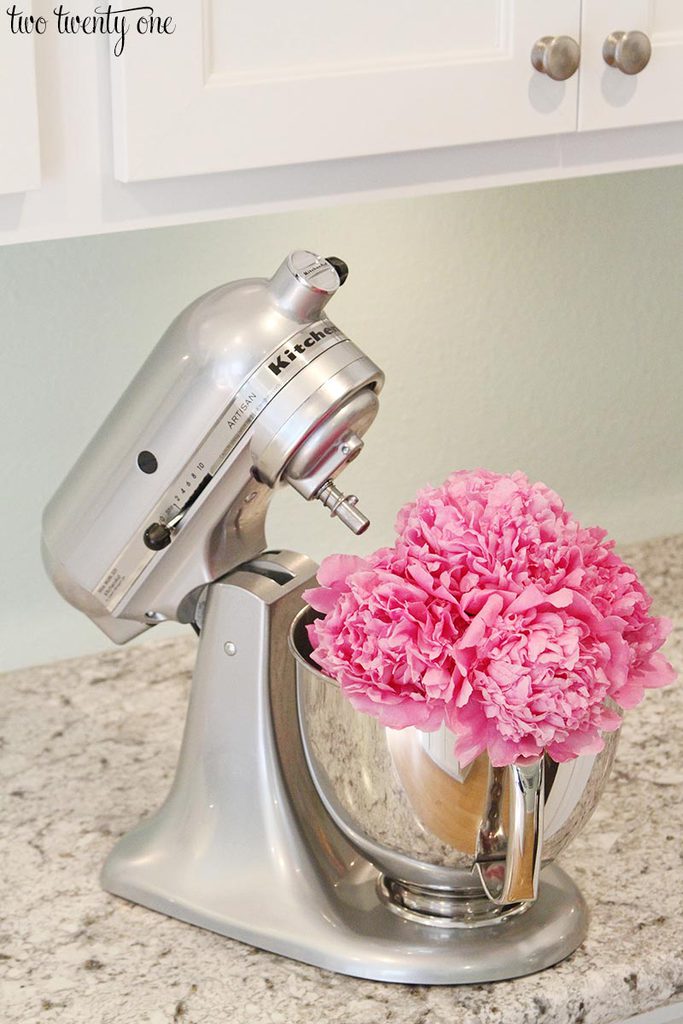 I've teamed up with 5 other bloggers to share how our houses usually look. It's like the Real Housewives of Blogging, only we build or paint tables instead of physically flipping them over in a fit of rage. So take some time to stop by their blogs!
Jenna from Rain on a Tin Roof
Chelsea from Making Home Base
Taryn from Design, Dining, & Diapers
Charlotte from Ciburbanity
Katie from Bower Power
Note: I took these photos over the course of a couple days. This explains why my kid is in different clothes or you saw objects move from room to room.