It feels nothing like fall right now in central Indiana due to the nearly 90 degree temperates, it's not stopping me from getting on the fall fun bus. And I'm starting by decorating our front porch.
And you know what's also exciting? I'm teaming up with a bunch of other talented bloggers for a Fall Front Porch Hop, which was orchestrated by my friend Taryn from Design, Dining, & Diapers. So make sure you scroll down to the bottom of this post and check out all the other gorgeous fall porches from some of your favorite bloggers.
While I'm sharing our 2016 fall porch decor, I thought I'd give some tips and tricks for creating a beautiful fall front porch, especially if you have a limited amount of space to work with.
Use What You Have
Our front porch is small, but I limit myself even more because of the 300-pound planter that's a permanent fixture on the porch. So my first tip is to use what you have. This planter isn't going anywhere so every year I fill it with pumpkins, gourds, mums, and cabbage. And I always love how it turns out.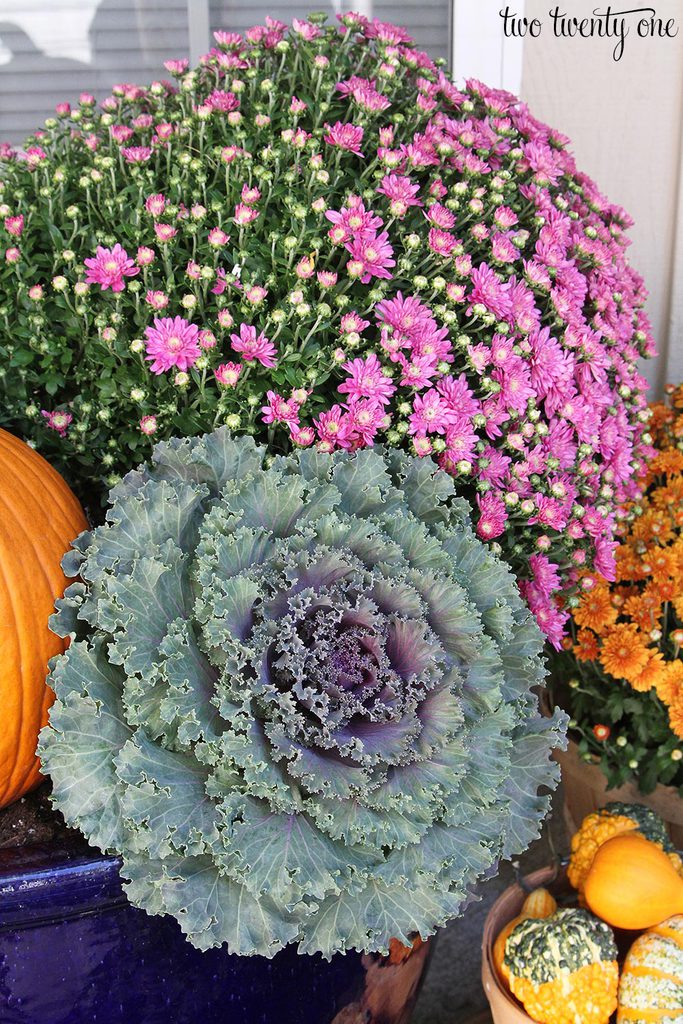 Tricky, Tricky
For years I've staggered two pumpkins, making the one in the back sit higher than the other. I accomplish this by turning over a brown container and putting the pumpkin on top of it.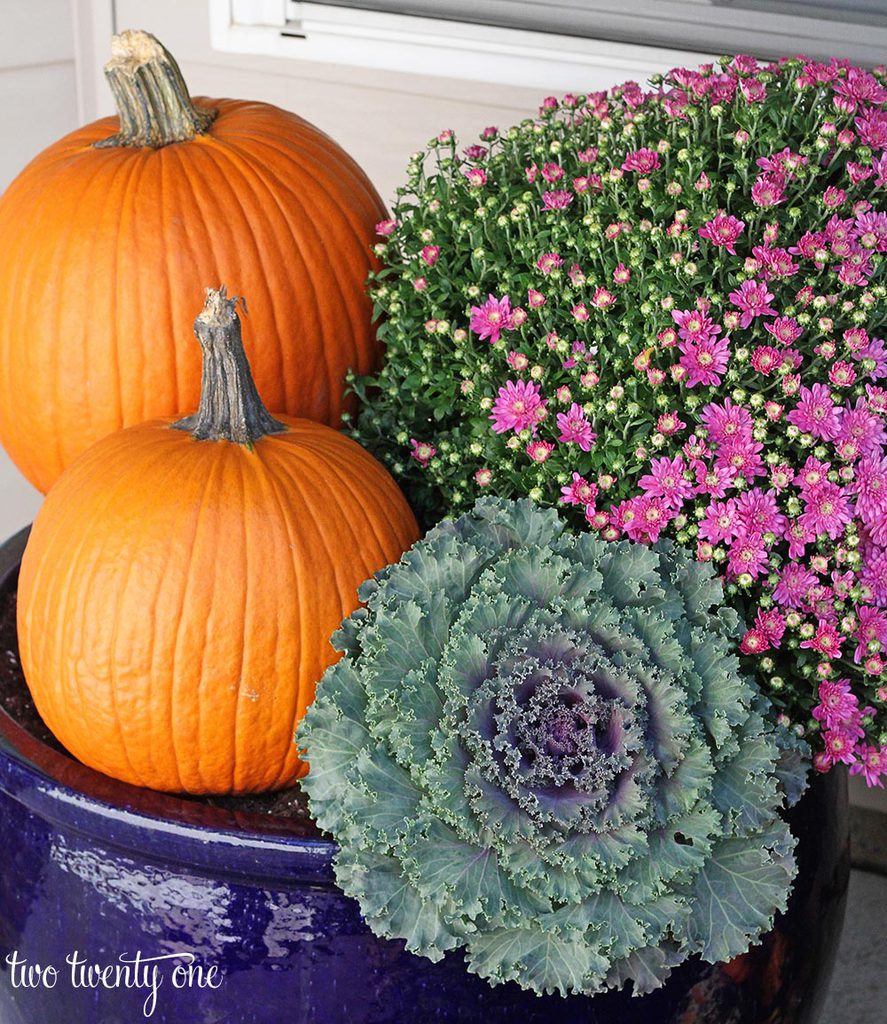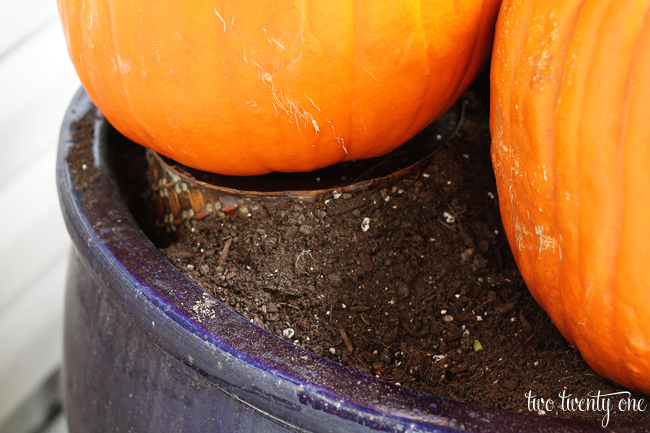 I do a similar trick with gourds in a small apple basket. I put a clear plastic container in the basket, and then top it with pumpkins and gourds. I see it as a money-saving measure since I'm not putting gourds on the bottom that won't be seen.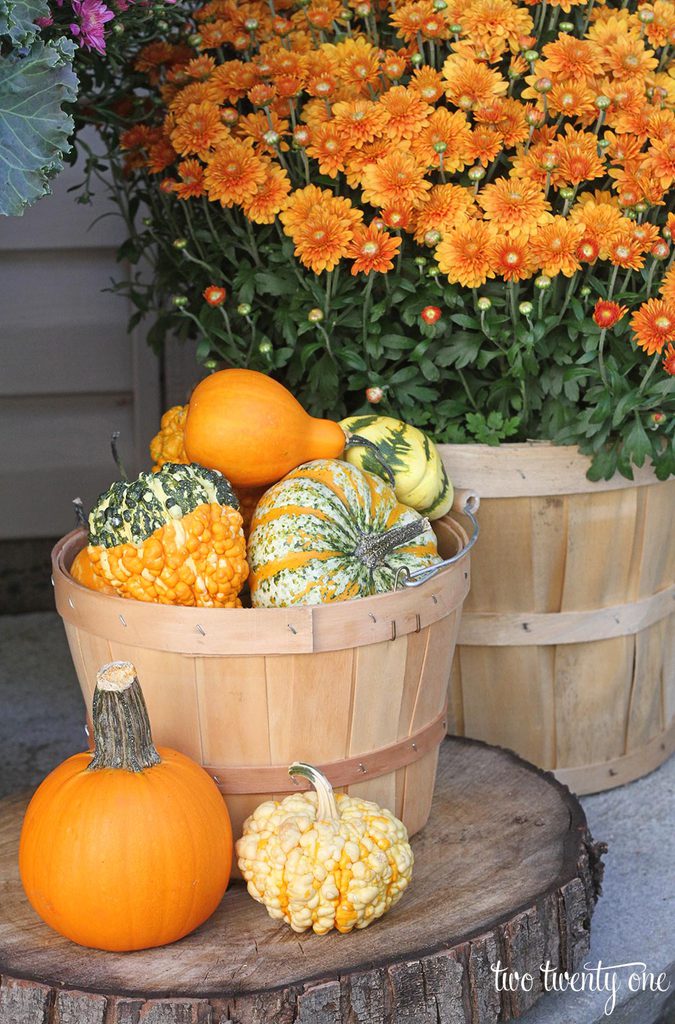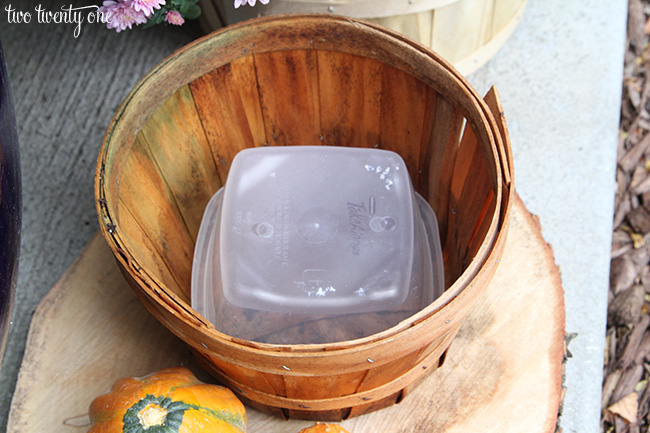 Add Texture
One way I love to add texture is by throwing in a cabbage. They scream 'fall' and they're so pretty.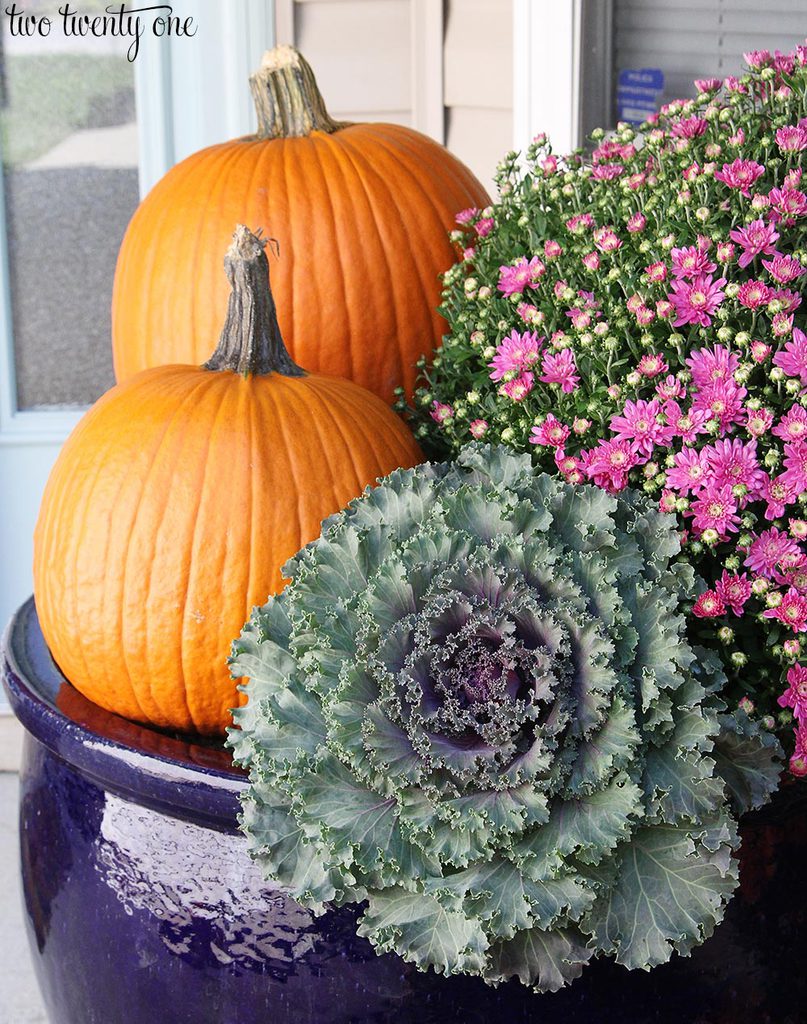 I also tend to throw in a different texture with the hanging plant above the planter. Last year I went with an asparagus fern, which are beautiful. This year I went with a Boston fern– because my nursery had already sold out of asparagus ferns.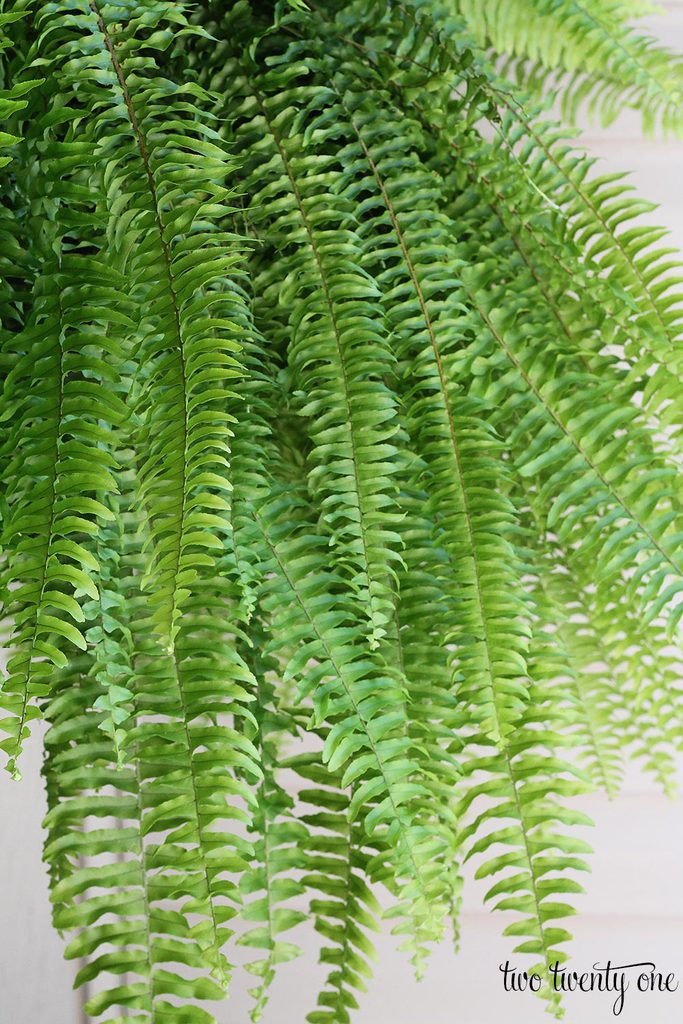 Don't Be Afraid of Color
One of the things I love about fall is all of the rich colors. While Cinderella and white pumpkins are pretty, I love being able to play around with different colors.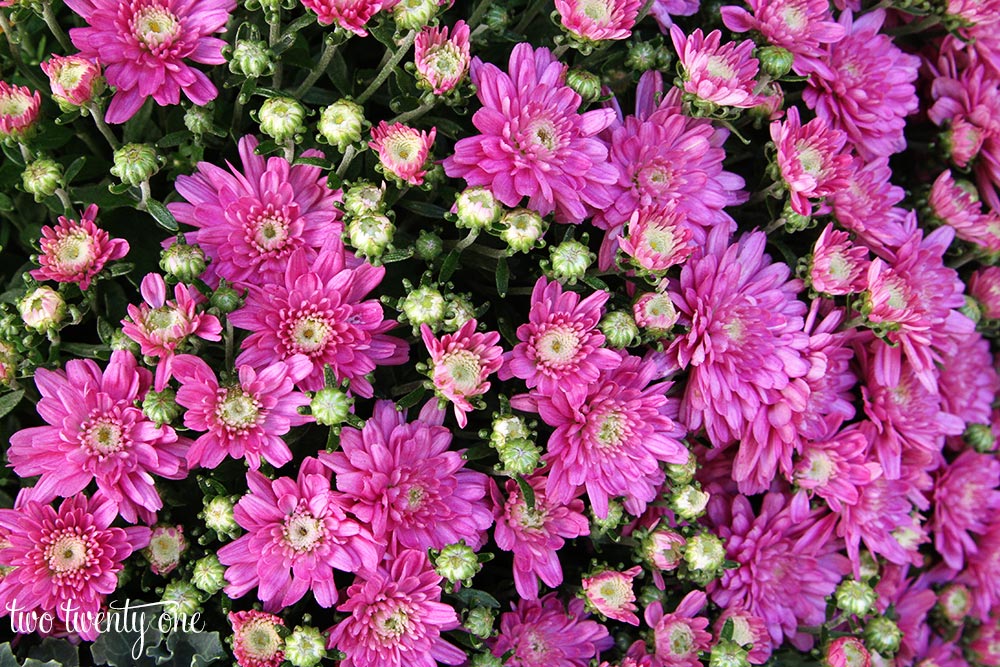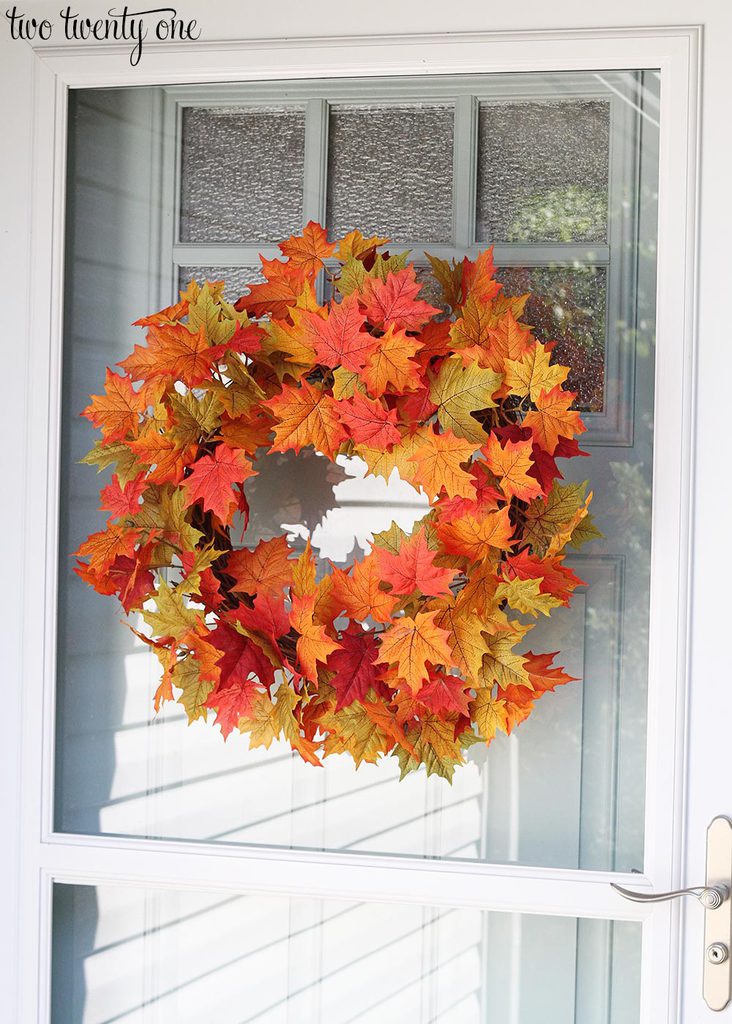 I picked up this wreath for less than $20 at JoAnn Fabric. It cost less than what I would've paid to make my own. And since it's not very trendy, it'll last for years.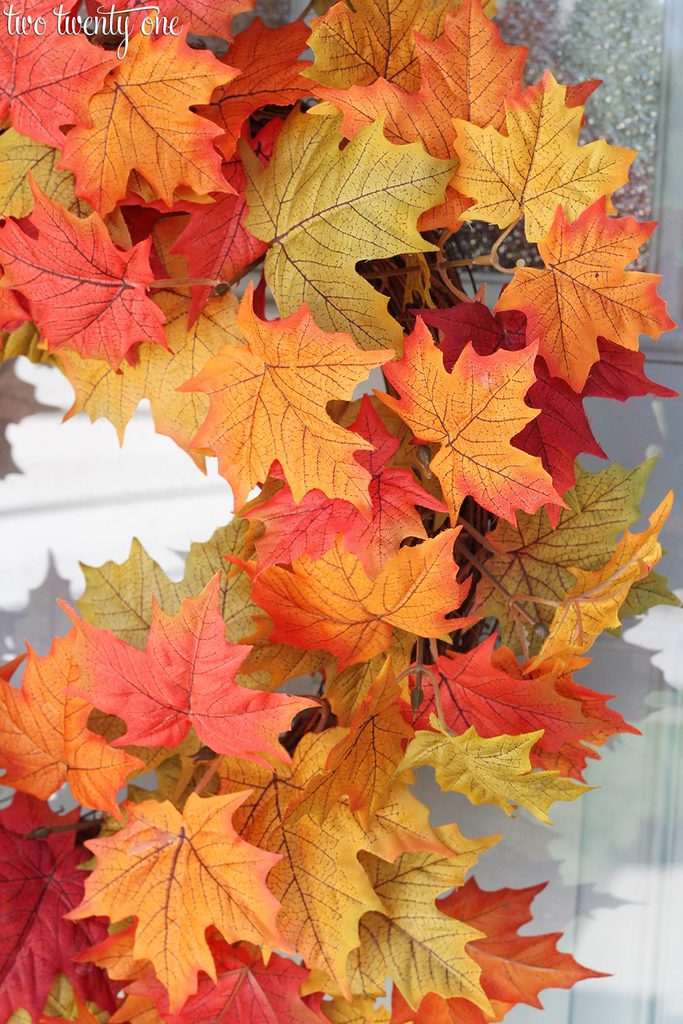 All the Apple Baskets
Apple baskets are my favorite things to use in my outside fall decor. Most of my apple baskets are from various potted mums I've bought or received as gifts throughout the years. When I'm not using them, I store them in our shed.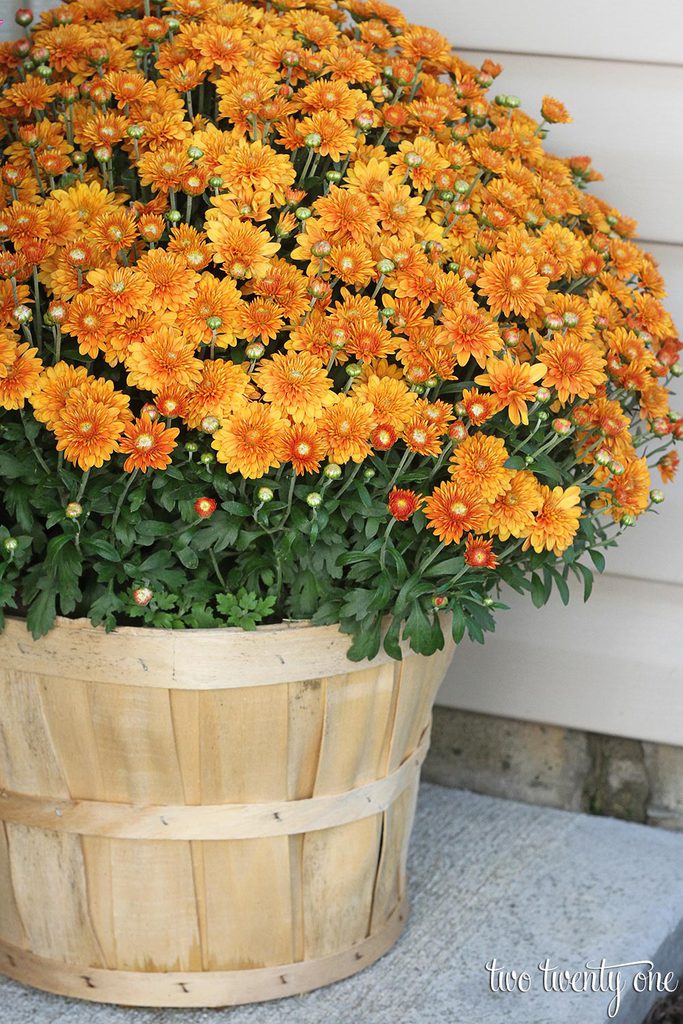 If you don't have any apple baskets, you can always buy them from craft store or online craft retailers.
Should your apple baskets get mildewy looking from sitting out in damp conditions for a few months, put them out in the sun for a couple of days. The sun should fade some of the discoloration.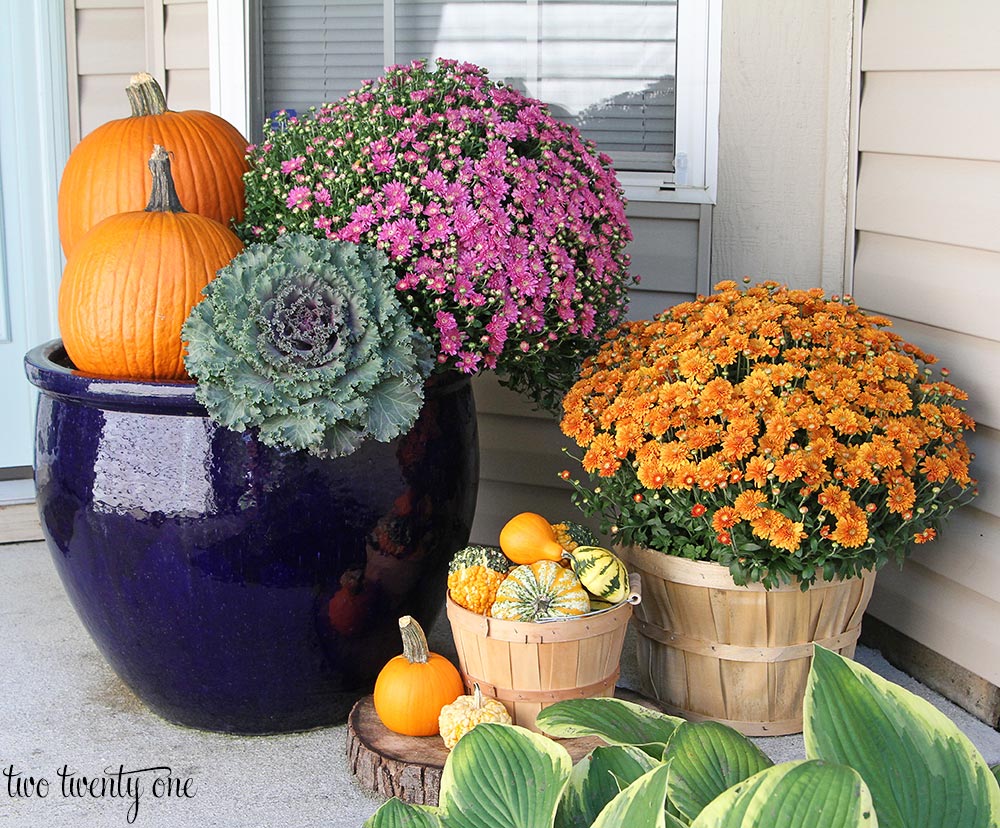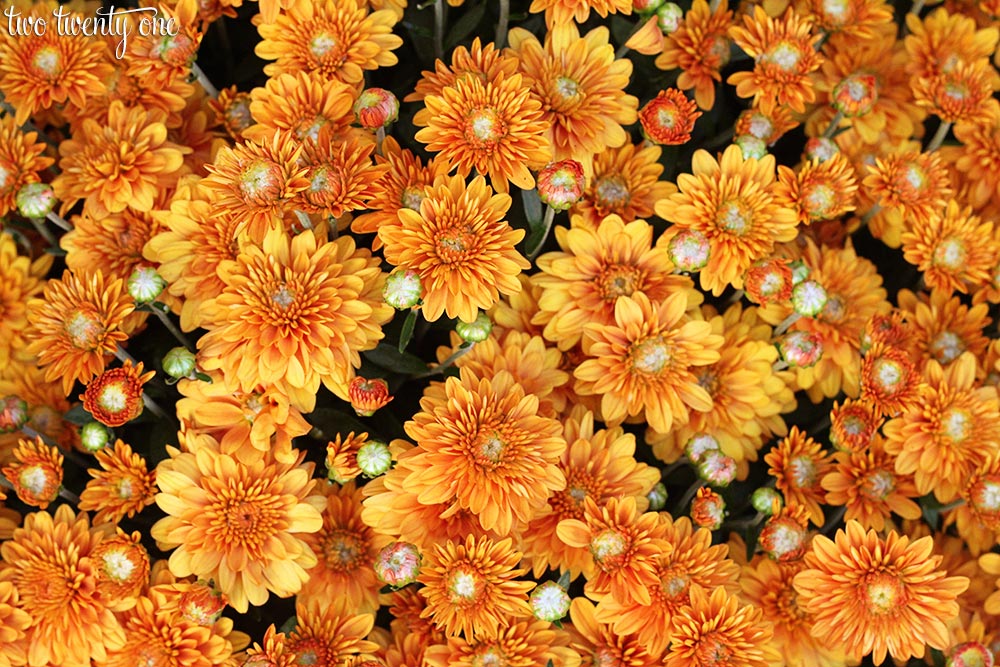 Take Advantage of All the Space
Since I can really only work with the space in front of our porch window, I like to add a hanging plant. I usually go with a fern because they're so big and I feel like green is an acceptable fall color.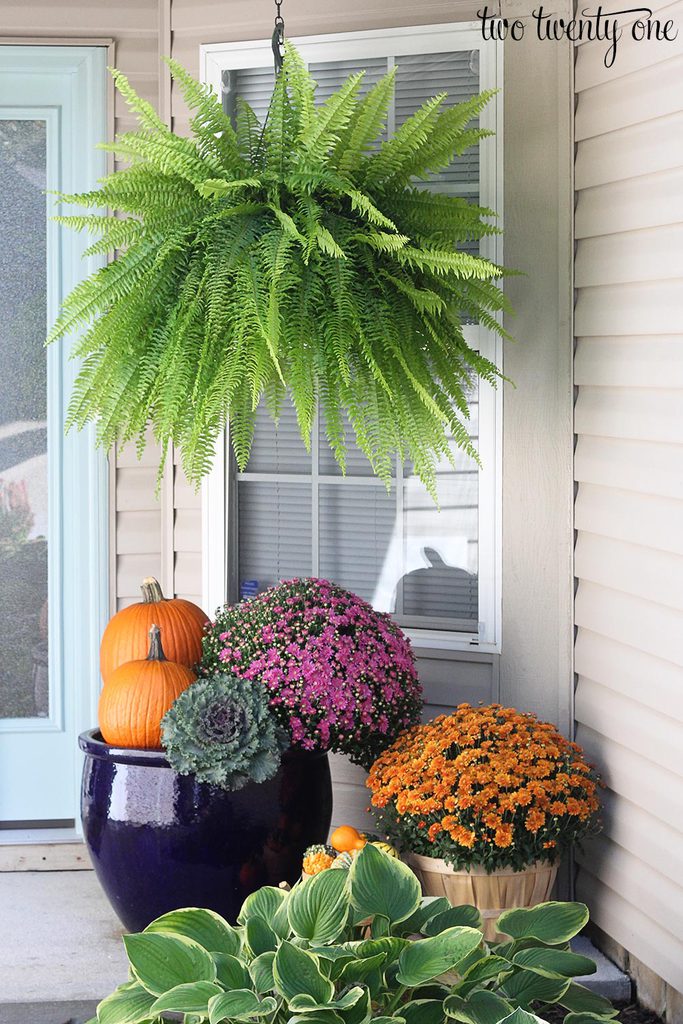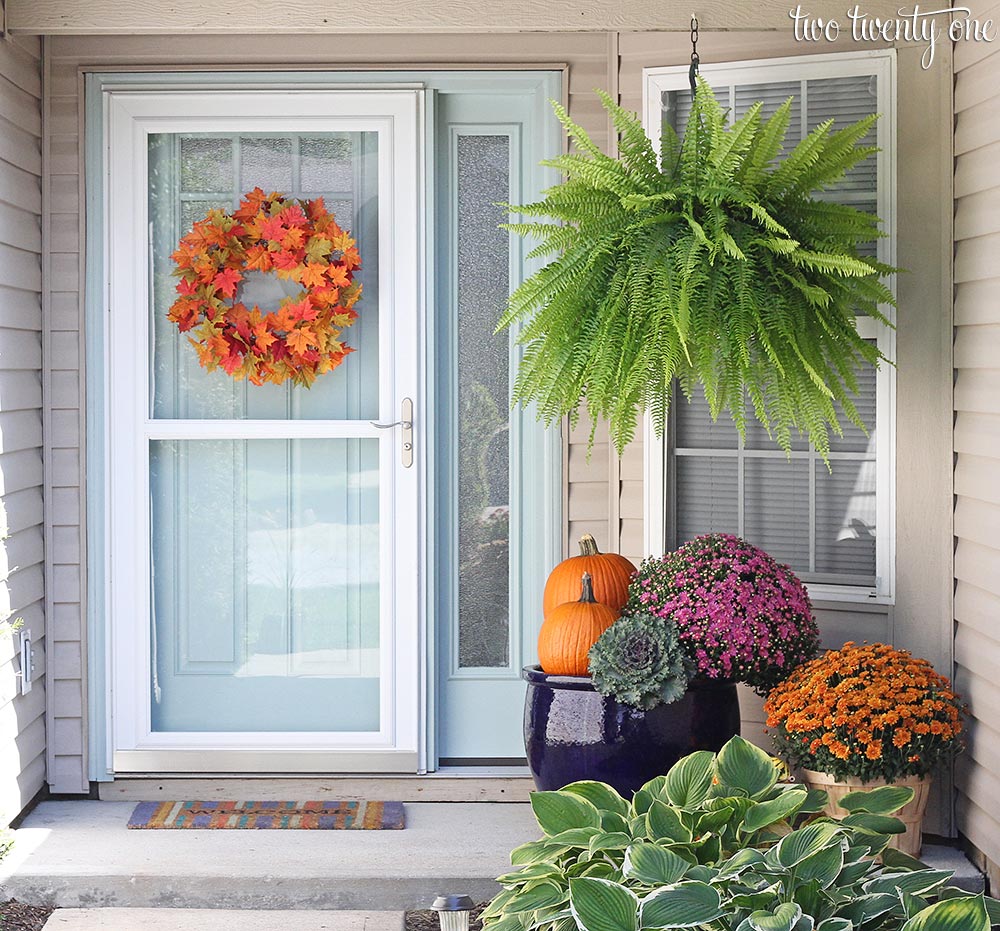 Here's what the front of our house looks like decked out for fall.
Check out those sweet potato vines.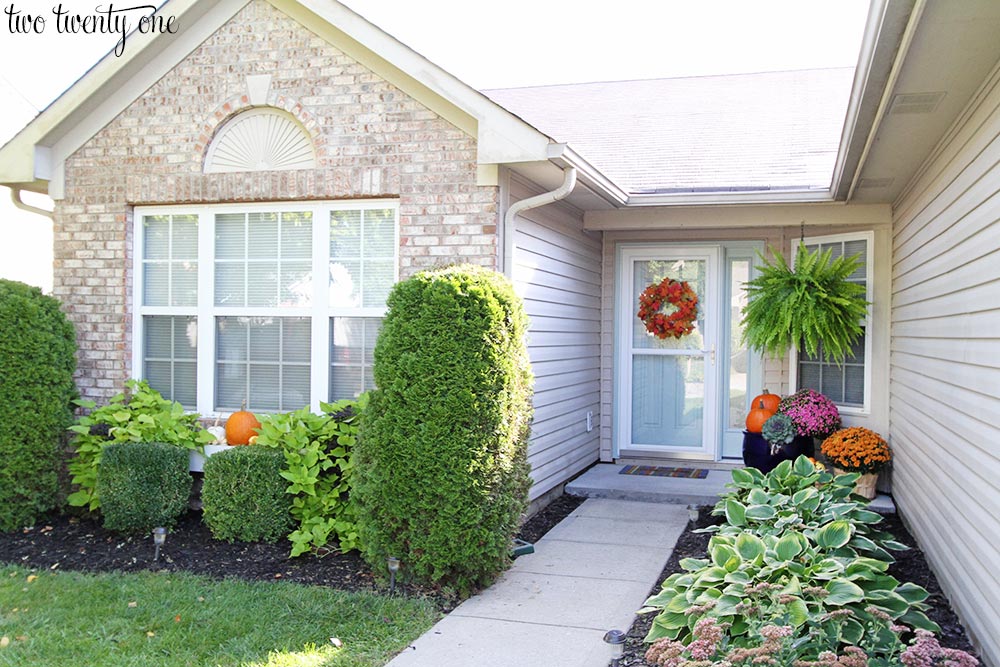 Since my sweet potato vines are still flourishing so I decided to decorate around them this year by adding some pumpkins and gourds.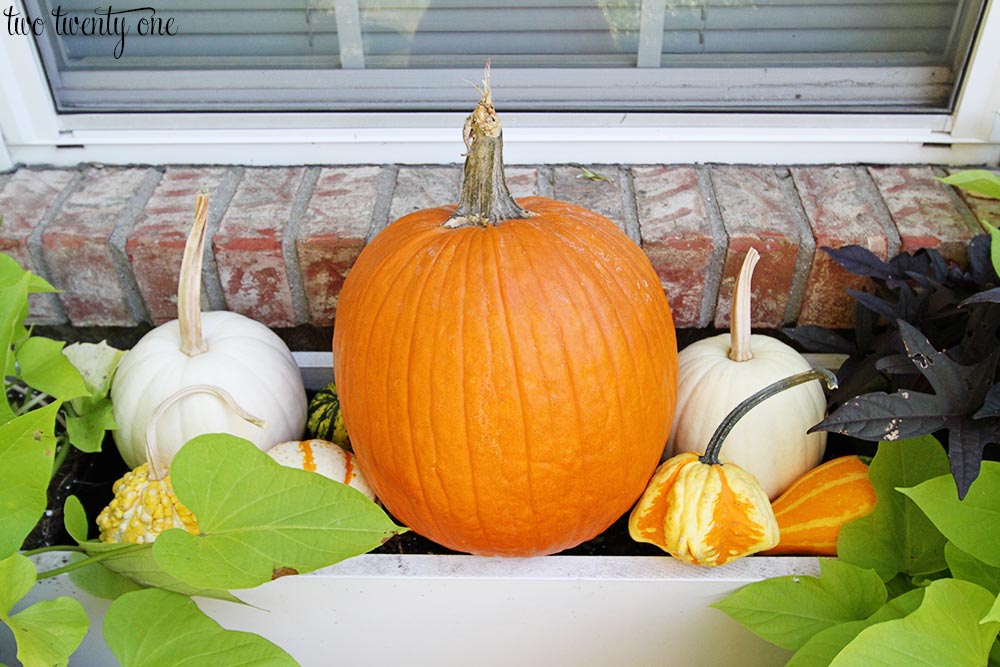 Here's our 2011, 2012, 2013, 2014, and 2015 fall front porches in case you'd like to check those out.