Gift Ideas for Mothers-In-Law and Moms
Recently, I asked you guys what gift guides you wanted me to cover this year. Gift ideas for moms and mothers-in-law was one of the top most wanted. I get it because moms and mothers-in-law typically have everything they need so gift givers are left searching for any kind of idea.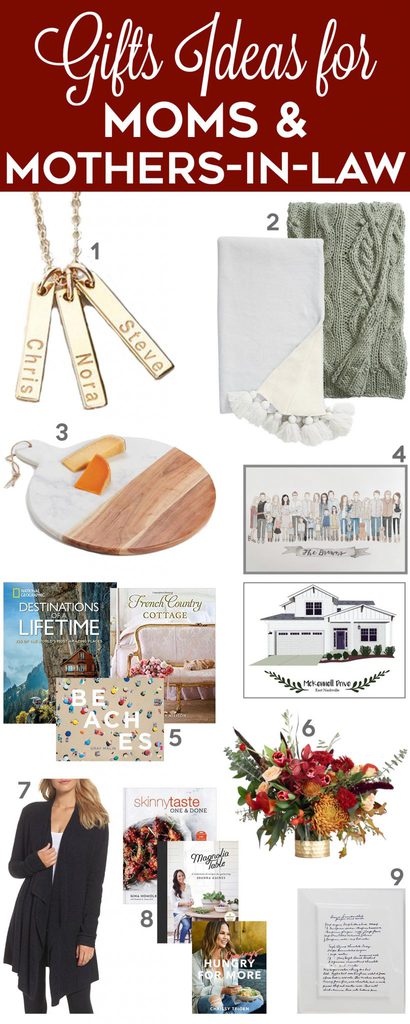 1. Name or Initial Necklace
Does the lovely lady you're buying for have grandchildren? Great! Get her a necklace bearing the names or initials of all her grandchildren. If this gift starts to stretch outside your budget because she has more grandchildren than fingers to count on, maybe go halfsies on the gift with a sibling. There's tons of custom necklaces to choose from to fit your mom's or MIL's style– from tiny bars to dainty disks to script names.
2. Cozy Blanket
I know, I know, a throw blanket is basically the 2018 version of a candle, but honestly who doesn't love a new, stylish, and comfy blanket? This reversible tassel throw will blend in with most decor, and this chunky cable knit throw is currently 65% off!
3. Marble & Wood Serving Board
I have a very similar marble and wood serving board. It has never served a purpose other than to look nice behind my cooktop. Your mom or mother-in-law could display hers or put it to use– or both! The marble and wood serving board in the collage is 33% off. And the smaller version is also on sale.
4. Custom Portrait
Honestly, I don't think you can go wrong with a custom portrait. Whether it be of her and her family, her home, or even her beloved pet(s). If you do decide to go this route, I suggest you hop to it because a lot of artists are booking up fast.
5. Coffee Table Book
When in doubt? Give an interesting book to look at and leisurely read– whether it's travel, home decor, beach photography, or dogs.
6. Flowers
For the woman who truly has everything, get her some flowers. This is the perfect gift if you're choosing to social distance this year and can't be together or you know she'll be bummed about not being able to host Christmas Eve or Christmas Day. She'll have a beautiful centerpiece for her table thanks to you. If you'd like to support a local florist but have never ordered over the phone with a florist, I tell them the price I'd like to pay and any specific flowers or colors I'd like in the arrangement. Or, you could use an online flower delivery service, like this company or this company. If you're a member, Costco.com also has really nice flowers that ship for free. I order all of the flowers I send to my mom through Costco since our small town florist closed.
Don't wait until the last minute to order flowers. And I would aim for them to arrive on the 21st or 22nd just to be sure they arrive in time for Christmas. If you want to give her the opportunity to open a gift, pair any of the other items in this post with flowers.
7. Comfy Cardigan
Moms and mothers-in-law get cold. I know this because whenever my mom or mother-in-law visit us, they're always grabbing one of our throw blankets to bundle up in. Shoot, my mom brings her own slippers. Apparently they don't particularly like my "we freeze in the winter so we can freeze in the summer" thermostat motto. Anyway, get her one of this super comfy wrap cardigans. And bonus! This one is on sale for 33% off.
8. Cookbook
Tread lightly with this one, you don't want her to think you think her cooking sucks. But if you're mom or mother-in-law is into cooking, help her expand her recipe collection with some books. Or, get her an instant pot AND a cookbook like this one.
9. Personalized Recipe Plate
These recipe plates are the sweetest way to memorialize a treasured family recipe, whether it was your mom's recipe or your mom's mom's recipe.
I hope you found at least one good idea from this list. Now I'm going to wait for my mom to comment on this post and tell me what she wants.