Baby's First Easter Basket
I put together Owen's first Easter basket this past weekend so I thought I'd share what I included.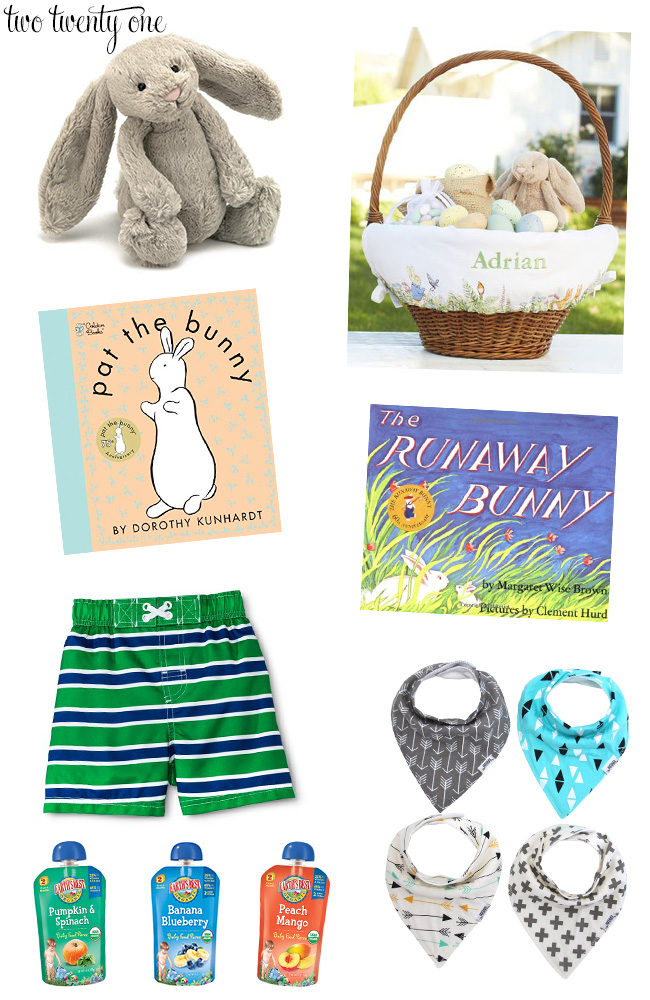 Pottery Barn Easter basket and liner
I decided to splurge on a large Pottery Barn Easter basket and liner. Growing up, my brother and I had the same Easter baskets every year. So I validated spending the extra money for a pricey basket and liner because Owen will have this Easter basket for years. The liner I bought for his basket is a blue plaid with his name embroidered on it, but they seem to have sold out. Most of their liners are up to 40% off + free shipping right now.
Jellycat Bashful Beige Bunny
I've heard numerous people rave about Jellycat bunnies because they're super soft and easy to wash, so I had to get one for Owen as his very first bunny. I got it the other day, and it feels like butter. If he doesn't want to snuggle with it I will.
Books
I went with the bunny thing and got Owen a couple of bunny-themed books.
Swim Trunks
I know this doesn't apply to everyone, but we signed Owen up for swim classes, which start in a couple weeks so I bought him two pairs of swim trunks. The trunks in the image above are currently on sale at Target for $8.50. I picked up another pair in the clearance section at Old Navy too. I couldn't resist.
Fruit & Veggie Pouches
Since Owen is too young to indulge in Cadbury and Reese's Eggs, he's getting some yummy fruit and veggie pouches in his Easter basket.
Bibdanas
My mom actually sewed a few bibdanas for Owen, but you can buy some here— there's adorable designs for girls and boys. Owen actually has the set in the photo above and we love them.
I'm looking forward to the day when we can dye eggs and take Owen to an Easter egg hunt, but I'm perfectly content enjoying him being a baby.
What are you putting in your kiddos' Easter baskets?
This post contains affiliate links.