This post brought to you by Barefoot Wine. The consumption of wine didn't influence my opinions.
A couple months ago I received an email from one of my favorite wine companies, Barefoot Wine, asking if I'd be interested in developing some recipes for their website using their wine. Seriously, you guys, I love their moscato so much I demanded it be one of the wines served at our wedding reception. So at first I was all "Are ya sure you have the right person?" Then I was all "Make recipes with wine? You definitely found your girl."
As a kid, I spent many summers picking strawberries with my mom and grandma. Then we'd head home and make homemade strawberry freezer jam. So it was fitting that I make jam– mixed berry and pink moscato jam, to be exact.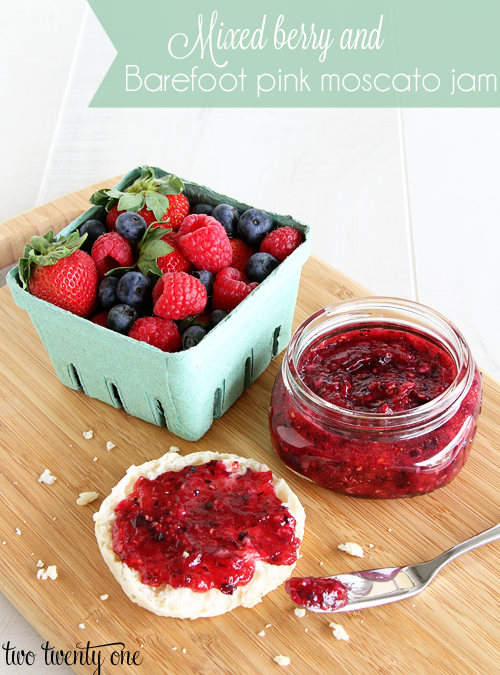 I went with a freezer berry jam recipe because it's pretty simple. There's no cooking or intense canning involved. The whole process took less than an hour, and in the end I had eight 8 ounce jars of jam.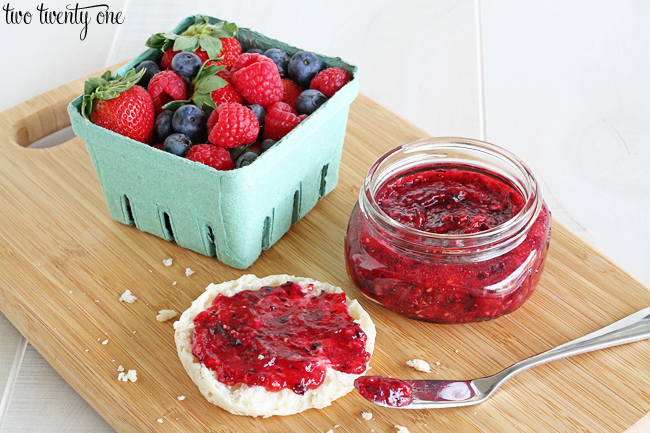 Let's jump into the recipe, shall we?
For this berry jam recipe you'll need 1 pound strawberries, 1 pound blueberries, 12 oz. raspberries, 2 cups sugar, 12 Tbsp. instant pectin, and 1/3 c. Barefoot Pink Moscato.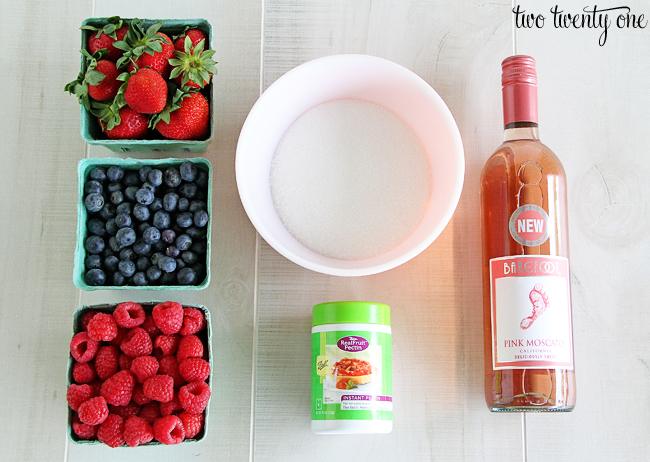 Stir 2 cups sugar and 12 Tbsp. instant pectin in a bowl. Set aside.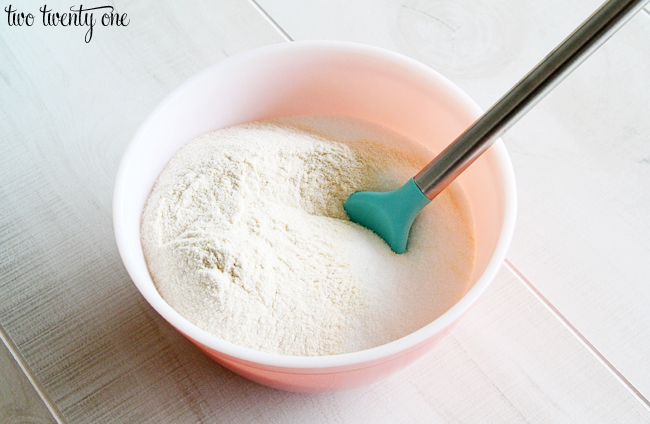 Chop up the fruit in a food processor. Be careful not to puree the fruit too much. A couple pushes of the pulse button will do.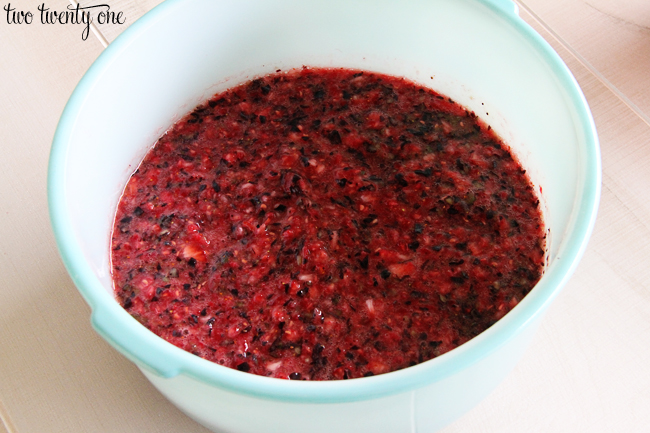 Stir in 1/3 cup of Barefoot Pink Moscato into the fruit mixture.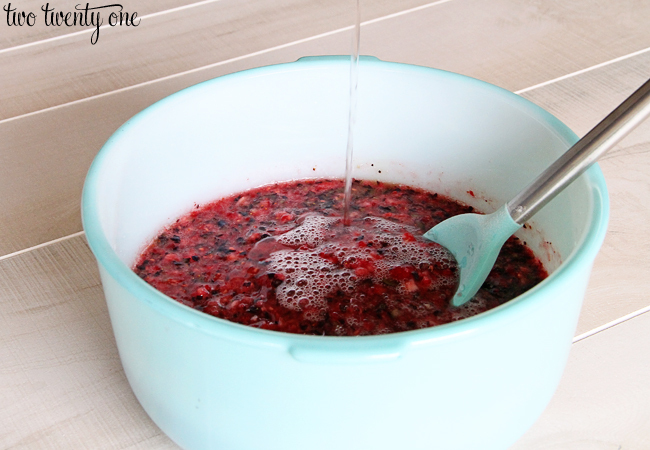 Add sugar and pectin mixture.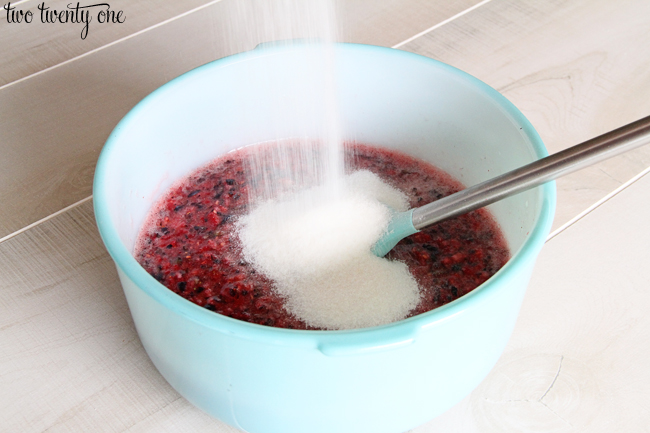 Stir for 3 minutes.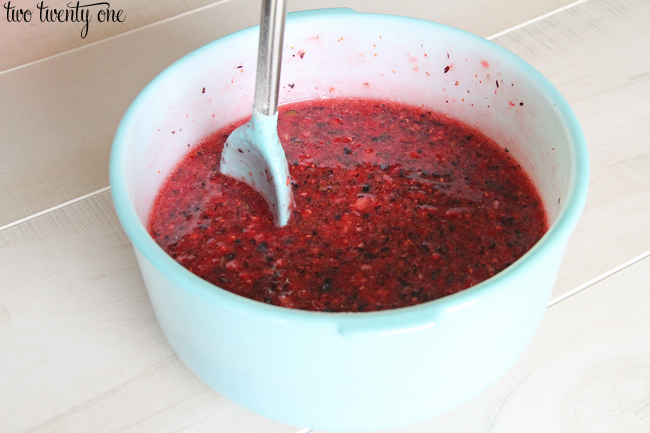 Pour jam into clean freezer jars, leaving at least 1/2 inch of space from the top of the jar to allow for food expansion during freezing. Let stand at room temperature for 30 minutes.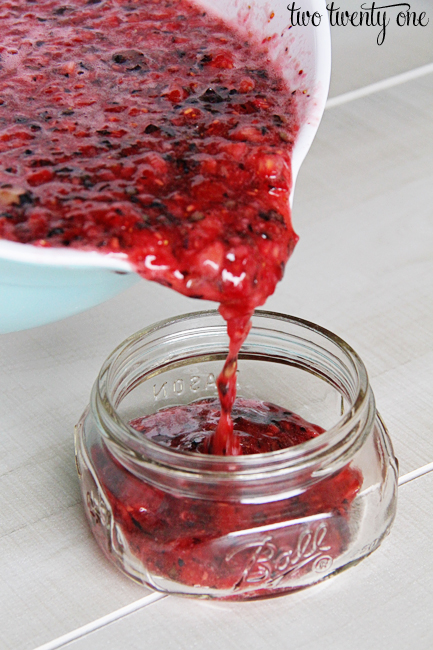 The jam will last up to 1 year in the freezer and 3 weeks in the refrigerator.
This berry jam recipe yields 64 ounces (8- 8 oz. jars).
The jam is delicious. Really, how can you go wrong with berries and wine?
Brad has been having it on his peanut butter and jelly sandwiches (we're super classy adults), and he's definitely a fan.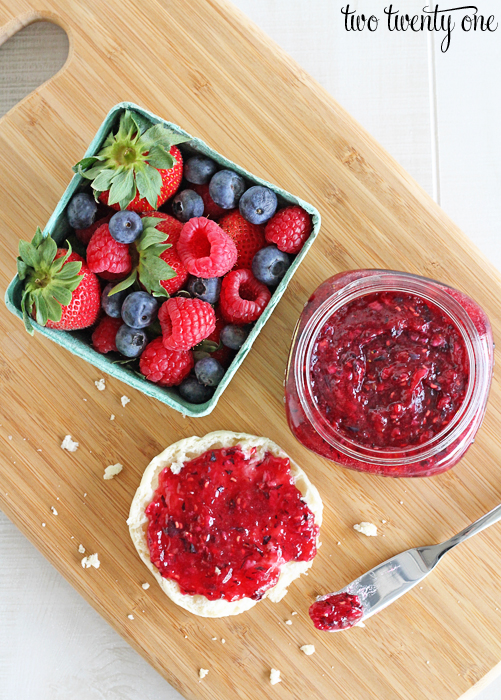 As always, click on the image below to download and print your own 4×6 recipe card.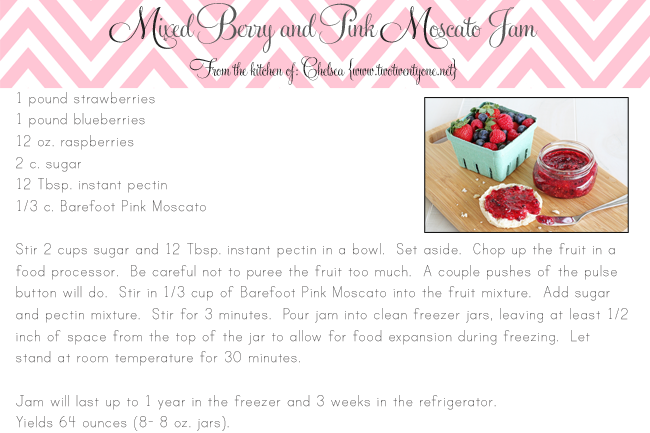 Have you made freezer jam before?
What's your favorite type of wine?
Do you use wine in any of your recipes?

This post brought to you by Barefoot Wine. The consumption of wine didn't influence my opinions.