Our Stay at West Baden Springs Hotel
Those of you who have been around for a while may remember our mini honeymoon after our wedding two years ago. I wrote a post about it here. Since we had such a  great time on our mini-moon, we decided to head back to West Baden Springs Hotel to celebrate our second wedding anniversary.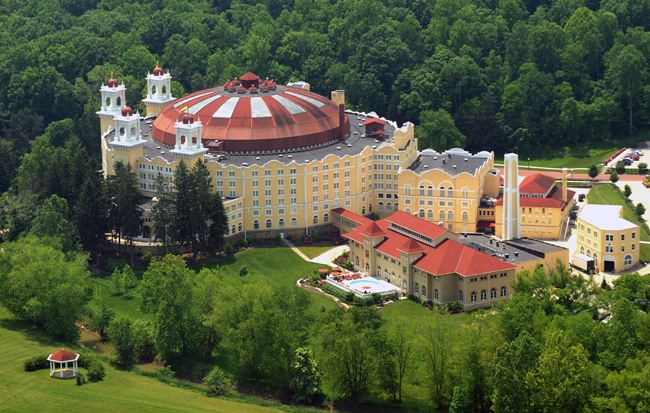 source
A little background:  West Baden Springs Hotel is located in West Baden Springs, Indiana (about 2.5 hours southwest of Indianapolis). The hotel is part of the French Lick Resort, which also includes the French Lick Springs Hotel, French Lick Casino, two golf courses, and more. The two hotels are less than a mile from each other.
West Baden Springs Hotel was built in 1902, and, at the time, the amenities included a casino, theater, opera, concerts, movies, bowling and billiards, natatorium, golf courses, bicycling on the oval double-decked track, horseback riding, and baseball. Before the Great Depression it was a happenin' place for the wealthy and famous. Al Capone used to party there, and some professional baseball teams held their spring training in the area. The hotel has a crazy history– read all about it here.
One of the reasons why we love the hotel so much is because it's like you're transported back into the early 1920s, well with the added luxuries of  air conditioning, king size beds, and private bathrooms.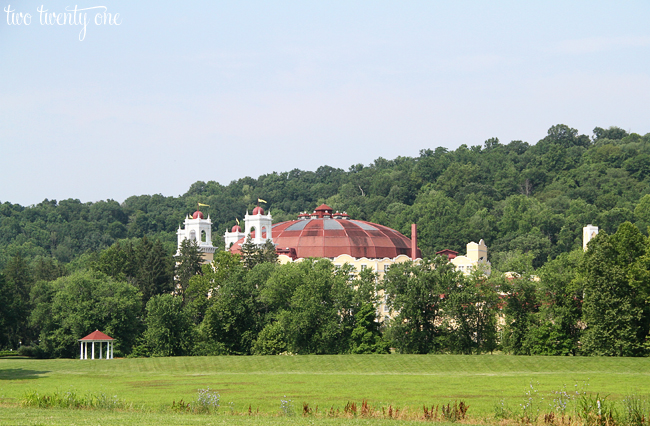 We stayed in a beautiful atrium balcony room. When we stayed for our mini-moon we had a garden view room so it was nice to experience a room that overlooked the massive atrium.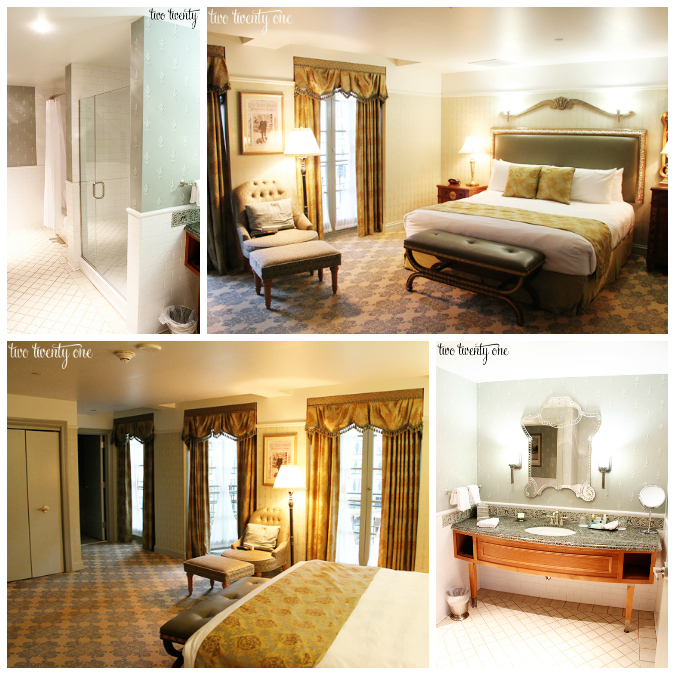 The view from our 4th story balcony was awesome. They have live music throughout the day and evening so it was nice to open the balcony door and listen to the harpist or pianist. It was also convenient for one of my favorite pastimes– people watching.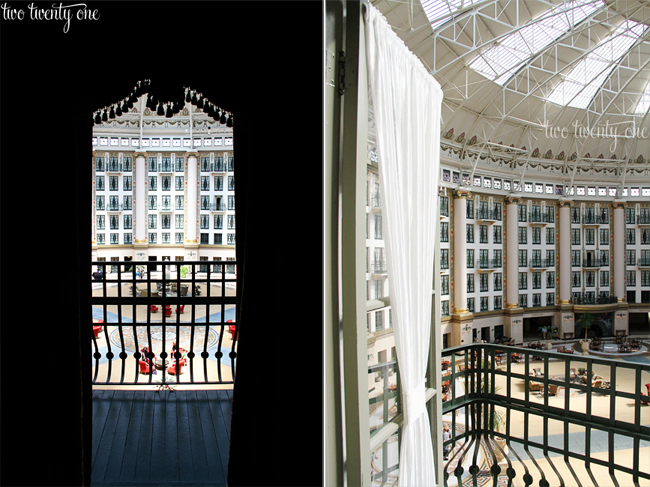 The 200-foot domed atrium is the most notable feature of the hotel. It was the largest free-standing dome in the world from 1902 to 1913. And it's absolutely breathtaking. Pictures don't do it justice. Check out the video I took of the atrium here.
Pictures definitely do it justice at night. The chandelier in the center of the dome changes colors, and the glass on the dome gets darker blue as day turns to night. Watch the dome change colors here.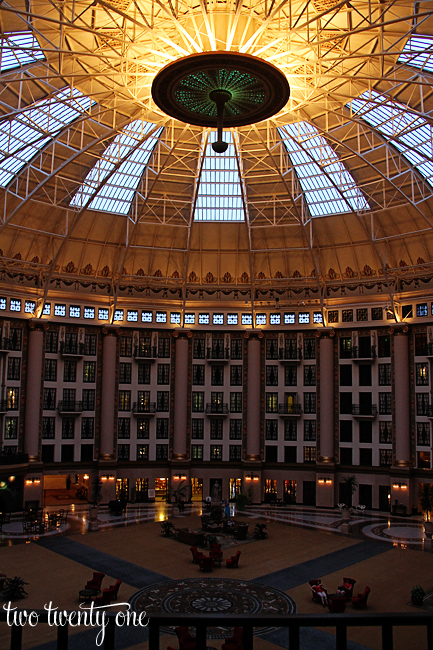 The hotel is just as gorgeous outside as it is inside.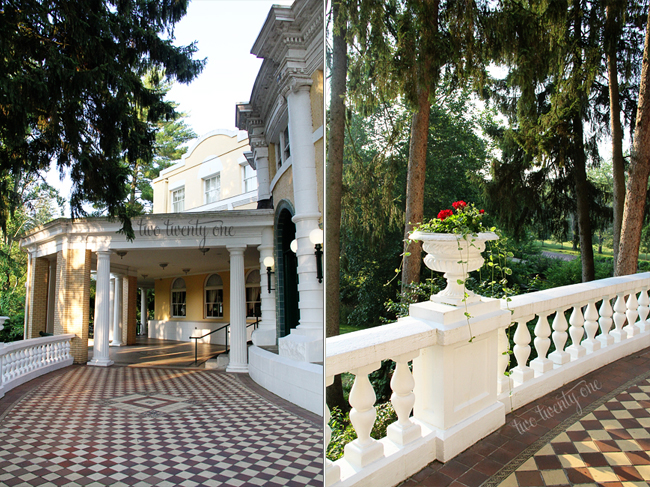 I took this photo when we visited West Baden for our mini-moon. I tried multiple times to get a photo during our most recent stay but I couldn't get a photo without people in it. Obviously these rocking chairs are popular.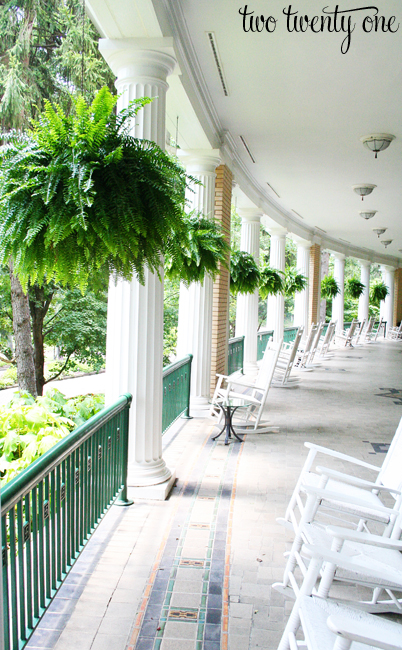 The gardens on the hotel property are beautiful.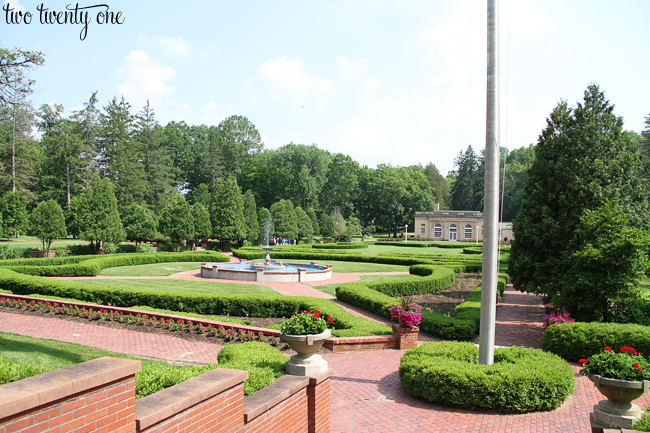 The structure in the photo below was the former billiards and bowling building.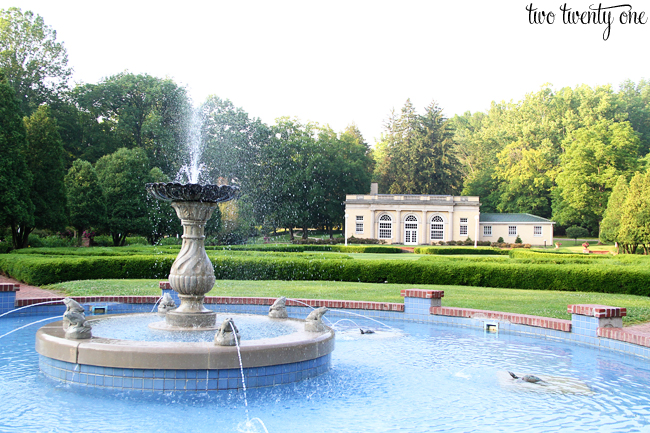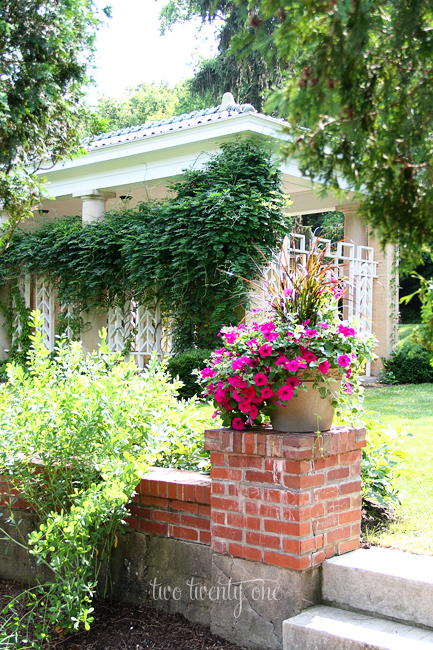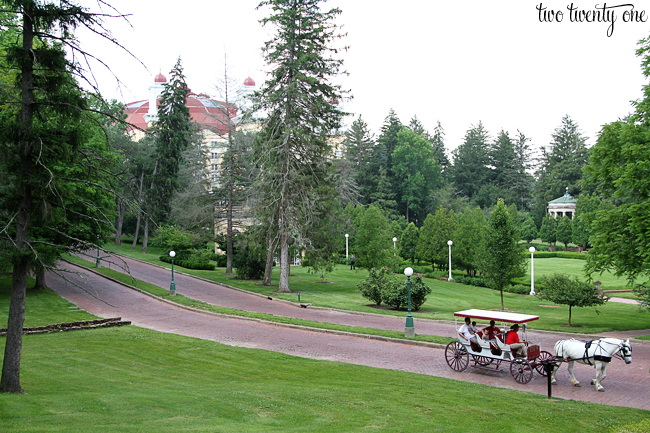 Though it's not the most comfortable ride, I love the original brick roads leading into the hotel.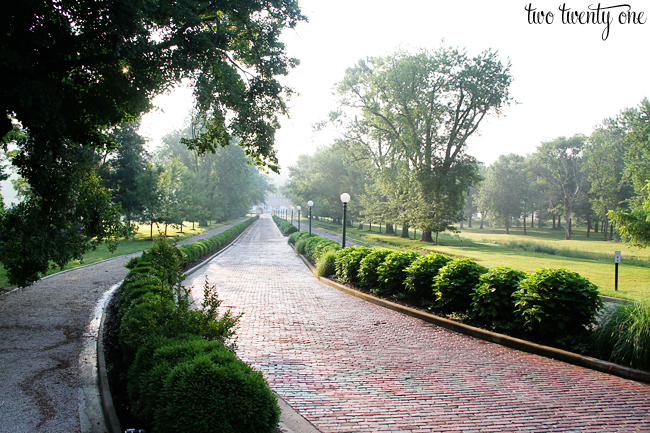 The hotel boasts an outdoor pool, indoor pool, and hot tub. We took a dip in the outdoor pool and hot tub our last night there.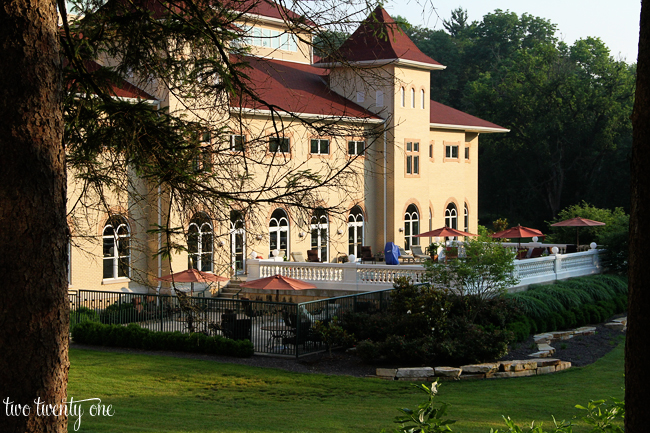 So what did we do during our weekend stay? We went out to eat (here, here, and here), did a little wine tasting, hit up some antique shops, drove out to Patoka Lake, explored the hotel grounds, swam, had a little picnic, caught a movie at the local theater, got in a game of putt-putt (ahem, I won), ate ice cream, and napped. It was a nice, relaxing weekend.
Have you been to West Baden Springs Hotel or French Lick Springs Hotel?
Do you have any historical hotels in your neck of the woods?
Big thanks to French Lick Resort for providing us with a complimentary 2-night stay.