California Trip (Part One)
A month ago, Brad and I snuck away on a little vacation to Northern California. I called it our babymoon. Brad abstained from that label because he says he's not a yuppie.
Believe it or not, this was our first major vacation with just the two of us. We've traveled to numerous places together, but along with family.
We decided to go to Northern California because Brad had never been and I had only been to Tahoe (on this amazing trip). Plus, my older brother, Ryan, is currently living in Sonoma county.
After flying into San Francisco, Ryan picked us up and drove us back to his neck of the woods. We spent the day exploring wine country, the coast, and a redwood forest.
Here's a view of Lake Sonoma.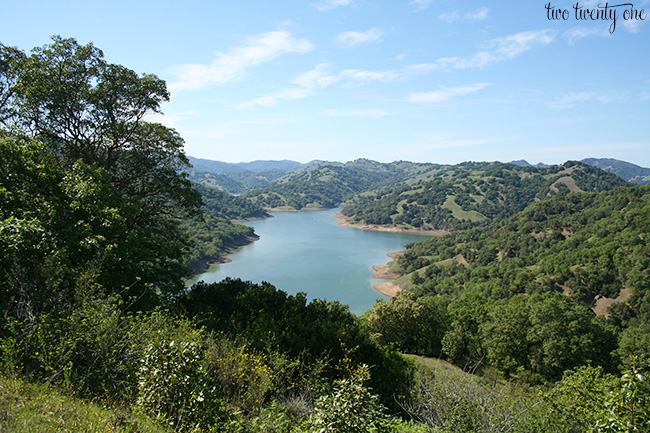 We saw sea lions or harbor seals (sorry, couldn't tell the difference from a distance) on the coast.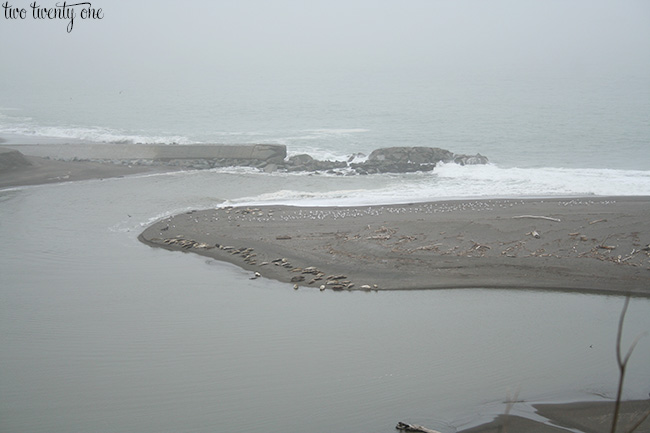 We walked around Armstrong Redwoods State Natural Reserve in Guerneville. These trees are beasts.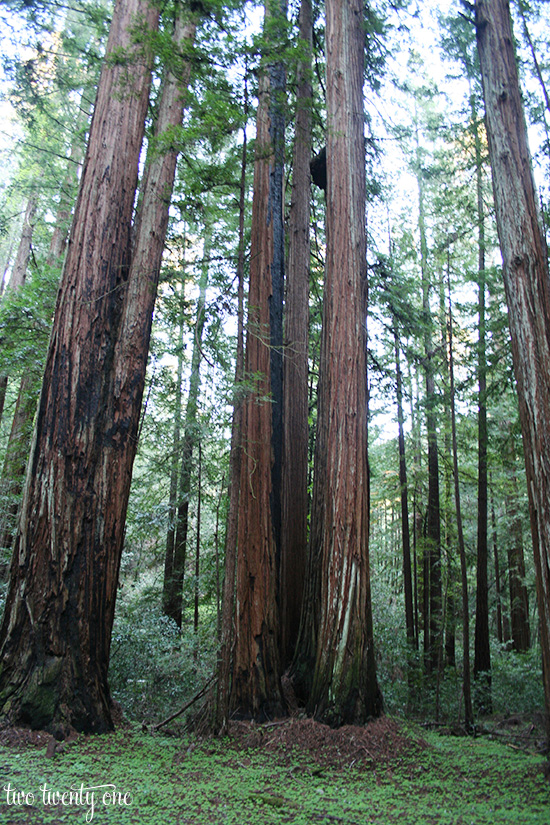 Ryan's beautiful 70 pound pit, Lola, demonstrated the size of the roots.
Jack was so excited to smell her on our dirty laundry when we came home. Kinda gross, but he misses his cousin/play buddy. Plus we can't have the only dog who likes to smell laundry upon returning from a trip. Right?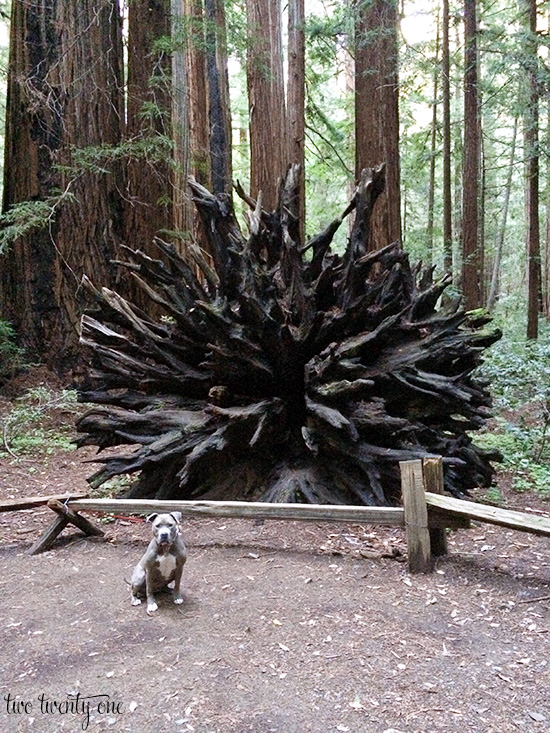 And here's the view from my brother's front porch. He literally lives in the middle of a vineyard.
Feel free to despise him.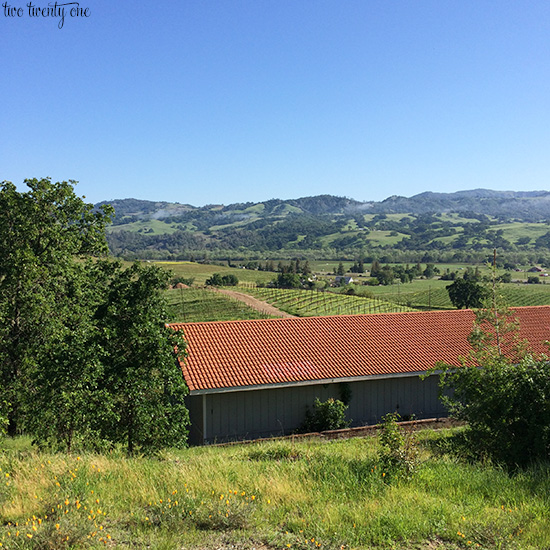 The next day we packed up our stuff, kissed Lola goodbye, and headed into San Francisco with my brother. He hadn't done a ton of touristy stuff yet so he spent most of the day driving us around to the spots we wanted to check out.
Our first stop was Battery Spencer to see the Golden Gate Bridge and surrounding views.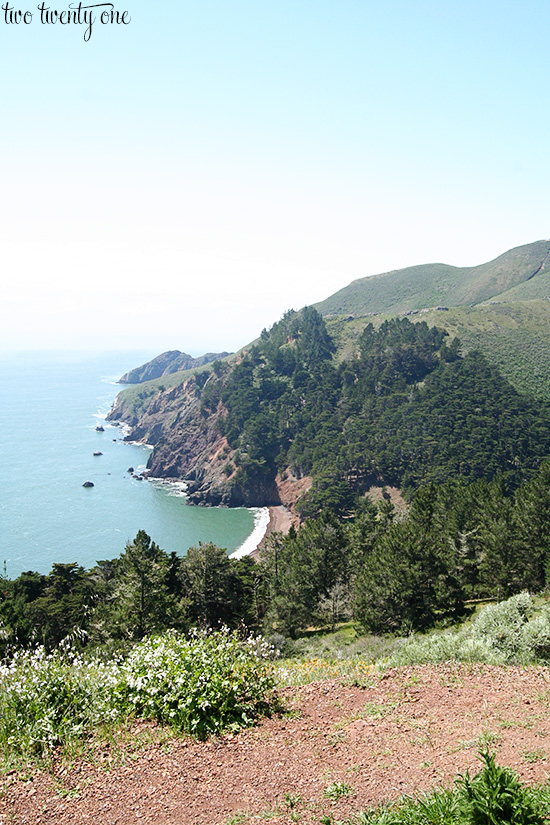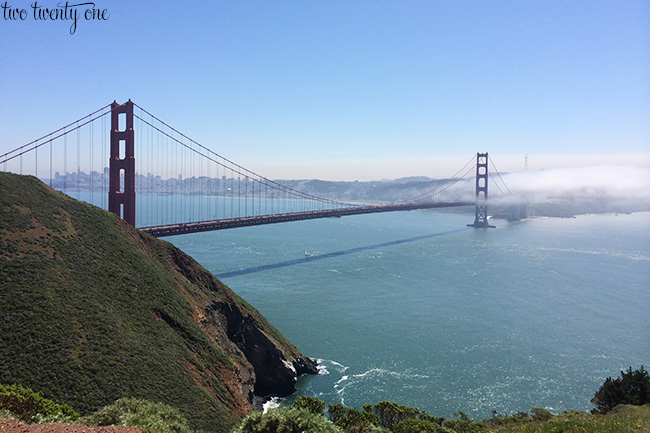 Then we went to check out The Palace of Fine Arts, which is basically right across the Golden Gate Bridge. The Palace of Fine Arts was constructed for the 1915 Panama-Pacific Exposition.
That's all I really remember about it. It's always Brad's job to be the nerd and read all the informative plaques at historical places and fill me in later because I get ADD and start to wander around.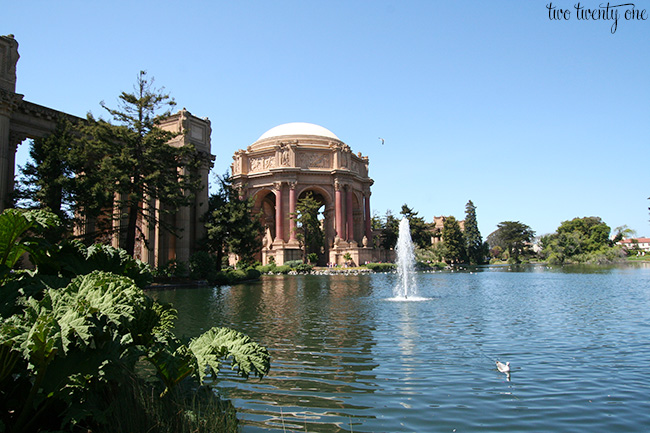 The inside of the dome is gorgeous. I almost felt like I was back in Italy.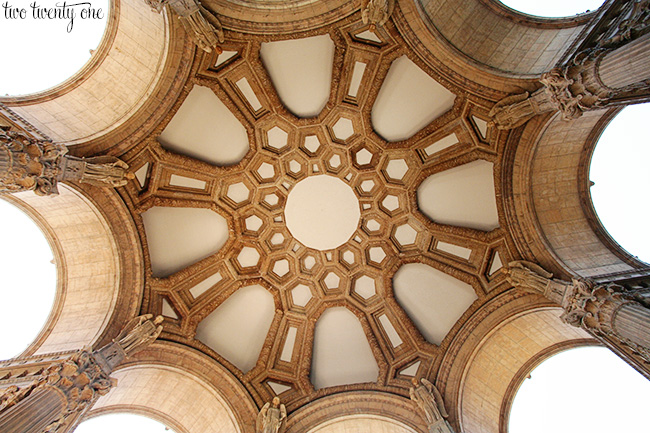 The Full House lover in me couldn't go to San Francisco and NOT see the Painted Ladies. As you can see, one of the ladies is getting a face lift.
We attempted to find the real Tanner house but after being misdirected a couple times we decided to give up. Mostly because Brad was over it and couldn't understand my brother's and my obsession with the popular 90s TV show. That's when I started telling him to cut – it – out.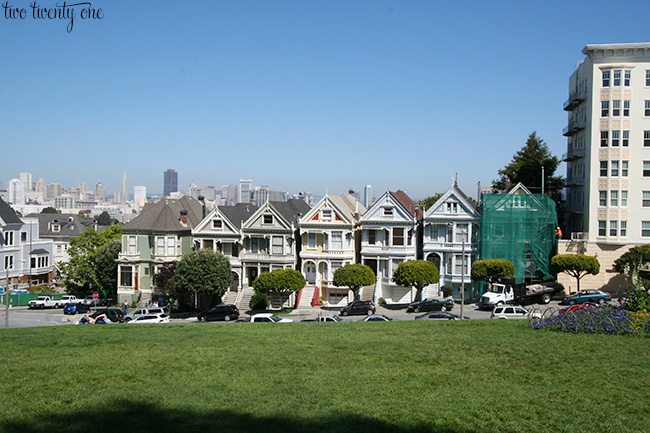 We had a late lunch with my brother and said our goodbyes as he dropped us off at our hotel.
Brad and I didn't do anything exciting that night. Mostly because I was tired and pregnant. I'm pretty sure I fell asleep around 8:30 PM.
The next morning we woke up ready to explore more of San Francisco. After breakfast, we hopped on a trolley and headed to Fisherman's Wharf.
We walked around, ate mini donuts, visited the left-handed store (Brad's a lefty), and checked out the Pier 39 sea lions.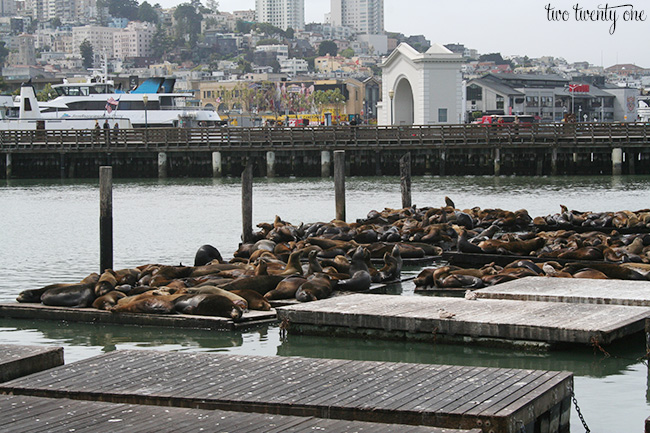 After lunch at Kokkari, which was amazing by the way, we headed to Ghirardelli Square. We split a sundae, walked around the shops, and sat on a bench next to a young couple that hardcore made out for 30 solid minutes.
We walked around the area some more to kill time before we needed to board our boat for the Alcatraz nighttime tour.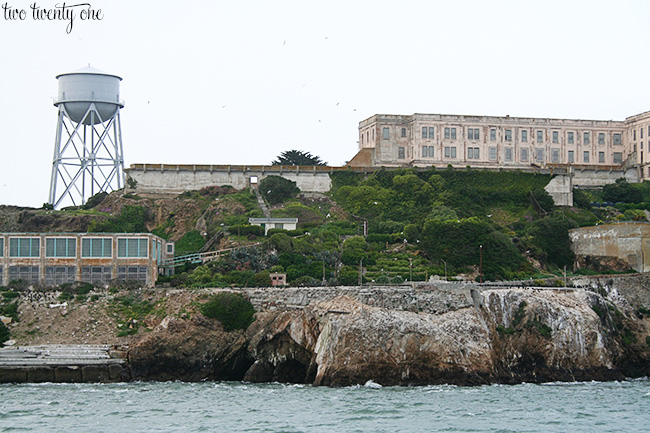 I've always wanted to visit Alcatraz because I'm weird and think prisons, especially the old dilapidated ones, are highly interesting. I mean, one of my favorite movies of all time is Shawshank Redemption. Seriously, it never gets old to me. Brad was game to visit because he's worked as a correctional officer in a supermax prison and a case manager in a work release prison. So Alcatraz was right up his alley.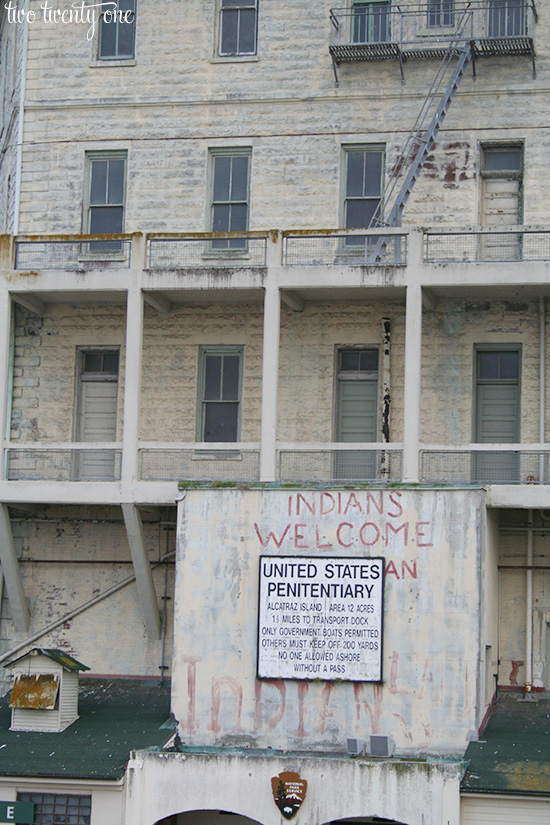 I find most seagulls to be super annoying, but these guys were particularly cute. And I may or may not have talked for them to Brad.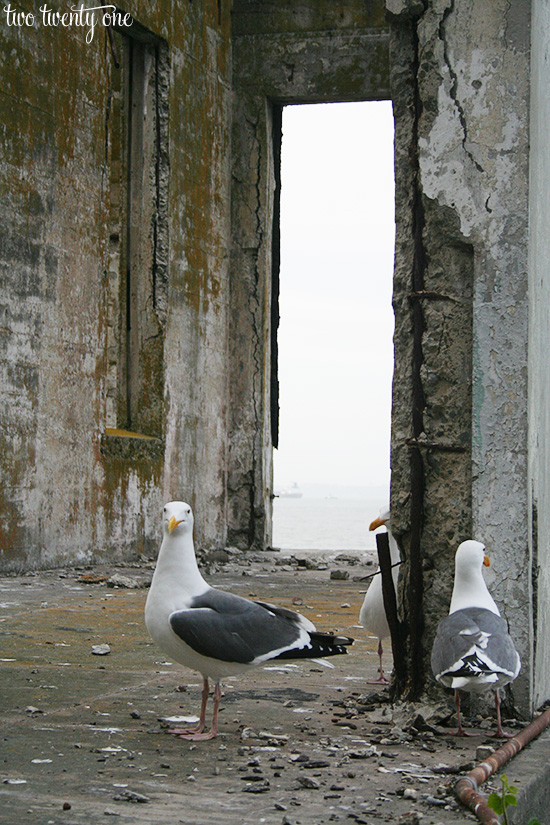 This one modeled for me.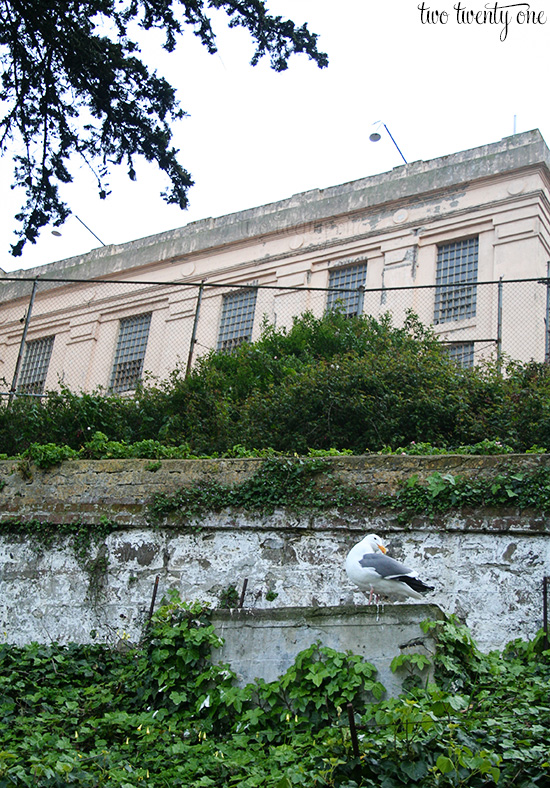 I learned a lot on the tour. Mostly because I didn't have to read anything.
The audio tour, which comes with the tour, is narrated by former guards and inmates. They guide you through the prison and tell you stories about the prison.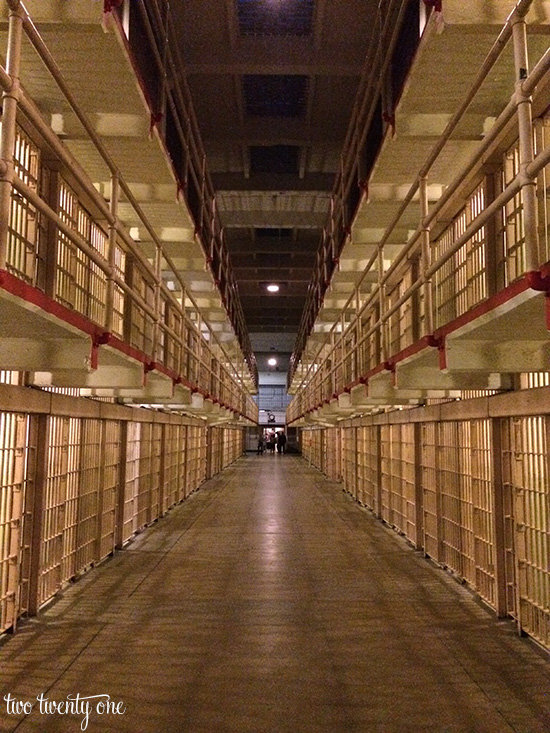 I highly suggest the nighttime tour. I heard there's less people lingering on the island, and they open up parts of the prison that are closed during the daytime tours.
Like the prison hospital. This here is the operating room. Looks totally legit and sterile, no? The painting peeling off the wall definitely adds to the ambience.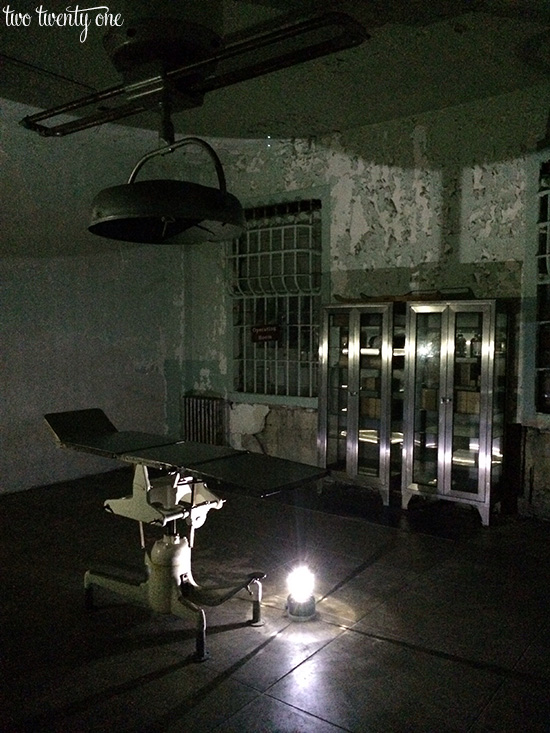 Well, that's it for the Sonoma county and San Francisco part of our trip. On Friday I'll share the Monterey Peninsula part of our trip.
In case you're heading to Northern California in the future, I thought I'd share the restaurants where we dined while in Sonoma county and San Francisco because I know when I travel I always want to know of good places to eat. So I'll share where we ate and what we ate below. If we didn't like the restaurant I won't list it.
I didn't take many pics of what we ate, but I'll post what I did photograph.
Diavola – Geyserville, CA – gnocchi with rabbit, The Dictator pizza, Rustico pizza
The Parish – Healdsburg, CA – beignets, breakfast po-boy, shrimp & grits, omelette
Woodhouse Fish Co – Filmore St. – San Fran – crab cakes, fish & chips, crab melt
Kokkari – Jackson St. – San Fran – saganaki, chicken souvlaki, lamb souvlaki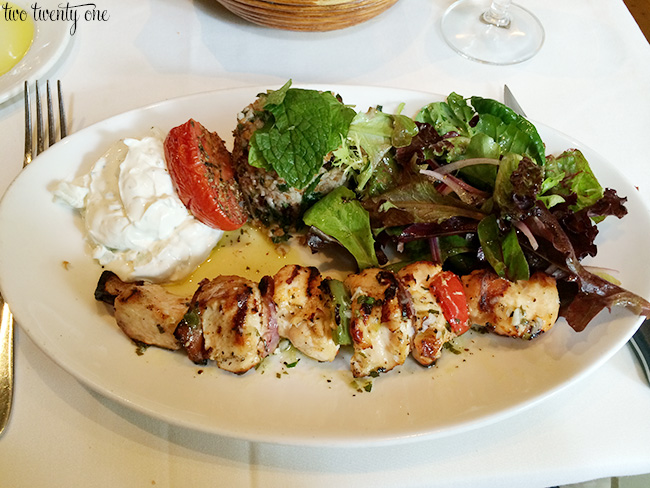 Ghirardelli – Ghirardelli Square – San Fran – world famous hot fudge sundae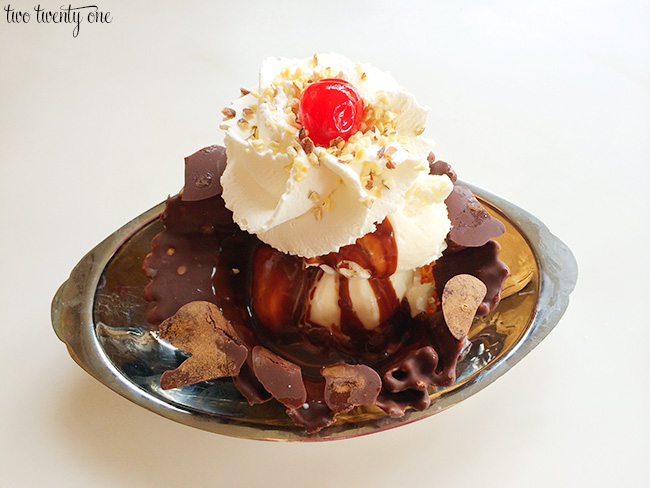 Boudin – Pier 39 – San Fran – turkey avocado, rustic tomato soup bread bowl
Here's Part Two of our Northern California trip, where we traveled to around the Monterey Peninsula!
Have you been to Northern California? What fun things did you do?