On Wednesday, I told you all about the Sonoma County and San Francisco part of our Northern California vacation, so today I'm sharing the Monterey Peninsula portion.
Brad and I rented a car in downtown SF near our hotel and hit the road for Carmel-by-the-Sea, where we stayed for two nights in a bed and breakfast in town. During our 2 hour drive we had to stop In-N-Out Burger, mostly because Brad has never been and I had only been once. Don't be offended, but it doesn't really live up the amazing hype it gets. Sorry, not sorry.
We got into Carmel and still had time to kill before checking into the B&B we were staying in so we decided to do the 17-Mile Drive, which is a scenic road through Pacific Grove and Pebble Beach. I think it was $10 per car to take the drive and get a map.
I'm not going to lie– it's not that amazing. The most interesting part was The Lone Cypress.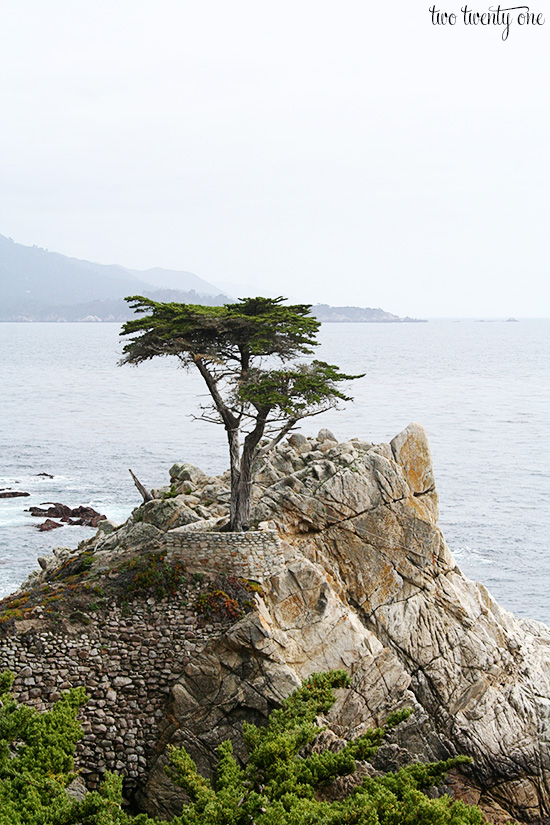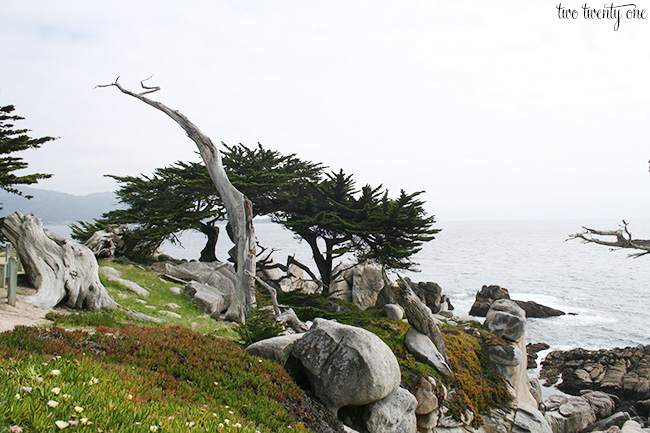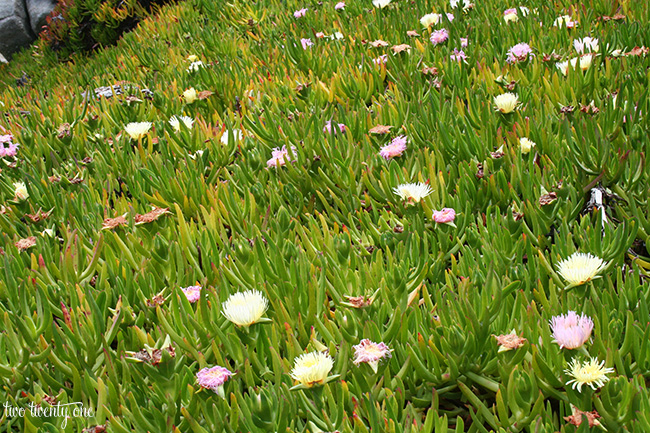 We also hit up Pebble Beach Golf Resort to say we visited. Then we headed back to Carmel to check into our B&B.
I'm a bad blogger and didn't take any photos of our B&B. It wasn't anything fancy. To be honest, we tried to save money by booking a cheaper room in a B&B to make up for the crazy amount of money we spent on our SF hotel room. I will inform you that most B&Bs in Carmel do not have air conditioning, which was a shock to this overheated preggo at first. But at night it did cool down significantly so all was well.
I also didn't take any photos of downtown Carmel. Sorry about that. The main street and some side streets are lined with little shops, restaurants, and bakeries. And people drive their fancy Bentleys and Mercedes around.
The next morning, Brad and I woke up early, had breakfast at the B&B, and then headed to Point Lobos State Reserve. If you plan on going, which you should, get there early. It's $10 to park inside the park, and I think it's an extra $2 for the map (get the map), but keep in mind they only take cash. In our case, we had to go up the road to a general store, buy me some Tums, and get cash back. It ended up being a good decision because I really needed those Tums.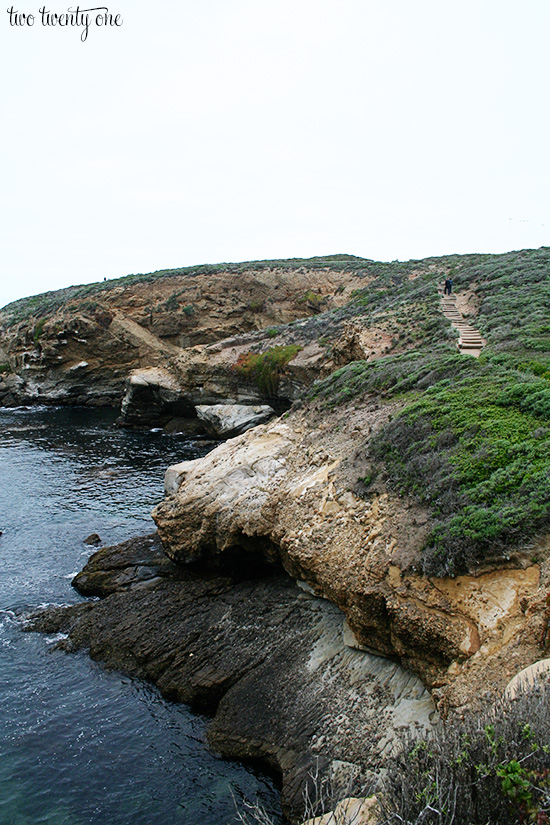 We loved Point Lobos.
If I didn't like it, I wouldn't have hiked 5 miles at 23 weeks pregnant through the park for 3 hours.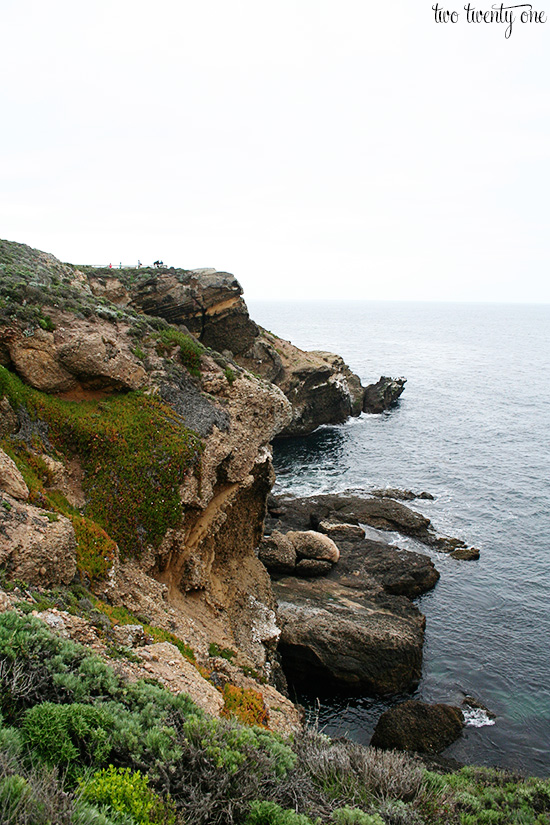 We got to see a bunch of harbor seals. See the little guy poking his head out of the water?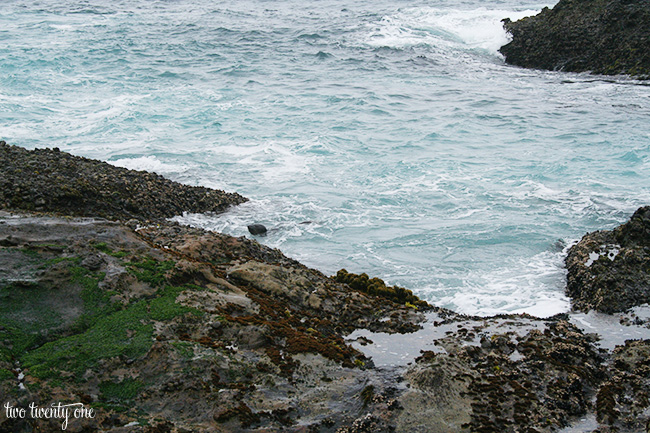 The scenery is amazing.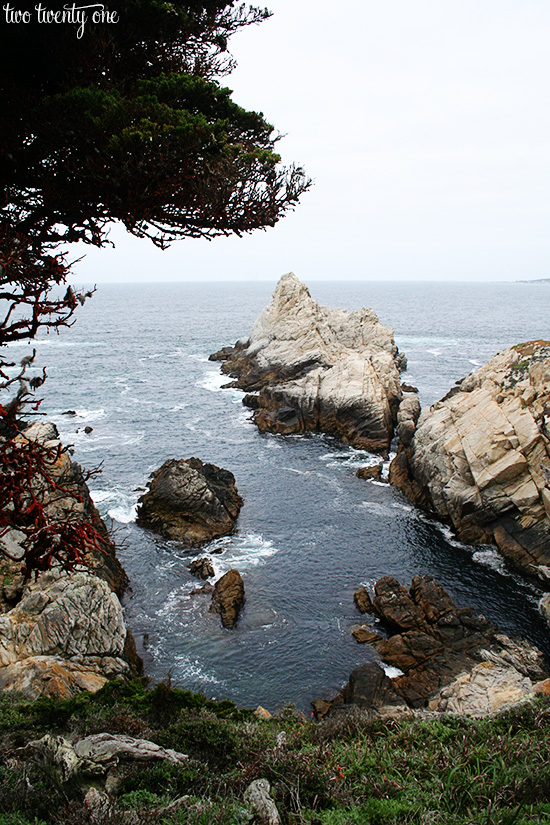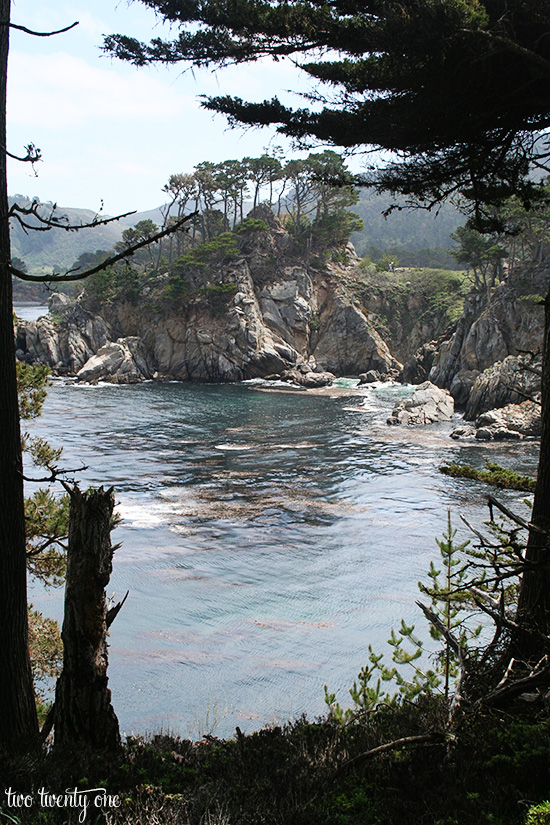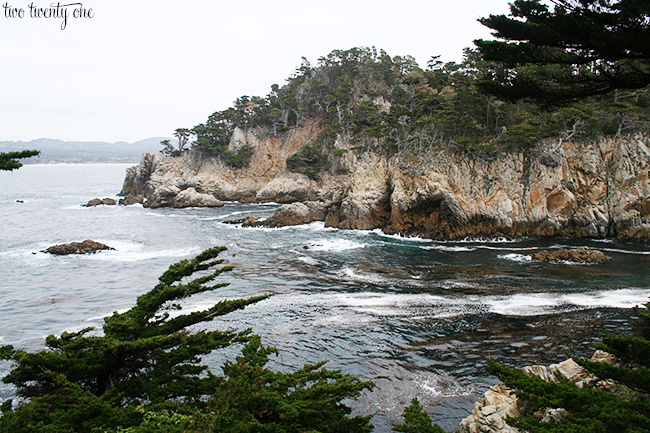 We even got to see two harbor seal birthing areas, so we were able to see the moms with their newborn pups.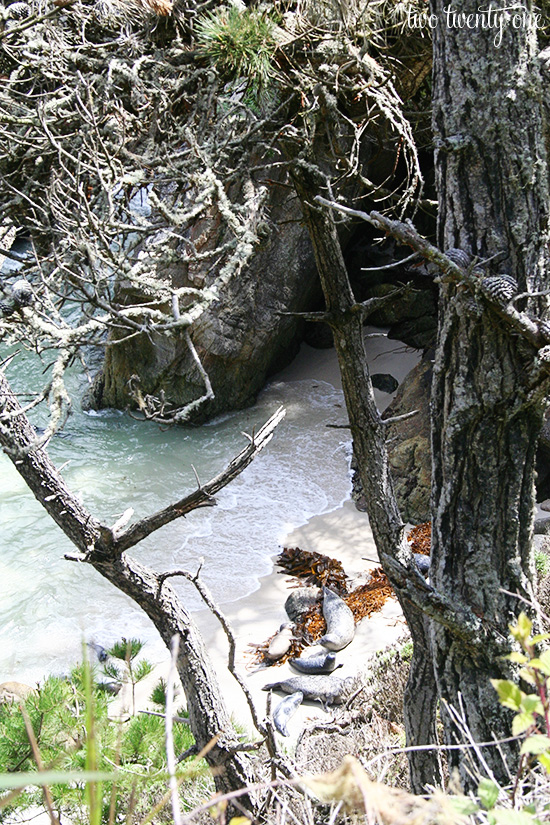 Aren't the pups so cute swimming around with their moms?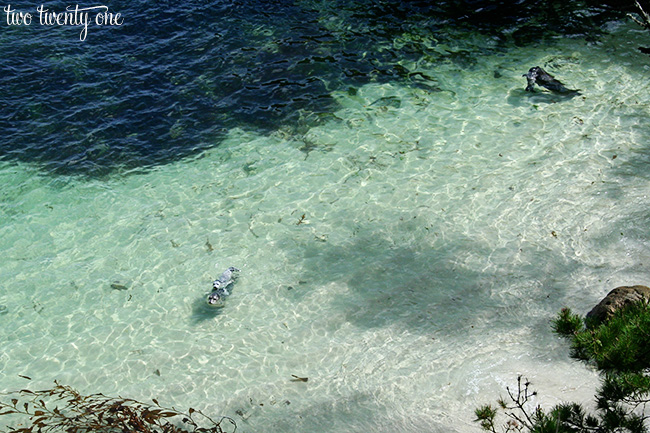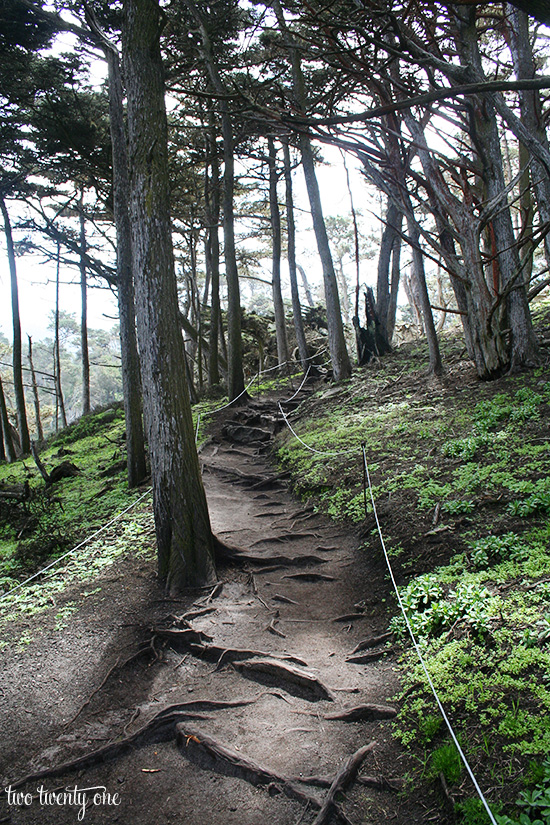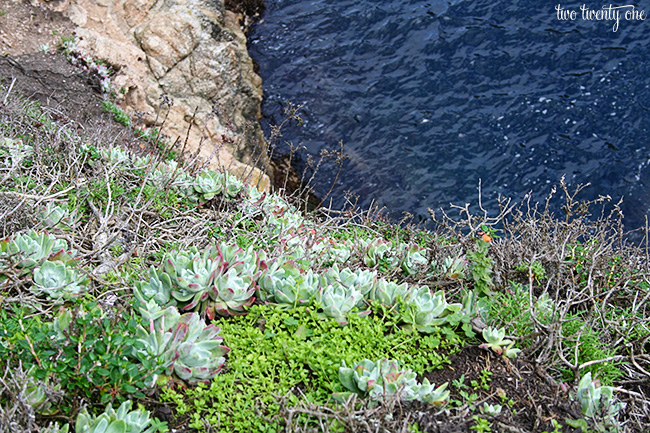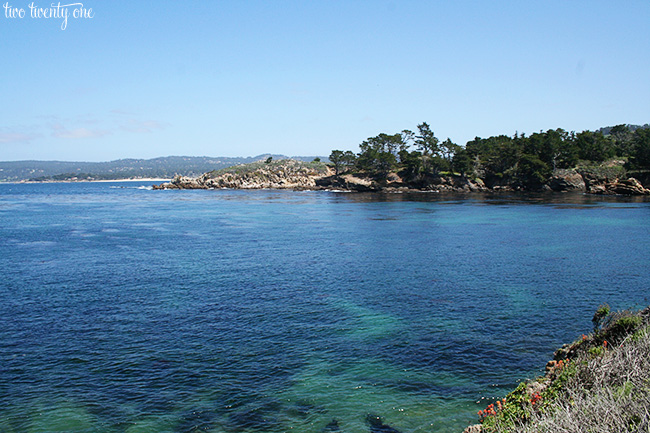 After some more hiking, we came across another birthing area.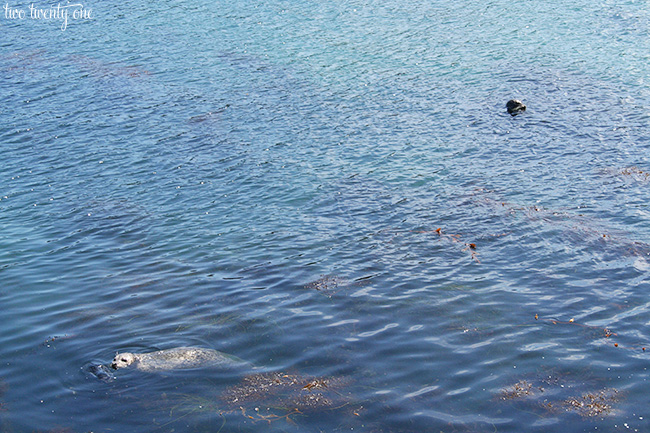 So much better than Sea World.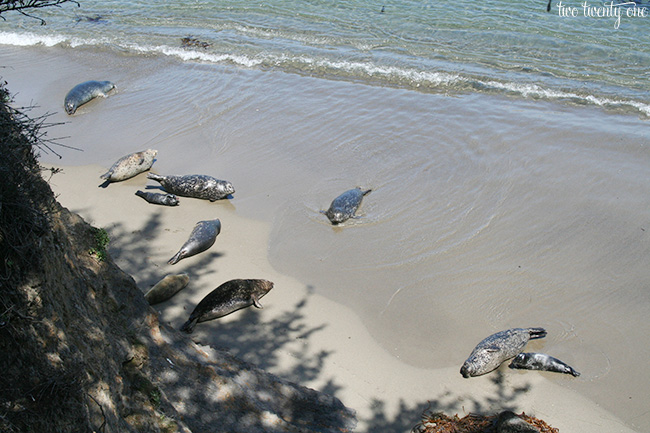 After our hike, we grabbed some lunch, and headed back to the B&B where I napped for 2-3 hours. Later that evening, Brad and I went to dinner, and then we headed down to the Carmel beach to walk around a bit.
The next morning, we ate breakfast at the B&B, checked out, and feverishly attempted to sign and send our tax return paperwork back to my accountant on our iPad (note: never go on vacation around April 15th). After that hour long debacle was over, we headed into the town to walk around the shops and grab some lunch. Then we hit the road to head back to SF.
Along the way back to SF, we stopped at Pigeon Point Lighthouse because we heard from other tourists in Carmel that they saw whales there. While we didn't see the whales, we did see them spraying water.
I also saw the largest succulents ever while at the lighthouse. Seriously, these were as big as my head.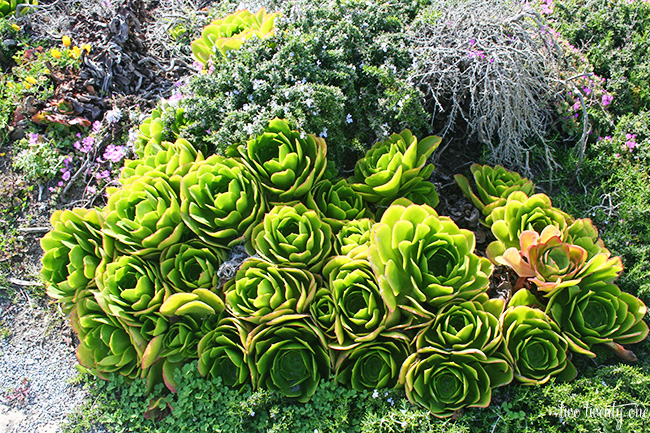 We also stopped by The Ritz Carlton, Half Moon Bay. I definitely wouldn't mind staying a night or three there. The rooms have fire pits on the patios. And you can order s'mores kits.
When we got back to the SF area, we had an amazing dinner at a hole in the wall Greek place called Taste In Mediterranean in Burlingame. You must go if you live in the area or are visiting. Brad and I voted it the best Greek food we've ever had.
Then it was time to check into our airport hotel, turn in our rental car at the airport, and take a shuttle back to the hotel. We had an early flight the next morning so we decided that this was the best game plan.
Like I did in part one, I'll list the restaurants where we ate and what we had. If we didn't like a restaurant or the food, I won't list it. Sorry, I was a bad blogger and didn't take photos of my food.
Rio Grill – Carmel – cheeseburger, turkey avocado sandwich
Wishart's Bakery – Carmel – chocolate eclair
Club Jalapeño – Carmel – chips and salsa, chicken grande burrito
Carmel Coffee and Cocoa Bar – Carmel – pesto chicken panini, coconut chocolate brownie
Taste In Mediterranean – Burlingame – lamb gyro platter, chicken kabob platter
Have you been to the Monterey Peninsula? What fun things did you do?