With Fat Tuesday / Mardi Gras being yesterday, I thought I'd share some photos from my recent trip to New Orleans with four of my college sorority sisters.
Funny story: I was planning on getting pregnant with Owen AFTER my trip to New Orleans (MLK Jr. weekend), but things didn't work out that way, and I was 9 or 10 weeks along when I went. Brad and I hadn't told our families yet, so I had to hide my pregnancy from my friends and fake drink to throw them off. I did tell my BF Natalie so she could help me out with the fake drinking.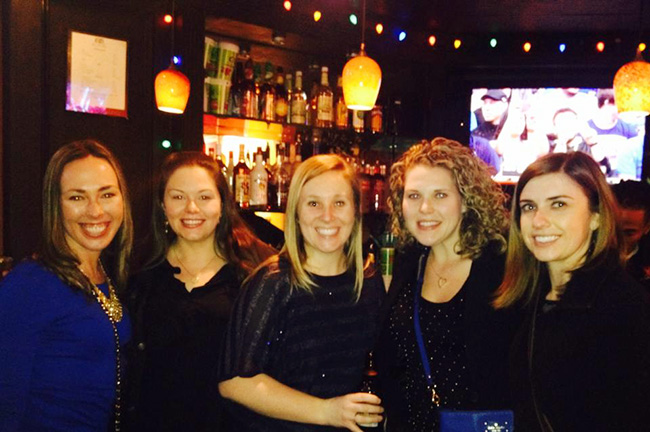 Karen, Natalie, Kim, Yours Truly, Melissa
We started our first day in NOLA by walking around Jackson Square. Taking in the sights, street art vendors, street musicians, and mule-drawn carriages. (They use mules because horses can't take the summer heat.)
FYI, I used my iPhone 5s to take all of these photos because it's a pain lugging around my big DSLR. For tips on taking better photos with your smartphone see this post.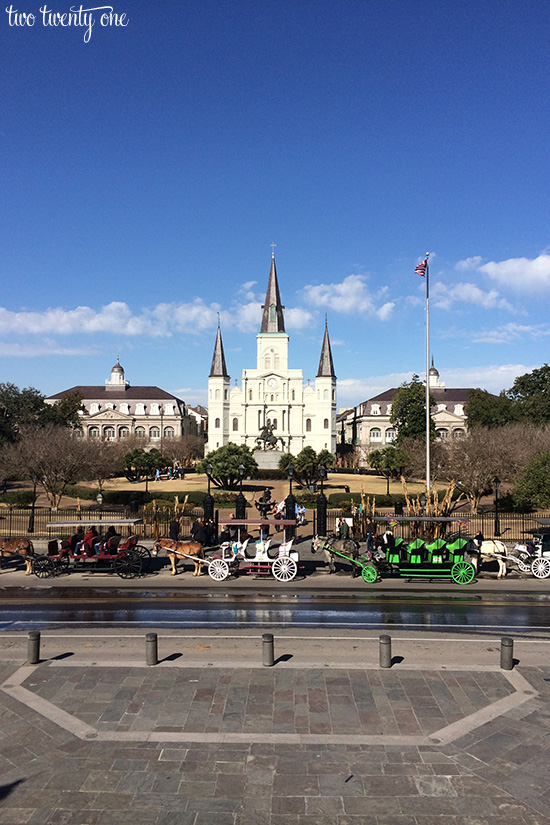 We met up with my best friend's aunts, who live in New Orleans, for lunch and a guided tour of the city. I had an awesome time hearing about the city from people who actually live there. They were living here when Katrina hit so it was interesting to hear their firsthand stories. They even took us to the spot where the levee broke and showed us where debris was piled three stories high in this giant common area.
The city is absolutely beautiful. It doesn't even feel like you're in the United States.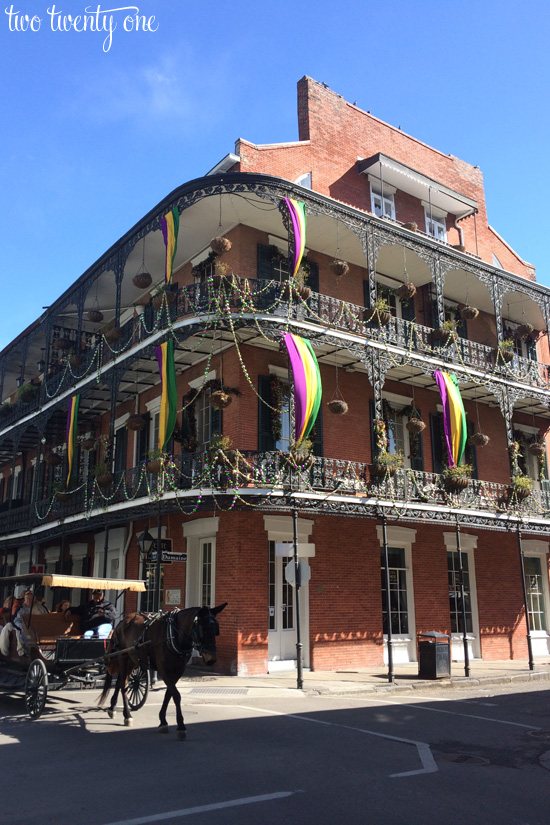 On our second day there, we did a walking tour of the Garden District. We saved money by buying the tour tickets through Groupon (NOLA Native Tours).
Developed between 1832-1900, the Garden District is considered one of the best-preserved collections of historic southern mansions in the United States. If you're an architecture lover/home gawker like me, you'll LOVE touring the Garden District. Seriously, these homes are gorgeous. I just wish I could have gone inside some of them.
And while some celebrities (Sandra Bullock, John Goodman, The Manning's) own homes in the neighborhood, we didn't spot any celebs. I did see John Goodman's dog's toy in the yard though.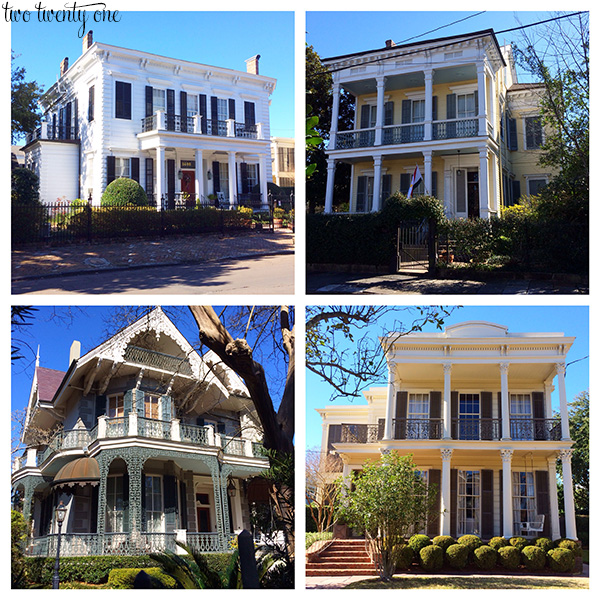 bottom left: Sandra Bullock's home | bottom right: The Manning's home (as in Peyton Manning's childhood/his parents' home)
I had to share this cornstalk fence. I think our tour guide said there's three or four in New Orleans. This one is around a home in the Garden District.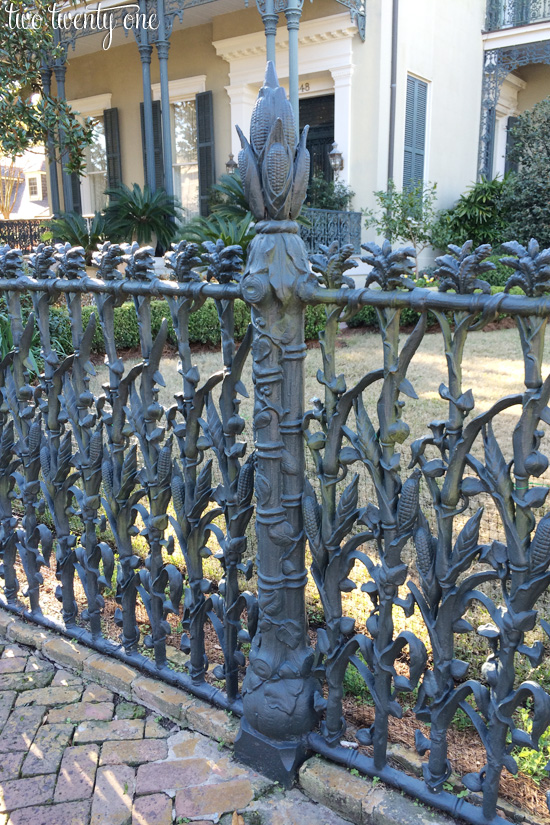 The Garden District tour also included a short walk through Lafayette Cemetery No. 1. I know some people may think it's creepy to tour cemeteries but I'm a fan of it. There's so much history and beautiful architecture in old cemeteries. While we're on the topic, one of my favorite cemeteries is Bonaventure in Savannah, Georgia (a must see).
We capped off the afternoon with a late lunch and cocktails (water for me) on Bourbon Street.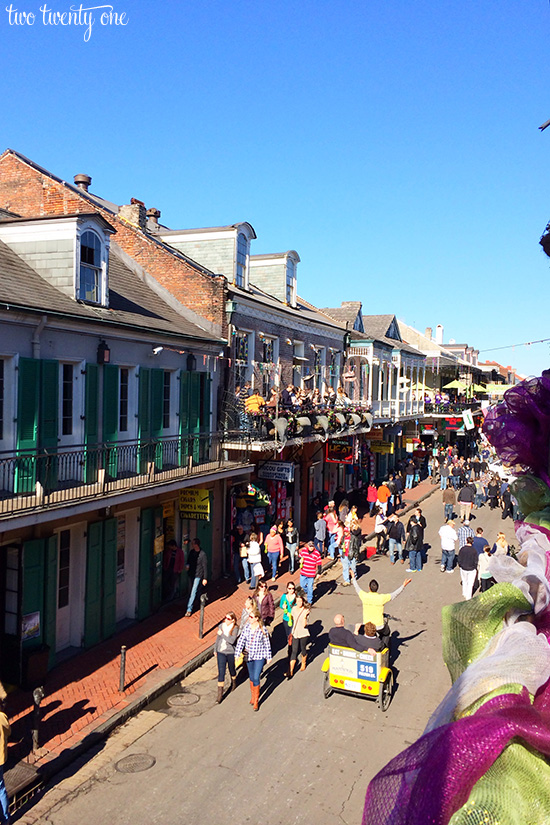 In case you're curious, this was Bourbon Street at night. I didn't see anything too crazy that I hadn't seen before.
However, I was walking down Bourbon during the day and a stripper's bare booty was peeking out of a doorway as I walked by. I may or may not have let out an "Oh my!" That type of thing can startle someone, especially before sundown when they aren't expecting it.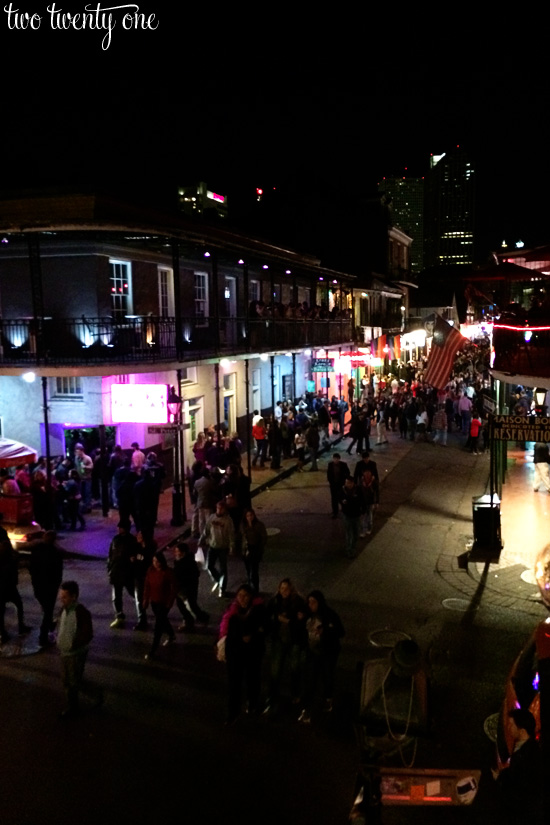 The next day we were up bright and early for another cemetery tour (also a Groupon deal). This time we toured St. Louis Cemetery No. 1, which opened in 1789. It spans one square block but is the resting place of thousands. I won't get into the burial process they use in New Orleans, but to me it's quite fascinating and very black and white.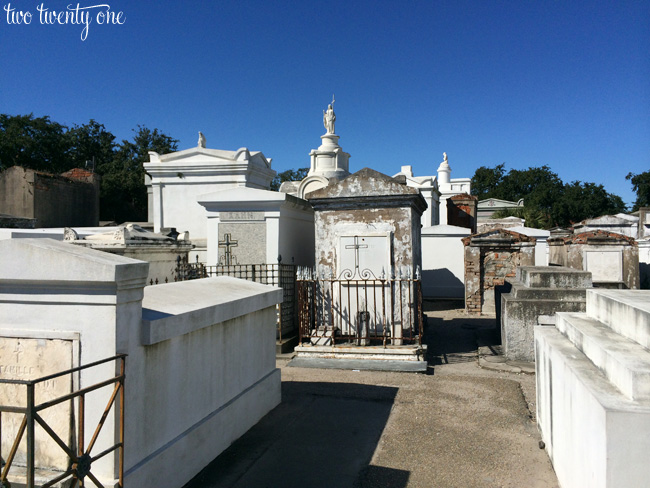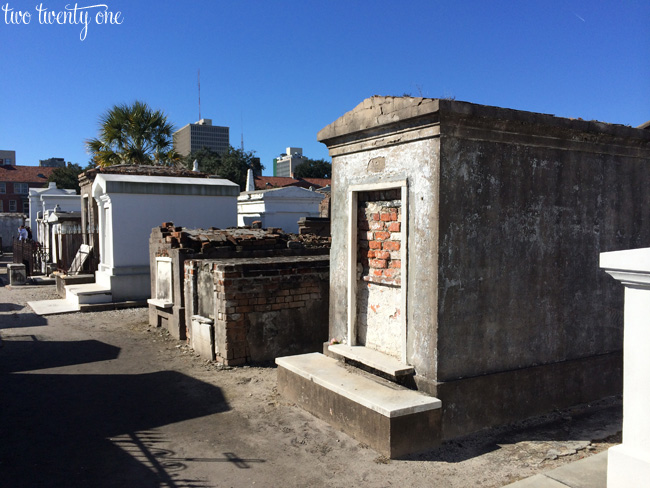 Voodoo queen, Marie Laveau is buried in St. Louis No. 1. She has such a cool story– I loved hearing our tour guide talk about her life.
Now, if you ever visit her tomb DO NOT do what so many dummies do and vandalize her tomb by writing on it. I can't believe people actually believe this draw an X, knock on the tomb, spin around, and yell their wish garbage. This sort of stuff infuriates me because I would be vivid if someone defaced one of my family members' tombstones. If anything, I think Ms Laveau would haunt people for marking up her final resting place.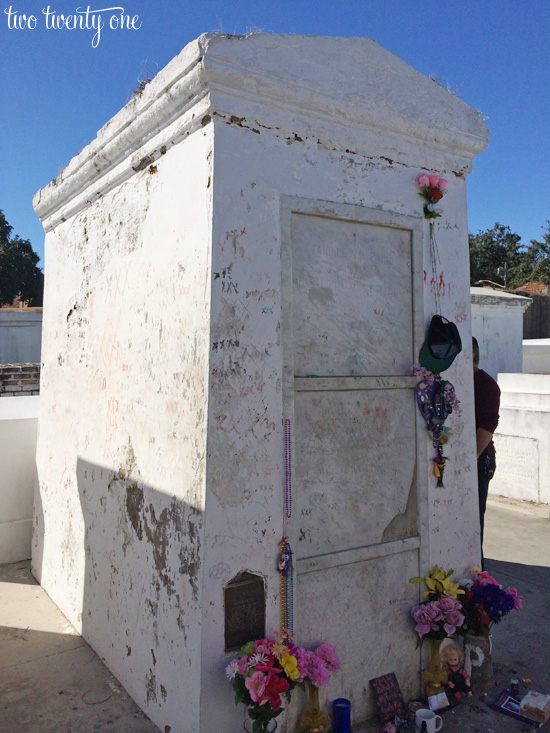 Nicholas Cage's future resting place is in St. Louis No. 1. Want to guess what movie he was filming when he had his mausoleum built?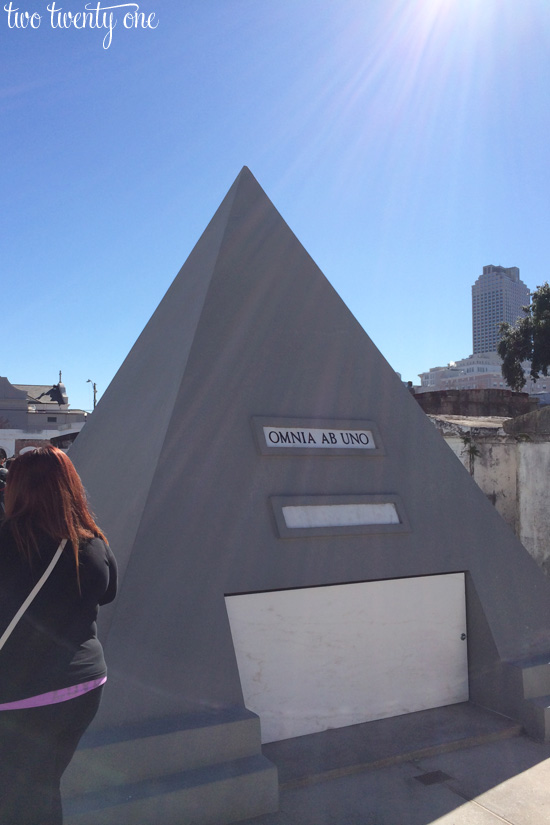 We spent the rest of the afternoon exploring the city some more. Later that evening we met my best friend's aunts and uncle for dinner at Irene's to celebrate our visit and my birthday. Oh. My. Goodness. Ah-mazing food. (I had the lasagna. And the cheesecake is to die for.)  If you're ever in NOLA you have to go. I highly recommend making an early reservation. We had a reservation for 5:30, and I kept cracking early bird special jokes, but we didn't get our entrees until 7:00 (don't worry– we had appetizers and soup/salad). They're very leisurely in the Big Easy.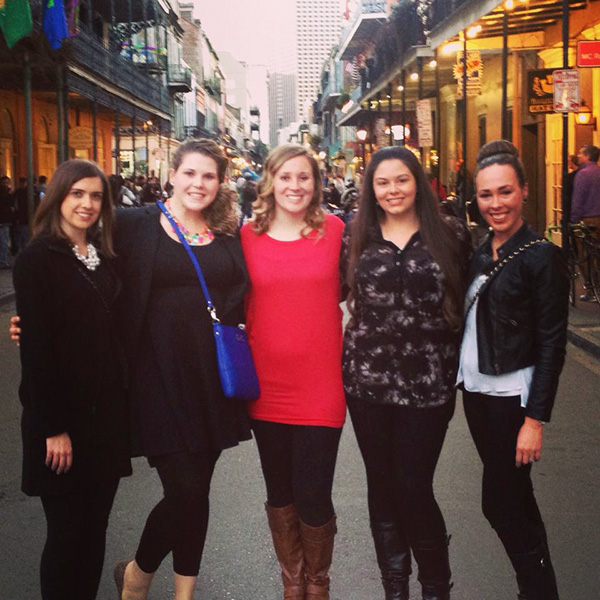 And a visit to New Orlean's wouldn't be complete without some beignets and cafe' au lait at Cafe Du Monde.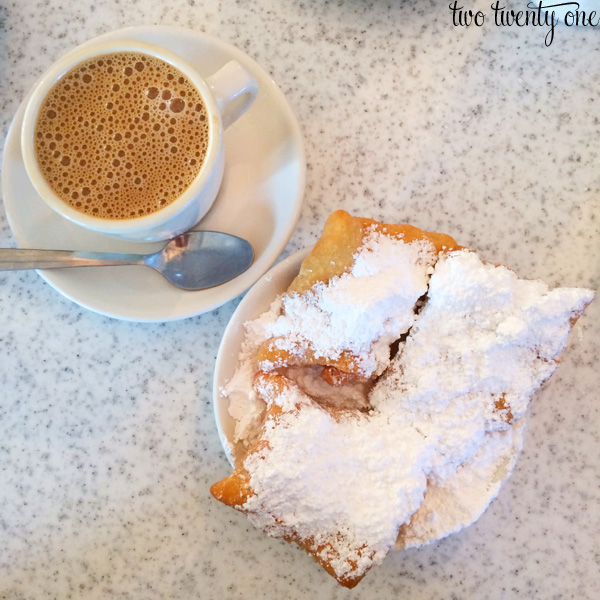 A couple tips if you plan on visiting New Orleans:
• Bring your walking shoes.  We probably walked 5-6 miles a day. I didn't think it would affect me that much (being a preggo), but when I got home and looked at my ankles they had turned into cankles. Thankfully, they returned to their normal size the next day.
• Look into restaurants and make your reservations weeks in advance.  Trying to make reservations a week in advance didn't work out so well for us. We still got into places by waiting, but it would have been nice to have been able to have reservations.
If I think of more stuff I'll add it to this post.
I highly recommend putting a visit to New Orleans on your bucket list. I came home and told Brad we have to go back one day (he's never been).
Have you ever been to NOLA?
What was your favorite part of your trip?
Check out the other fun places I've been!