Ready to conclude the most drawn out series ever?
Well today is your lucky day, friend.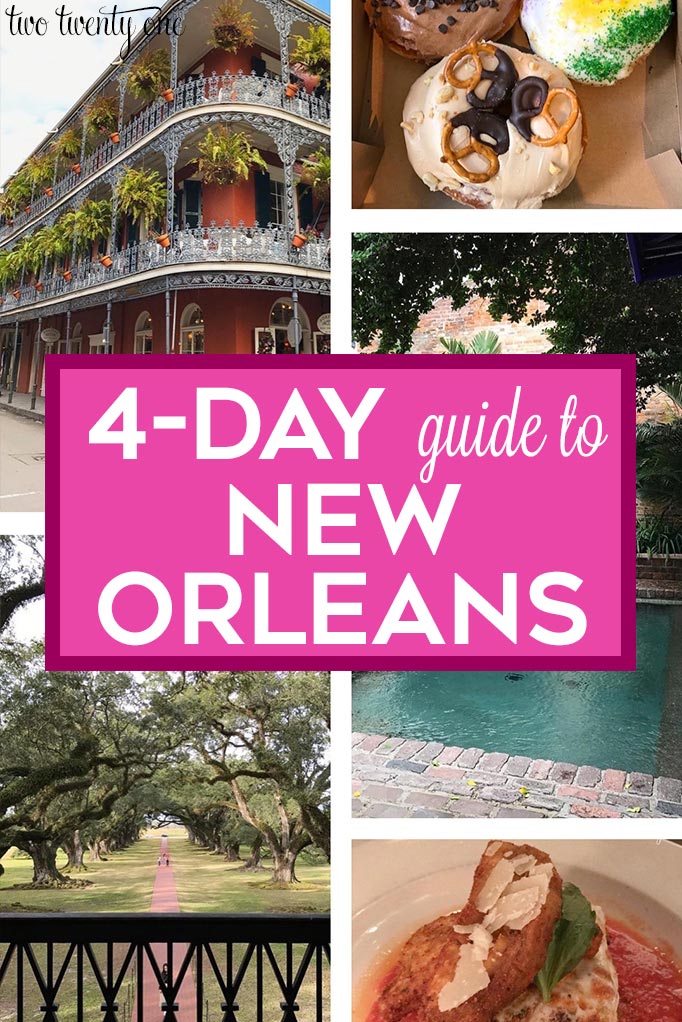 In case you missed it, here's part one and part two.
Sunday morning we woke up and walked a few blocks over to the Ruby Slipper for breakfast. I've become a semi-professional eggs Benedict taste tester in recent years, so I had to sample two of their most popular versions. I got the chicken and cochon. Brad got the cochon and salmon. Brad and I agreed that the chicken was the best.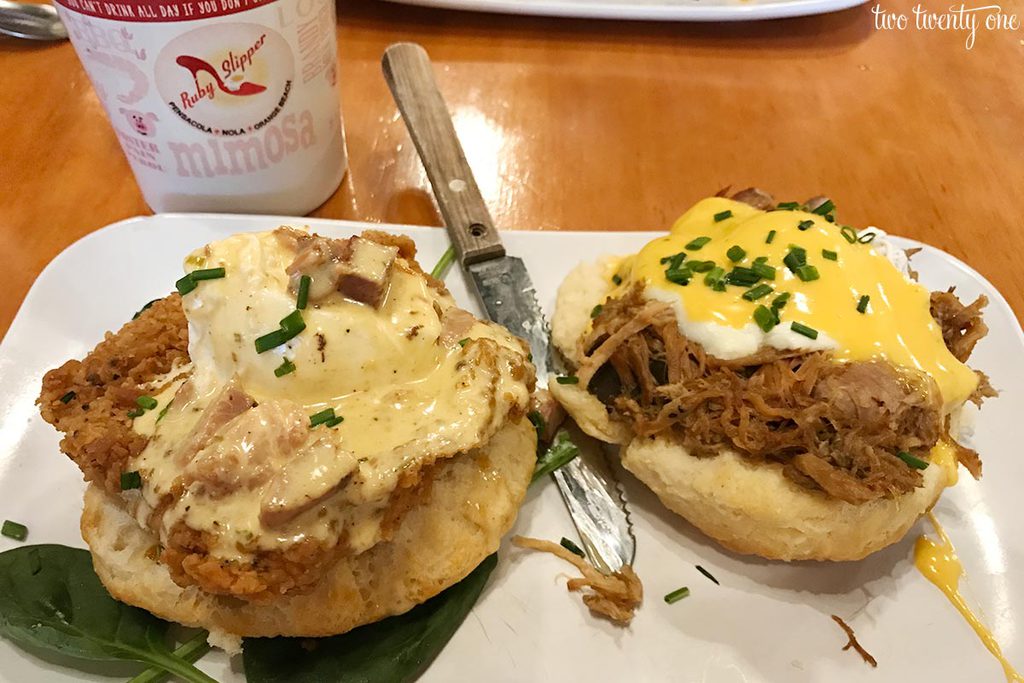 After breakfast we headed back to the hotel get ready for our Oak Alley Plantation tour with Gray Line.
This is the view from the road, looking up at the plantation.
That's 28 live oaks, 14 on each side, flanking the quarter-mile-long walkway leading up to the front of Oak Alley.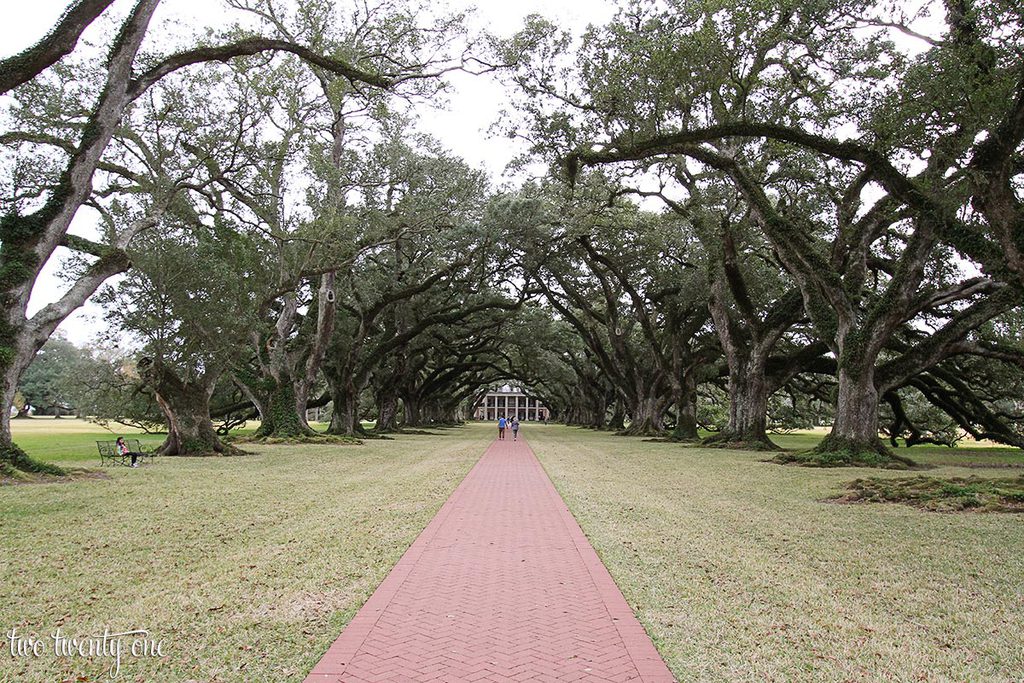 Oak Alley was built in 1839.
It's located directly across from the Mississippi River, which we didn't realize until we looked down the walkway from the house and saw a giant ship floating by. For a second, Brad and I looked at each other like "Wait. What?"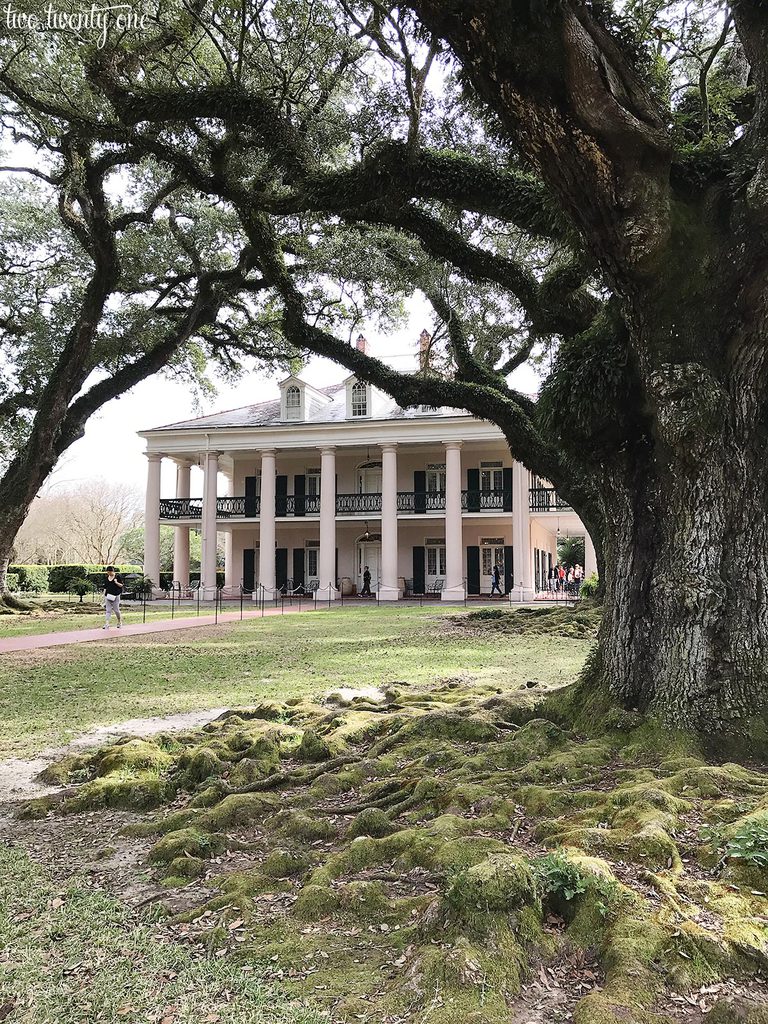 In case you didn't know, Beyonce filmed her music video for Deja Vu at Oak Alley.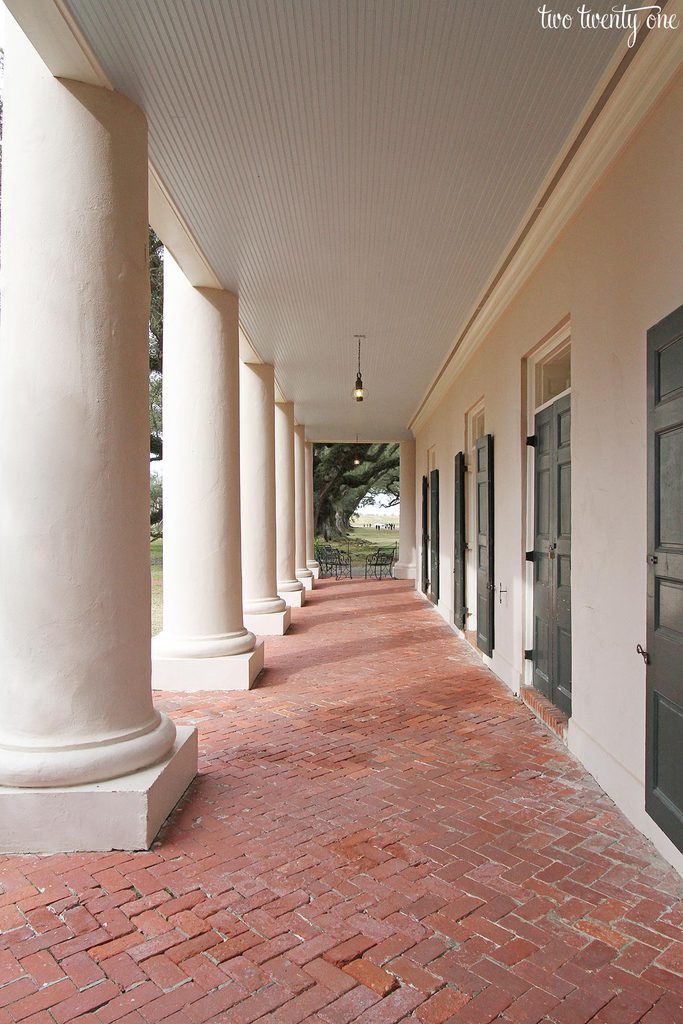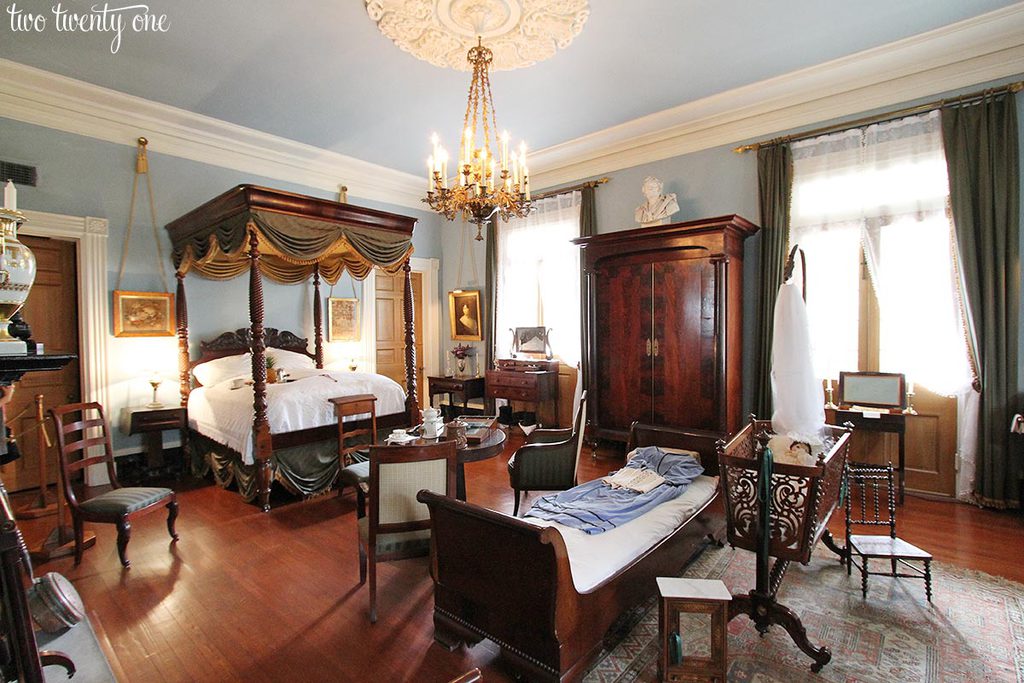 This view from the balcony, in person, is very beautiful.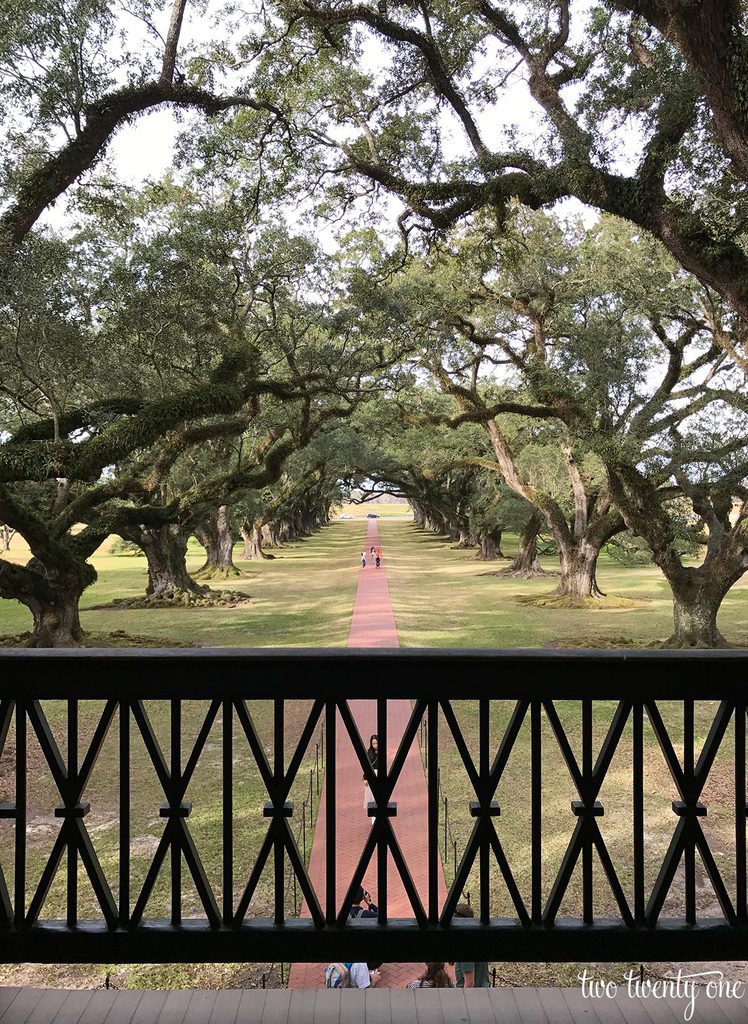 Brad and I were the stragglers on our tour so we stood here for a minute just taking in the view.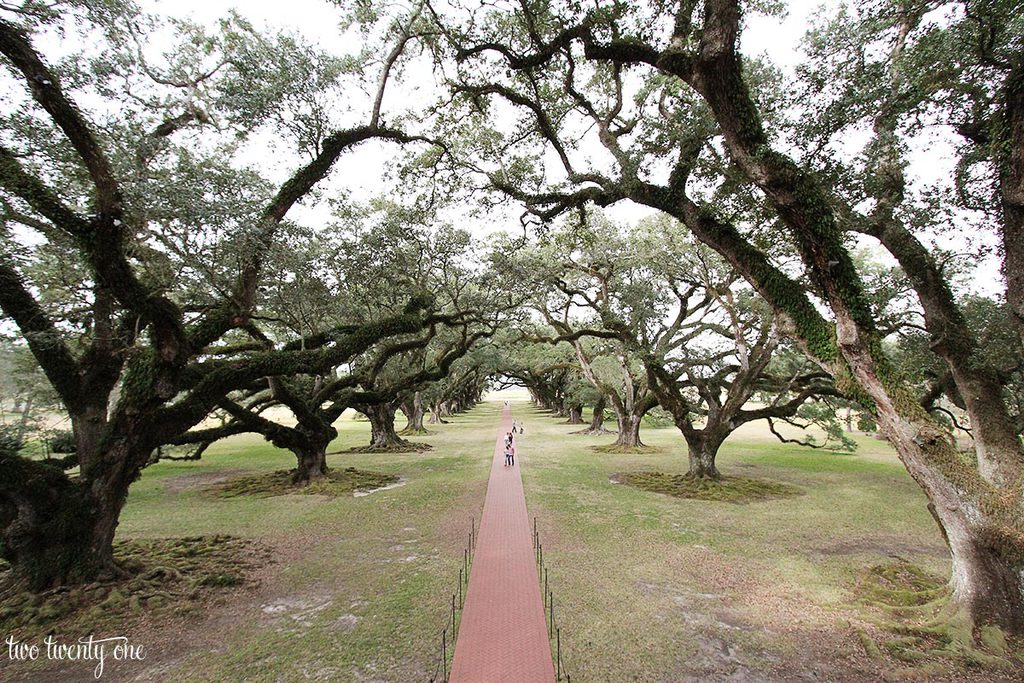 I've never really considered myself a tree hugger. Don't get me wrong, I like trees and think they're an imperative organism on our planet, but I LOVE these live oaks. And I would've hugged them if I wasn't wearing a gauzy white top.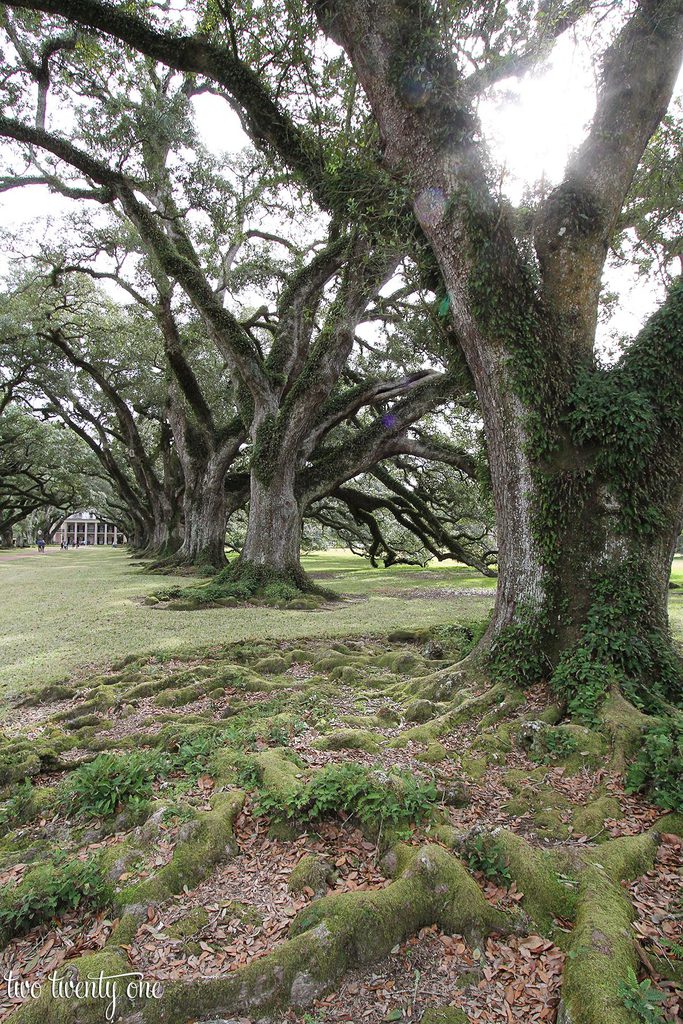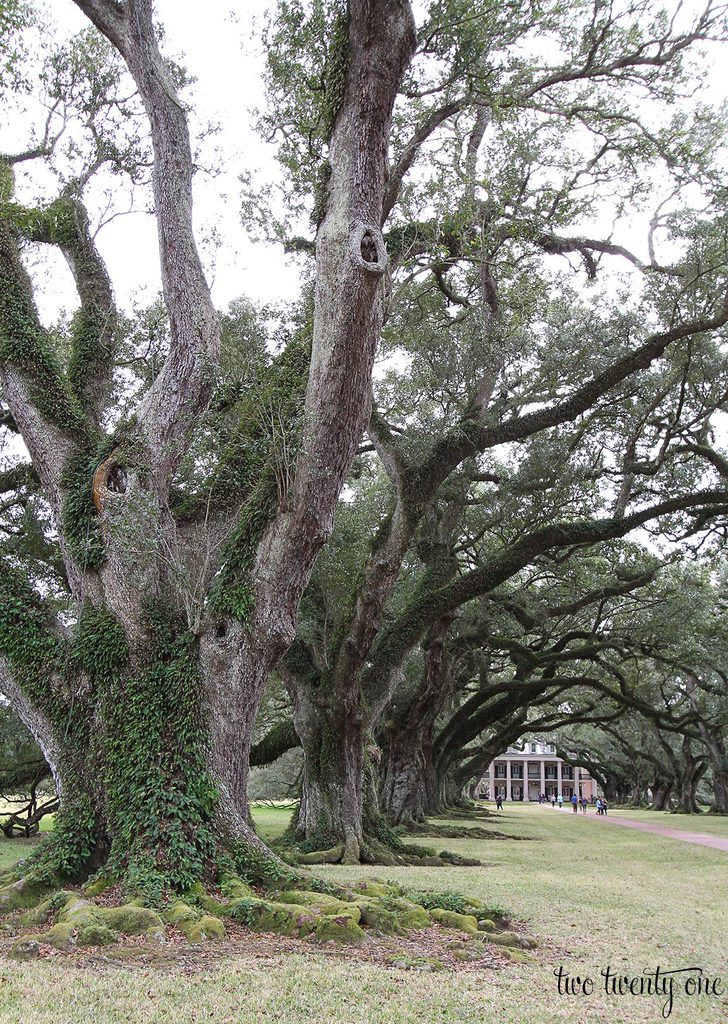 They rebuilt six enslaved quarters behind the house to replicate the ones that were once on the property. Each cabin had plaques that described various aspects of enslaved life. Brad and I read the plaques, but I'm very disappointed they excluded the cabins and stories of the enslaved people into the guided tour. I don't think this integral part of our country's fabric should be barely acknowledged. So I submitted a comment card stating that I wish they wouldn't have glossed over slavery.
Later, I heard that Laura Plantation does a good job of presenting stories of enslaved people.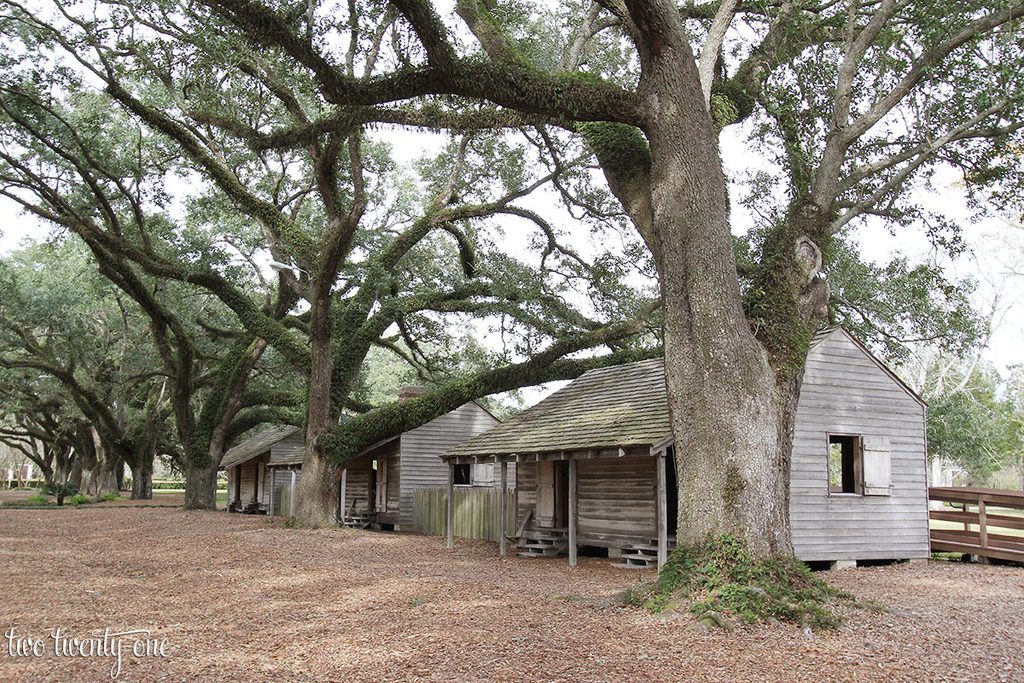 On our way back to New Orleans, our bus driver pointed out Evergreen Plantation, the plantation used in the movie Django Unchained.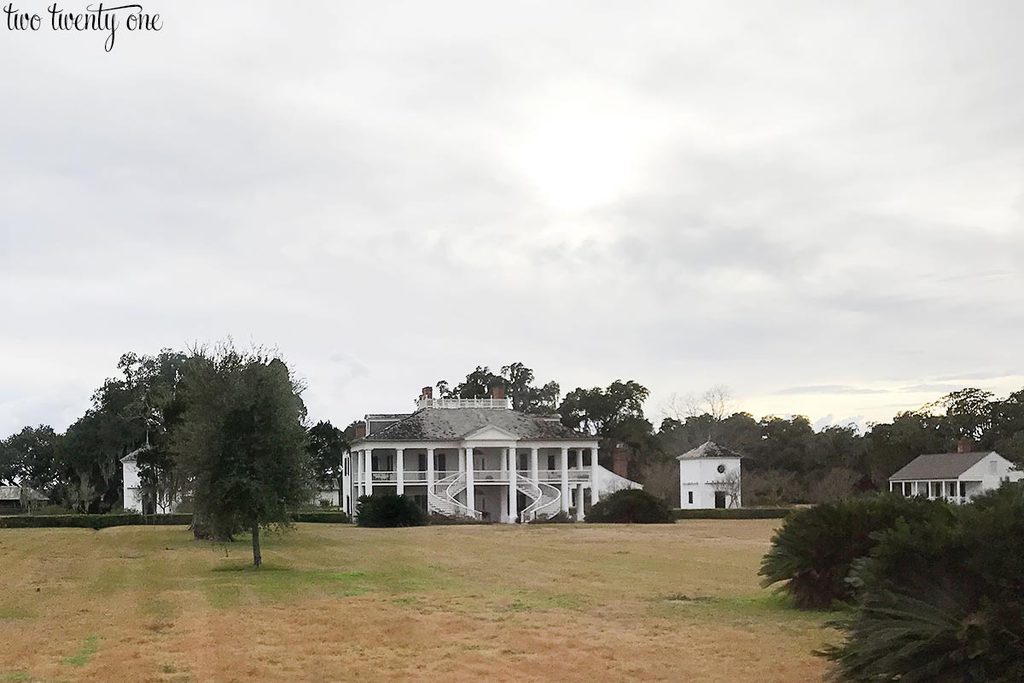 That night we had a low-key dinner at Pierre Maspero's on Chartres St. Then, we hit up The Beignet Shop for some beignets. These beignets are better than the ones at Cafe Du Monde in my opinion. But like I said before, I encourage you to sample all the beignets in New Orleans. It's like when in Italy you sample as many gelato flavors as possible.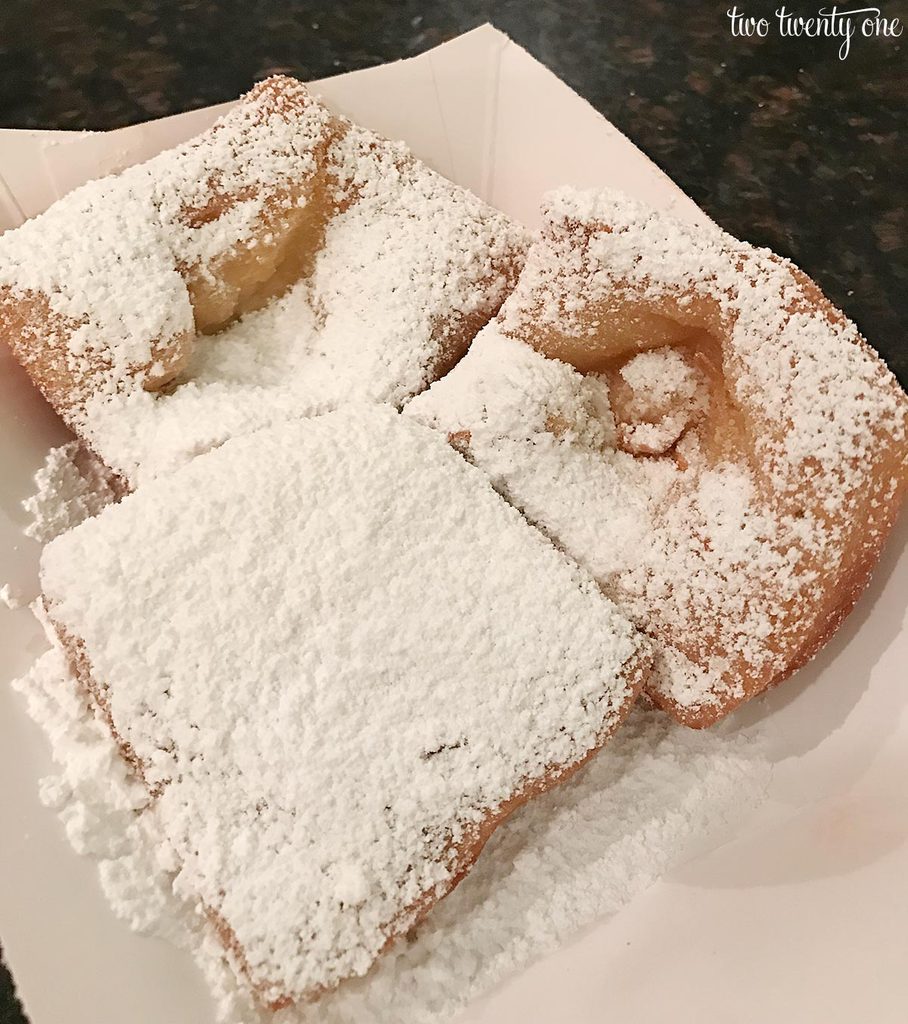 Before heading back to our hotel, we stopped by the Carousel Bar in Hotel Monteleone. I got a Pimm's Cup (wasn't a fan) and Brad got a hand-shaken piña colada because he's secure like that.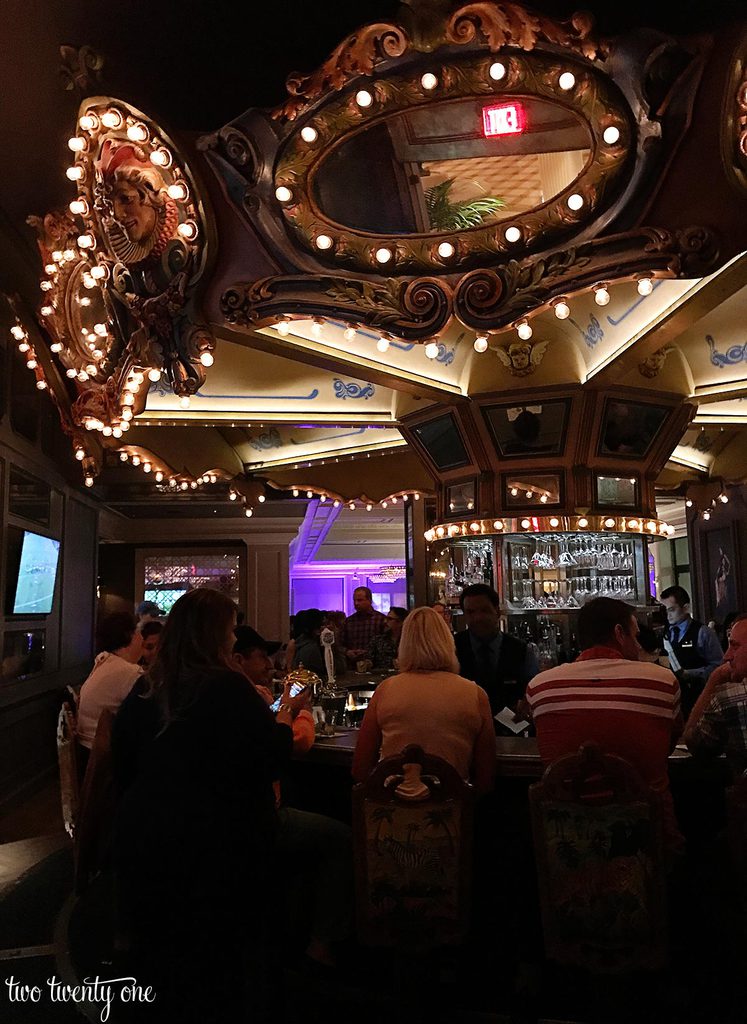 On Monday (my birthday!), we woke up bright and early, grabbed breakfast at our hotel, and headed to the World War II museum. It wasn't the most joyous place to spend the morning of my birthday but I'm glad we went. Brad and I both had grandfathers and great uncles who served in WWII so it was especially important to us that we visit and tour the museum. It's definitely something I recommend but bring your tissues. Reading letters people wrote is what really got to me.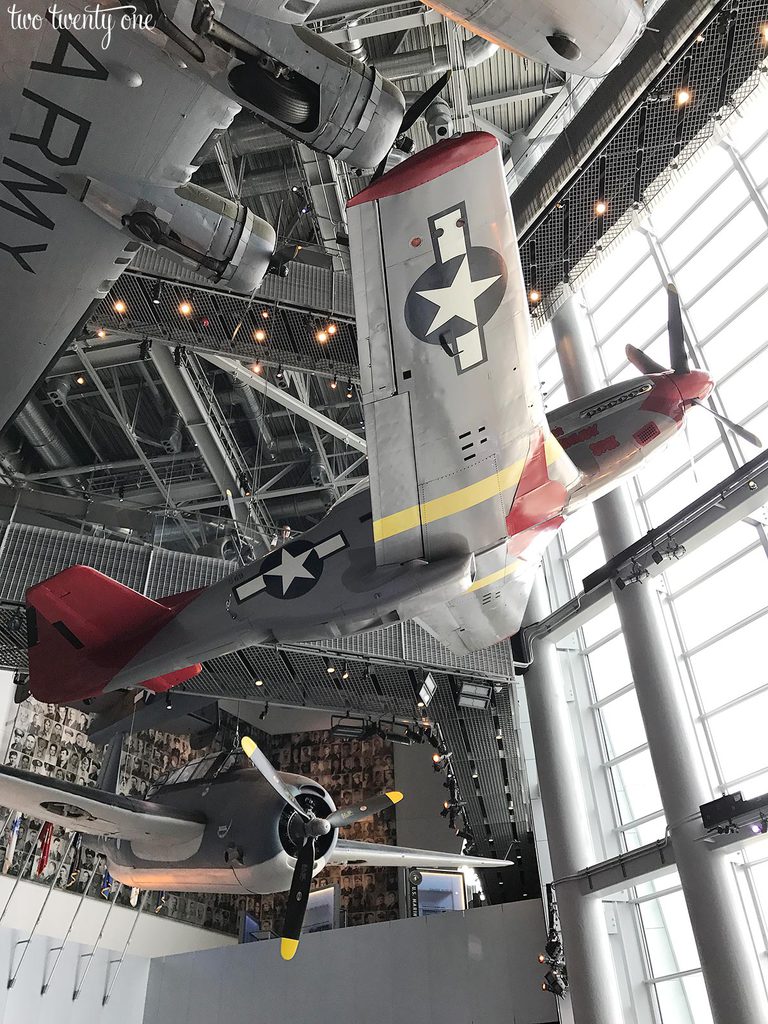 After spending a few hours at the WWII museum, we went to Mardi Gras World because I really wanted to see how they build all of those Mardi Gras floats.
They sculpt most of the shapes out of foam, cover them with paper mache, and then apply paint. A lot of the time, they'll take a figure that was used in the past and add or take away from it to turn it into something new.
This particular object is going to be part of a float with the theme of Dr Seuss with a Hamilton twist.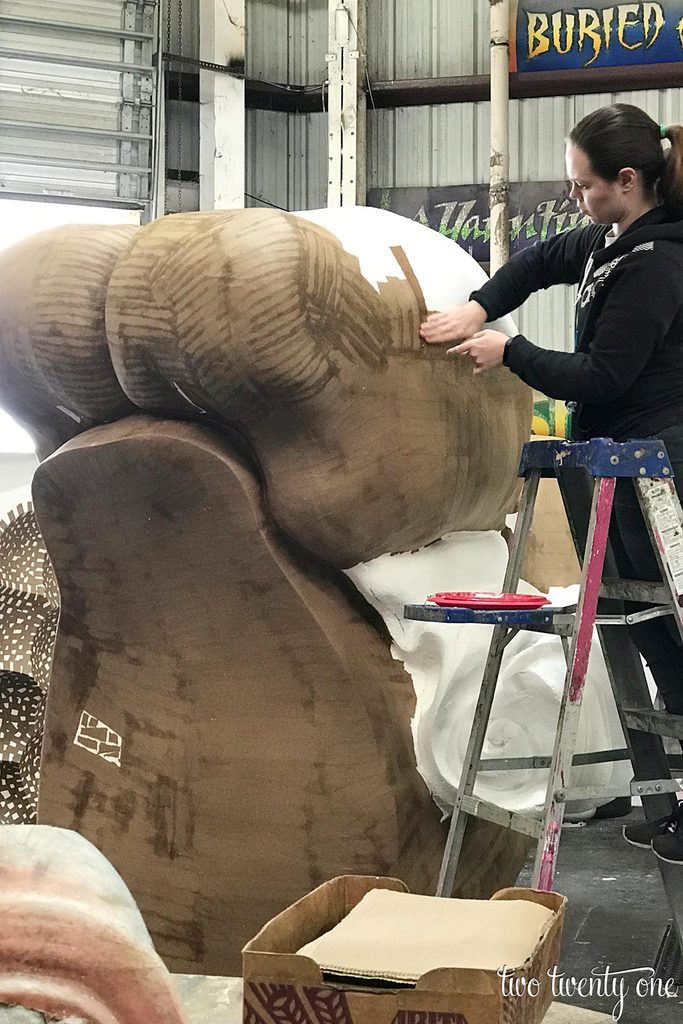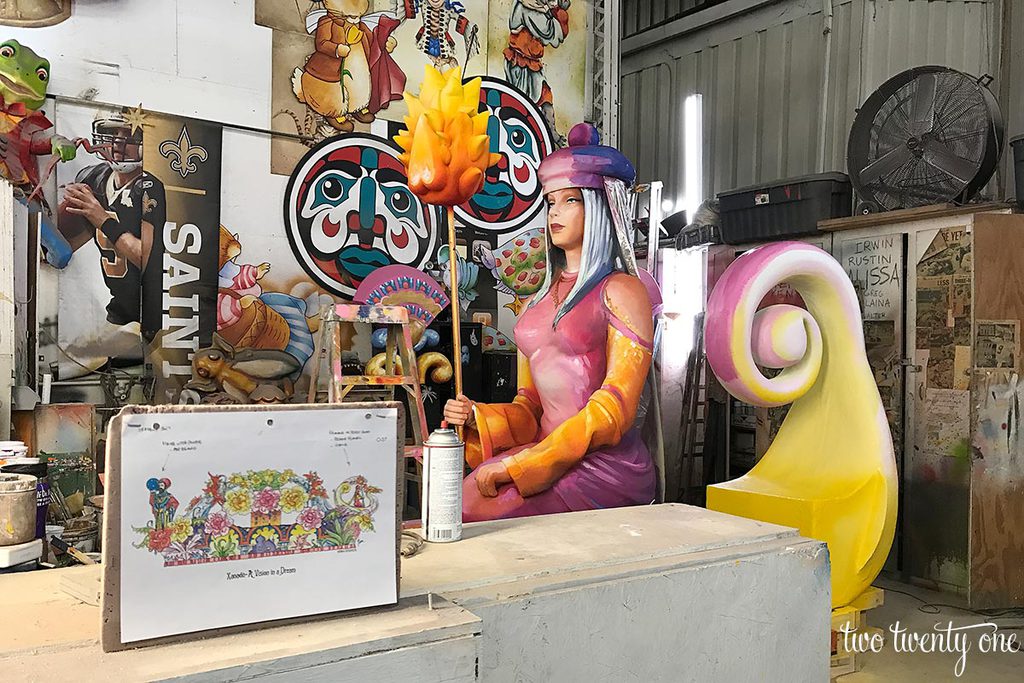 This is where they make all the gigantic flowers. It's crazy how much detail goes into these floats.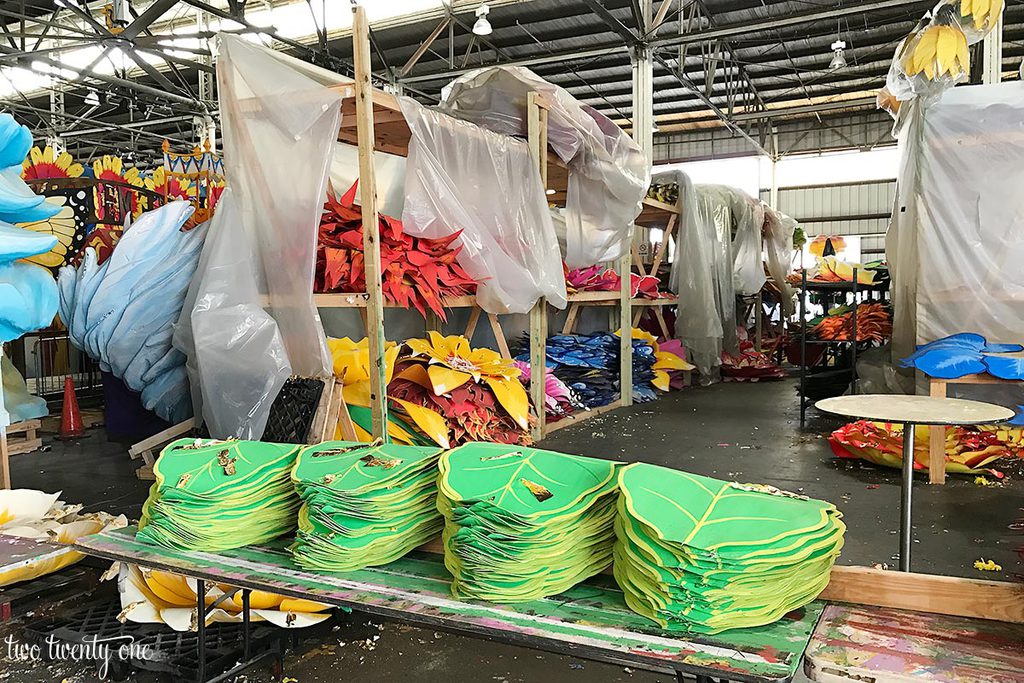 Walking around the giant warehouse and seeing all the floats was really cool– definitely something I recommend.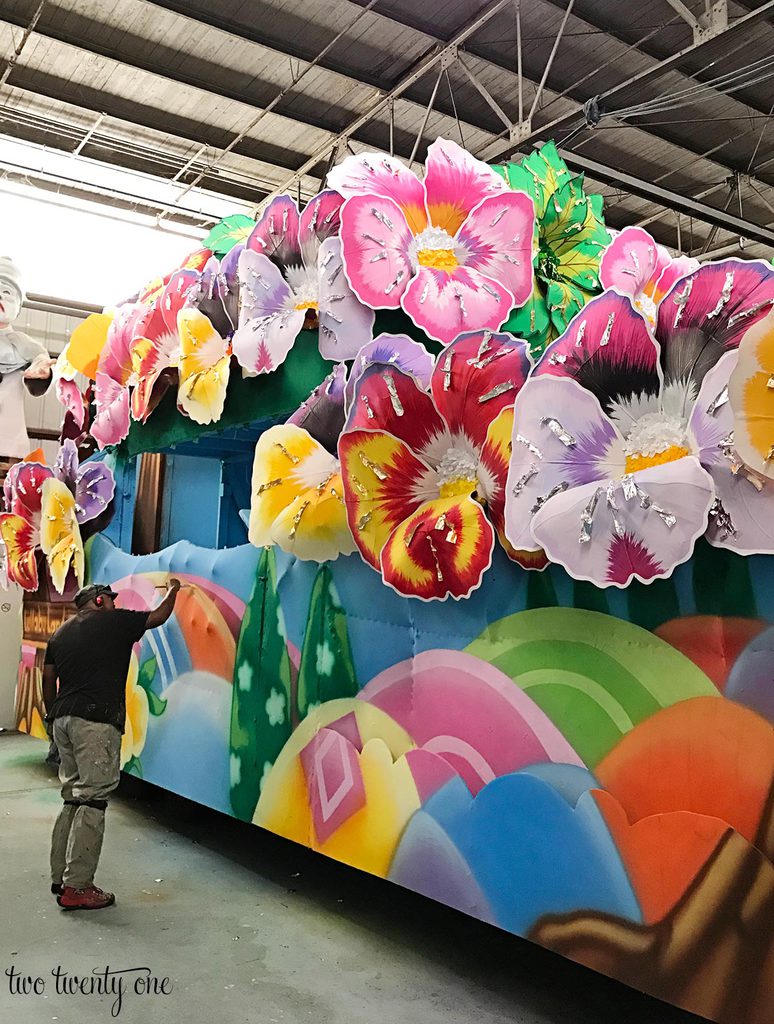 After we finished our tour at Mardi Gras World, we headed back to the French Quarter to grab some lunch and some thank-you-for-watching-our-kid pralines for my parents at the New Orleans School of Cooking. Then we went back to Hotel Le Marais to grab our luggage and headed to the airport.
All-in-all it was a great long weekend getaway. I felt like we had a good balance of being tourists and relaxing.