Hey friends! Hope you had a marvelous weekend. I sure did.
And you want to read all about it, don't ya?
Friday morning I hit the road for Chicago for a little best friend (Natalie) and YHL (Sherry and John) time. Shortly after arriving at Natalie's apartment in Oak Park, she tied me up, forced me into her car with pepper spray, drove me to Ikea (aka the blogger mother ship), and demanded that I go in the store and buy things. It. Was. Traumatizing.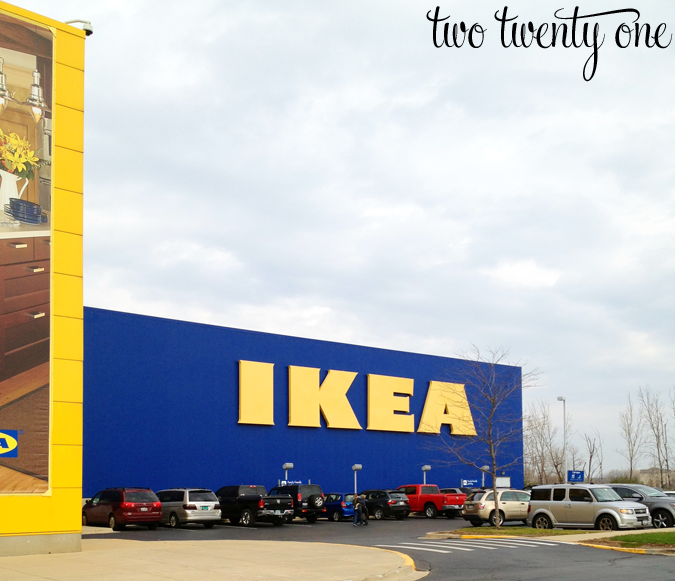 Just kidding. Ikea was my idea. The theme of my cart for the day was 'I like white'. Don't worry, you guys will see my loot. Eventually.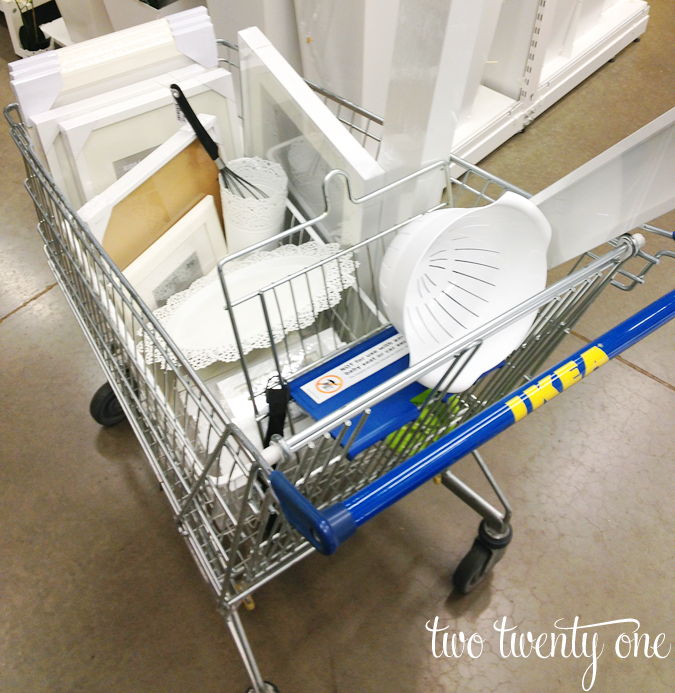 After spending 2.5 hours in Ikea we went on a Macy's clearance rack spending spree. I scored two shirts, a blazer, and a dress for $80. Love me some 70% off racks + 20% off coupons. After Macy's we headed back to Oak Park to attend an event at a consignment shop and eat Greek food. Yum.
Saturday was Young House Love Day. We were up, ready, and in line at west elm by 11:15. Mind you the book signing wasn't until 1:00. Dedicated YHL reader I am. We got a decent spot in line. I'm thankful we were under the awning because it poured rain off and on the entire time. The line wrapped around the building, snaked once, and continued on the other side of the building. It seems that John and Sherry are pretty popular in the Windy City.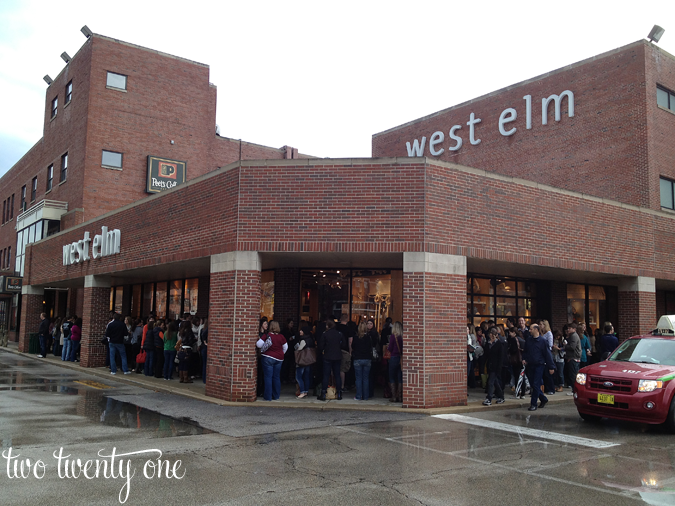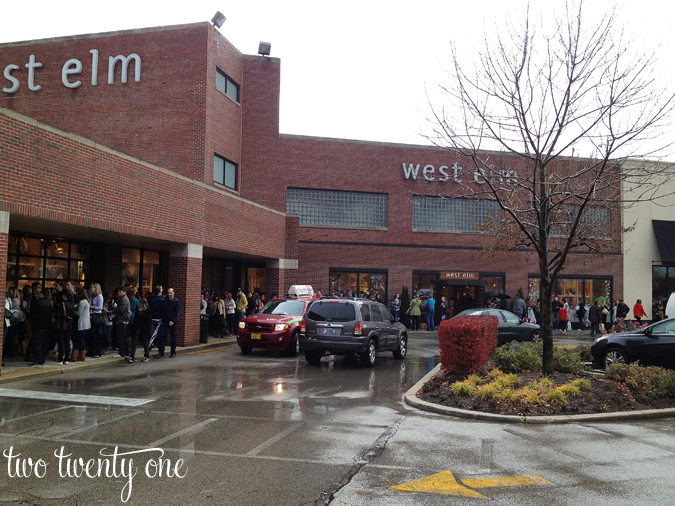 I have to say that the nearly 4 hours we spent standing in line went pretty fast. Natalie and I spent the majority of the time embarrassing ourselves. Nothing new there. The adorable YHL cookies and hot chocolate made the waiting more bearable. Natalie and I both thought there should be a baby shaped cookie to represent 'young'. When the cookie tray came I told Natalie to grab a heart cookie, and I'd grab the house cookie so I could take a pic of both. After she ate the heart cookie I told her I didn't want the heart cookie because I didn't want to have pink teeth afterward. Best friend of the year. I mean, I needed to be camera-ready for my photo with Sherry and John. Some people around us heard me say that and immediately became self-conscious of their cookie choice. Don't worry, the color faded after everyone drank their hot chocolate.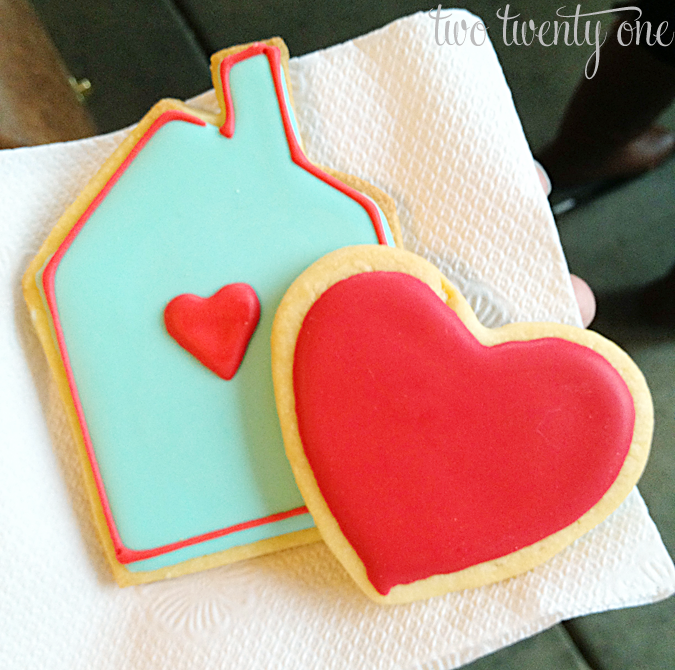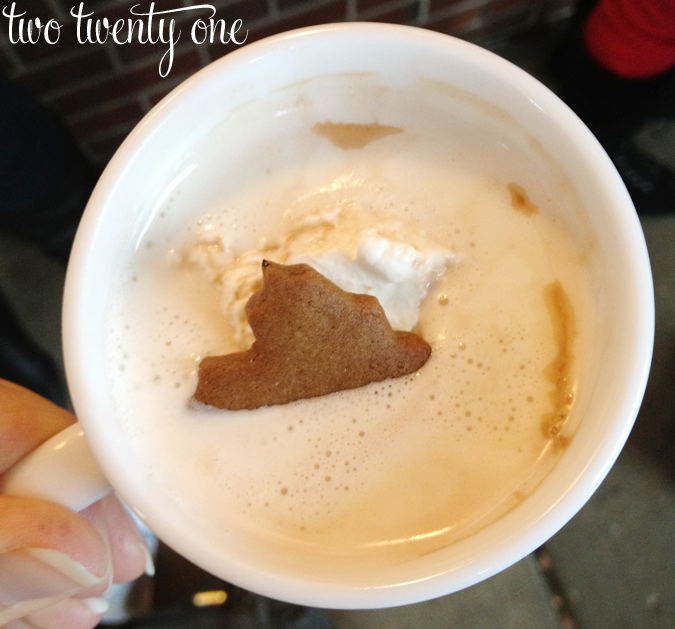 While in line, I saved this man's life. A vicious spider began to descend toward his head, so I started to firmly tap him on the shoulder. It took him a while to respond, and when he finally turned around to see why I was touching him, the spider had landed on his hat. I yelled, "There's a spider on your hat!" He shook the spider off his hat, and the spider scurried off. Whew. He's lucky such a vigilant person was standing behind him to save his life.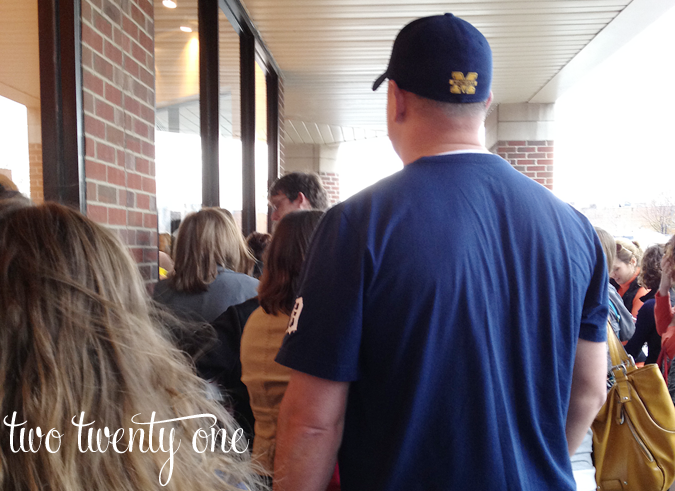 I knew when Sherry and John arrived because there were screams and squeals. Their signing table was set up in front of the window about 10 feet in front of us. Once the line had crept up, we were standing right behind them. I really wanted to photo bomb some people, but I resisted the urge. Who knows, perhaps I inadvertently photo bombed someone. (Sherry and John, this is what the back of your heads look like when you're signing books.)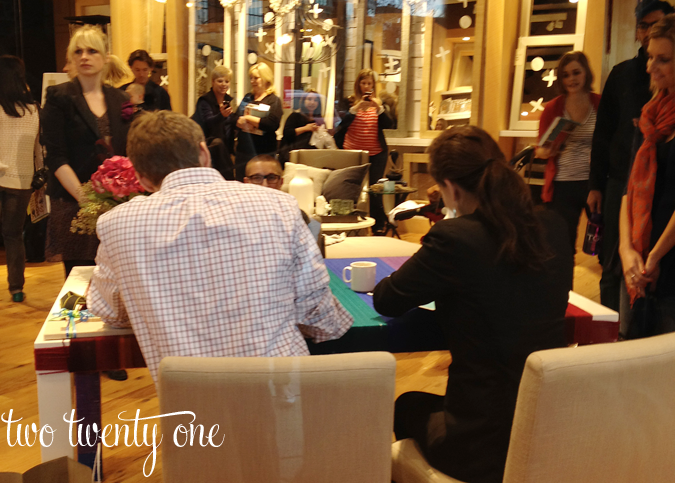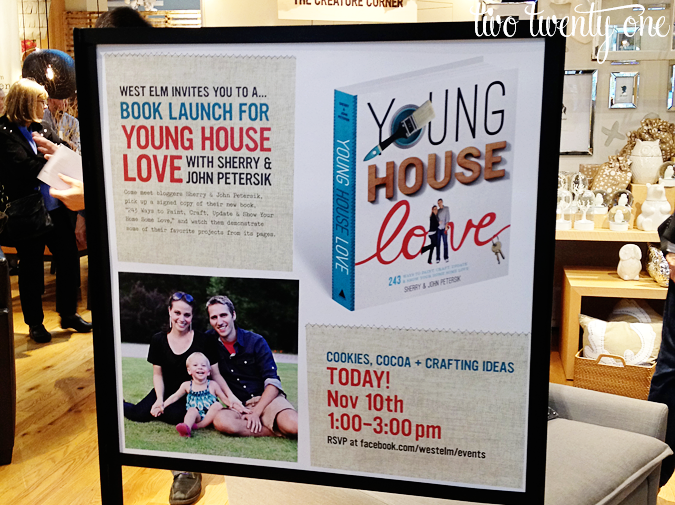 I was a little nervous when it was about my time to approach the table. If you remember, I met and became BFF with Sherry at Haven. She said that I reminded her and John of their friend Megan Klemente. That was the inside joke that forged our BFFness. So I decided to play it cool when I walked up to the table and said, "Hey guys!" Sherry and John looked at me and said, "Oh hey! It's Megan Klemente!" and Sherry jumped up to give me a hug. This photo makes me laugh because I'm 5'10" and Sherry is, well, petite. So it looks like I'm trying to pick her up and give her a bear hug. And it also appears that Sherry is attempting to eat my hair. Apparently no one gave her a cookie.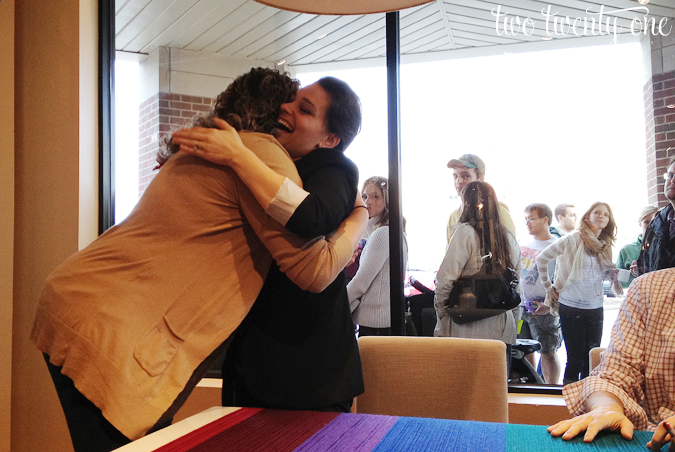 After I put Sherry down. Just kidding. She said something like "We know you're not Megan– you're Chelsea". I handed her my book to sign, and while she signed it, John turned to me and said, "So I have a question for you." And I was all "YOU have a question for ME?" (I totally played it cool.)  John said, "Yeah, your Instagram photos– are all of those taken with your phone?" And I said, "Yeah, most of them are taken with my iPhone." Then John said, "Really? Wow. They look so good. What's your secret?" I played it cool, again, and said, "My secret? I'm awesome." Thankfully everyone got it and laughed. I said, "Do you want to know the names of the apps I use?" He said, "Yeah. We need to step up our Instagram skills." So I told him I'd email him the names of the apps. Then Sherry and I talked real quick about the Megan thing, I snapped a creeper photo with them, and it was time to go.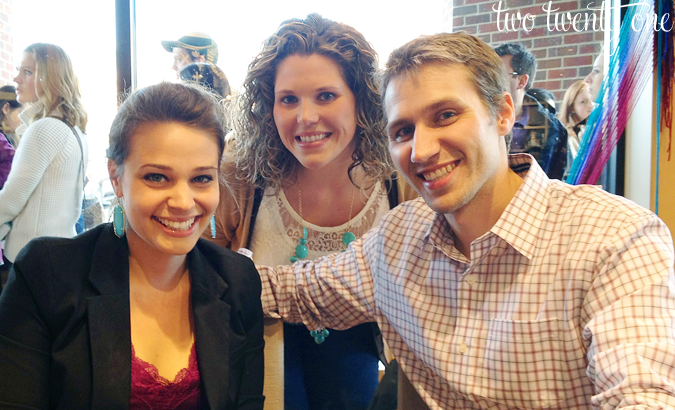 If you're a Young House Lover and John and Sherry are coming to your neck of the woods, I highly suggest going to their book signing. They were genuinely excited to meet every person there. And they truly appreciated the fact that everyone had spent hours in line. I'd go to another signing, but that would be borderline stalker.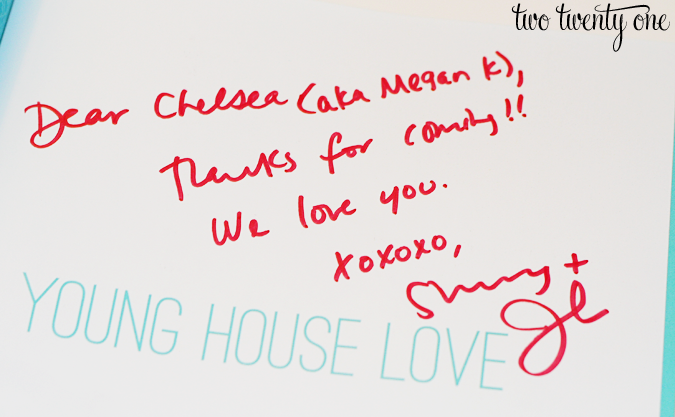 I thought about the people who couldn't make it to a signing and it made me sad so I had John and Sherry sign a postcard that I'm giving away to one lucky YHL lover. Seriously, my nickname should be Oprah. I wish I could have had them sign more, but I don't think they would've enjoyed signing hundreds of postcards. Plus, the people behind me would've been a little upset. Use the Rafflecopter widget to enter to win the autographed postcard.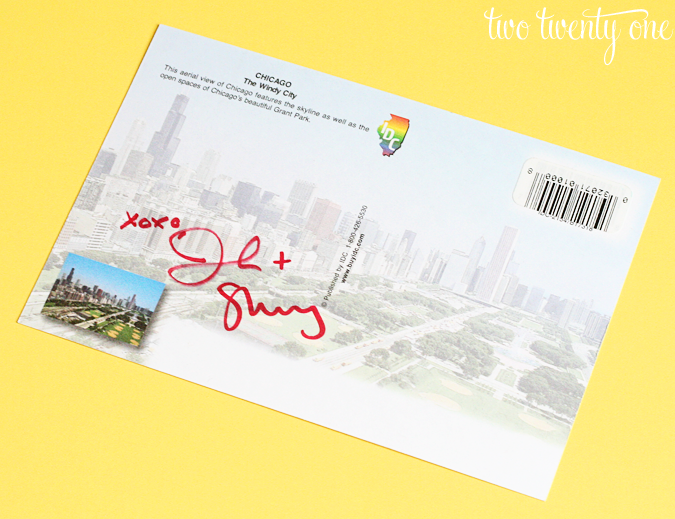 Have you attended a YHL book signing? How'd it go?
Do you plan on attending a signing?