Last month, we were invited up to the newly opened Great Wolf Lodge in Gurnee, Illinois north of Chicago. If you're unfamiliar, there are 18 Great Wolf Lodges in the US. They're family resorts with indoor waterparks and other fun activities for families. Keep in mind prices and policies vary by GWL location.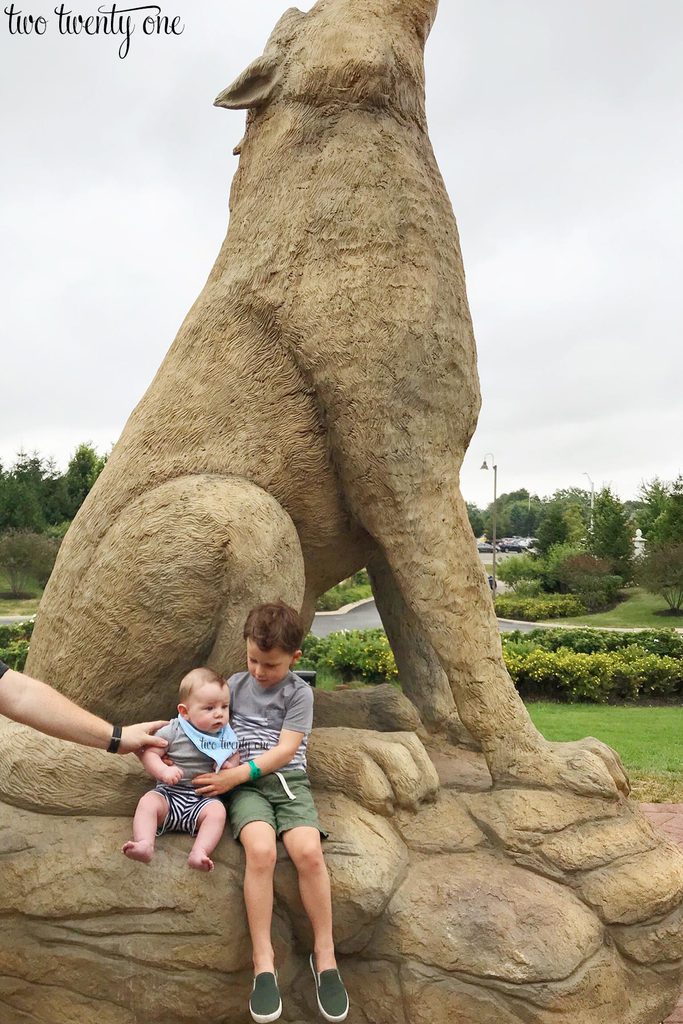 It was a bit of a hike for us from Indianapolis (5 hours) but the boys did really well in the car to and from Gurnee.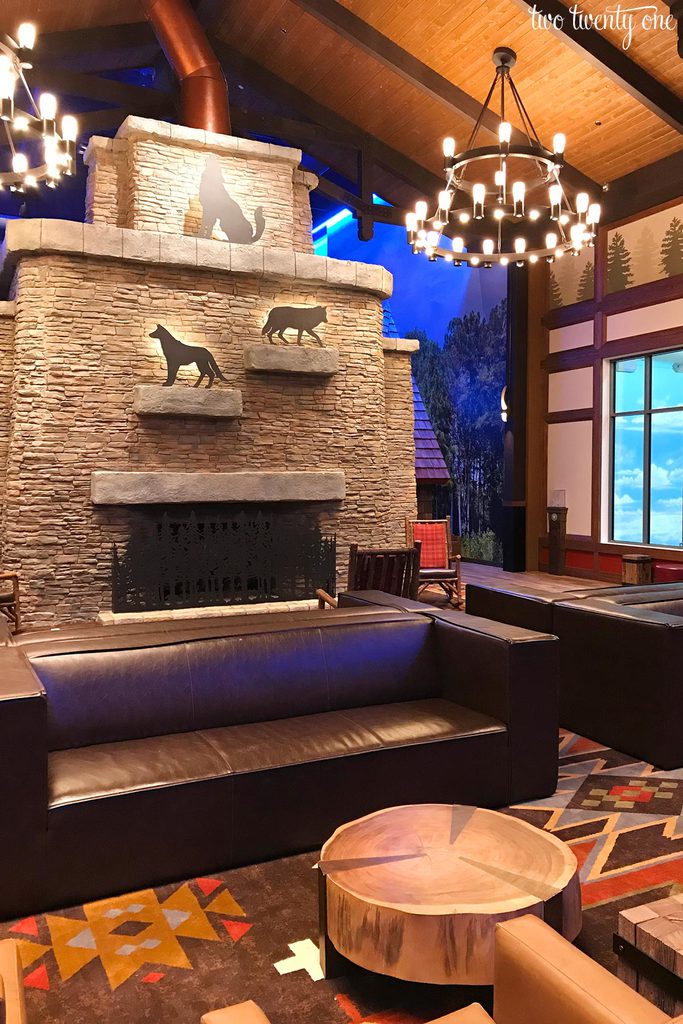 Great Wolf Lodge Gurnee Waterpark
The Great Wolf Lodge Gurnee location is a former resort and indoor waterpark that has been renovated and expanded. The waterpark features multiple waterslides, lazy river, water fort treehouse with waterslides, splash pad area, kiddie waterslides, wave pool, smaller pool with basketball hoops, lifejackets, four cabanas available for rent, and tons of seating.
I'm not going to lie, it was nice enjoying the water without having to worry about slathering sunscreen on everyone throughout the day.
Access and Hours of Operation
You can access the waterpark at anytime during the day of check-in. And you can access the waterpark the entire day of check out. So if you're staying for two nights, you can access the waterpark for three days from 10AM to 8PM.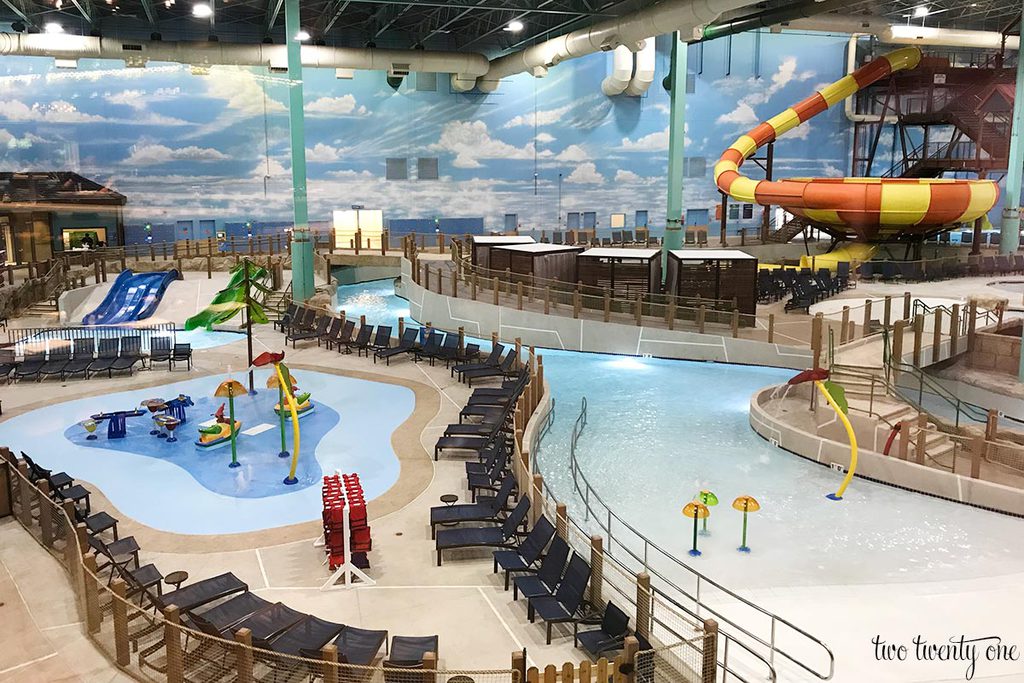 The waterpark is really clean and never felt crowded. There were always chairs open when we were there.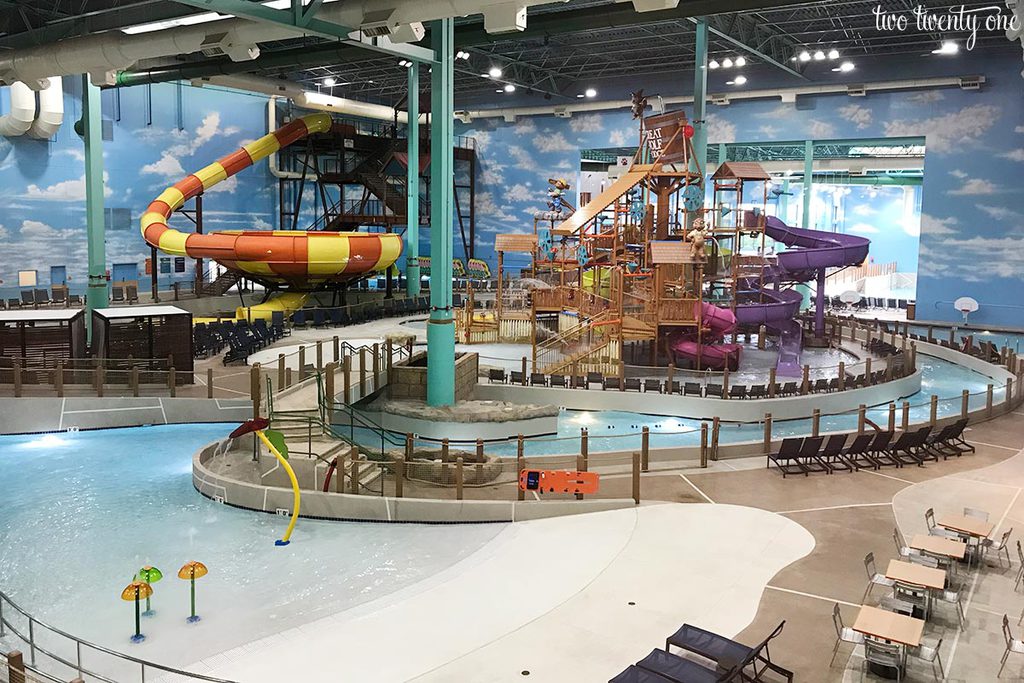 Lifejackets
They have lifejackets available, but you can also bring your own Coast Guard-approved life jacket. And they're staffed with lifeguards who've undergone extensive training in monitoring pools and operating rides.
Wave Pool
Since we had both boys with us, we would switch off who was with Owen and who was with Emmett. So while Brad was in the wave pool with Owen, I'd sit in the shallowest part with Emmett. Yay, tag team parenting.
Fort MacKenzie
Owen's favorite waterpark spot was Fort MacKenzie. He loved going down the various water slides, which surprised me because I went down a couple, and they're fast. The wait for the Fort MacKenzie slides weren't very long either. I think the most I ever saw lined up were 5-6 kids/people waiting on one slide.
Owen enjoyed making friends with kids his age and playing throughout the giant water fort.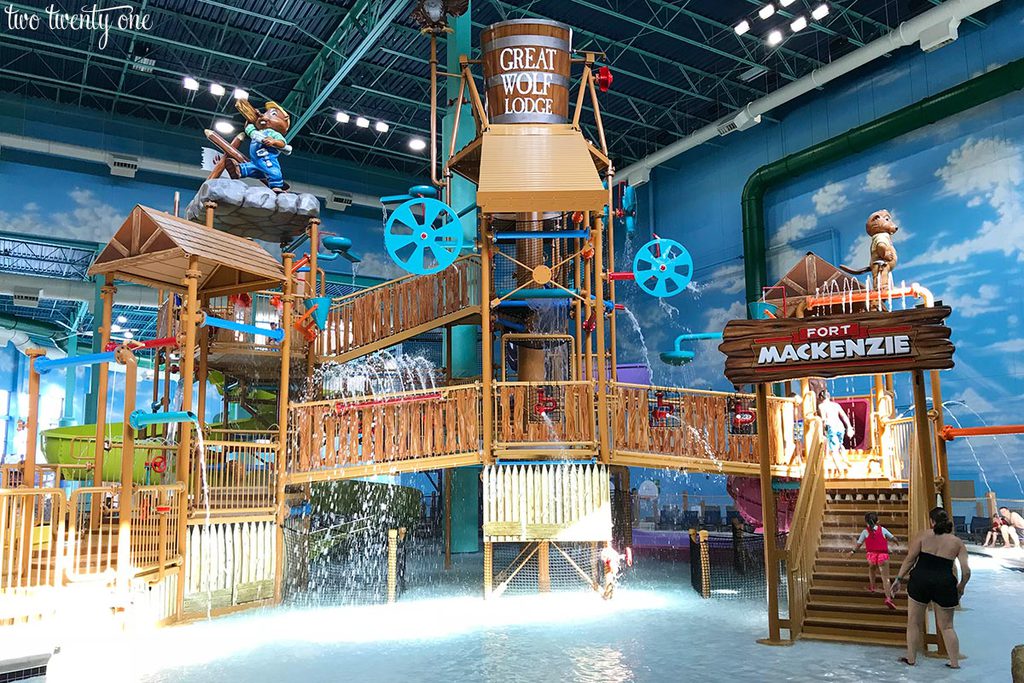 Other Activities
There's plenty of dry-land activities for families to enjoy. Some activities are included in your stay while others are additional fees.
Passes
If you're looking at getting passes, I suggest the Pup Passes or Paw Passes for your kids, depending their ages. Keep in mind that pass prices vary by GWL location.
The Pup Pass includes one Creation Station animal (outfit not included), one Color-Your-Own T-shirt or pillow case at Cub Club, one Great Wolf Lodge Candy Shop candy cup, one single scoop of ice cream from Ben & Jerry's, one Paw Points game card for Northern Lights Arcade ($6) for $49.99.
The Paw Pass includes one MagiQuest game game, choice of classic/color wand, standard topper or Magi belt, one Great Wolf Lodge Candy Shop candy cup, one single scoop of ice cream from Ben & Jerry's, one Paw Points game card for Northern Lights Arcade ($6) for $69.99.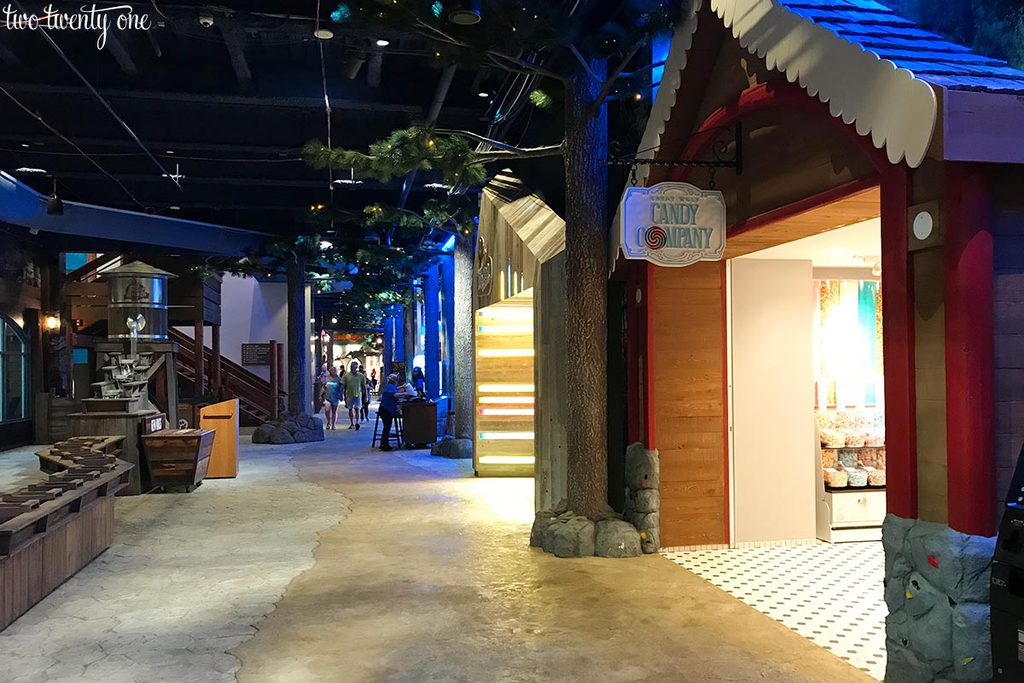 Ten Paw Alley
While we didn't get a chance to try it out, there's a smaller scale bowling alley for families to enjoy.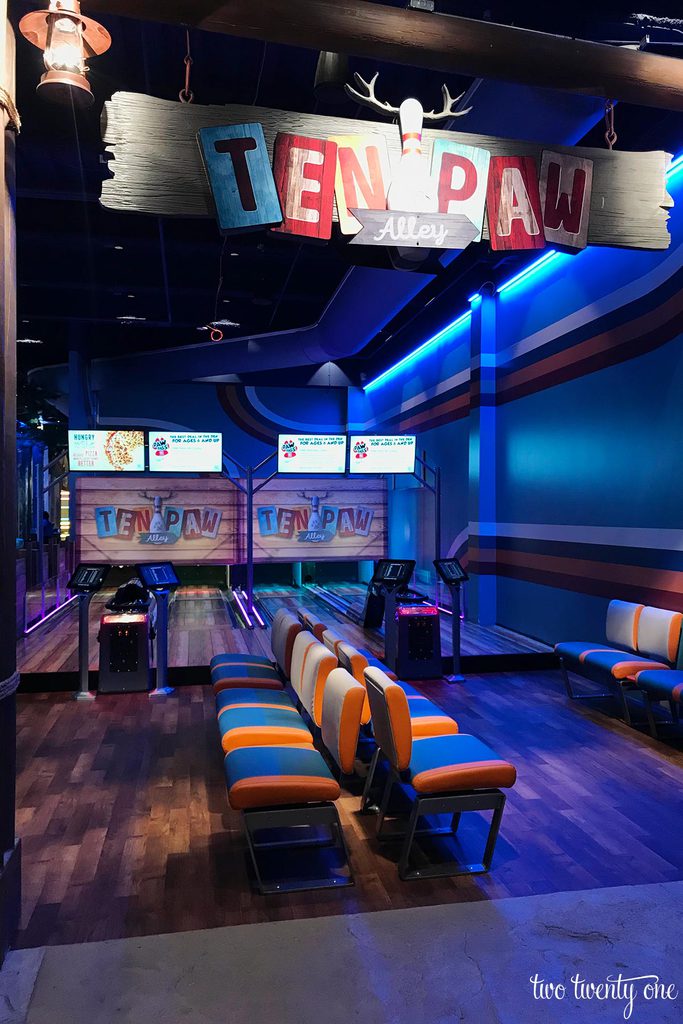 MagiQuest
Owen wasn't very engaged in MagiQuest (hello, 3.5 year old attention span), but we were always passing wand-carrying kids and adults in the hallways who were partaking in the live-action game.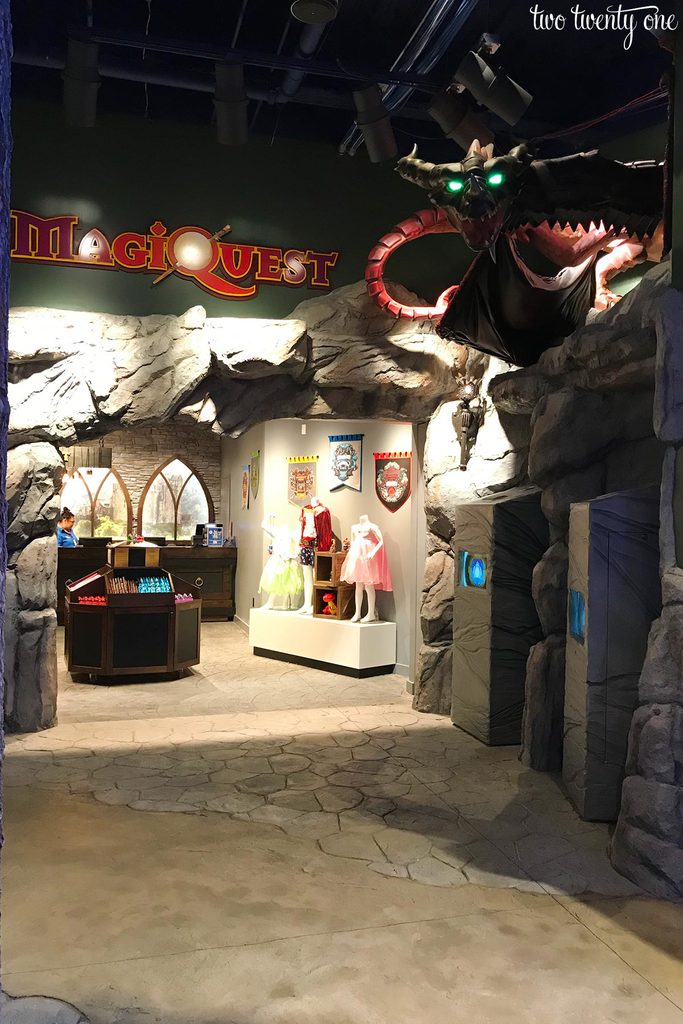 Northern Lights Arcade
One of Owen's favorite non-water activities was the Northern Lights Arcade. There were a lot of games that were preschooler-friendly.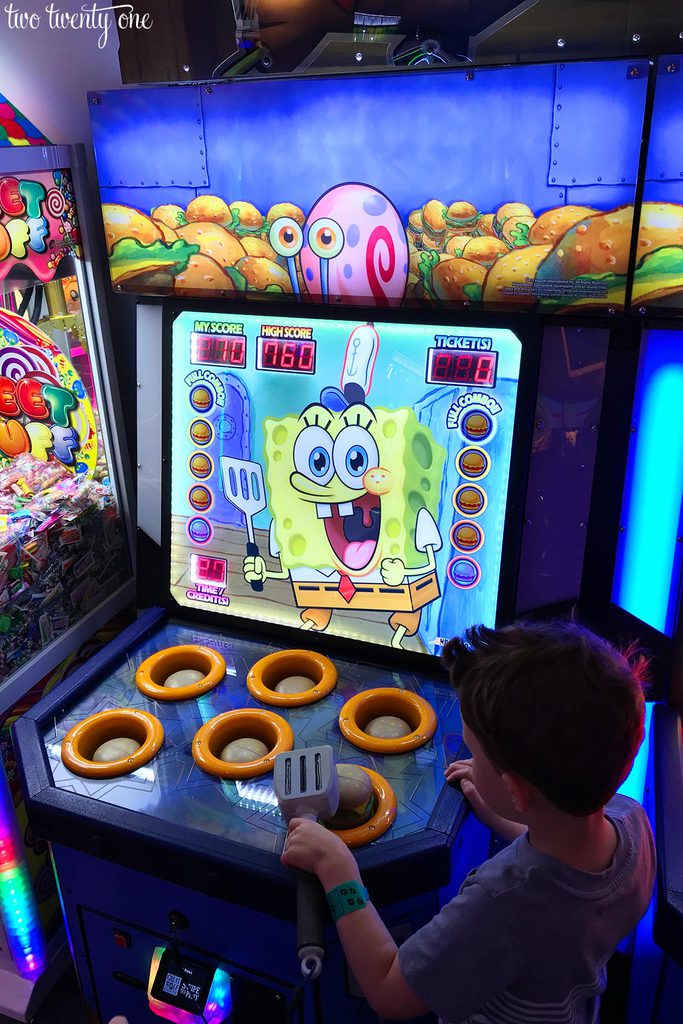 Oliver's Mining Co.
He also enjoyed panning and sifting for gemstones at Oliver's Mining Co.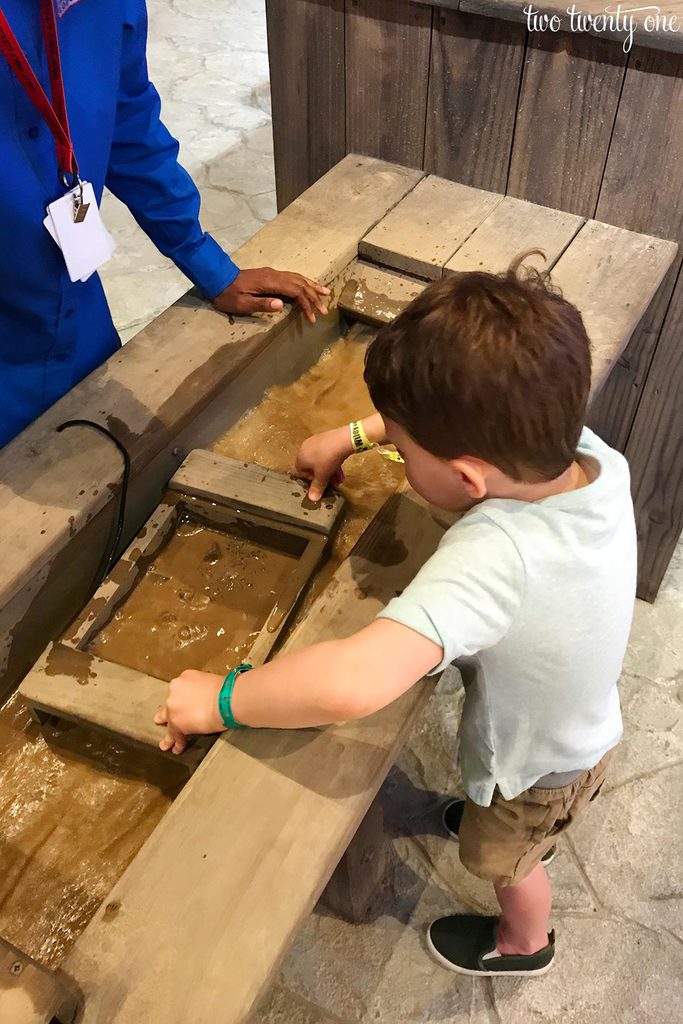 Great Wolf Candy Company
It also goes without saying that my child loved Great Wolf Candy Company. Owen would eat his weight in jellybeans if we let him.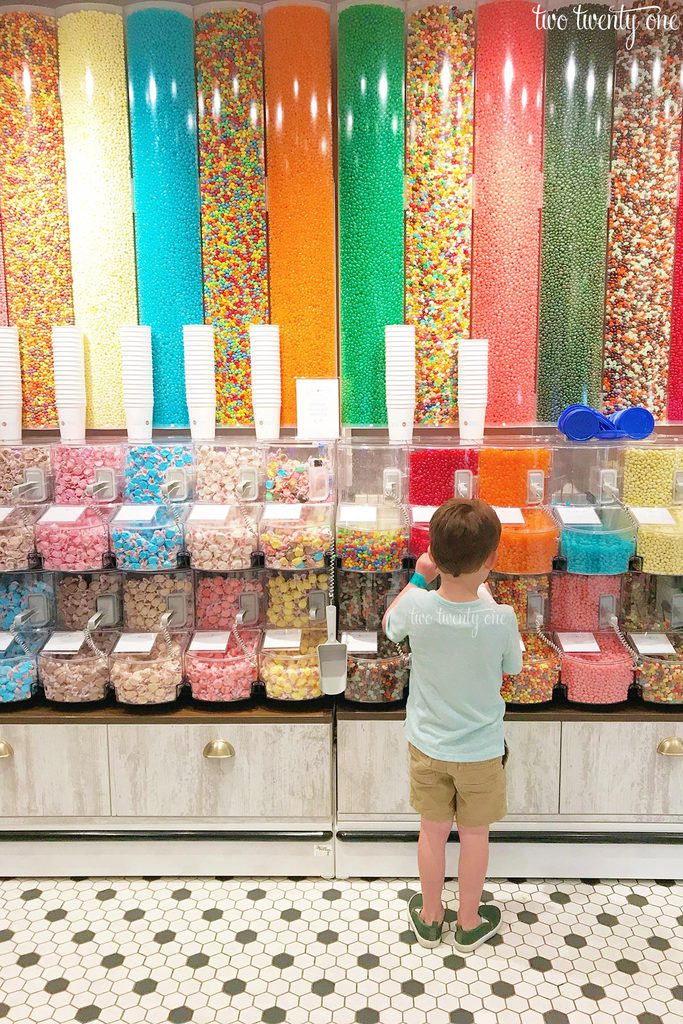 Howl in One Putt Putt
While his form and aim wasn't the greatest, Owen enjoyed a round of putt putt at Howl in One.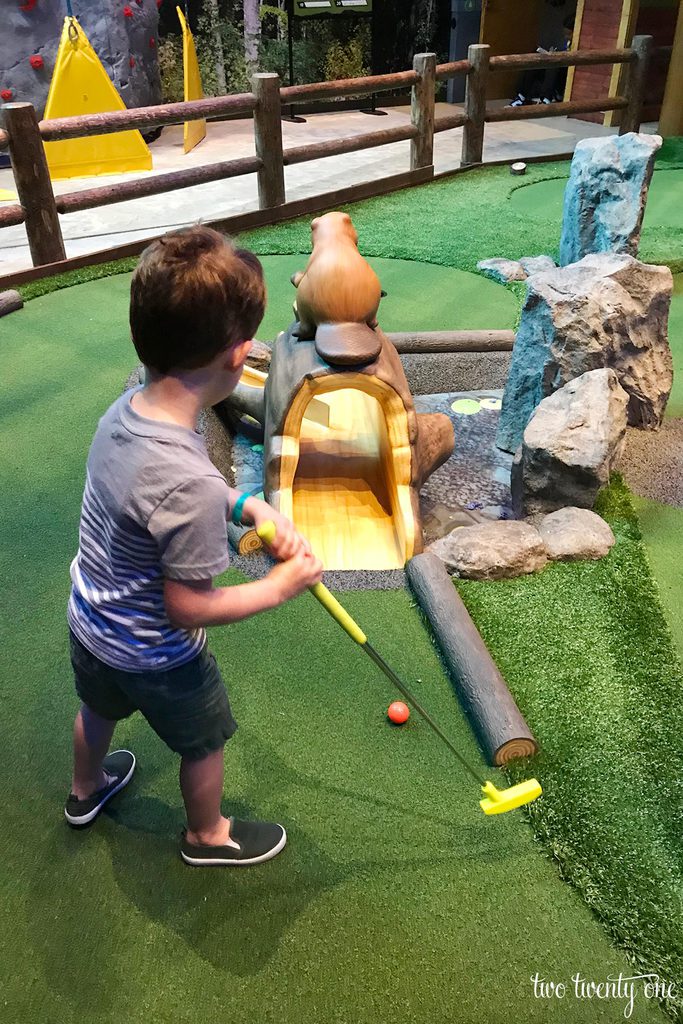 Creation Station
We all thought the Creation Station shop was so much fun. Kids get to create and keep their own fury friend.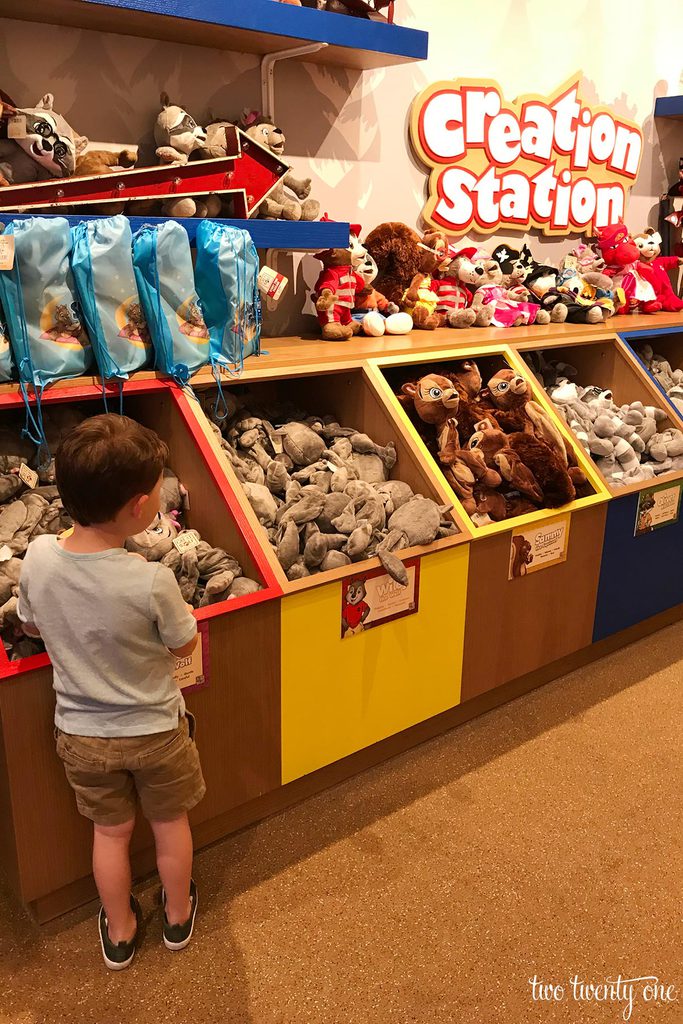 Dining
There's 10 dining locations in Great Wolf Lodge Gurnee. During our stay, we ate at Campfire Kitchen, Barnwood, Hungry As A Wolf, Timbers Tacos, and Ben & Jerry's. And all were great!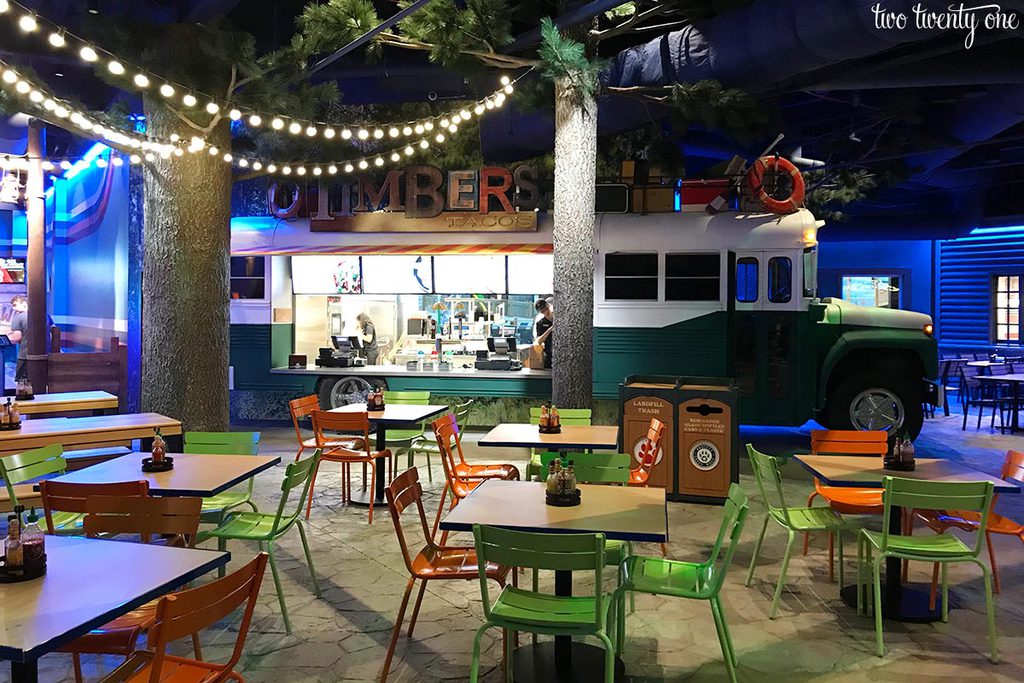 Our favorite restaurant was Timber Tacos. The chicken tacos were delicious, as were the nachos, which were massive– definitely enough for two people to share. And I'm proud to say Owen ate his very first churro during our stay at Great Wolf Lodge. Consequently, I had to fight him off from eating mine as well.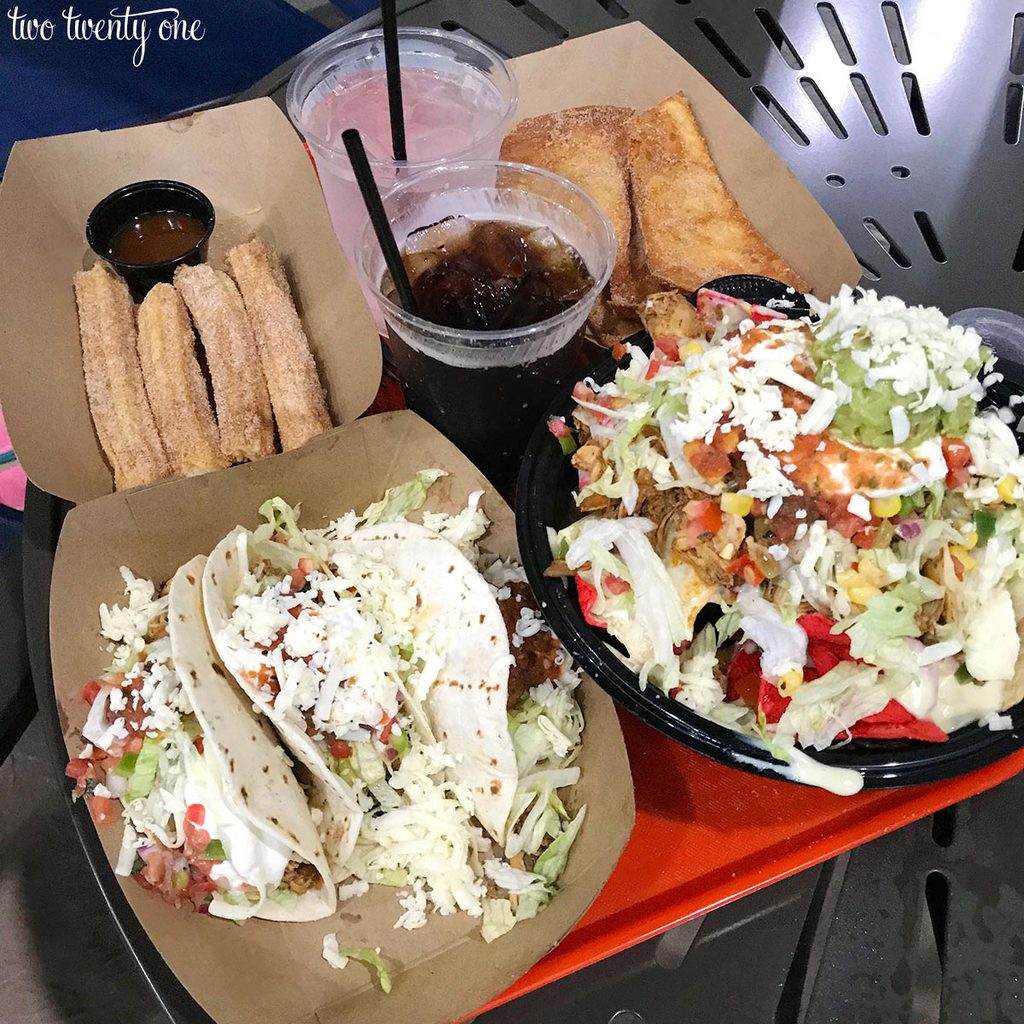 Free Activities
Throughout the day, there are different free activities for kids– morning yoga, Northwood Friends show & character appearances, games, craft time, and more. Owen enjoyed meeting Wiley.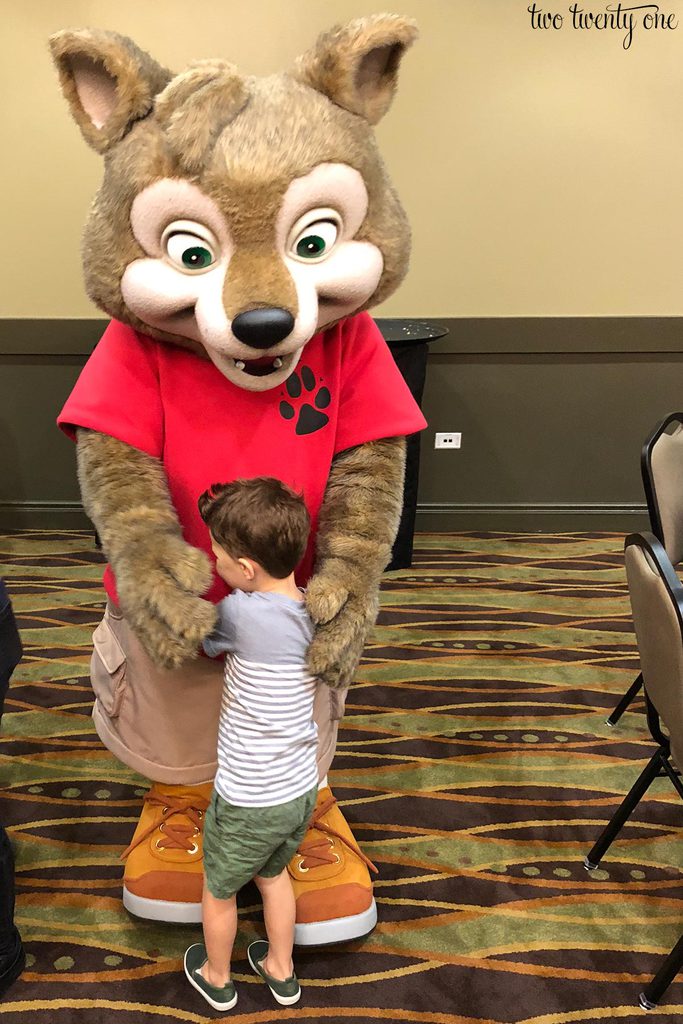 Every night there's story time followed by a dance party to work the wiggles out before bed.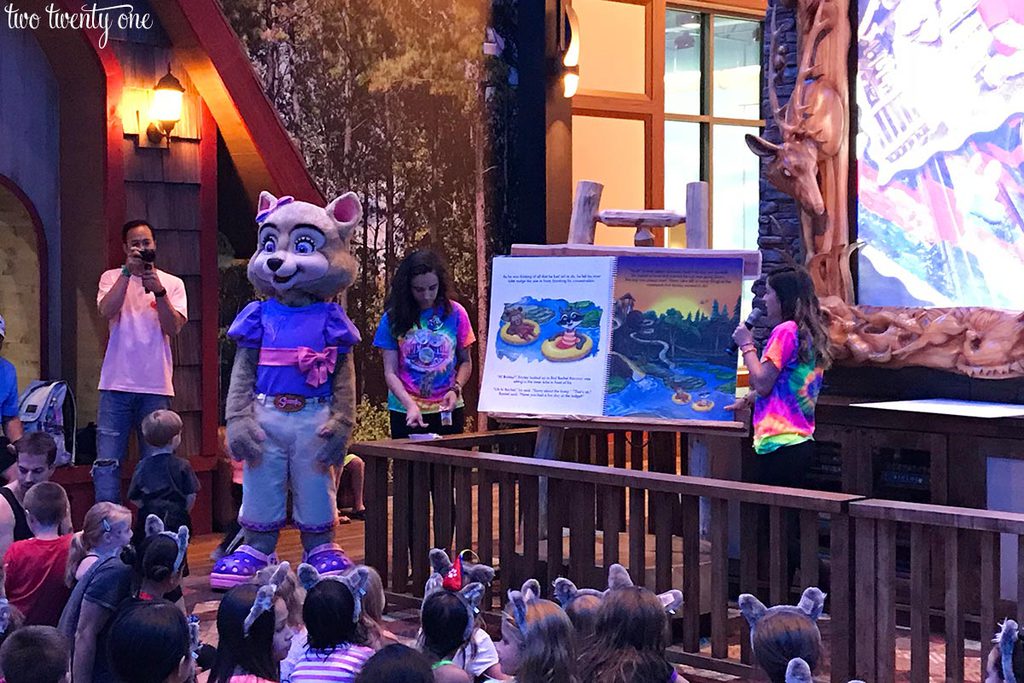 Ways to Save Money at Great Wolf Lodge
Bring Your Own Food
The biggest way to save money at GWL is to bring your own food.
There are mini fridges in each room at the Gurnee GWL. So you can pack a cooler of food and store perishable items in the mini fridge.
I'd suggest bringing easy breakfast (cereal/protein bars, yogurt, etc.), lunch (sandwich-making foods, pretzels, fruit, etc.), and snack foods for to eat during the day. Then eat at one of the restaurants for dinner.
Skip the Additional Attractions
The additional attractions aren't necessary for a fun time. Or before going, ask your kids if they'd be interested in any of the additional activities. If they are, tell them they can use some of their holiday or birthday money to pay for the activities.
Sign Up for GWL Emails
GWL often sends out promo emails for up to 50% off your stay.
Conclusion
We really enjoyed our stay at Great Wolf Lodge Gurnee. I'd definitely recommend it for a weekend family getaway, especially if you have kids in the 5-10 age range.
We were given the opportunity to visit Great Wolf Lodge. As always, opinions are 100% my own.