This post is sponsored by Pier 1. As always, opinions are 100% my own.
I know there are different types of people out there. There's those who buy a gift 10 minutes before their scheduled arrival time at a holiday function. Those who meticulously wrap each and every gift, paying close attention to the details. And those who fall somewhere in between. And Pier 1 has great gift wrapping options for every type of gift wrapper.
I wanted to share some Gift Wrapping 101 tips for every kind of gift wrapper out there. I'll start easy and get to the more complicated, time-consuming wrapping.
I love the bottle decor and wine bags at Pier 1. You can grab a bottle bag to slip a bottle into. I fell in love with this bottle stole— perfect for a glam-loving friend.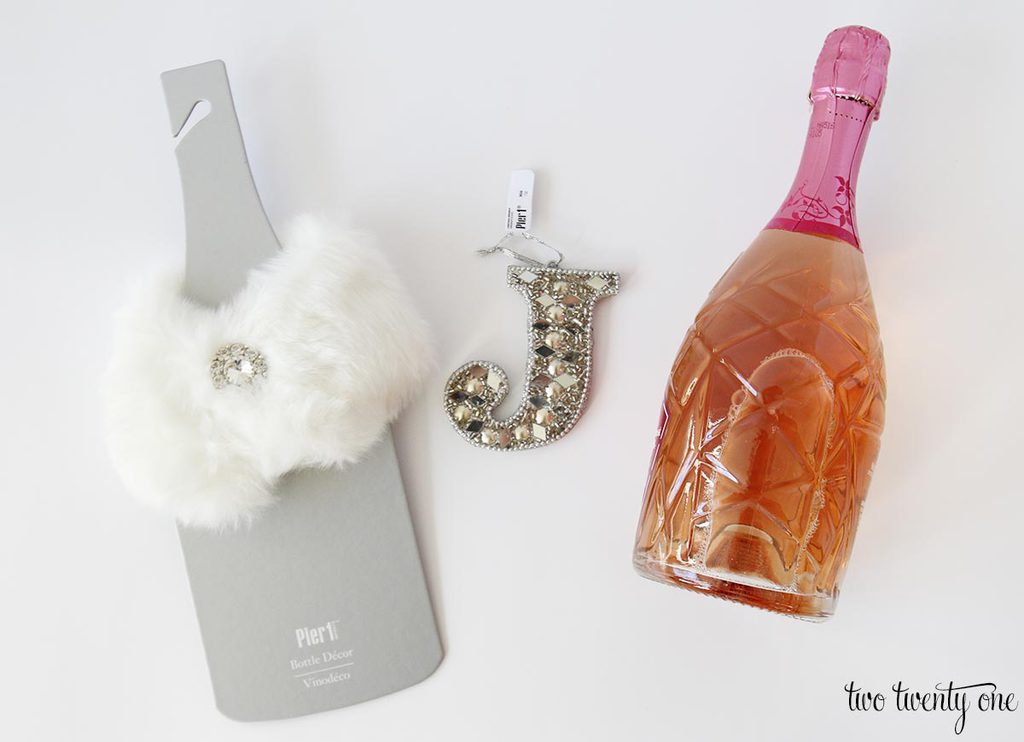 I thought it'd be cute to add a little personalization so I also picked up this shiny monogram ornament. I used some clear tape to secure it to the bottle, under where the stole would go.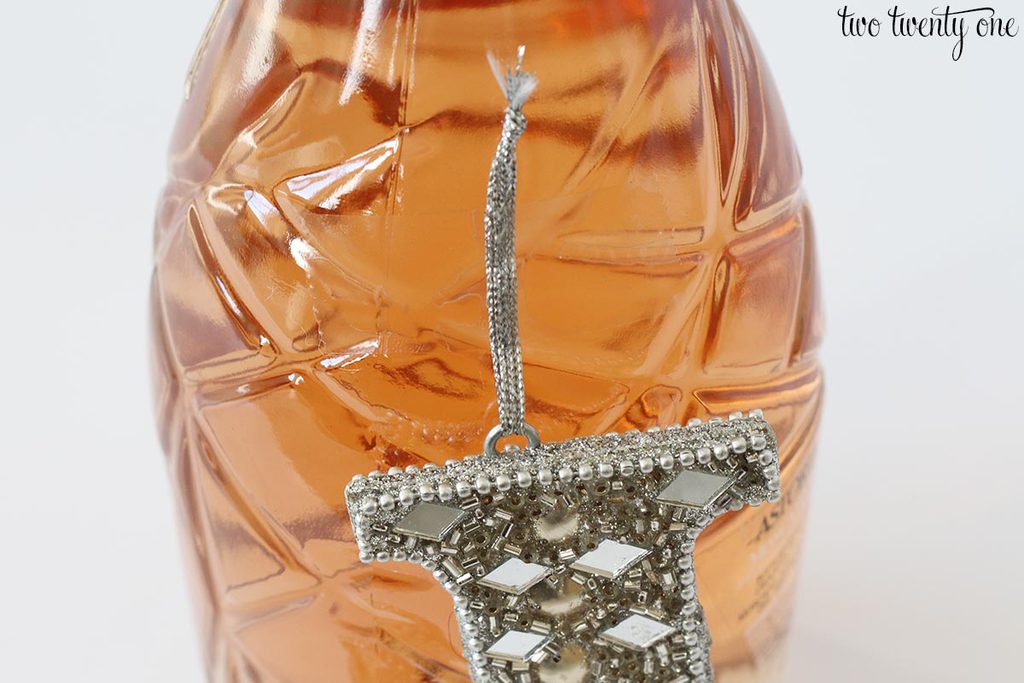 And in less than 2 minutes, I was able to dress up a plain bottle of sparkling wine while also personalizing it.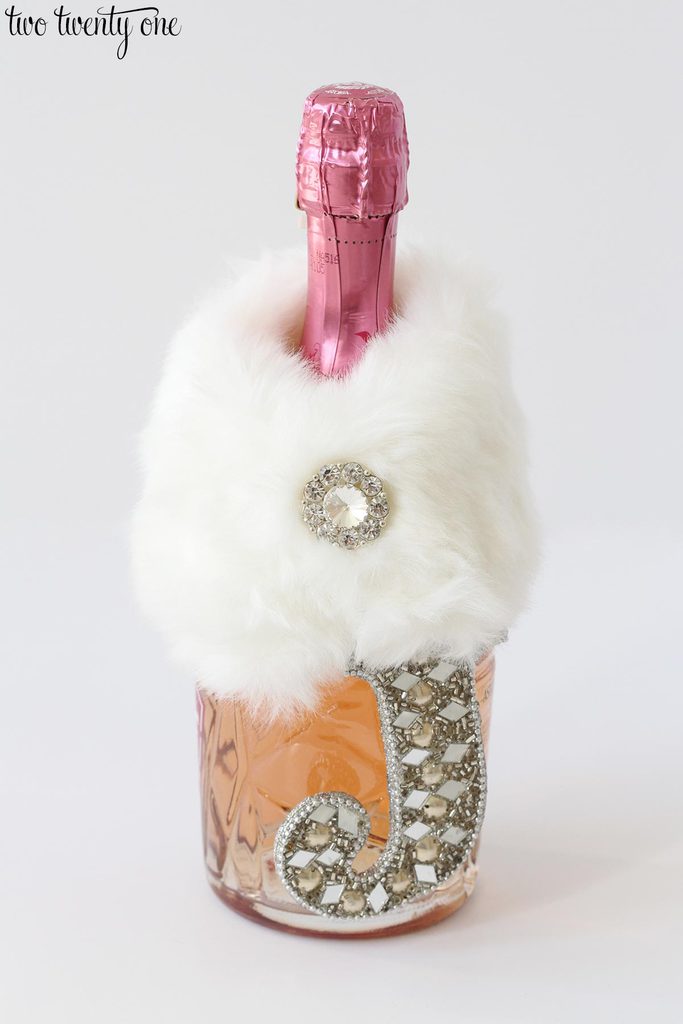 There's no shame in putting a gift in a gift bag and topping it off with some tissue paper.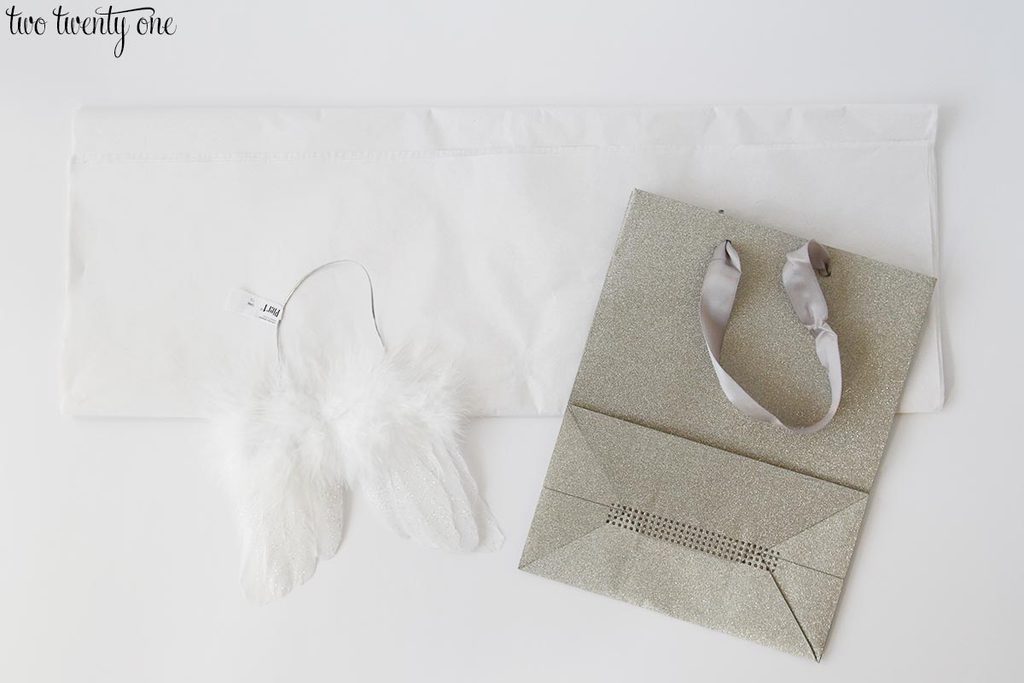 But to give the gift a little something extra, I taped a feather angel wings ornament to the inside of the bag so outside would look a little more thoughtful.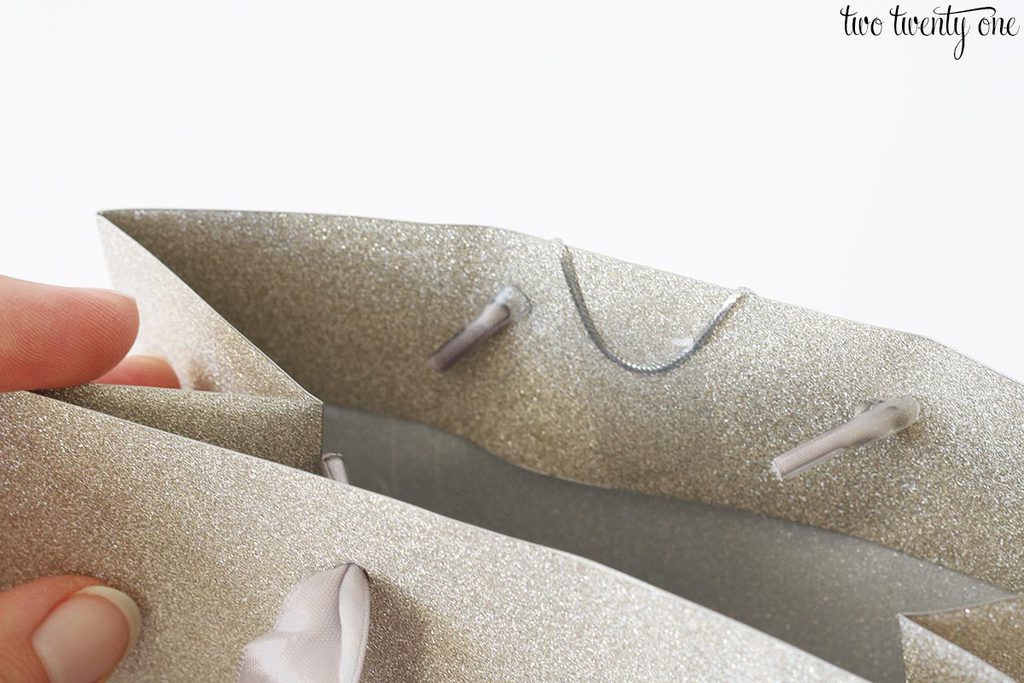 The gift looks a lot better with the added angel wings ornament. Plus, the gift recipient can keep the ornament as part of their gift.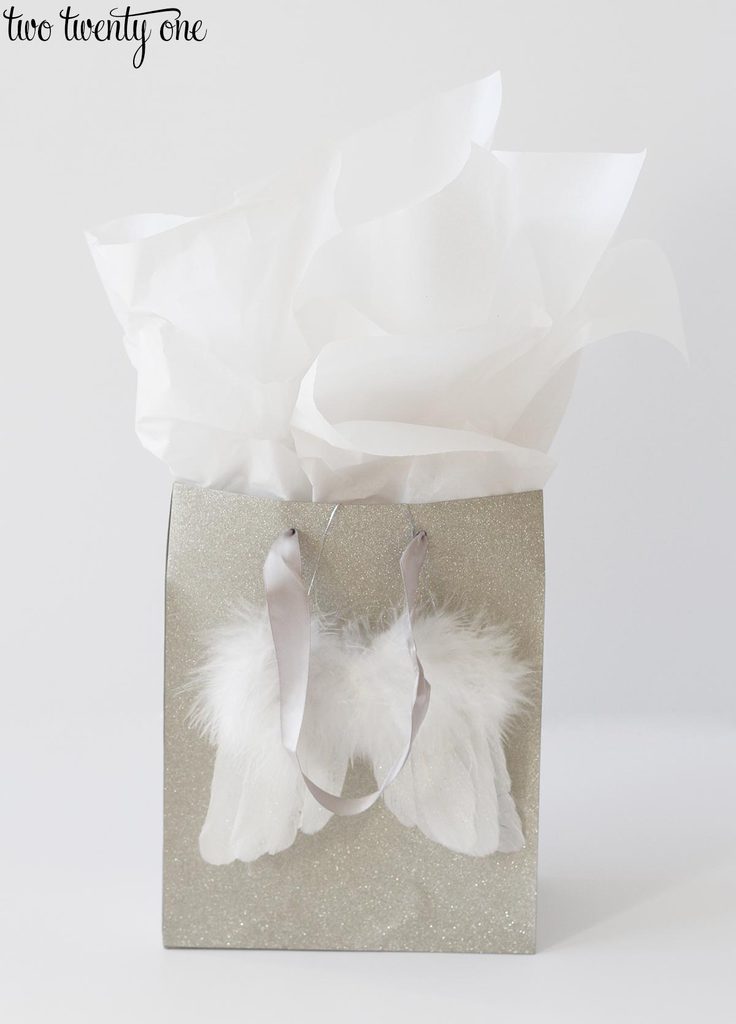 Never underestimate the power of a kitchen towel. If you're giving a smaller gift, say a mug with wrapped chocolates, wrap the chocolates in the kitchen towel.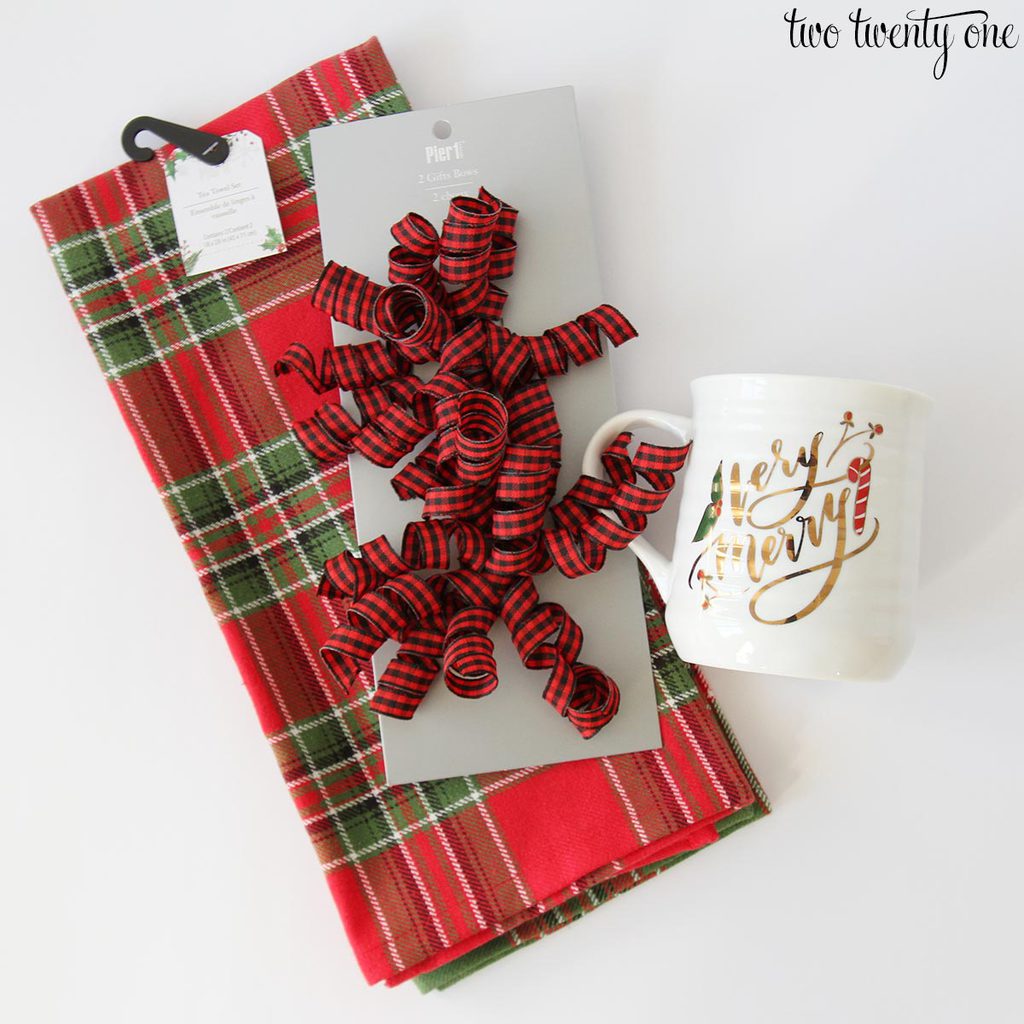 Then, tie off the bundled up towel, with the chocolates in the center, with some ribbon.
Top the ribbon with a pretty bow, and you're all set!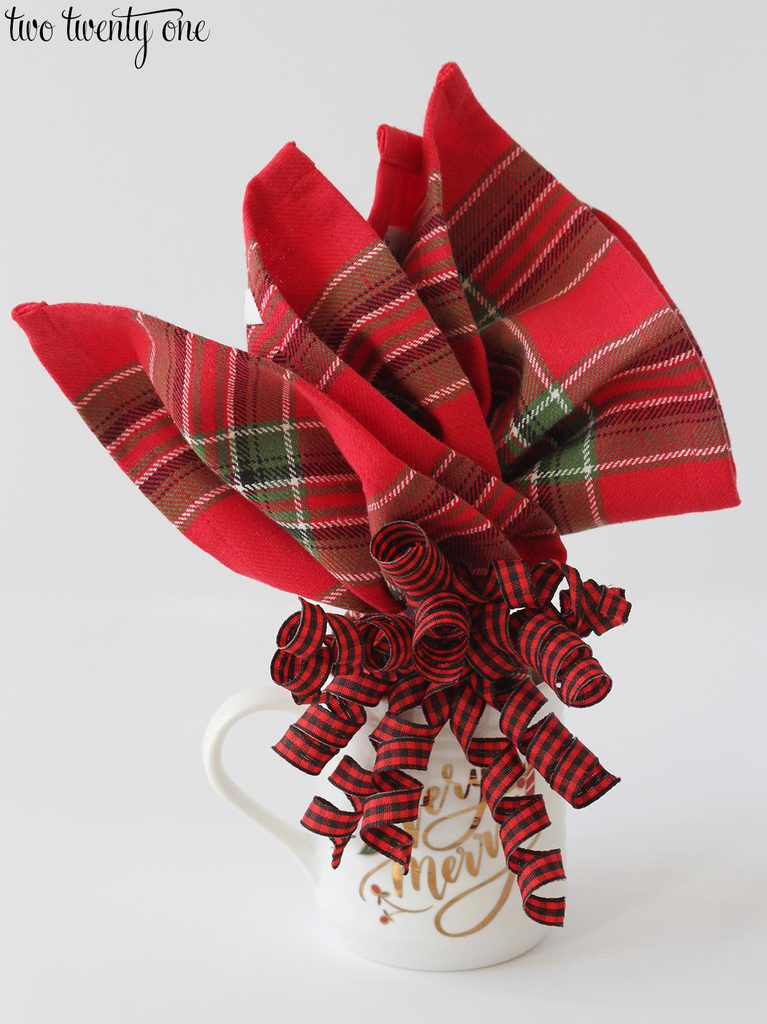 If you're more into traditional gift wrapping methods, wrap your gift accordingly. (This plaid embossed wrapping paper is beautiful.)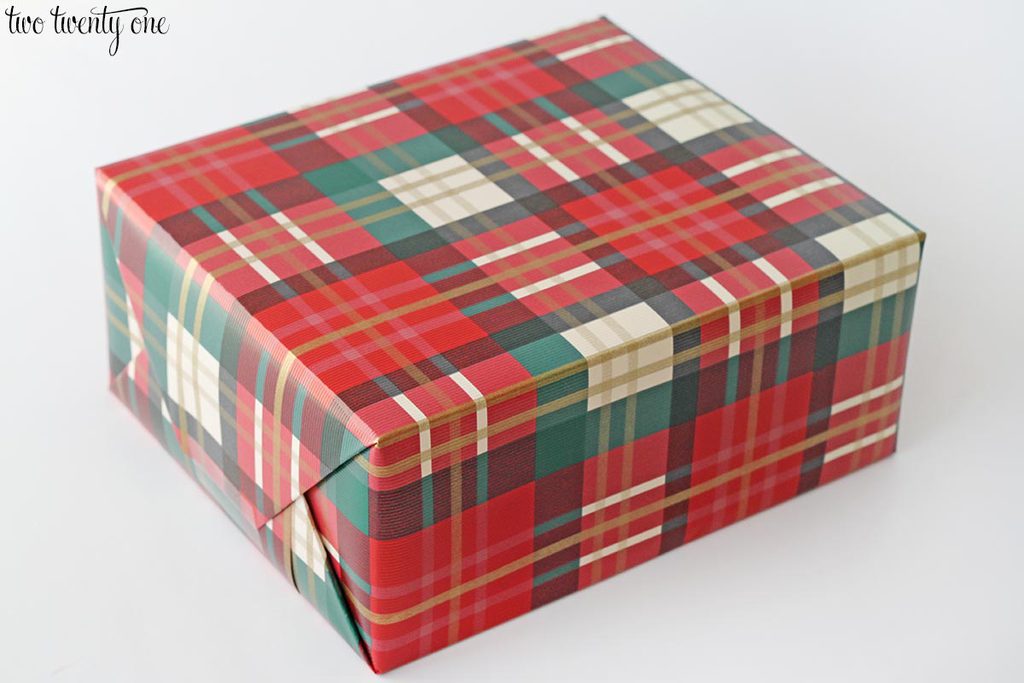 Find a cute gift tag/accessory and tape it onto the box. I chose this jingle bell gift tag. Top it with a bow.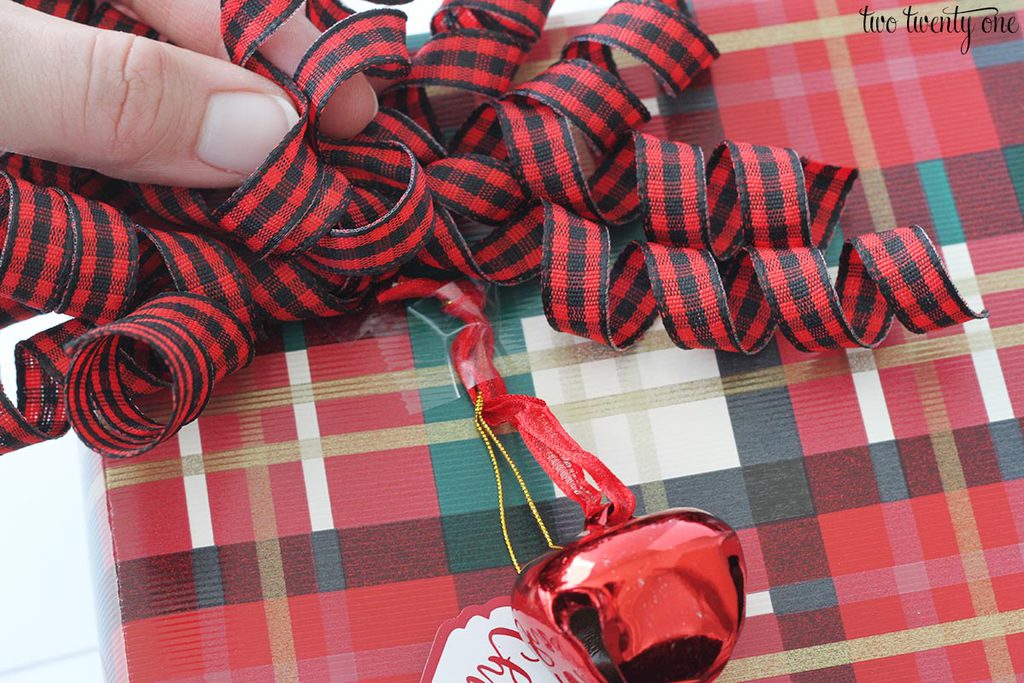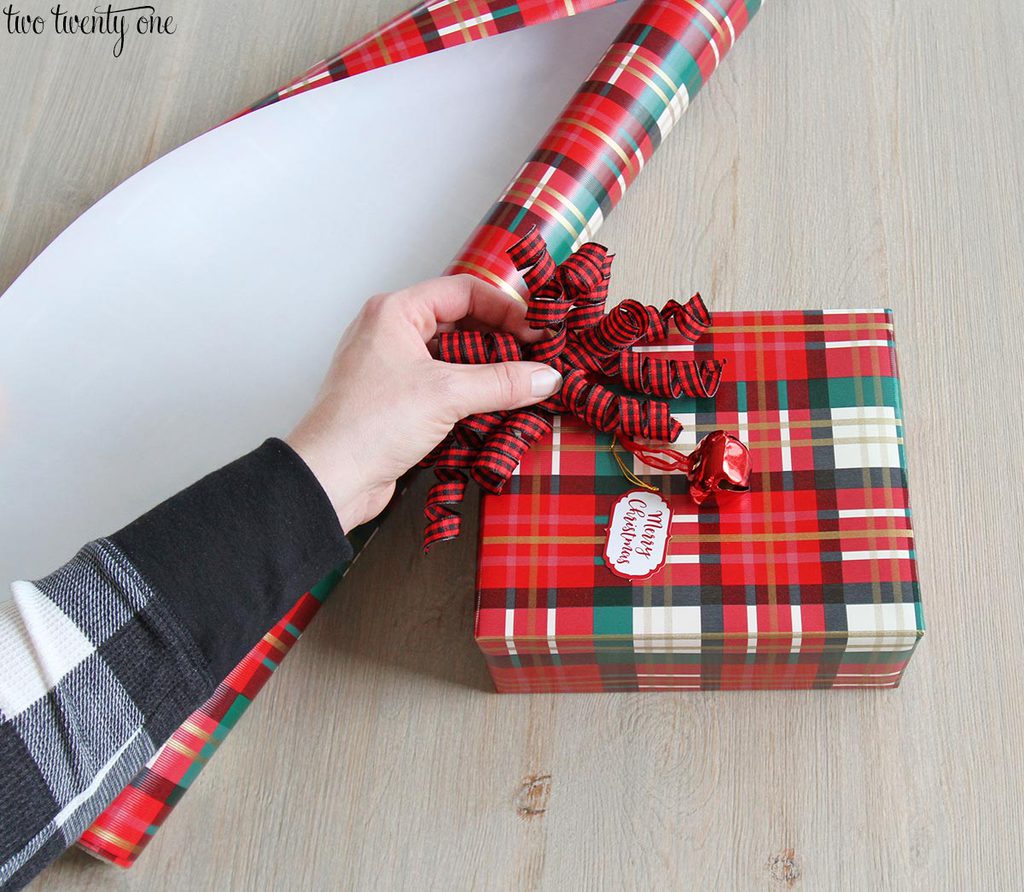 Buying pre-made bows definitely speeds things along.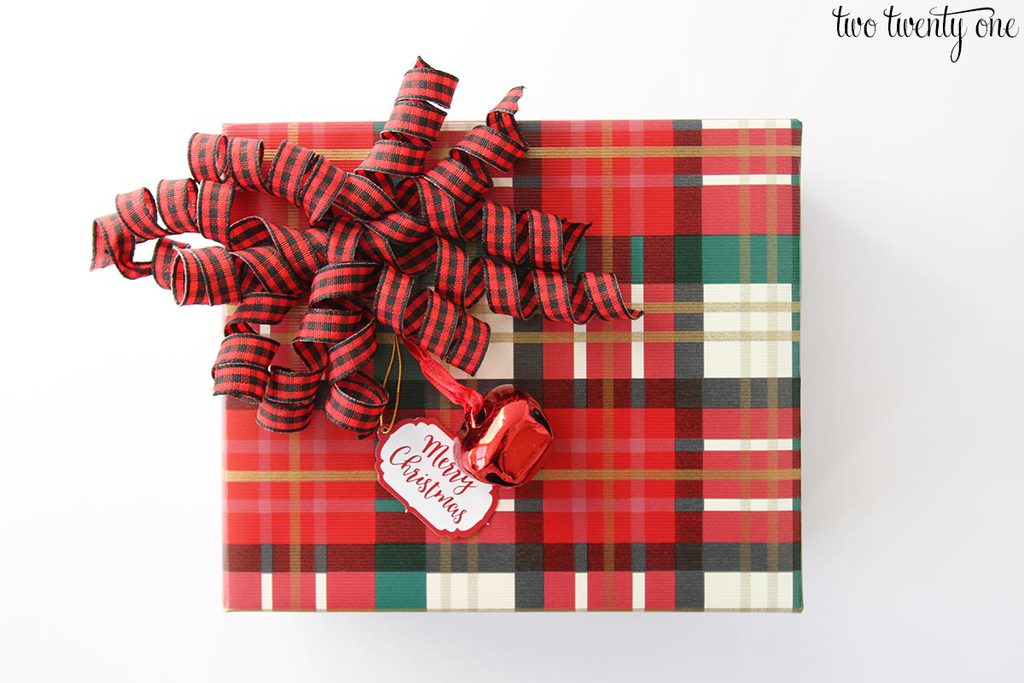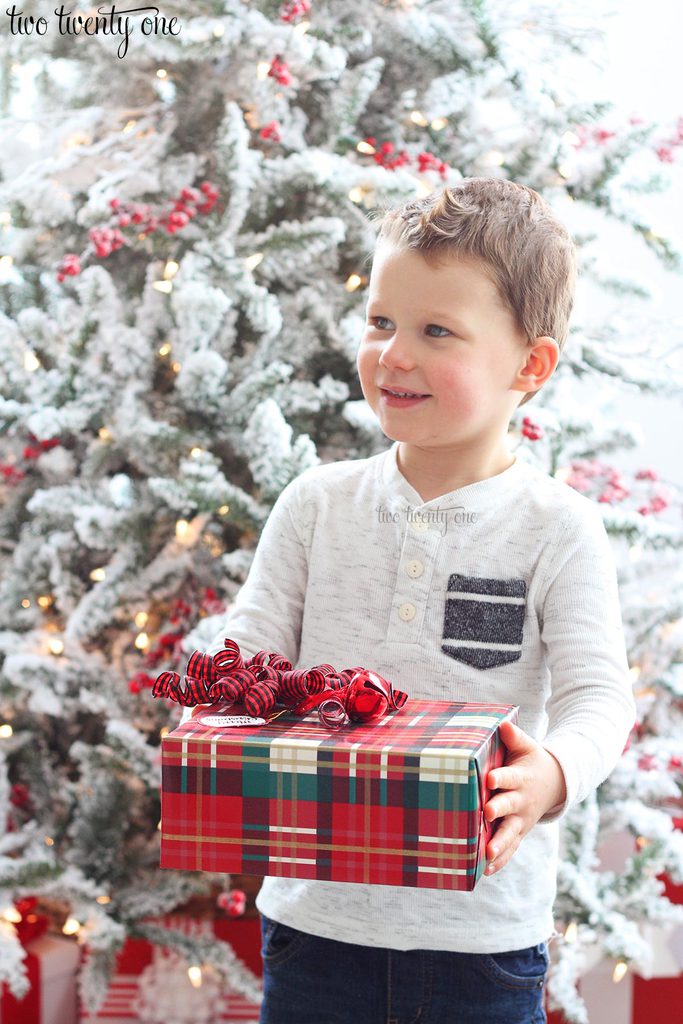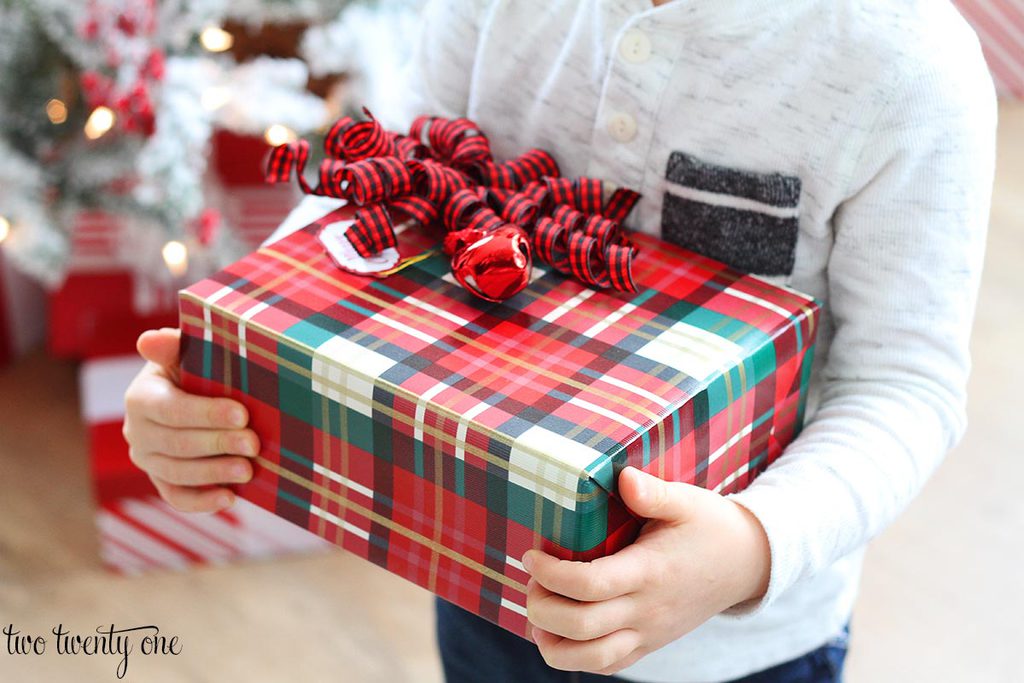 But let's say you want to make your own bow.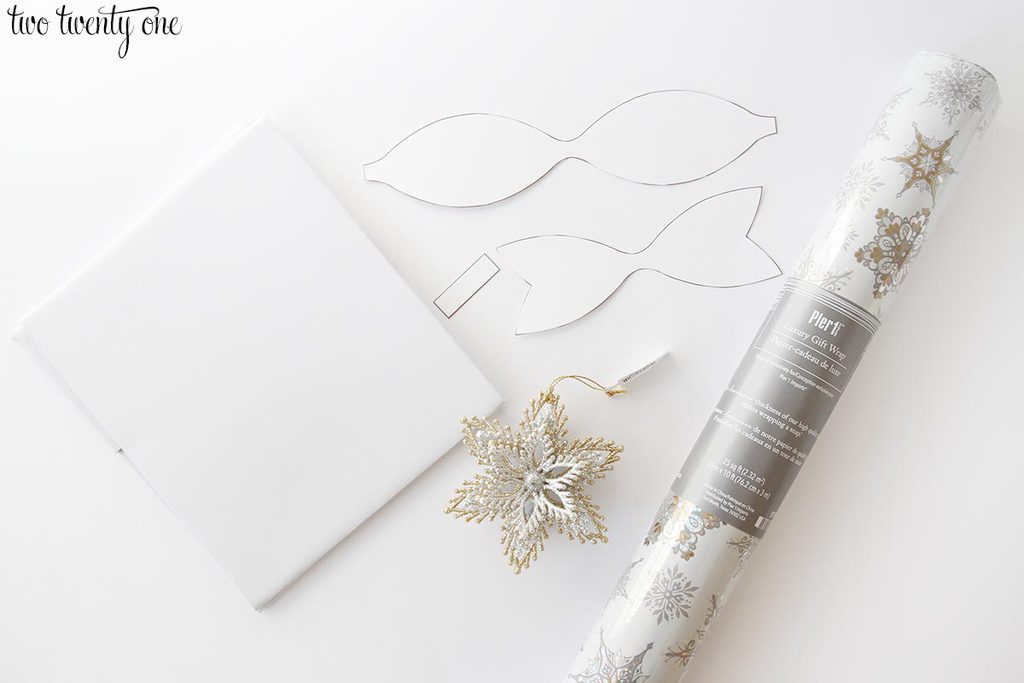 Print this template onto card stock. Trace it onto the backside of the wrapping paper with a pencil, and then cut out the pieces with scissors.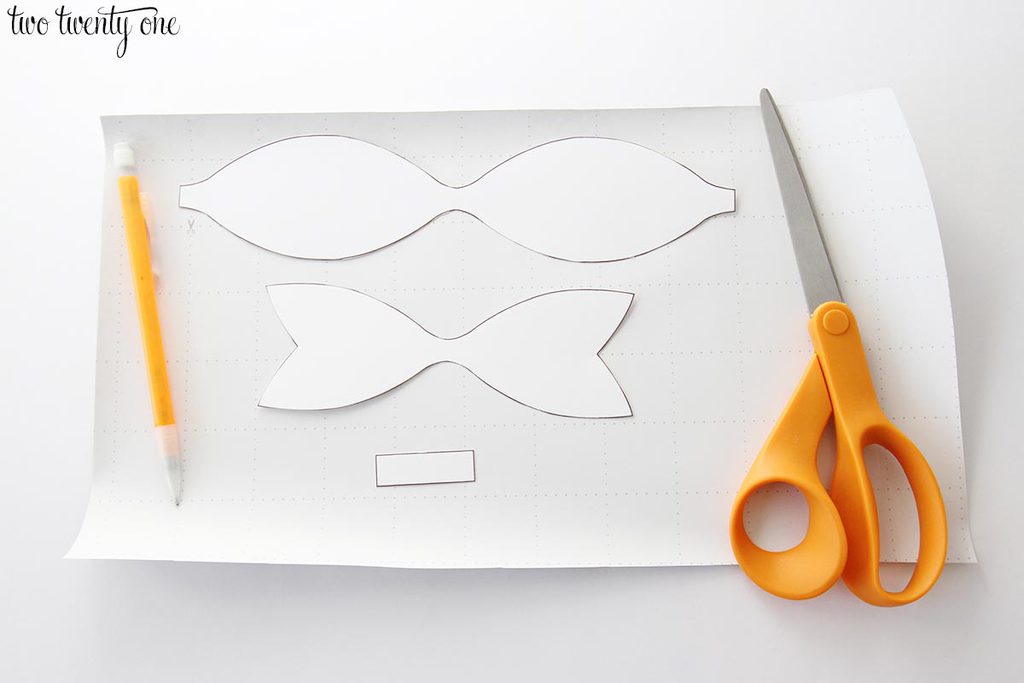 Fold the long piece in on itself and secure it with double tape. Wrap the smallest piece around the center. Then, use a piece of double-sided tape to secure the looped part of the bow to the tails.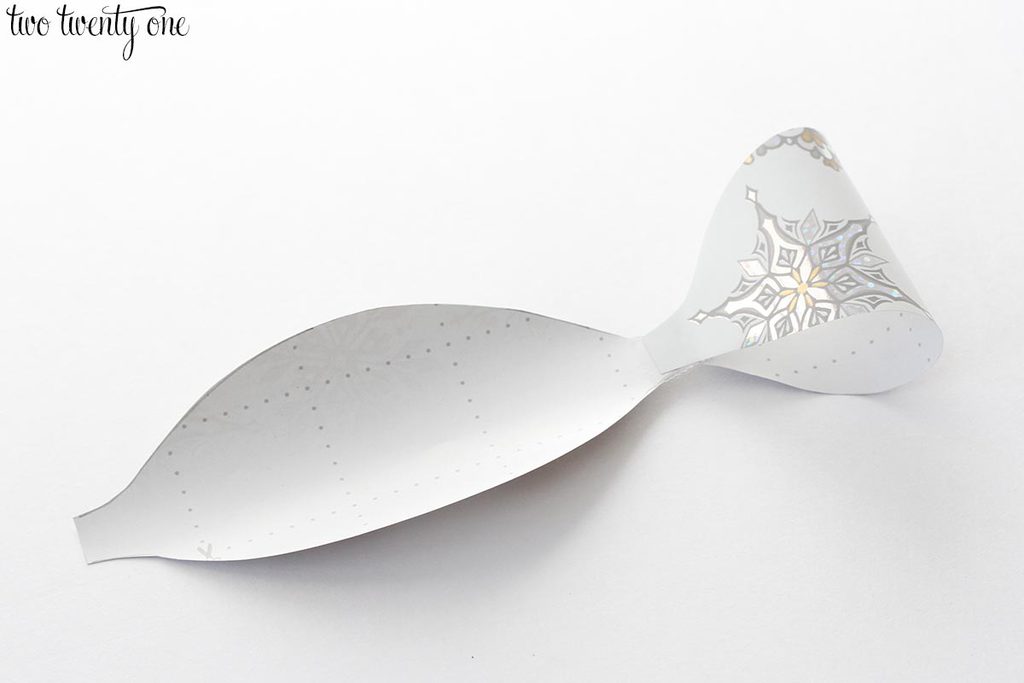 To add a little more sparkle to the gift, I grabbed this matching ornament and taped it onto the top of the box.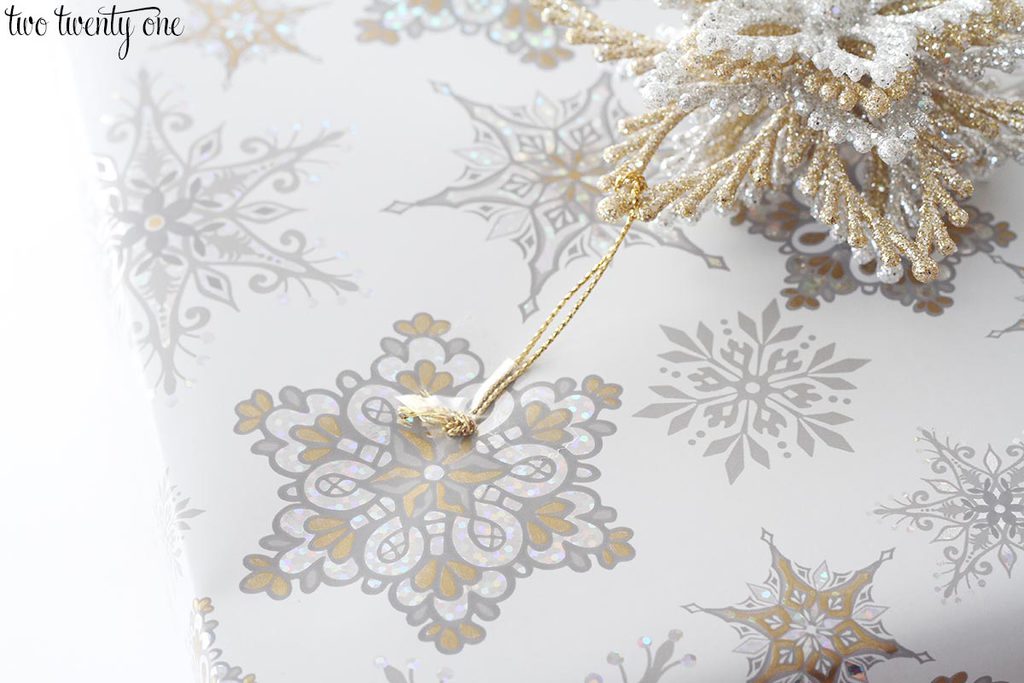 If you have coordinating wrapping paper, you can always wrap the gift in one paper and make the bow with the other wrapping paper.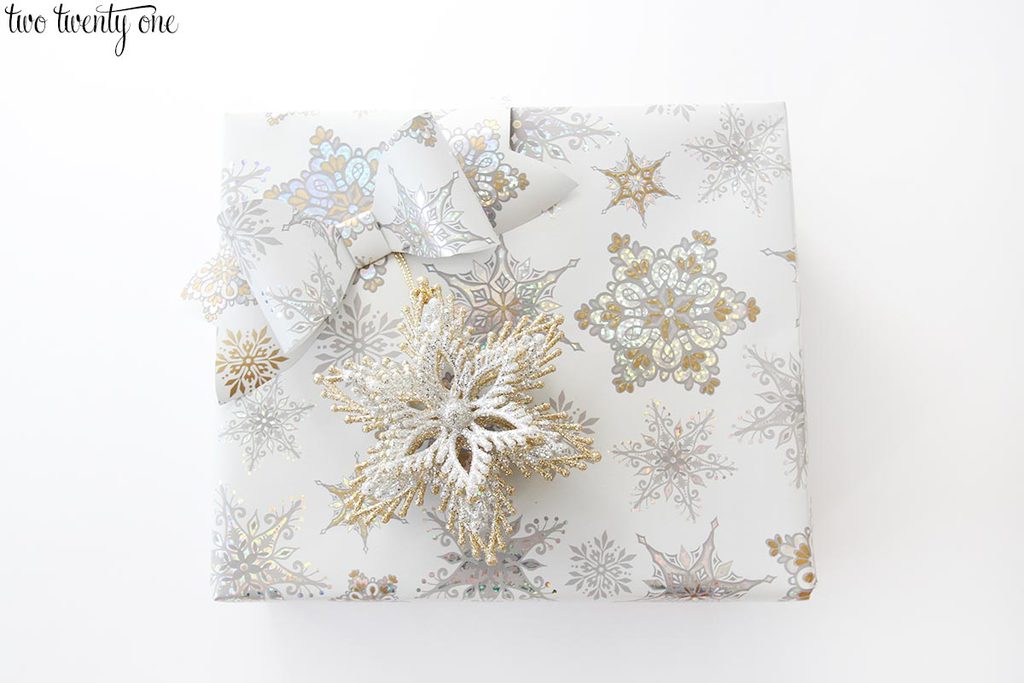 And thanks to Pier 1, I'm giving away a $25 Pier 1 gift card to one lucky winner! To enter, leave one comment stating your go-to gift wrapping method.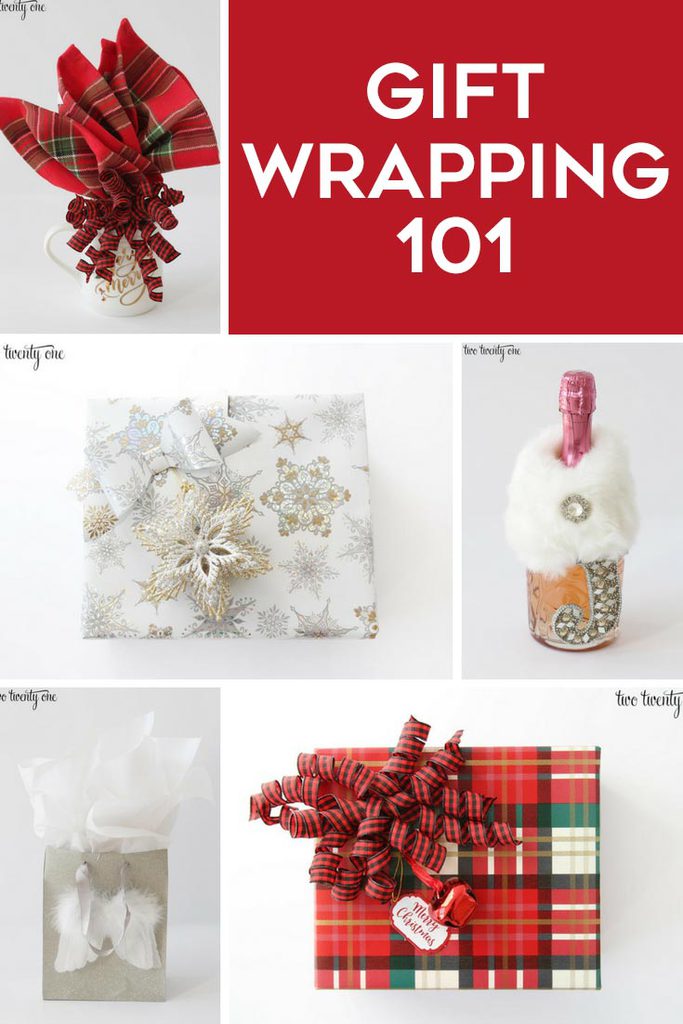 This post is sponsored by Pier 1. As always, opinions are 100% my own.