Organized Playroom Shelves
Like most of the rooms in the new house, the play room is a work in progress. Mostly because there's still work that needs to be done by our builder in this area of the house. Shocking, I know. But I have managed to get some storage in the area, starting with these organized playroom shelves that run along one of the sets of windows. I'd love to add cushions to the tops of the shelving units one day to make them look more like a window seat.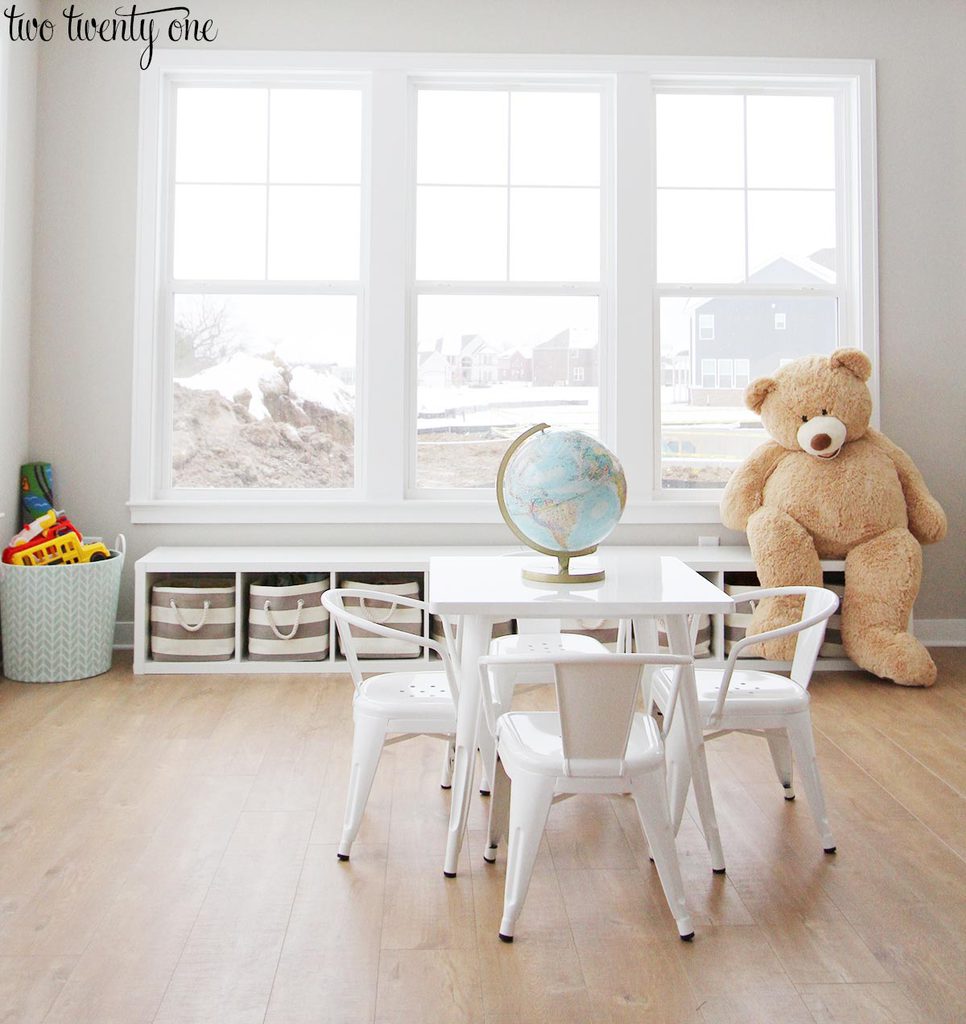 I used two 1×4 IKEA Kallax shelving units (similar) paired with these bins. I love the bins because of their flexibility. Owen can sit on them, and they won't break.
Four of the bins are originally from Owen's bedroom closet. Then I ordered four more this summer. Since they were purchased a few years apart, the color is slightly off but it doesn't bug me that much. I decided to go with gray but I made change things up down the road and get more colorful bins.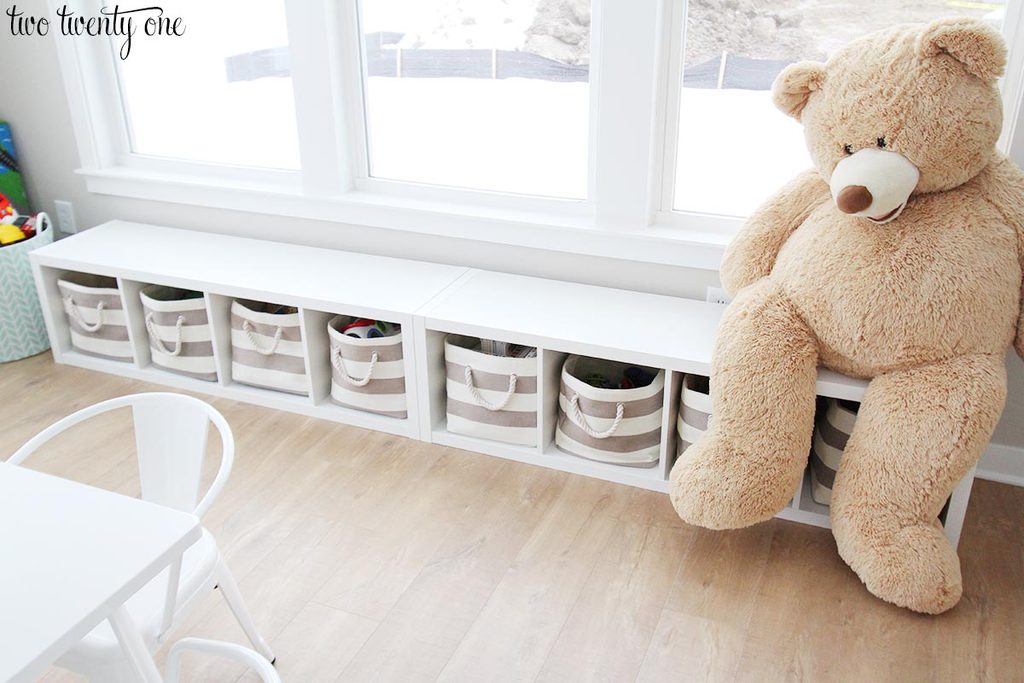 Each bin is organized by toy. The first bin has fine motor toys like these and these, which I store in dollar store mesh laundry bags (similar).
Bin #2 is used for wooden puzzles. I used dollar store pencil pouches (similar) to store the pieces. This works out nicely because Owen has to match the pieces in the pencil pouch to the puzzle board. In hindsight, I should've bought more pencil pouches. So learn from my mistake and buy as many as possible if you like things to match.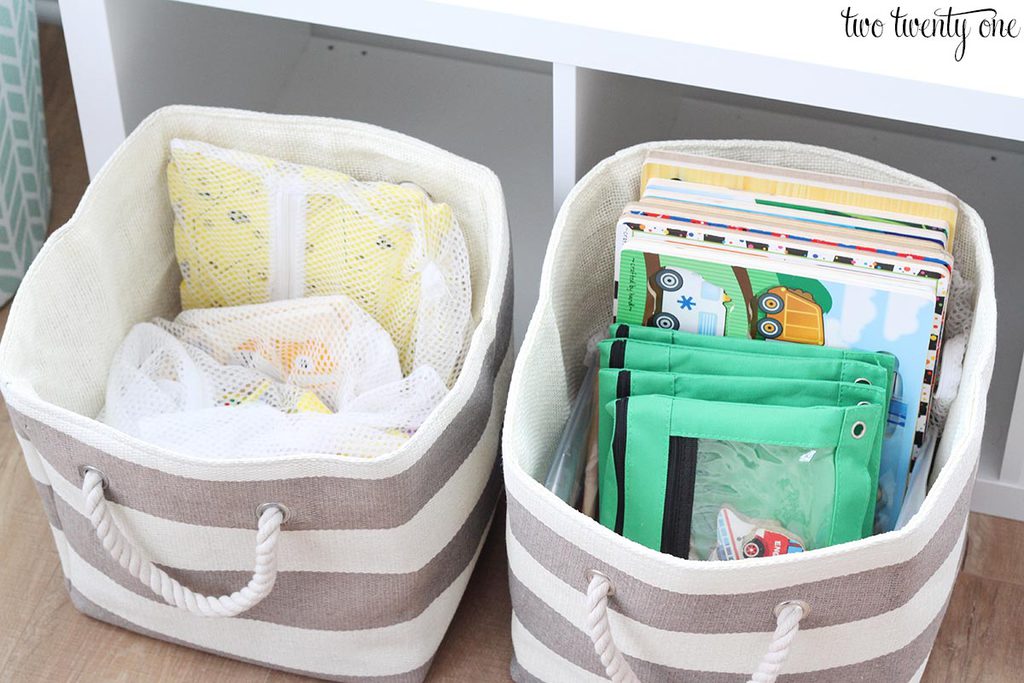 The third bin has more puzzles, which aren't really age-appropriate for Owen anymore, but with a baby on the way, I'll probably just keep them there. That bin also has some flashcards.
Bin #4 is for all of Owen's Little People animals, people, accessories, and a couple of his larger Little People toys, like the mini barn and airplane.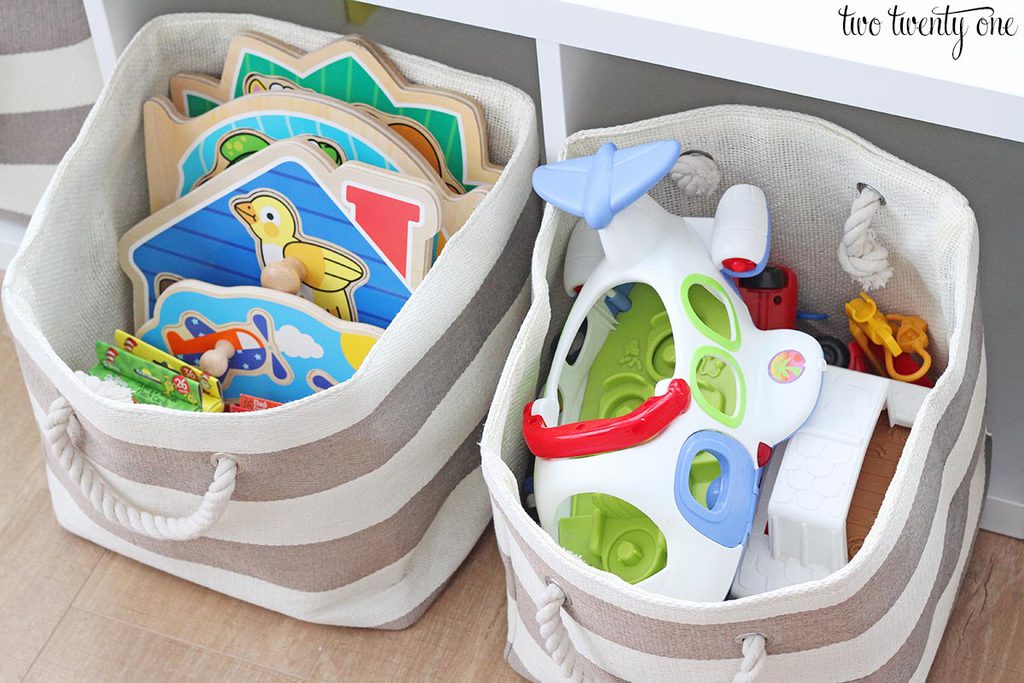 Moving on to the other shelving unit, the fifth bin is from his overflow of books. The sixth bin is home to all of his various vehicles– Matchbox, Oball, Green Toy, etc. Basically, if it has wheels, it's tossed into this bin.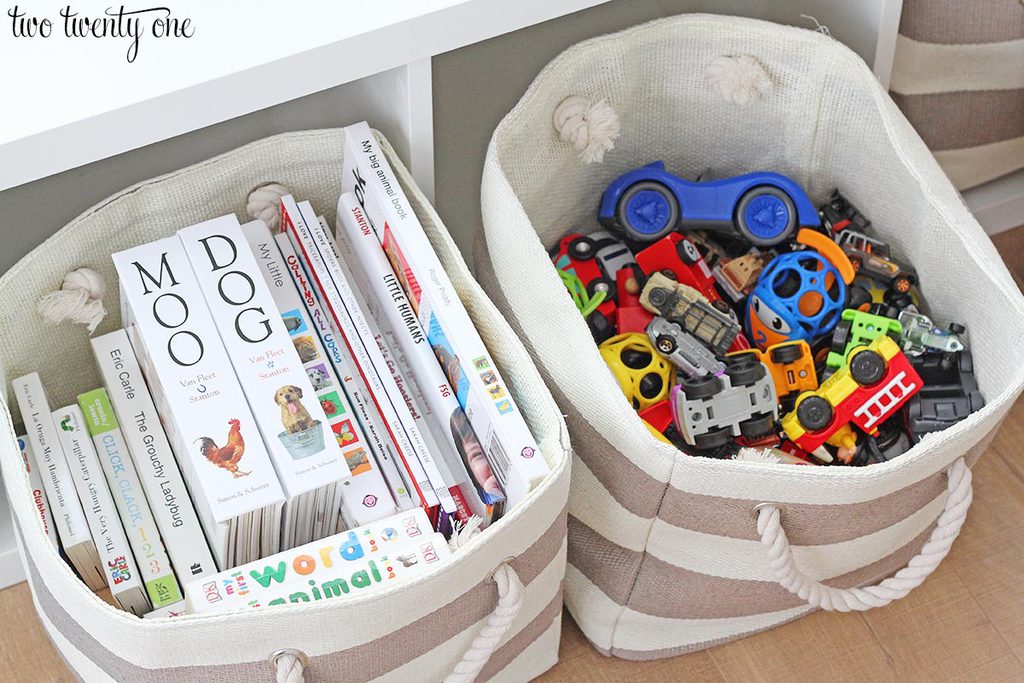 Bin #7 is for Mr. Potato Head. All the accessories are shown inside the massive Mr. Potato Head. The eighth and final bin is home to all of Owen's animals and dinosaurs.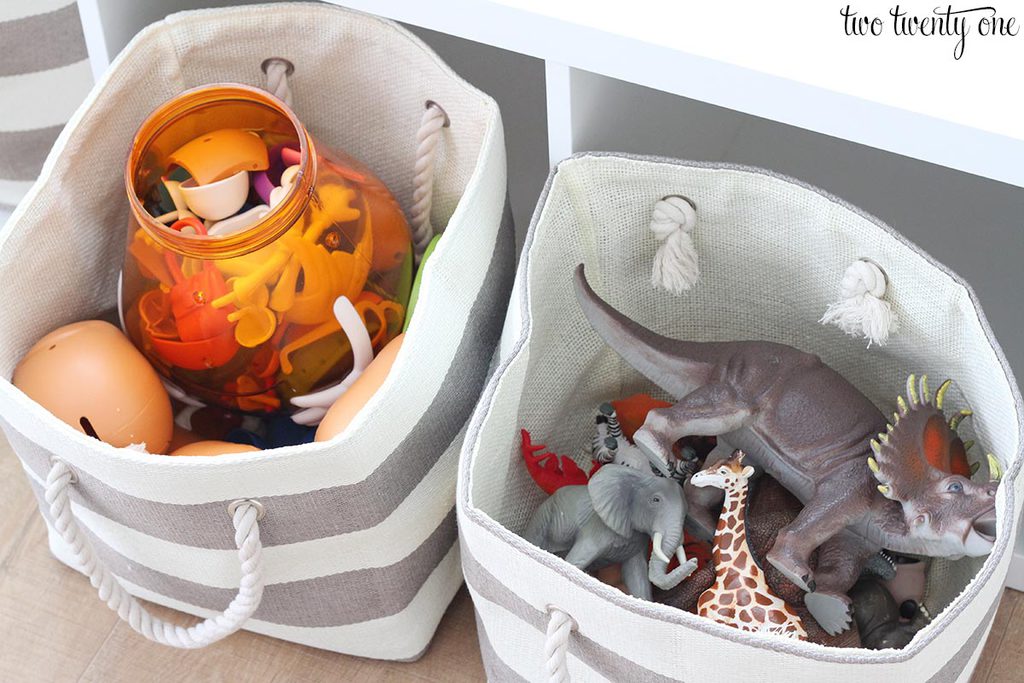 I use this fabric-covered laundry basket from HomeGoods in the corner to store his larger vehicles. And his rolled-up IKEA road and railroad track rug is tucked into the corner.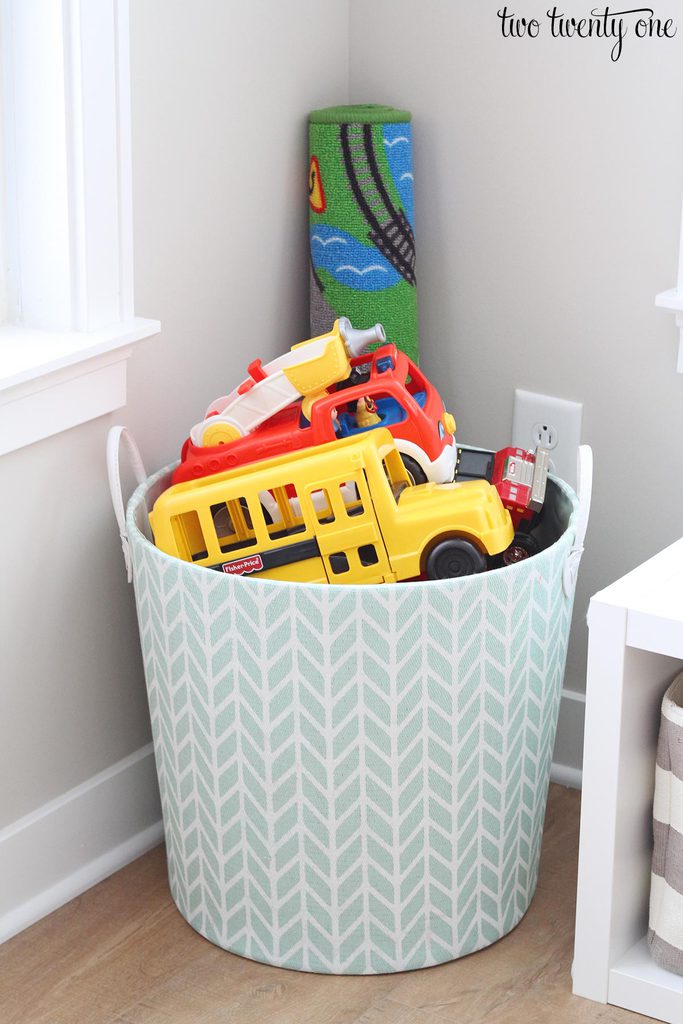 We also bought a table and chairs for the space. Our specific chairs aren't available anymore, but these are very similar.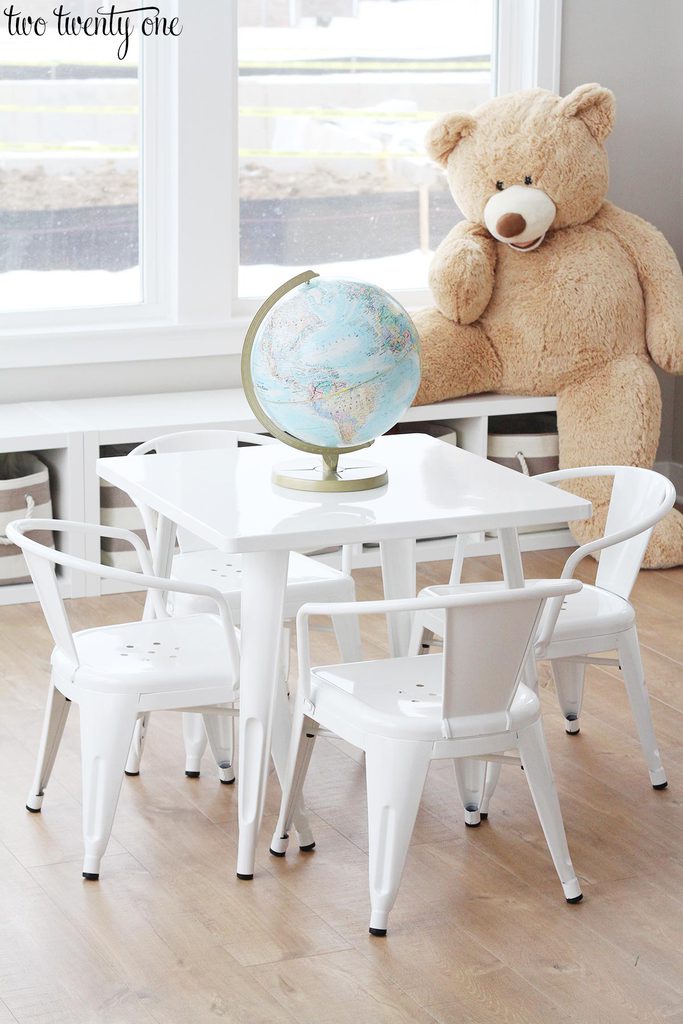 I've teamed up with some other talented bloggers who are sharing some kid-friendly organization, so be sure to check them out!
At Charlotte's House • Designer Trapped in a Lawyer's Body • DIY Decor Mom • Making Home Base