Easy Ways to Add Christmas Cheer to Kid Spaces
I'm not going to lie, I have more fun decorating the kids' playroom than any other room in our house. So I thought I'd share some easy ways to add Christmas cheer to kid spaces. Don't have kids? That's fine. A lot of these tips can be put to use in a non-kid home.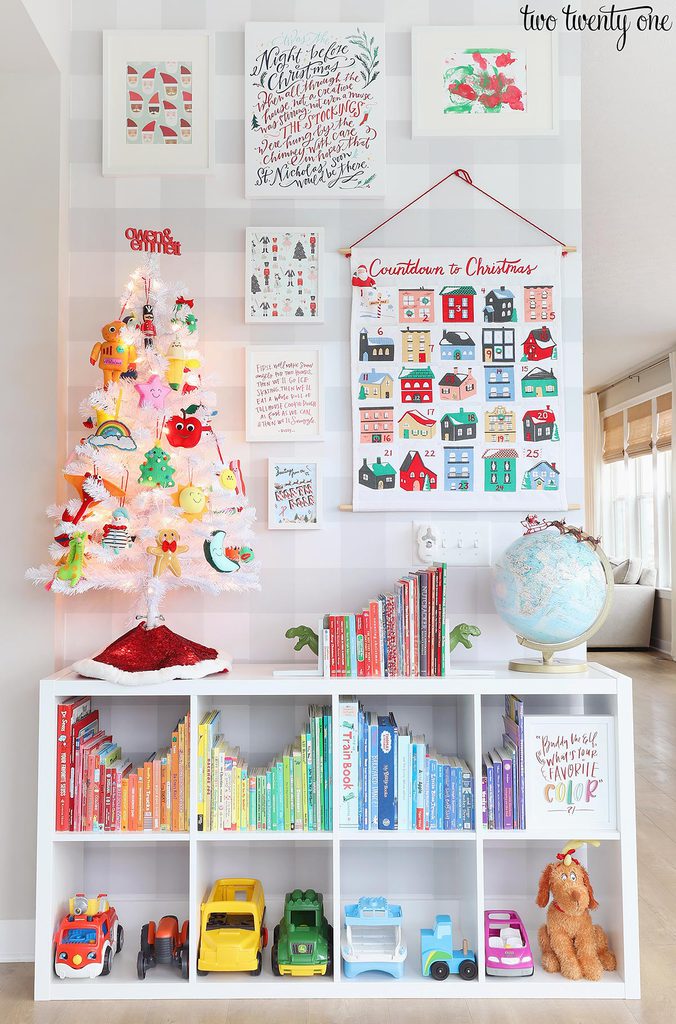 Decorate Everyday Objects
Instead of buying and storing tons of Christmas decorations, decorate what you already have with smaller things. A few years ago, I thought to add a Santa and reindeer to the globe in Owen's room. And to turn Louie, his giant Costco bear, into Santa Louie, I crafted a beard with faux fur, ribbon, and some hot glue. The beard folds up nicely, and I store it in a zippered bag.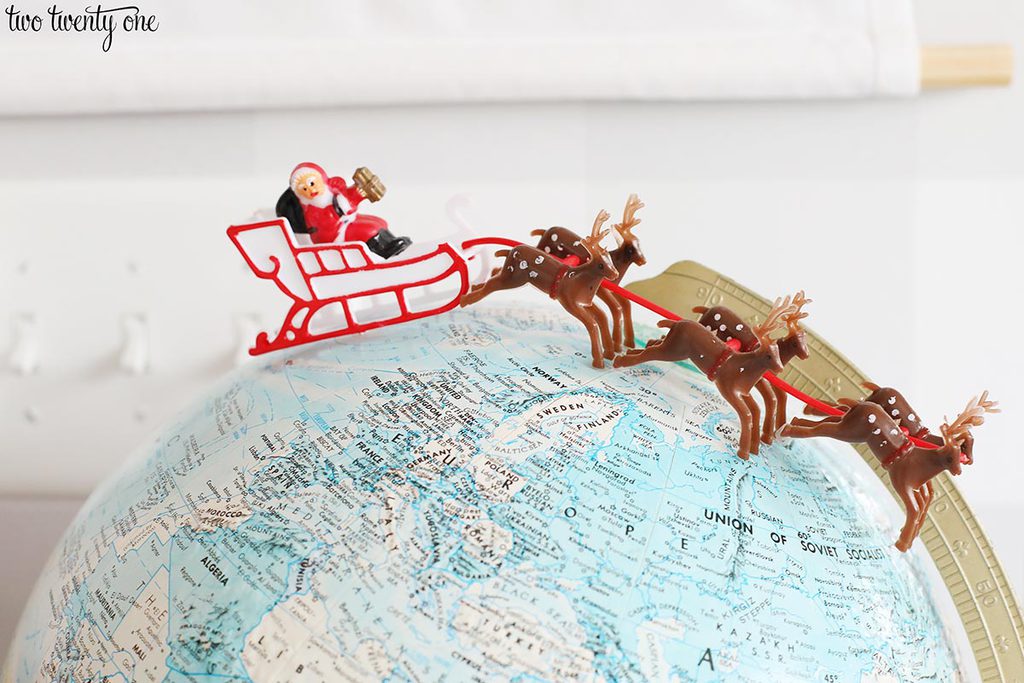 Add Garland
You can never go wrong with felted ball garland. It's timeless and fairly compact when stored away. And it's inexpensive. Most of my felted ball garlands cost $10 or less. This year, I added garland to the boys' teepee and play kitchen. And putting the garland on the teepee and kitchen took all of 3 minutes.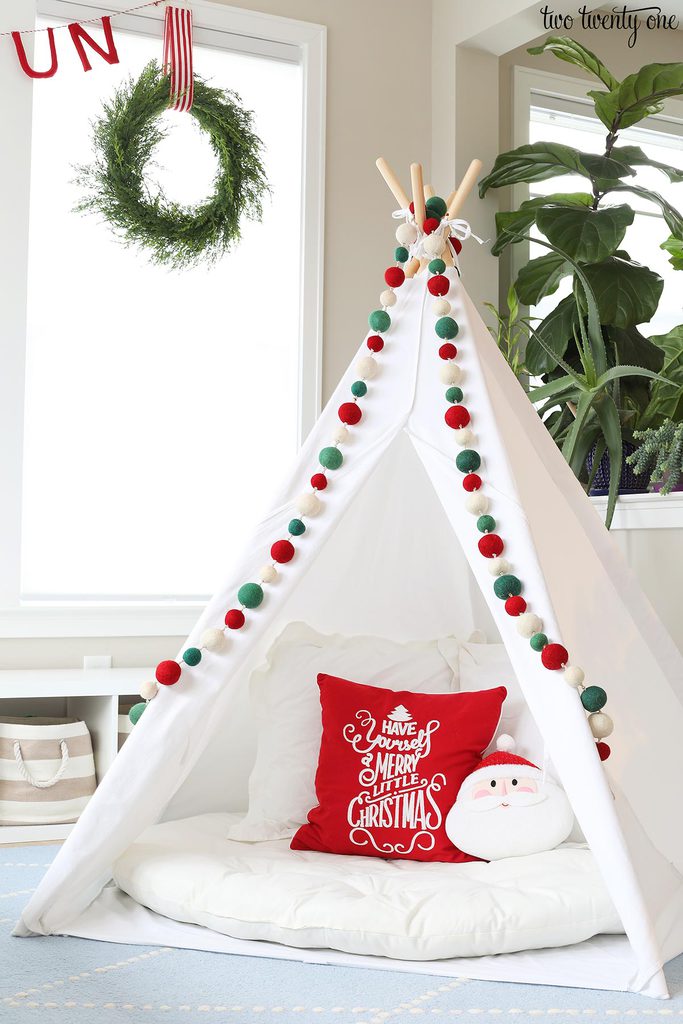 Swap Out Art
The gallery wall in the playroom is new, but once Christmas is over, I'll put more evergreen prints back in the frames. And you don't have to drop a bunch of money on traditional art prints. I used wrapping paper, a gift bag, a greeting card, and a painting by two-year-old Owen in IKEA frames. In total, all of the art cost around $5.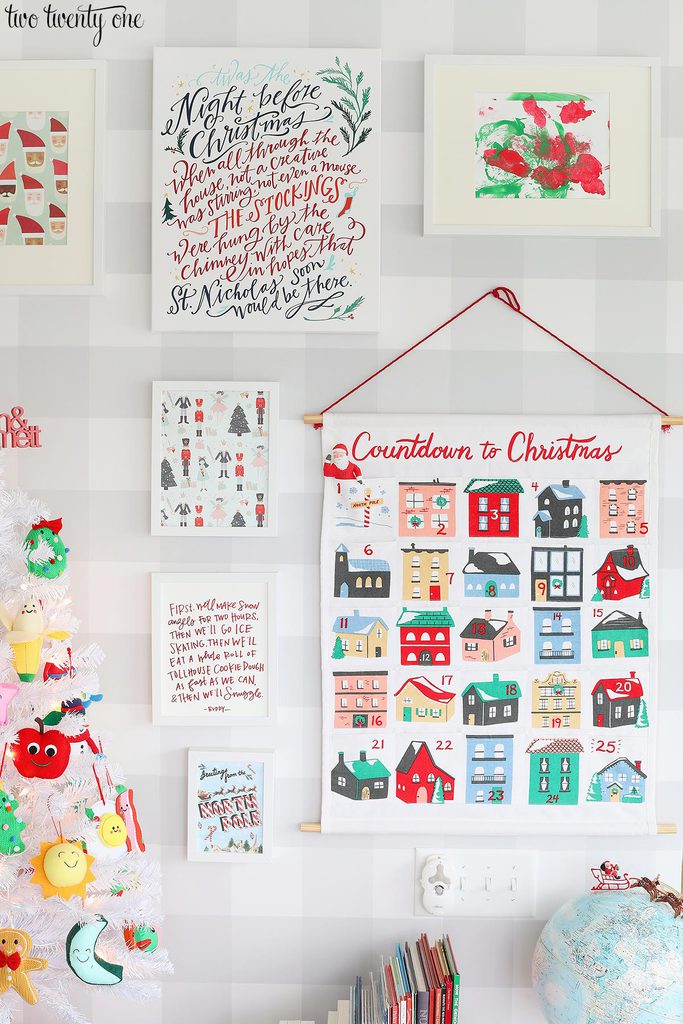 Dress Up Windows
We have a lot of windows in the playroom– 6 to be exact. To make one set of windows more of a focal point, I added two faux cedar wreaths and a banner. I measured the middle of the two outside windows and hammered in a small nail into the trim above each window. Then, I hung each wreath on the nails, and then hung the banner on top. All of this took about 10 minutes.
Tip: To better conceal the nails, paint them the same color as your wall.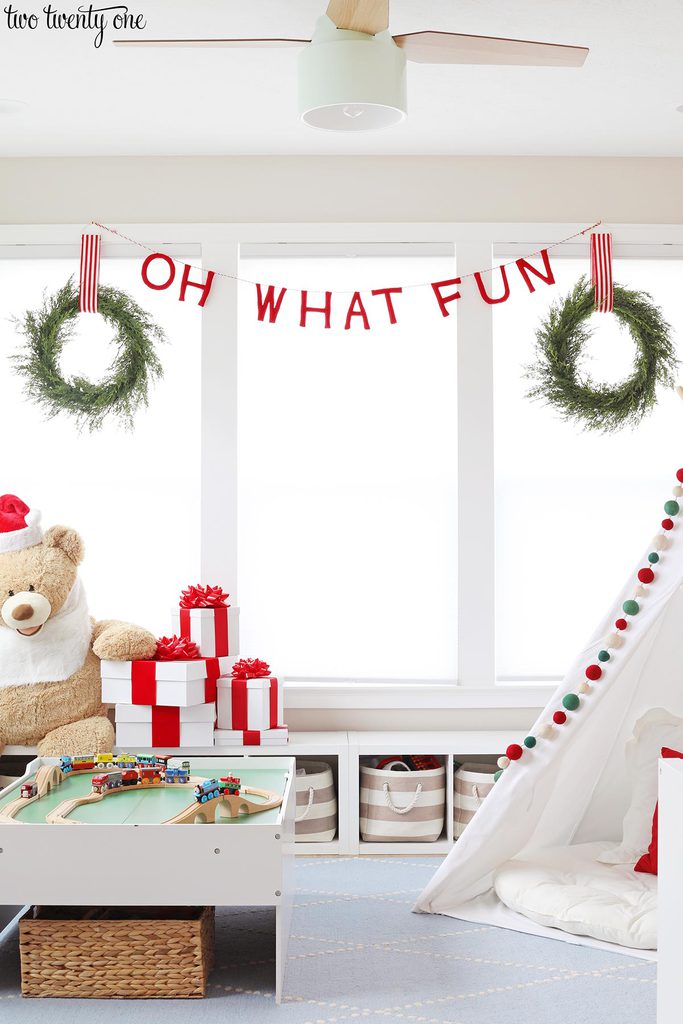 Decorate the Play Kitchen
Decorating the play kitchen is a fun task to have the kid(s) help you with. Owen requested a tree on top of his play kitchen so he could display the ornaments he's made. He also requested the red ceramic truck. The tin signs are from the Target dollar spot and Micheals– a day after Christmas score. I put various cookie cutters in a clear container for an easy, topical decoration.
Tip: Shop day after Christmas sales! That's when I get a lot of my Christmas decor.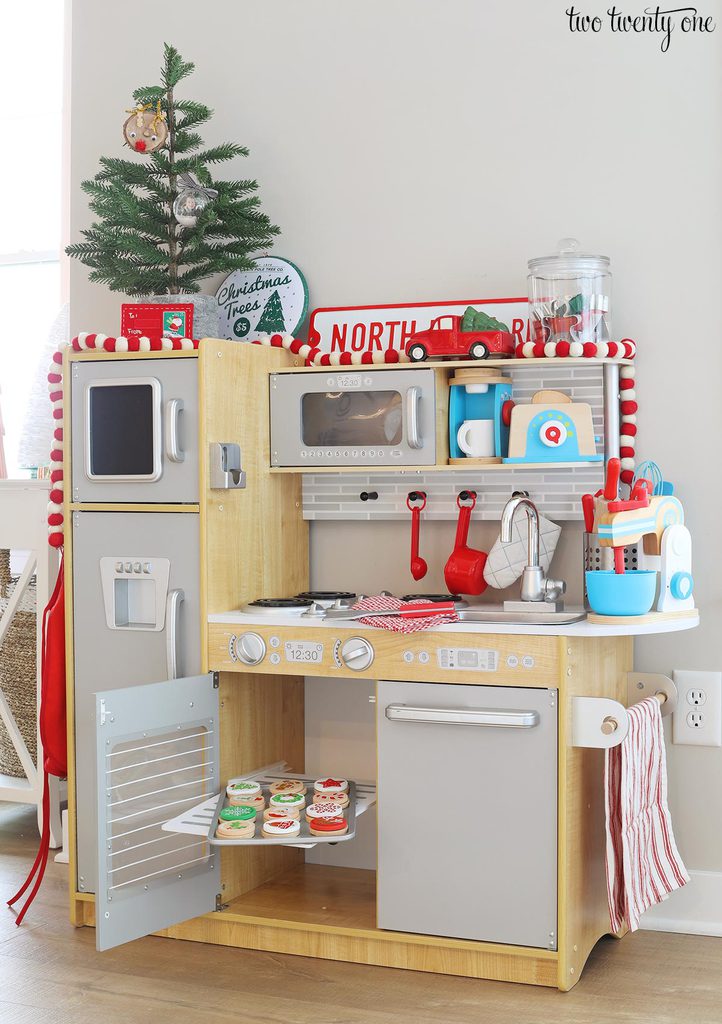 Mix in Your Childhood Favorites
While it takes up more space than I'd like when it's being stored most of the year, I love displaying my childhood sled for Christmas. I secured it in the corner with two small nails and fishing line.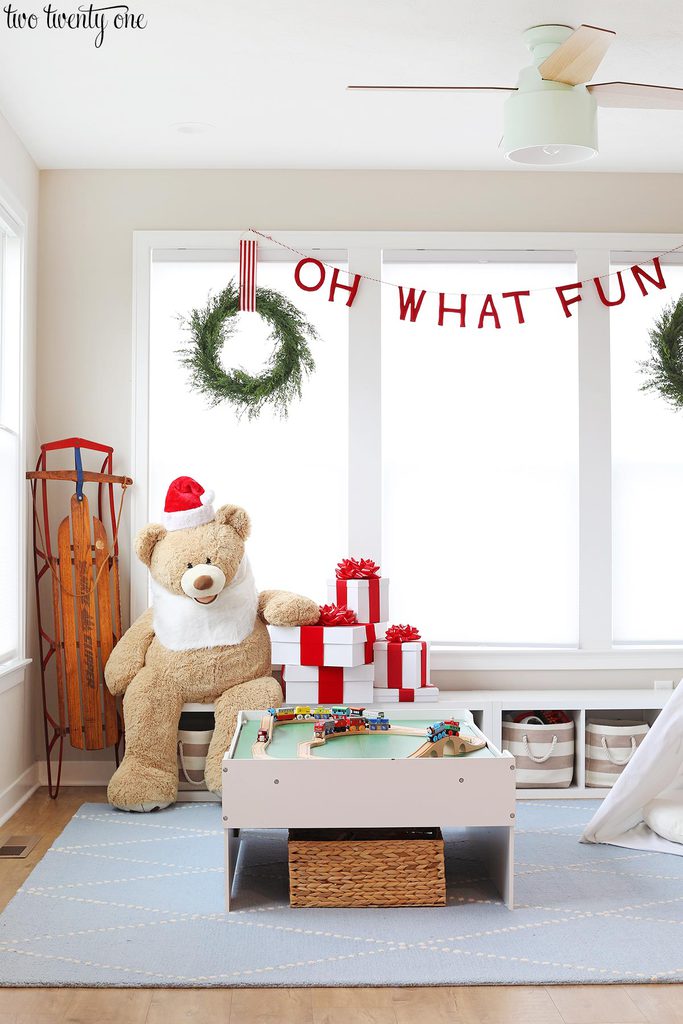 Personalize
Kids love seeing their names on things. Which is why I thought a personalized tree topper would be a fun addition to the 4-foot Christmas tree in the playroom. My good friend was able to execute my vision, and now she sells them in her Etsy shop.
Start Traditions
Every year I display this Countdown to Christmas calendar. Owen loves moving the Santa every night, watching him get closer to 'our house' at the bottom. It's a family tradition that doubles as instant wall art that can be hung up every year. This calendar is also something that could potentially be passed on to younger generations.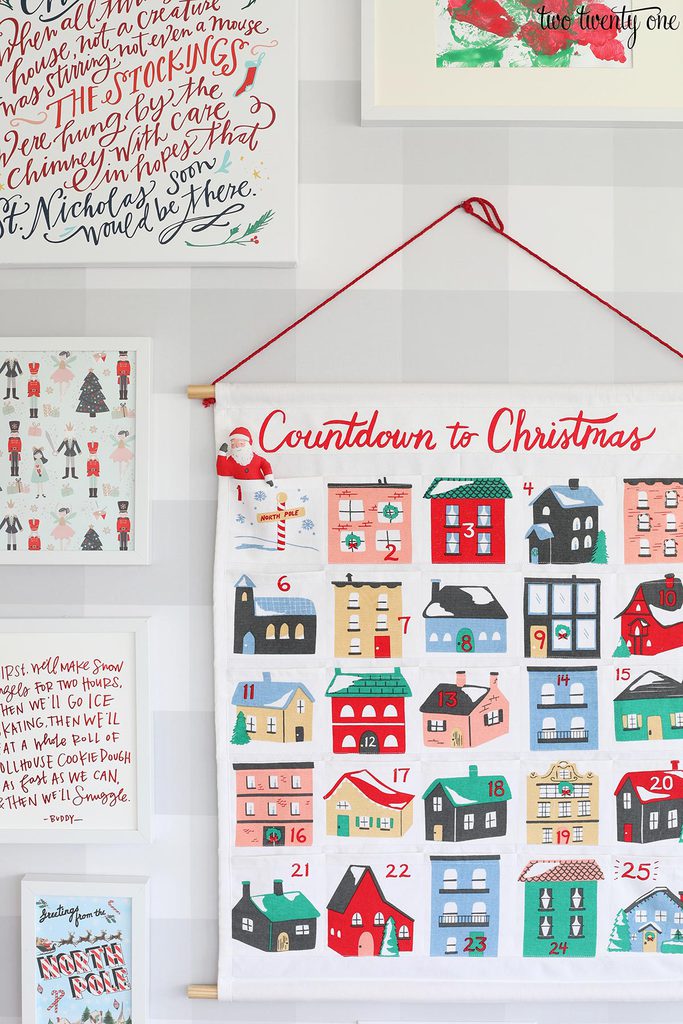 Use Books
Books most definitely count as decor. So whether you create a book rainbow or gather up all of your red and green books, put them to use as part of your Christmas decor.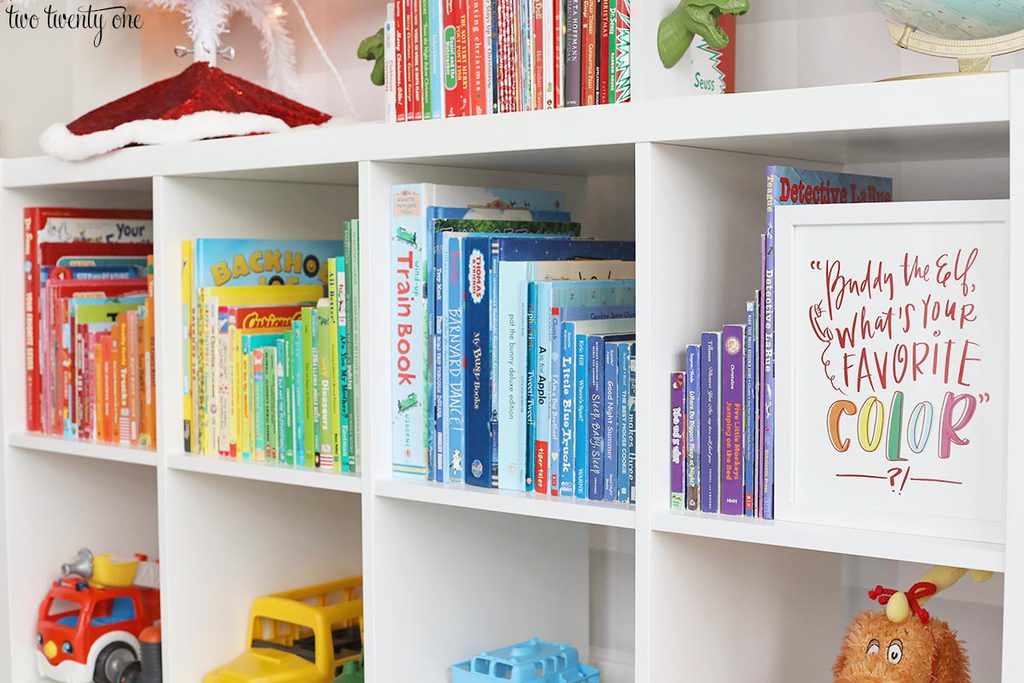 I set out all of our Christmas-related books on top of the bookshelf.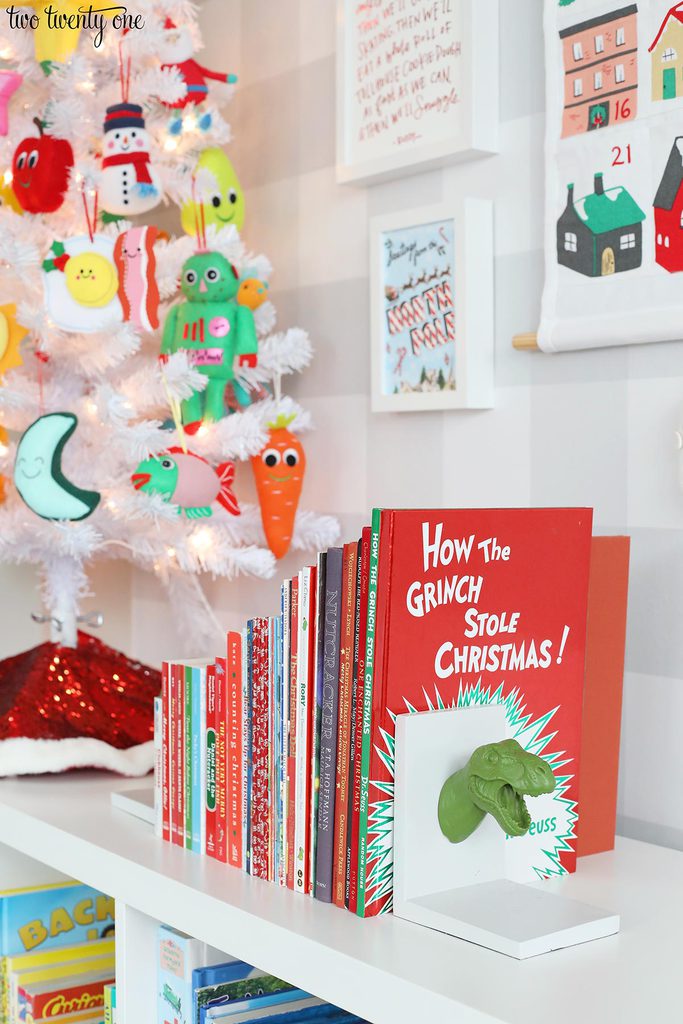 Click HERE for the room sources!