Last year I decorated the boys' playroom for Christmas, and I loved it so much, I did it again. But I made quite a few changes this year's holiday playroom. Will the playroom stay nice and neat like it is in the following photos? Nope, I'm sure of that. But at least I'll have the photographic evidence that it looked cute for a couple hours.
And to continue the kid-related Christmas inspiration, I gathered up some of my talented blogger friends who are also sharing their fun and festive spaces for another Kid Christmas Tour. So please be sure to check out all the adorable kid spaces and trees decorated for Christmas at the bottom of the post. And if you're stopping by from Inspiration for Moms, hello! You can read more about me here.
One big change I recently made to the playroom was adding this gray and white buffalo check removable wallpaper. It was my first time working with removable wallpaper, and it went pretty well for my first go at it.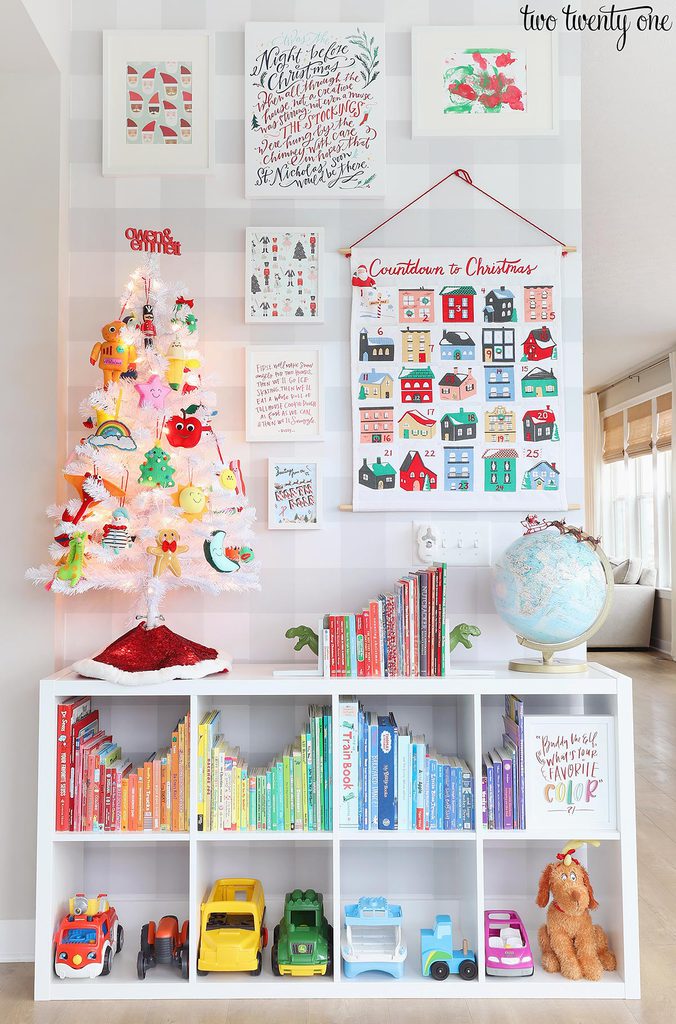 Owen helped me decorate the boys' white Christmas tree. Attempting to teach a five-year-old about ornament placement was an experience, but he got the general concept toward the end.
I've collected the ornaments over the years. Most are from Target.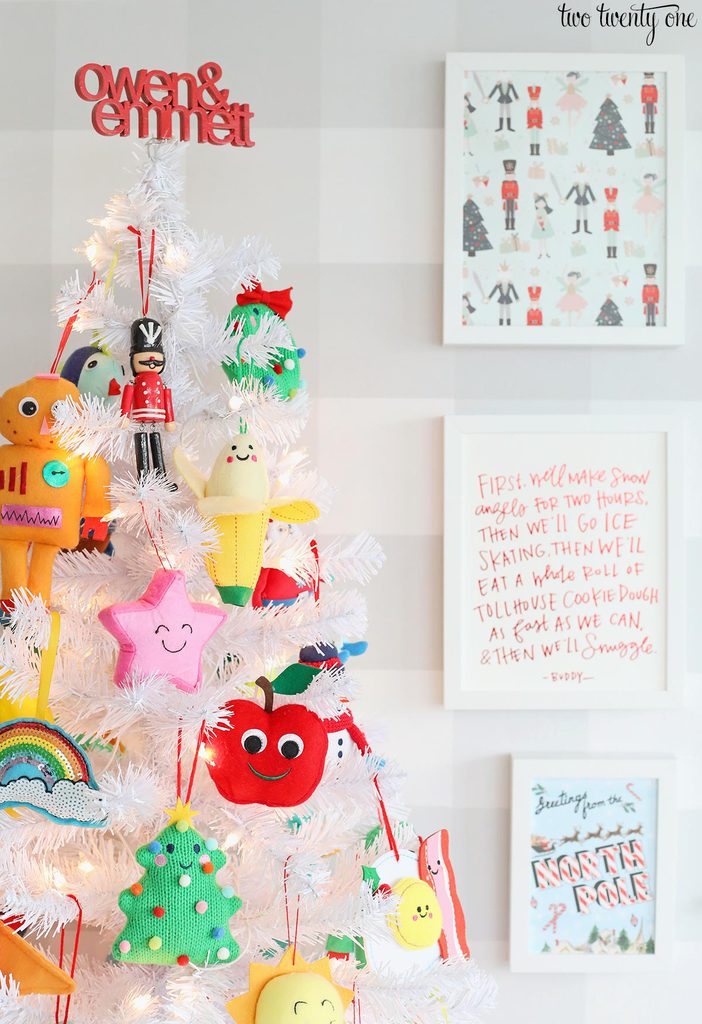 The personalized, name tree topper made its second annual appearance. I thought this up last year and asked my friend if she could execute it for me. The whole thing kind of blew up, and now she's even doing custom tree toppers for major corporations. How awesome is that? She offers them in an array of colors and unfinished in case you want to paint it a certain color.
Click HERE to buy a personalized tree topper!
Not only did I add wallpaper, I also hung up some Christmas art and our Countdown to Christmas advent calendar that we're had for a few years.
The Santas are a piece of gift wrap I cut out. The Night Before Christmas canvas and Buddy the Elf quote print are from the talented Lindsay Letters– use code TIDINGS20 for 20% off! Hurry, it's only for Cyber Monday. The Nutcracker print is actually a gift bag I bought last year that cut to fit into the frame. "Greetings from the North Pole" is a $.99 greeting card from Trader Joe's (also last year). And the one-of-a-kind artwork in upper right was painted by Owen when he was two years old.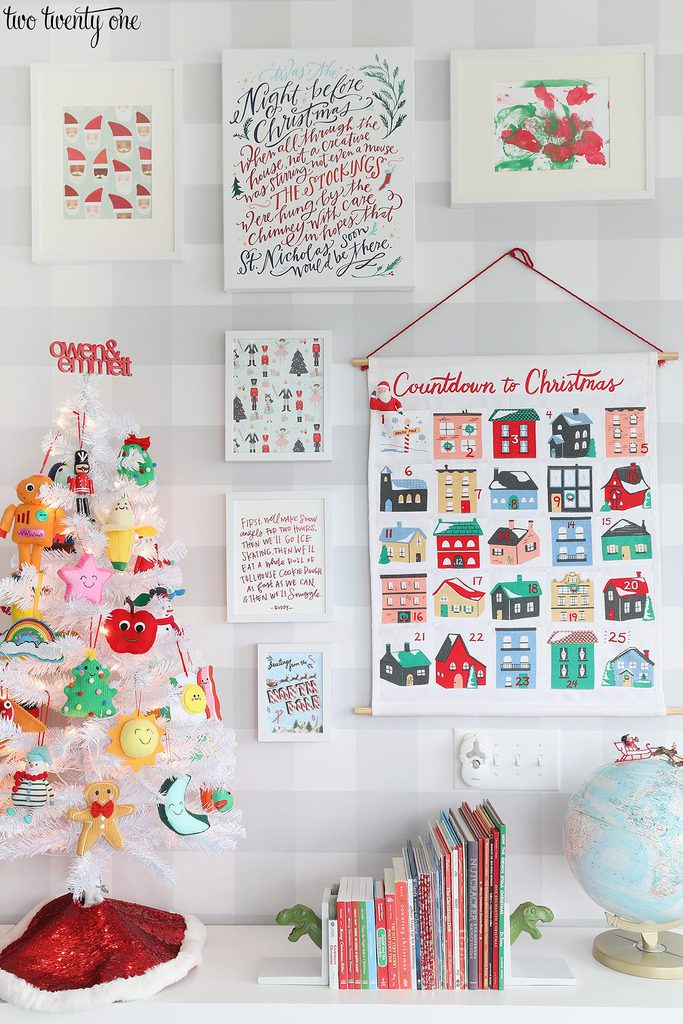 This advent calendar brings me so much joy. And Owen gets a kick out of moving the little Santa every day.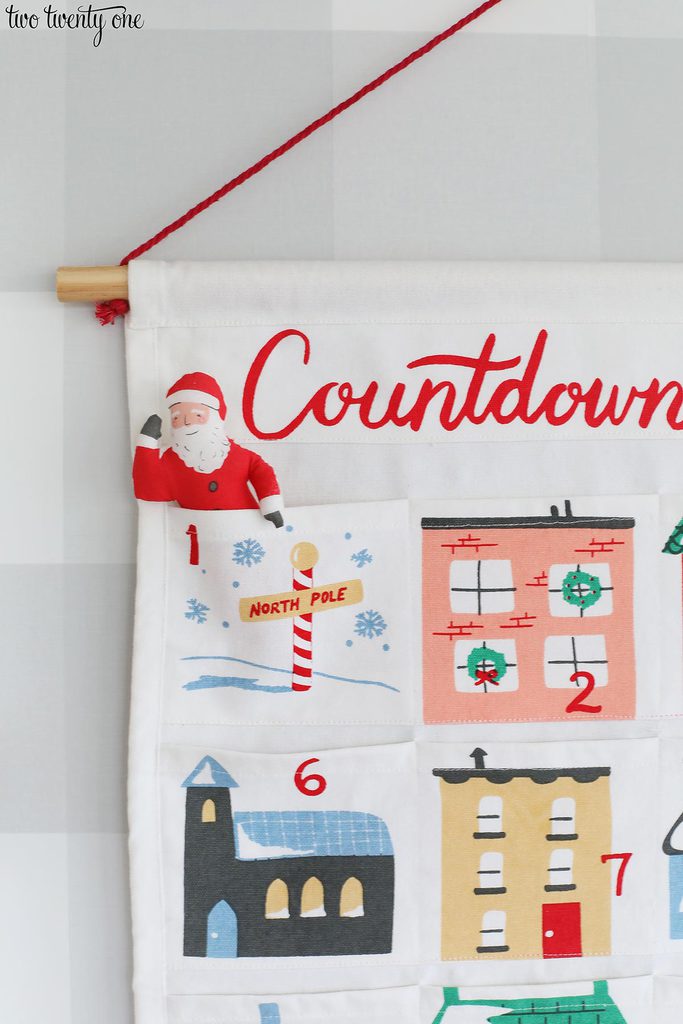 For the past two Christmases, I've set all of our Christmas books on top of the bookshelf. When Christmas is over, I put them back in their storage container so they can go back into the basement.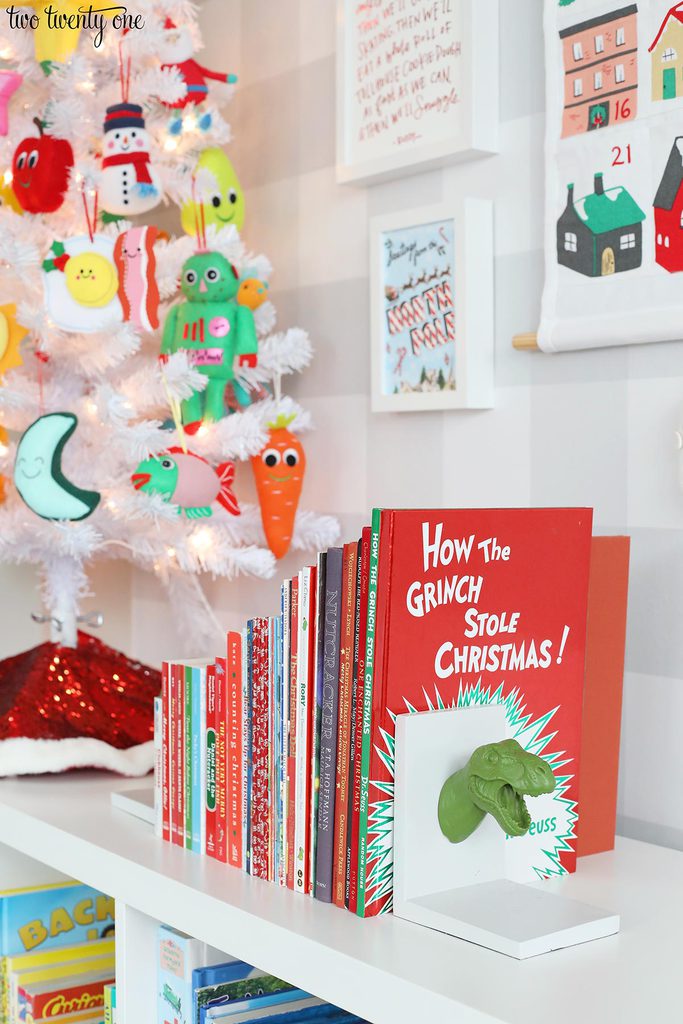 Santa and his reindeer made another appearance on Brad's childhood globe. I thought this up 3 years ago when I decorated Owen's bedroom for Christmas. I secure Santa to the globe with glue dots.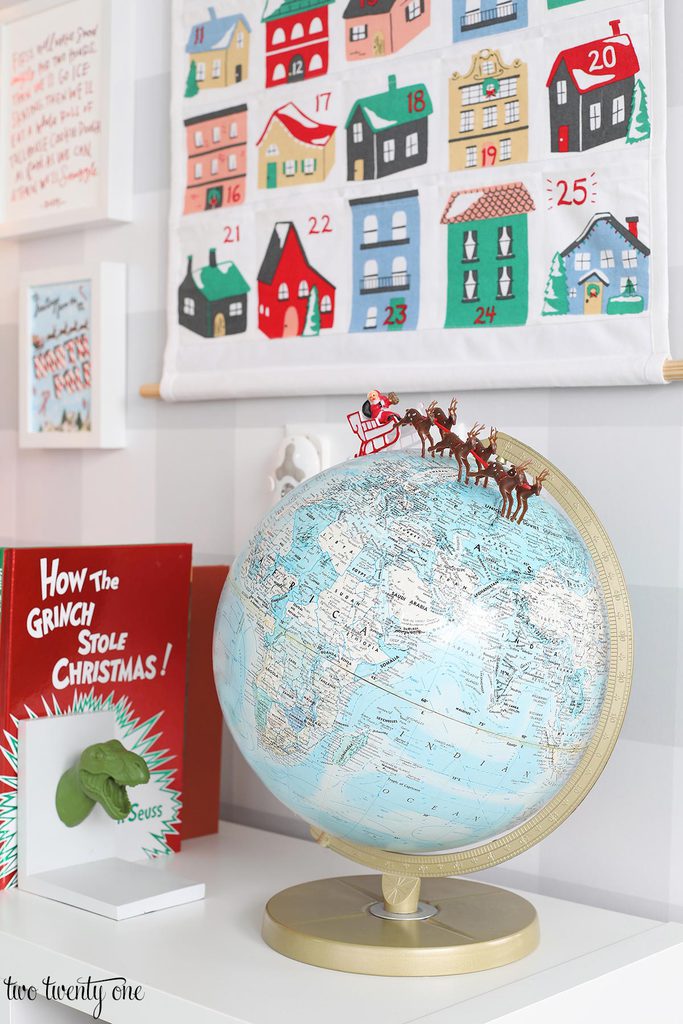 Why yes, I did create a rainbow with my kids' books. Did it last very long? No, not really. Emmett, our one-year-old, already got his paws on it.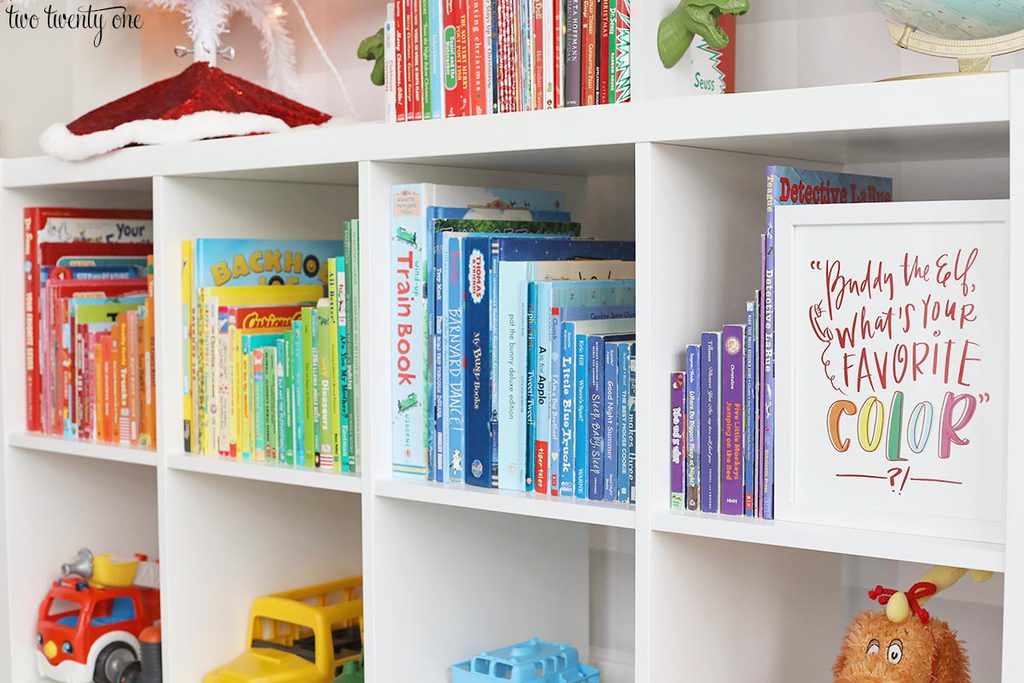 If you have kids or if you love the movie, Elf, you need this Buddy the Elf print in your life.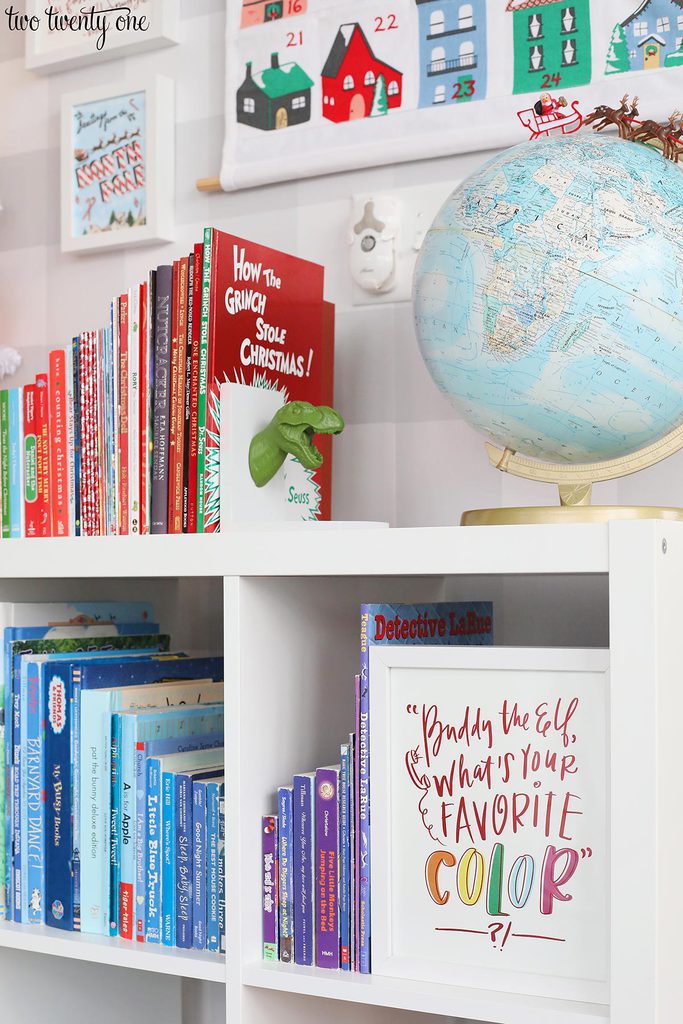 The other side of the playroom got some holiday cheer this year. I hung my Oh What Fun banner and flanked it with two faux cedar wreaths I snagged last year.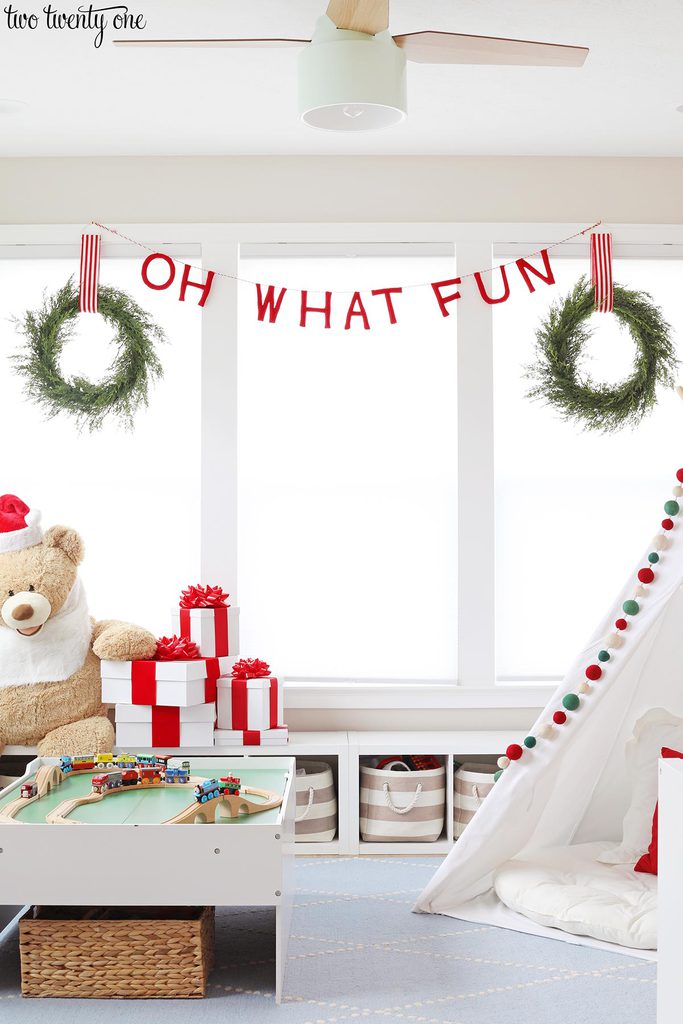 The boys' teepee (it's on sale for 33% off) also got the Christmas treatment with two felt ball garlands and a couple of Christmas pillows. That's a papasan cushion (they're 30% off today!) inside the teepee.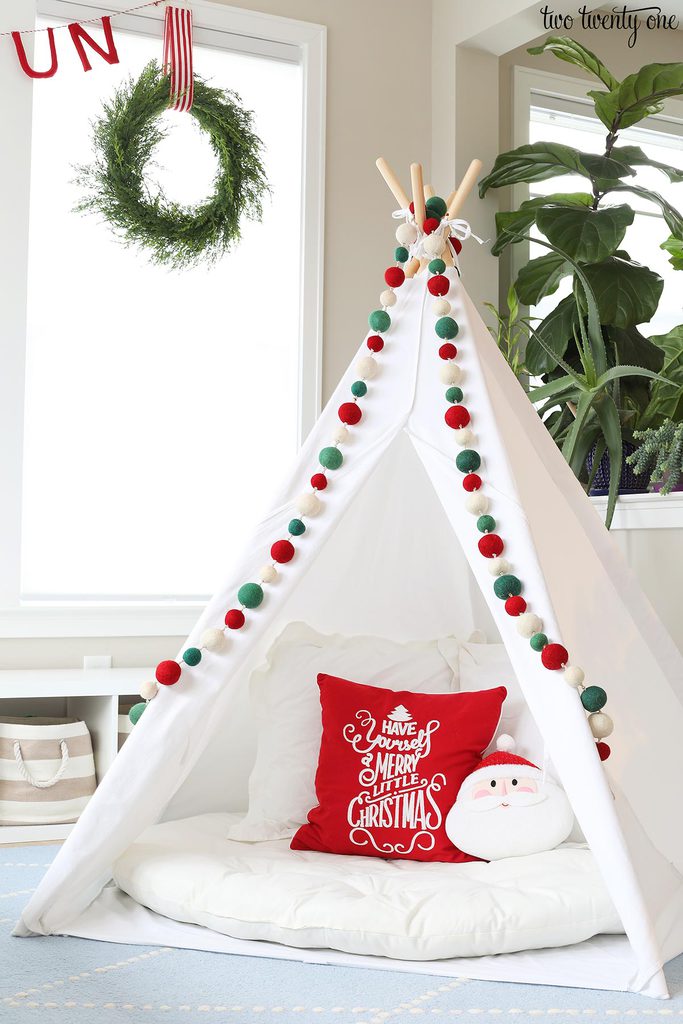 I had to include my childhood sled, so I secured it with some fishing and inconspicuous nails in the corner because, you know, little kids. Louie, our giant Costco bear, is channeling his inner Santa with the beard I made for him a few years ago. He's resting his arm on a pile of fake presents.
I didn't spend time decorating the train table (it's currently on sale for 27% off!) because that would've been destroyed in .08 seconds. I did set out Owen's "Santa's Little Engine" Thomas the train. When I bought it in 2016, it was $17. I thought "Ok, fine. Owen loves Thomas, and he can keep this for a long time." It's for sale for $94 now. If you'd like to save a little money, this Thomas and a snowman is $35.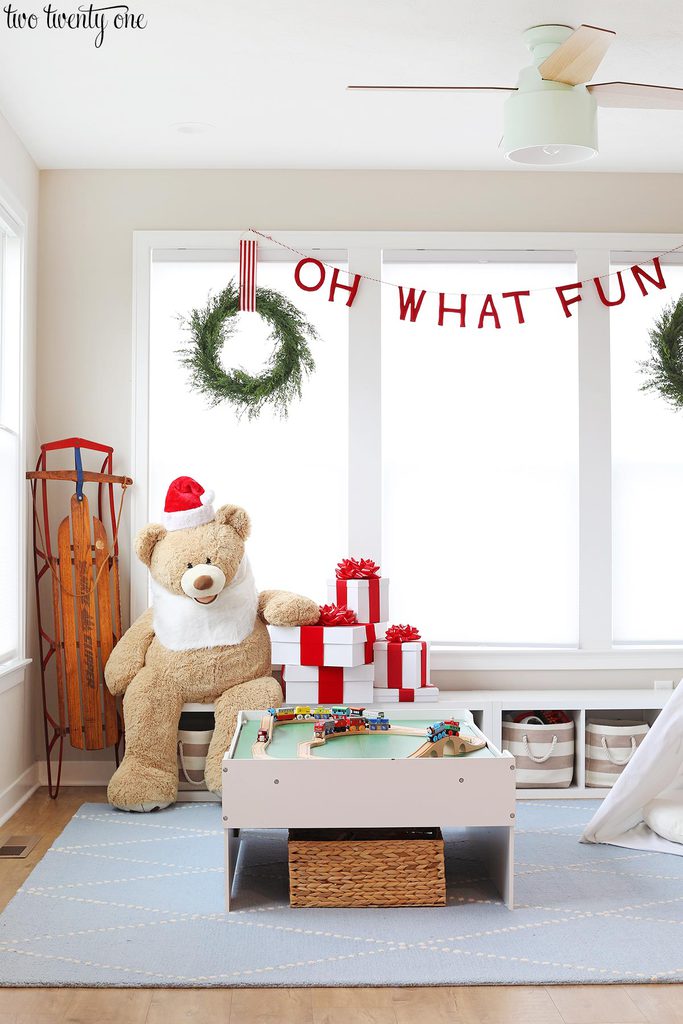 Owen loves decorating his play kitchen, which is currently on sale for $92! Last year he would re-arrange everything and then charge us to look at it. He knows what he's doing.
We didn't buy anything new this year to decorate the kitchen. I got the tree during an after Christmas sale at a florist last year. The Christmas tree sign, red letter from Santa, and red truck were from Target last year and previous years and the North Pole Road sign was from Michaels last year.  I set out the glass jar of cookie cutters last year.
The coffee maker, toaster, and mixer (all three are on sale!) work well for Christmas because of the red accents. Aren't the wooden Christmas cookies adorable? I love setting those out every year… and then searching for all of them come January.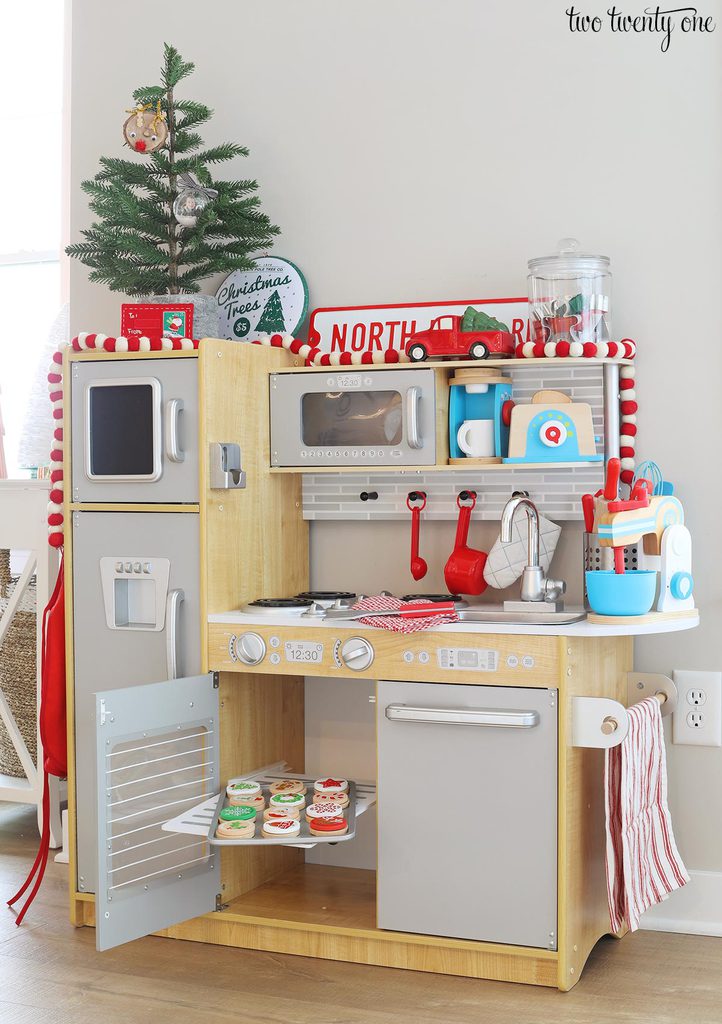 Click HERE for my tips and tricks for adding Christmas cheer to kid spaces!
The Kid Christmas Tour continues on with Modern Glam!
Two Twenty One / Modern Glam / DIY Decor Mom / At Charlotte's House

The Lily Pad Cottage / House by Hoff / Organized Mama / Kaleidoscope Living

C.R.A.F.T. / Lemon Thistle / Kate Decorates / Love and Renovations / Inspiration for Moms