Like almost everyone out there, the holidays can be a tad stressful for me. There's just so. much. to. do. But sometimes I have to remind myself to take a chill pill and relax. The outdoor Christmas lights and that dining table centerpiece can wait until tomorrow. One of my favorite 'me time' activities is flipping through magazines. Lots of pictures, not a ton of reading. Score.
You can imagine my excitement when I heard Target was offering a $5 gift card when you buy an InStyle magazine and People Style Watch magazine until December 7th. So on my most recent trip to Target I picked up both magazines and my shiny $5 gift card. Even the cashier said, "Wow, that's a great deal!" I'm not kidding.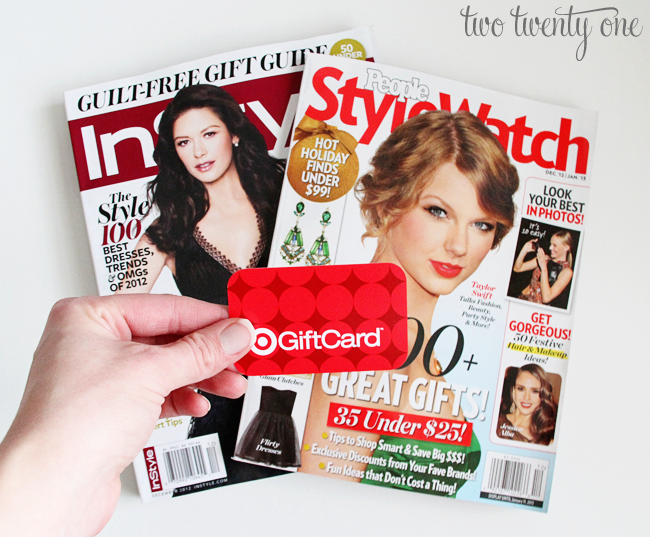 After obtaining my $5 gift card I may have slipped back into the Christmas aisle to purchase some vegging out essentials.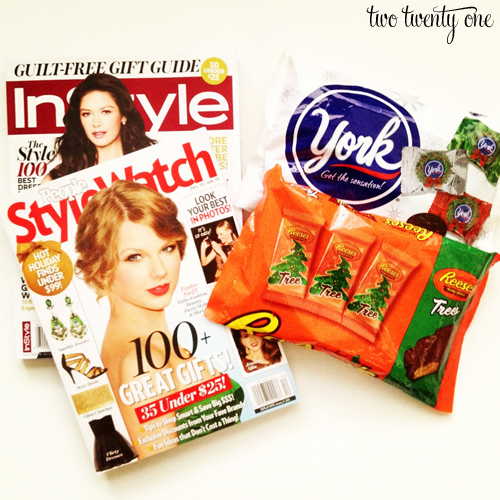 I was delighted to get home, put on stretchy pants, curl up on the couch with my magazines, and eat my nutritious chocolate. The hour or so I spent mindlessly flipping through those magazines was very refreshing, and I got some great gift ideas for friends and family. So I count that as still accomplishing something while I had my 'me time'.
Just a note, there wasn't any signage when I purchased my magazines, so don't be alarmed if you don't see any signage in your Target.
What do you do to unwind during the holidays?
What's your favorite candy?
How many pairs of stretchy pants do you own?

This post is part of a social shopper marketing insight campaign with Pollinate Media Group™. All opinions are my own  http://cmp.ly/3/KqtZiE.