On Sunday, August 16th we celebrated Owen's first barnyard birthday party at our house with 35 family members and friends. We I went with a barnyard theme because one of Owen's favorite toys is his Vtech walker and it's farm/barnyard themed. Plus, I thought it would be a cute theme.
I was kind of bummed that it was rainy and overcast for the day of the party. It made taking photos difficult. I tried my hardest to get them light and bright do I'm going to apologize in advance for the photos not being the greatest. Darn weather.
If you're curious as to where I got something, I'm going to post a source list at the bottom of this post.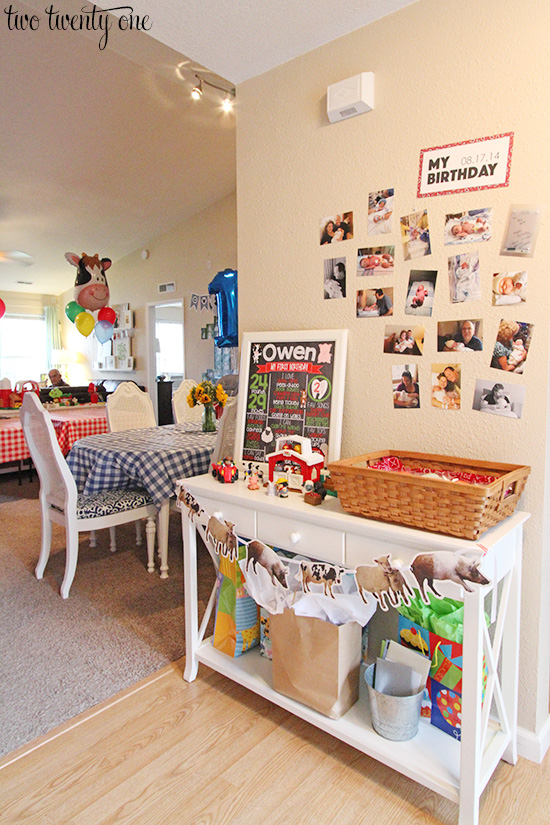 I used the space above our entryway table to display photos of Owen's birthday. Looking back, I didn't post many photos of Owen on social media when we were in the hospital for our family and friends to see so I thought it would be cool to display some photos from the day he was born and a few more that we took during our hospital stay.
I made the farm animal banner with cutouts I purchased at a teacher store.
We placed some of Owen's presents on the bottom part of the entryway table. And we used a bucket to hold cards people brought or sent.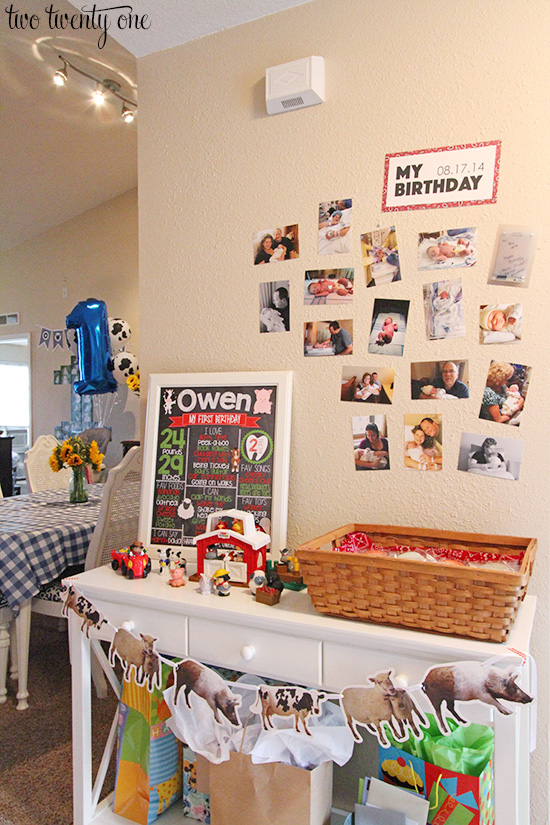 I had a personalized chalkboard birthday sign made with all of Owen's stats, likes, favorite foods, etc. He hadn't had his one year well check until after his birthday so Brad and I had to attempt to weigh and measure him at home. We were only off by about 2 inches on his height. NBD.
I printed the 16×20 poster at Costco for $6.99 and put it in an IKEA frame.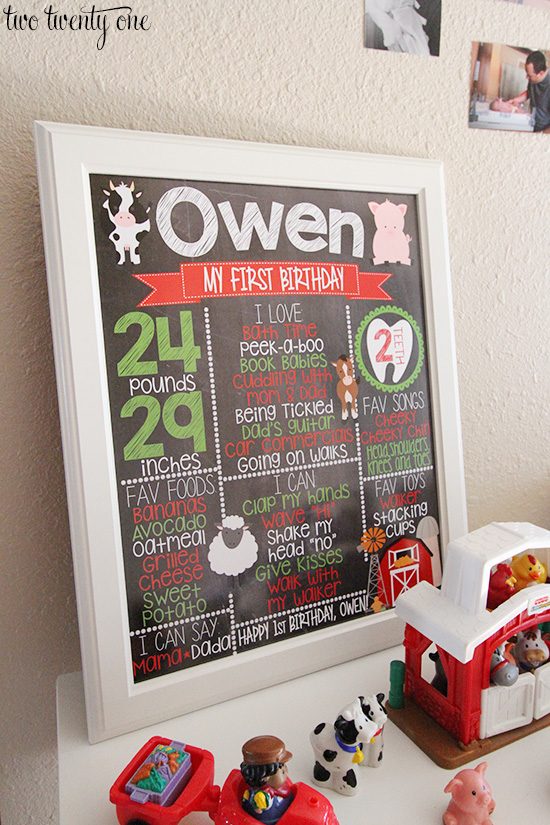 My Little People barn and animals that I used for developmental therapy came in handy for decor.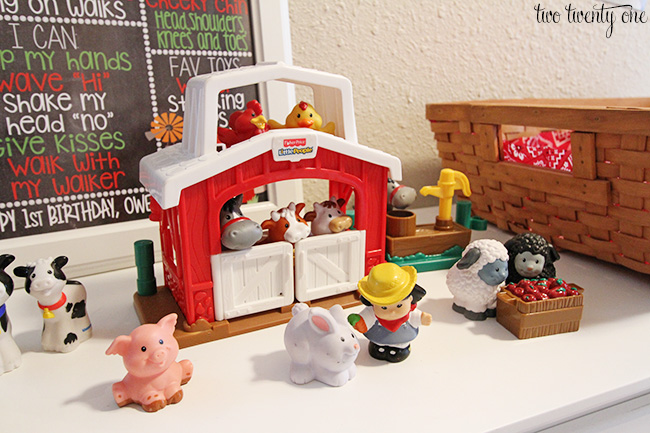 The basket on the table contained the party favors– cookies from Brad's favorite hometown bakery. We had the same cookies as favors at our wedding, so it's kind of a tradition to have them at special occasions.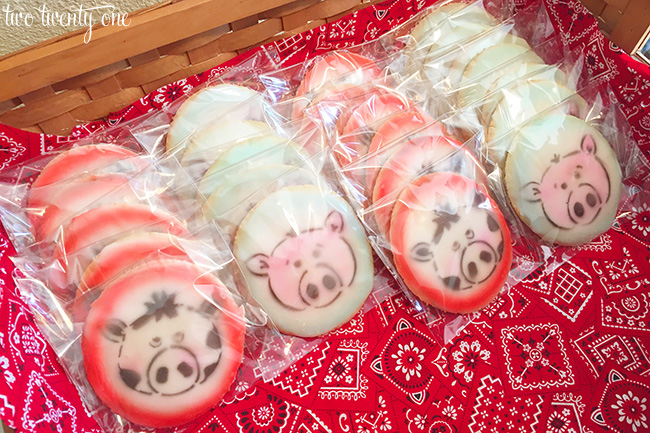 On the wall across from the entryway table I displayed Owen's monthly photos. On Instagram I used the hashtag #WatchOGrow so I made a banner to match the hashtag.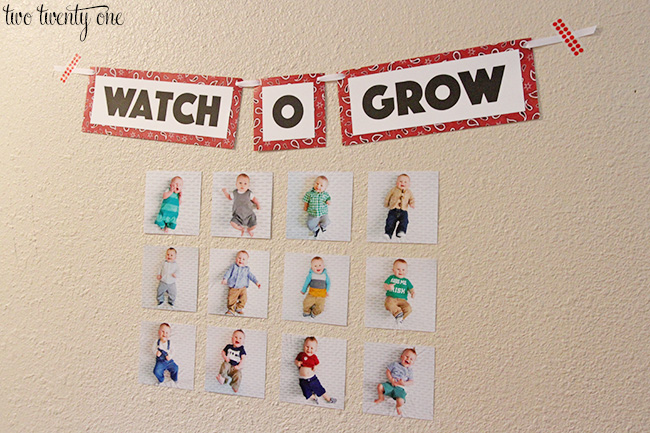 I used gingham tablecloths on our dining room table and the card tables we set up for extra seating.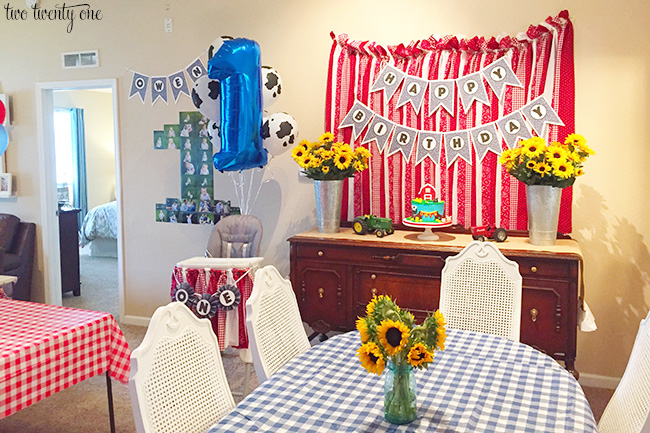 Like with our gender reveal party, I made another fabric backdrop for behind our antique buffet.
I also made the 'happy birthday' banner with white card stock, scrapbook paper, and letters (thanks, Erin!) printed onto card stock.
I had these two galvanized buckets laying around, so I stuffed some plastic bags in the bottom for height and put in the sunflowers. The tractors were Brad's childhood toys. My mom whipped up the ruffled burlap runner the night before the party.
And of course, the cake and smash cake were front and center.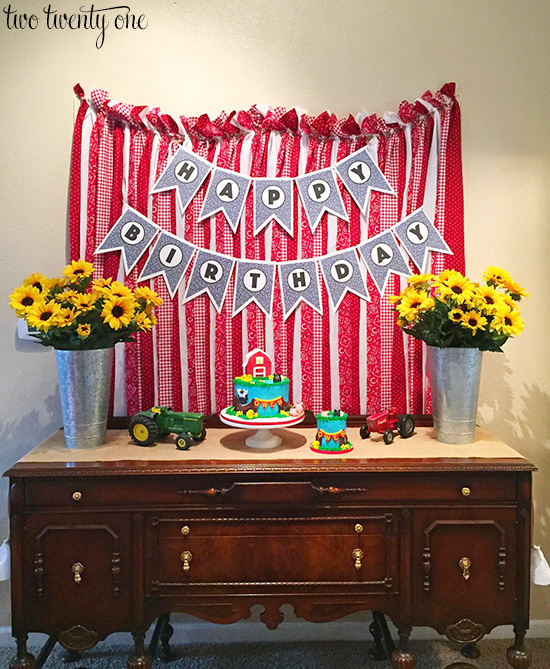 I LOVED how the cakes came out. So much that I didn't want to cut into the cake.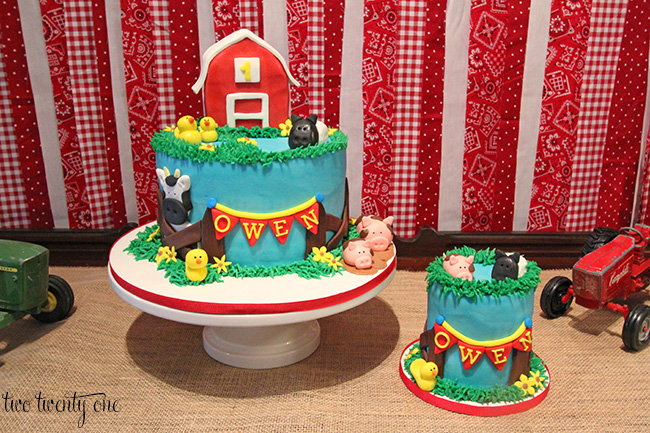 My favorite part of the cake was the pigs in the mud. Adorable.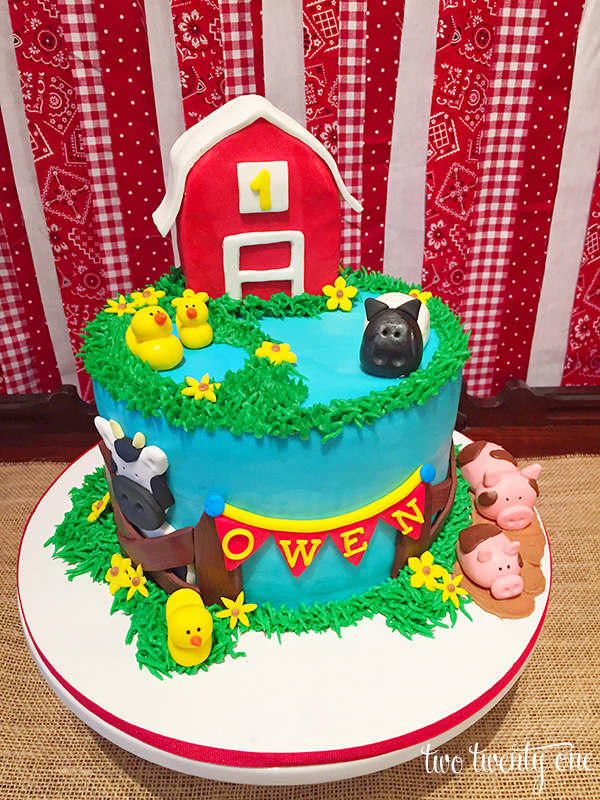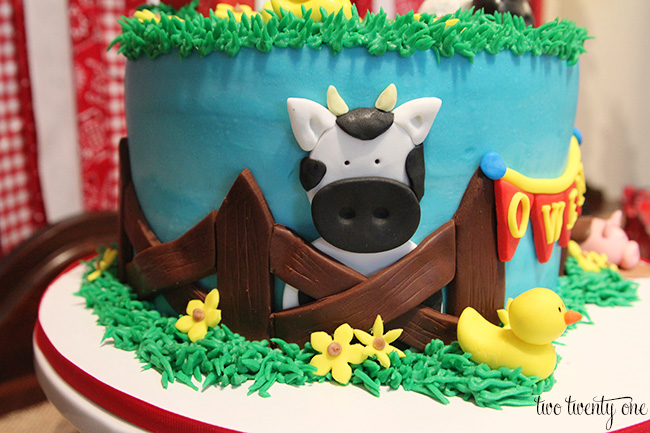 And I love how Owen's smash cake came out. I didn't know that our baker was going to put the name banner on it so it would match the big cake. That was a nice surprise.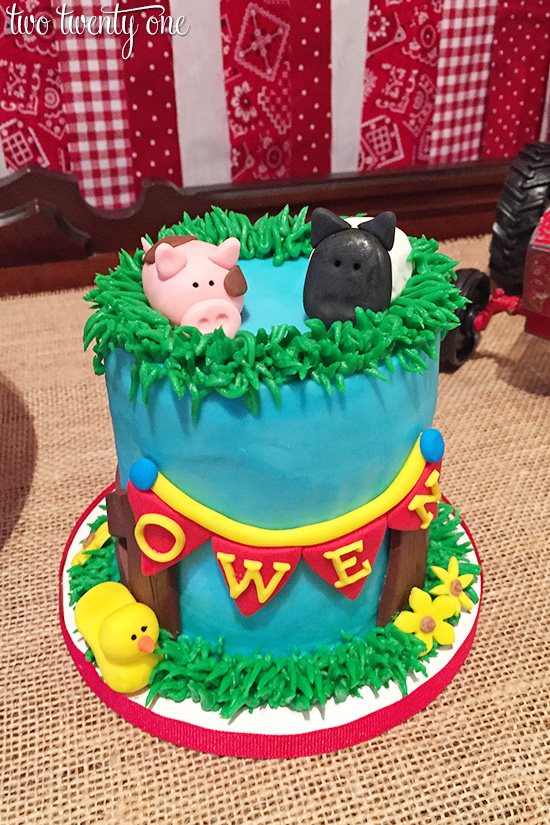 Ok, I'm done posting photos of the cakes now.
On the wall to the left of the buffet, I created a photo display of pictures from Owen's first birthday photo session in the shape of a 1. Like with the 'happy birthday' banner, I made the 'Owen is' banners.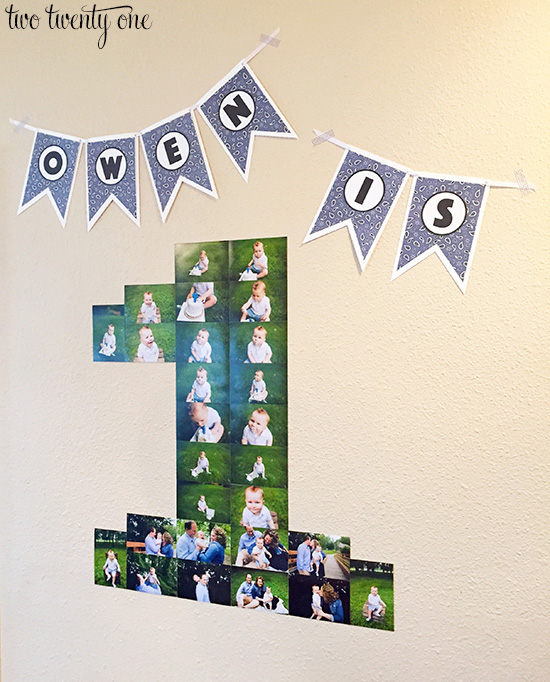 I decorated our sofa table with a barn and animals my friend lent me. Seriously, those Little People farms are perfect decor for a barnyard themed birthday party.
I also purchased some mylar barnyard animal balloons and latex balloons. I had the mylar filled at a local antique mall for $1 each a day before the party since mylar will stay inflated for a decent amount of time. Since latex balloons don't last much longer than 12 hours, I purchased a small helium tank and my stepdad helped me blow them up an hour before the party.
I used canned tomatoes wrapped in bandanas and tied with jute for the balloon weights.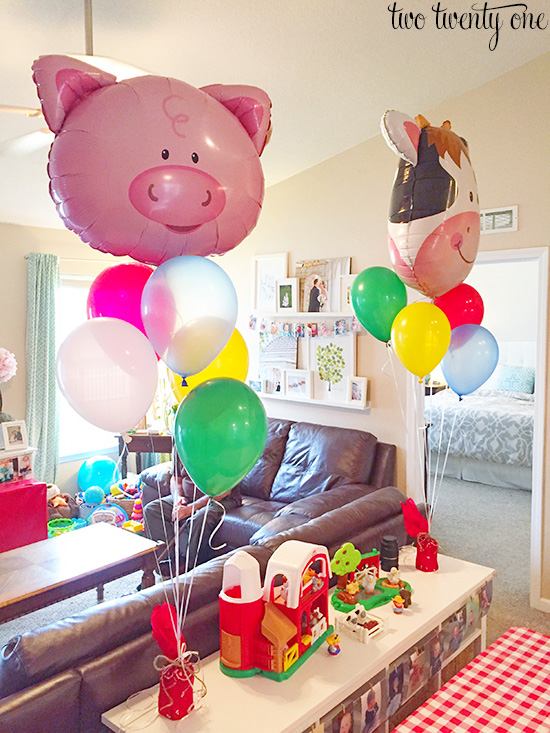 When I was planning the party I really wanted to display photos of Owen throughout his first year in our great room. So I ordered a bunch of photos from mpix, and I busted out my bakers twine, Command Brand Banner Anchors, and mini clothespins. Super quick and easy birthday decor.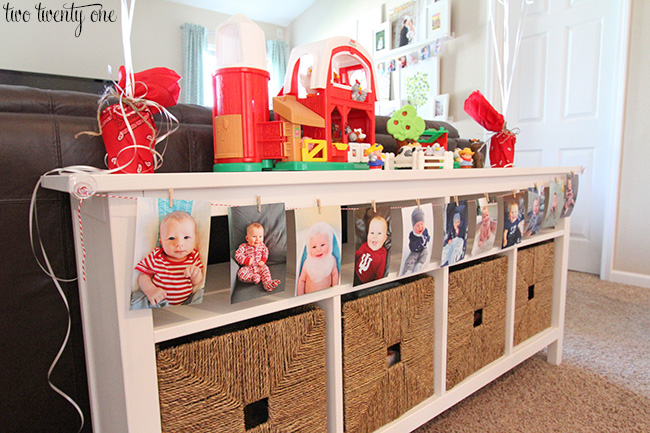 I had some 4×4″ photos printed as well to mix things up a bit. Here they are on our living room picture ledges.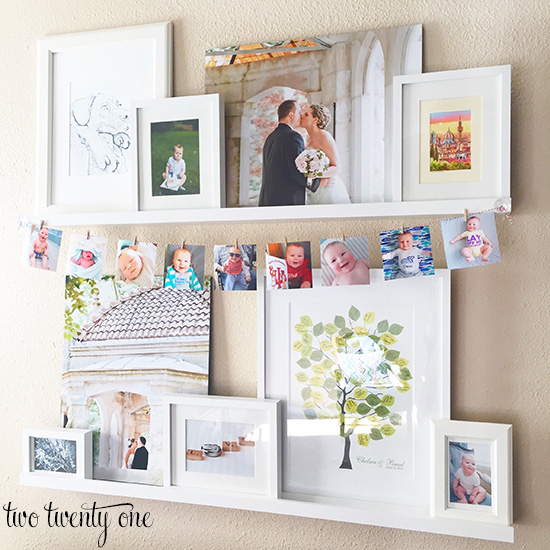 I also hung some photos on our dresser TV stand.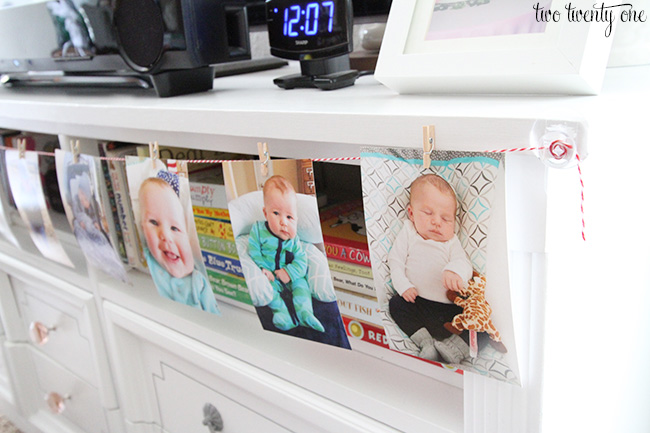 And on the antique dresser in our living room.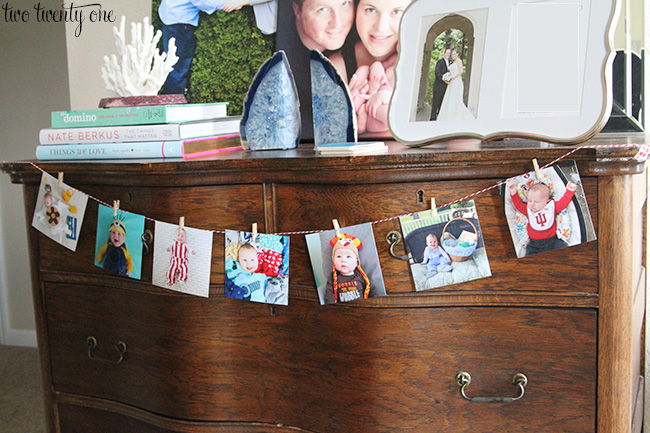 Ok, so I may have gone overboard on printing photos, but I couldn't stop myself.
I made a point to get photos printed of Owen with our family members and friends. On their way out, I told them to take the photos with them.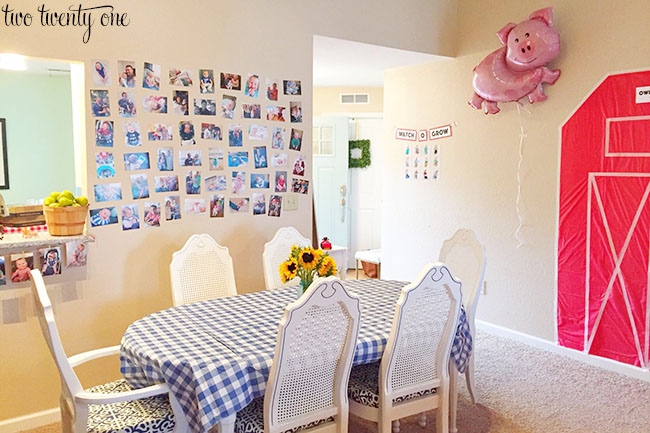 Ok, that concludes the ridiculous amounts of photo displays.
On the wall opposite the buffet, I made a barn out of a red vinyl tablecloth and masking tape from Dollar Tree. When I started to work on it, my mom looked at me and said, "What are you doing now?" Hah! It seriously took me maybe 15 minutes to make the barn though. Let me know if you want a tutorial.
I hung two more mylar balloons on each side of the barn. I know it looks like they're flying, but since we're short on real estate in our house with 35 bodies walking around, I didn't want people being attacked by the balloons so I put them up high.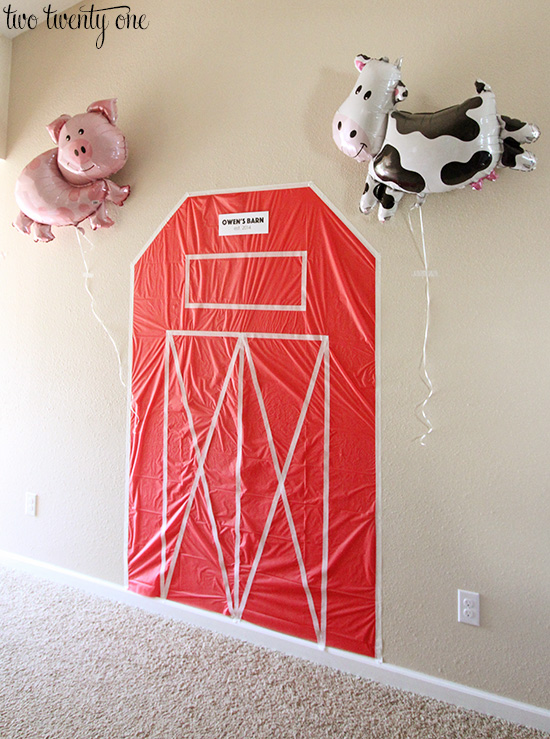 No first birthday is complete without a blinged out highchair. AmIright?
I tied a giant 1 mylar balloon and latex cow-print balloons to the back of the high chair.
I made the fabric banner and 'one' paper banner, securing them to the high chair with small, clear Command Brand hooks.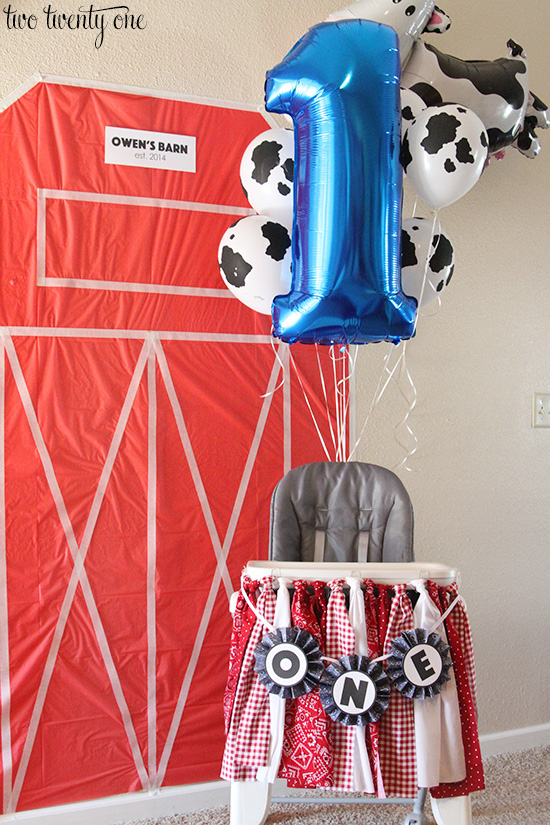 The birthday party was 1PM so we served a light lunch of chicken salad croissants, meatballs, spinach dip and Hawaiian bread, spinach artichoke dip, sun-dried tomato dip, pita chips, veggie tray, fruit and cheese tray. One of our friends is the COO of a local catering company, Black Plate Catering, so I tend to use his friends and family discount for parties because it makes party prep so much less stressful. So he prepared the dips, fruit and cheese tray, and he threw in some chocolate mousse cups that were extras from another event. If you live in the Indy area check them out– the food is amazing. And thankfully, my aunt helped us out by making the spinach dip and meatballs.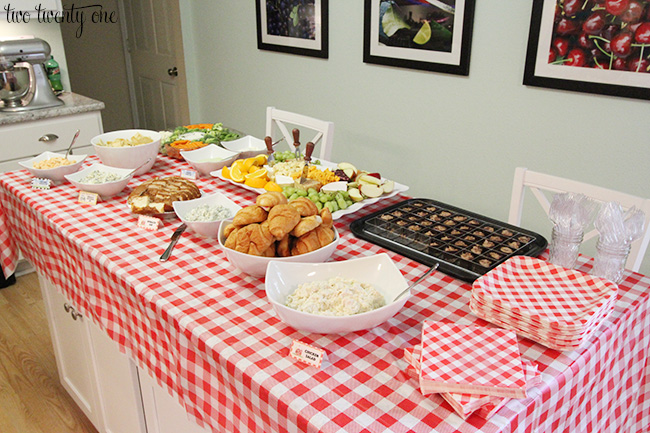 We also served lemonade, sweet tea, and water.
Sweet tea was clearly winning when I snapped this photo.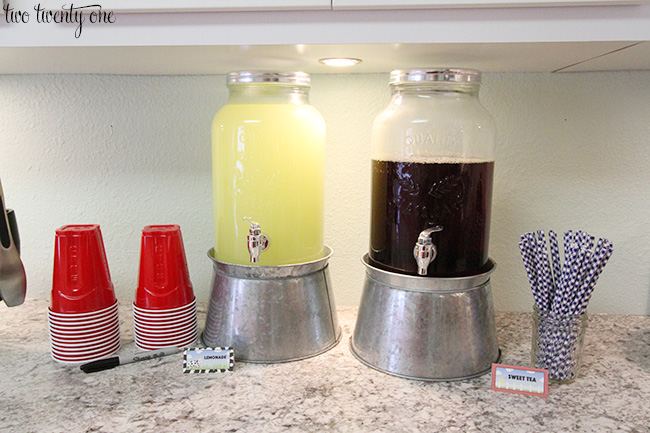 In case you're wondering, the schedule of events for the party went like this:
1PM – 2PM … visit and eat lunch
2PM – 2:30PM … open presents
2:30PM – 3:30PM … cake and visit
We thought it would be best to do the cake last because we knew Owen would get messy (we stripped him down to his diaper). And yes, we put plastic drop cloth under him. I didn't want to scrub bright blue and green icing out of our carpet after the party.
Owen loved when we sang Happy Birthday to him… twice. Because I forgot to record it the first time.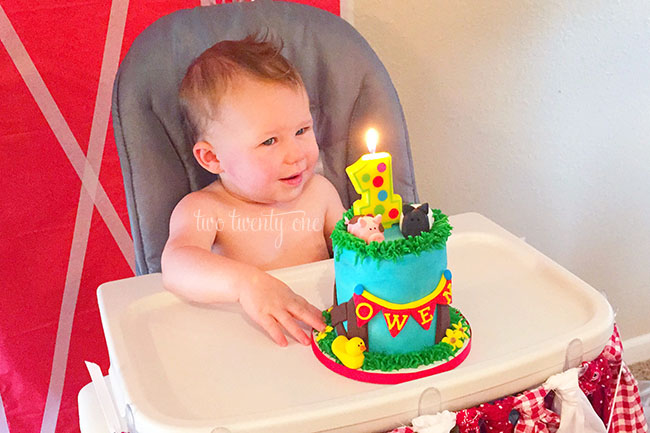 Owen gingerly picked at his cake for about 20 minutes. Family members were making comments about how delicately he ate it. Hey, none ended up on the floor so that's a win in my book.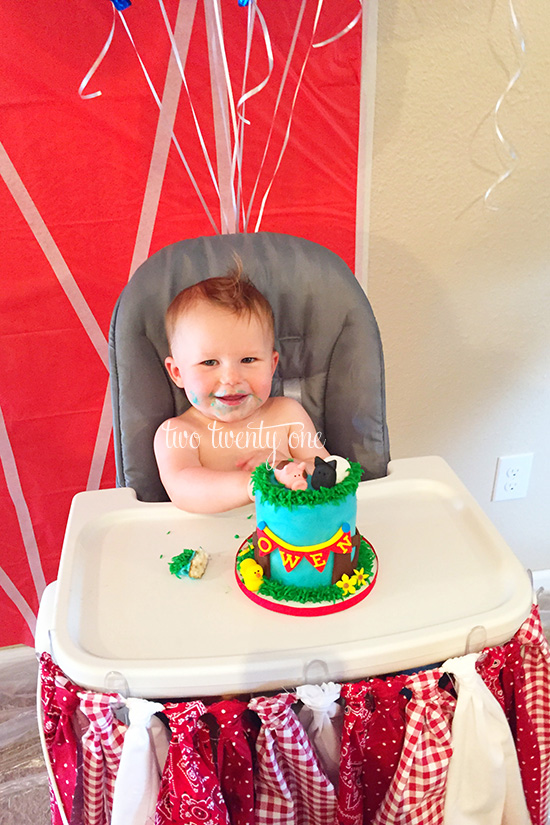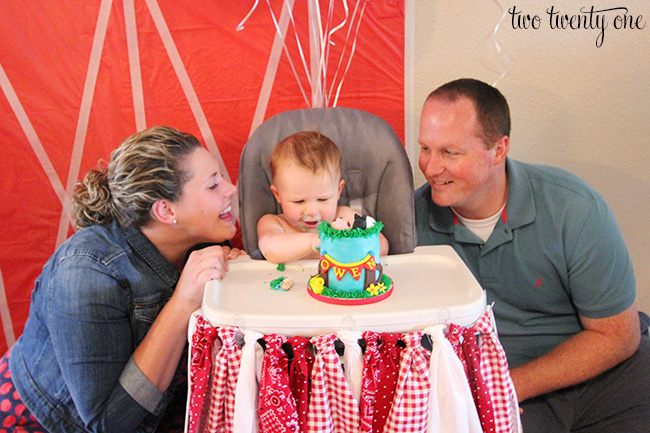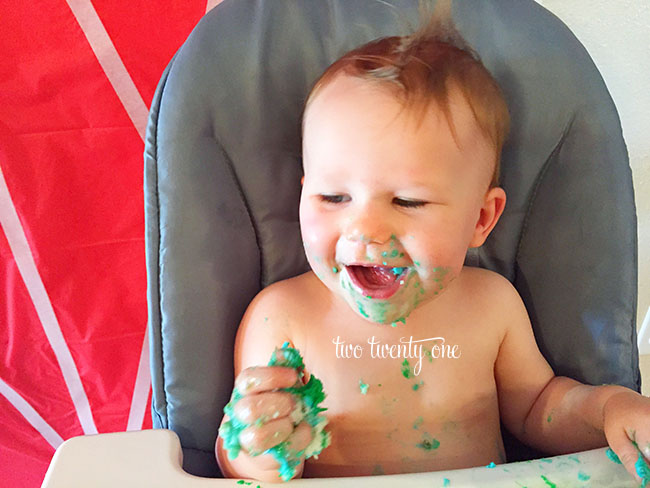 Owen's and Brad's birthdays are only days apart, so we set aside a couple minutes to celebrate Brad.
I told Brad I expected him to remain fully clothed and that he wasn't allowed to eat his cake with his hands.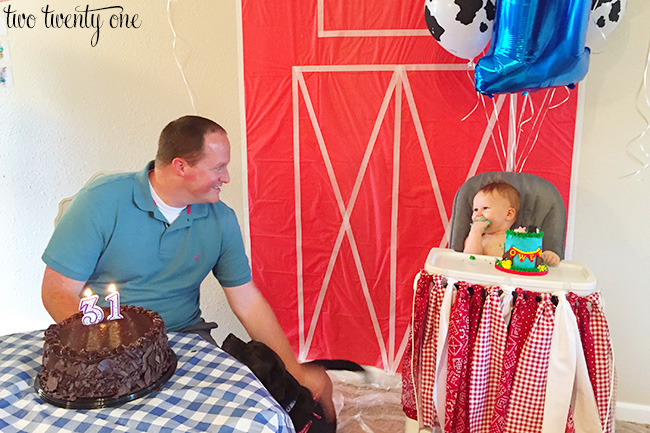 After Owen was finished with his cake I decided to take him straight to the tub for a quick 3 minute bath because baby wipes weren't cutting it.
Here's Owen in his room after the party with some his presents. I'm pretty sure we're going to need a storage unit for all this kid's stuff.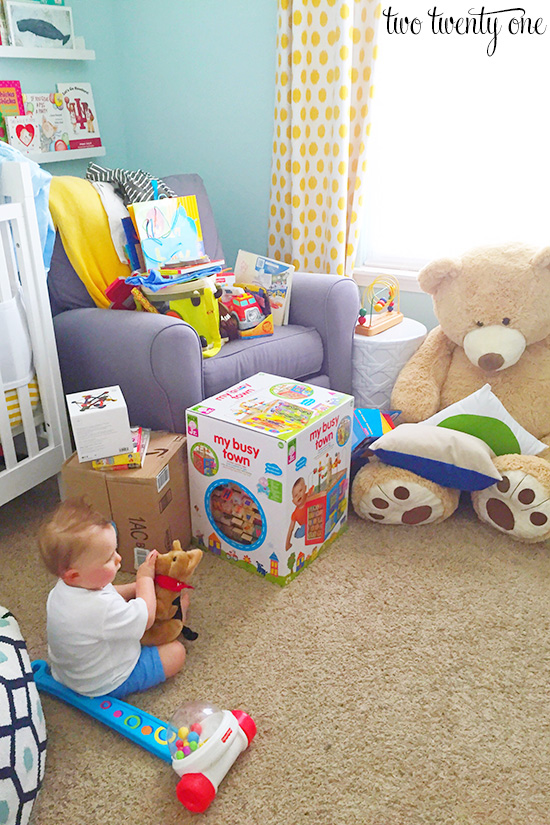 Alright, here's the source list!
cookies … Donut Bank
chalkboard birthday sign … Chalk Full of Grace
poster printing … Costco
birthday cake and smash cake … Confectioneiress
Brad's birthday cake … Costco
photo printing … mpix
mini clothespins … JoAnn Fabric
red gingham vinyl table clothes … Dollar Tree
blue gingham vinyl table cloth … Walmart
real sunflowers on dining table … Costco
fabric backdrop … made by me (tutorial can be found here)
ruffled burlap table cloth … made by my mom (tutorial can be found here)
galvanized buckets … JoAnn Fabric
sunflowers … Hobby Lobby
happy birthday banner … made by me
mylar farm animal balloons and latex cow-print balloons … BargainBalloons.com
multi-colored latex balloons … Walmart
helium tank … Balloon Time via Michael's
bandanas … Dollar Tree
red vinyl table cloth & masking tape for barn … Dollar Tree
highchair fabric banner … made by me (tutorial can be found here)
highchair 'one' paper banner … made by me
drink dispensers … Kirkland's
paper straws … HomeGoods
plates and napkins … Dollar Tree