A little over a year ago I shared the fabric covered book I made to put in our guest bathroom to class the joint up a bit. Well, a few days ago I went bananas and started covering all of my thrift store and yard sale hardback books with fabric. So I thought I'd share this super easy and inexpensive DIY with you. Some of you may wonder why covering books with fabric is necessary. Answer: it's not. But fabric covered books are pretty, cheap decor pieces that you can disperse throughout your home.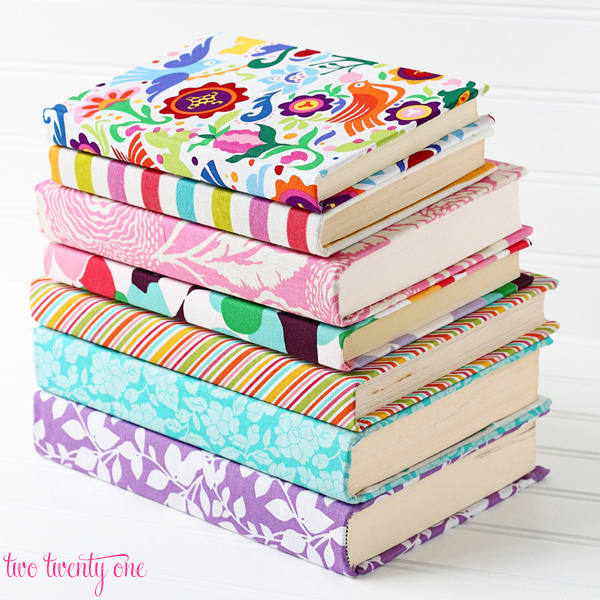 But First, a Rant about Goodwill
So a few days ago I went a little crazy covering a bunch of books with fabric, which helped me perfect my book covering technique. However, when it came time to photograph the process I had run out of books. Whoopsies. I decided to run to Goodwill since it's the closest "thrift store" to our house. I grabbed a book and headed to check out. When the cashier said, "that'll be $2.66" I was all "say whaaaat?!" Forgive me, but I don't think a pre-owned book published in 1987 should cost more than two items on McDonald's dollar menu.
This book debacle has solidified my boycott of Goodwill. I'm over it. I've been on the verge of breaking up with them for a while, especially after reading this article and this article and viewing this news report. I was also disgusted to learn that the CEO of Central Indiana Goodwill Industries makes nearly $500,000 a year. The average yearly salary of a state governor is $129,000, to put things into perspective.
Watching their prices slowly skyrocket has also angered me. ($9.99 for an ugly, 1970s lamp– sans lampshade? Me thinks not.) The rising prices are especially upsetting to me because thrift stores, like Goodwill, were created to help people who couldn't afford brand new clothing and household items. Asking someone who's in poverty to spend $5 for a secondhand shirt is ridiculous.
And what's with all of their commercials in my area? People know where to donate their unwanted items. I don't think Goodwill needs to be spending thousands of dollars on commercials and airtime. Goodwill also seems to be building a lot of new stores in recent years, when the stores they occupied seemed to be just fine.
Another issue I have is with how little they pay employees with disabilities. One of their employees with a disability would have to work for 12 hours in order to pay for the book I purchased. I get that this practice is legal, but it doesn't sit well with me. I can't support a "nonprofit" that prides itself on doing good, though it operates the way it does.
So if you see me shopping at or donating to Goodwill I give you permission to punch me in the throat.
Now, I'll dismount my soap box and head into the meat of this post– the tutorial.
How to Make Fabric Covered Books
I prefer to use interesting books for this project– ones that will surprise the people who open them. This specific literary masterpiece is Vanna White's autobiography, published in 1987. I'm sure it's loaded with juicy gossip about Pat Sajak and Charlie O'Donnell. While I'm not a Wheel of Fortune fan (Jeopardy is my jam), I've always liked Vanna and her sparkly gowns.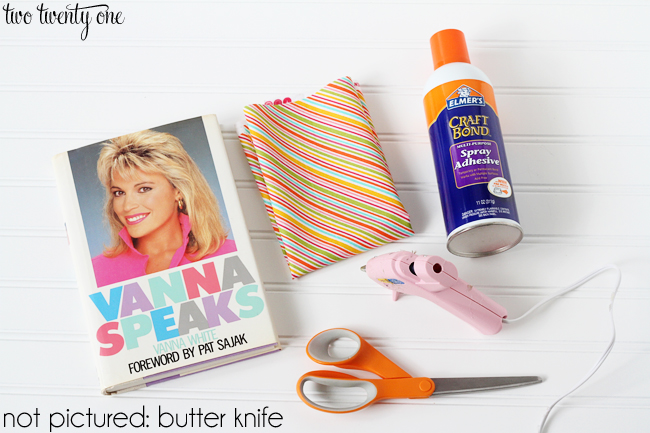 To recap, you'll need:
books
fabric
hot glue gun
scissors
butter knife
spray adhesive
Before you get started, I recommend ironing the fabric if there are any creases in it. And remove the book jacket, obviously. Also, cut your fabric with roughly 1-2 inches of overhang all the way around the book.
Note: it's best to put down some newspaper, or the like, before breaking out the spray adhesive. Unless you prefer glue on your table.
Begin by spraying the spray adhesive on the back book cover and spine. Don't go too wild and crazy. Just give it a nice coating. Turn the book over, position it on the fabric how you want it, press down, turn it over so the back is now facing you, and smooth it out with your hand.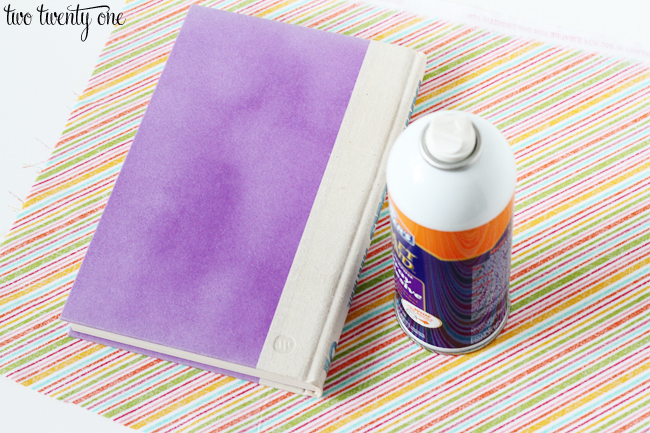 Do the same for the front cover.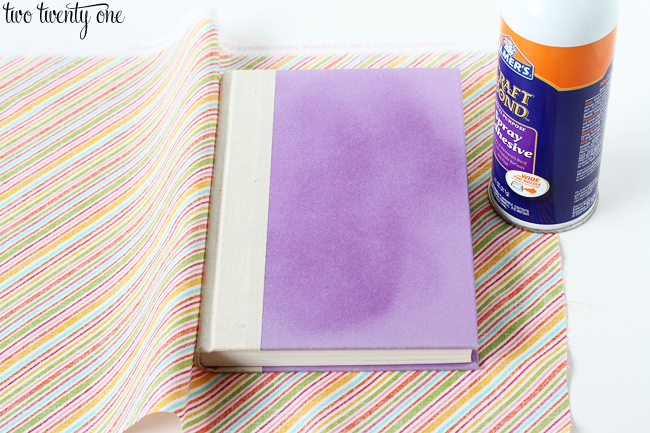 You should leave at least 1 inch of excess fabric around the book. You can always cut the fabric down if you have more than an inch.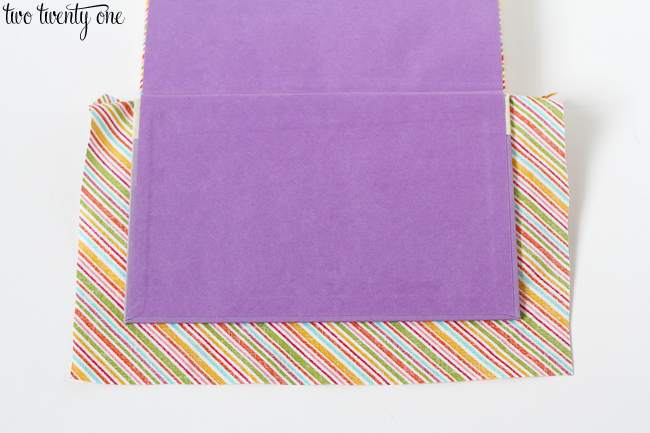 Cut two slits on each side of the spine. We'll come back to the spine later.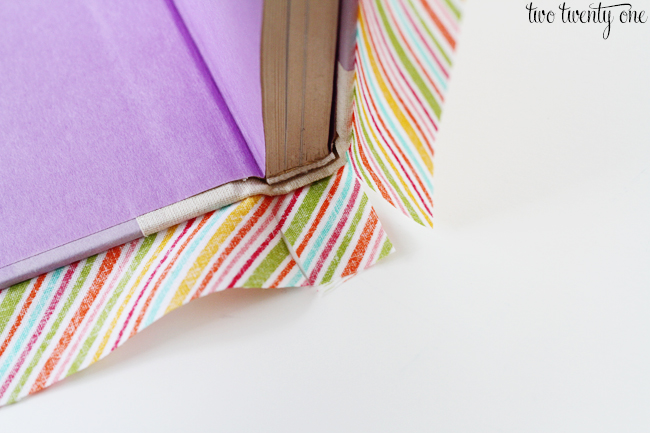 Grab your glue gun. Add some glue along the longer edge of fabric where it will meet up with the book. Don't go completely to the edges of the fabric. Fold over onto the inside cover.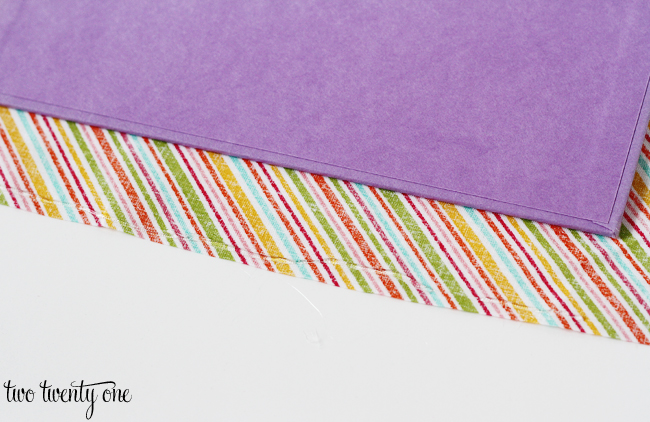 It should look like this.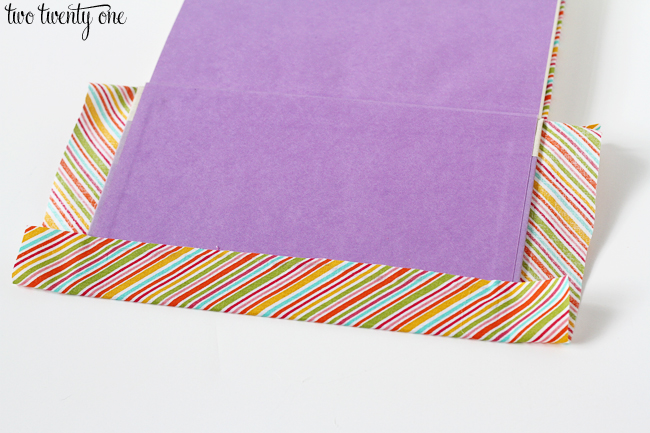 Put a dab of glue where the fabric meets on the corner. Press the fabric together.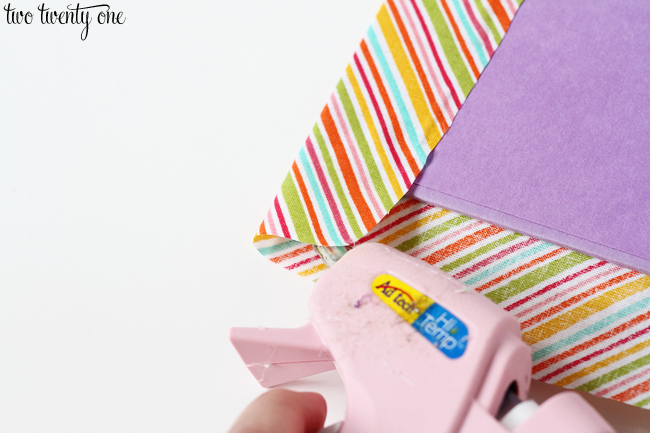 Run some glue along the edge of the fabric. Secure the fabric to the inside of the cover.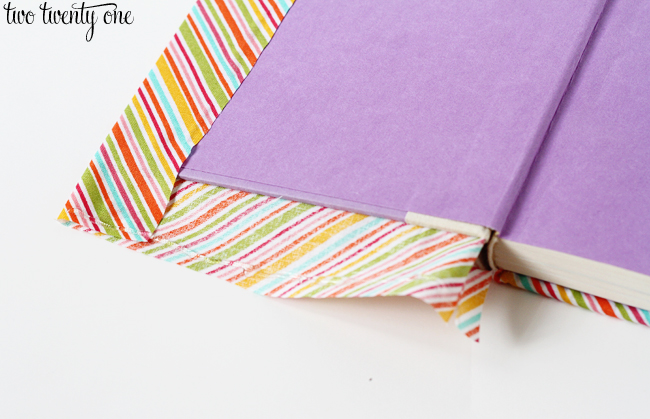 I fold the outer corners in a little bit and glue them into place so the finished product looks like this.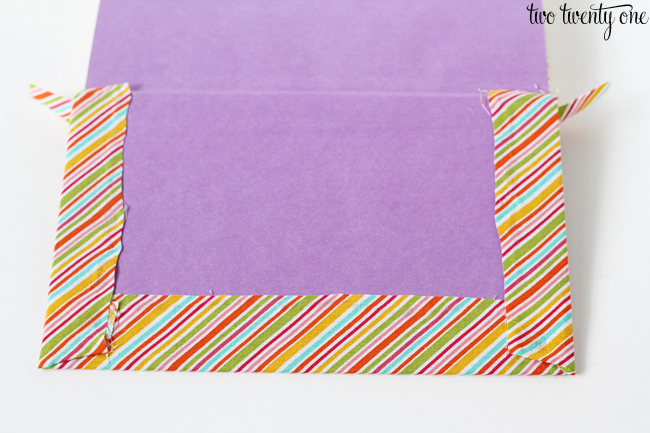 Now, onto the spine. I recommend cutting the fabric to 1/2 inch.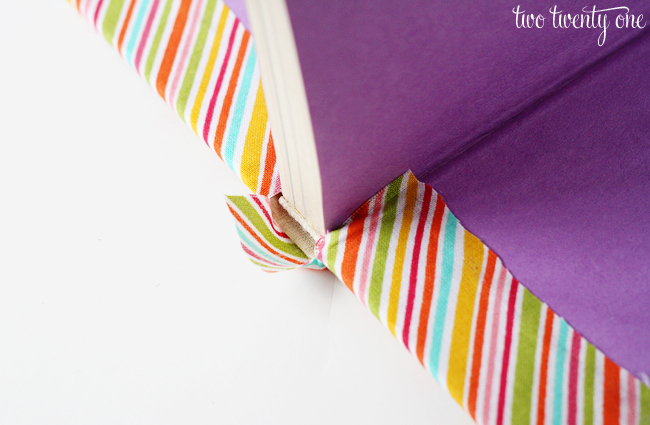 Get that butter knife and use it to fold the piece of fabric into the spine. You can use a little dab of glue to secure the fabric if you want.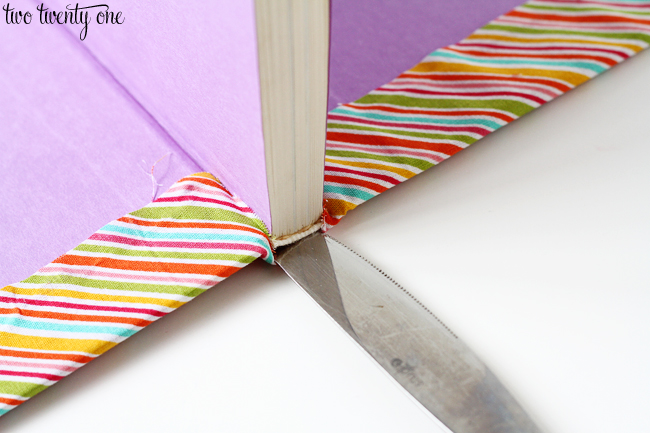 This is how the spine should look after using the butter knife.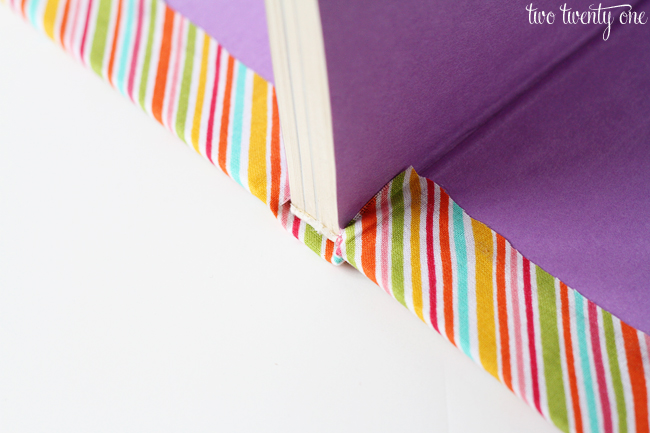 And now you have a beautiful, fabric covered book. Added bonus: it's all about Vanna White's mysterious life.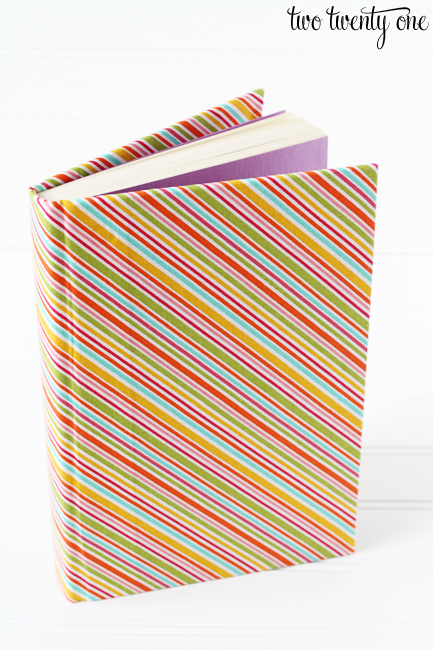 Remember, this DIY shouldn't break the bank. Use old hardback books you already own or pick up some at garage sales. Utilize leftover fabric from other projects. If you're going to buy fabric use a coupon. I never pay full price for fabric– that's just silly.