Guest Bedroom Makeover Details
Thanks for all your sweet comments about our guest bedroom makeover. Today I'm sharing the details of the makeover. I'll list everything I purchased, where I purchased it, and the price at the very bottom of this post.
I painted the room Repose Gray by Sherwin-Williams. Like I said in the room reveal post, I think it's the perfect gray. I purchased the paint during one of SW's 40% off paint sales. Definitely hit those up. If I'm planning on painting a room, I'll go on the first day of the sale and get samples (they're included in the sale). Then I'll give myself a few days to hem and haw over my choice. Finally, on the last day of the sale, I purchase the paint for the room.
During the makeover process, we also replaced all the outdated, almond-colored electrical outlets and switches with shiny, new white ones. Here's a tutorial on how we swap out the outlets switches.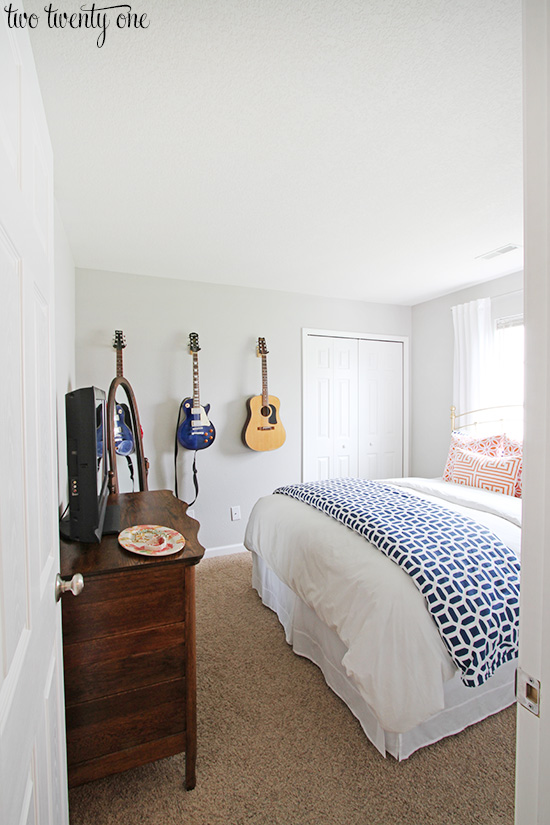 I'm so happy I found the navy, geometric duvet cover because it was exactly what I was looking for. It's the Peyton duvet cover (in royal navy) from PB teen, and it's currently on sale for only $24 with code FALL. Keep in mind thats only for the duvet cover, the shams are sold separately but, they're on sale too. So for the full/queen duvet cover and two standard shams, it's around $42 shipped.
When I purchased the duvet cover and pillowcases they weren't on sale, but I receive PB teen promotional emails so I used a coupon and got both for $112. The shipping is what kills. I'm not a big fan of that. It's probably because I'm so used to getting free shipping with a purchase over $50 from other stores. But if you're serious about buying from PB teen definitely sign up for the emails and keep your eyes peeled for coupons.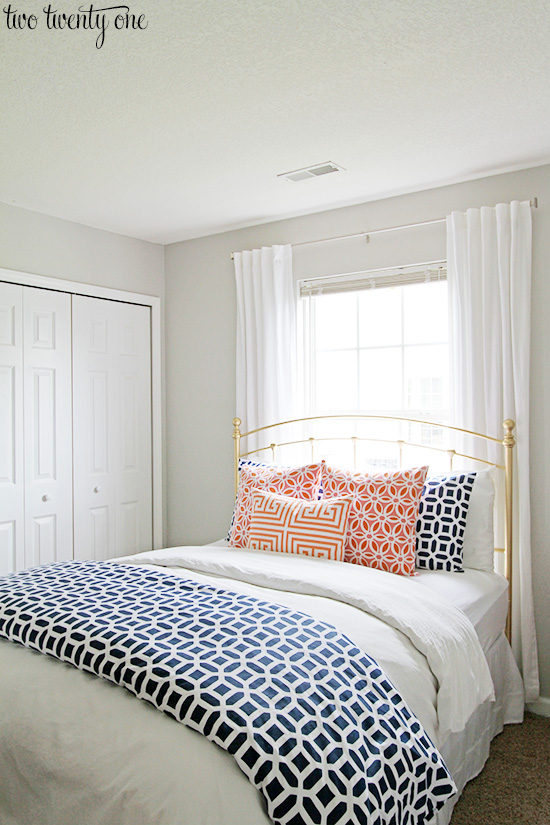 I really liked these particular coral and white pillows I spotted at Target, BUT they were $20 each. The two bigger coral printed pillows I ended up buying were 2 for $25 at HomeGoods so it was a no brainer to go with the less expensive option. The orange Greek key pillow is also from HomeGoods.
The headboard is an interesting story.
I purchased a brass headboard from a local thrift store for $15 a few months ago. I was told it was a queen size. So I brought it home and spray painted it gold (the brass was tarnished and scratched). Brad and I moved it into the guest bedroom to set it up and guess what? It wasn't a queen size headboard. No, no it was a KING.
I could've kicked myself for not double checking and measuring before I bought it and went through all the trouble of priming and painting it. I'm sure Brad was preparing himself for a monster preggo meltdown when we came to this realization. But instead, I calmly said some curse words, and we moved the headboard back in to the garage.
Now, you may not know this but sometimes when I partner with companies to sponsored posts, like this room reveal, I have to turn in my posts weeks or months in advance. I was already cutting it close so when the headboard debacle happened I didn't have any time to go thrift shopping for a new one. I scoured Craigslist and all I could find were $300-$500 brass headboards. No thanks.
Ultimately, I ended up buying a black metal headboard off Walmart.com for $118 (that includes shipping and tax) and spray painting it gold. I'm pretty sure Brad's words were, "So you're buying a brand new $118 headboard, and then you're going to spray paint it?" You're darn right. And it turned out perfectly if I do say so myself.
Obviously this isn't how I wanted it to go but I was super pressed for time and in a sense paying for my carelessness of not measuring the original headboard. So remember, folks, always measure things.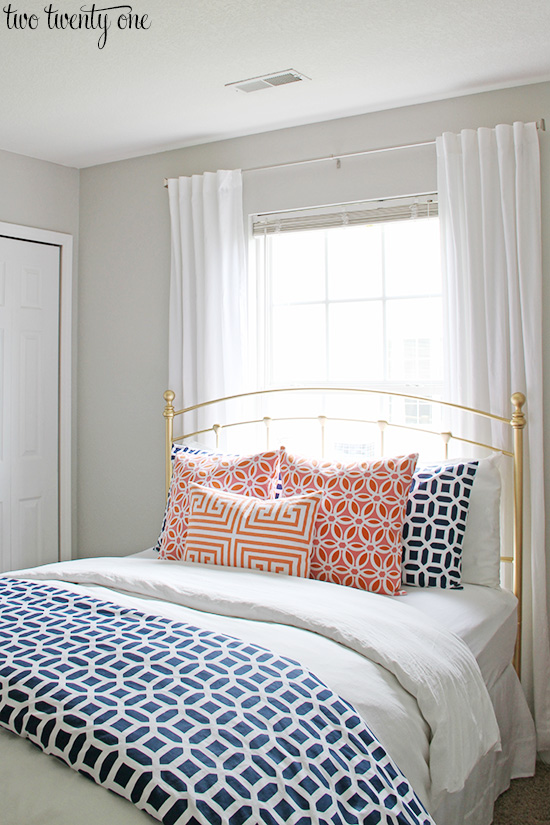 We've owned the nightstand for a couple years. I picked it up at a thrift shop for $10. I initially spray painted it white, but I decided to spice it up with coral paint (Sherwin-Williams Dishy Coral) for this room makeover.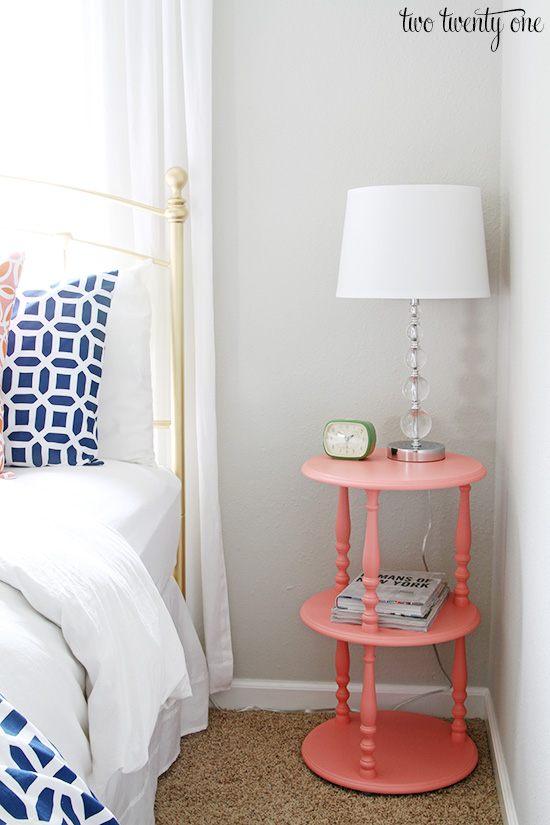 We've owned the rest of the stuff in the room for years, so there's nothing to really report there.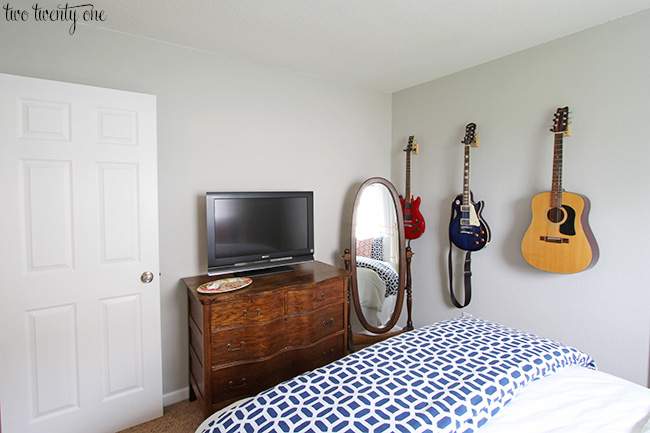 Here's the final run down of where I purchased everything, including prices.
paint:  Sherwin-Williams (SW Repose Gray)… $32
curtains:  Target… $18
white duvet cover and pillowcases:  IKEA… $25
bedskirt:  Kohls… $24
navy duvet cover and shams:  PB teen (Peyton– Royal Navy)… $84 + $28 = $112
coral and orange throw pillows:  HomeGoods… $25 + $15 = $40
headboard:  Walmart.com + Rustoleum metallic spray paint… $118 + $7 = $125
nightstand:  thrift store + Sherwin-Williams paint sample (SW Dishy Coral)… already owned + $4 = $4
lamp:  Target… $30
retro alarm clock:  Amazon.com… $15
dresser:  vintage… already owned/family heirloom
tray:  Target… already owned
mirror:  vintage… already owned/family heirloom
guitars:  already owned
guitar wall hangers:  Amazon.com… already owned
TOTAL:  $425
If the headboard debacle hadn't happened, I would've come in around $330. But like I said, I paid for my oversight.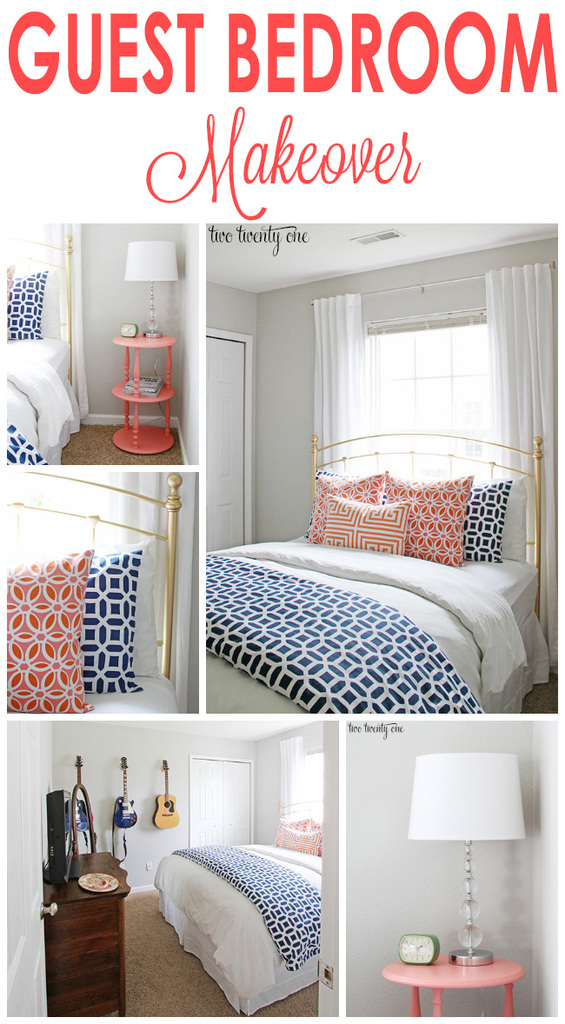 This post contains affiliate links.