Brad and I are quickly approaching the 5 year anniversary of buying and moving into our first home. It's crazy to think 5 years have already flown by in this house.
I have a confession to make. We've lived here for nearly half a decade and always neglected the back patio. I kept saying we wouldn't spend the money on furniture until we added a deck. We've talked about adding a deck for the past 3 years and it's yet to happen. A while back I finally said, "What are we waiting for?" We've barely enjoyed the small, 10×12 patio. It's not the best or biggest space, but it's something. So it was time to stop saying "we'll do this after we do that".
Alright, let's start with how things looked before the makeover.
We would sit on old plastic chairs from college. If we had people over we'd get really fancy and break out the bag chairs.
We'd spend most of our time hanging out on the patio while Brad grilled on his beloved Jenn-Air grill, which he got for free from a former co-worker. When he brought it home it was a hot mess but he fixed and cleaned up. It works perfectly now.
And then there are all my pretty potted planters.
That's it. It was pitiful.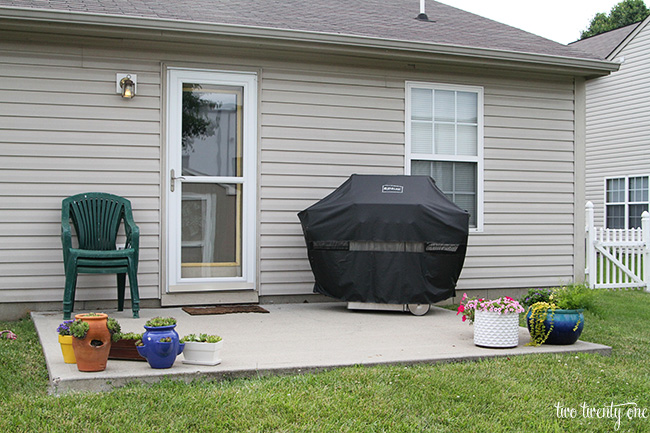 Now, how about the after?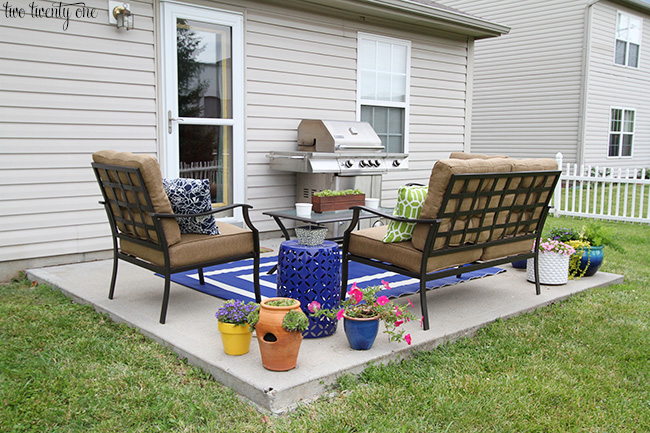 Much better, right?
NOTE: we only store the grill up against the house when we aren't using it. When we use it, we pull it away from the house so the heat from the grill won't melt the vinyl siding. Once the grill is cool, we cover it up, and move it back up against the house.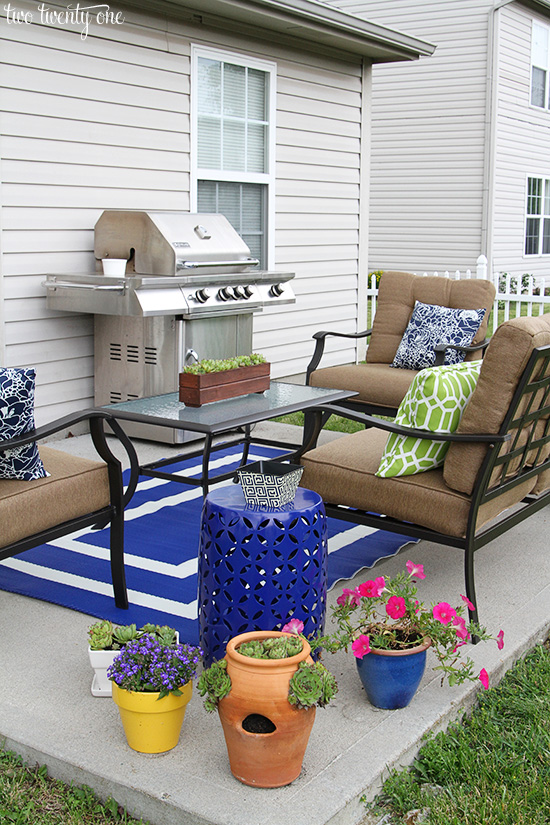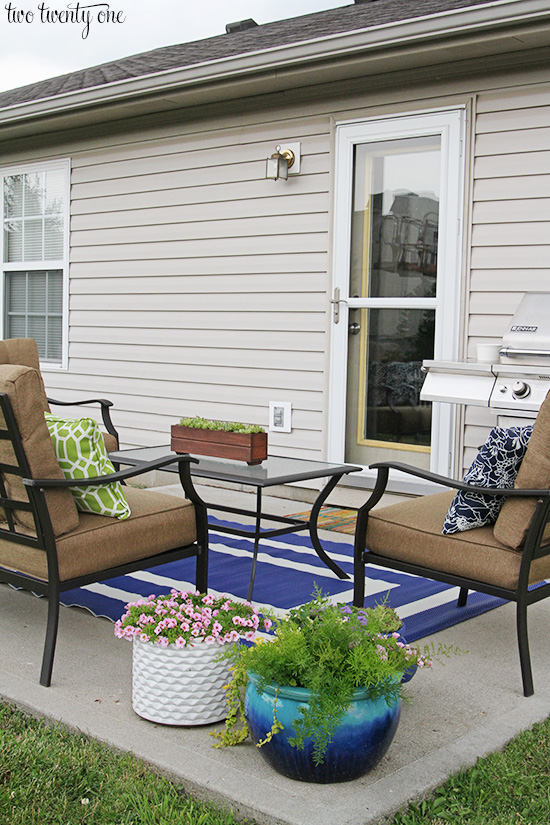 We purchased the Garden Treasures Eastmoreland patio set from Lowe's. After sitting on a few different patio sets, we chose this one because we liked the feel of these cushions the best. Supportive but comfortable.
We went with tan cushions because it was the most neutral color, which makes it easier to accessorize with more inexpensive things like throw pillows.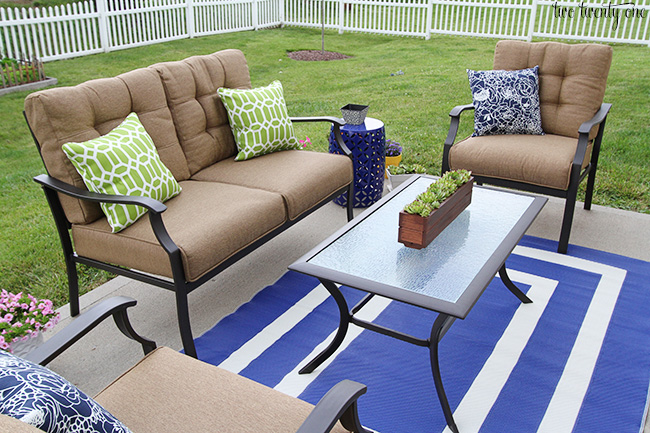 We decided on a loveseat, two chairs, and coffee table patio set over a table and chairs because we wanted the space to be more lounge like– where we could kick back and relax or eat al fresco if we wanted to do so. Plus, we didn't think a table with seating for 6 would fit comfortably on the patio with the grill and planters.
If/when we ever build a deck, we'll put a dining table and chairs on it.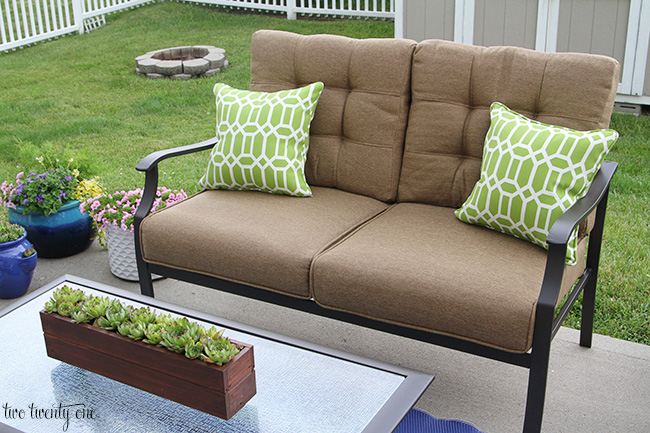 When I saw the coffee table I knew my new wooden succulent planter would look perfect on it.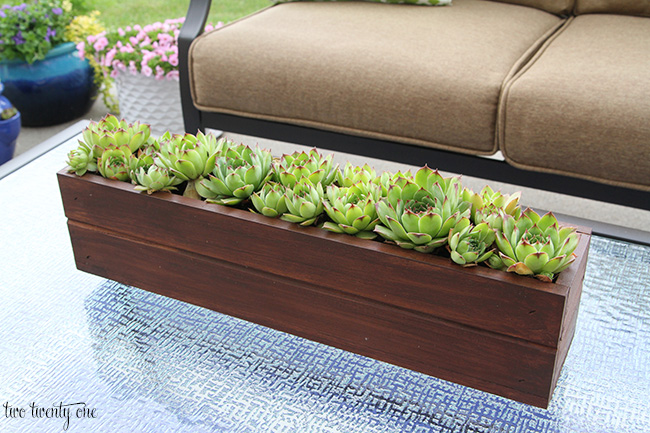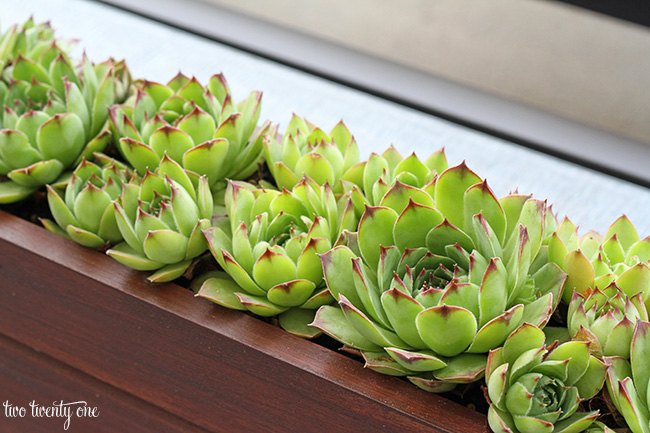 I couldn't pass up the cute blue gardener's stool I spied at Lowe's. They were also nice enough to give me a discount on it because it had some scratches and was the last one they had in stock. Cha-ching.
I also picked up the jazzy citronella candle (on the stool) and navy floral throw pillows at Lowe's.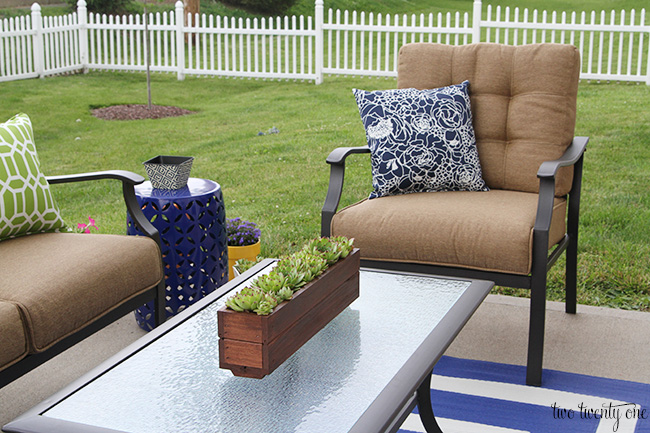 An outdoor area rug wasn't in the original plan, but after I spotted this 5×7 rug on sale at Lowe's for $24 I had to bring it home and see if it would work. I'm glad I grabbed it because I think it does a good job anchoring everything.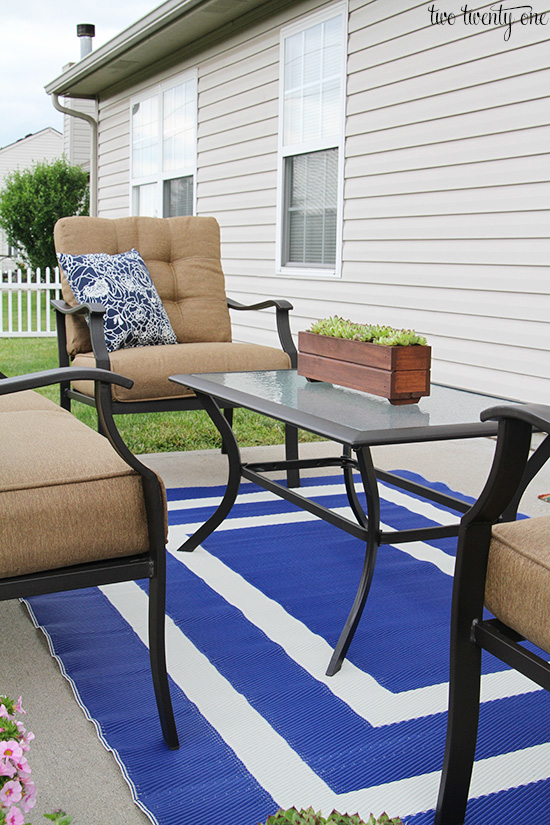 I also grabbed a couple of basic white citronella candles at Lowe's and set them on the grill in an effort to keep the annoying bugs away.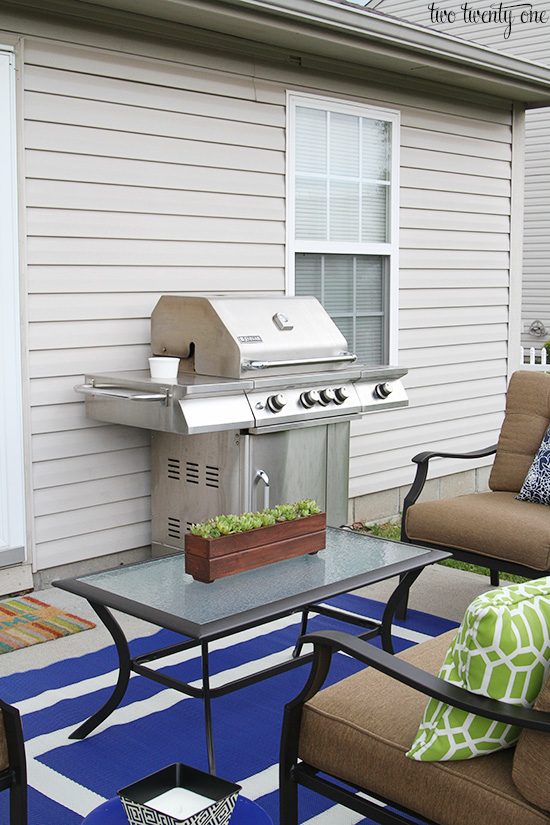 I love this photo because you can see Jack trying his hardest to get to the rabbit that's currently inhabiting the space under our shed.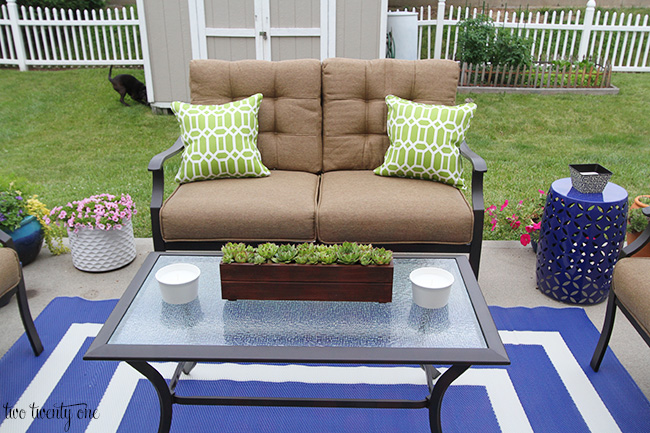 I've always had potted planters on the back patio. I've collected the planters throughout the years.
Now I can actually enjoy them in comfort instead of sitting on one of those uncomfortable green chairs while chatting with Brad as he grilled.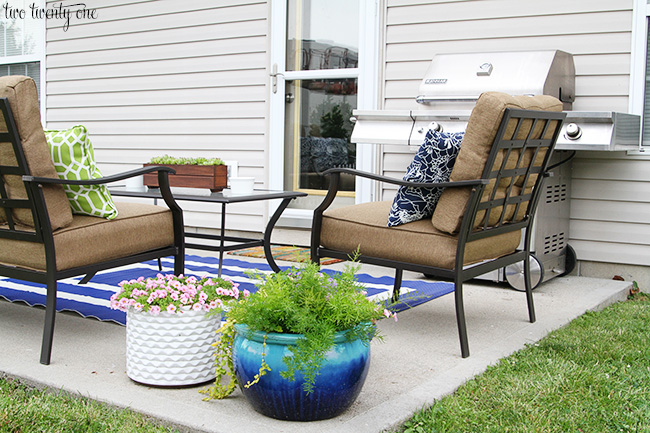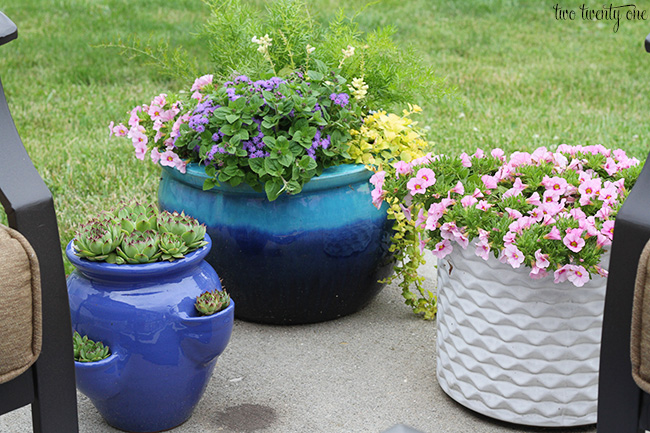 And as you can see, the transplanted hens and chicks are still going strong.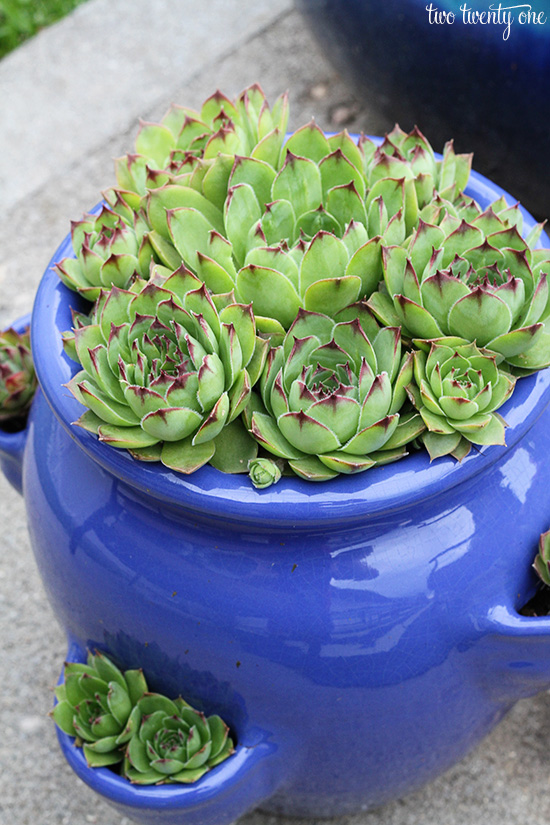 Needless to say, I'm glad I ditched the "we'll do this after we do that" mentality. Now I can't wait to enjoy cool summer and fall evenings out on the patio with Brad, Jack, and the nugget, once he arrives.
In case you're wondering, here's the breakdown of the cost of the patio makeover (I'm including the 7% Indiana sales tax in the prices).
patio set… $533
outdoor rug… $24
navy throw pillows… $30
green throw pillows… $21
blue gardener's stool… $21
grill… free/already owned
planters… already owned
TOTAL… $629
What do you think of the makeover?
Have you been plagued with the "we'll do this after we do that" way of thinking when it comes to house projects?

You can find more DIY ideas from the other amazing Lowe's Creators & Influencers!
Follow Lowe's on Instagram, Pinterest, and sign up for the Creative Ideas magazine and app!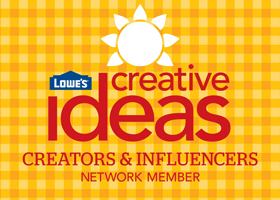 As a Lowe's Creative Ideas Creator, I was provided a gift card to cover the cost of materials for my project. All opinions are 100% my own.