I'm back today to show you how I turned the $50 Craigslist dresser into a fancy schmancy dresser TV stand for our living room. It easily holds our flat screen TV and all of our other home theater electronics.
Dresser TV Stand Supplies
Primer: Zinsser Cover Stain Primer
Primer Conditioner: Penetrol
Dresser Paint: Valspar Ultra White semi-gloss latex
Detailing Paint: Valspar "Grey Porch" (sample)
Latex Paint Conditioner: Floetrel
Paintbrushes: Purdy
Spray Primer: Rustoleum
Spray Paint: Krylon "Smoke Gray" gloss
Shelf Liner: Marshalls (The Macbeth Collection)
Pink Knobs: Hobby Lobby (clearance section)
Removing Unnecessary Things
I started by taking out the top row of drawers. Then, I had to remove all the slides and stops. This step was a little hairy because they were glued on and/or secured by staples. Annoying.
Enter: screwdriver.
While I was pulling stuff off of the dresser I figured I might as well pull off the decorative thing on the bottom. I didn't care for it, so gone it was.
Then, I sanded done the spot where the decorative thing was.
Sanding the Dresser
While I was sanding, I figured I might as well sand down the entire piece. I used a palm sander that Brad brought home from Harbor Freight. Love me some Harbor Freight. Tip: always look for a coupon before you go. I used a sanding block on the drawer fronts and for tight spaces.
I did have to patch a handful of nail holes, so I used some wood filler and sanded the patches when the filler dried.
After sanding it, I blew out the dresser with an air compressor because there was some gross stuff inside. You know, like lint, dust, petrified mouse droppings. Fun stuff.
Priming
I used a paint sprayer (also from Harbor Frieght) to put on the Zinsser primer (conditioned with Penetrol). I saved hours spraying on the primer rather than painting it on with a brush. Hours.
I did two coats of primer, sanding in between each coat. This. Was. Tedious.
Adding the Shelf
In the middle of all the priming and sanding I took the dimensions of the top shelf so Brad and I could head to Lowe's and get a piece of wood. I obviously couldn't fit one big piece of wood on the top shelf, so I split it into three large sections and two small sections so I could fit them in. You know, like a puzzle. We bought a slab of 5/8 inch thick wood. A guy at Lowes cut it into the sections according to my measurements. I like that Lowe's cuts wood for you. Thanks, Lowe's!
When we got back I had to see if the pieces fit.
And they did. Further proof that I'm awesome at using a tape measure.
I sanded, primed, sanded, and primed the pieces on all four sides. I always use a cheapo roller and brush when using primer. It's not worth it to use a nice paint brush. Write that down.
Painting
After the sanding and priming marathon was over, I brought the dresser, drawers, and shelf pieces inside to paint them. I did two coats in all, using another cheapo roller to roll the paint onto the larger surfaces. Then I used a quality angled paint brush (Purdy) to go over the paint. On the smaller areas I used a smaller angled brush. To minimize brush strokes, I used Valspar ultra white paint conditioned with Floetrel.
I knew I wanted to paint the detailed sections on the drawers from the get-go. I grabbed some leftover grey paint (conditioned with Floetrel) from my sewing machine cabinet makeover and a small craft paint brush.
This part was pretty easy, actually. I painted the crevices and if any paint went outside the area, I used a damp paper towel to wipe it off.
Electronic Cable Holes
While those were drying, Brad drilled three holes in the back of the dresser for the electronics cables.
After the holes were drilled, I set the shelf pieces inside. I didn't see the need to secure them.
I decided to line the drawers for two reasons. One, a child (probably the owner of Bubbles) decided to get his/her artist on. Two, simply put, I wanted to use pretty shelf liner.
Ahhh, much better.
I spray primed and spray painted four of the drawers pulls. Then I attached them to the drawers along with the other pinkish draw pulls. I didn't take photos of this. Sorry. I'm sure you can use your imagination though.
I decided not to seal it with Polycrylic like I did with the sewing machine cabinet. Personal preference.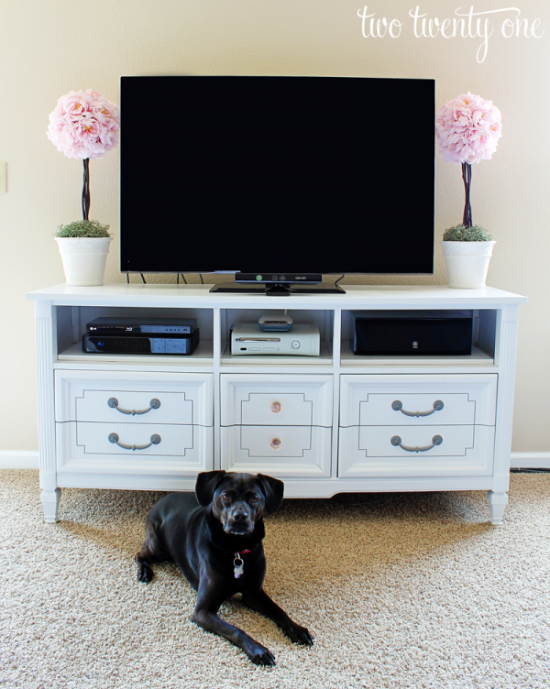 It's been 9 years, and we're still using and loving the dresser TV stand as our entertainment center. We love how it's a unique living room furniture piece. And while it's one of my least favorite DIY projects to date, I'm so glad I tackled this beast.