How We Paid Off $125,000 of Debt
First, let me say THANK YOU for all of your sweet comments on our paying off $125,000 of debt announcement. You guys are the best.
As we were closing on our final goal, Brad looked at me one night and said, "I kind of can't believe it. I always thought we'd be paying on my loans until I was almost 50."
For years, Brad had accepted that this was our future. But being the fiery woman I am, I was all "Aww HELL NO!" when he'd start saying things like "It is what it is– I'll be paying this off for decades."
That's what debt does to you though– it beats you into submission. But I think you have to get to the point where you're pissed off.
You're pissed that you can get a lower interest rate on a car than on higher education.
You're pissed that you're potentially going to give Sallie Mae $60,000 in interest in order for them to loan you $85,000. $85,000 that you needed to borrow so you could better yourself and your family.
You have to have an "Aww HELL NO" moment.
The final push to pay off the debt was back in August of 2013 Brad was laid off. Thankfully, the lay off lasted only 6-7 weeks, but it was still two months without a normal paycheck (because let's be honest, unemployment doesn't cut it when you have student loans, a mortgage, and all your other bills). This period in our life really scared us. And that was back before our now two-year-old was in the picture. I told Brad I never wanted to feel that helpless again. So we vowed that as soon as we were fully back on our feet, we'd really work on paying off the debt. And at this point there was the credit card debt and the student loan debt.
Alright, so here are the things that led us to paying off $125,000 in three years.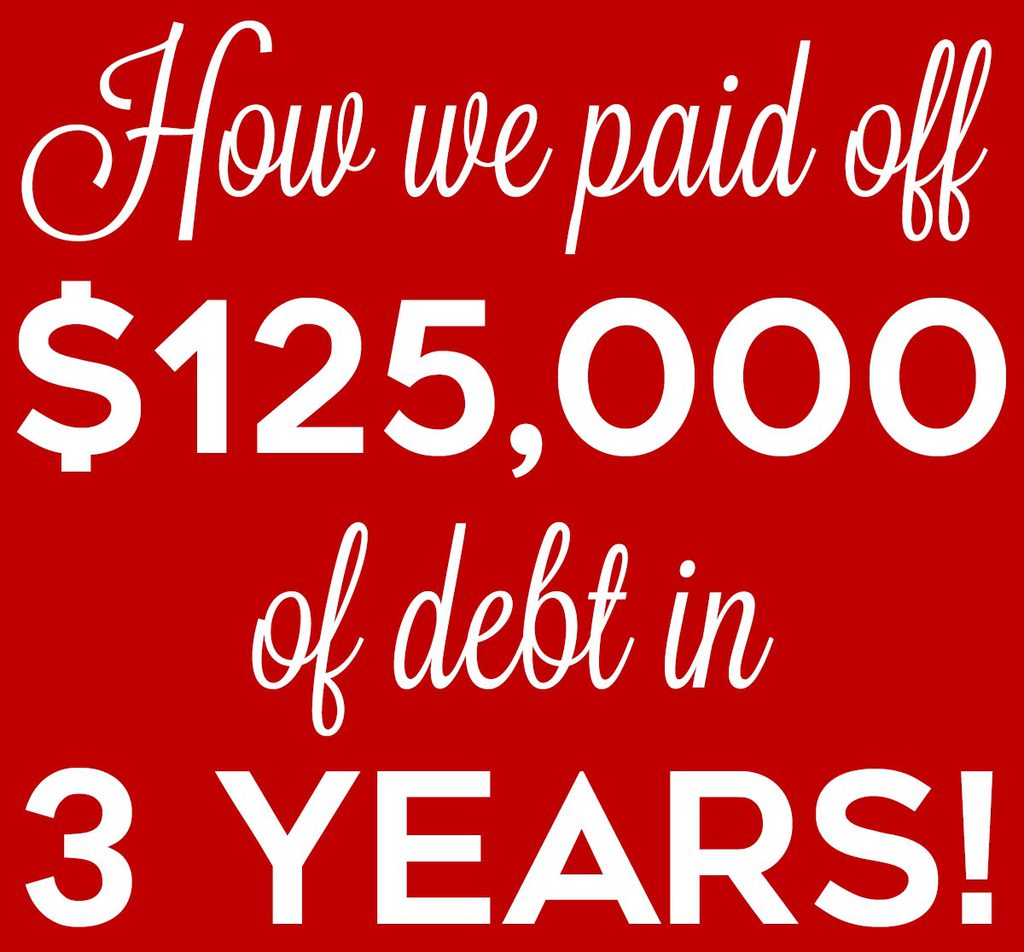 Need vs. Want
We didn't really use a budget. Budgets stress me out. So we just went with the whole 'Need vs. Want' motto. If we didn't need something, we didn't buy it. Or if we really wanted something, we'd wait until Christmas or our birthdays when our families would hound us for gift ideas.
I will say that I feel like a lot of people get caught up in the wanting thing. It's hard not to be envious when you see someone go out and buy a new $50,000 truck or a $600 handbag. But you don't know their situation. They could be in debt up to their eyeballs.
Cut Back
We cut back on house projects. And I cut back on buying stuff for our house, which is why you haven't seen many big DIYs or room makeovers for a while. Yes, one of the perks of this blogging thing is that I'm able to partner with sponsors. So we've thankfully gotten some home related items and projects done through said partnerships. We did splurge a little when we got our kitchen countertops a couple years ago, but even then we saved thousands by going with laminate instead of solid surface. And we added value to our house by updating the countertops.
Bought A House Within Our Means
When we went to our bank to get pre-approved for a mortgage back in 2009, we told them how much we wanted to pay a month with the mortgage, property taxes, and insurance. And that's what we got pre-approved for–not "How much can we get approved for?"
The amount we got approved for was only $30 more a month than what we were paying for our 2 bedroom apartment. We also lucked out as buyers because this was right after the housing market crash of 2008, so house prices were very low, especially in our area. And we were able to take advantage of the first time home buyer tax credit, which was actually an $8,000 check made out to us. So, part of this was being smart and part of it was luck.
I feel like buying a house well within our means really helped us financially in the long run.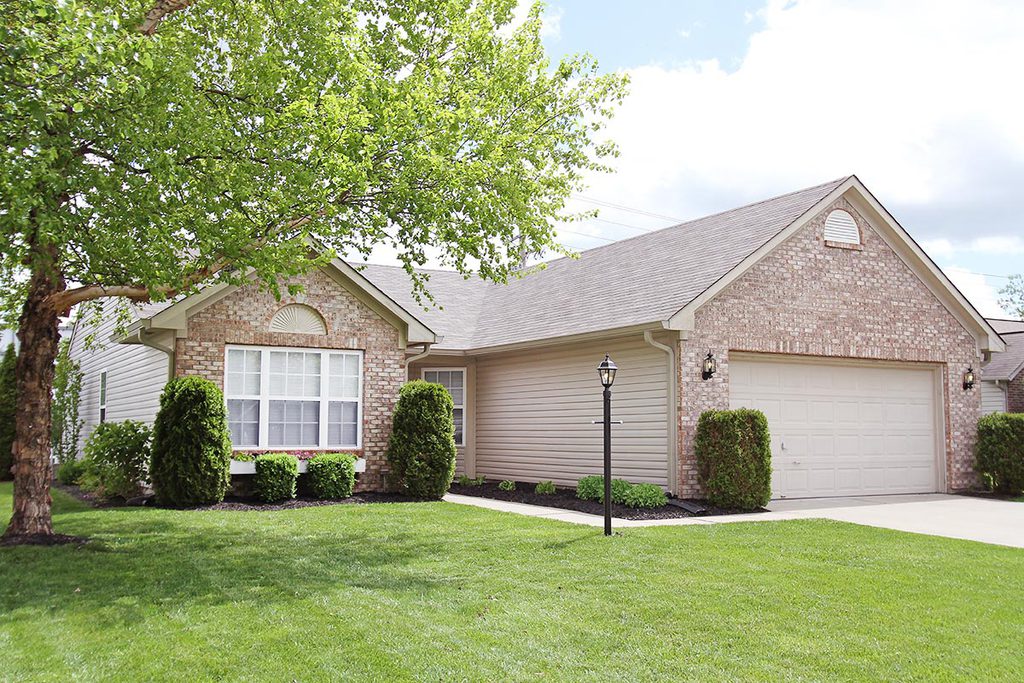 Refinanced Our House
Back in 2013 the mortgage rates dropped so we took advantage of it and refinanced our house to a lower interest rate. There's a few factors that go into refinancing, so consult with your lender about refinancing. We knew we'd have to stay in the house for at least a year and a half to two years in order to break even on the refinancing.
Location, Location, Location
I feel like I need to mention this: We live in Indianapolis, Indiana, where the cost of living is pretty affordable– especially in the housing department. Houses in our area are listed for around $85-$110 per square foot.

Worked While Going to Grad School
When Brad went back to school in late 2009 to get his Masters, he also worked full-time. I was also working full-time. I don't want to imagine how much more student loan debt we would've taken on had he gone to school full-time and not worked or only worked part-time. He finished his program in 2.5 years, which was ahead of schedule because some semesters he was considered a full-time student.
Side/Freelance Work
A few years ago, I took on random freelance work for other bloggers in order to earn extra money. I also do freelance work for companies– like my partnerships with Oriental Trading Company and Better Homes and Gardens. So if you have the available time, look into extra ways to add to your income. To be clear, I'm talking about using one of your talents to make money on the side. Don't sign up for these get quick rich/work from home things where you have to put down a bunch of money first. For example, Brad would work on friends' cars for extra money. I know of people who are graphic designers by trade, but sell printables on Etsy to make extra income. I have some other friends who tutor on the side. A couple teacher friends of mine have side photography businesses. One of my friends cleans houses one day a week for added income.
Bought A Better Car
Okay, I know this is going to sound crazy. But we bought a car in December, 2013 when we first started paying off our debt. Before you start thinking "Uhhhh, you were doing it wrong…" let me explain. Both of our cars were paid off at the time. But Brad was constantly having to fix his Trailblazer. And these were expensive fixes– I'm talking $300-350 a month so it was like we were still making payments on the car. They were also time-consuming fixes since Brad does the majority of the maintenance on our vehicles. He'd spend most weekends and some weeknights out in the garage working on the Trailblazer. We finally decided it was best to cut it loose and for Brad to get a dependable, gas-efficient car since he commutes 32 miles roundtrip to work everyday. After pricing out Toyota Camry's in our area and other areas, we found that it was cheaper to get one in Brad's hometown three hours south of here. We ended up buying a 2012 Camry with 36,000 miles. We've had it for almost 3 years (it now has 80,000 miles on it), and we haven't had any issues with it– just new tires.
In case you're wondering about my car, it's a 2007 that I bought in 2008. And I paid it off in 2012.
DIY Car and House Maintenance
Like I said above, Brad does almost all of our car maintenance. A couple months ago I did have to take my car to a dealership to have the transmission system flushed (it hit 100,000 miles) but that was because they use a special machine to do that. Brad can do other bigger fixes like replacing brakes and pads, tie rods, shocks, struts, etc. We've saved thousands by having Brad maintain our vehicles.
We also try to DIY a lot of our house maintenance and any issues that arise. This summer we were having some drain issues, so Brad borrowed his dad's snake and snaked the line which fixed the issue. We do pay our HVAC guy to come out and perform routine maintenance on our heat pump system twice a year.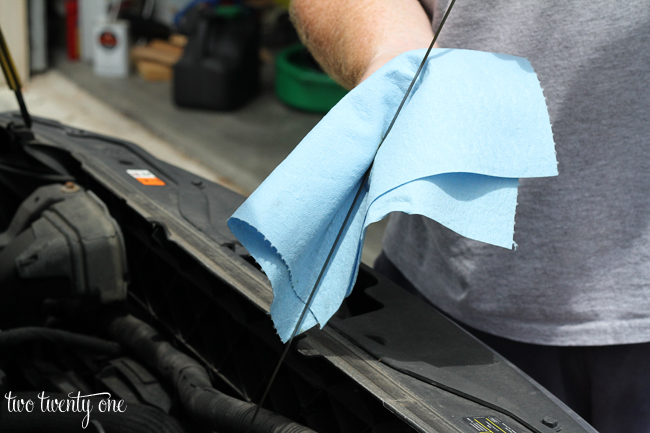 Furniture
To save money on furniture, I would find stuff on Craigslist and spruce them up– like the $50 Craigslist dresser I turned into a TV stand. I also bought a 7-piece dining set off of Craigslist and revamped it with paint and new set cushions. My mom helped me sew the curtains in our living room and Owen's nursery. And we still have a lot of hand-me-down furniture.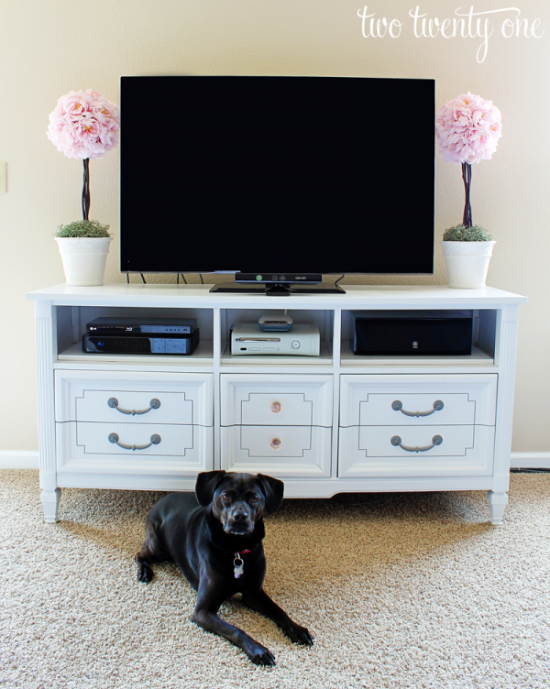 We also hit up IKEA for a lot of the furniture in our house. My office workstation is from IKEA. Owen's nursery dresser and closet shelving unit are also from IKEA. We live 2 hours from the nearest IKEA so we would make big trips every other year.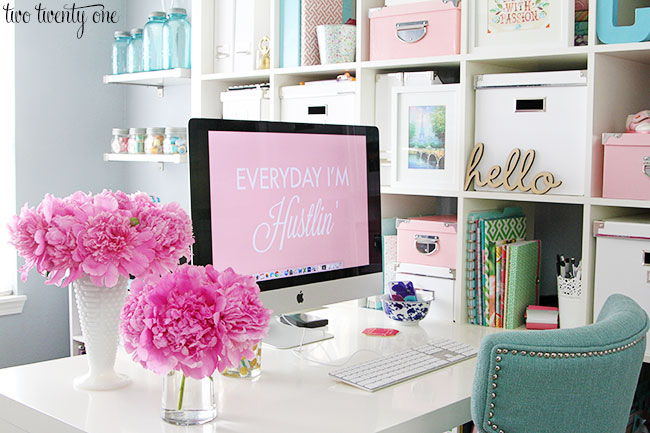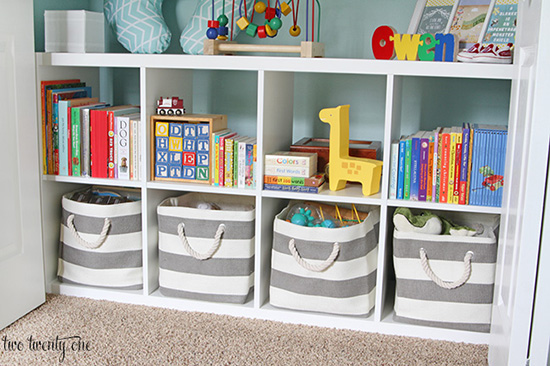 Found People To Do Work On the Side
We found our HVAC guy through a friend. He does side work so instead of paying more to go through a company, we go directly through him. When our heat pump went out in the middle of winter two years ago, he gave us a good rate but he gave us an even better rate when we offered him cash. So if you can, find people who practice their profession on the side (car mechanics, HVAC, plumber, etc.) and offer them cash for a better price.
Sold Body Parts
JK. We never got to that point.
Called Around for Lower Rates
In order to get our monthly bills down, we called companies to see about getting lower rates. We just went through the list and called everyone– home insurance, car insurance, cellular, internet, cable. The whole threatening, in a polite manner, to take our business somewhere else always seemed to work.
Said 'No' A Lot
 It wasn't always easy, but we said 'no' a lot. Our group of friends typically go on nice getaways when someone turns 30. We've passed up trips to Vegas, Turks and Caicos, Austin, Cancun, Breckinridge… They also like to go on annual ski trips. But we just could never bring ourselves to put a couple thousand dollars on our credit cards for each trip. It wasn't worth it. So we were always those friends saying "Sorry, we can't make it." Trust me, it stung when they'd come back and talk about how much fun they had. But we had to remind ourselves that the memories weren't worth putting ourselves further in debt.
Treated Ourselves Once In A While
Once in a while we would treat ourselves to something nice, whether it was a movie and dinner or a nice dinner for a friend's birthday. We felt like if we never had a little fun we'd be miserable, so we decided that from time to time we'd spend some money on ourselves. But I will say, it really stunk when we'd shell out $100 for a meal and it was awful. See photo below.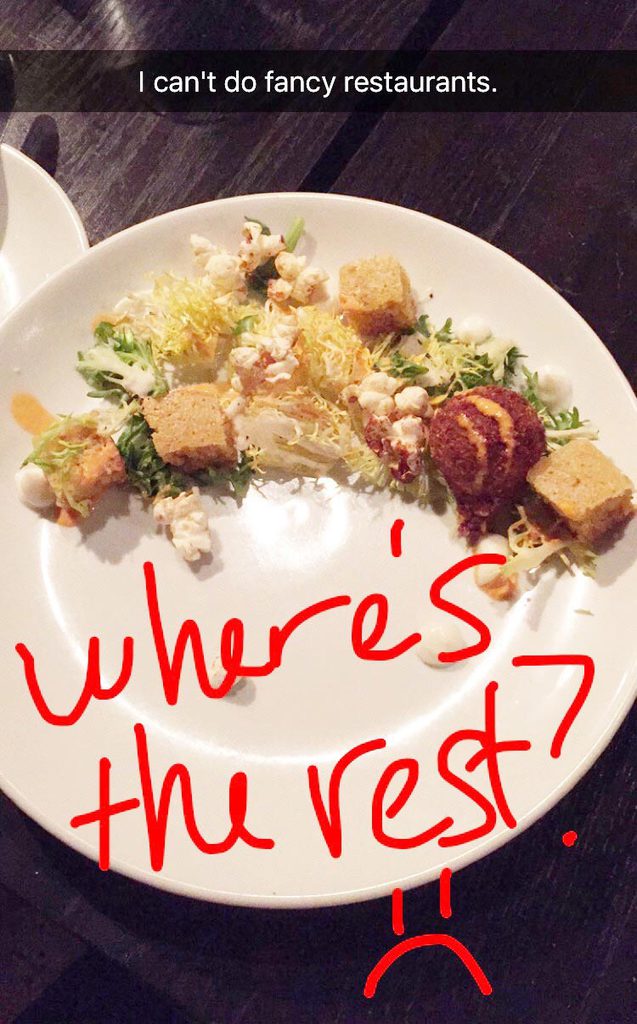 No Childcare Needed
Because I'm self-employed, I can set my own hours. This means that we've never had to pay for daycare, which has saved us thousands. It's actually worked out perfectly for me because I always wanted to be able to stay home with my kid(s), but I also wanted a career. (I'm not lying when I say blogging is my dream job. Again, thank you!) Since Owen was born, I've been with him during the day, and I work while he naps. Then after we put him to bed at night, I get some more work done. I'm usually up until midnight or 1AM working. I also get a lot of work done on the weekends when Brad is here to help me wrangle Owen. I'll add that Owen started preschool in August. He goes a couple days a week for a few hours (but it still only adds up to 8 hours a week). I know our situation isn't possible for most people, and trust me, I feel for you because I know how much childcare costs.
Credit Cards
I know there are some people out there who practice the cash method (only pay cash for things, never debit or credit cards), but we couldn't go that far. Yes, we still have credit cards, BUT we pay the balance off every month. I've done this since I was 18. It's something my mom instilled in me and it stuck. There were a few months back when we were super broke that I carried a balance, and it made me feel awful and stressed out. So once you pay off your credit cards, pay off the balance every month.
One way I have saved money is by having an Old Navy/Gap credit card. Cardholders get certain promotions, and it's how I end up saving a lot of money on my clothes and Owen's clothes. But like I said, I always pay off the balance. Especially with store cards because they have crazy high interest rates.
Gift Cards
For Christmas and birthdays we'd ask family members for restaurant and store gift cards. We'd ask for Amazon and Target gift cards and use them for food, clothes, diapers, random household items, etc. I'd also ask for Sephora gift cards so I could buy makeup without feeling guilty.
In Conclusion
That pretty much sums up the things we did to save money so we could live on one income.
In case you're wondering, here's the order that we paid things off: credit cards, car, student loans. We started with the lowest amount owed and worked our way up to the biggest, while still making the minimum payments on the other stuff.
We did the math, and we ended up paying $13,000 in interest on the $87,500 in student loans. Had it taken us the full 25 years paying the minimum, it would've been an estimated $72,500 in interest. That means we would've paid a total of $160,000 instead of $100,472.54.
I don't know about you, but I'll take giving Sallie Mae $13,000 over $72,500.
And in all actuality, Brad paid even more. When he went back to grad school he deferred his undergrad loans, but the interest still incurred, making what he had paid for 2 years, between undergrad and grad school, basically null and void.
Like I said, students loans are a sonuva.
As you can imagine, this wasn't easy. We made a lot of sacrifices. But it was SO worth it. The biggest burden you can imagine has been lifted off our shoulders. Now we can focus on our retirements, giving to our favorite charities and non-profit organizations, and putting money in Owen's 529 college savings account.
Some of you have said we should do something special to celebrate our accomplishment. And I'm happy to say that we're going to New Orleans in January over my birthday weekend. I fell in love with the city when I went a few years ago with some of my closest college sorority sisters. Brad has never been so he's excited to take in The Big Easy.