Do you want the good news or the bad news first?
Let's just jump in with the bad news. Brad was laid off 6 weeks ago.
I was at Haven, a DIY & home blogger conference in Atlanta, when it happened. I talked with Brad that morning on the phone– he was about to walk into work. After hanging up with him, I headed into a session. At 10:10 he called me. Since I couldn't answer the phone, I sent the call to voicemail and texted him back.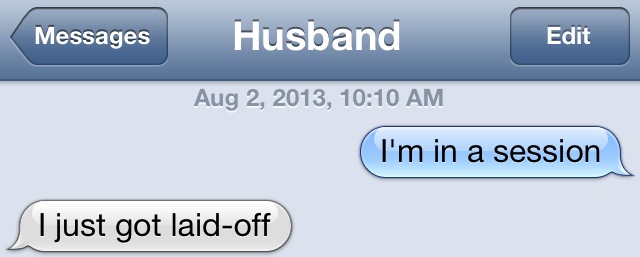 Guys like to rip the Band Aid right off, don't they?
I did the obvious thing: grabbed my phone, walked very quickly out of the room, and immediately called him. I was clearly upset. Who wouldn't be? When I came back into the session my eyes were puffy and swollen. And I ended up crying again. My apologies to those sitting at my table who had to witness my ugly cry– trust me, it ain't pretty.
I realized there was nothing I could do to change the situation, and I was hundreds of miles away from home so I needed to suck it up and put a smile on my face. Thankfully, Brad's family was already coming into town so they were a nice distraction for him– instead of him sitting home alone all weekend.
While this was horrible news, I still remained the optimist I am. In our relationship, I'm the one saying things like, "We'll be alright. If we have to, you can sell a kidney on the black market and I can be a gestational carrier." Just kidding. I'd like to have my own kid first. Sorry. I'm selfish. But if Brad wants to give up a kidney for some cheddar then that's his decision.
I told Brad other things, like if he didn't have a job by this Christmas that I'd scrape together any money we had, build a website for him, and purchase a "Hi, I'm Brad! Hire me! Go to www. . ." billboard on the interstate. I'm no marketing major but I think that's a pretty clever idea.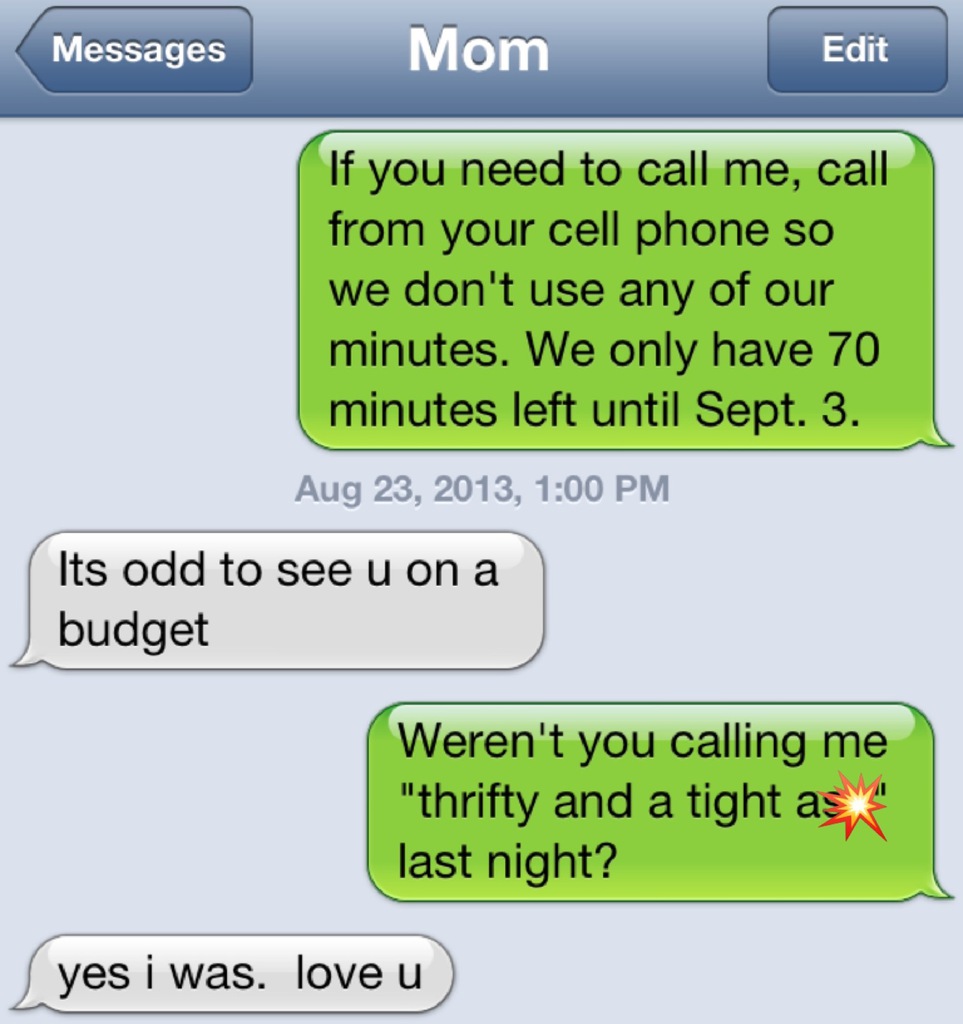 My mom's got jokes.
Now how about the good news?
Brad was offered a job less than two weeks after being laid off. A good job. A job he's going to enjoy. A job where he'll put his Masters degree to use. A job with good HEALTH INSURANCE and benefits.
He started on Monday. WOOT WOOT!
Why did I capitalize health insurance in the paragraph above? Because I've been without good health insurance for 3 years, and Brad has been without good health insurance for 2 years. We were completely without health insurance for a period of time last year. But at the beginning of this year we manned up and bought a $11,000 deductible HSA plan (benefits provided after the $11,000 deductible is met– oof). Oh and, by the way, that plan doesn't have maternity coverage (maternity is currently seen as a preexisting condition) so if we were to have an oopsie we'd basically be up poop creek without a paddle. Seriously, paying for this plan is like lighting $180 on fire every month on the off chance that something catastrophic happens to one of us because we rarely need to go to the doctor. With all of that said, if you're lucky enough to have good health insurance, walk over to your wallet, take out your insurance card and give it a big fat smooch. I mean it. People like me are envious of people like you. So you better believe when my health insurance cards comes next month that I'll be whispering sweet nothings to it.
Now, why am I sharing all of this with you? (Because I don't really need to. I could have glossed over this entire event.)  I guess it's to show that we're real people with real problems. I know so much of blogland can be "OMG look at my awesome life! My husband is amazing! Everything's super duper! Check out this cool thing I spray painted gold!" So here I am saying things aren't always super duper.
 And some of you may be all "Well this is easy for you to share now that your husband isn't unemployed anymore." And I totally get that. But I told myself I'd give it 3 months before I'd post about it if Brad was still unemployed. I didn't want to come on here a week after he was laid off and make it look like I was throwing myself a pity party.
In the end, I'm so thankful things turned out the way they did. We needed this. Brad has been working his tail off trying to get out of his previous job and find a new one that relates to the Masters degree he worked so hard for and got in Dec. of 2011. (Shoot, I even solicited you guys.)  It's been one of those "when one door closes another door opens" kind of things (minus the looking regretfully at the closed door part of that quote). And it reminded me of a somewhat similar situation I was in 3 years ago. And you know what? It was a gift. I never would have had the time to DIY so much of our wedding with my old job, therefore I never would have started blogging. So when the door to my old job closed, the door to my new job and blogging opened. And I'm 10 times happier where I am now.
So if you're in a job where you're feeling unappreciated and underpaid know that Brad and I have been there. If you worked your butt off to get your undergraduate and/or graduate degree (and have the student loans to prove it) and have yet to find a substantial job to match your education and qualifications know that Brad has been there and I've been along for the ride with him. I know it may seem endless, but keep applying for other jobs and networking like it is your job. It will work out in the end.
Thank you and congratulations if you read this entire post. My apologies for yammering on. I just wanted to share this because it's what we've lived for years. And I'm sure we're not alone. Brad and I are 29 and 28 and we're just now feeling like we're getting our careers rolling. So if you're in a similar situation just know that you're not alone. But just remember to keep things in perspective. I'm always reminding Brad that there are people in far worse situations than him and me. So what if we don't have the cash to buy a brand new car or to jet off to Turks and Caicos to celebrate a friend's birthday? We should be thankful for what we do have: each other, our health, our families, a crazy dog, jobs, a house, etc.
Stalk away!