Antipasto Skewers – An Easy Appetizer
Antipasto skewers: easy to make and perfect for any occasion. These antipasto skewers are excellent appetizers for parties, picnics, and more!
A couple months ago I shared a photo of the antipasto skewers I made for my friend's baby shower that I co-hosted. I never planned on sharing how I slapped these puppies together because I figured it was self-explanatory. But someone asked again the other day so I figured it was best to put the recipe out there so I can direct people to it.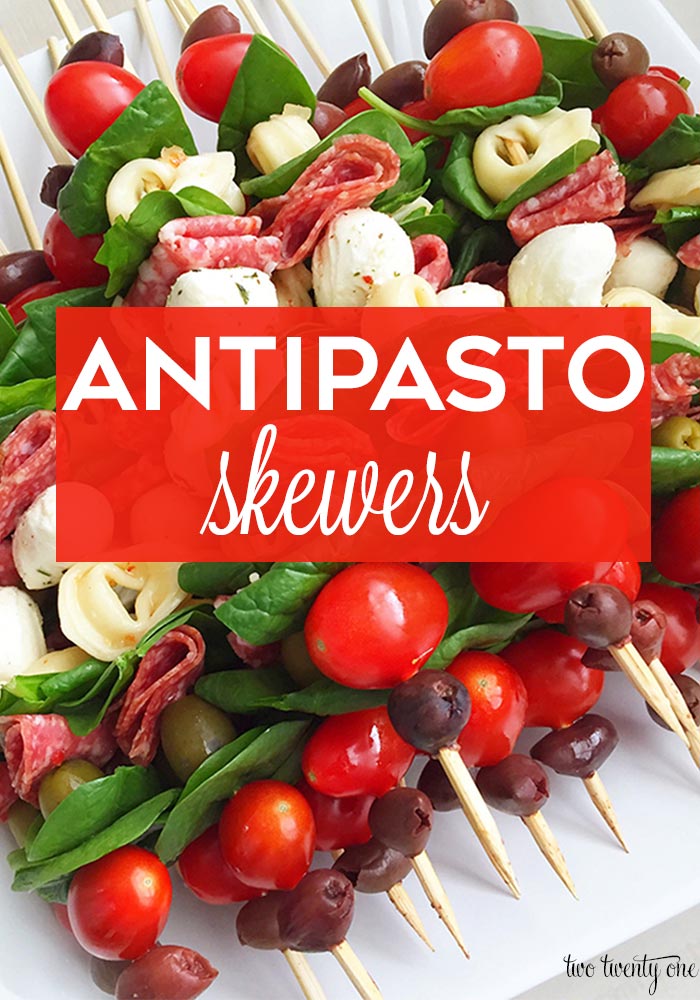 I bought most of the ingredients at Trader Joe's. The only ingredients that weren't purchased there were the wooden skewers, salad dressing, seasoning, and the kalamata olives, which I buy in bulk from Costco because I have a kalamata olive addiction.
The only thing in this antipasto skewer recipe that requires cooking is the tortellini. I cooked the tortellini according to package, rinsed in cold water, and combined the tortellini with the salad dressing. So while I had to put forth some effort in regards to the tortellini, it wasn't awful.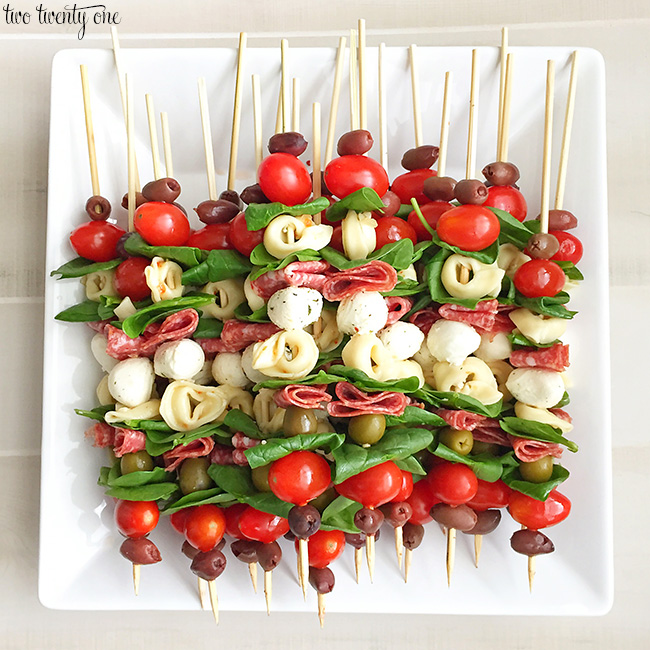 Confession: I didn't use basil on these. And here's why:
1. basil leaves are expensive unless you grow basil, which I don't.
2. I'd rather eat a spinach leaf over a basil leaf.
But you're more than welcome to be traditional and use basil instead of spinach. You can stretch your basil by cutting each bigger leaf in half.
You can also jazz these up a little more with a drizzle of balsamic glaze. I prefer Trader Joe's. YUM.

Antipasto Skewers
Ingredients
10

oz.

cheese tortellini

1/2

cup

Kraft Zesty Italian salad dressing

1/2

teaspoon

Italian seasoning

50

kalamata olives

25

green olives

50

grape tomatoes

50

thinly slices of salami

I used Calabrese

25

marinated baby mozzarella balls

100

spinach leaves

can subsitute basil

25

12-inch wooden skewers
Instructions
Cook tortellini according to package directions. Drain and rinse with cold water. In a sealable container, combine the tortellini, dressing, and seasoning. Refrigerate for 1-4 hours, stirring the contents a few times. Gather remaining ingredients when ready to assemble skewers. There will most likely be leftover tortellini so grab tortellini directly from the container and put it on the skewer. Fold the salami slices into fourths. Fold the spinach leaves in half. Thread the wooden skewer the following way: kalamata olive, tomato, spinach, tortellini, spinach, salami, cheese, tortellini, spinach, salami, green olive, spinach, tomato, kalamata olive.
Keep in mind that you can change up the ingredients. Add some artichoke hearts, green olives, cherry tomatoes, plain mozzarella balls, etc. You can even add a drizzle of olive oil. The Italian possibilities are endless!
You can also cut this recipe in half or double it. I actually had some leftover ingredients so I through them into the container of marinaded tortellini and made a pasta salad of sorts. The nice thing about salads as that you can throw whatever you want in them.
If you want to save this post to reference later, you can pin it here: