I helped co-host a baby shower for Kristin, one of our good friends, last weekend. I've taken her pregnancy announcement photo and helped her with her baby registry, so it only seemed fitting to help throw her a spring baby shower.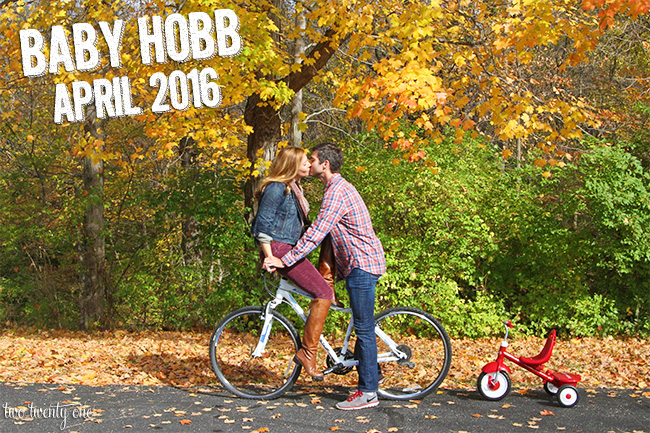 Interesting story: The night before Kristin and Andrew were going to the doctor to find out the sex, I had a dream that it was a boy, which was the opposite of what Kristin felt. Crazy timing, right? Because I had actually forgotten when she was going to the doctor. The next morning I texted Kristin, told her I had a dream about the sex of the baby and asked when she was heading to the appointment. She replied saying they were at the appointment, so I told her I'd tell her about my dream after she told me the sex. A little while later, she texted me to say that it's a boy. I may or may not have teared up in the antacid aisle of Target. I'm so excited to have our little guys grow up together. And it's a cool coincidence that Owen and their little guy, Avery, will be almost the same age apart as Brad and Andrew, who have been friends since the third grade.
The other night I had a dream Kristin gave birth to a 9 pound baby girl. So there's that.
Avery's nursery is being decorated in a color palette of navy, mint, mustard yellow, and white so that's what I went with for the decorations. Plus, I figured those colors would go well with Kristin's mom's Easter decor.
I love how paper fans and balls are making a comeback so I ordered some white tissue balls, yellow tissue fans, mint tissue fans, navy tulle pom-poms, and mint tassel garland to spruce up the mantel.
Tip: If the decorations match the baby's nursery, give them to the mom-to-be. If they don't match or she doesn't need/want them, you can always resell them to recoup some of your expenses or donate them.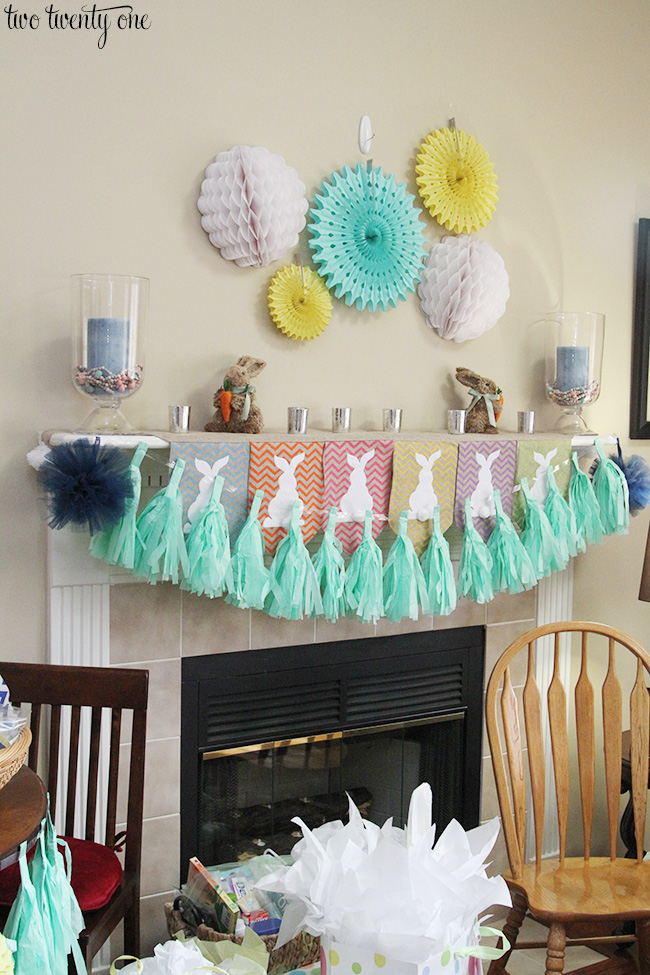 We also set out some tissue balls, mini paper lanterns, and a vase of flowers, wrapped with some of her nursery fabric, on the console table where guests wrote advice for the mom-to-be and wishes for the baby.
Tip: Reuse jars and jugs as vases.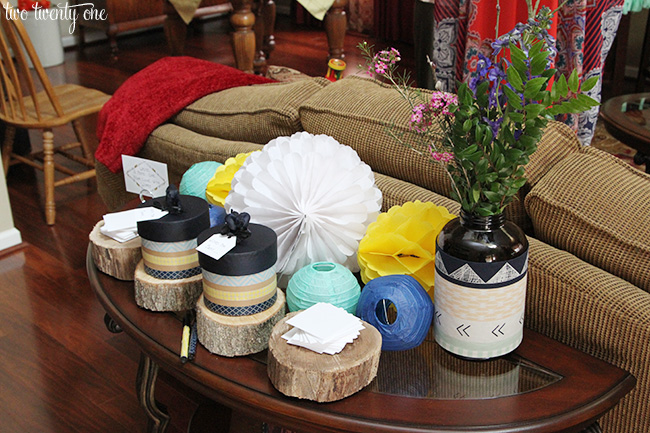 My advice was: "Call or text me anytime."
My wish was: "Avery, I wish you would turn head down. Love, Aunt Chelsea"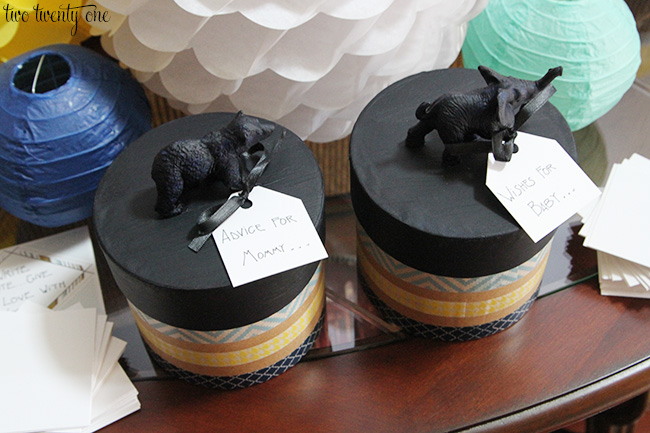 The glowing guest of honor.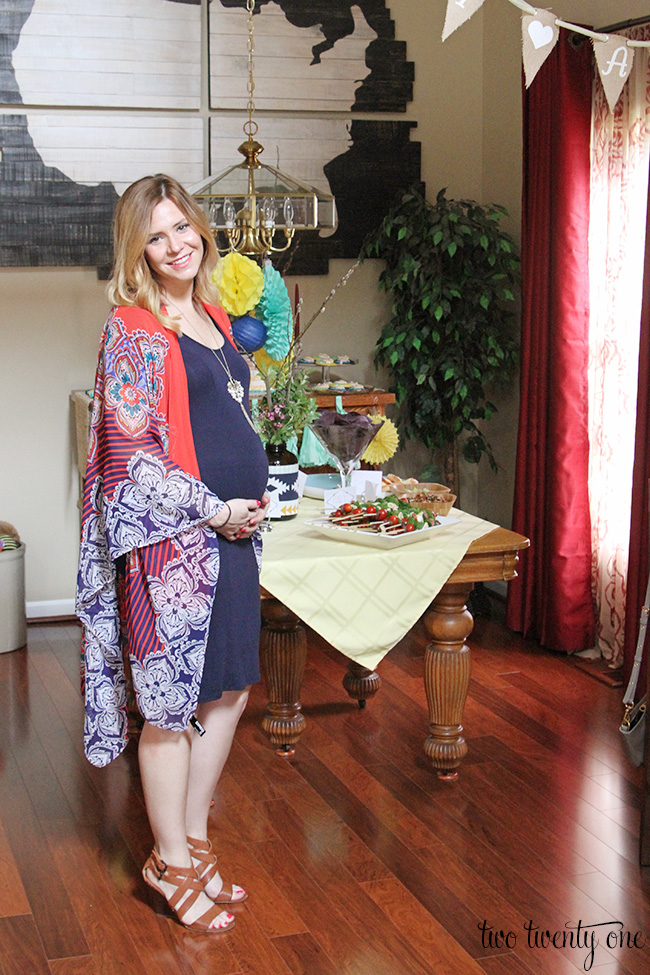 No baby shower is complete without some awesome food.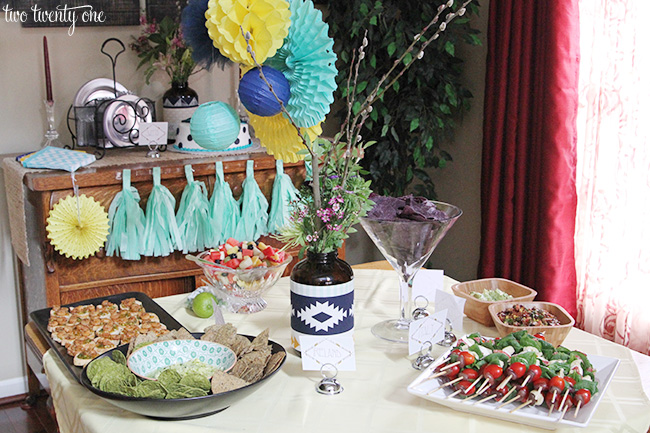 We went with an around the world theme and served food inspired by places Kristin and Andrew have visited together.
I called dibs on Italy, where they honeymooned, so I, with assistance from my BFF, could whip up some antipasto skewers.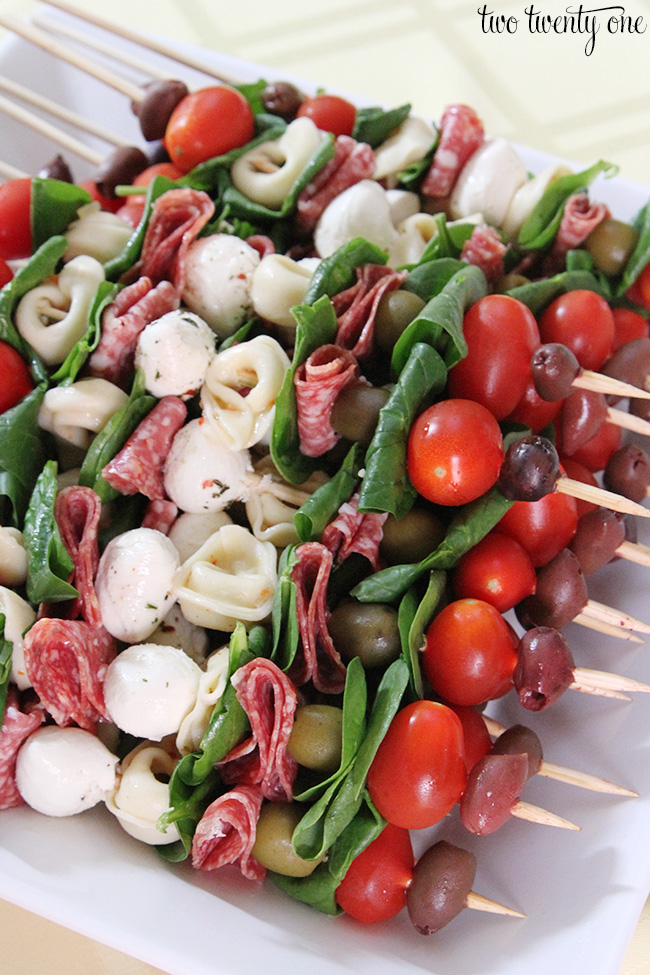 There was fresh salsa and guac with tortilla chips for Mexico.
Tip: To give your food table more dimension, vary the height of your food containers, like this Real Housewives of NYC-sized martini glass.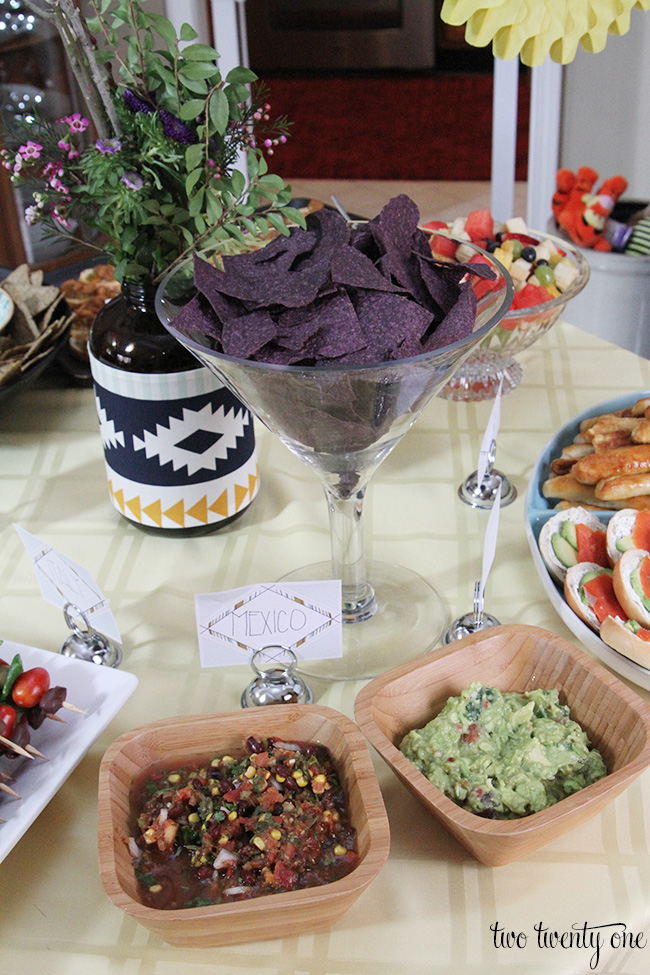 Bagel and lox for NYC and pretzels with beer cheese for Germany.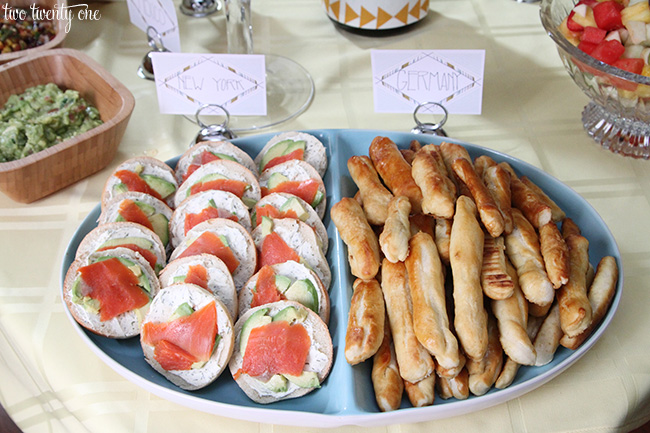 Caribbean shrimp crostini for Turks and Caicos.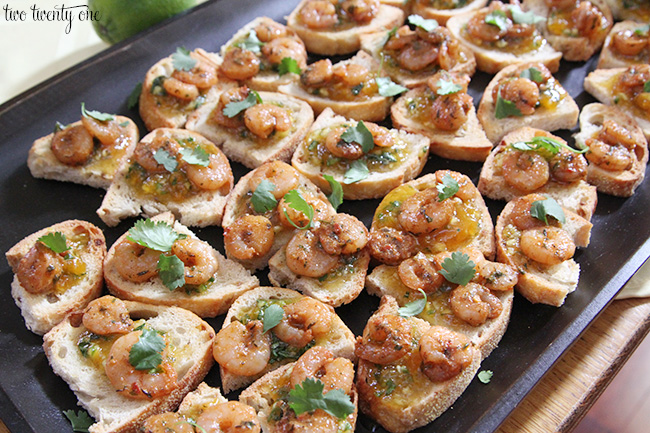 And mini corned beef and ham sandwiches (made funeral-style) for Ireland.
OMG these were so good.
I hung some decorations from the light fixture above the food table with fishing line.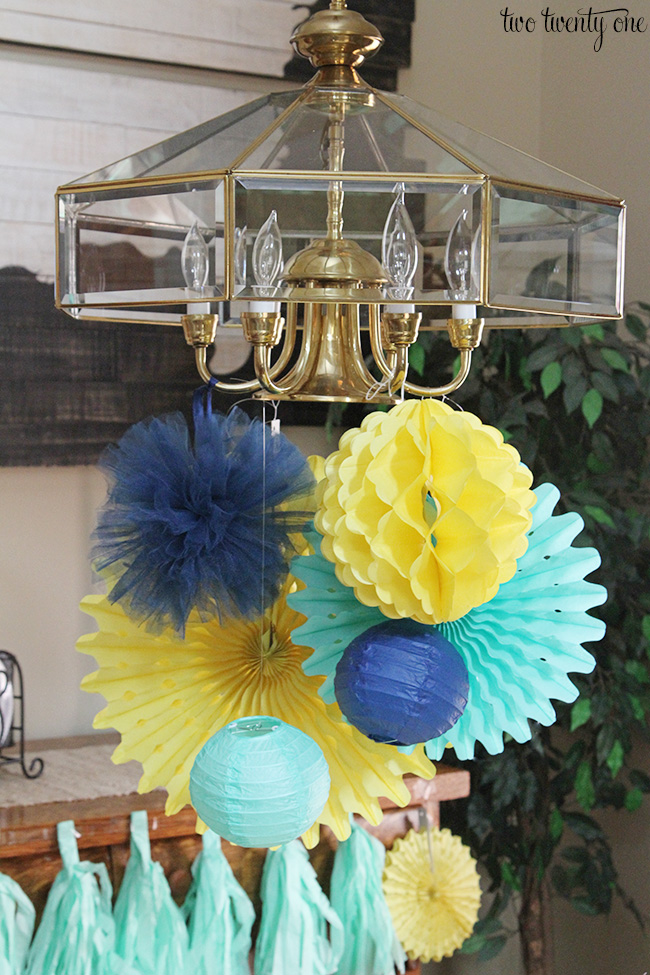 The cake and cookies were displayed on the buffet by the food table. I spiced up the buffet with another tassel garland and a couple tissue fans.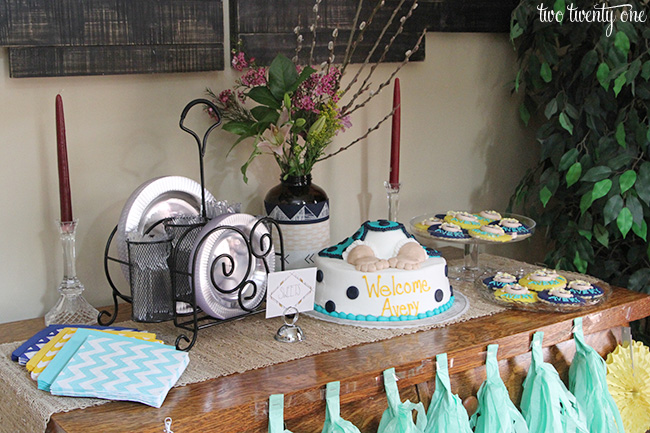 It's not a baby shower without a baby feet cake and personalized cookies (from Taylor's Bakery in Fishers, IN). Although I joked that Avery will probably be born with straight dark hair, like his dad.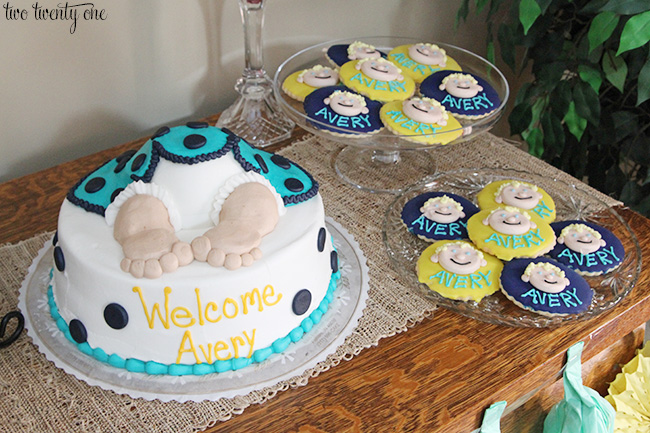 There was even a mimosa bar. Or pour-straight-up-champagne-in-your-glass-because-it's-past-one-o'clock bar.
The lady of the hour got her very own bottle of sparkling grape juice while the rest of us non-preggos sipped real deal cocktails.
Tip: Use a beverage tub to corral all your chilled beverages. Throw some ice in, and you're ready to go.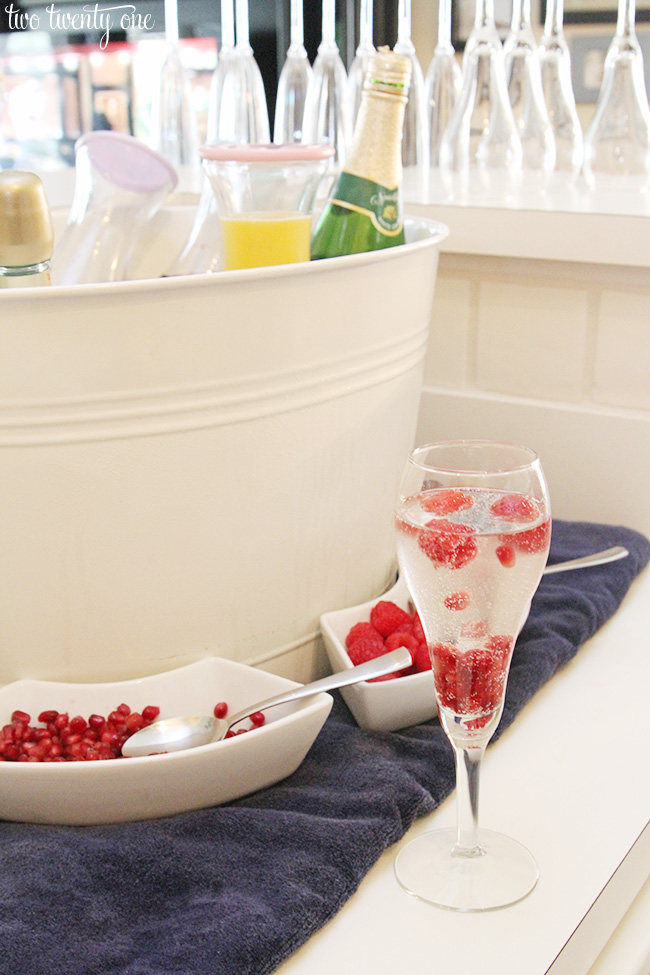 Here's Kristin opening one of my gifts– red baby Converse. I basically gave her a giant, never-ending bag of randomness.
You better believe I gifted her some of my favorite baby organization items, like these and these. I also included some of my mom's and my famous DIY burp cloths. And I threw in an unused container of Tucks that I never had the privilege of cracking open. You're welcome, Kristin.
Tip: You probably already know this, but have a friend write down who gave what gift(s) so it's easier for the expectant momma to write thank you notes.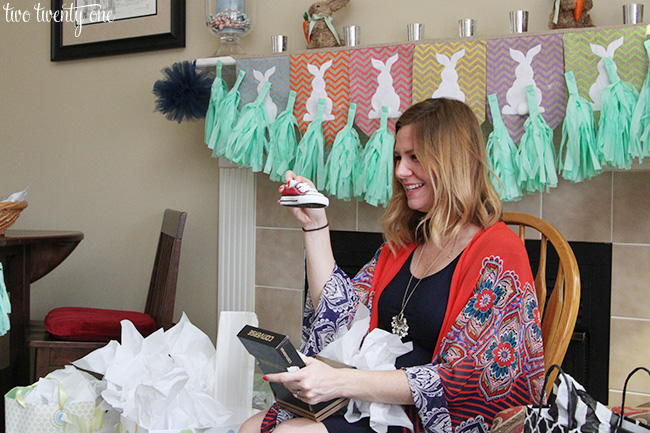 Tip: Snip branches and leaves from trees and stick them in floral arrangements for instant, free height and volume.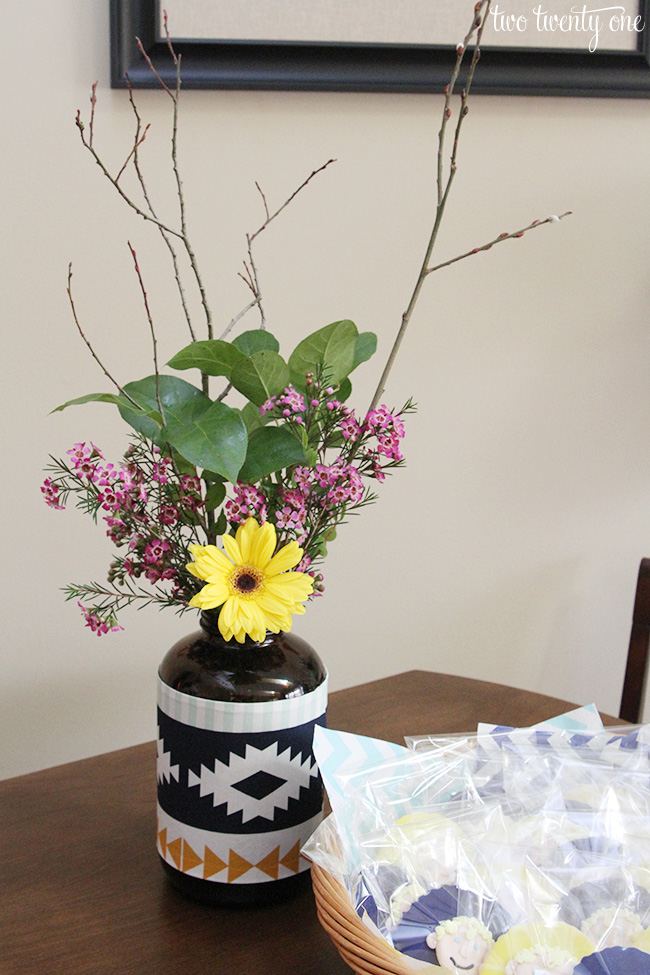 I'm the queen of using personalized cookies as favors for special occasions (see here, here, and here), so I suggested that we get cookies as favors for the baby shower.
Fact: Guests are 99% more likely to eat cookie favors than to plant seed favors or use mini lotion favors.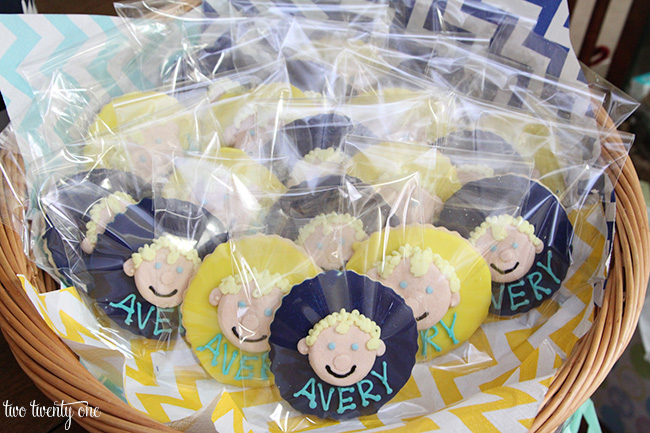 I can't wait to meet this little guy in a month!
Oriental Trading Company graciously supplied me with products to decorate for the shower. No other type of compensation was received. As always, opinions are 100% my own.
This post contains affiliate links.
Funds from affiliates help pay for web hosting, domain registration, email delivery, the occasional bottle of wine, and other fees to keep twotwentyone.net up and running. Thanks for your support! I appreciate it!