Jump to recipe
Two years ago, I used my no rolling, no cutting required Lofthouse copy cat recipe to whip up some Easter egg cookies. Well this year I decided to change things up again and make some chick cookies for Easter. I was going to do sheep but those seemed harder to make when I was thinking it out so chicks won.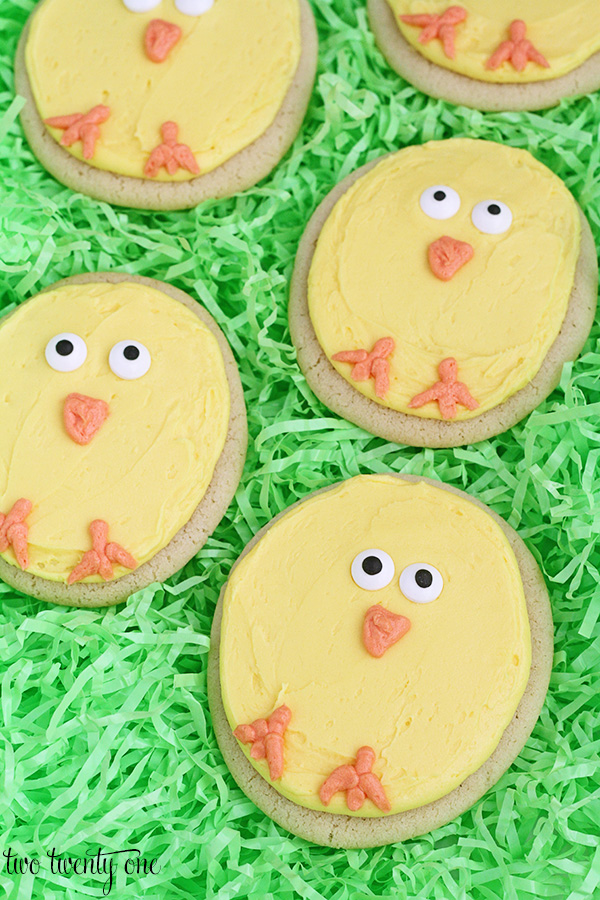 These require minimal effort. Like I said, you don't have to roll out the dough or use cookie cutters. And decorating these little guys is a breeze.
Want my tip for getting the yellow icing to look nice? Pipe it onto the cookie first, and then smooth it out with an angled spatula, one of my 12 kitchen must haves.
If you don't have any cake decorating supplies, I highly recommend this starter kit. It makes a great gift, too!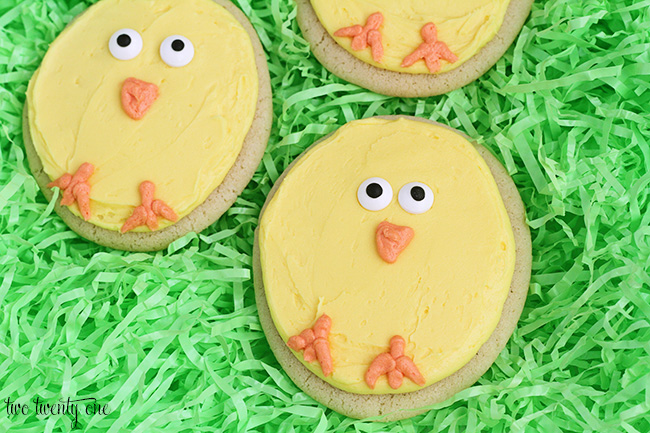 You can find packages of candy eyes at big box and grocery stores for around $4. I've seen them at Target, Walmart, and Kroger. You can also find them here.
Tip: Pick out pairs of eyes with the same pupil size or else your chicks are going to look weird. I'm speaking from experience here.
Ingredients
COOKIES
1 c. butter, softened
1 1/2 c. sugar
1 1/2 tsp. vanilla
1 egg
2 3/4 all-purpose flour
1 tsp. baking soda
1/2 tsp. baking powder
ICING
1/2 c. butter, softened
2 1/2 c. powdered sugar
2 Tbsp. milk
Food coloring
Candy eyes
Instructions
COOKIES
Preheat oven to 350 degrees. Combine flour, baking soda, and baking powder in a bowl. Set aside. In a separate bowl, cream butter and sugar together until smooth. Add egg and vanilla. Blend in dry ingredients. Roll dough into 1 inch balls, and then roll into oblong balls. Slightly flatten the dough between your hands. Place on baking sheet. Bake for 10-12 minutes. Remove to wire racks to cool.
ICING
Cream butter. Beat in sugar. Add milk. Add more sugar or milk to get desired consistency. Separate about 1/3 c. of icing into separate bowl. Color icing with orange using orange food coloring or red and yellow food coloring. Color large amount of icing with yellow food coloring.
DECORATING
Using a large round decorating tip (Wilton 2A), pipe the yellow icing onto the cookie. Smooth out with a tapered spatula. Apply two candy eyes. Using a small round decorating tip (Wilton Round 3), add orange beak and feet.
I've teamed up with 11 other bloggers to share some delicious Easter recipes. So make sure you head over to their blogs and check out their tasty creations!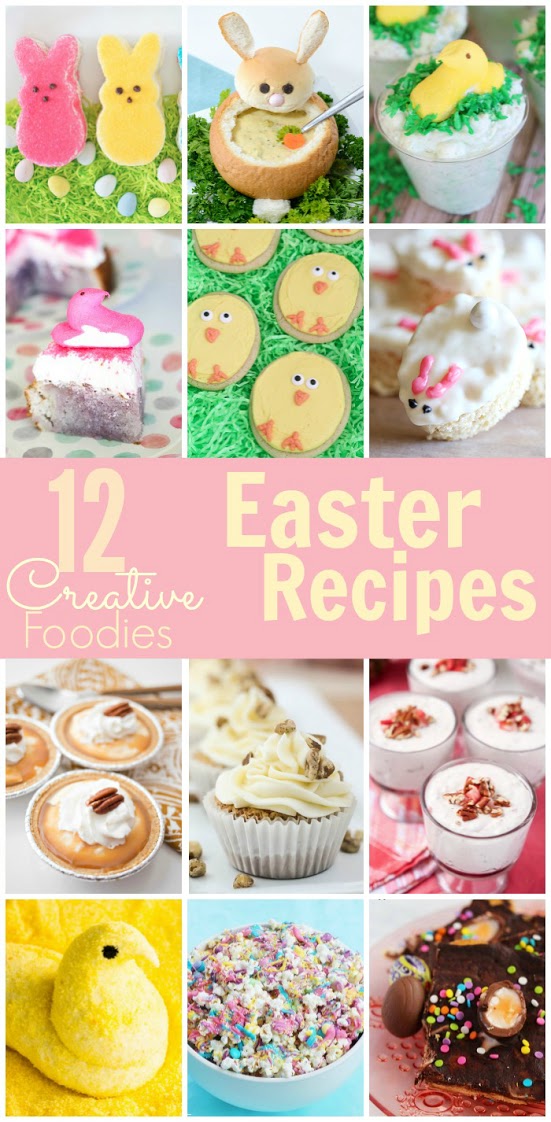 Pistachio Salad Easter Peeps Dessert Cups from Mom Endeavors
Easter Bunny Crispy Treats from See Vanessa Craft
Mini No-Bake Carrot Cake Cheesecakes from A Night Owl Blog
Cream Egg Cracker Toffee from Spaceships and Laserbeams
Bunny Bait from Kitchen Fun with My 3 Sons
Homemade Peeps – recipe and video tutorial from Ashlee Marie
Carrot Cake Cupcakes from Mommy Hates Cooking
Chick Cookies from Two Twenty One
Mini Bunny Cakes from Happiness is Homemade
Strawberries & Cream Salad Shooters from Play Party Plan
Easy Peeps JELL-O Cake from Strawberry Mommycakes
Easter Bunny Bread Bowls from The Idea Room

This post contains affiliate links.
Funds from affiliates help pay for web hosting, domain registration, email delivery, the occasional bottle of wine, and other fees to keep twotwentyone.net up and running. Thanks for your support! I appreciate it!