A few years ago I shared my family's apple crisp recipe. It's literally the most delicious apple crisp recipe ever. So, for fun, I decided to kick things up a notch and turn it into caramel apple crisp.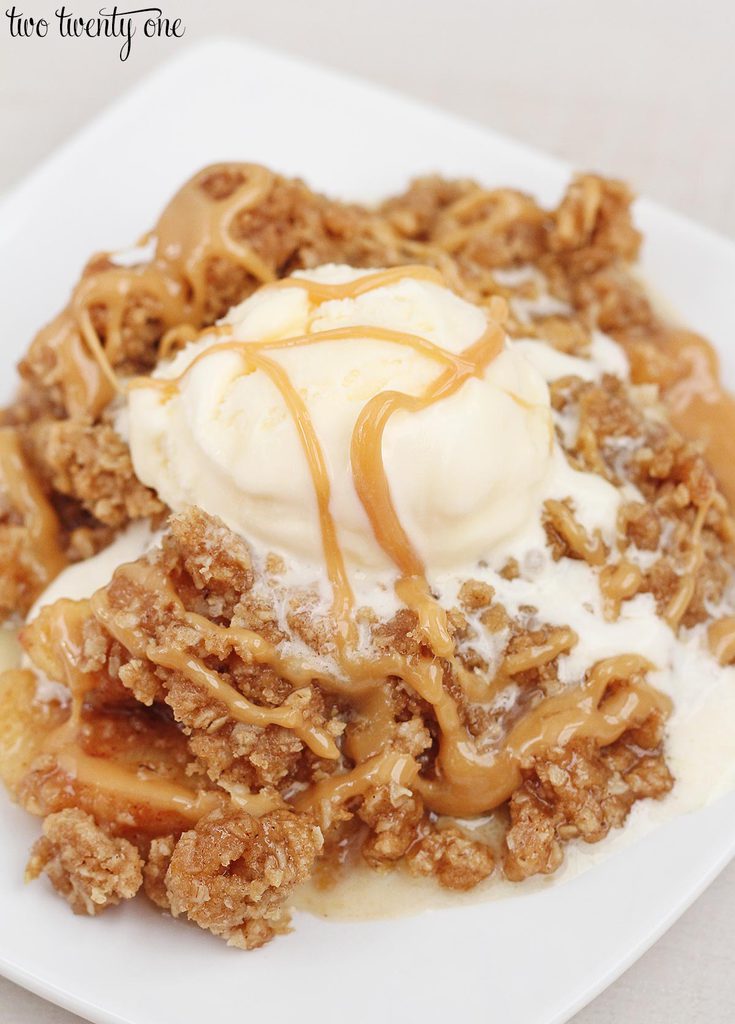 If you've made the original apple crisp before, the topping, which is the best part of the apple crisp, hasn't changed. It's still soft but a little crunchy.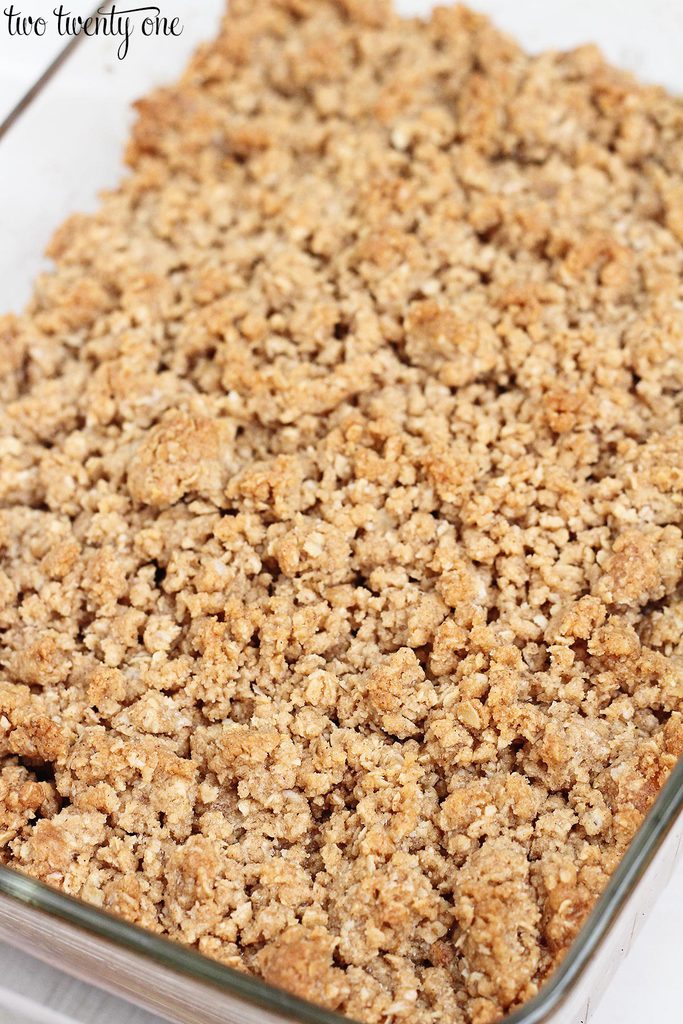 OMG, this caramel apple crisp amazing.
And it's straight up out-of-this-world when you add ice cream and drizzled caramel on top.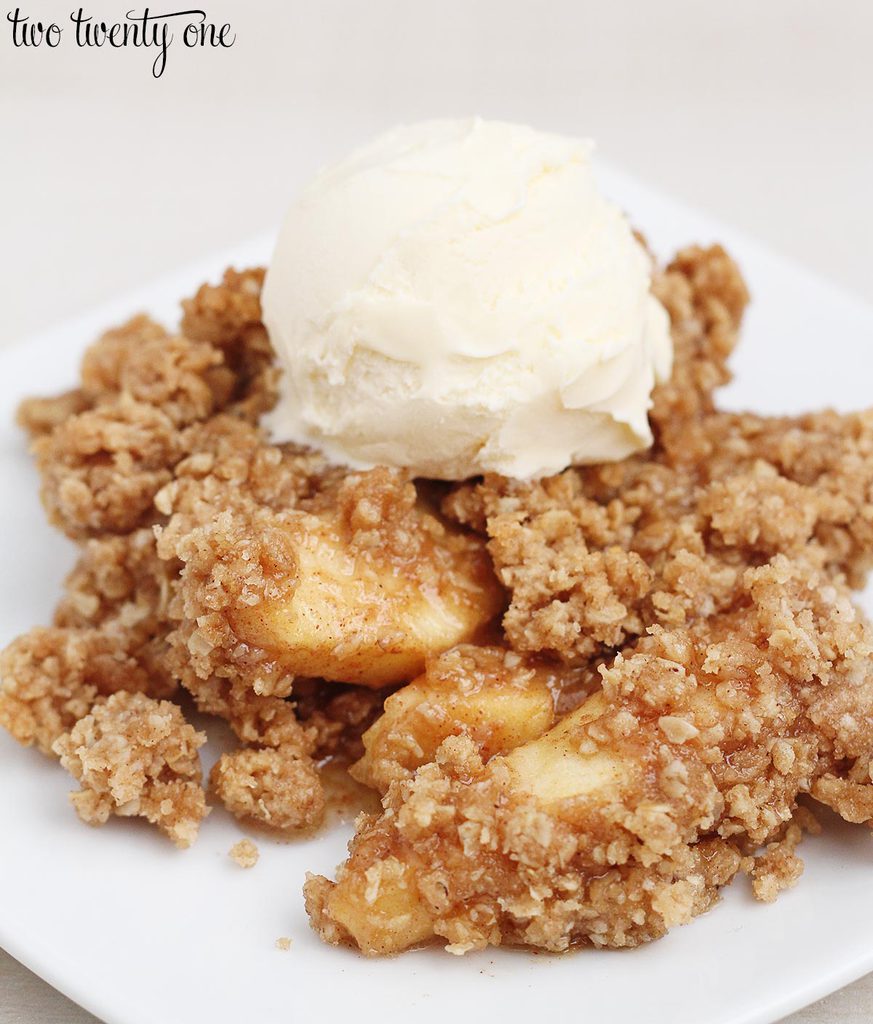 Can I just say how hard it is to drizzle and attempt to take photos at the same time? Seriously, imagine me crouching in my office, trying to accurately pouring caramel over apple crisp with my left hand, while snapping photos with my camera in my right hand.
It got to point where I asked Brad to assist me and be the designated caramel drizzler. I think the pressure started to get to him because he asked if he could practice first. He even said, "Do you know how many times I've drizzled something over my food?" In case you're wondering, the answer is never.
I ended up photographing four, yes FOUR plates of caramel apple crisp in order to get a shot that didn't look like the one below. I'm sure some people will be all, "Uhhh, I'd totally eat that." But I hated how gloppy the particular plate below turned out.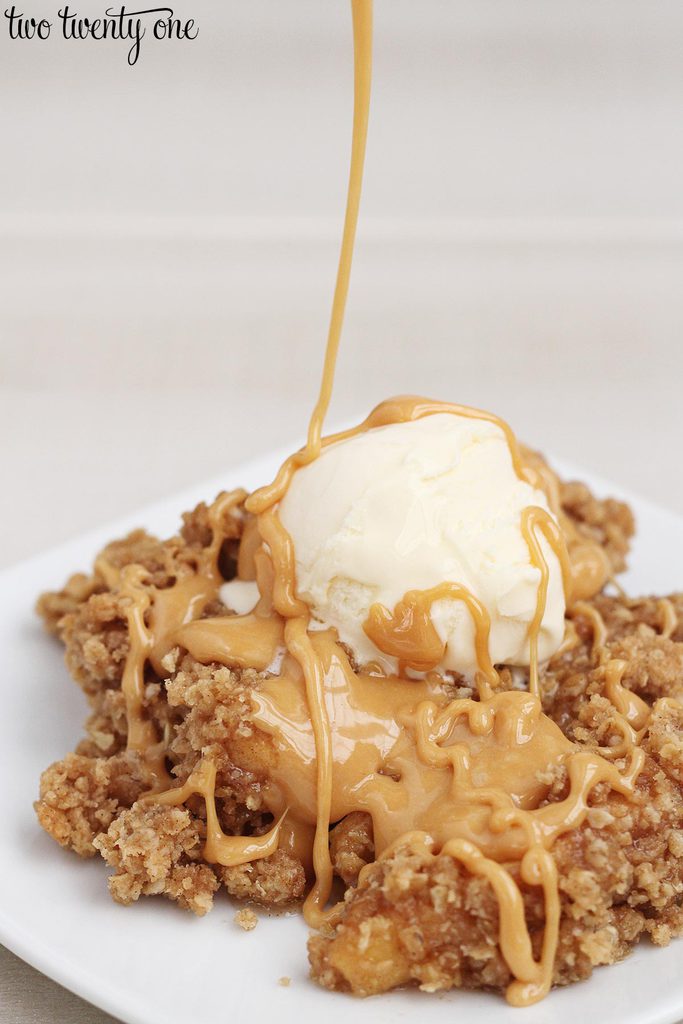 Here's the recipe. Now, you can do a couple variations to the recipe if you want. You can add all 11 oz. caramels + 2 oz. of evaporated milk to the apple crisp (after heating it together in a saucepan) before adding the topping. Or you can make the caramel and evaporated milk at the same time, pour half over the apples before baking, and then reheat the caramel when it's time to serve the apple crisp. I'll leave all this up to you.
Also, if you LOVE topping, double the topping recipe. Or if you LOVE apple, add another apple or two.

Caramel Apple Crisp
Ingredients
Filling

4-5

medium apples

1-2

Tbsp.

brown sugar

1/2

tsp.

cinnamon

11

oz.

bag of caramels

divided in half

1

oz.

evaporated milk

Topping

1

c.

brown sugar

1

c.

quick oats

1/2

c.

flour

1/2

c.

butter

softened

1

tsp.

cinnamon

Optional

5.5

oz.

caramels

1

oz.

evaporated milk
Instructions
Preheat oven to 350°

Divide caramels in half.

Peel and cut apples into slices. Place in 2 qt. casserole dish.

Add brown sugar and cinnamon, coating apples evenly.

In a separate bowl, combine brown sugar, quick oats, flour, and cinnamon.

Cut butter into dry ingredient mixture until crumbles form. Set aside.

In a small saucepan, heat caramel and evaporated milk on low. Stir occasionally until combined. Pour over apples in dish.

Sprinkle topping over apples and caramel.

Bake for 35-40 minutes or until golden brown.

OPTIONAL:

When ready to serve apple crisp, heat remaining caramels and 1 oz. evaporated milk on low. Stir occasionally until combined. Drizzle over apple crisp and ice cream.
If you want to save this post to reference later, you can pin it here: