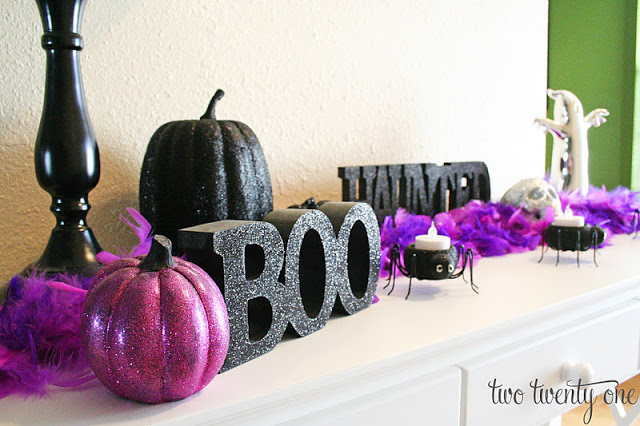 A couple weeks ago I asked Brad to get the Halloween tote down from the attic.
I learned a valuable lesson that day: never put candles in a tote that goes up in the attic,
 especially when it's not climate controlled and there's a record setting heat wave that summer.
RIP candy corn-esque candles. I enjoyed you the 2 years I was able to use you.
Yeah, so I'm hoping that I don't have many more candles that made their way up into the attic…
Moving on… We don't have a fireplace, therefore we don't have a mantel. Instead, I use our entryway table as my mantel.
For the past couple years I've been going with a glittery purple, black, and silver theme. This year I decided to jazz things up a bit with a purple boa and a black light. Yeah, a black light. Try not to be jealous.
(Honestly, who has ever been to a highlighter party? You know, where you go to a frat in a white t-shirt and there are highlighters galore and everyone writes obscene compliments on everyone else's shirts– mostly only visible in black light… but mostly not. Anybody? Anybody?)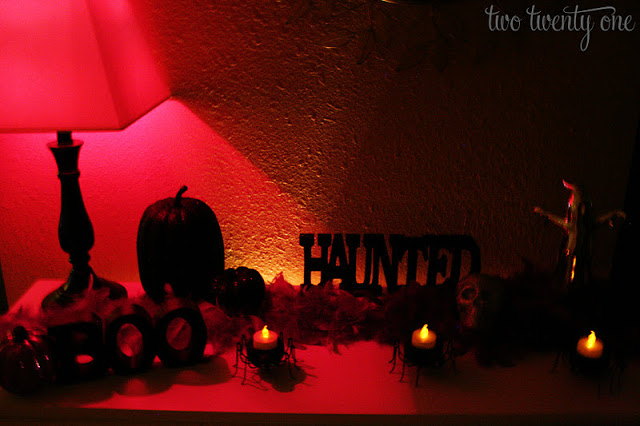 Sorry it's not the best photo, but I had to share the magic that is the black light.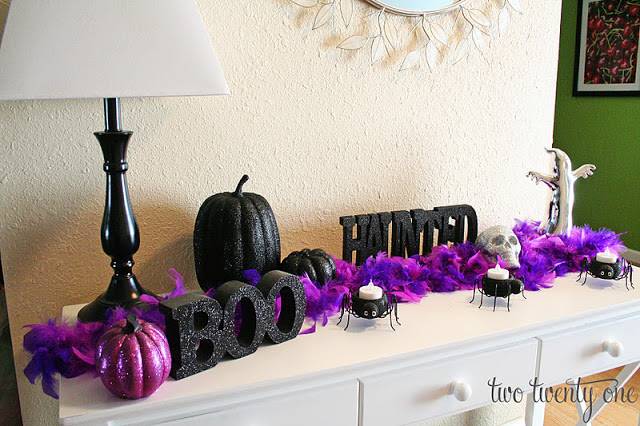 Here's a rundown of my Halloween "mantel" decor.
purple pumpkin: Hobby Lobby
spiders: I want to say Kohl's
fake tealights: Dollar Tree
 big black pumpkin: Target
little black pumpkin: Michael's
How are you decorating for Halloween this year?
Feel free to share your highlighter party stories here. We're all friends.
C
heck out more entryway table vignettes I've put together!