Tinsel Christmas Tree with Vintage Shiny Brite Ornaments
If you like vintage Christmas decor this is the post for you because I'm sharing my tinsel Christmas tree with vintage Shiny Brite ornaments. Even if you don't enjoy vintage Christmas decorations, I still think you should stick around and at least look at the pretty pictures.
Vintage Shiny Brite Ornaments
After my Grandma Mildred passed away, I was given some of her Christmas ornaments, including some of her vintage Shiny Brite ornaments. Five years ago, I displayed them in Owen's bedroom for Christmas. I've always wanted to display my grandma's ornaments on a tinsel tree with my other colorful glass ornaments. There's just something about a silver tinsel tree with glass ornaments.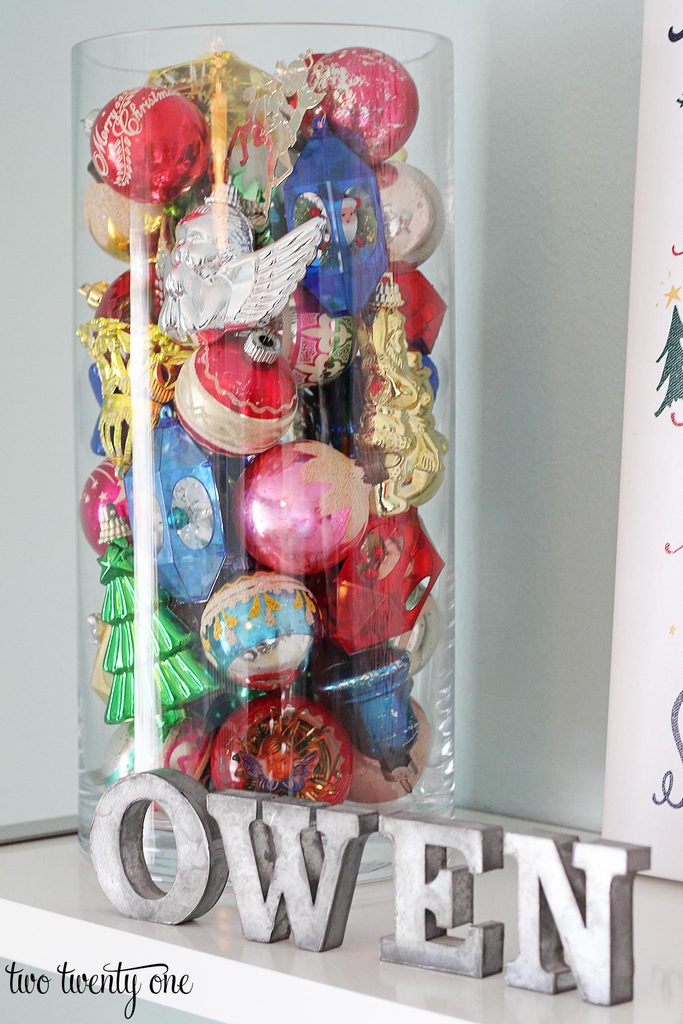 Tinsel Christmas Tree
The same year I decorated Owen's room for Christmas, I bought three silver tinsel Christmas trees from a florist in Brad's hometown during an after Christmas sale. It's a great tinsel tree with sturdy 'branches'– perfect for delicate glass ornaments. I've always wanted to display the 3 foot tall tinsel tree (this is the same exact tree that I have) at Christmas, but I never had the right spot for it because it's a rather large tabletop tree. But that changed this year when I added a dresser to the living room.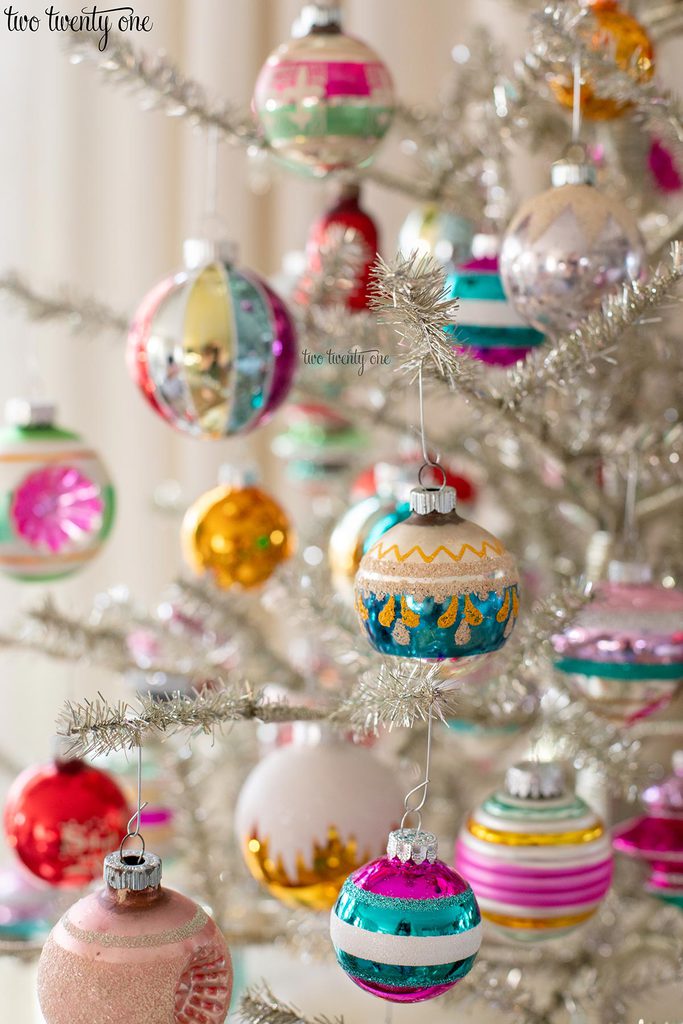 Be still my heart.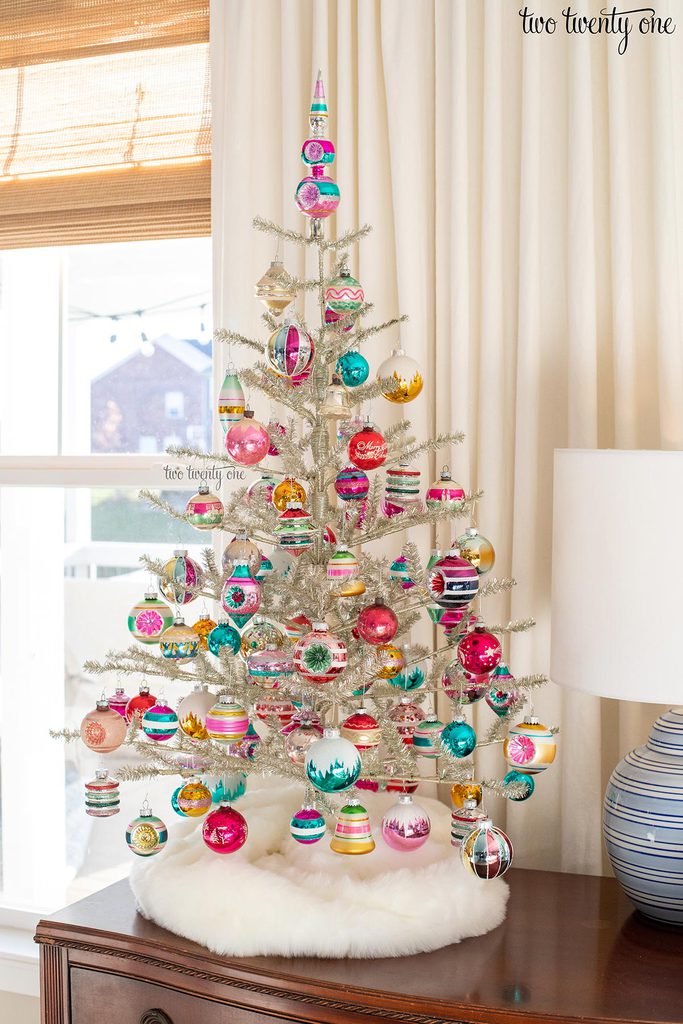 Glass Ornaments
The glass ornaments are a mix of my grandma's vintage Shiny Brites and ones I've collected over the years. Some are newer Shiny Brites and some are just random glass ornaments. The ornaments from an array of stores– Michael's, Target, West Elm. West Elm x Shiny Brite have new ornaments out this year. If you're really into vintage Shiny Brite ornaments, you have to check out my friend Amy's collection.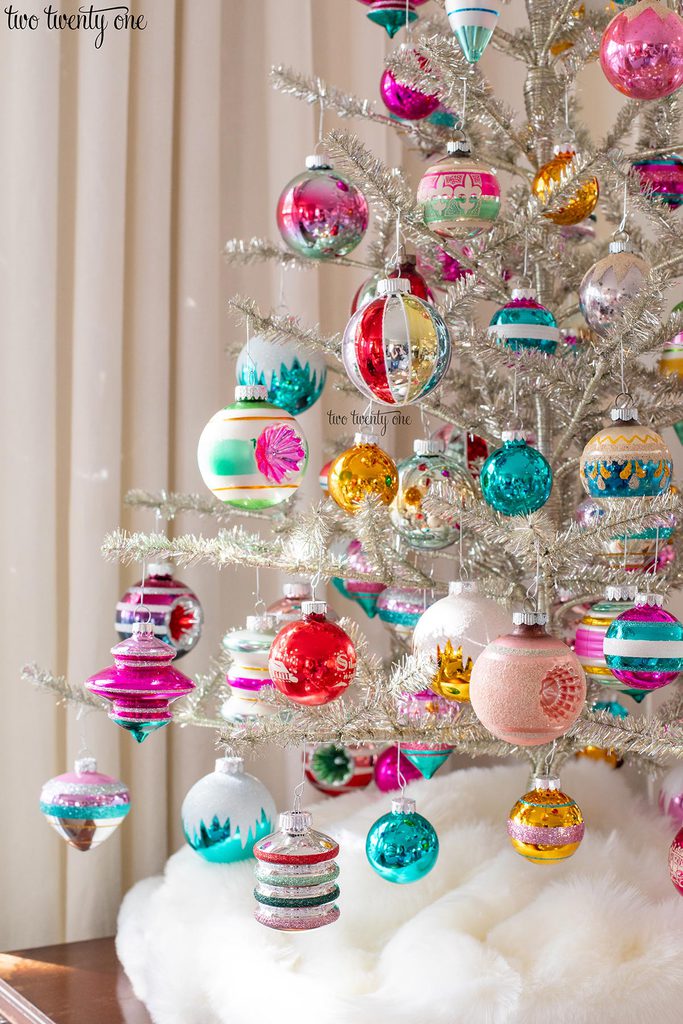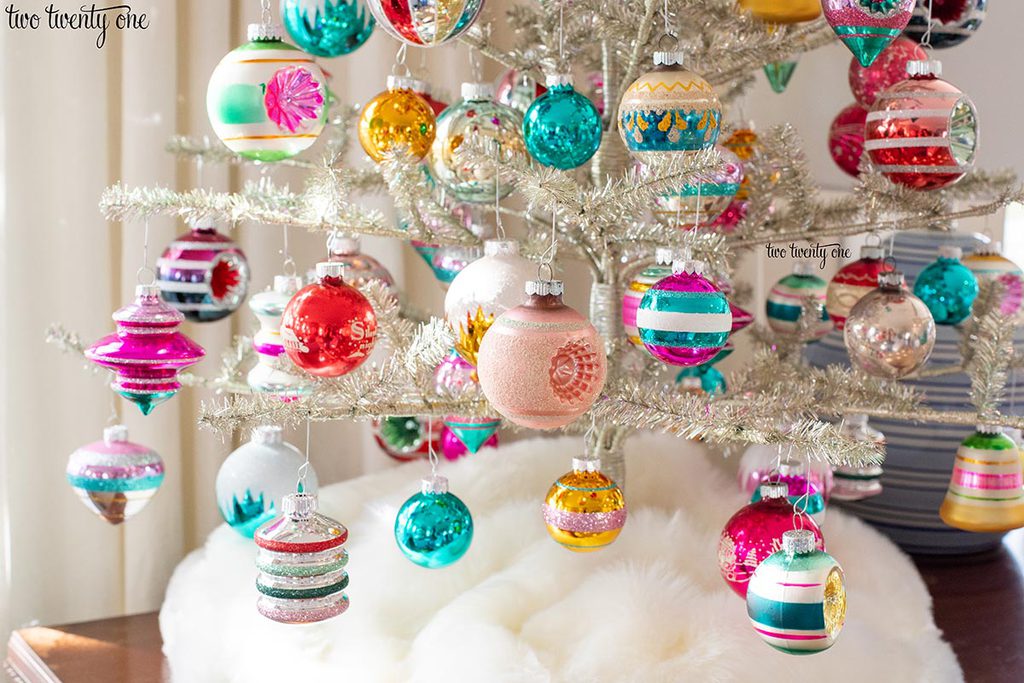 Faux Fur Tree Skirt
It's pretty obvious I'm a sentimental person. So the tree skirt isn't really a tree skirt. It's the faux fur stole my best friend gave all of her bridesmaids at her wedding. We wore the stoles in all the wedding party photos.
Tip: I learned this from Amy— fill quart-sized Ziploc bags with dried beans or rice. Place them on the tree base to weigh down the tree so it won't tip over as easily. I used three bags of beans on my tree. And if you're really concerned about the tree tipping over, secure it to the wall with fishing line.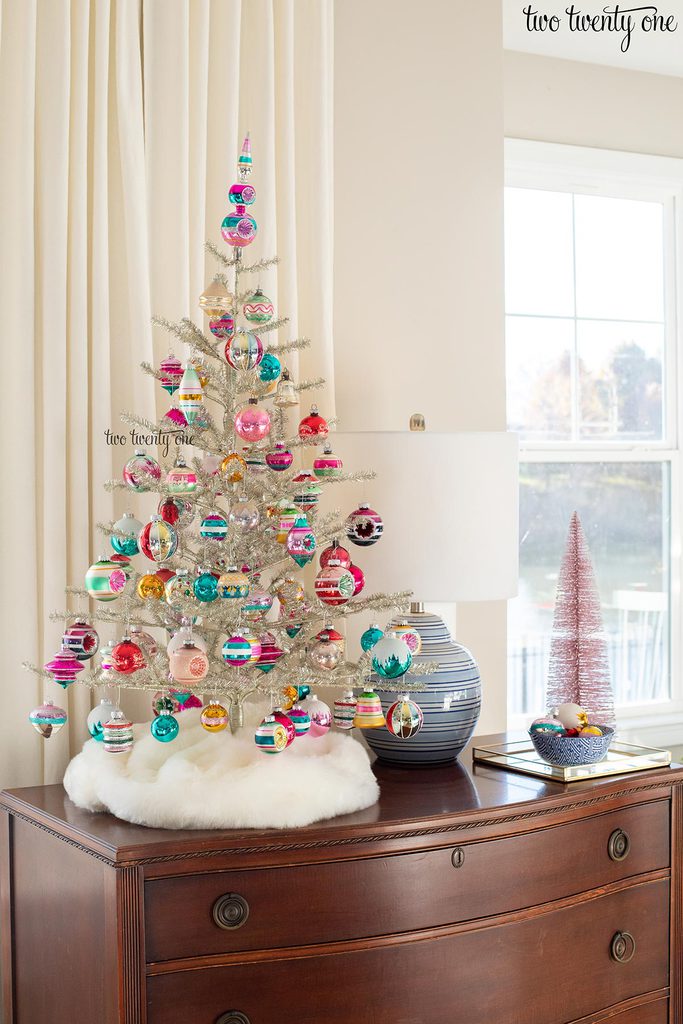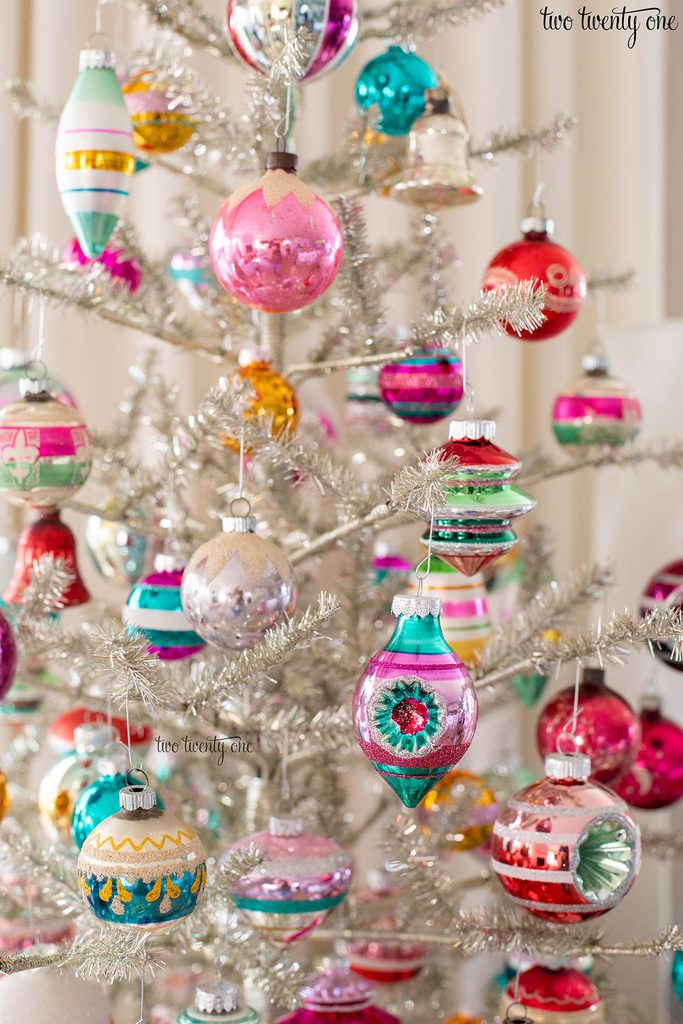 Tabletop Tinsel Tree
Er, dresser-top. I kept the usual lamp on top of the dresser. I also left the square glass tray but I swapped out my planter for a bottlebrush tree and clear paperweight for a bowl with additional glass ornaments.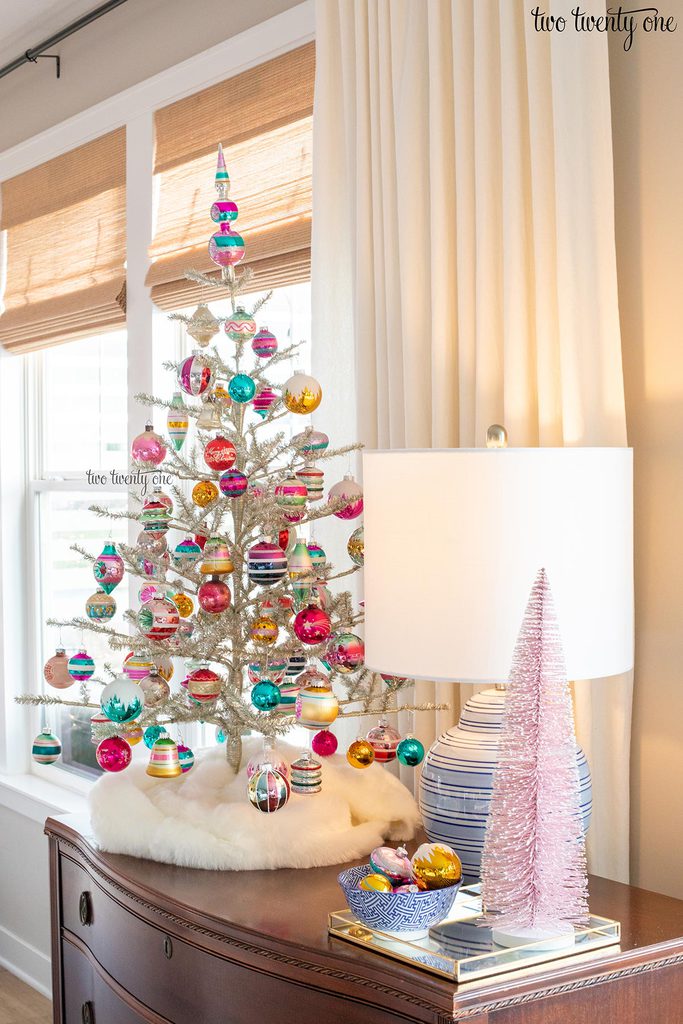 I love how this tree turned out. It's so pretty in the daylight.
So I give a tinsel tree with colorful glass ornaments at 10/10. Highly recommend.