Sweet Treats Pink Christmas Tree
For the past two years, I've displayed my sweet treats pink Christmas tree on the white console table in our dining area. Every year, I find more sugary ornaments to add to the tree. It's kind of become a treasure hunt to see what I can find. This year's tree has quite a few new ornaments.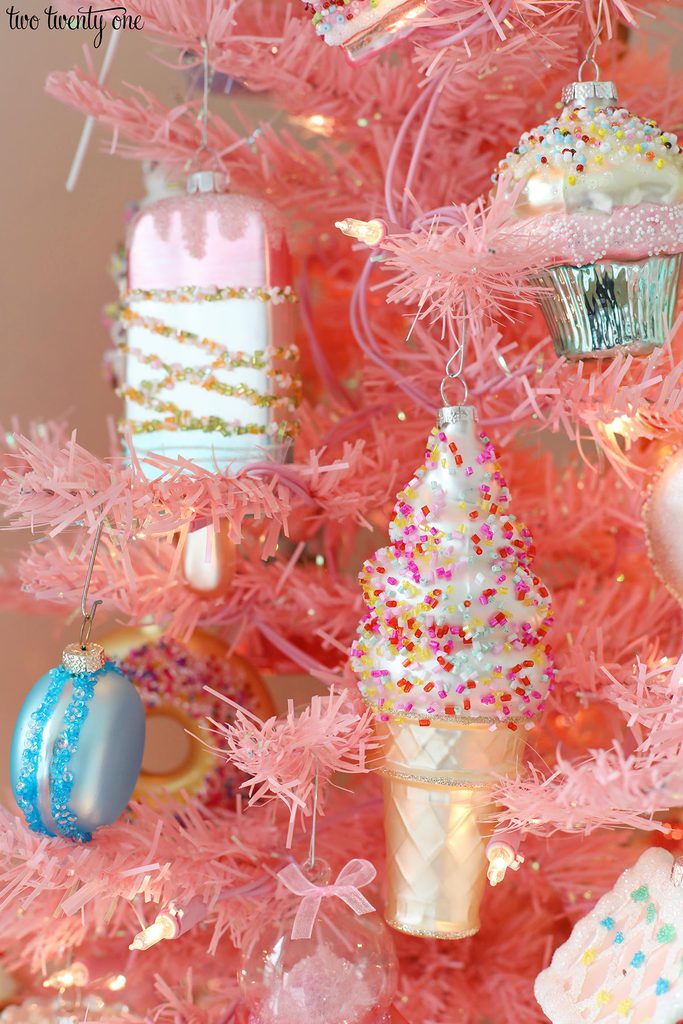 Pink Christmas Tree Ornaments
The tree is covered in macarons, cake, cupcakes, popsicles, lollipops, doughnuts, gingerbread houses, ice cream, candies, gum drops, pie, and other sweet treats. I even have a cotton candy machine ornament. And the topper is a giant sugar cookie snowflake.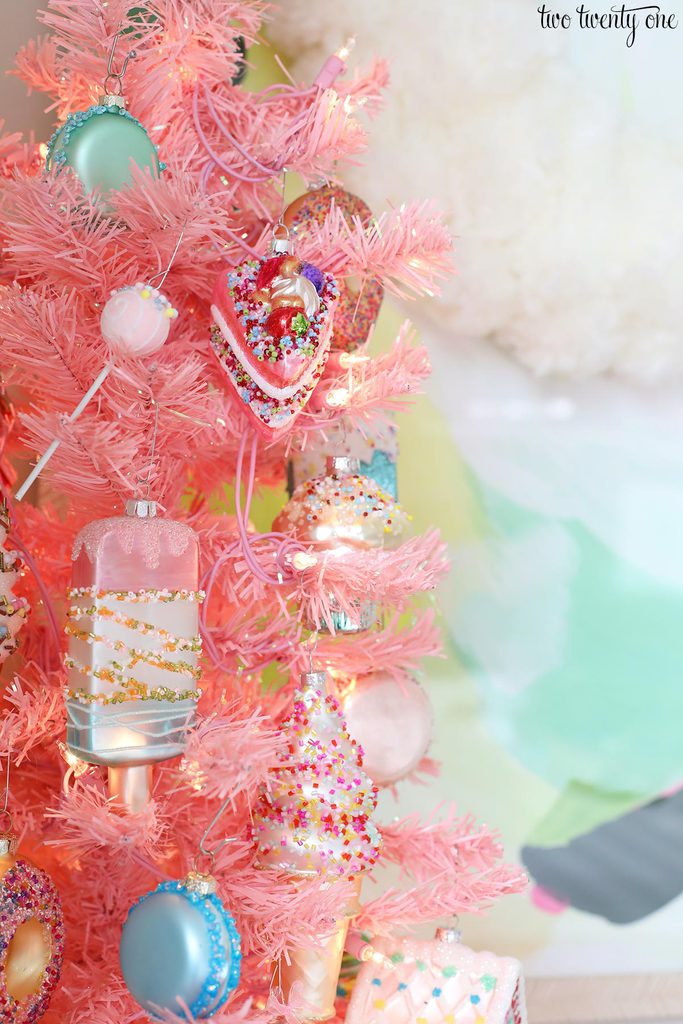 The Vignette
To keep things fresh, I try to change out the vignette every year. I added my fluffy yarn wreath to the art that hangs above the console table. After searching for my trusty fishing line for 30 minutes, I gave up and opted to take apart a yo-yo and use the string to hang the wreath. Owen, my 5 year old, won't miss it.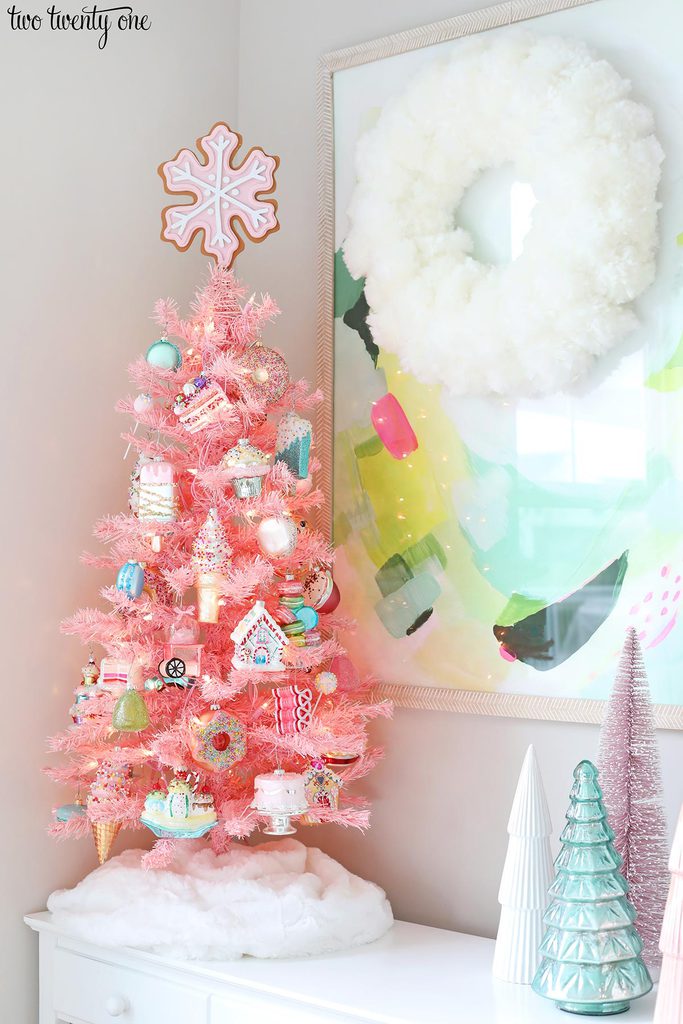 To create a slightly different look, I decided to stick with mostly shiny glass or plastic ornaments.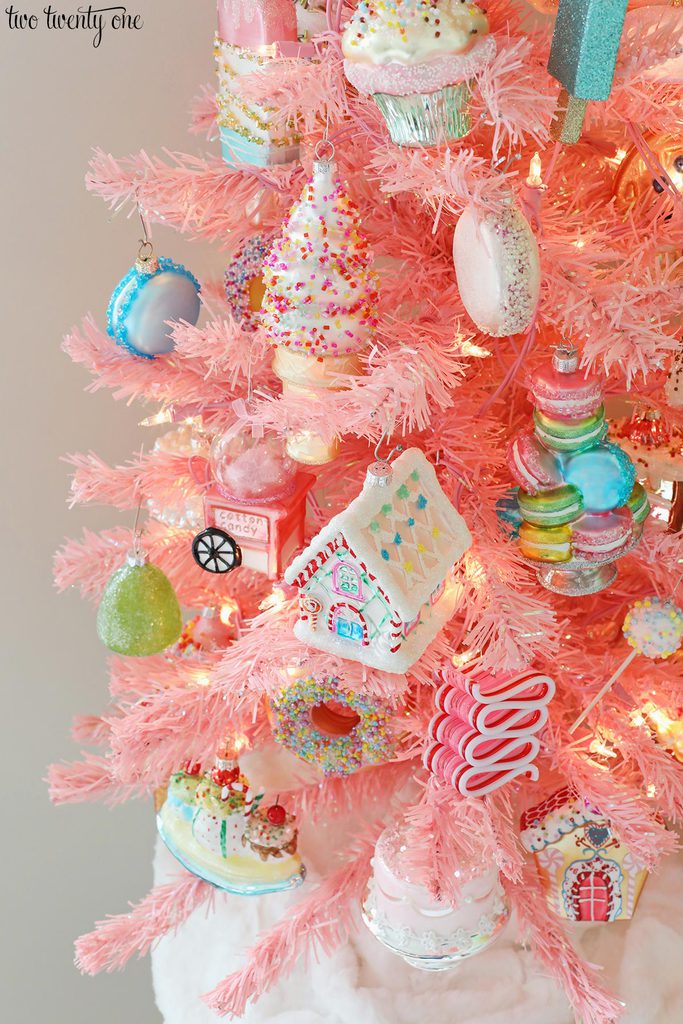 I also added some new decorative trees to the table this year. All but the white bottle brush tree are new.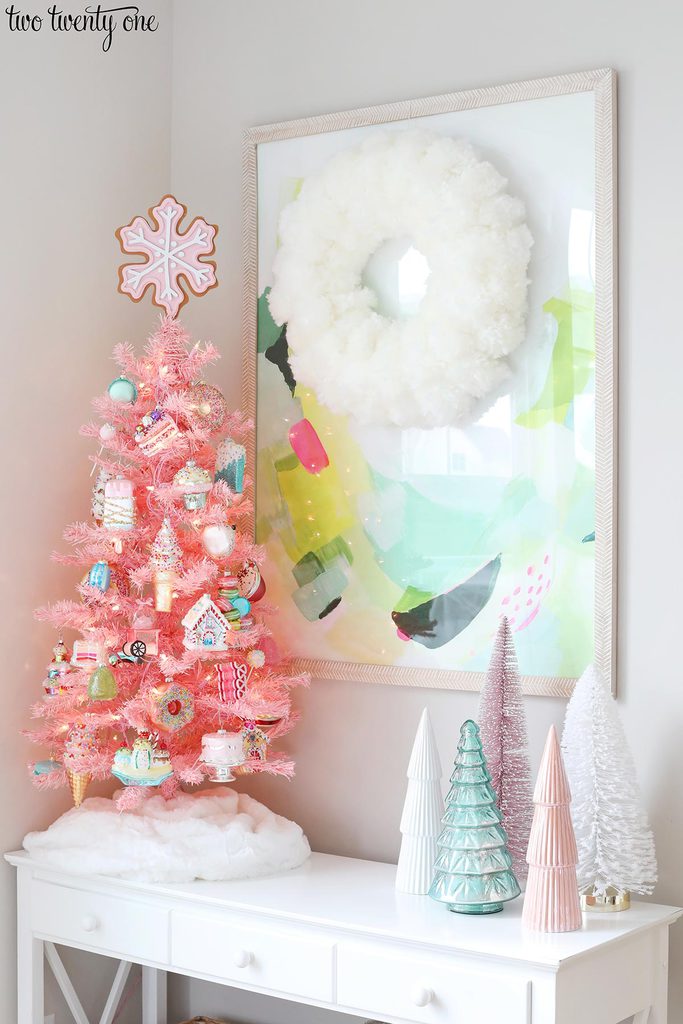 Both of the pink, white, and green trees are from HomeGoods. I'm sure you already know this, but HomeGoods is a great place to find Christmas decorations.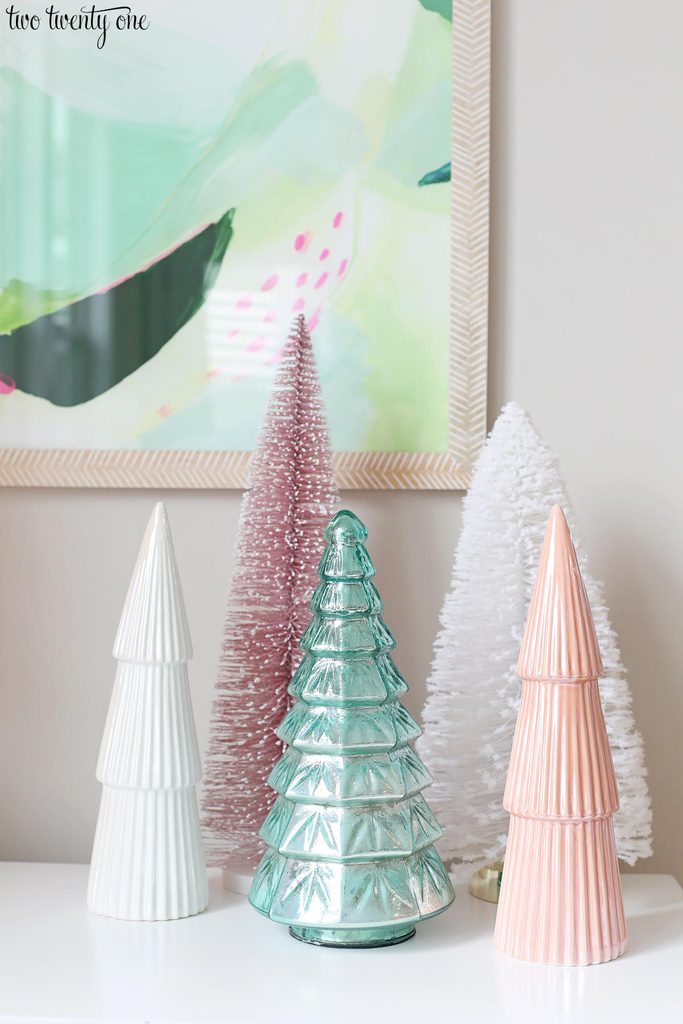 Last year, I said I should probably look into getting a bigger pink tree since my collection is growing. And since I put about half of my ornaments on the tree this year, I'd say I should probably start looking for a larger pink tree. Then I can have two pink trees!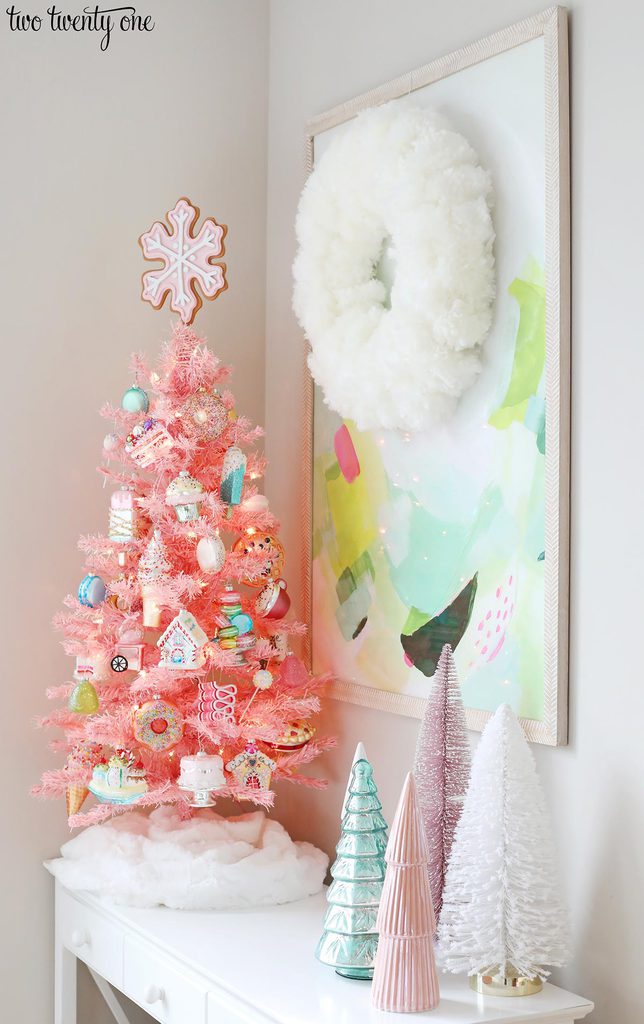 And speaking of the sweet treats Christmas tree. Last year's tree is featured in the December issue of HGTV magazine!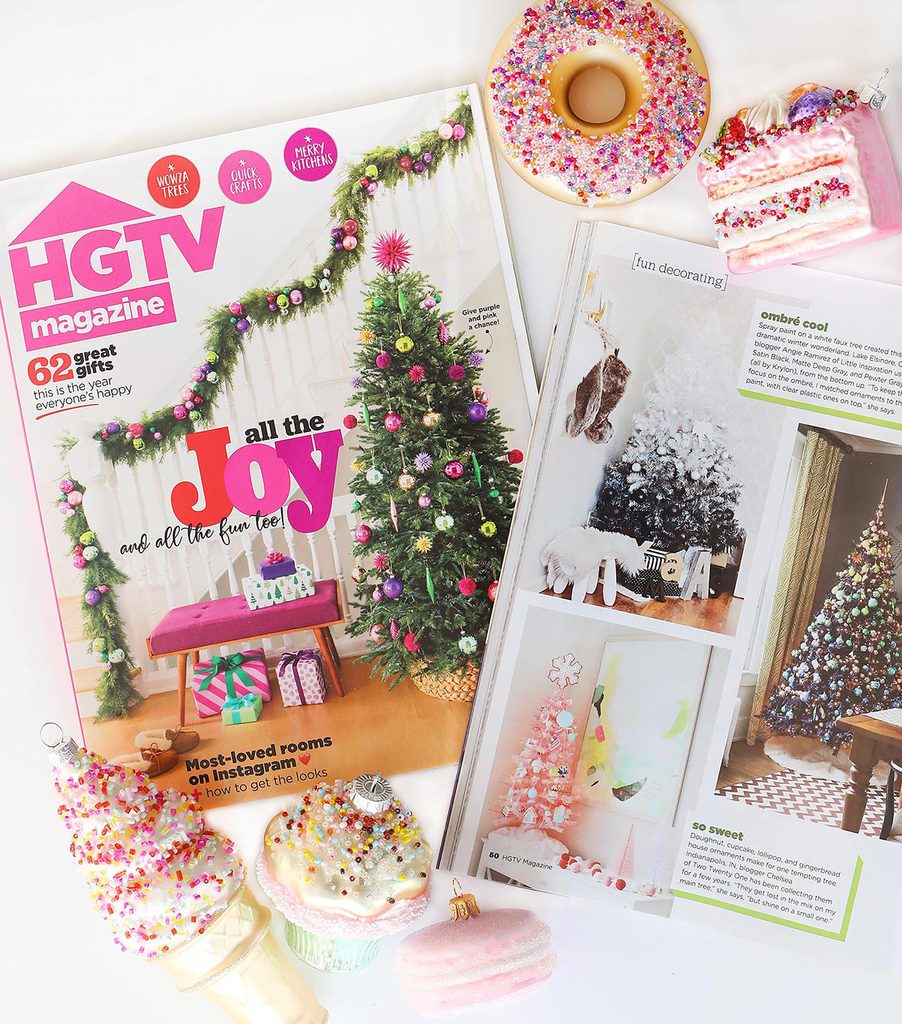 Sources
tree … Kohls, circa 2009ish
topper… Target, circa 2009ish
ornaments … various stores – see below for those currently available
tree skirt … fabric from Joann Fabric
trees … HomeGoods and Target
art print … Minted
wreath … JoAnn Fabric, circa 2015ish

Make sure you check out all the amazing Christmas tree inspiration this week from these talented bloggers!