Baby Registry: Diapering, Bath, & Care
Ok, non-baby people, your torturing session ends today. This is my last post in my baby registry series.
Today we're talking about diapering, bath, and care products.
Note: We diaper with disposable diapers. I considered cloth diapering, but I came to the conclusion that I didn't want to be washing and drying diapers every couple days. I know, I'm a terrible person. But if you wish to be a better person than me and cloth diaper, check out my friend Kelly's informative post on the topic.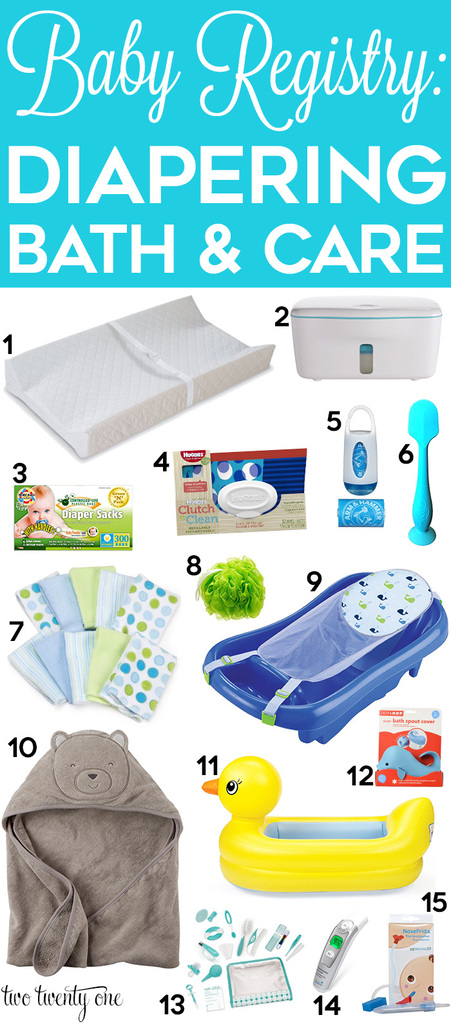 1. changing pad
Unless you want to get on the floor to change your baby for every diaper change, it's nice to have a changing pad. We have ours secured to the top of the nursery dresser. Owen is 19 months old, and we still do 99.9% of his diaper changes there. You can also register for cute changing pad covers like this handmade one that I have, or other eye-catching ones that you like.
FYI, most changing pads come with a security strap and screws so you can attach the changing pad to the back of your dresser.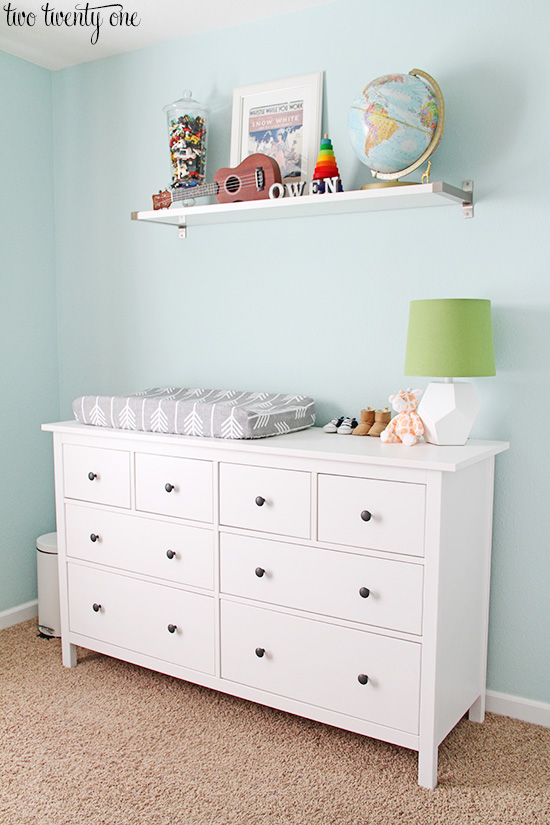 2. diaper wipes dispenser
A diaper wipes dispenser isn't absolutely necessary, but it's nice to have, especially when you have one hand on your wriggly baby and you're trying to grab a wipe. I just unwrap a package of wipes, and throw them in the dispenser. I didn't go for a heated warmer because that just sounded silly to me.
3. disposable diaper bags
I like these for when we're plagued with an especially stinky diaper, or if the contents can't be flushed down the toilet. We keep these in the nursery dresser for diaper changes. What's also nice is that you can fit more than one diaper into a bag, and they have handles that you can tie and untie when you want to add another diaper.
4. diaper wipes clutch
I keep this bad boy in our diaper bag (that comes with a changing mat), for diaper changes and to wipe random things. When the wipes run out I just refill the clutch with other wipes. We also have a diaper changing clutch that comes with a pocket for diapers and, when unfolded, serves as a changing mat.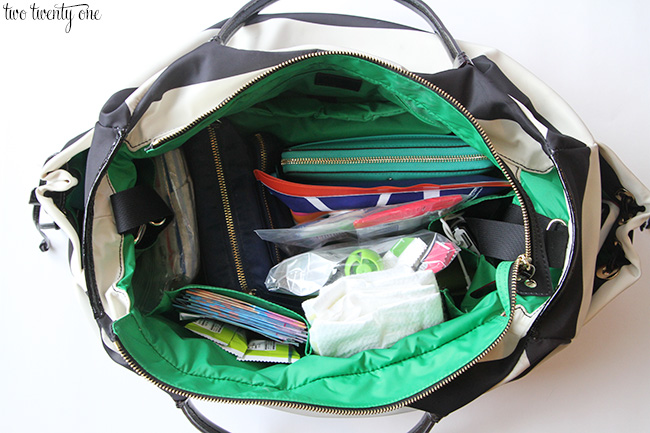 5. on-the-go diaper bag dispenser
I love this handy little diaper bag dispenser and the refills. I always have one in the diaper bag. It's great for stinky diapers, but also for when your kid has a blow out in a restaurant and you have to put his poop-covered clothes somewhere. These are a little harder to put another poopy diaper into because I always tie knot to secure the bag (these bags don't have handles).
Tip: Always carry an extra pair of clothes in your diaper bag. I've saved myself multiple times by doing this from the beginning.
6. diaper rash cream applicator
A diaper rash cream applicator is a luxury item, but it's nice to have. It's made to make diaper cream go on smoother, thicker, and faster. Plus, you aren't left with a finger covered in cream while attempting to finish diapering your kid.
6A. trashcan
Oops. I forgot to add a trashcan. We use a $10 IKEA pedal lidded trashcan in Owen's nursery for diapers instead of a fancy diaper pail. I heard horror stories about putting a poopy diaper into a pail incorrectly and poop exploding everywhere. The trashcan serves us well so I don't really see the need for a $50 diaper pail that you have to keep putting money into because of the bags some require.
Let's move on to bathing, shall we?
7. washcloths
We used washcloths to bathe Owen when he was a newborn, but we ditched them when he was about 8 months old. So I wouldn't register for 50 washcloths. 10 is plenty.
8. mesh pouf
Owen graduated from washcloths to being bathed with a soft, mesh pouf. We prefer the pouf because it suds up better, and it's easier to grip to wash him.
9. bathtub
It's not really safe to just throw your newborn into a standard size tub. We got this bath support, but if I could do it over again, I'd register for an actual small tub with an insert for newborns, like this one. The problem with the bath support was that we had to fill the tub, so we wasted a lot of water. It would've worked great in our big kitchen sink if we had had that installed when Owen was a newborn.
Tip: If you have a large kitchen sink, put your baby's tub in the sink and wash them there. It'll save your back from all the bending over. We bathed Owen in our kitchen sink for a few months, and it was so nice. I'd still bathe him in the sink if he didn't get water everywhere.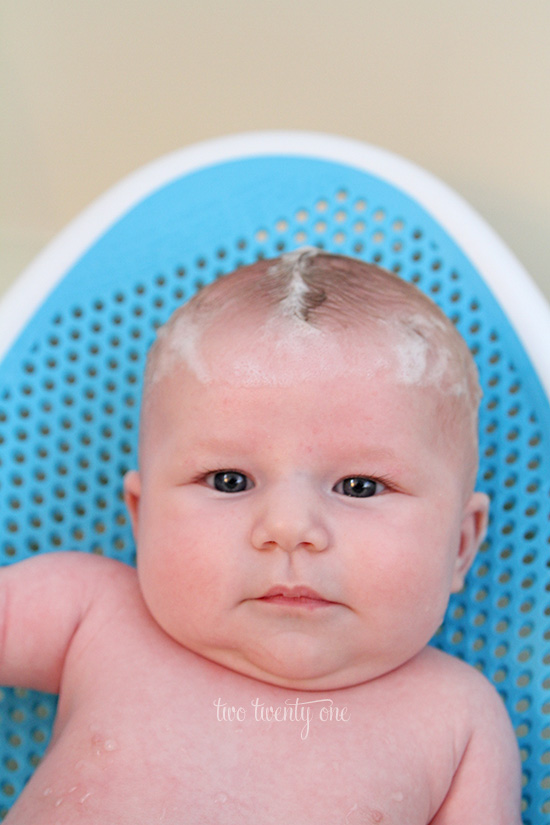 10. towel
You don't really need any of the cutesy hooded towels, but it's nice to have a couple for when your baby is really little. We don't even use hooded towels on Owen anymore. We stick to our regular bath towels or the personalized, regular towel Owen got as a gift from Brad's aunt.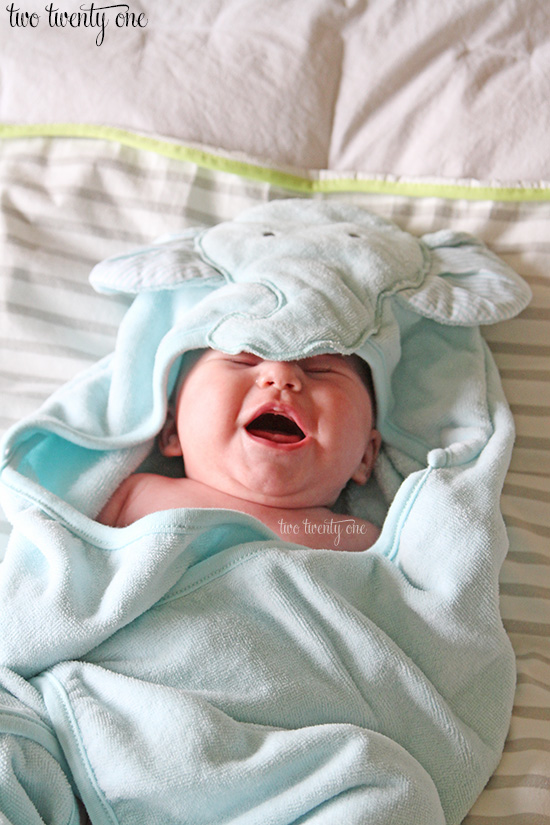 11. portable tub
If you don't plan to travel with your infant or toddler, skip ahead to #12. I got this inexpensive, inflatable duck tub when we went on our Alaskan cruise last year. Because if you've ever been on a cruise, you know most rooms only have a shower stall with a tiny lip. It's also been nice to use in hotel bathtubs, and when we travel to Brad's parents' house because their tub doesn't have a stopper. Owen is almost 3 feet tall and can still fit in it.
12. tub spout cover
A tub spout cover is nice to have because infants, toddlers, and kids are generally clumsy.
13. care kit
Care kits are nice because have a bunch of random things in it– nail clippers, brush, comb, etc.
Tip: If your baby is born with longer nails, file them down with an emery board. They're usually too soft and delicate to trim with clippers.
14. thermometer
There are different thermometer options out there. This thermometer is nice for oral, rectal, and underarm. And these are nice for when baby is older.
15. nasal aspirator
Everyone goes bananas over the Nose Frida nasal aspirator. When baby is congested, you can shoot some saline up their nose, insert the Nose Frida into his nose, and suck on the other end with your mouth. So you're essentially sucking the snot out of your kid's nasal cavity. It sounds gross but it's effective. And don't worry about ingesting your kid's boogers, there's a filter.
Alright, that's a wrap!
You can check out the other baby registry posts here:
If you'd like to quickly add things to your Amazon baby registry, I've created a baby registry with everything from the series. You can see the registry HERE.
Moms, do you have any other diapering, bathing, or care suggestions?
Check out my other popular baby posts!
This post contains affiliate links.
Funds from affiliates help pay for web hosting, domain registration, email delivery, the occasional bottle of wine, and other fees to keep twotwentyone.net up and running. Thanks for your support! I appreciate it!