Candy Flower Sugar Cookies
Jump to recipe
Ahhh, spring, my most beloved season. The thunderstorms, the 70 degree weather (I'm not a fan of sweating so I think all of you "I LOVE 90 degree weather!" people are nuts), the smell of the springtime air, and the flowers– daffodils, crocuses, and, of course, peonies are my favorite things about spring.
I figured it would be fun to whip up some candy flower sugar cookies in honor of spring.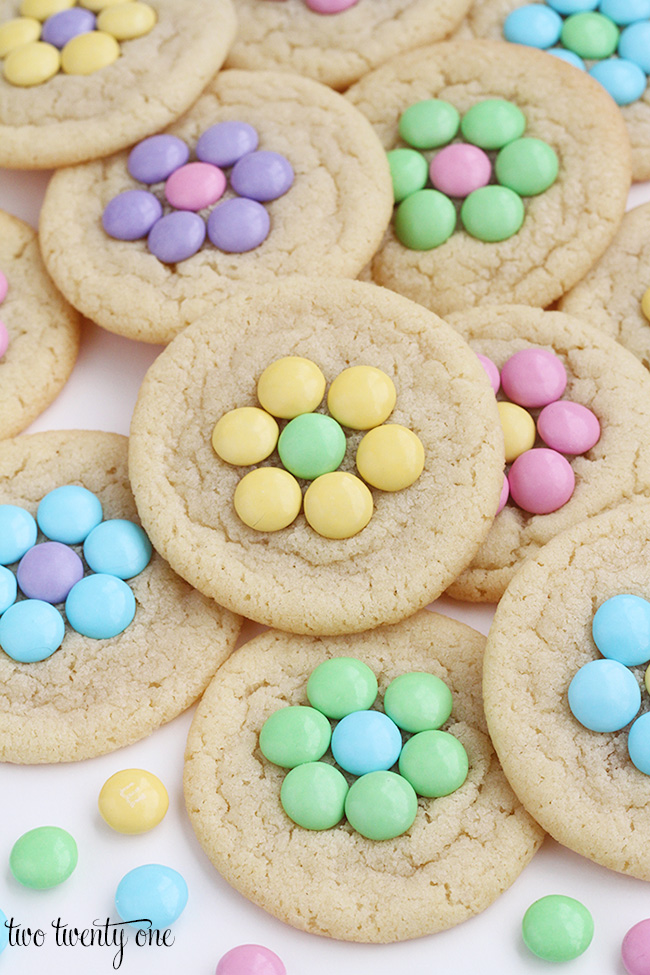 Aren't they pretty?
After I made these beauties, I let Owen try one. Then, I put the rest in a container and sat it on our kitchen countertop. Immediately after he finished the cookie, I could hear him in the kitchen saying "cookie … cookie … cookie". I walked into the kitchen to see him on his tip toes, reaching for the container. He whipped around toward me and feverishly started saying and signing "more please … more please". That's when I discovered that teaching him to say "cookie" probably wasn't the best idea, and that I now need to hide all future cookies in a cabinet so they're not within eyeshot.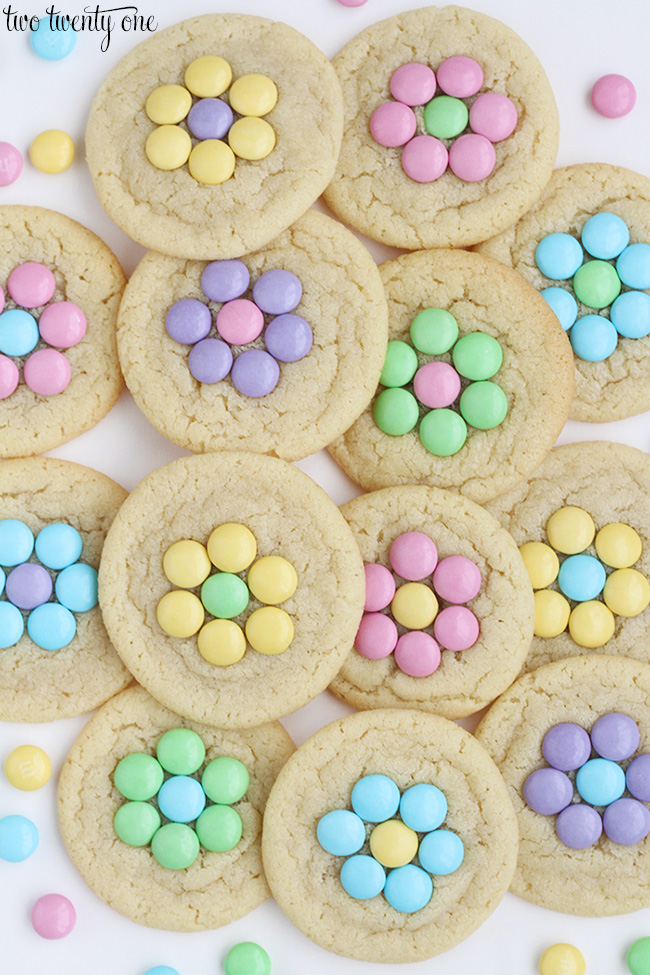 Like everything I make, these are very easy to execute.
I whipped up a batch of my sugar cookies, and while they were baking I configured the flowers. As soon as I took the cookies out of the oven, I pressed the M&Ms into the center of each cookie to form the flowers.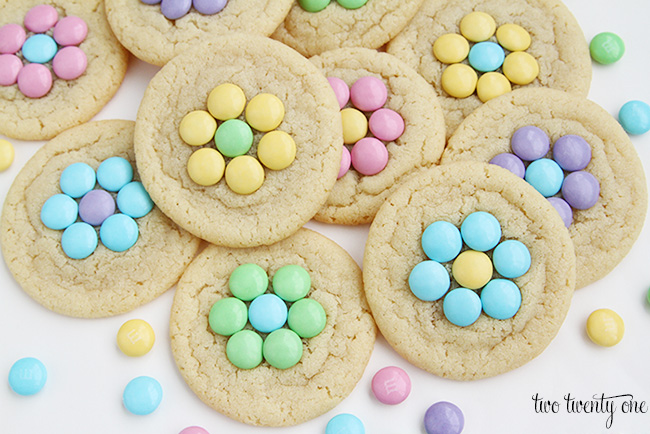 Ingredients
1 c. butter, softened
1 1/2 c. sugar
1 1/2 tsp. vanilla
1 egg
2 3/4 all-purpose flour
1 tsp. baking soda
1/2 tsp. baking powder
1 bag pastel M&Ms
Instructions
Preheat oven to 350 degrees. Combine flour, baking soda, and baking powder in a bowl. Set aside. In a separate bowl, cream butter and sugar together until smooth. Add egg and vanilla. Blend in dry ingredients. Roll dough into 1 inch balls, and then roll into oblong balls. Slightly flatten the dough between your hands. Place on baking sheet. Bake for 10-12 minutes. Remove from oven. Press 7 M&Ms into the center of each cookie to form the flowers.
I've partnered up with 10 other bloggers to share some delicious edible flower recipes. So make sure you head over to their blogs and check out their tasty creations!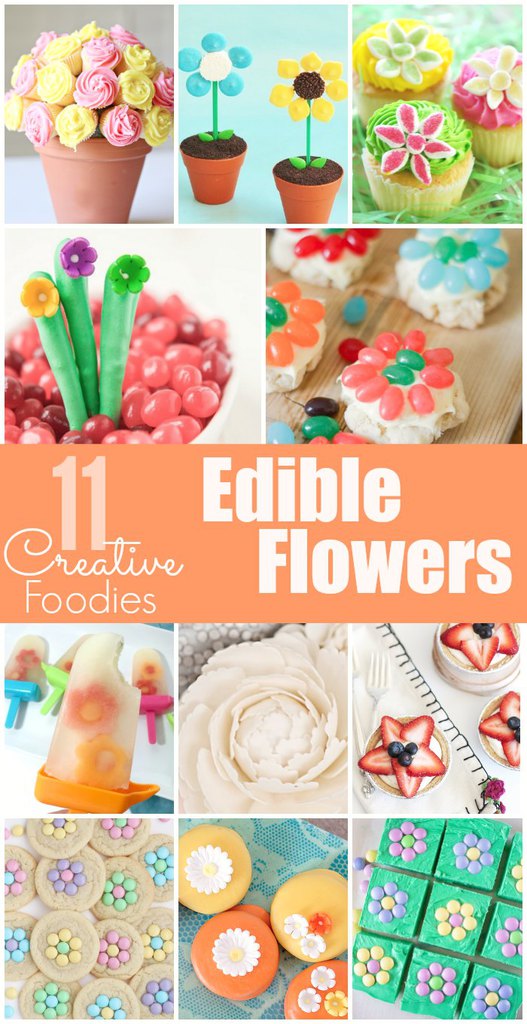 Marshmallow Flower Cupcakes from Mom Endeavors
Cupcake Flower Pot Bouquet from See Vanessa Craft
Easy Flower Patch Fudge from A Night Owl Blog
Flower Pot Cupcakes from Kitchen Fun with My 3 Sons
Gumpaste Peony from Ashlee Marie
Jelly Bean Flower Cookies from Mommy Hates Cooking
Candy Flower Sugar Cookies from Two Twenty One
Flower Oreos from Happiness is Homemade
Chocolate Covered Pretzel Flowers from Play Party Plan
No Bake Berry Cheesecakes from Strawberry Mommycakes
Fruit Flowers from The Idea Room