Last weekend we hosted 40+ family and friends for Emmett's first puppy birthday party! It was a pawsitively perfect day. And yes, you can expect some puppy puns throughout this post. You're furry welcome.
In case you're wondering, I went with a puppy themed first birthday party because Emmett's nickname is Puppy.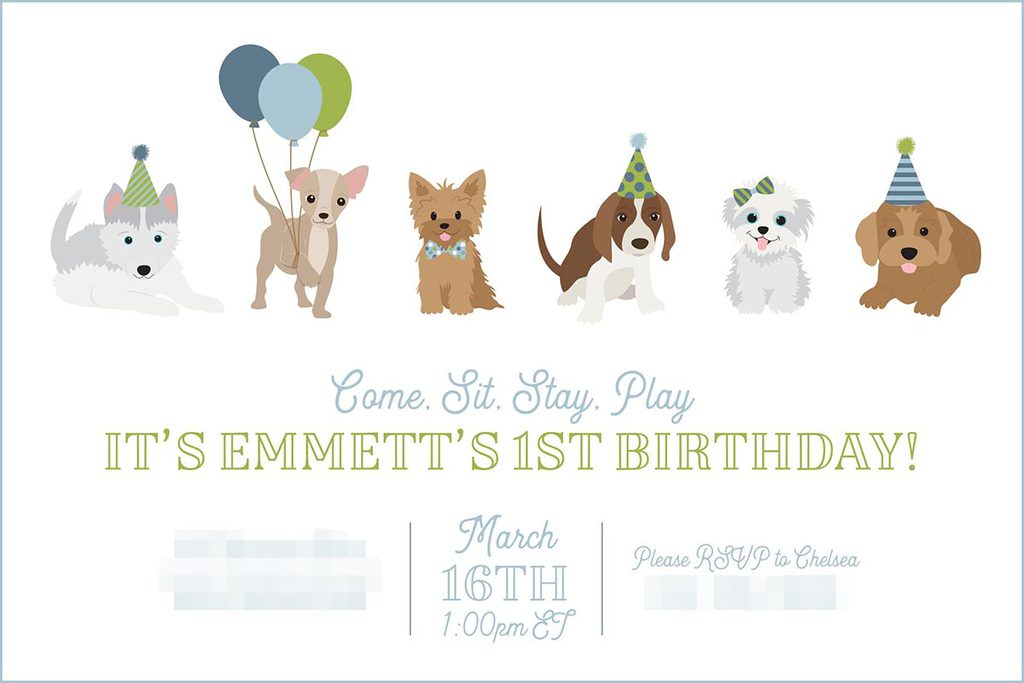 I kept the birthday boy's outfit simple– a French bulldog shirt (complete with beret — hah, get it?) and jeans.
And because he's a member of this family, and we have the best of luck, Emmett ran into the corner of a wall the day before his puppy birthday party, resulting in his worst facial injury to date.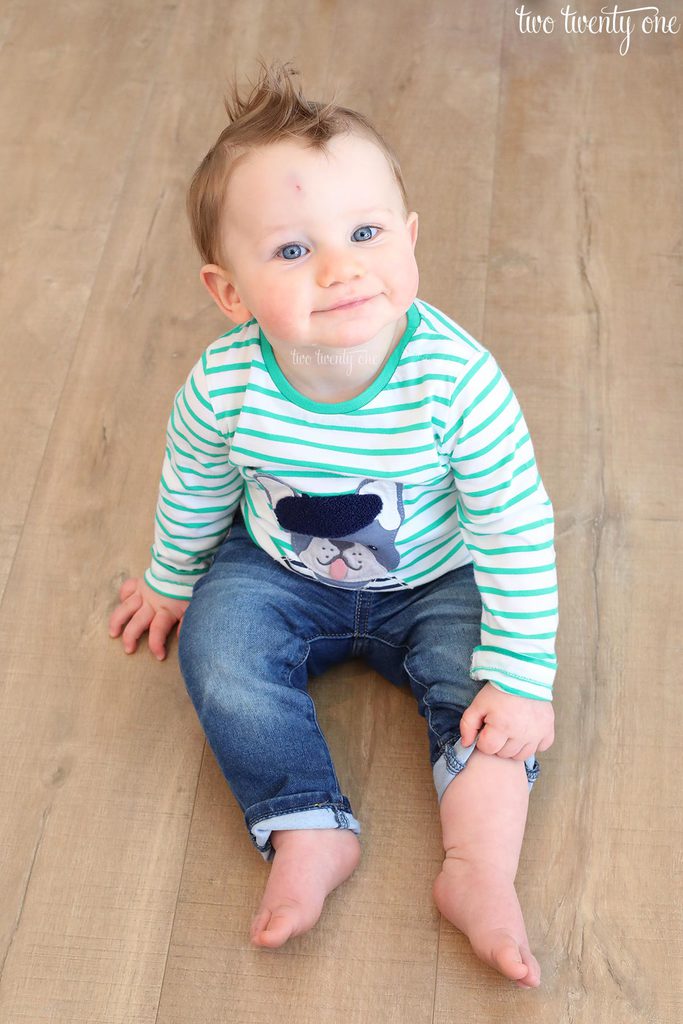 Puppy Birthday Party Food & Drinks
To stay on-theme, I put together a hot dog bar. Because we needed to feed 40+ people, I purchased the hot dogs and buns from Costco. For the hot dog bar we had chili, cheese, ketchup, mustard, banana peppers, onions, sweet relish, and dill relish. For the non-hot dog lovers, my mom made meatballs.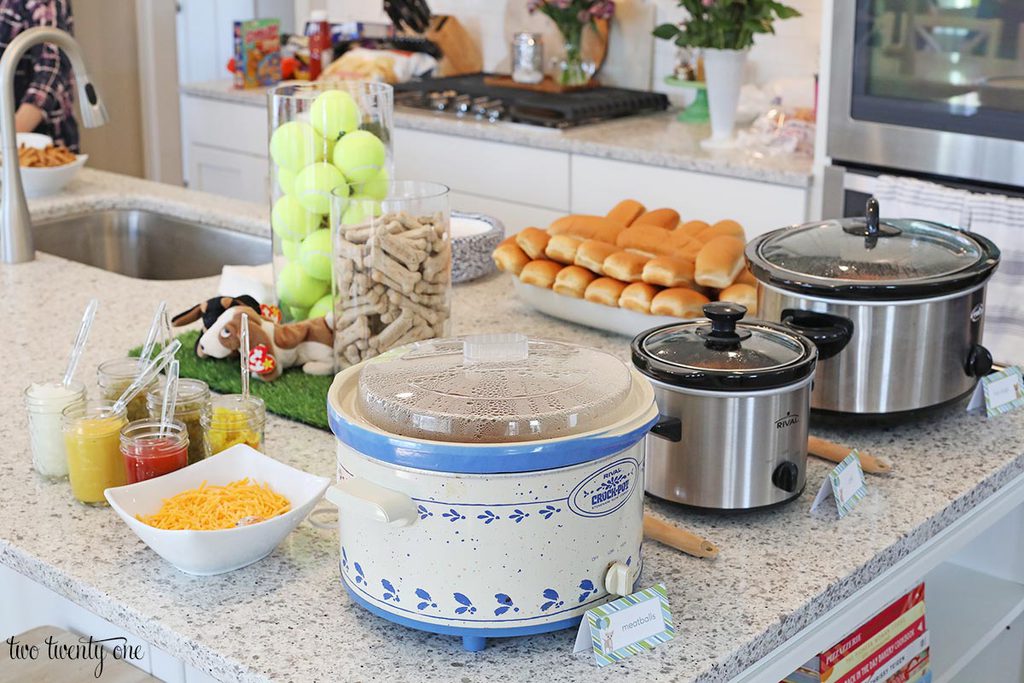 Instead of throwing the condiment bottles and containers on the counter, I put the condiments into smaller mason jars.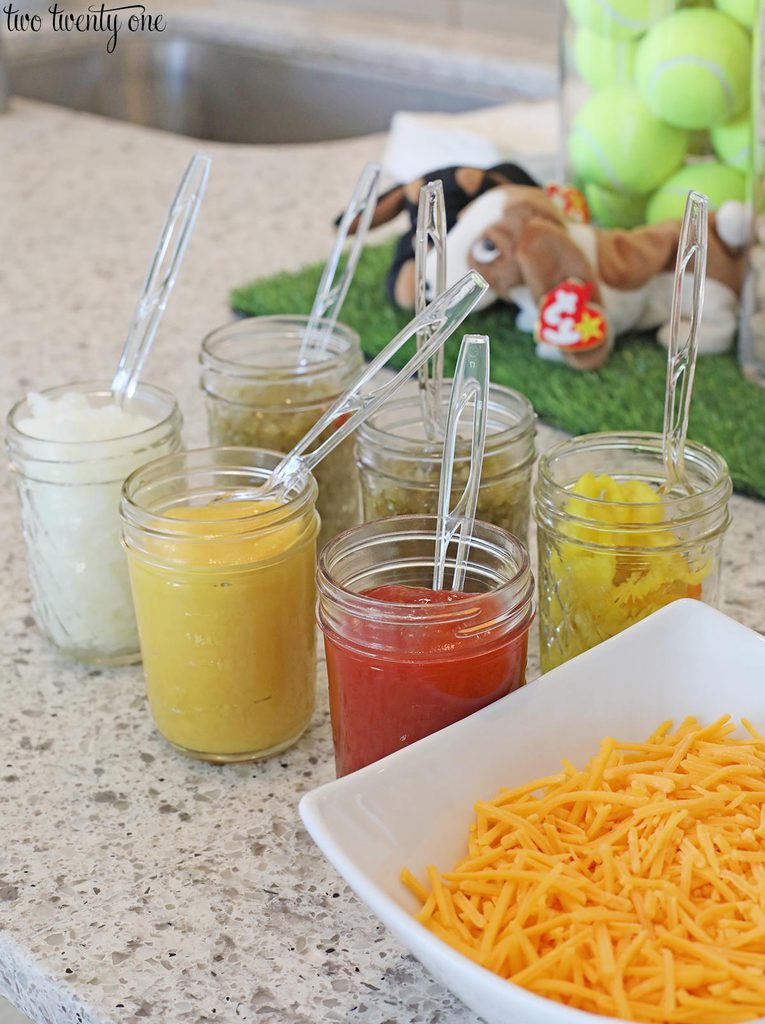 We also had a veggie tray, fruit, and Scooby snacks.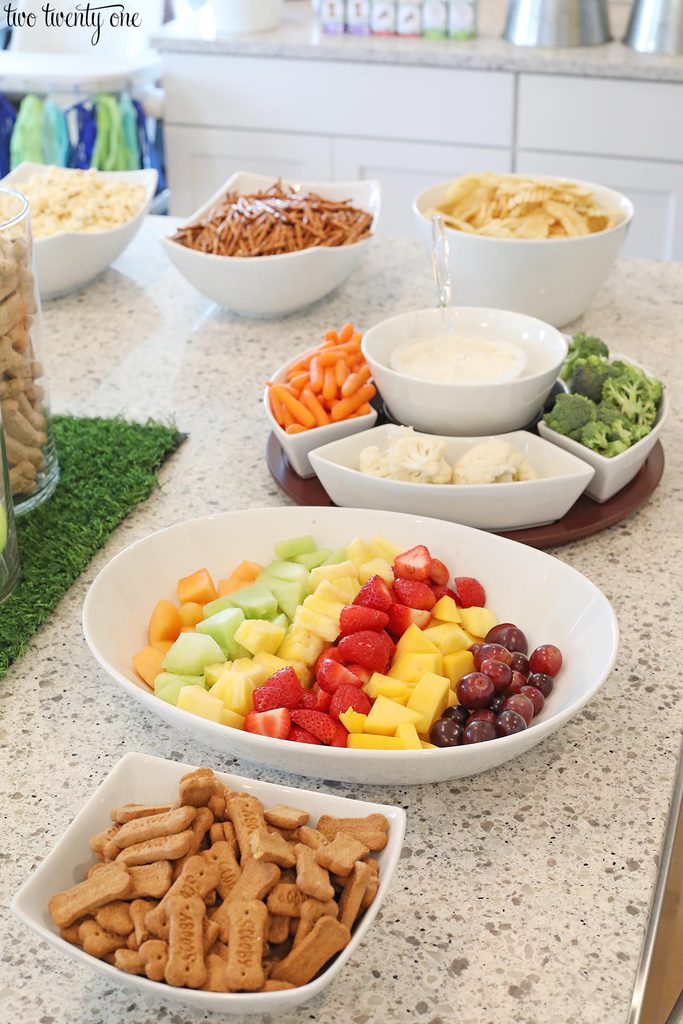 My mom made her famous spinach dip (recipe here— it's a crowd favorite!) and I put out some pupcorn, fetch sticks, and pawtato chips.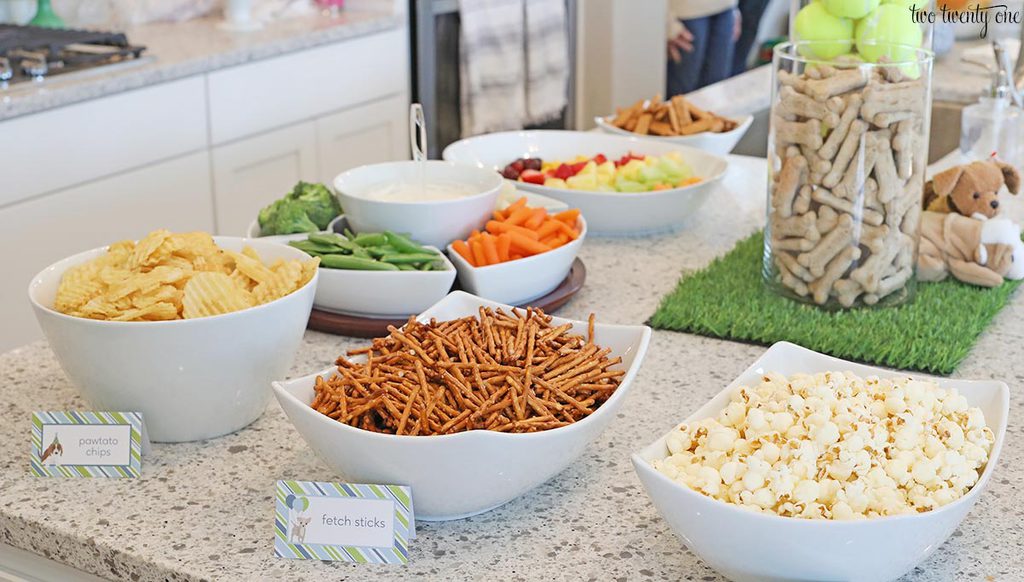 The drinks were simple because once I got this to this portion of the party planning my brain was kind of fried. So lemonade, water, and a juice boxes it was!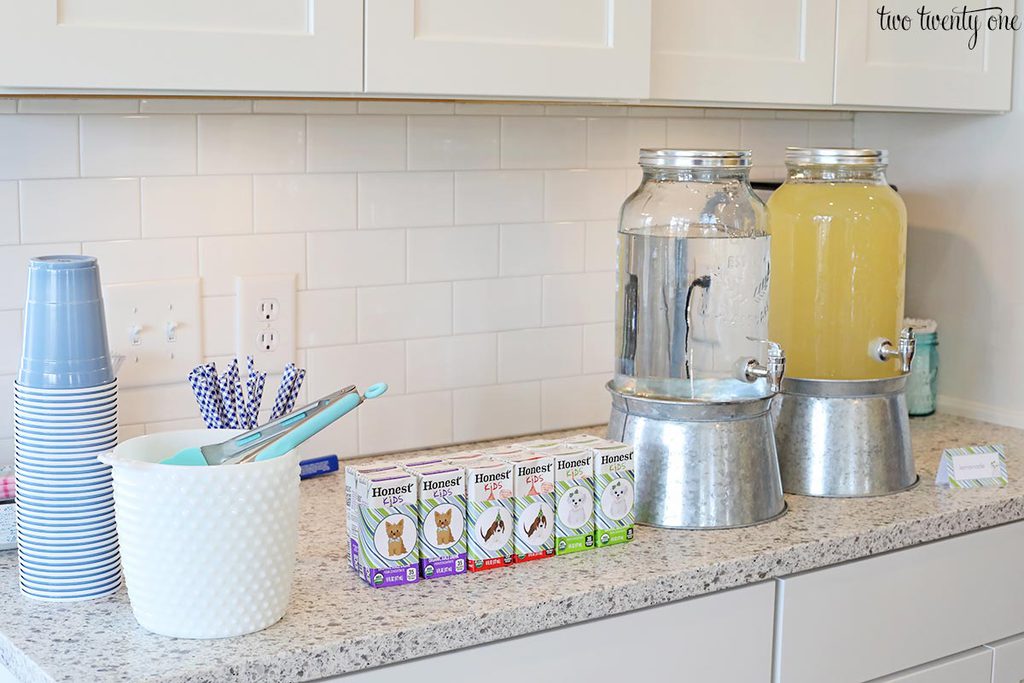 Decorations
For the dining room table, I wanted to keep things low enough so that people could see each other and chat. So I used a faux grass table runner topped with stuffed animal dogs, two gigantic tennis balls, and a glass cylinder filled with dog bones. I scattered the table runner with tennis balls and dog bones.
I also opted to use real tablecloths. They're more sustainable than plastic tablecloths, they look better, and they're fairly inexpensive.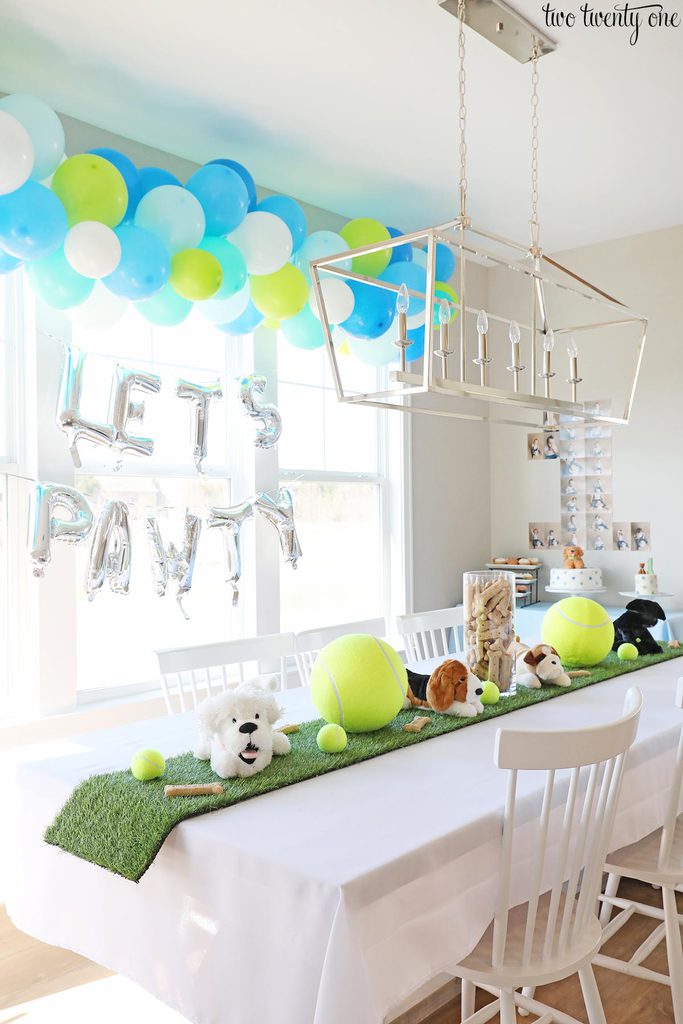 I wanted to dress up the window behind the table, so I opted for a balloon garland and "Let's Pawty" balloon banner.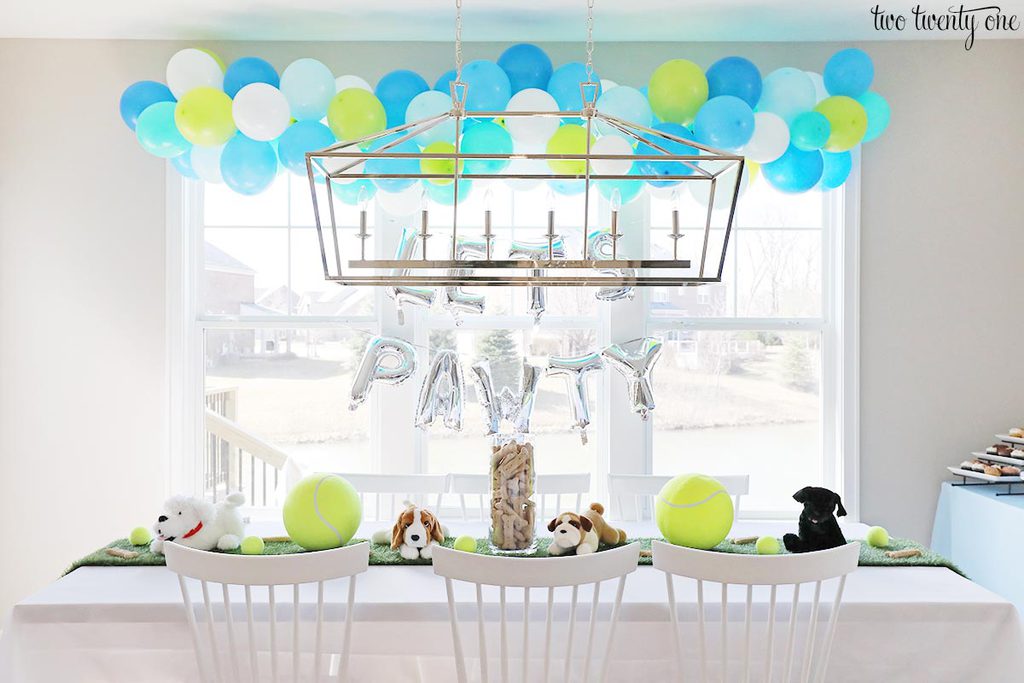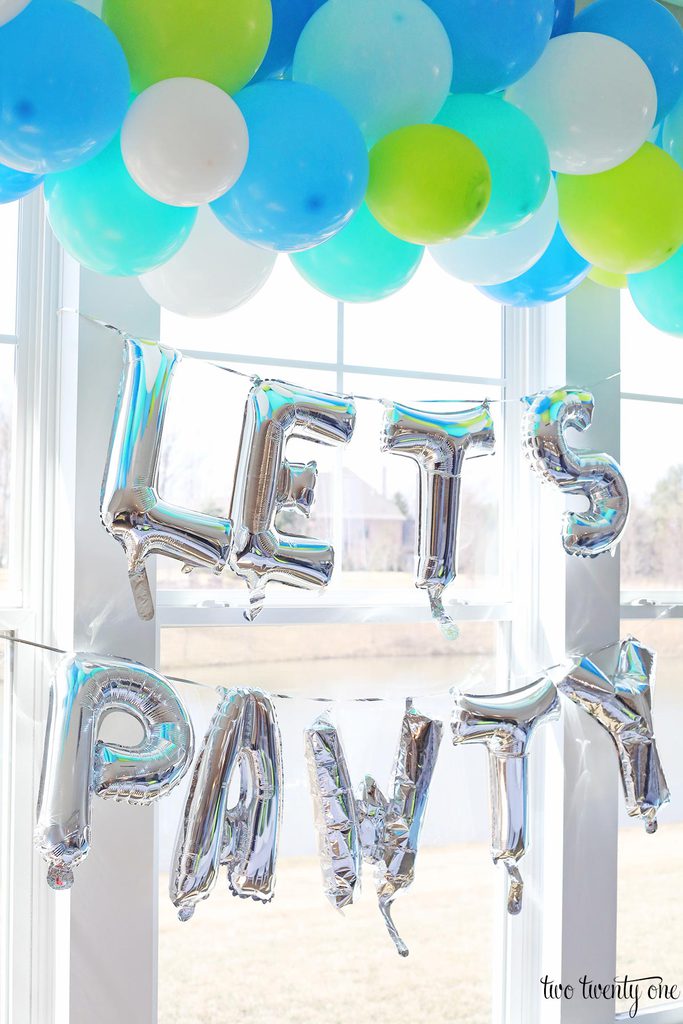 This was my first time creating a balloon garland. It turned out great! But when I was finished, my hands smelled like latex for 16 hours– a smell I don't particularly like. And our house smelled like latex until we got used to the smell. So just a warning if you also don't like the smell of latex.
Shout out to my friend, Taylor, the balloon garland master, for coaching me through the assembly. My favorite piece of advice she gave me was "Put your perfectionism to the side for a minute." Hah! Which was so true.
I did a balloon garland tutorial!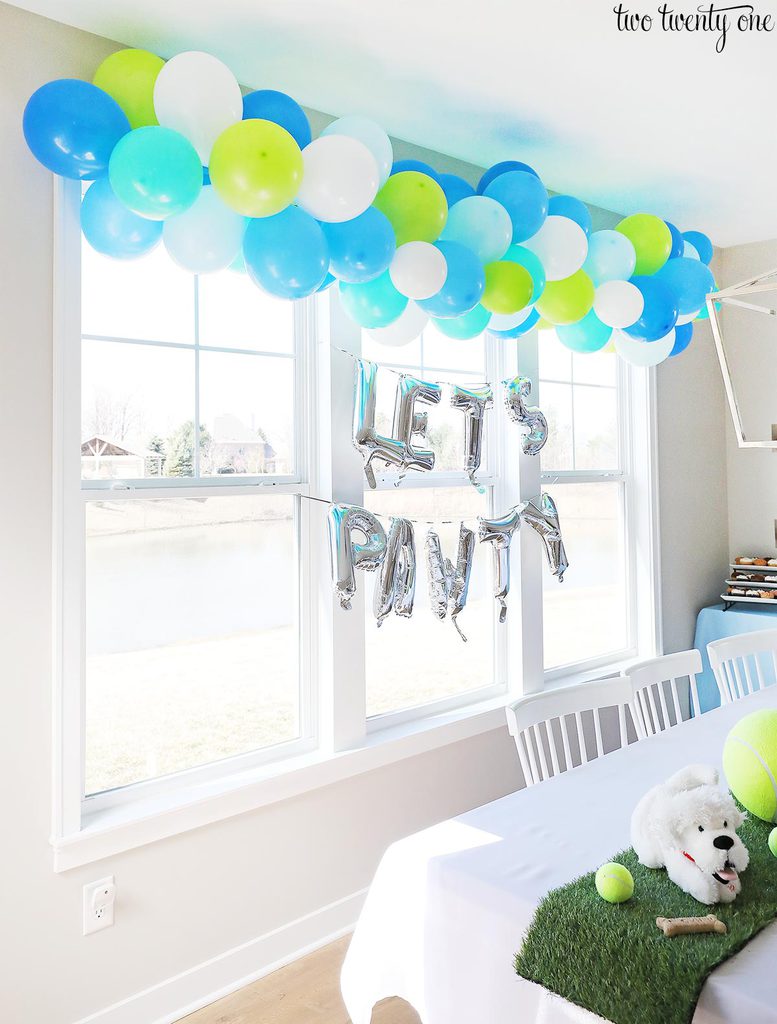 During the puppy birthday party, someone approached me and said, "You didn't buy all these stuffed animal dogs, did you?" Yeah no. I purchased a couple of the stuffed animal dogs (like the adorable basset hound below), but most were from my personal childhood collection or borrowed from friends. My mom found and brought about 20 of my Beanie Babies from the 90s.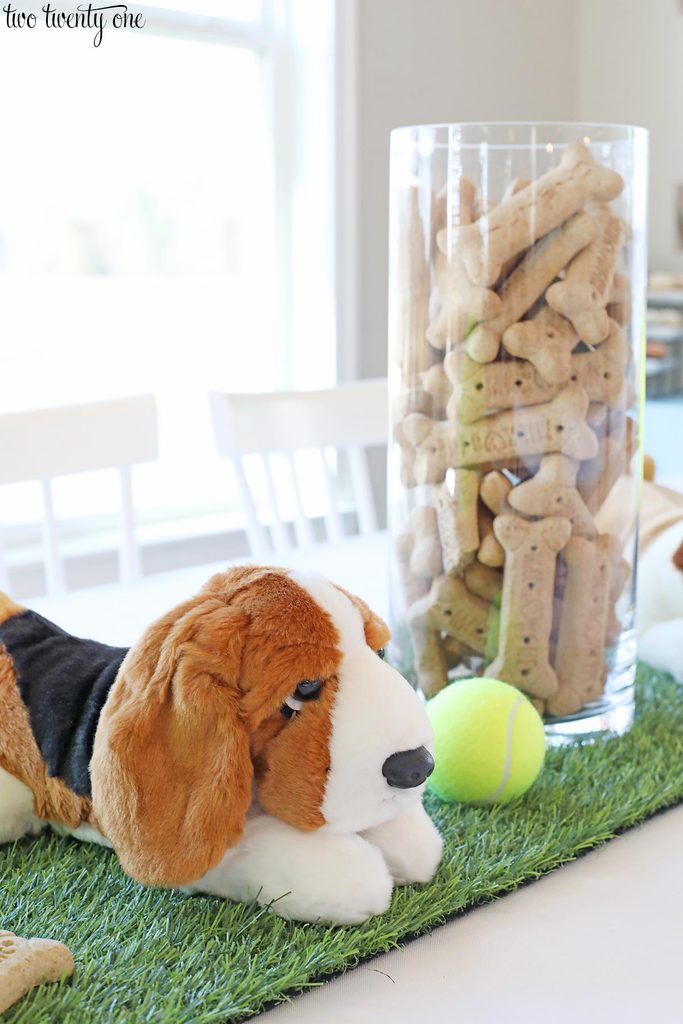 Puppy Cakes & Cupcakes
My console table, which typically holds my plant collection, was converted into the cake table. I used a blue tablecloth that will fit our dining table, but I folded it in half to fit the console table. We had pupcakes, a 10″ cake, and smash cake.
Using photos to decorate for birthday parties is something I love to do. I used the smash cake photos from Emmett's first birthday photos to create a number 1. I did something similar for Owen's first birthday, which was barnyard themed.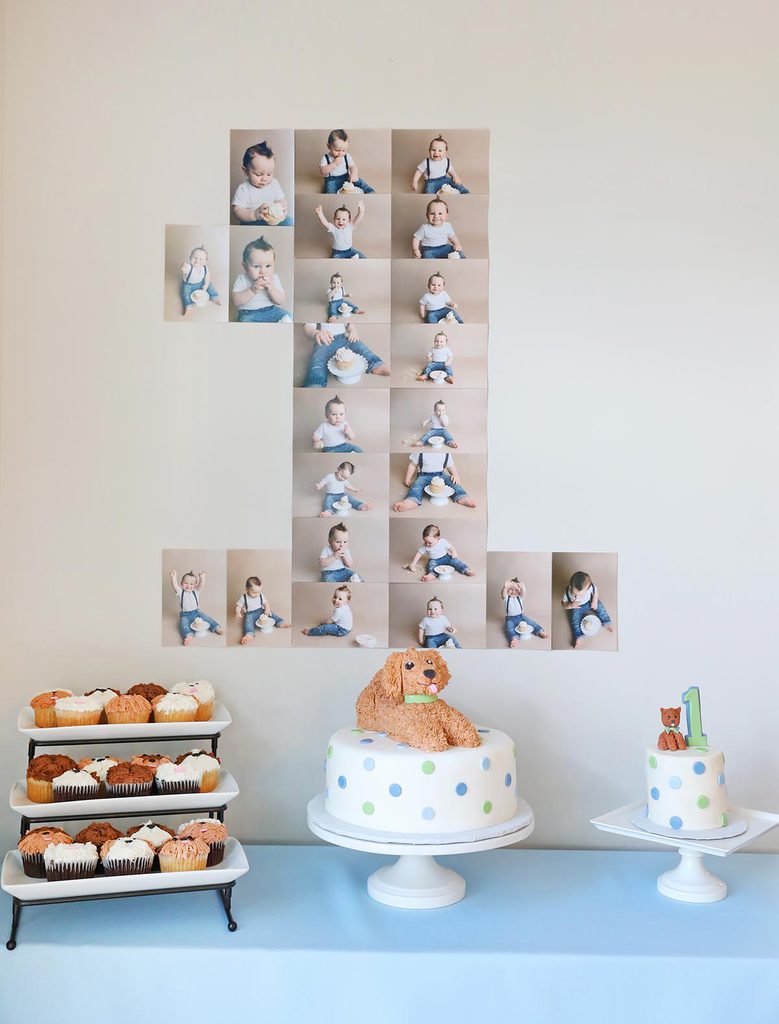 The puppy cupcakes were almost too cute to eat. I kept things simple and went with chocolate and vanilla.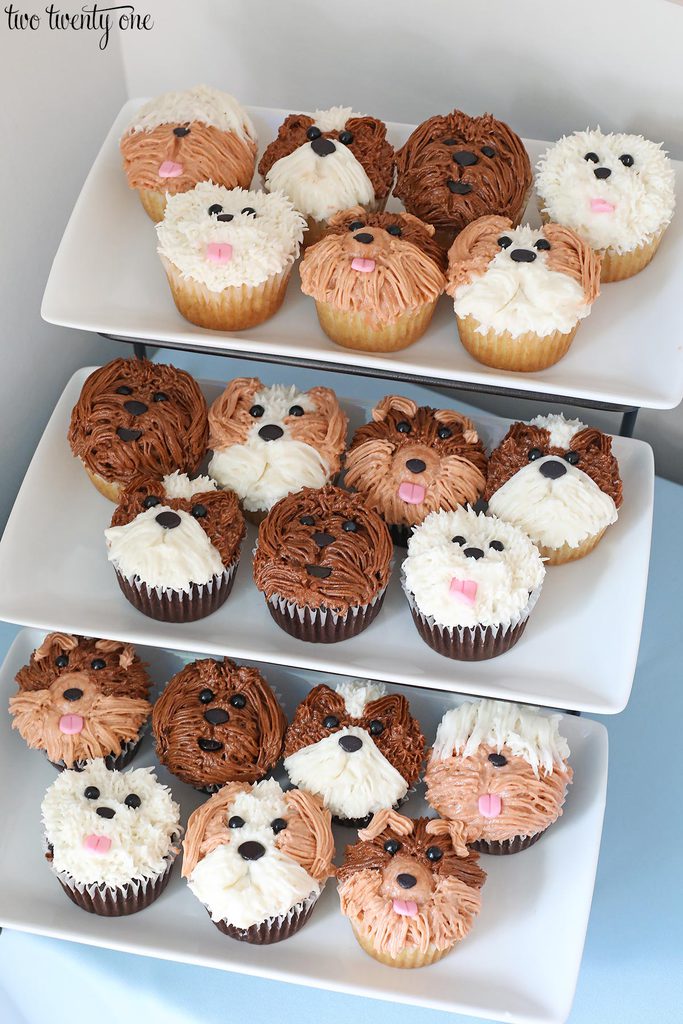 For the big birthday cake, I asked the cake baker to create a shaggy 3D dog on top. She coordinated the polka dots to the party invitation colors.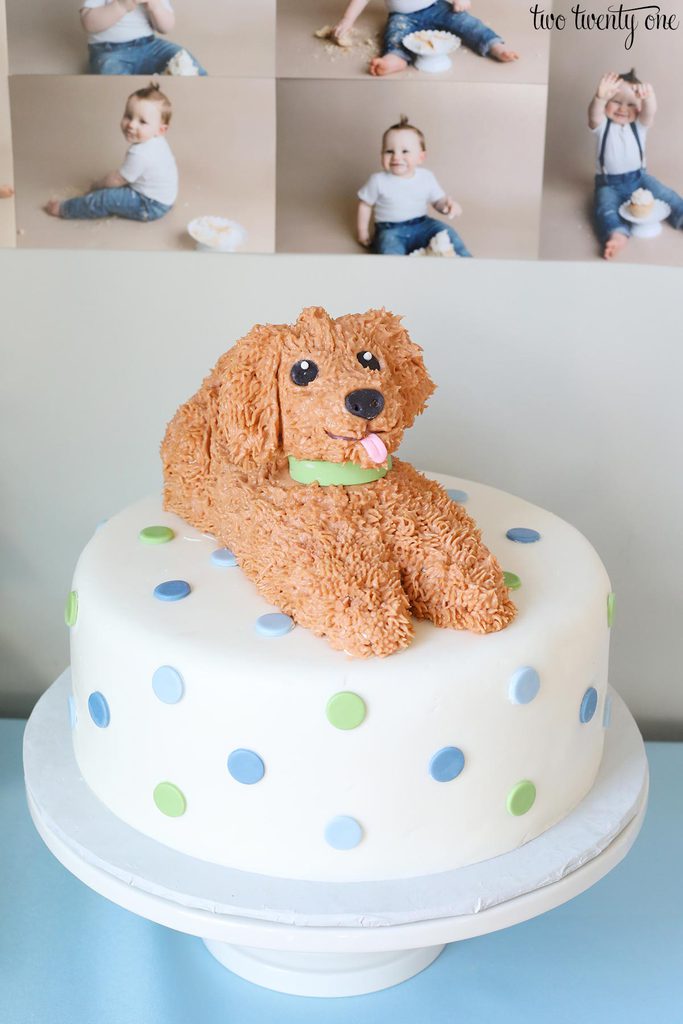 Emmett's smash cake had a fondant puppy and number 1 on top. While he was indulging in his cake, I had to take the puppy away because he put off the head and I was afraid he would choke. But it was funny for a second when he grabbed the dog and bit its head off.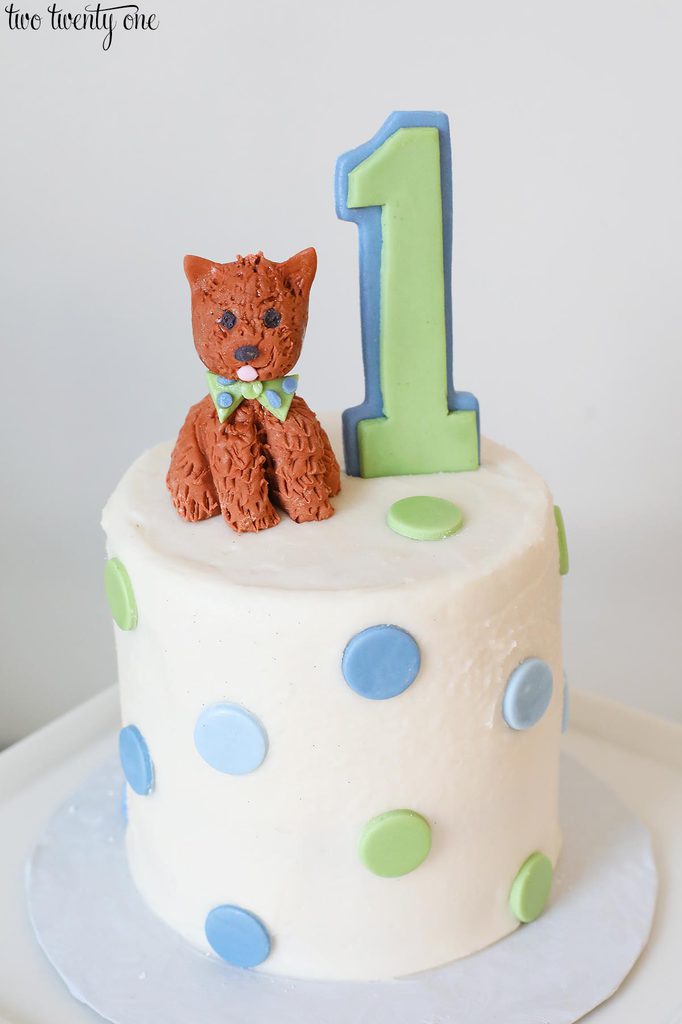 Emmett was the sweetest as everyone sang happy birthday to him, breaking out in a little dance.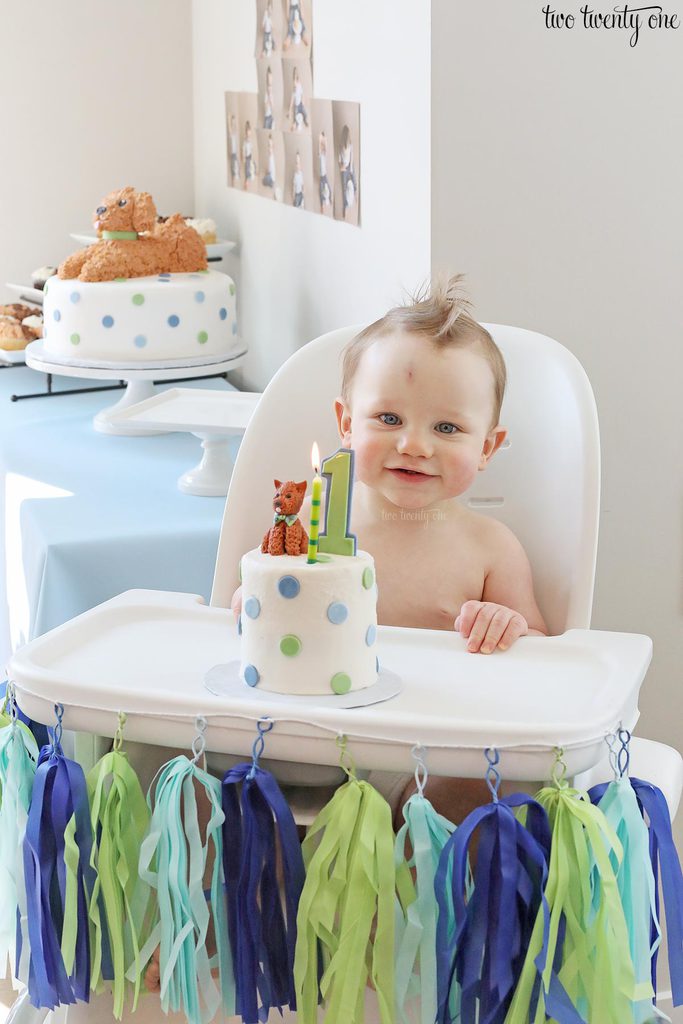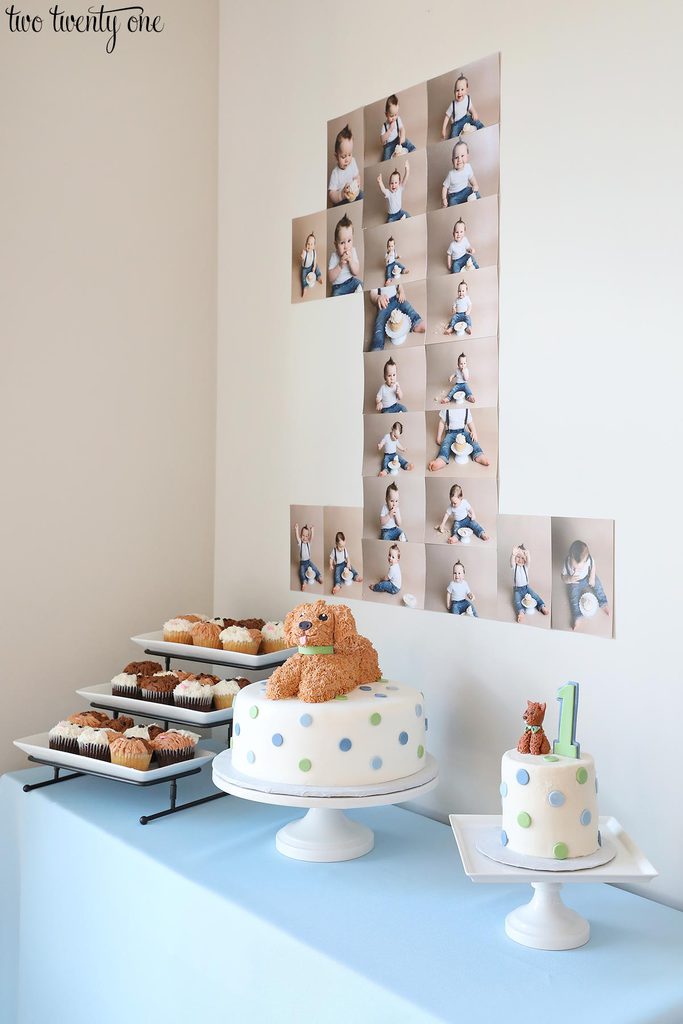 I created a massive E by using a portion of the ridiculous amount of photos I purchased because I got sucked into the whole "Spend $XX to get free shipping!" ploy. I caught Emmett walking up to the photos and kissing himself a handful of times.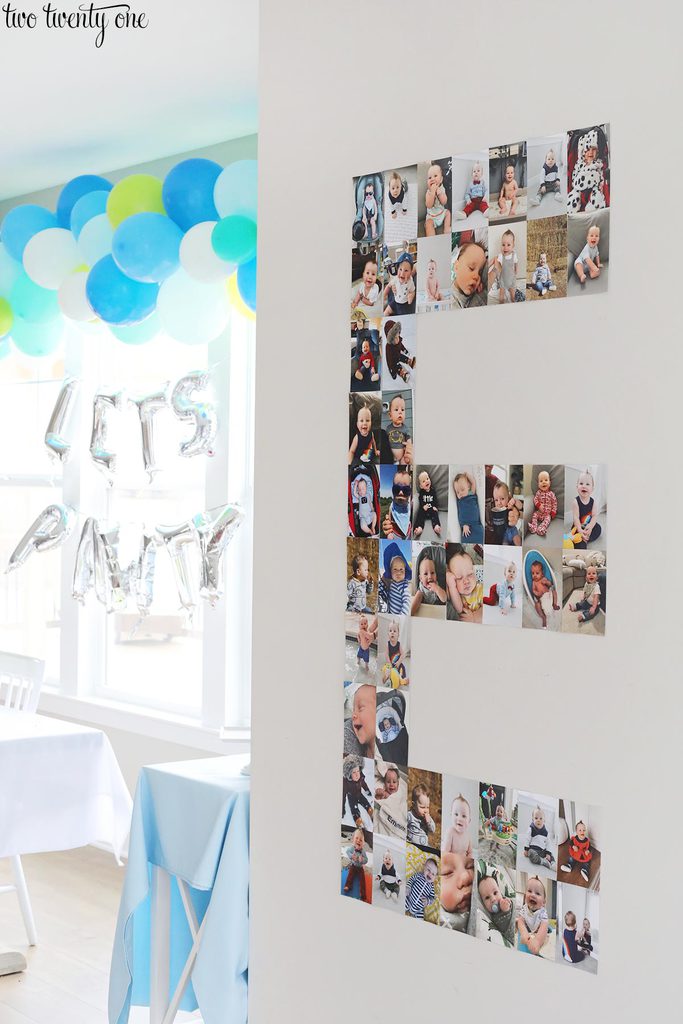 In an attempt to accomodate as many people as possible, we put out two card tables. To dress up the tables, I cut two squares from the other faux grass table runner I got. I topped the faux grass with dogs bones in a glass cylinder surrounded by stuffed animal dogs. I did the same thing to create two centerpieces on our island, but I filled glass cylinders with tennis balls instead of dog bones.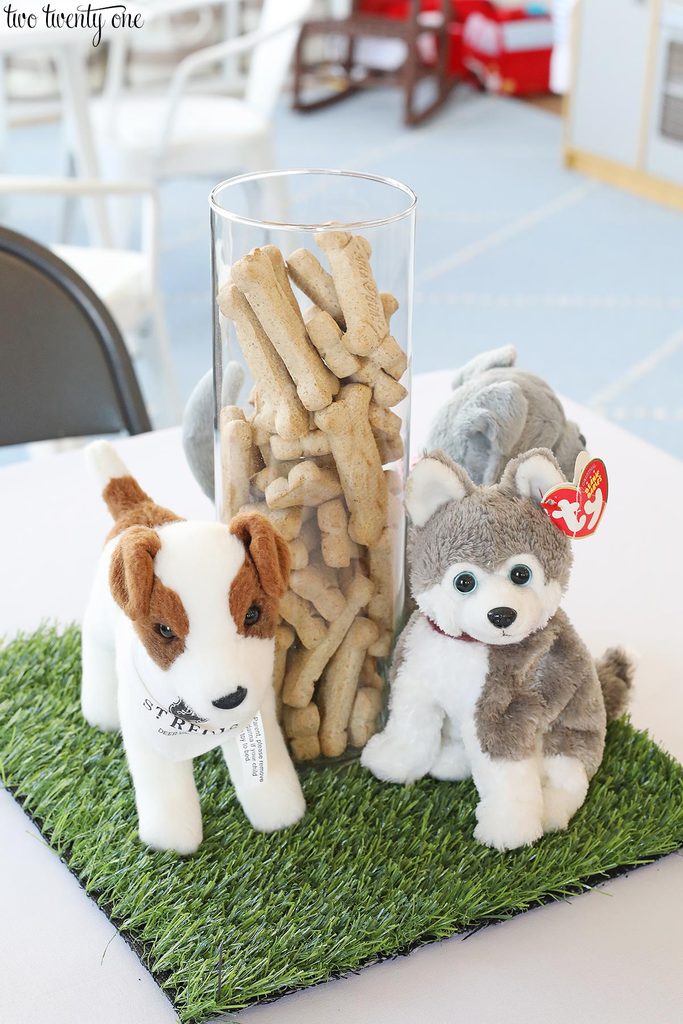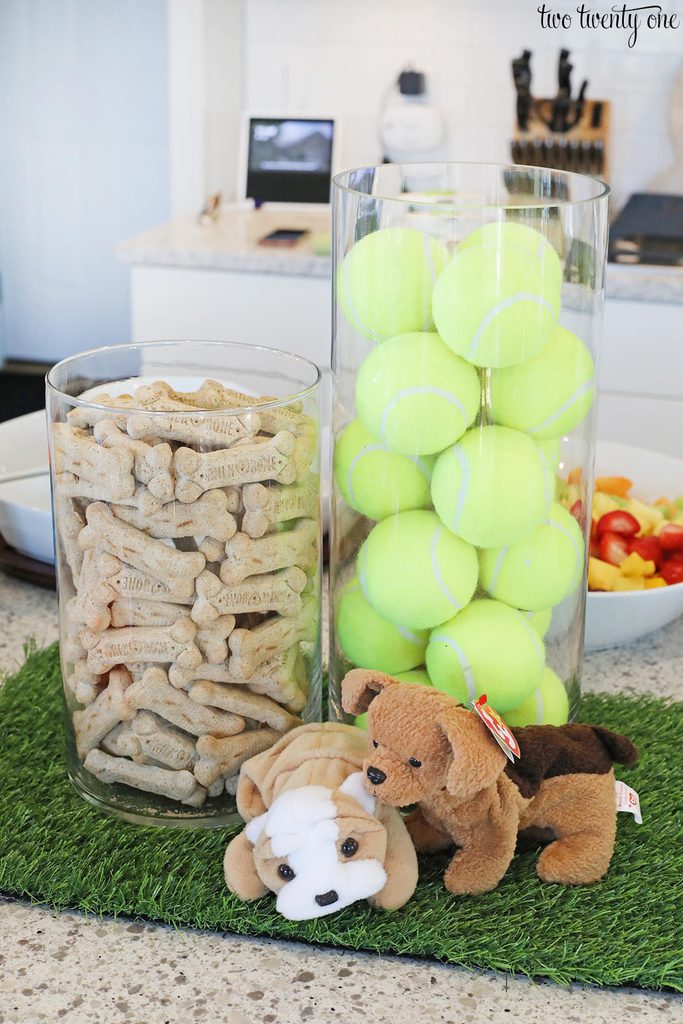 Paw-ty tip: Put a smaller glass cylinder or jar inside the larger one, and then add your filler. This allows you to use less, stretching the amount of filler you have.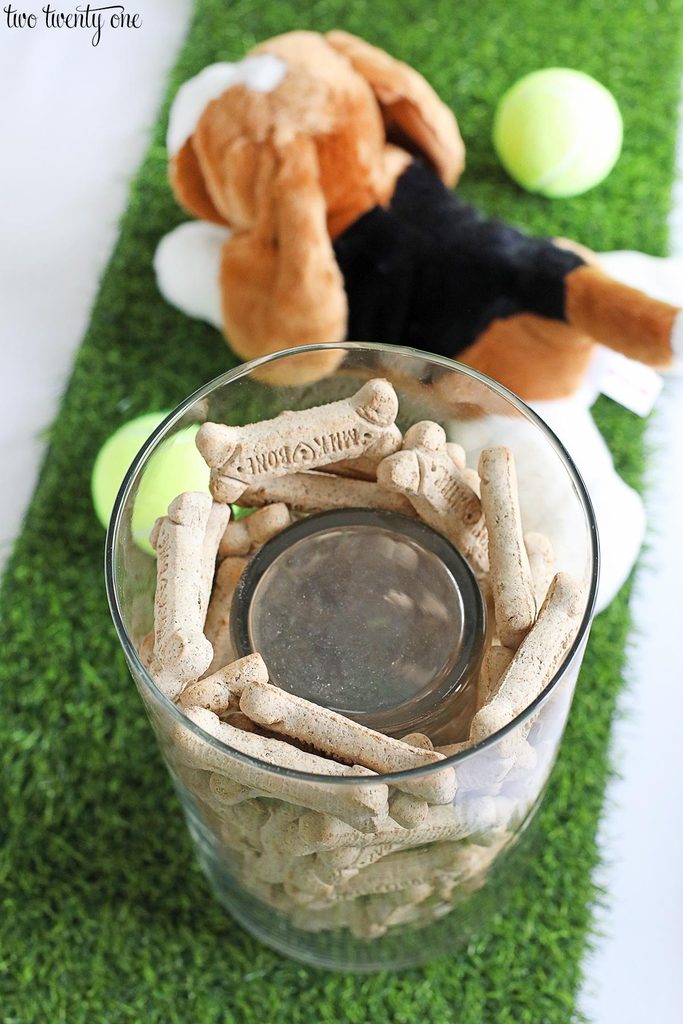 I decorated our mantel with puppies and a happy birthday banner. Emmett loves that not-to-scale pug I bought for the party.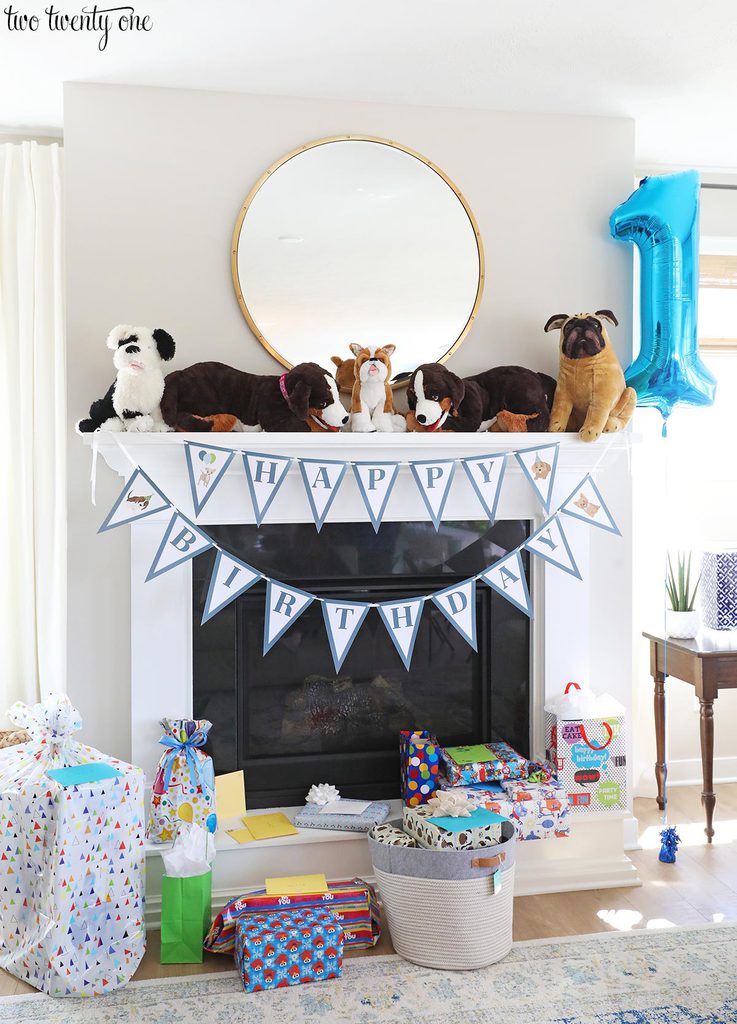 Puppy Party Favors
Our entryway dresser was turned into the favor table. Since some of Owen's friends attended the party, I had puppies for them to adopt and take home.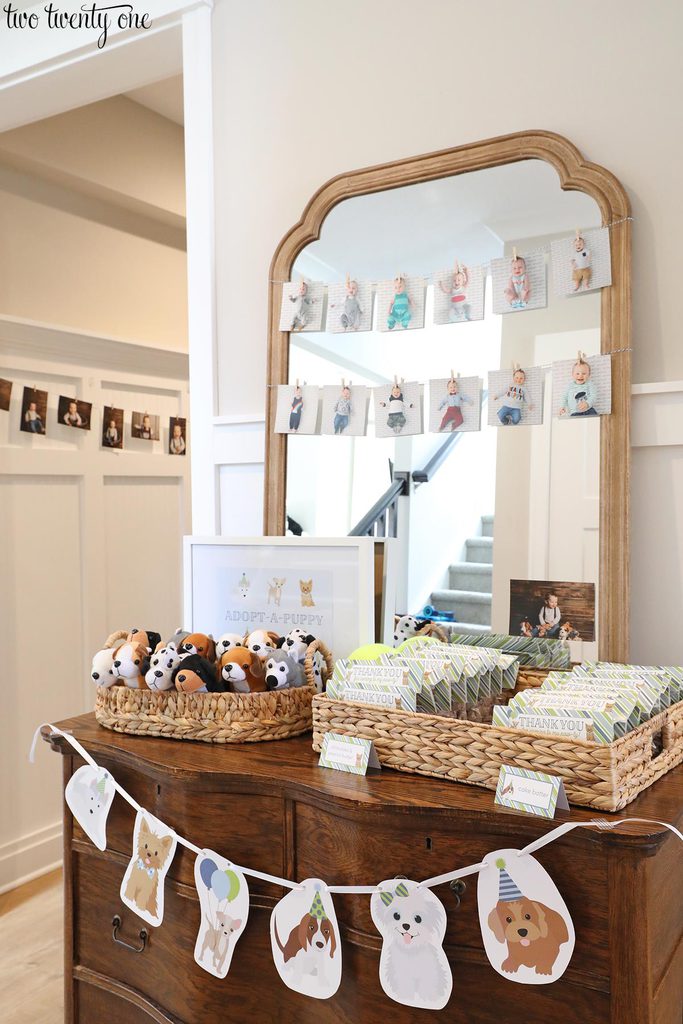 I made an insane amount of puppy chow to give away as favors for everyone else. I know some people call them muddy buddies, but it's called puppy chow here, and it fit the theme so…
Because I knew we'd have kids in attendance with peanut allergies, I made two flavors– chocolate & peanut butter and cake batter.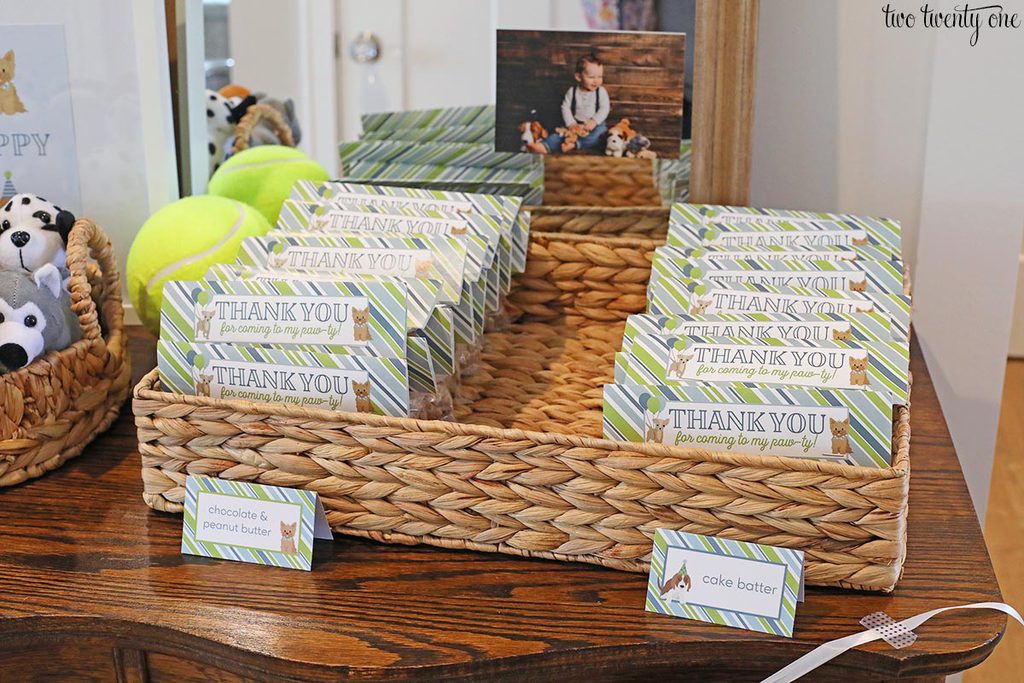 I'll share the cake batter puppy chow recipe later this week!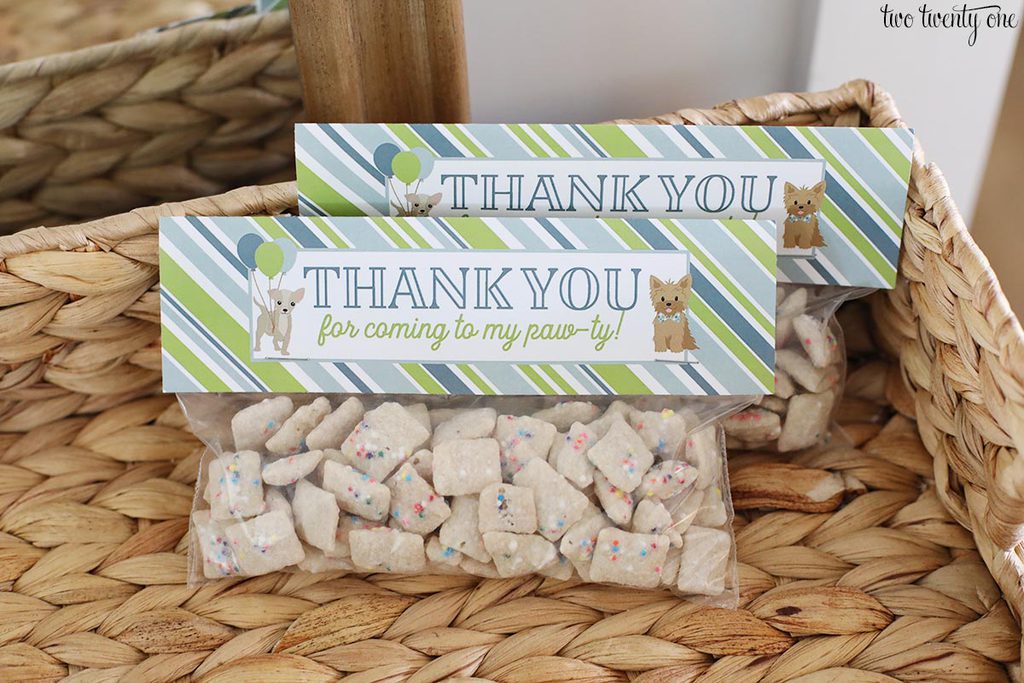 Paw-ty tip: Use baker's twine to create a photo clothesline. Pin photos to the baker's twine with mini clothespins.
I did this with Emmett's monthly photos.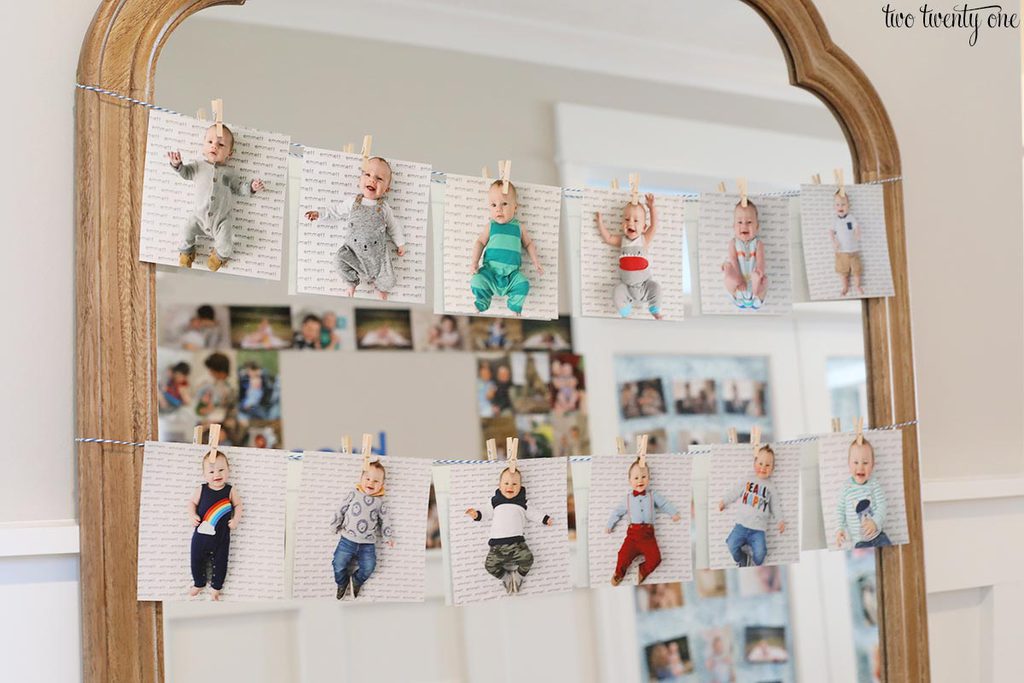 And I did it with some of his first birthday photos. See, I told you I'm a photo freak.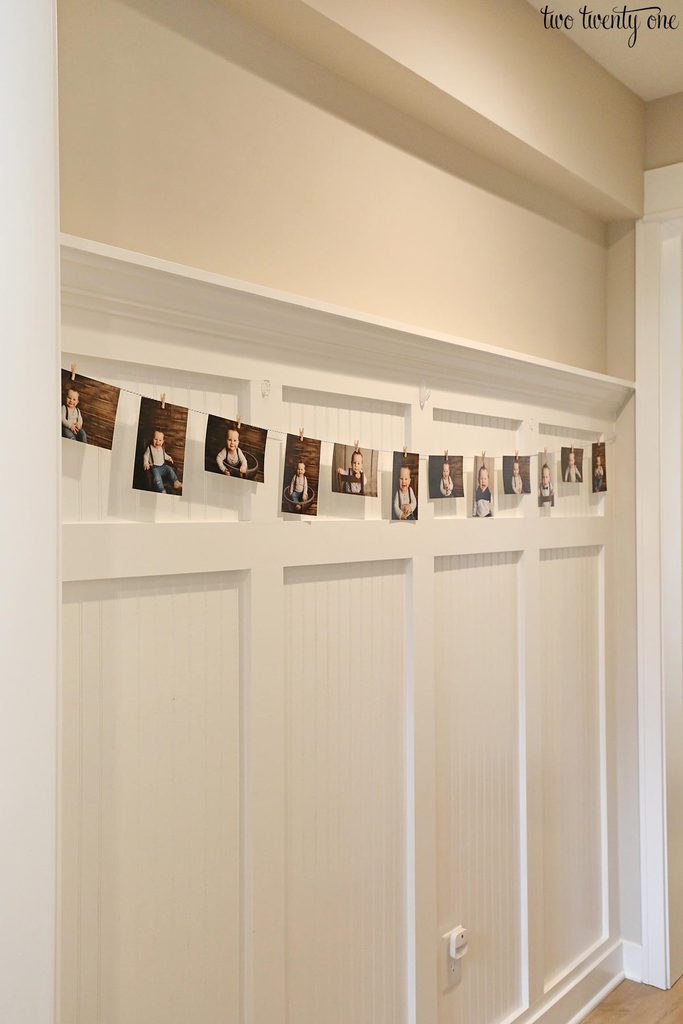 SOURCES
invitations and paper products (digital downloads) … Kim Nelson Creative via Etsy
puppies … Amazon
balloons … Amazon
Let's Pawty balloon banner … Party City
white tablecloth … Amazon
light blue tablecloth … Amazon
faux grass table runner … Tablecloths Factory
giant tennis balls … AliExpress / similar
tennis balls … Walmart
basset hound stuffed animal … Amazon
bulldog stuffed animal … Amazon
pug stuffed animal … Walmart
high chair garland … Target dollar spot