Preschooler Picky Eater Tips & Meal Ideas
This post is sponsored by KRAFT and SheKnows Media. As always, opinions are 100% my own.
We've been trying to get Owen to expand his palate lately. So today I'm sharing some strategies we're implementing to encourage him to try new foods, as well as some meal ideas.
One way I've been trying to get him to broaden his horizons is by having him help me cook. He gets so excited and automatically runs to get his step stool when I ask if he wants to help me in the kitchen. And my logic is, if he helps prepare the food, he may be more inclined to try it.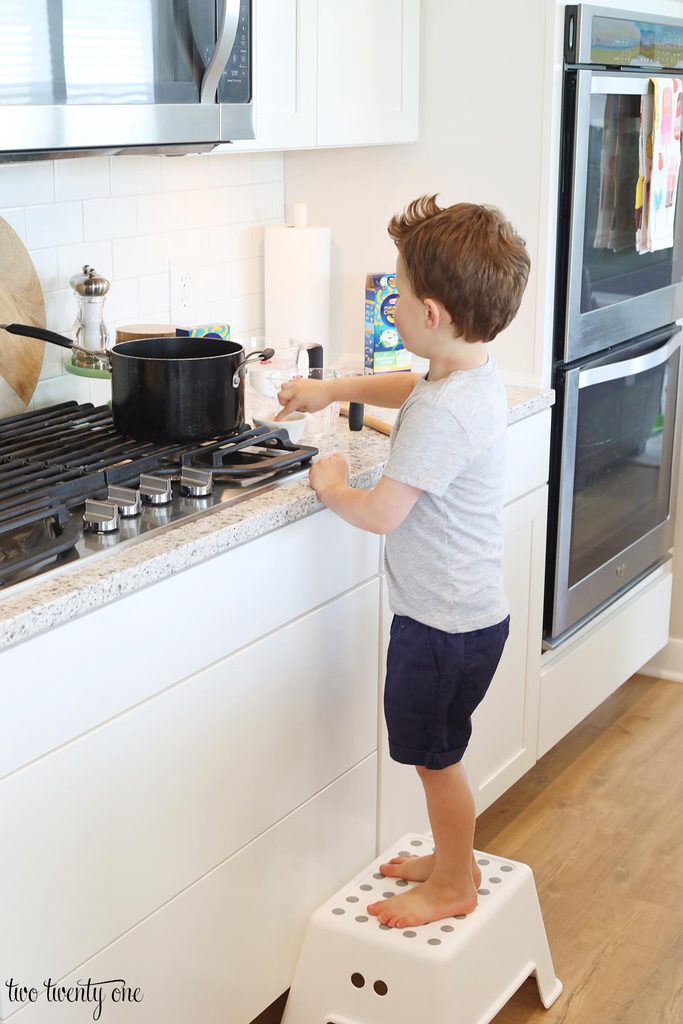 Since we're battling a picky eater, I'm always looking for ways to sneak healthier things into his diet. Since Mac and Cheese is always a winner, I was super excited to find out about KRAFT Macaroni & Cheese Cauliflower. There's cauliflower added to the pasta so I can give him 1/4 cup serving of veggies, and he can't taste the difference
Tip: When cooking with younger kiddos, measure everything for them in advance, and then have them pour the ingredients in.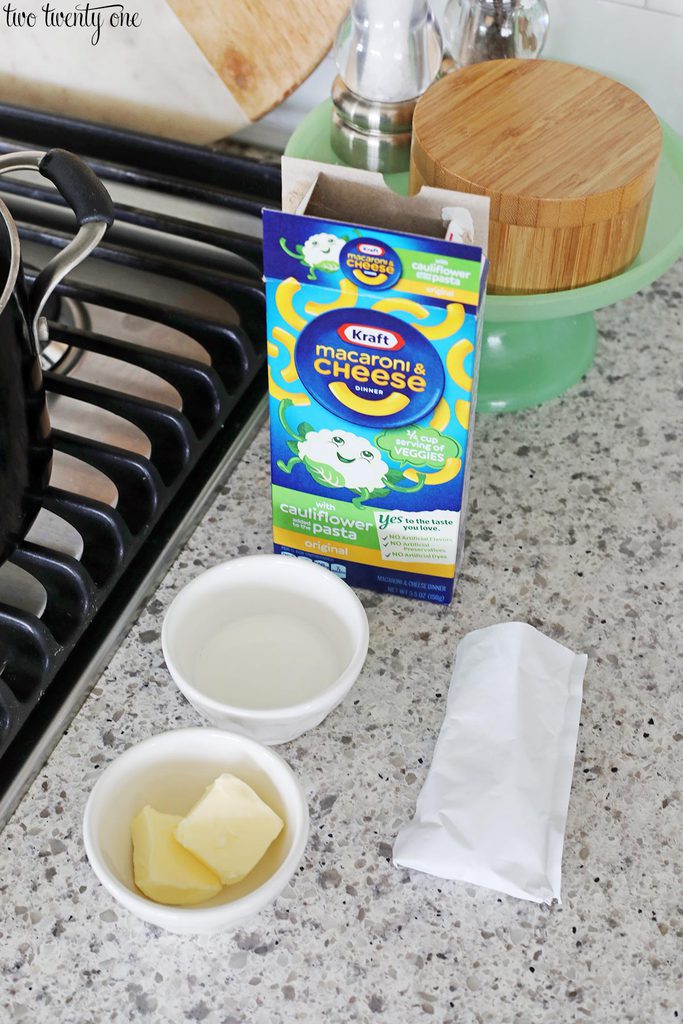 I don't let Owen help when there's an open flame going because while he's careful and knows fire is hot and the pot is hot, he's still only three and a half. But if I'm going to be boiling water, I'll let him fill the pot for me.
Tip: Turn the pot handle away from your kid so they don't accidentally hit it and spill water everywhere.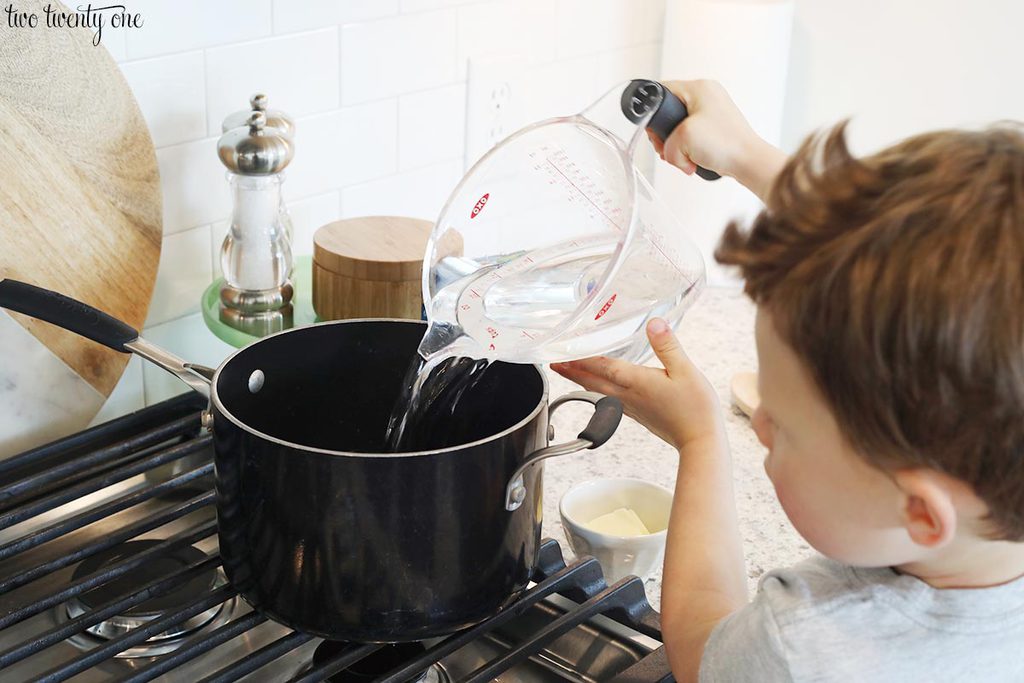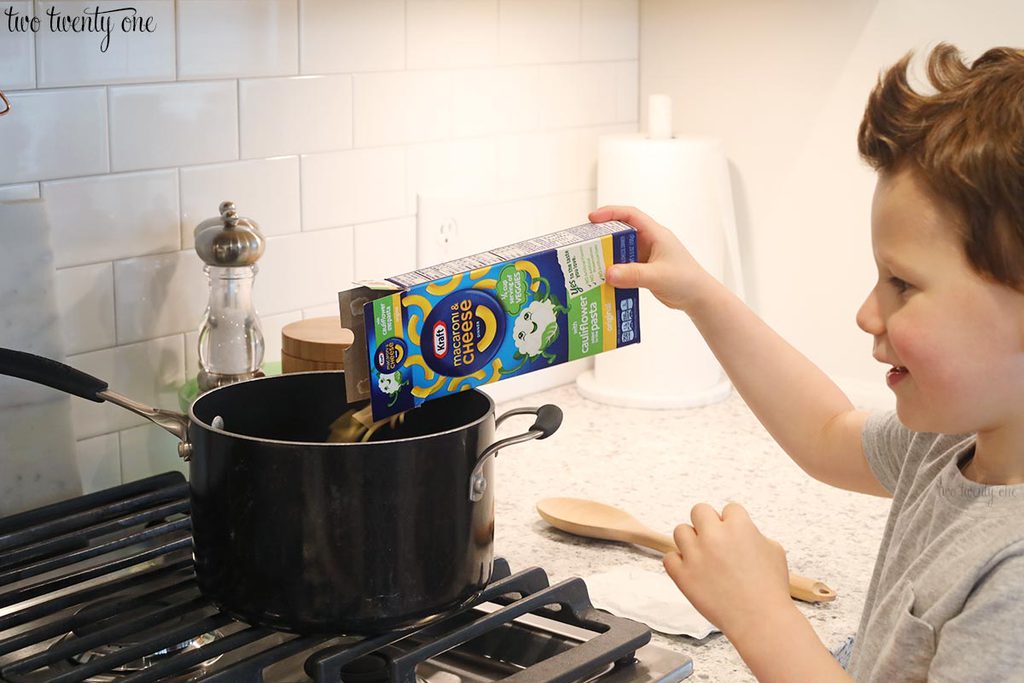 I've found pairing new foods with Owen's favorites to be helpful. So I'm sharing four different meals with KRAFT Mac & Cheese Cauliflower as the main entree item. Because even if he doesn't eat the vegetables on his plate, but eats his mac & cheese with cauliflower pasta, he's still getting 1/4 cup serving of veggies.
KRAFT Mac & Cheese Cauliflower has 9 grams of protein per serving, so I typically serve it with a vegetable and a fruit.
mac & cheese • avocado • blueberries
Avocado is a great source of good fat for growing kids. I've found that Owen will gobble it up if I put a little bit of salt on top. He especially likes being able to use the salt grinder and add the salt himself.
Tip: Use colorful silicone baking cups for fruit and dips.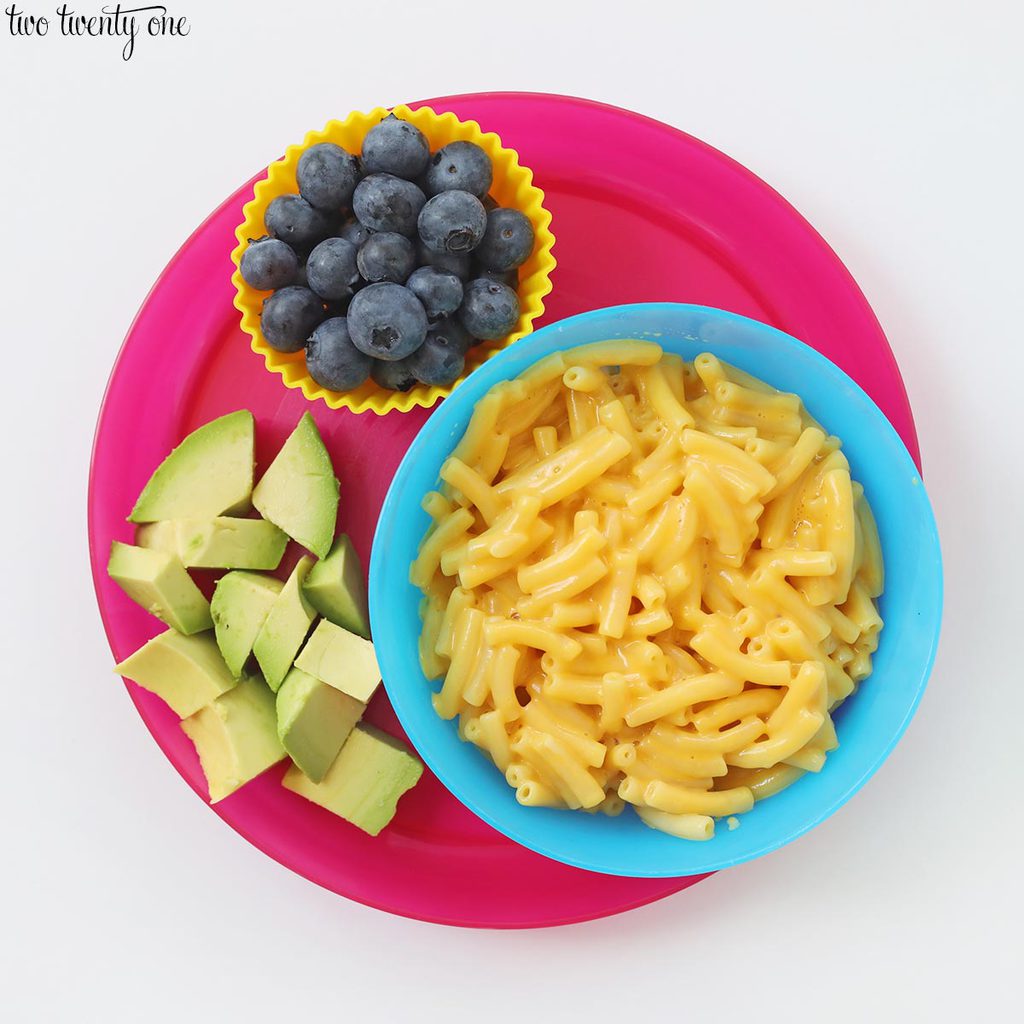 mac & cheese • cucumbers • mandarin oranges
Tip: Encourage your kids to dip. I told Owen to feel free to dip his cucumber slices in his mac & cheese.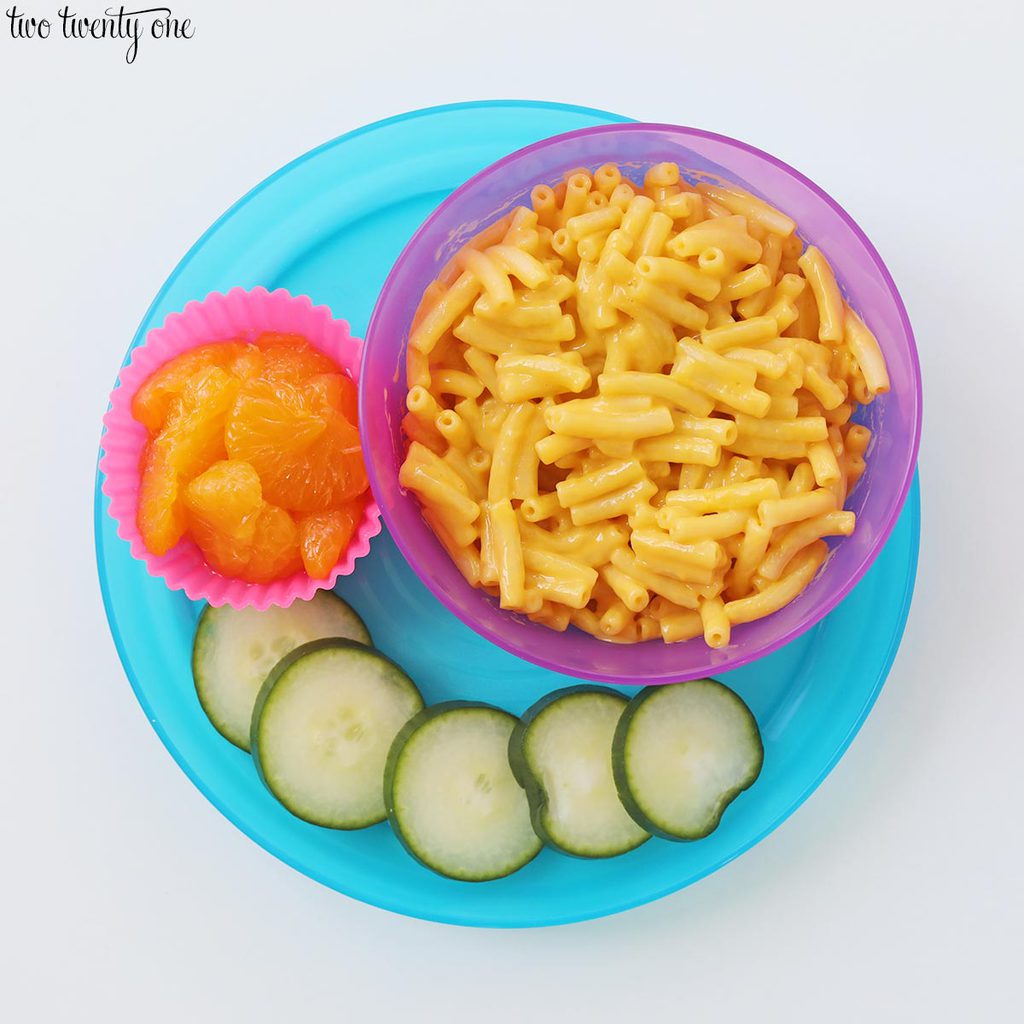 mac & cheese • strawberries • peanut butter and jelly sandwich
When Owen has had a long morning of playing at the park, and I know he's especially hungry, I'll sub the vegetable for something more satiating like a PB&J.
Tip: Use sandwich cutters to create fun shapes– my kid finds it more fun to eat a dinosaur-shaped sandwich than a boring rectangle-shaped one.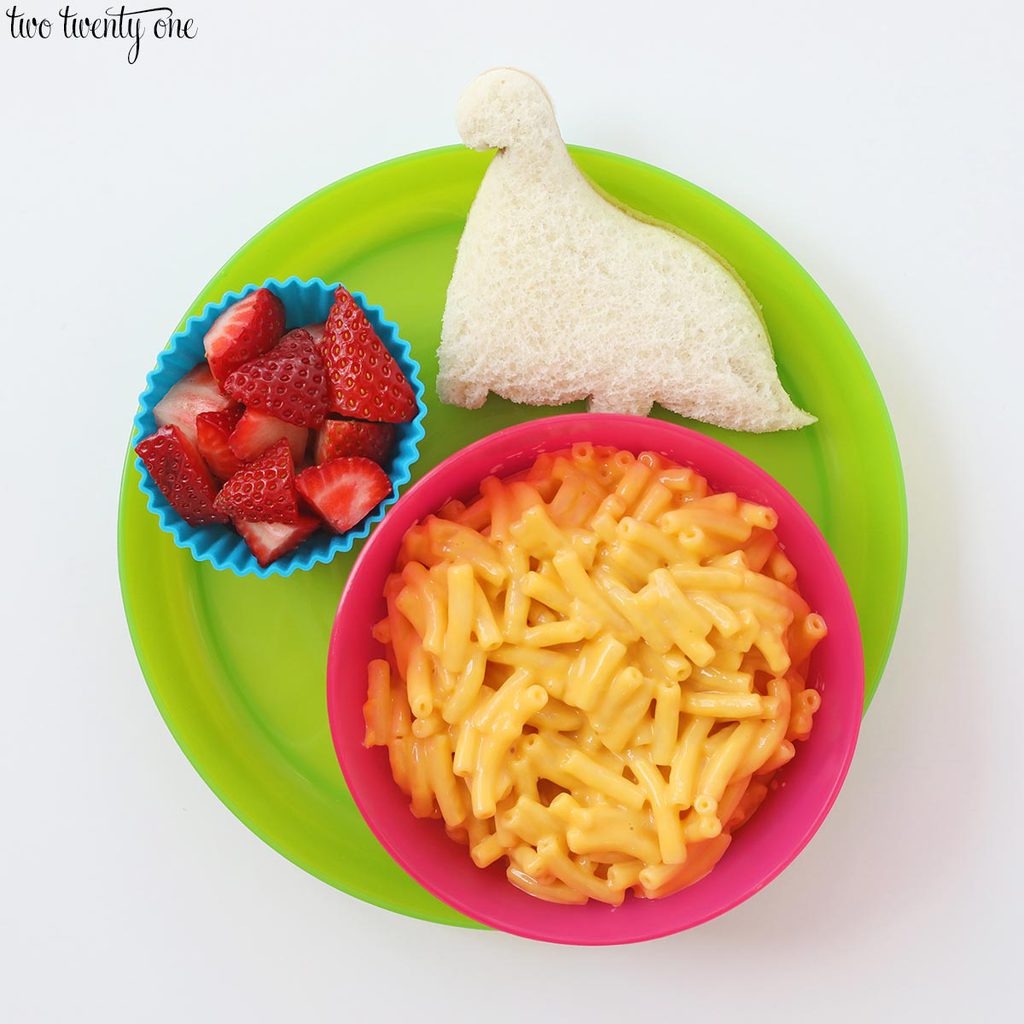 mac & cheese • apple slices • carrots
Tip: Ask your kiddo to help you rinse fruits and veggies, even if they don't need to be rinsed (i.e. packaged baby carrots). I assigned Owen his own special colander that he uses. I've found that he is more inclined to take some bites of raw carrots if he helps rinse them first.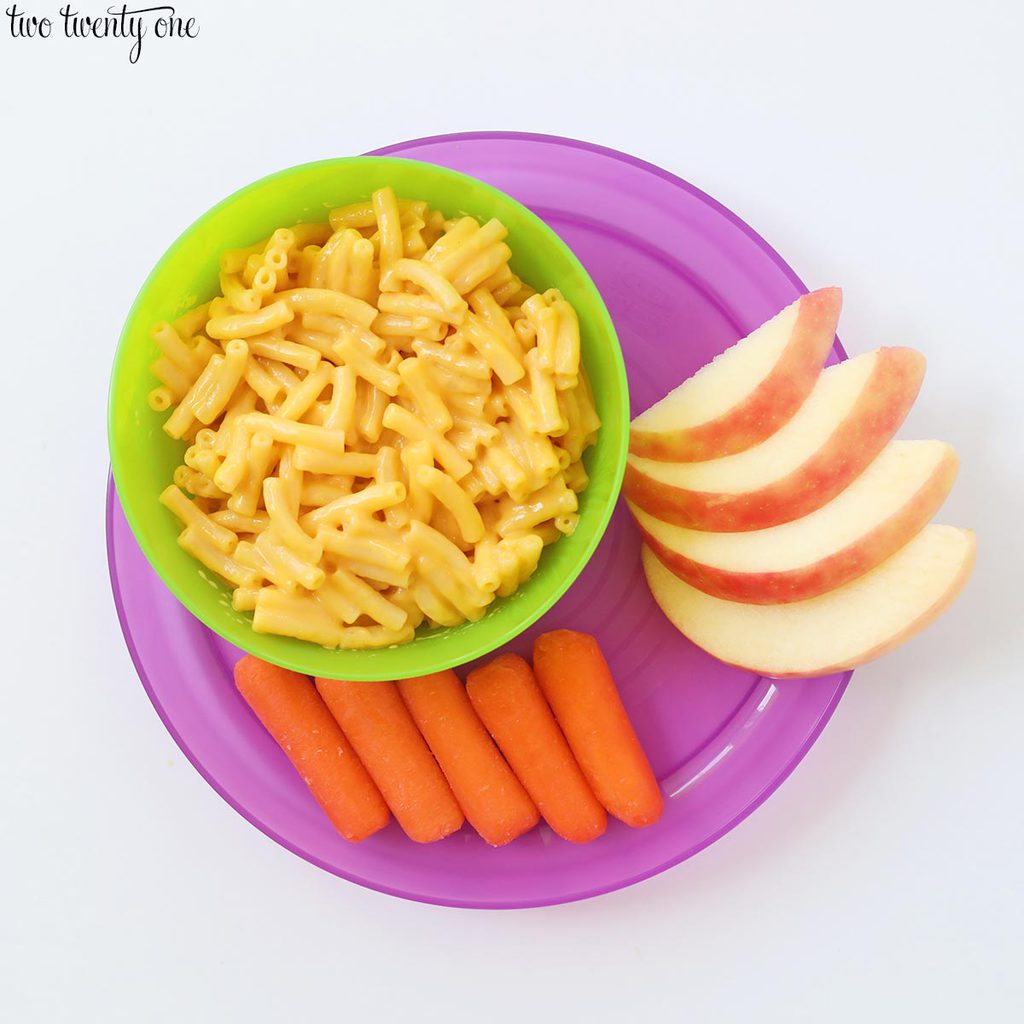 We eat as a family for dinner, but I've found that letting Owen eat lunch at different spots in the house has helped encourage his interest in new foods. So I'll ask him, "Where should we eat lunch today?" Sometimes we'll have a "picnic" and eat our lunches together on the living room floor, or we'll stand at the kitchen counter and eat. When it's nice out, we'll sit on the back porch and eat lunch.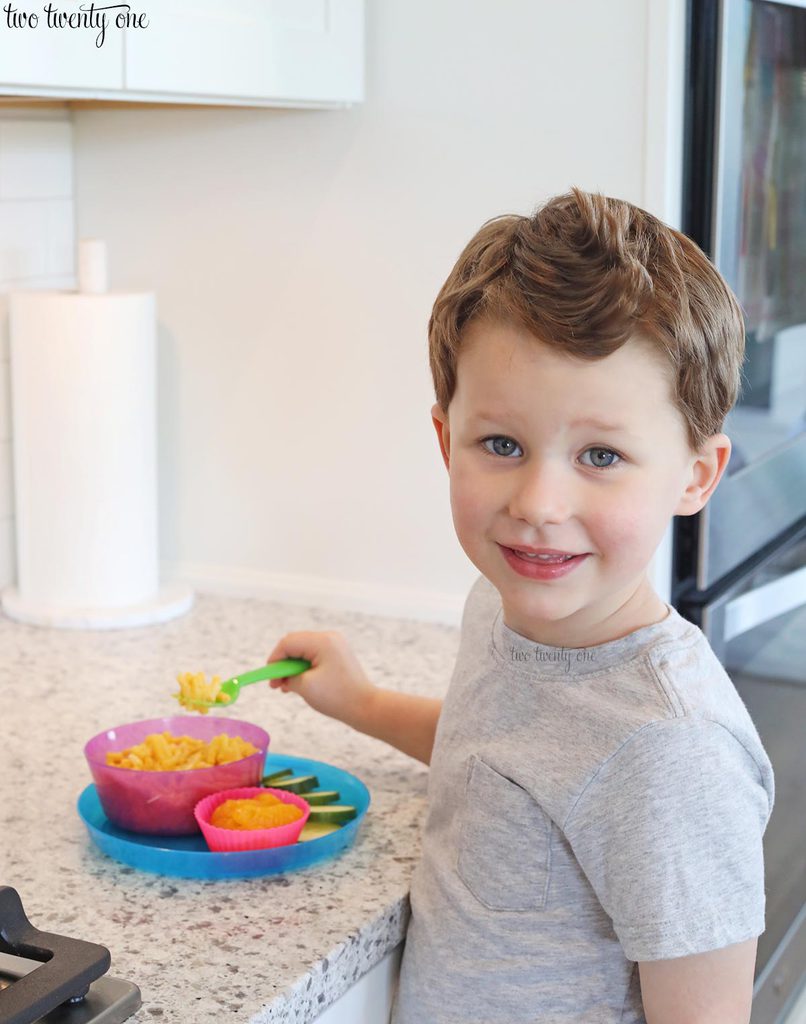 We're going to continue implementing different strategies to hopefully convert our picky eater, so I'll report back in a few months on how things are going.
Stay up to date with KRAFT products!
Facebook • Twitter • Pinterest • Instagram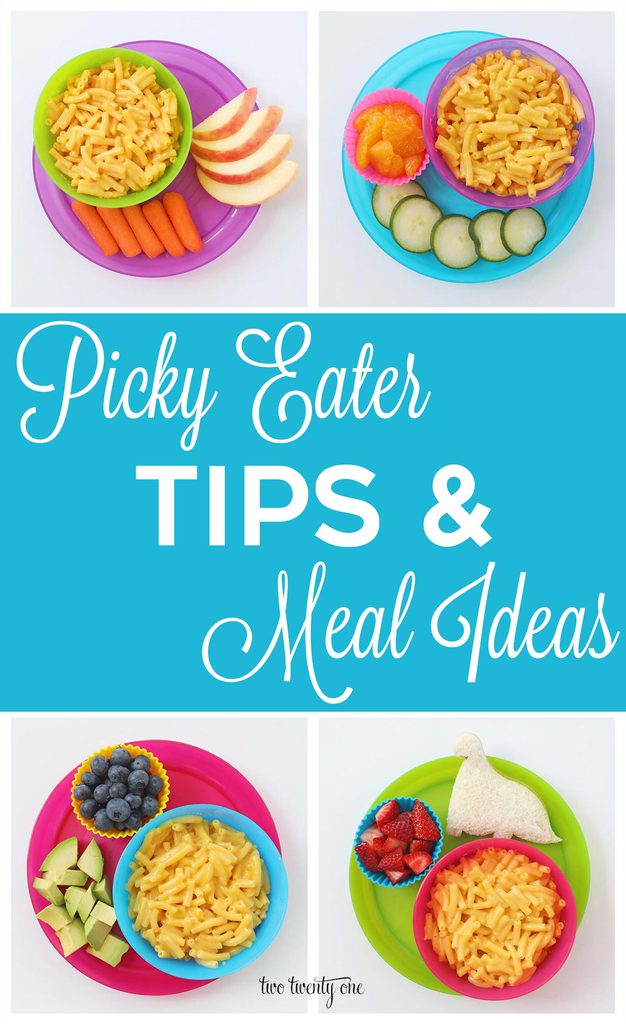 This post is sponsored by KRAFT and SheKnows Media. As always, opinions are 100% my own.