Christmas Decor (Part Three- Centerpiece & Vignette)
The 2011 Christmas Decor series continues with our dining room table centerpiece and a small bookshelf vignette.
 I created a similar centerpiece for our dining room table last year. I was inspired by Shelley from House of Smith's centerpiece. The only real change from last year to this year is that this year I used a manzanita branch that I spray painted white. Last year I used regular ole tree branches.
The vase and branch ornaments are from Hobby Lobby. I inserted two of our engagement photos and a photo of Jack in the picture frame ornaments. The large green and blue ornaments are from a shop in my hometown. The silver serving tray is from Home Goods. I can't remember where I picked up the "believe" sign.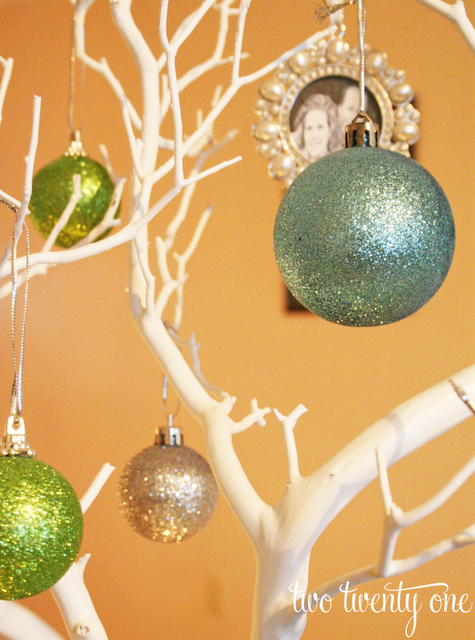 Every year I feel that need to decorate the small bookshelf in our living room.
Hopefully it won't be there by next Christmas. (I'm not a fan of it, but someone else is…)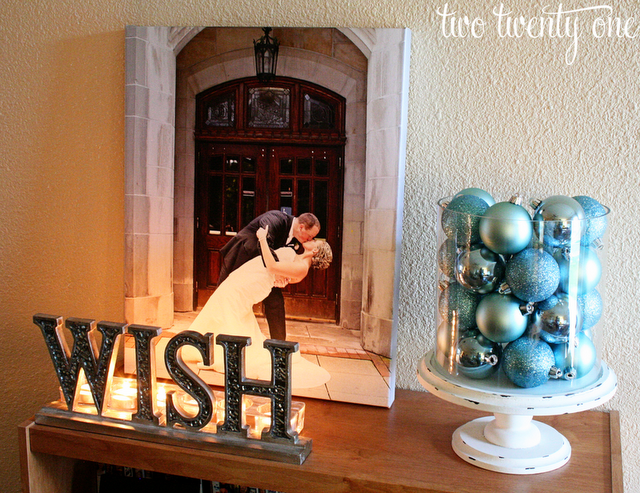 As you can see, I decorated the small bookshelf in our living room with our wedding photo canvas that you helped me choose (thank you!). I also used a "wish" sign from Kohls, tea light candle holder from Home Goods, blue ornaments from Walmart, and a pedestal container that a friend gave me.
Remember how I wrote about being bummed that our wedding ornament hadn't arrived yet? Well, guess what was in our mailbox yesterday!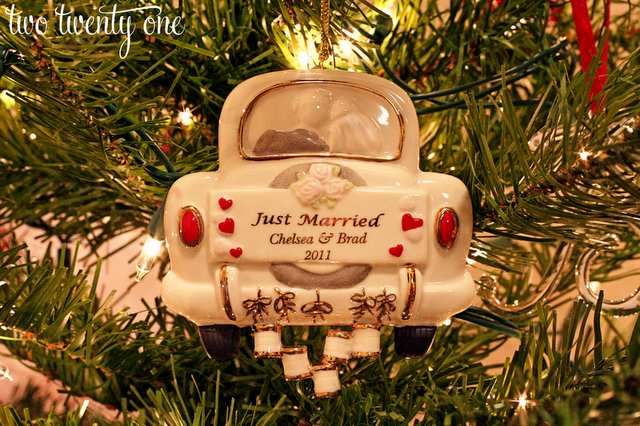 Isn't it adorable? I chose this one because I felt like all the "Our First Christmas" ornaments didn't really apply to us since we've been together for 6 years and living in sin together for over 4 years. I'd like to start a tradition and get an ornament every year to celebrate each wedding anniversary. The ornament is from Lenox.
What do you think of the canvas that so many of you helped me choose?
Married folks, do you have a special ornament that celebrates your first Christmas as a married couple?