We spent our weekend what many people call "nesting". I wouldn't call it that. I'd call it holy-smokes-our-house-is-a-disaster-we-need-to-clean-this-joint-up-ing. But to each their own.
I did fun things like cleaning baseboards, vacuuming cobwebs, and dusting. I wish I could say I worked on the nursery. But there's an issue in the nursery department.
 The glider was supposed to come in last Thursday. I never heard from the store so I called Friday to check on the status. Yeah, they can't find our glider. The store manager even told me the order was placed twice. You'd think at least one glider would make it to the store then. Nope. So needless to say, you guys may be waiting a while for the nursery reveal because the placement of the glider is determining where I place other things in the room. The manager said something about giving me a "loaner glider". Uhhh, how about you deliver the glider I ordered over 12 weeks ago? So the manager is supposed to call the manufacturer today and see what the deal is and then call me.
Anyway, back to what we did this weekend instead of finishing the nursery.
While I was inside vacuuming, Brad was out in the garage putting together a storage shelf. After receiving some boxes of diapers as shower gifts, I decided that we needed some sort of shelving system in the garage to store the diapers and other random things. So we invested in a $40 storage shelf from Lowe's.
I know this isn't ground breaking. But I'm 39 weeks pregnant so give a sister a break.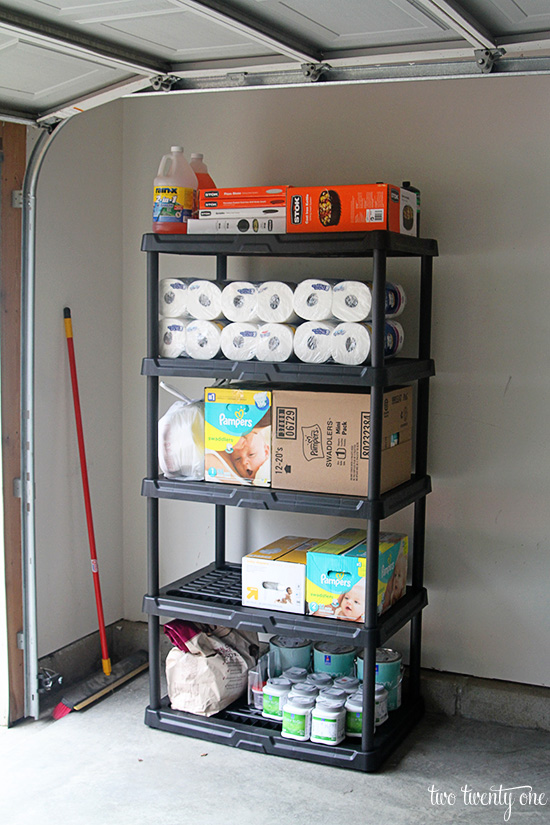 Why yes, I do have quite a few paint samples. Thank you for noticing. I'm pretty sure it took 7 samples to decide on the nursery wall color. Thank goodness for Sherwin Williams 40% off weekends.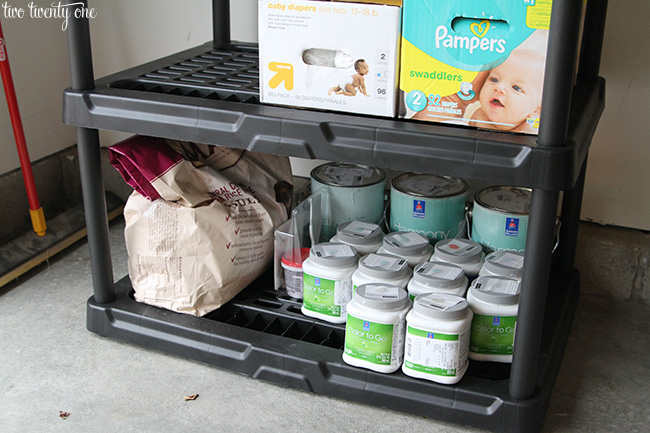 I was storing all the diapers on the top shelf of the nursery closet. But I saw that as wasting precious closet real estate. I'm very happy with their new home.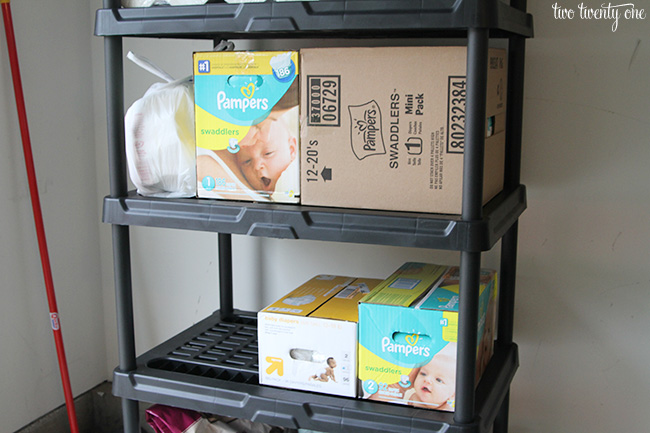 When I was buying this toilet paper to celebrate my new storage shelf, the cashier at Target said, "Stocking up?" I don't know why these sort of questions sometime annoy me. Can I blame preggo hormones? I get that it's a harmless casual conversation starter, but about toilet paper? The smart-ass in me wanted to say, "Yes, I have severe irritable bowel syndrome." Instead, I politely said, "Yep! The sale price plus the $10 gift card for purchasing three is quite the incentive."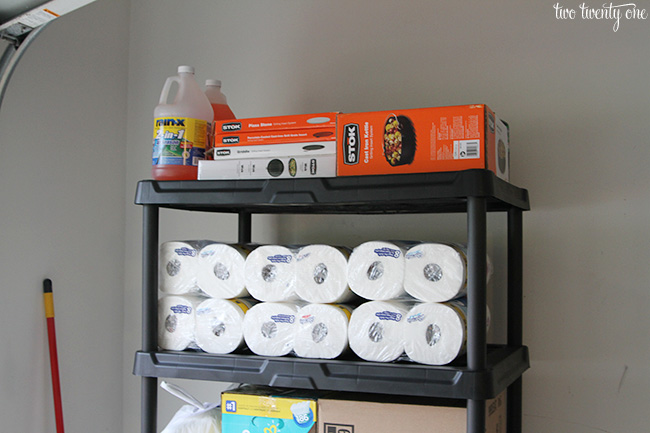 There you have it, one of my weekend holy-smokes-our-house-is-a-disaster-we-need-to-clean-this-joint-up-ing projects.
Hopefully the store manager will have some good news for me today about the glider. I know I'll be able to survive without a glider. I'm not concerned about that. But like I mentioned in this post, I wanted to get the nursery done, take and edit the photos, and write the reveal post (and other nursery-related posts) before the nugget arrives so I'm not scrambling to do all of this while a newborn is dictating my schedule and reaping me of sleep. So cross your fingers the glider magically appears and is delivered this week.