Prepare yourself for loads of deck pics because it's summer deck tour tiiime!
If you're stopping by from Zevy Joy, welcome!
The biggest change from last year's summer deck tour and this year's is that the deck and pergola have been painted and stained.
Need a refresher?
BEFORE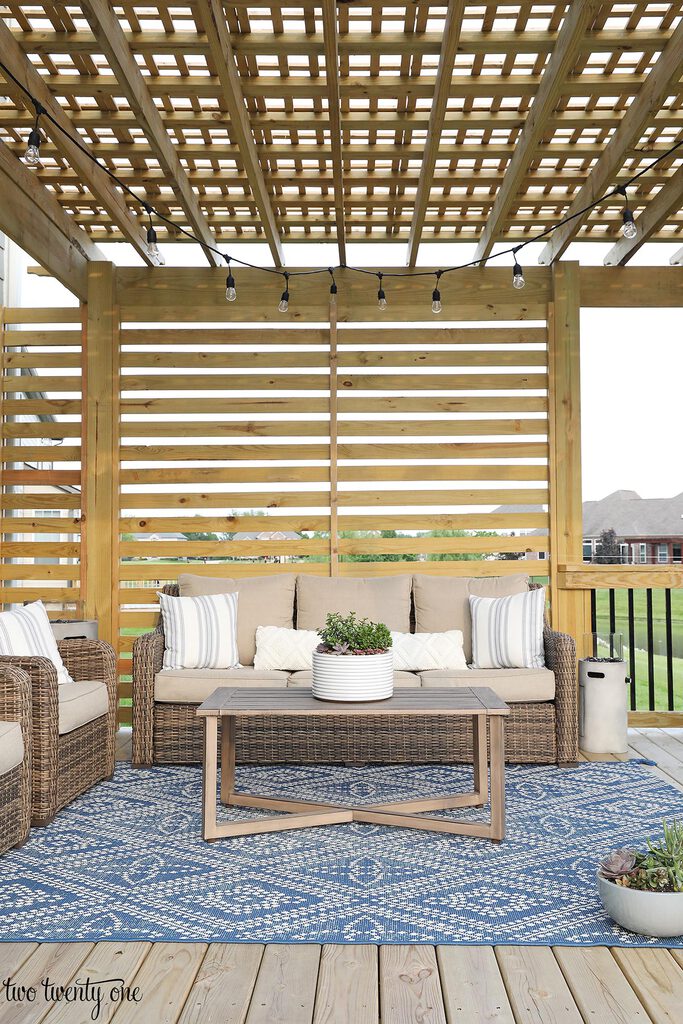 AFTER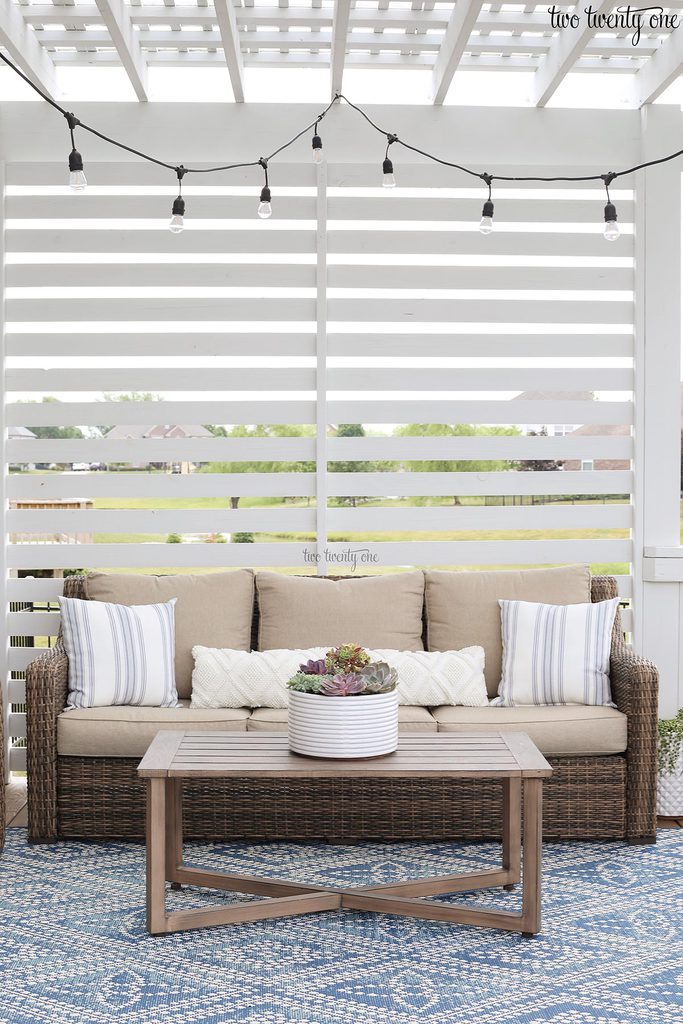 Sitting Area
We still love the sitting area furniture. They still look new. I think the key to that is covering the chairs and sofa when we aren't using them, and especially when it rains. We also store the cushions and pillows inside during winter. The chair and sofa bases stay out on the deck, but we cover those.
This is our second year with the rug, and it's still in good shape. We stored it in the garage during winter.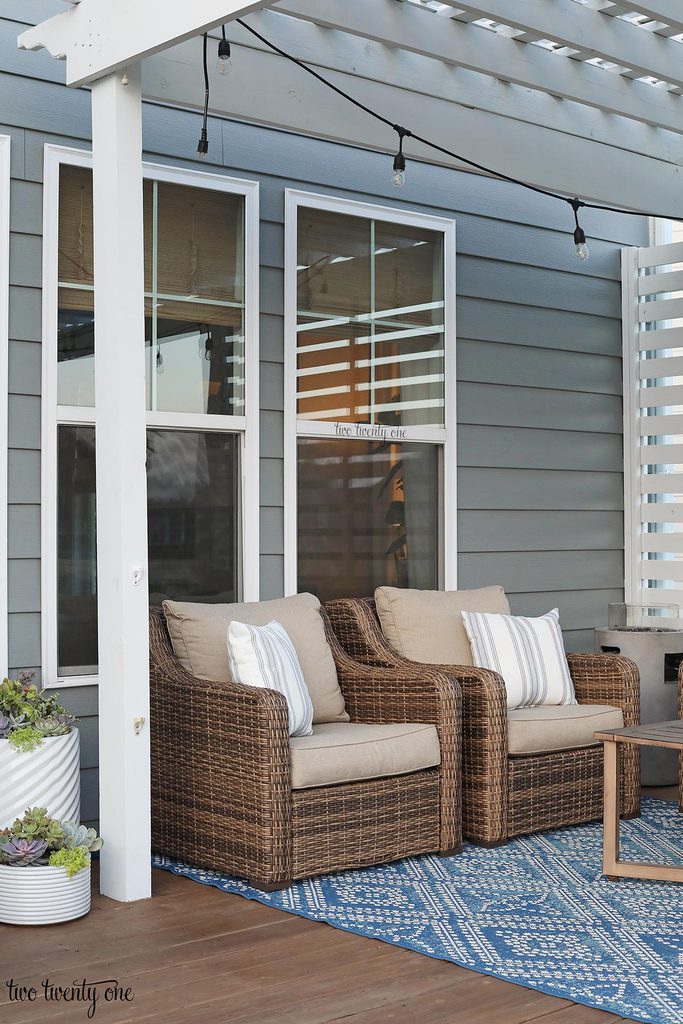 Succulent Planters
Sadly, most of my succulents didn't live through winter in the basement grow operation. I had an infestation of mealybugs that I just couldn't get a handle on. But I'm more prepared for next winter to combat those MFers.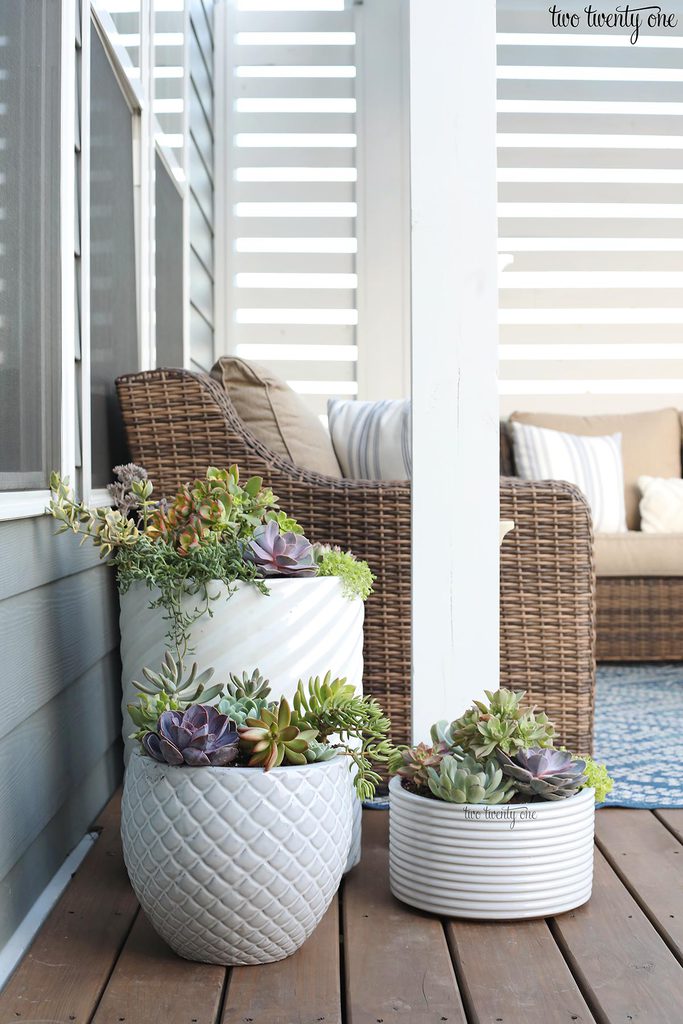 I prefer to use white planters with different textures. White highlights the succulents the best, IMO. Want to know where I buy most of my planters? Click here!
If you don't follow me on Instagram (@twotwentyone), you're missing out because I've been showing how I plant these succulent planters in Stories. I have the videos saved to my Planting Stuff highlight.
And you can read my trick for saving on potting soil and making my planters lighter, HERE.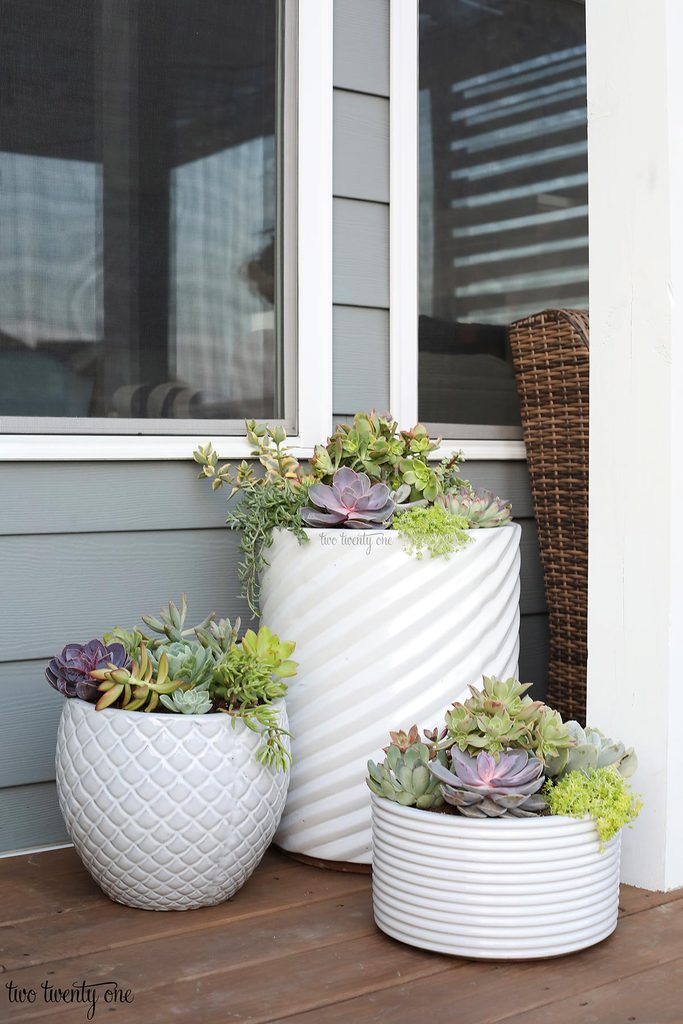 I can only keep succulents on the deck because it received full sun from sunrise to sunset. Everything else I've tried to grow on the deck fries to a crisp, no matter how much I water it or if I utilize the deck shades. So if you have a similar problem, I highly recommend switching succulents.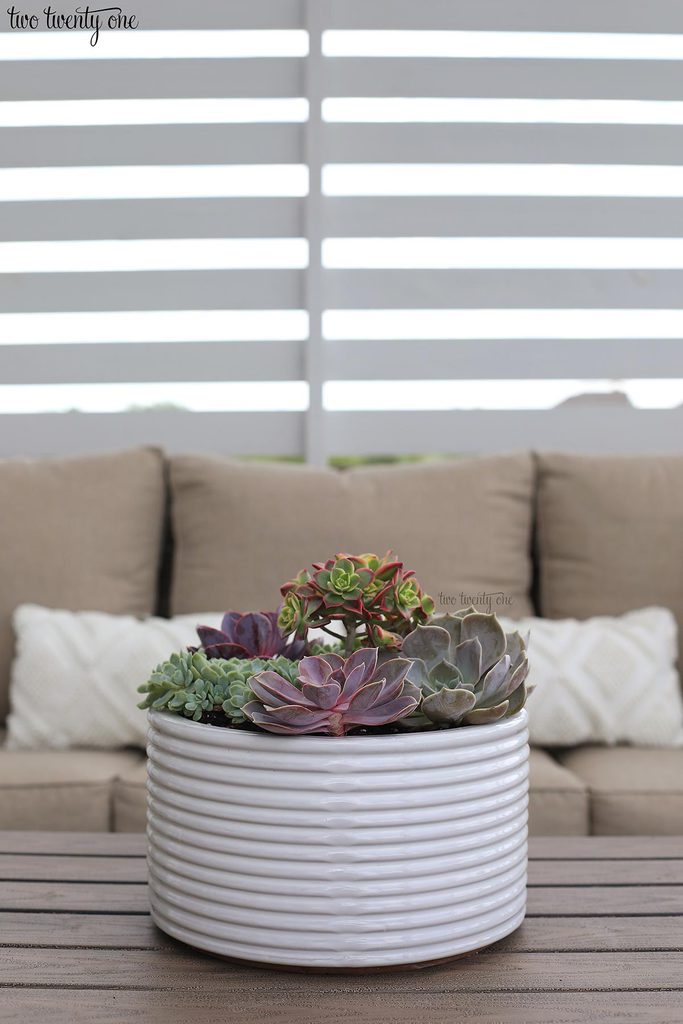 This is my first time growing string of pearls and string of bananas. I transferred these from hanging baskets to taller planters. I love jade, but I have to keep it under the pergola or else is gets scorch spots from the sun. Like I said, the sun bakes our deck area.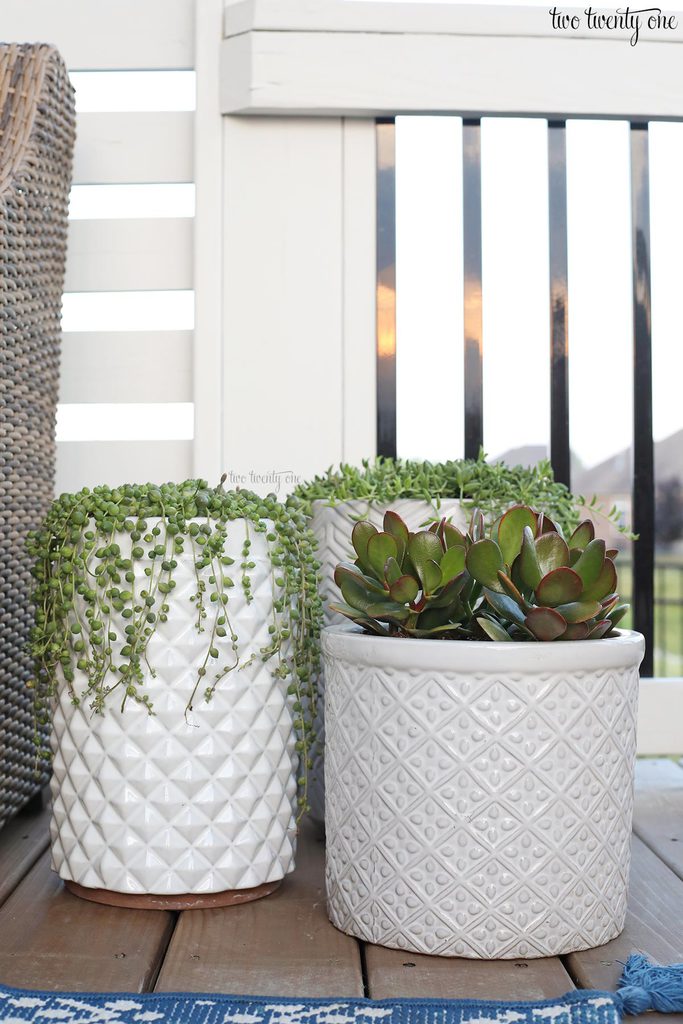 I love how the deck has become another room in our house. We spend a lot of mornings out here with the boys while they play with their water toys or on the play set.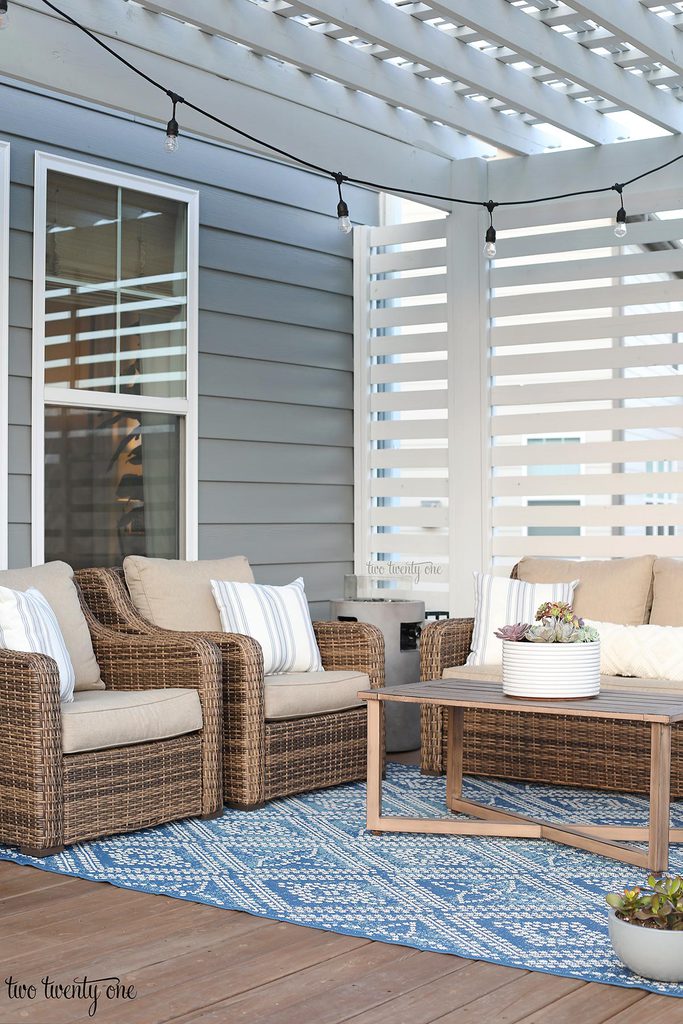 Deck Dining Area
Not much has changed in the dining area. Over winter we pushed the black chairs under the table, through on a cover and secured it with a bungee cord. We stored the black and white chairs in the basement.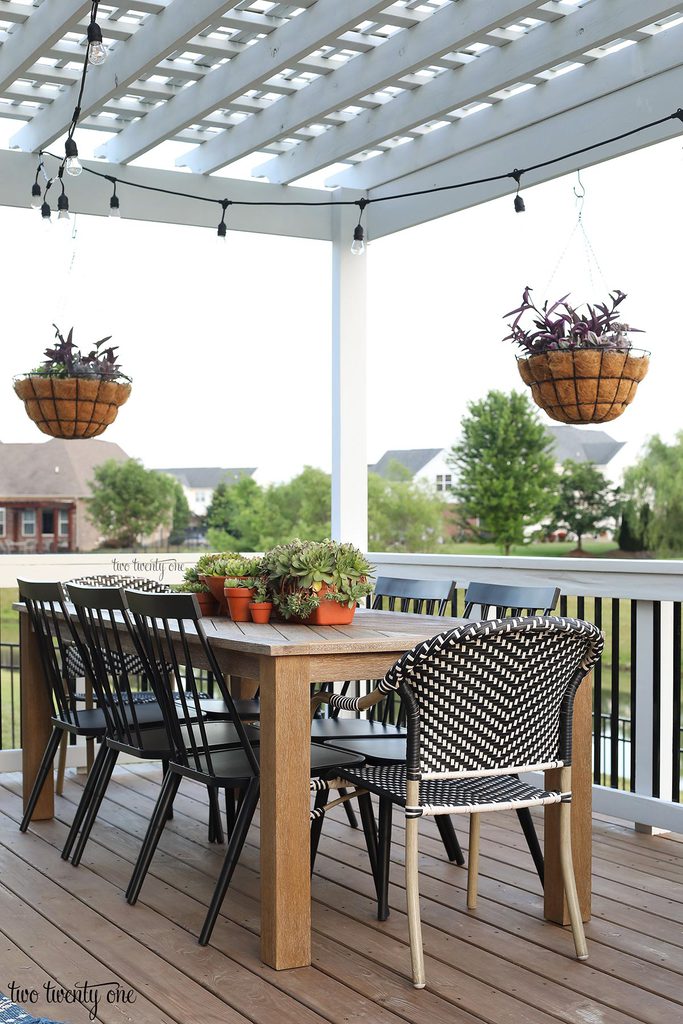 Succulent Hanging Baskets
I was so sad my hanging baskets from last summer didn't make it through the mealybug attack, but I got these purple and green mixed baskets to replace them. I showed on Instagram Stories how I transfer them from their plastic hanging baskets they come in from the store to the coco lined baskets. The coco baskets are more attractive and it gives the succulents more space to spread out and get bigger.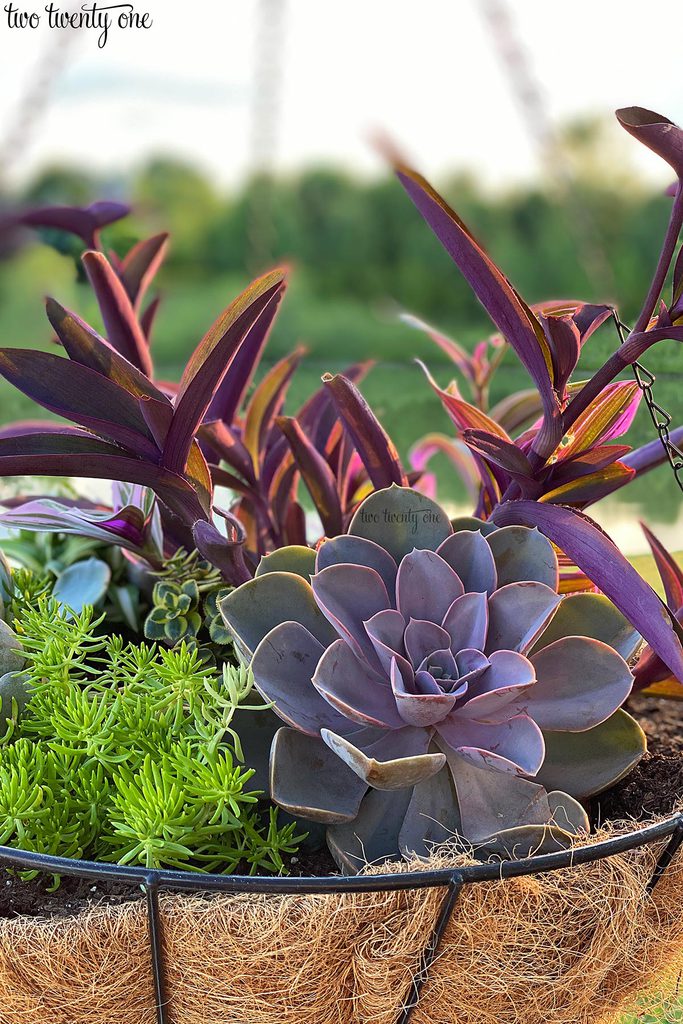 I love potting my hens and chicks in different sized terra cotta pots and using them as the center piece on the table. And since the hens and chicks multiple like rabbits, I never have to buy them. That's right. I started with about a dozen from my mom's garden 10+ years ago. They're like the Energizer bunnies of the succulent world. You can read all about them here. Want to know how I re-plant them? Click here!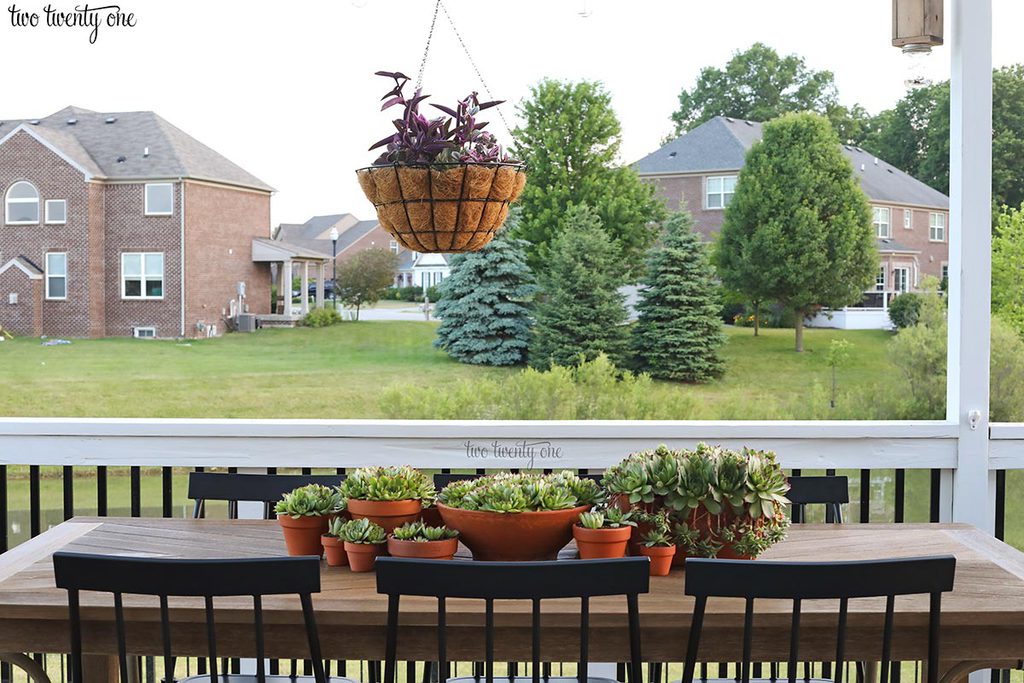 Hens and chicks are really hardy succulents and can stay outside during our cold central Indiana winters. No basement grow operation needed.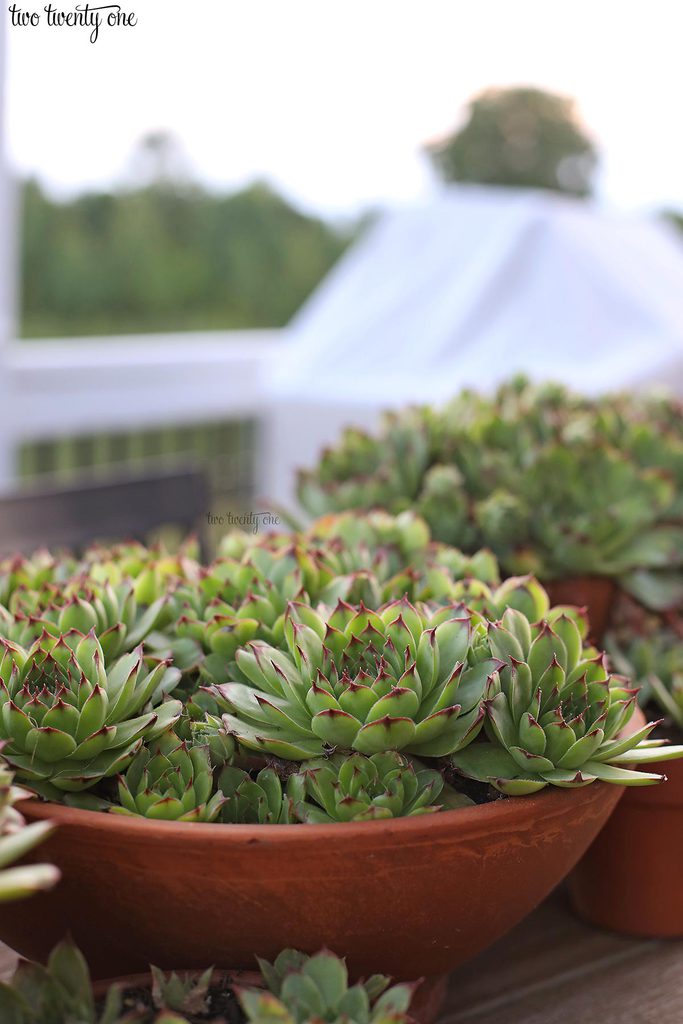 I'd say I'm excited to host dinners with friends this summer, but COVID-19. It's nice to look at though.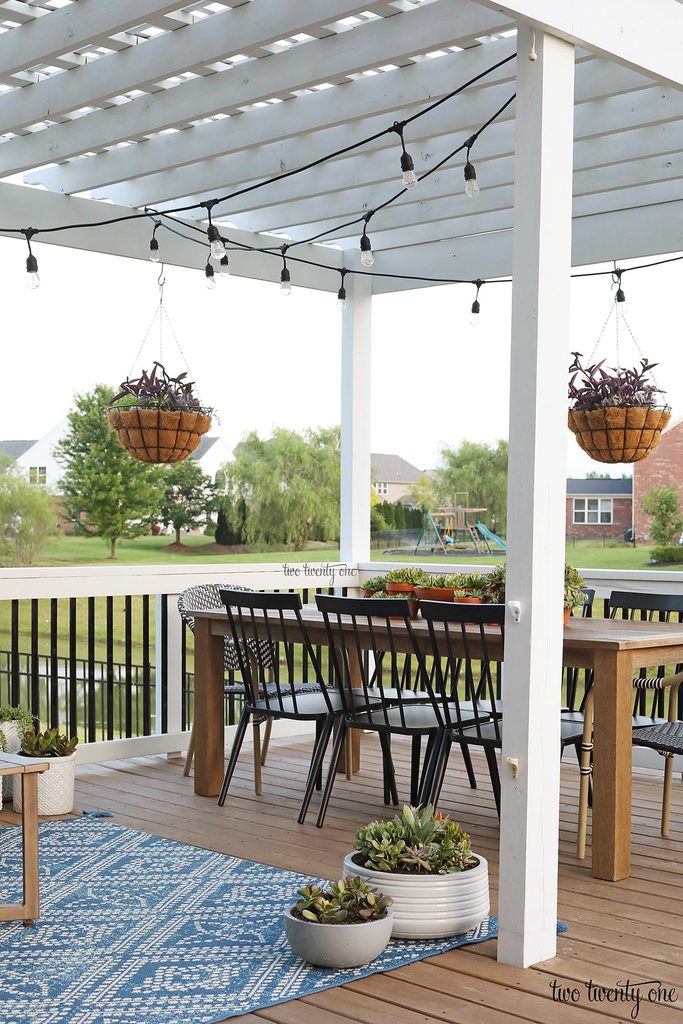 SOURCES
dining table … World Market
black chairs … Target
bistro chairs … Walmart
conversation set … Walmart
throw pillows … Target
rug … Target
cafe lights … Costco
large fire column … Target
small fire column … Target
hanging baskets … The Home Depot
planters … HomeGoods
couch cover … Amazon
chair covers … Amazon
dining table cover … Amazon
Want to know more about the deck? Click here!
If you're following the tour, you're heading to Taryn Whiteaker's next!
This week, some of my blogging friends and I are sharing our summer outdoor spaces. Just click on the links below the images to be taken to see their full posts.
The Happy Housie // My 100 Year Old Home // Modern Glam // Cassie Bustamante
Craftberry Bush // Joanna Anastasia // Life is Better at Home // Inspiration for Moms

Clean & Scentsible // Finding Silver Pennies // Grace in My Space // Maison de Cinq
Life is a Party // House by Hoff // Zevy Joy // Two Twenty One
Taryn Whiteaker // Maison de Pax // Amber Tysl // This is Our Bliss