There are many great Better Homes and Gardens patio furniture options. My favorite 5-piece conversation set has many features that make it perfect for our outdoor space.
This post is sponsored by Better Homes & Gardens at Walmart.
Better Homes and Gardens River Oaks 5-Piece Conversation Set
The River Oaks 5-Piece conversation set is the perfect outdoor patio furniture for a couple reasons. First, the two rocker glider chairs and a three seat sofa can be arranged in multiple configurations. Everything looks great on our deck! Secondly, the neutral wicker frames and light greige cushions coordinate with many different colors, making it easy to change out throw pillows, the outdoor rug, and other accessories. Thirdly, this Better Homes and Gardens patio furniture set comes with two chair and sofa furniture covers. No more scouring stores and online retailers for covers that will hopefully fit your outdoor furniture.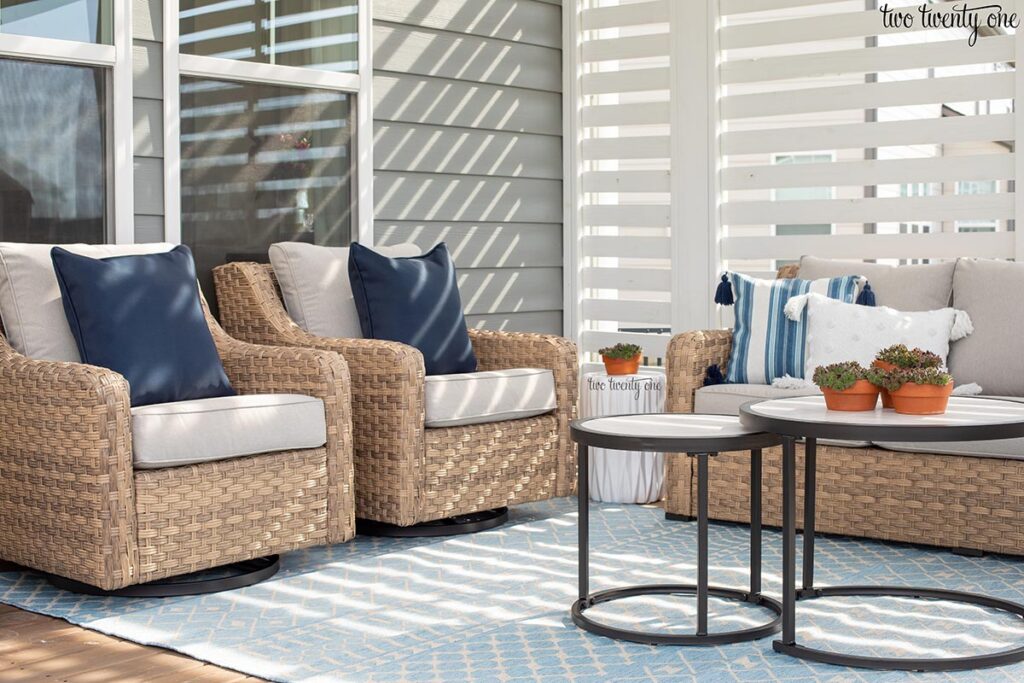 Three Cushion Sofa
The River Oaks sofa is available in two conversation sets– the 5-piece set or the 3-piece set. The 3-piece includes the sofa and two nesting tables.
River Oaks Sofa Frame
The steel sofa frame is e-coated and powder-coated for rust-resistant durability. The outdoor wicker is hand-woven, UV-treated, and power-coated with a brown finish that resists staining, peeling, and rusting. Handwoven, all-weather wicker with double-wall weave on arms and backs. The River Oaks sofa dimensions are 80.3″ W x 35.21″ D x 32″ H.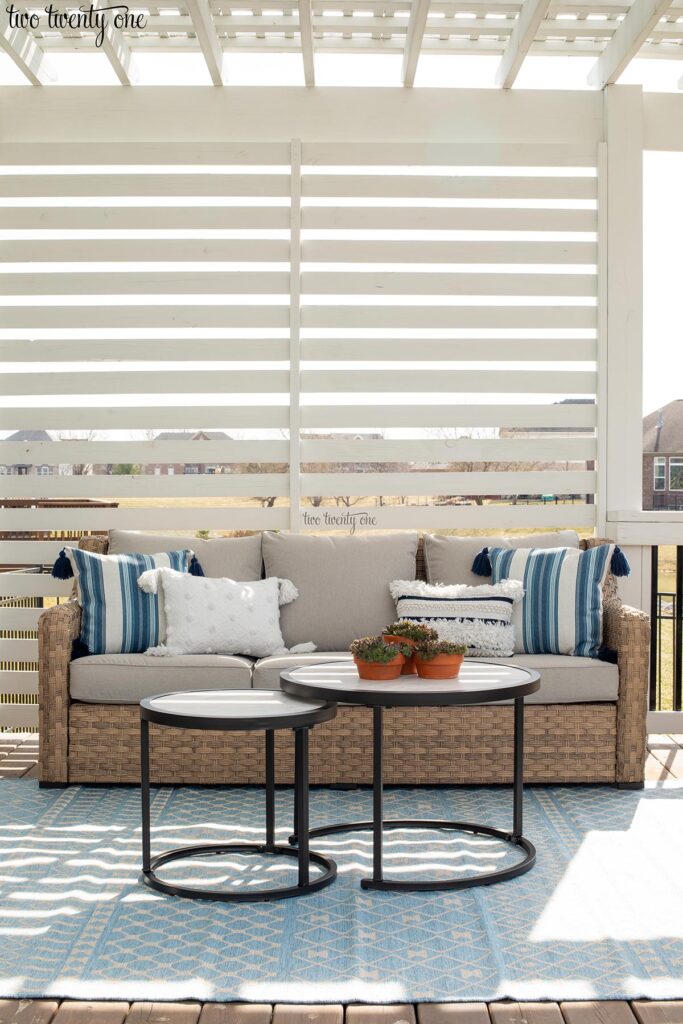 Sofa Cushions
The zippered sofa cushion covers are made with fade resistant, stain & water repellent solution-dyed, 100% polyester fabric. The back and seat cushions are made with durable, all-weather 100% polyester fiber fill.
Each seat cushion can easily be secured to the sofa frame. Every seat cushions comes with two toggles– one on each cushion backside that are inserted into elastic loops on the sofa frame. These are so nice– no more shifting cushions when you stand up.
Two Swivel Gliders
Swivel gliders are perfect for a relaxing outdoor space and this Better Homes and Gardens patio furniture set comes with two swivel gliders. The chairs swivel 360º and glide back and forth resulting in a smooth rocking motion. The glider seat is very roomy, spanning 24″ wide.
The swivel glider frames and cushions are made of the same material as the sofa frame and cushions. Each River Oaks swivel glider is 32.28″ W x 34.65″ D x 31.89″ H. The swivel glider set can be purchased separately if you aren't in need of a 5-piece set.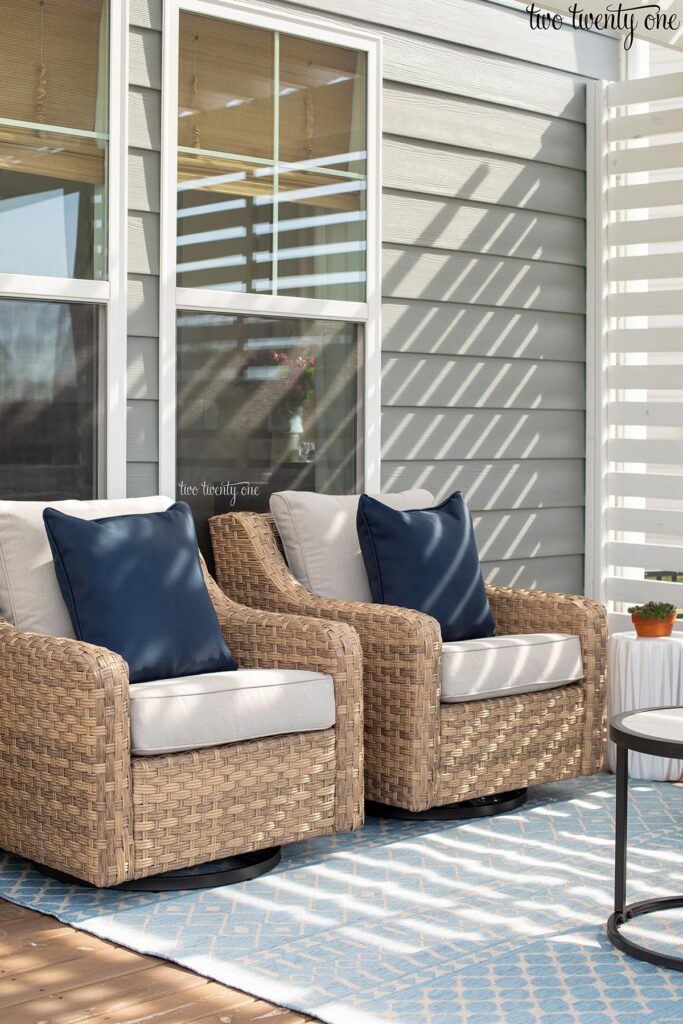 Round Nesting Tables
The two marble finish, ceramic top, round nesting tables are versatile and great if you have small kids– no sharp corners! The dimensions of the large round table is 27.95″ x 20.08″ H and the small table is 20.08″ x 18.11″ H.
The nesting tables can be configured in multiple ways. Tight on space? Nest the smaller table under the large table. Need a side table? Move the smaller nesting table where its needed. Need a larger table? Slightly nest the smaller table under the large table.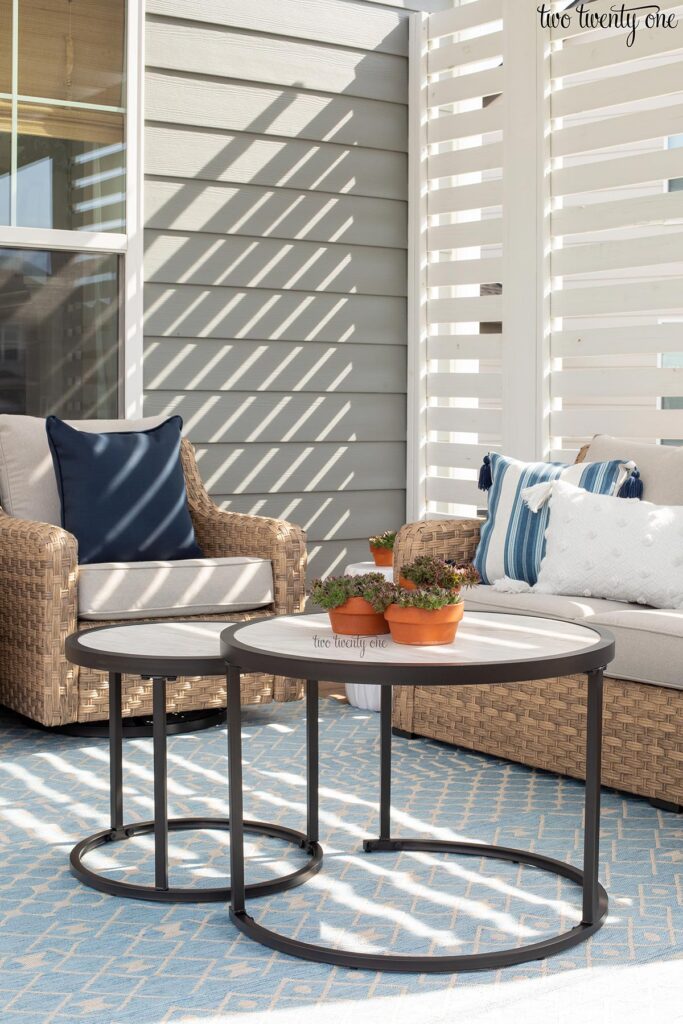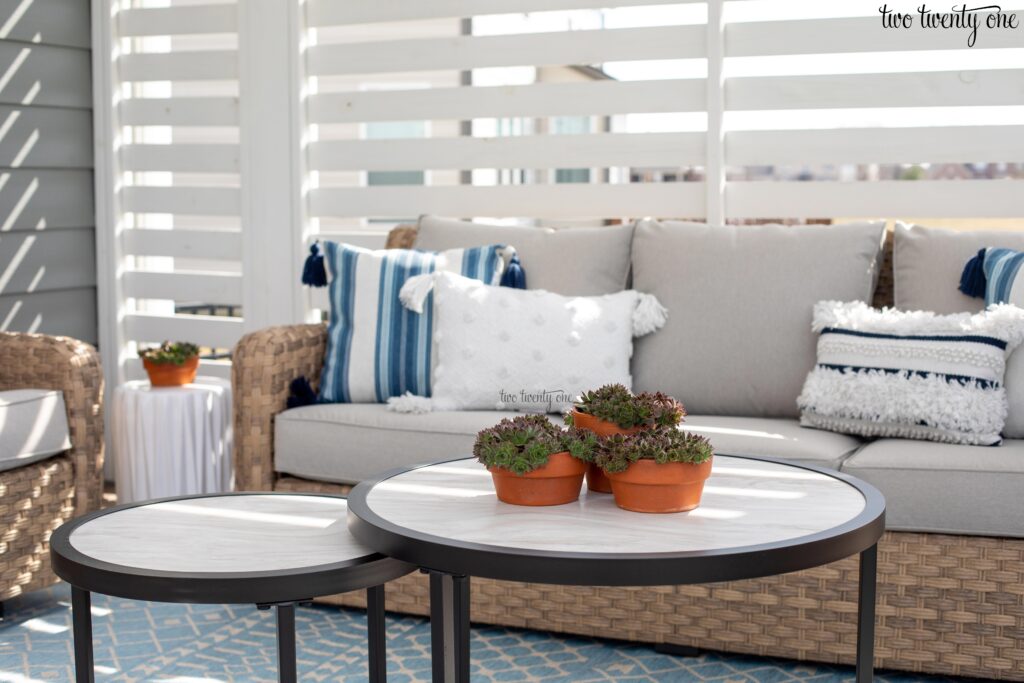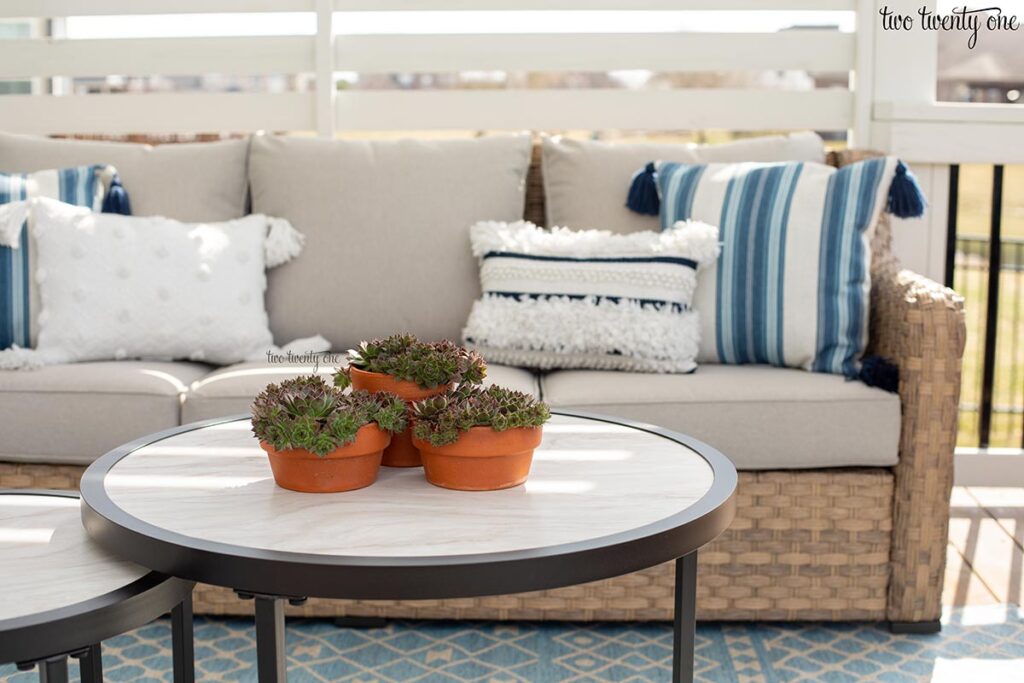 Patio Furniture Covers
The 5-Piece River Oaks conversation set comes with furniture covers for the sofa and two chairs. Outdoor covers extend the life of patio furniture because they protect the cushions from rain, sun, dirt, and bird poop when not in use. There's no need to bring cushions and throw pillows inside when rain is forecasted because you have well-fitting furniture covers to protect them.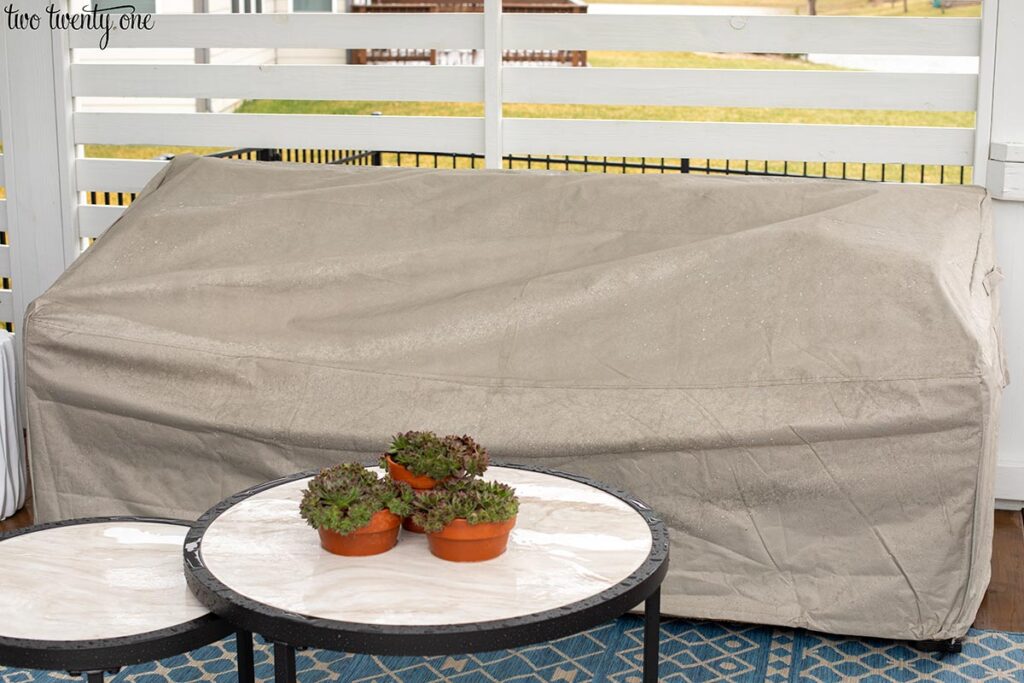 Better Homes and Gardens Outdoor Throw Pillows
Because the River Oaks conversation set is neutral in color, the possibilities are endless when it comes to accessorizing with throw pillows. If color isn't your thing, go with throw pillows in white, greige, and black. But be sure to add some depth with various textures and/or prints. Just about every color will work with the furniture.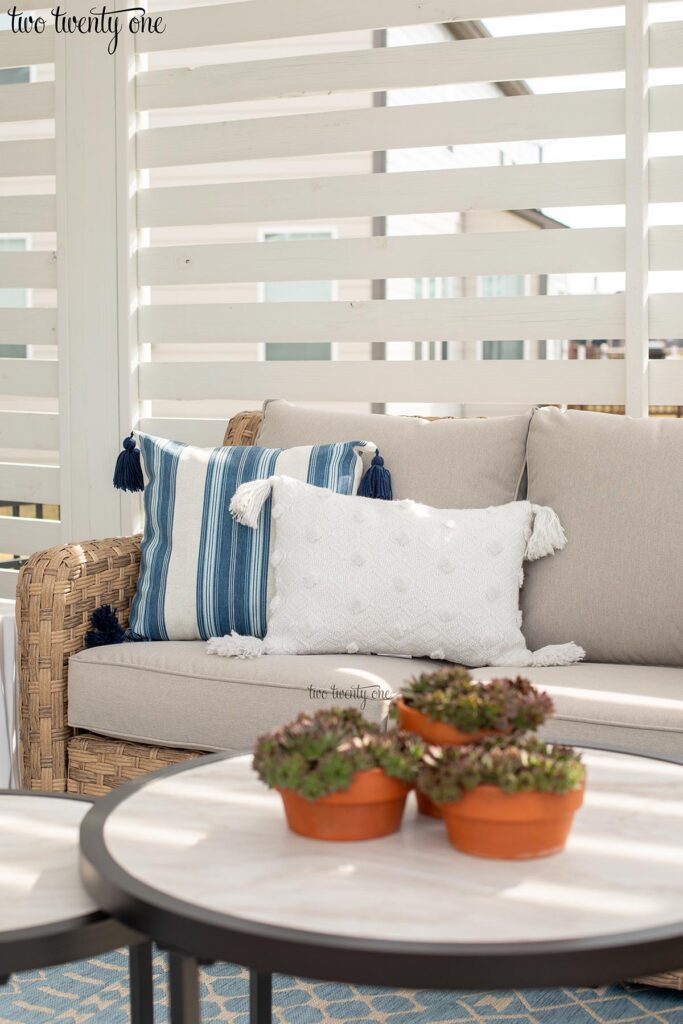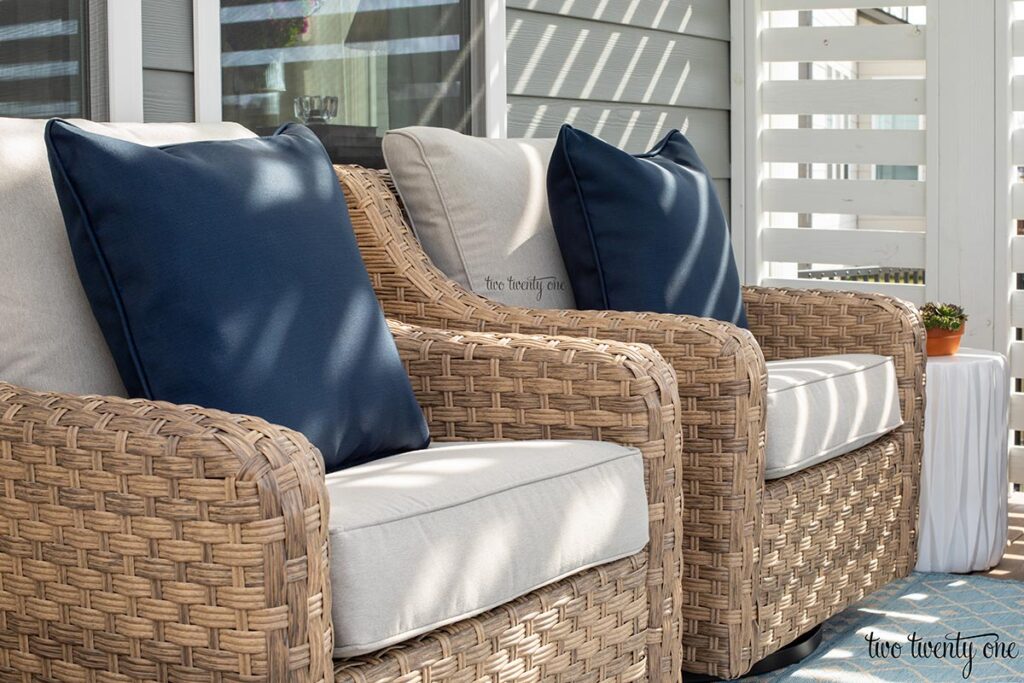 Better Homes and Gardens Outdoor Area Rug
An outdoor area rug is a must have. A rug anchors the space and provides a defined space, making it is to designate a specific area as the seating area. Outdoor area rugs have come a long way– many feel like indoor rugs under foot. And outdoor rugs because more and more stylish every year, like this 7′ x 10′ tribal blue and white rug.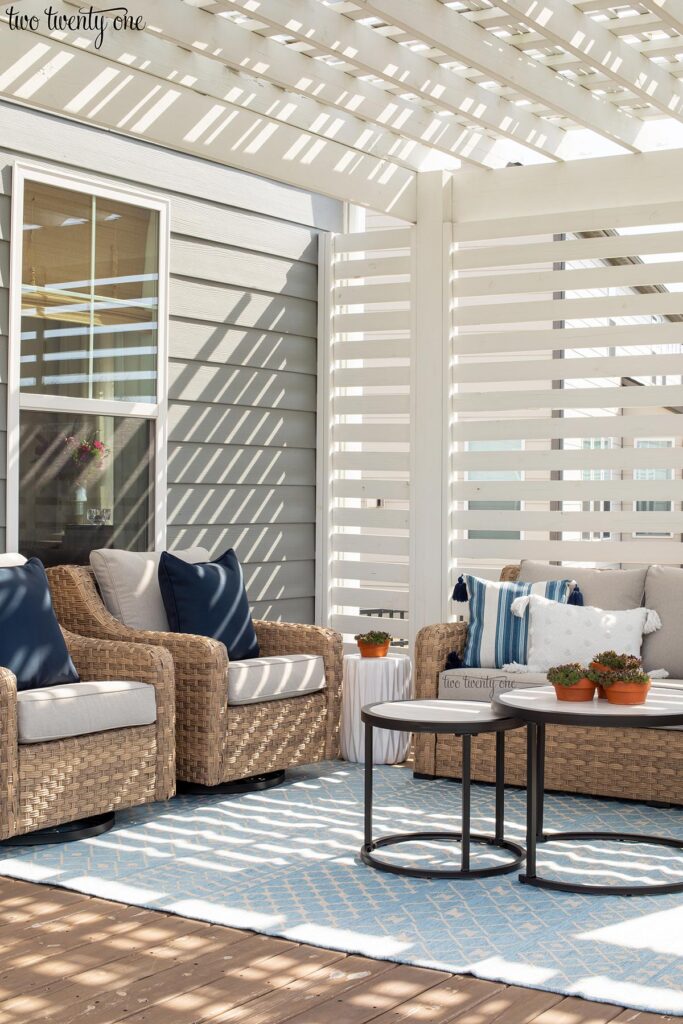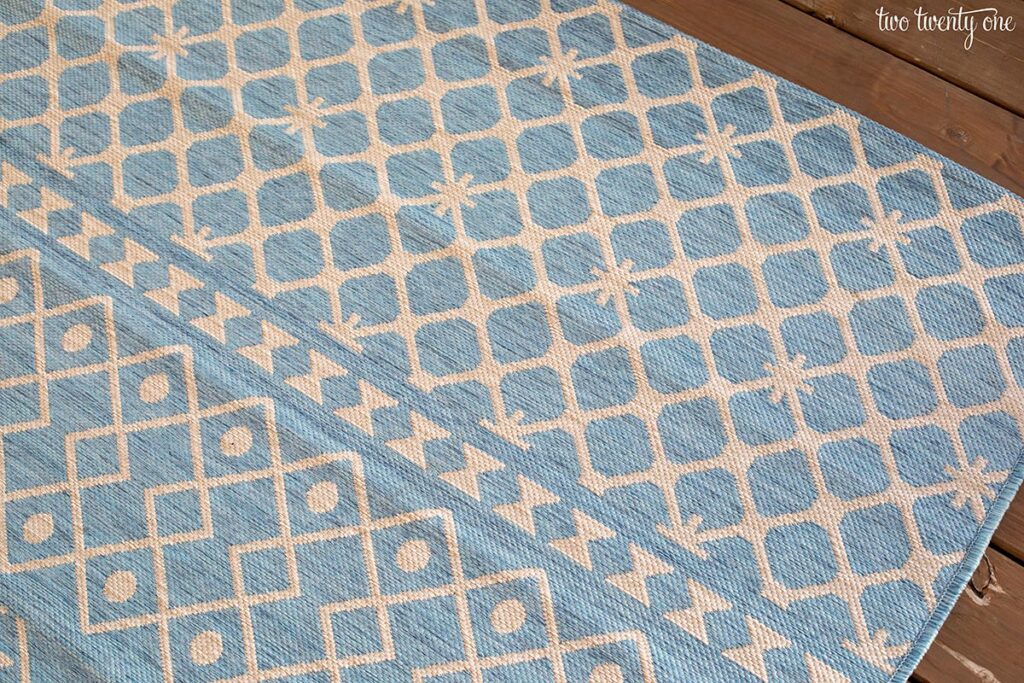 Shop the Post